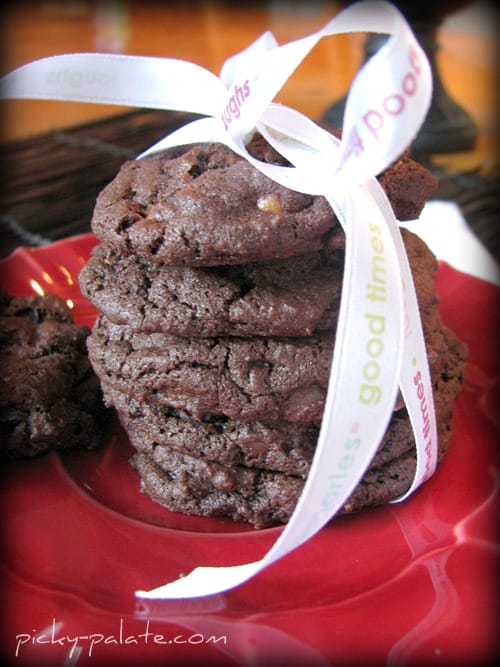 Good Thursday morning!
I am in Ohio right now freezing my tail off in the middle of a Smuckers Factory tour and a whole bunch of other cool stuff with some other bloggers. Thanks Smuckers Family for sending me!! I'll be sure to share pictures when I get back 🙂
I'll leave you today with one of my all time favorite cookies. Chocolate Fudge Butterfinger! Oh my, these are pure heaven. Crushed Butterfinger bars are so incredible in cookies. Trust me, these are worth every single calorie! Hope you all enjoy 🙂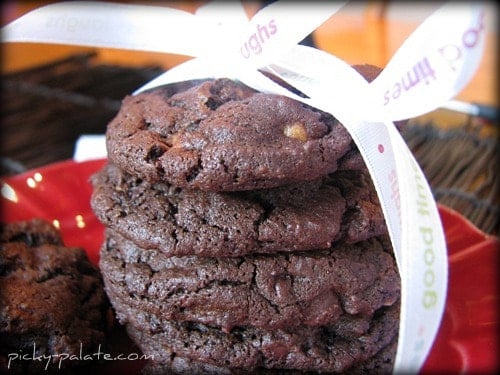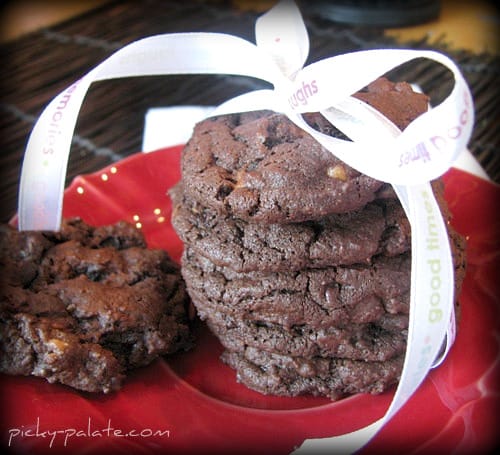 Chocolate Fudge Butterfinger Cookies!
1 cup butter
1 cup white sugar
3/4 cup brown sugar
2 eggs
1 tsp. vanilla
1 3/4 cups flour
1 1/4 cups cocoa powder (I used Hershey's Dark Chocolate Cocoa Powder)
2 tsps. baking soda
1/4 tsp. salt
2 Full size Butterfinger Bars, crushed
1 1/2 Cups semi sweet chocolate chips

1. Preheat oven to 350 degrees and use a cookie sheet with a silpat liner.
2. In a large bowl, cream together the butter and sugars until light and fluffy. Slowly add eggs and vanilla until well combined.
3. In another bowl, combine the flour, cocoa, baking soda and salt. Slowly add to wet ingredients then stir in crushed butterfinger and chocolate chips. Using a medium cookie scoop, drop by rounded spoonfuls onto the prepared cookie sheet.
4. Bake for 9-11 minutes, should still be soft in center. Allow cookies to cool on baking sheet for 5 minutes before removing to a wire rack to cool completely.
3 dozen cookies
______________________________
Have a wonderful weekend!! See you all soon with more cookin'!