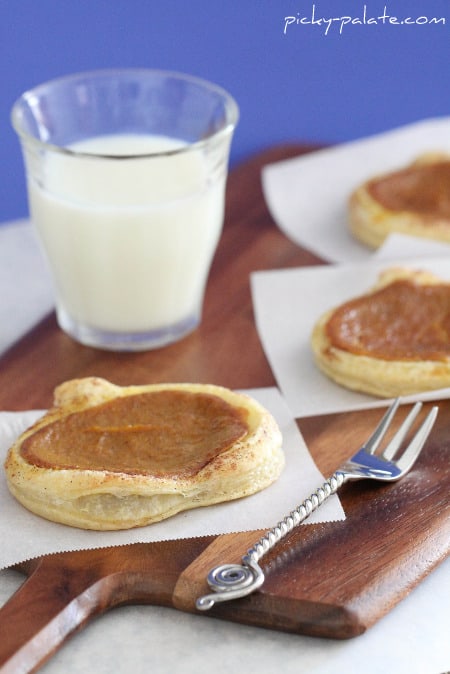 Can I just say how fabulous these Cinnamon Toasted Pumpkin Pie Tarts were? Quick, simple and cute as a pumpkin tart 🙂
Break out your Fall cookie cutters….. a leaf, acorn or any fun Fall shape you wanted. These turn out absolutely adorable….and not to mention ultra tasty.
No need to sweat over this recipe, it takes a whole 10 minutes of prep time and they are ready for the oven. Love it! Hope you enjoy 🙂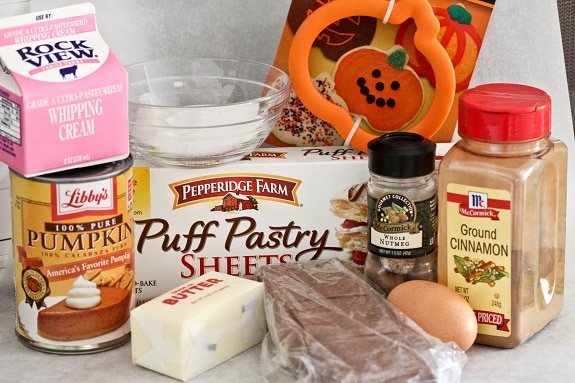 Here's your line up 🙂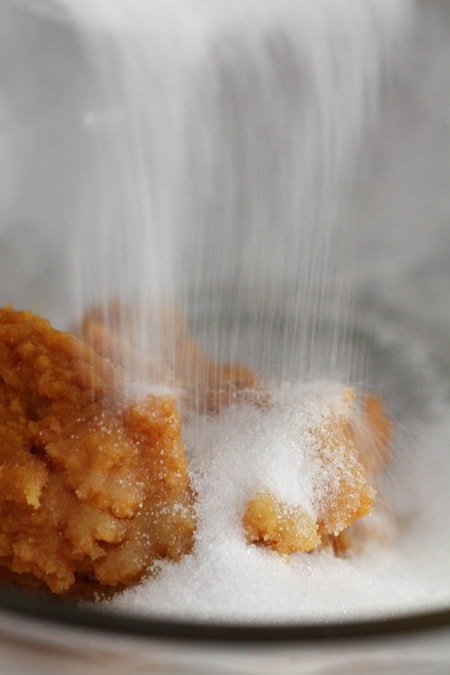 Is there anything better than a waterfall of sugar!? Lol!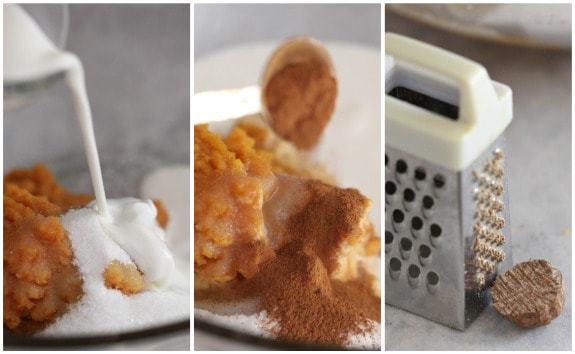 Prepare the pumpkin pie filling.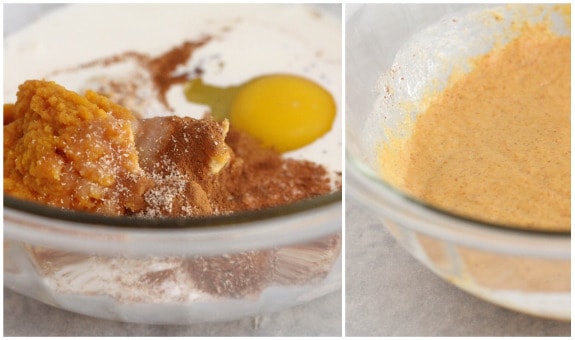 Mix it all together.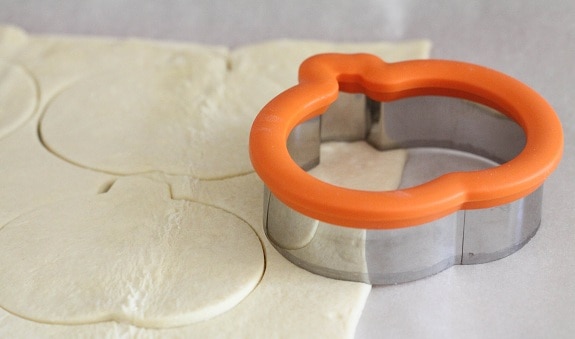 Cut out your cute little pumpkin tart forms!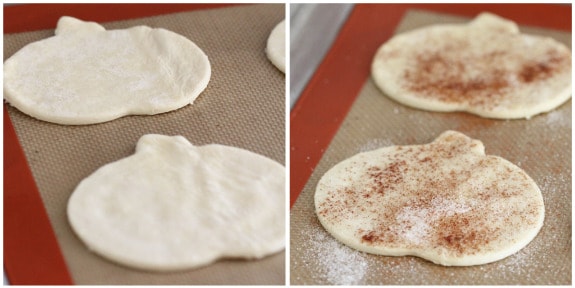 Brush each with butter then sprinkle with cinnamon and sugar.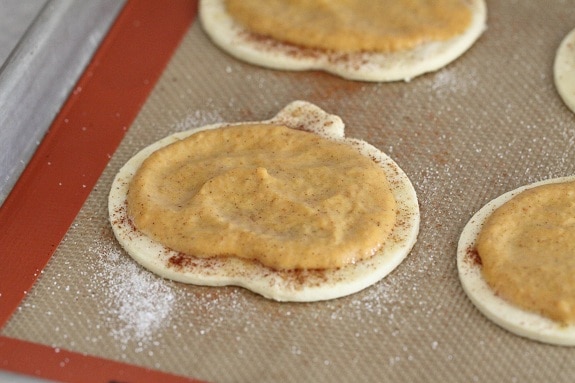 Spoon pumpkin pie filling onto center of your pumpkins and time to bake!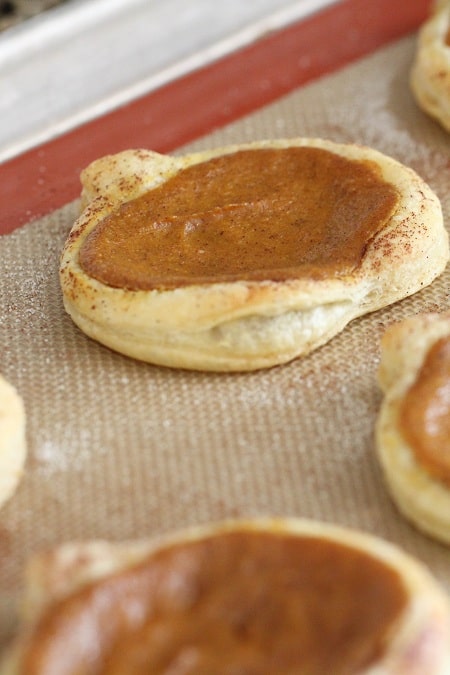 Mmmm, toasted and tasty!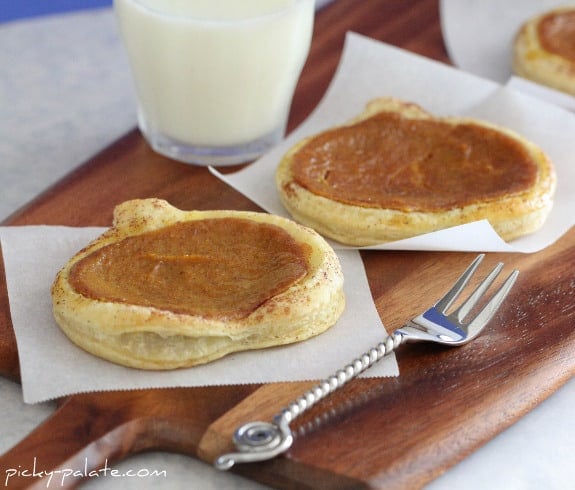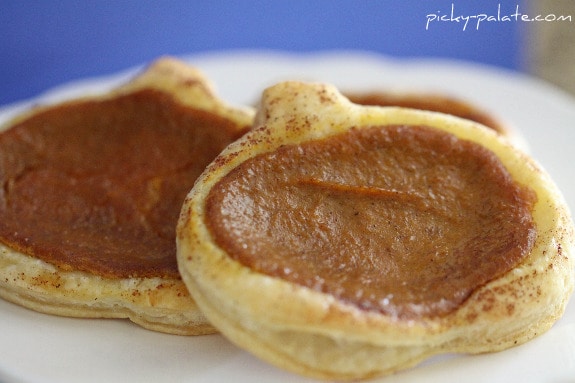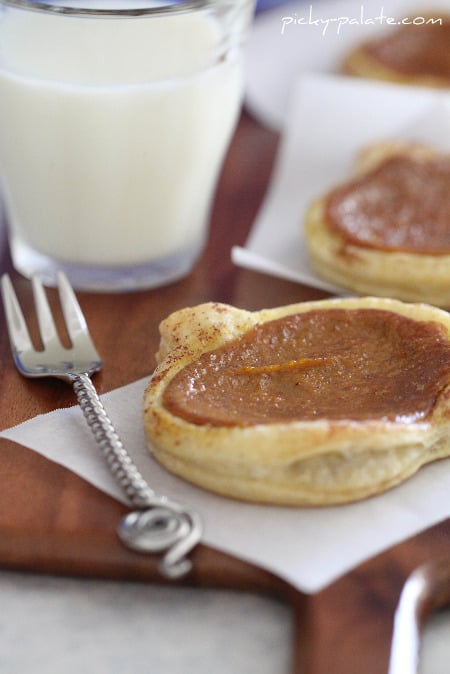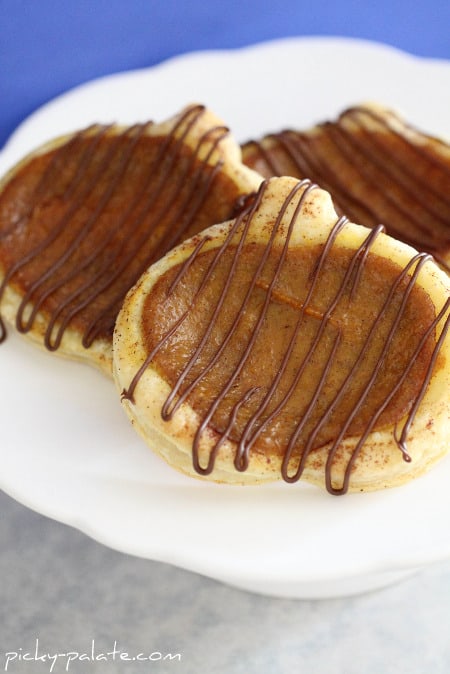 [ziplist]
Cinnamon Toasted Pumpkin Pie Tarts
1 Cup canned pumpkin
1/4 Cup granulated sugar
1/4 Cup heavy whipping cream
1 egg
1/2 teaspoon ground cinnamon
1/4 teaspoon fresh grated nutmeg
4 sheets (2 boxes) of puff pastry, thawed
3 Tablespoons melted butter
3 Tablespoons granulated sugar
1 1/2 Tablespoons ground cinnamon
Melted chocolate for drizzling (optional)
1. Preheat oven to 350 degrees F. In a large bowl mix the pumpkin, sugar, heavy cream, egg, cinnamon and nutmeg until creamy and well combined.
2. Place puff pastry onto a lightly floured countertop and cut out 4 pumpkins per sheet of pastry. Place pumpkin cut outs onto silpat or parchment lined baking sheets. Brush each pumpkin lightly with butter then sprinkle with sugar and cinnamon. Spoon about 2 Tablespoons of pumpkin pie filling around center of pumpkins leaving 1/4 inch border around edges.
3. Bake for 25-30 minutes or until puff pastry is golden brown on the edges and pumpkin pie is cooked through. Let cool for 10 minutes on baking sheet then transfer to cooling rack. Serve room temperature or chilled. Drizzle with melted chocolate if desired before serving.
16 pumpkin pie tarts
_____________________________________
Have a great new week, come back soon!