Happy Thursday night everybody!
I don't know what it is about tuna fish that makes my boys stop what they are doing and want to help me in the kitchen. I had some fun with the boys last week while they were fervently getting right to work to make our favorite classic tuna fish. I couldn't help snapping them in action hard at work.
Tuna fish is kind of like chicken salad. There are so many variations. I like mine the good ol' fashion way with nothing too crazy and so do my little rugrats. Don't worry about the spinach, tell the kids that it's like what Popeye eats to get really strong. It works every time with my guys.
Enjoy some fun in my crazy kitchen with my 2 silly boys! See ya'll soon!
I seriously need to get my booty in gear with my 3 year old. I'm so not motivated this time around!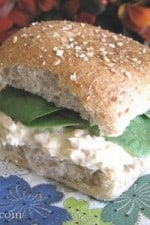 Classic Tuna Fish with Baby Spinach on Whole Wheat Rolls
An easy tuna sandwich with creamy mayo, sweet relish, and tangy mustard on a whole wheat roll.
Print
Pin
Ingredients
2

small cans drained albacore tuna fish

½

cup

mayonnaise or miracle whip

1

tablespoon

mustard

regular or spicy brown

1

tablespoon

sweet relish

1

tablespoon

lemon juice

pinch

of kosher salt

pinch

fresh ground pepper

soft whole wheat rolls

fresh baby spinach leaves
Instructions
Place all ingredients into a bowl and mix until combined. Place on a whole wheat rolls topped with fresh baby spinach leaves. Enjoy!
Keywords:
tuna fish sandwich, tuna salad sandwich, tuna sandwich
Coming soon: Some yummy cookies, soup, A Giveaway and all kinds of other goodies! Come back soon!