Treat yourself to my Green Eggs and Ham Scramble Mediterranean Style, makes the perfect breakfast!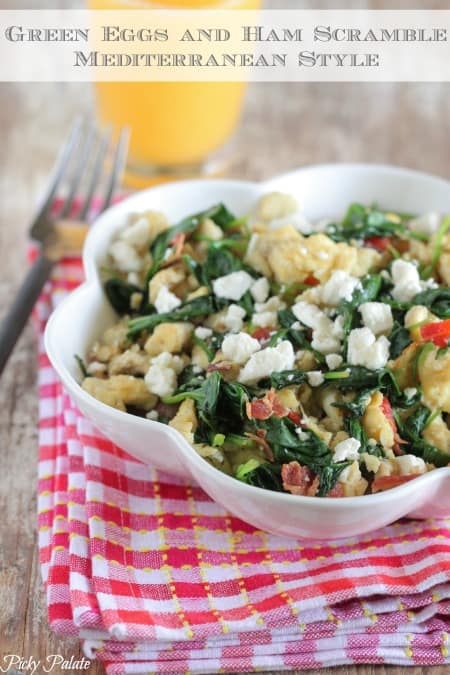 There's nothing like a nice hearty breakfast. In honor of St. Patrick's Day coming up, I developed my own grown up version of "Green Eggs and Ham" that is full of irresistible Mediterranean flavors. In place of the ham, I used  bacon….all from Mr. Piggy anyway 🙂
Perfect for St. Patrick's Day or any special occasion you feel like enjoying a great breakfast!
Let's take a look 🙂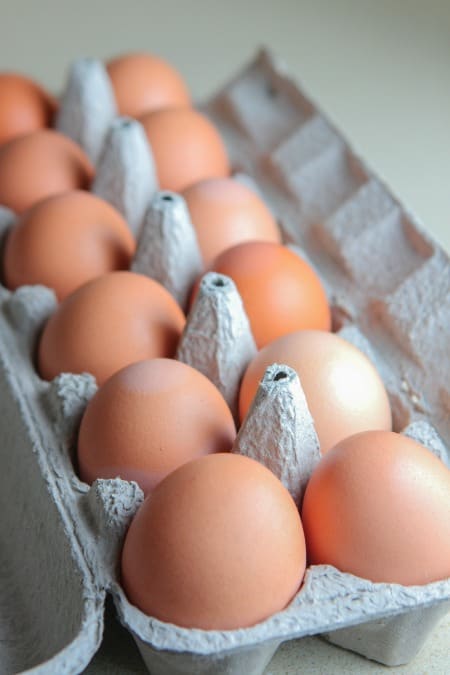 You'll need 8 lovely eggs.
Some other key ingredients for your scramble 🙂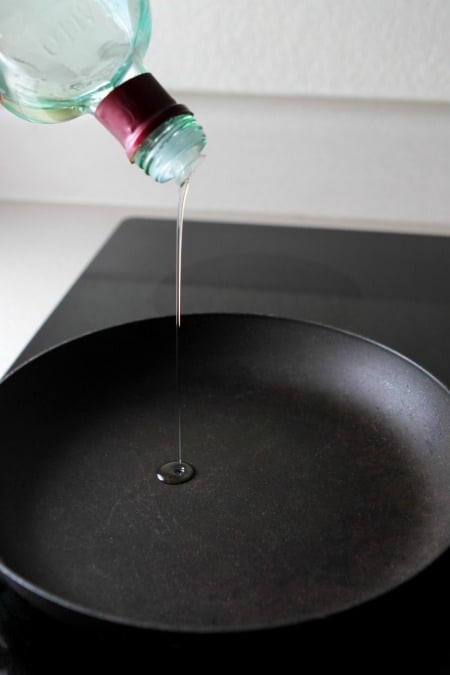 We'll start by heating some olive oil into a skillet for the spinach.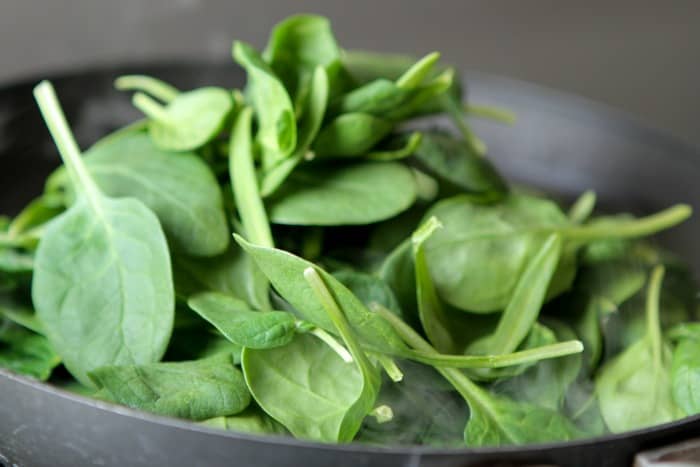 Add your spinach right to the skillet and watch it magically shrink!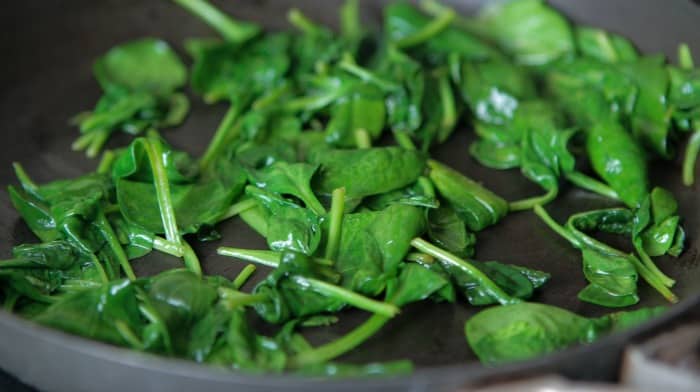 Amazing how that happens 🙂  Remove from heat and set aside.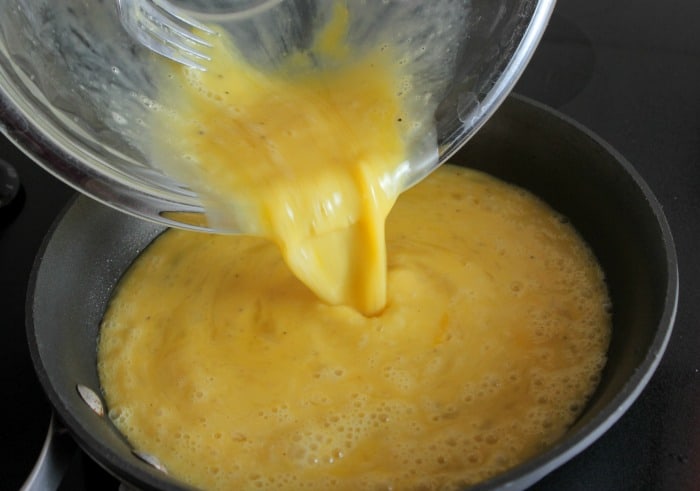 Add your whisked eggs to a nice hot skillet.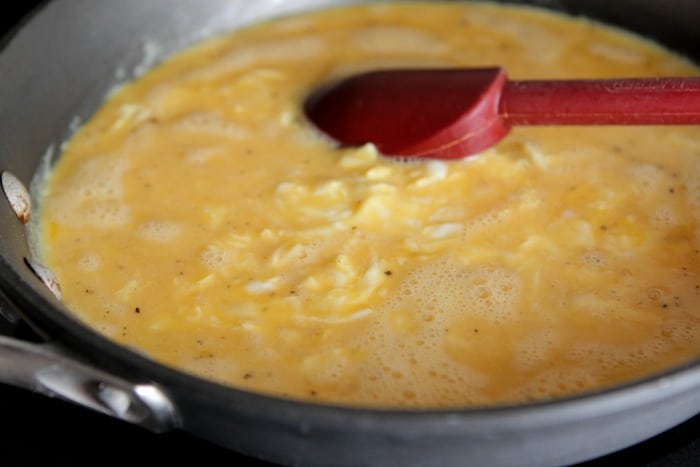 Start stirring eggs as they set up.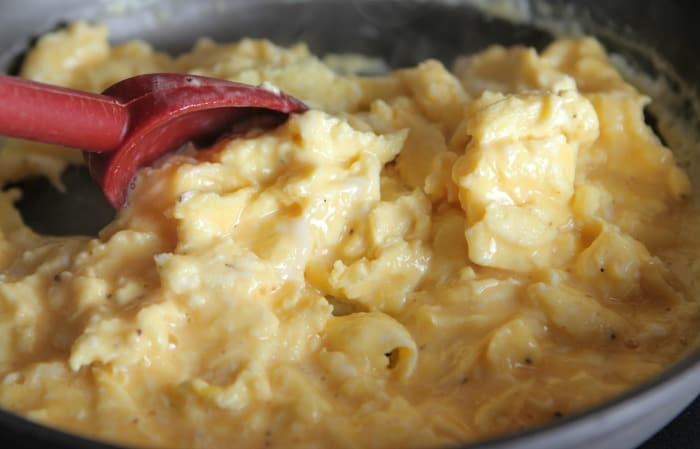 Getting close!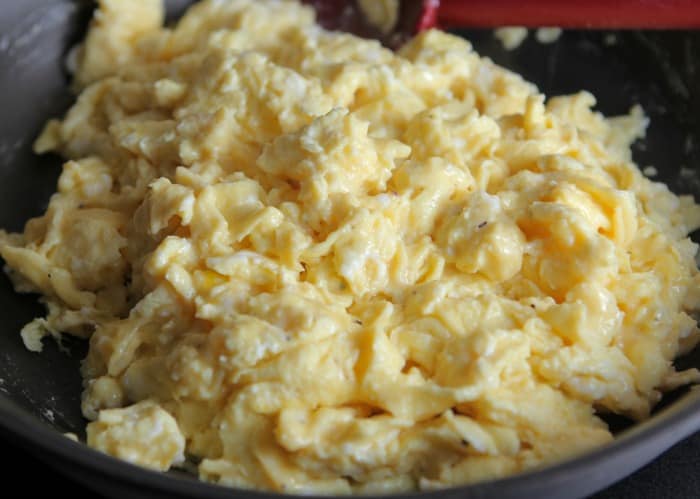 Perfect! Turn off the heat when they look like this. Don't over cook the eggs which can happen quickly 🙂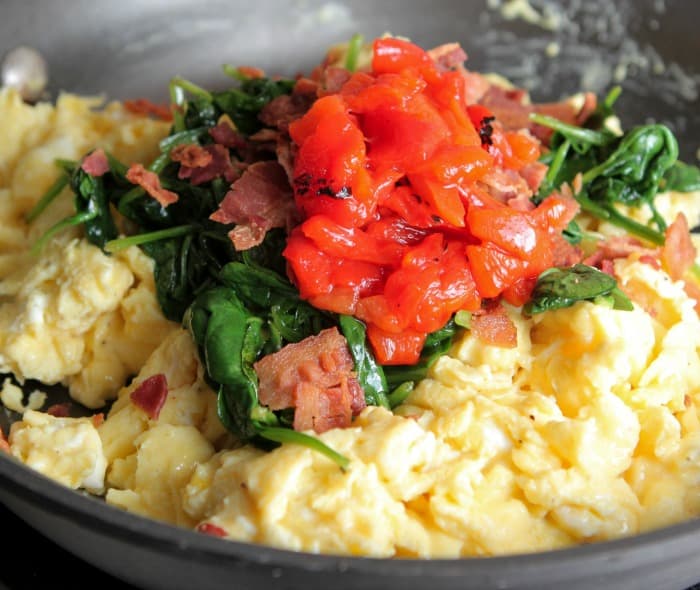 Time to add all of the good stuff.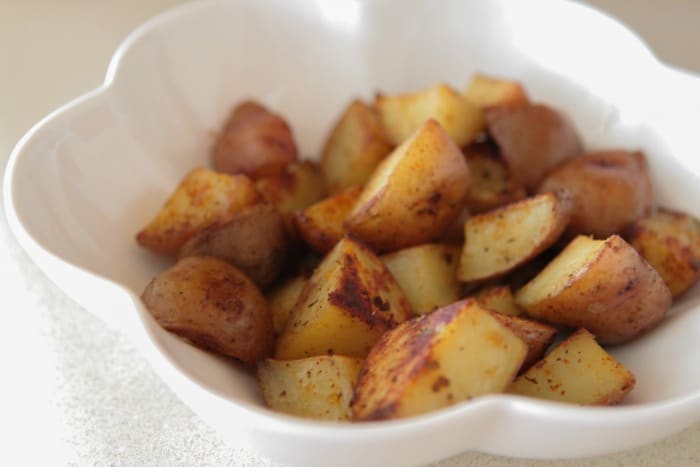 Place the roasted potatoes into serving bowls then top with the scrambled eggs. Mmm! For the potatoes, I quartered red potatoes, set the potatoes in a mixing bowl and poured in vegetable stock to get them wet so the seasoning will stick. Seasoning I used were pepper, garlic salt, and paprika. Then, I baked until fork tender–which was about 30 minutes at 375 degrees.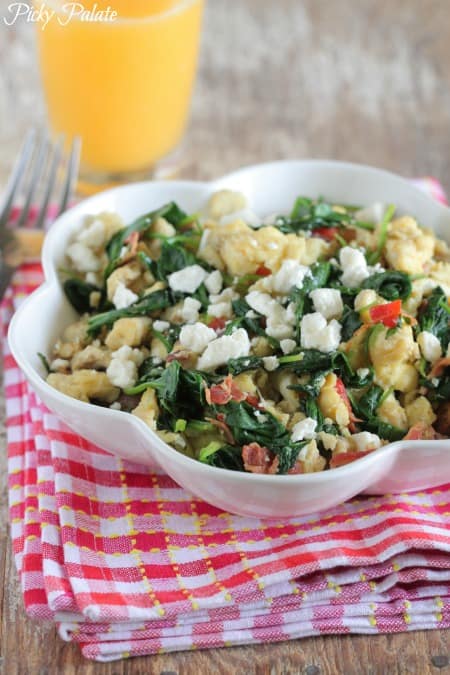 Serve with a nice glass of orange juice and enjoy!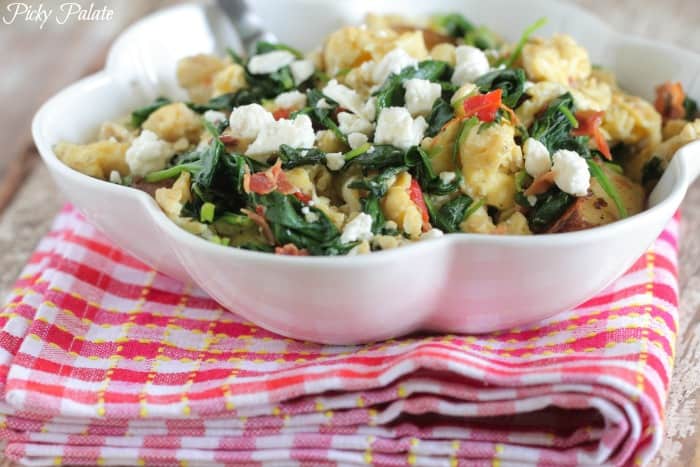 [ziplist]
Green Eggs and Ham Scramble Mediterranean Style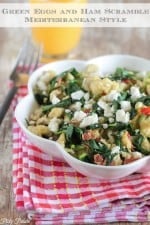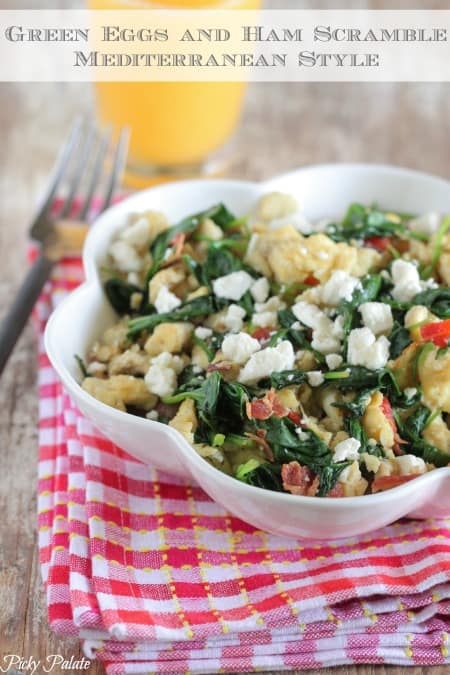 Prep time: 15 min | Cook time: 30 min | Total time: 40 min
Ingredients
1 tablespoon

extra virgin olive oil

2 cups

loosely packed fresh baby spinach leaves

8 large

eggs

2 tablespoons

milk

1/2 teaspoon

kosher salt

1/4 teaspoon

freshly ground black pepper

3 tablespoons

chopped roasted red peppers

1/4 cup

kalamata olives, pitted and chopped

8 strips

cooked, crumbled bacon

1/4 cup

crumbled feta cheese

3 cups

roasted cubed potatoes and seasoning: (low sodium vegetable broth, garlic salt, ground pepper, and paprika)
Directions
Preheat oven to 375 degrees. Quarter washed red potatoes and set in mixing bowl. Pour in vegetable broth, enough that potatoes are wet. Season to taste. I used ground pepper, garlic salt, and paprika. Stir seasoned potatoes and place on baking sheet. Cook for 30 minutes or until fork tender.
Heat olive oil in a large skillet over medium heat. When hot, add spinach leaves. Cook and stir until wilted. Remove from heat and set aside.
Place eggs, milk, salt and pepper into a large mixing bowl. Whisk to combine then pour into a large hot skillet over medium heat that's been sprayed with cooking spray. With a rubber spatula, stir eggs until scrambled. Be careful to not overcook eggs. See photos. Add spinach, roasted red peppers, olives, bacon and feta cheese, stir gently to combine.
Place roasted potatoes into serving bowls and top with scrambled eggs. Serve warm.
Makes 2-4 Servings
FOLLOW PICKY PALATE ON INSTAGRAM! Show me what recipes you're making from Picky Palate by using #pickypalate.
Other recipes you may enjoy...
Comments