Good Sunday everyone.
Looks like I've just about survived my first week in CA. I thought my husband was joking when he said there was an earthquake last Thursday evening. He went on and on about feeling the couch rattle. Sure enough he was right. We watched the news that evening and a fairly small earthquake hit southern CA. It wasn't all that close to us, but he really felt it. This is all going to take some getting used to!
I've also enjoyed checking out 2 different farmer's markets in the area which I am LOVING. The beach has been great even in the chilly windy weather. I am grateful my boys are transitioning well, I was so worried about it. Mason enjoys his new school and even had his first play day with a school friend who already calls Mason his best friend.
Now for the dinner. This is a great weeknight dinner that is hearty and warm. I made mine pretty mild by only adding 1 Tablespoon adobo sauce, but if you like it spicy, add more. I love the addition of the white beans, feel free to add any bean that your family likes, or leave them out. Any way you like it, it's wonderful. I hope you all enjoy! Below the tortellini is a fun little breakfast bar I was playing around with. We loved them, check em out.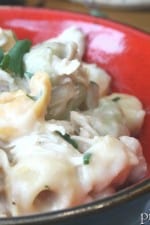 Creamy Chipotle Chicken Tortellini with White Beans and Cilantro
An easy dinner loaded with cheesy tortellini, shredded chicken, creamy mozzarella, and tender white beans.
Print
Pin
Ingredients
8

oz

pkg cheese filled tortellini

4

tablespoons

butter

¼

cup

flour

¼

teaspoon

salt

¼

teaspoon

pepper

2

cups

skim milk

2

cups

shredded mozzarella cheese

1

tablespoon

adobo sauce

from can of chipotle chilies

2

cooked

shredded chicken breasts

14

oz

can navy or cannellini beans

drained

¼

cup

chopped cilantro leaves
Instructions
Prepare tortellini according to package directions.

Melt butter into a medium dutch oven over medium heat. Whisk in flour, salt and pepper until combined. Slowly whisk in milk until smooth. Increase heat to medium high while continuously whisking. Continue until mixture thickens. Reduce heat to low and stir in 2 cups shredded mozzarella cheese. Stir until melted and smooth then add the adobo sauce. Add drained tortellini to pot along with chicken, beans and cilantro. Reduce heat to low and serve.
Keywords:
chicken tortellini, chicken tortellini soup, tortellini
_______________________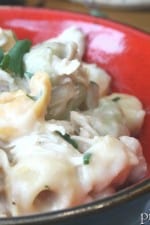 Good Morning Breakfast Bars
Chewy granola bars with tart craisins, dried pineapple, and crunchy trail mix.
Print
Pin
Ingredients
14

oz

can condensed milk

2 ½

cups

rolled oats or barley flakes

6

oz

package craisins

½

cup

dried pineapple

1

cup

teddy graham trail mix
Instructions
Preheat oven to 250 degrees F. Pour milk into a small saucepan over medium low heat. Stir until warmed. Place milk along with remaining ingredients into a large mixing bowl. With a rubber spatula, stir until combined, then pour into a well greased 9x13 inch baking dish. Bake for 1 hour, remove and let cool for 15 minutes. Cut into squares and let continue cooling. Store in an air tight container.
Keywords:
granola bars, homemade granola bars, oat bars
______________________________________
Look What I found 2 Minutes Away From our Home!
The boys and I hit the jackpot when I found Sprinkles seriously minutes away. I had the chocolate marshmallow cupcake with bittersweet ganache and I was in heaven! The boys are boring with their plain vanilla, but they loved it anyway!
Have a great week, more recipes coming soon!