Creamy Dijon Chicken and Thyme Pasta Bake Plus Giveaway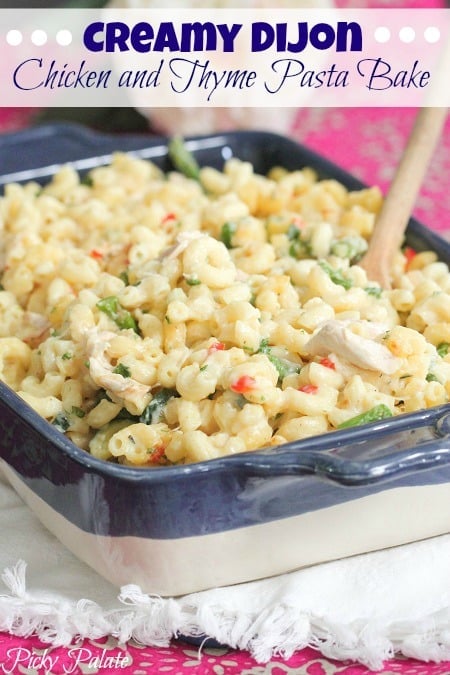 I am so thrilled to share this creamy pasta bake with you today. I have partnered with Shirley J to bring you an amazing new product that is about to change your cooking life. Seriously. This recipe makes the perfect family meal and is great for bringing to a potluck or party. Wait until you sink your teeth into the vibrant flavors. I use Dijon mustard as a major seasoning for the creamy sauce that makes for a perfect pasta bake.
Let me tell you about this product I use for the cream sauce. Shirley J Whisk Bliss is what it's called. It blew my mind at how perfectly  easy to use it is and how amazingly creamy the sauce is.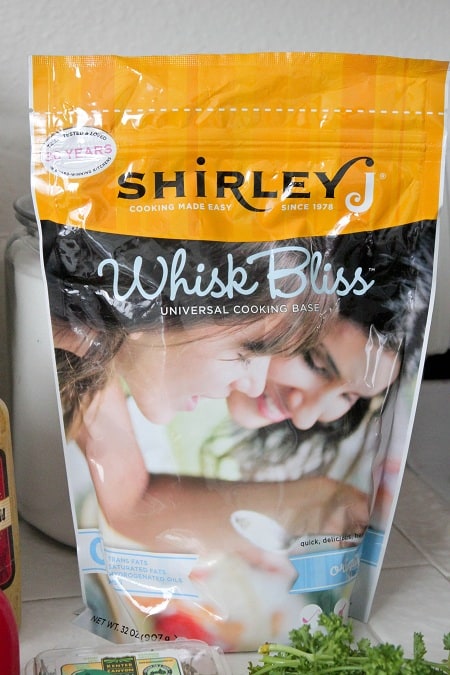 So, in a nutshell, Shirley J. Whisk Bliss is a just-add water bechemel/roux sauce. It replaces items like cream, butter, flour, etc in recipes to make a white sauce. The benefits are that it won't curdle, lump or scortch which are the most common problems home cooks have with making a roux and bechemel. The beauty is that you can make any type of cuisine with Whisk Bliss and it takes on different flavors, examples: Thai Peanut Sauce, Alfredo Sauce, Corn Chowder, Black & White Chili with Cumin, etc.
Can I just say, I had no idea what to expect when I tried this product and when I prepared the sauce, it literally took minutes and it was thick and creamy just as if I would have made it myself with buttter, flour and milk or cream. I couldn't believe it. Let's just say I am Shirley J's newest fan! Yay for making our lives easier in the kitchen and getting dinner on the table faster !!
Ok, let's take a look at how to make this delicious pasta bake.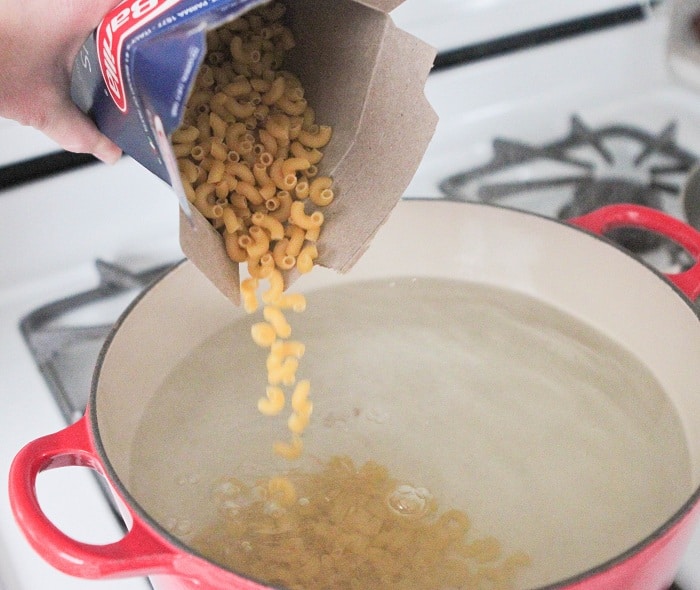 Cook your pasta according to the package directions then drain under cold water.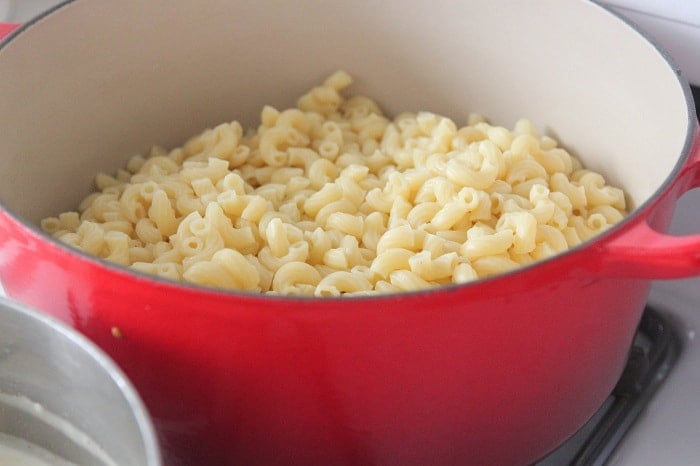 Transfer to a nice 5 quart dutch oven pot and set aside for a few minutes.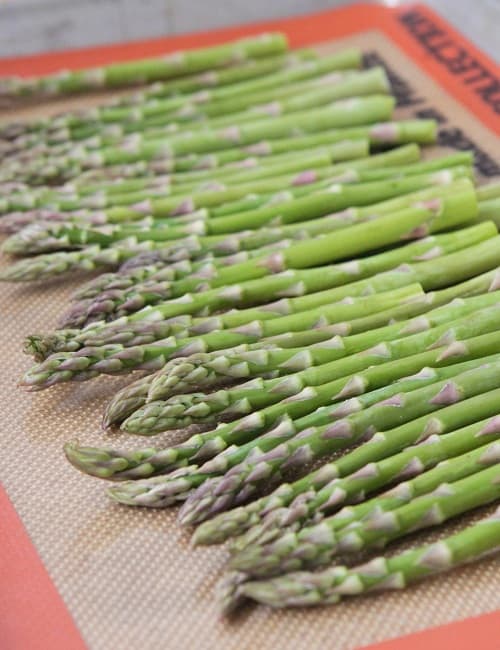 Bake your asparagus for 10 minutes until tender.

Time to cook the veggies! Add your zucchini, red pepper, onion and garlic.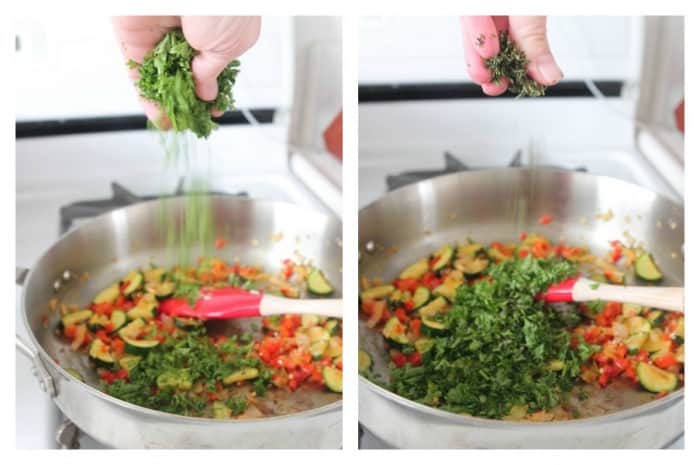 Add some fresh parsley and thyme leaves.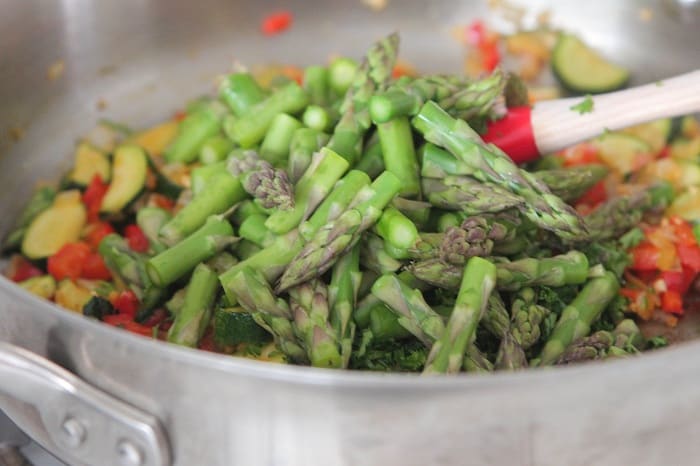 Add your cooked asparagus.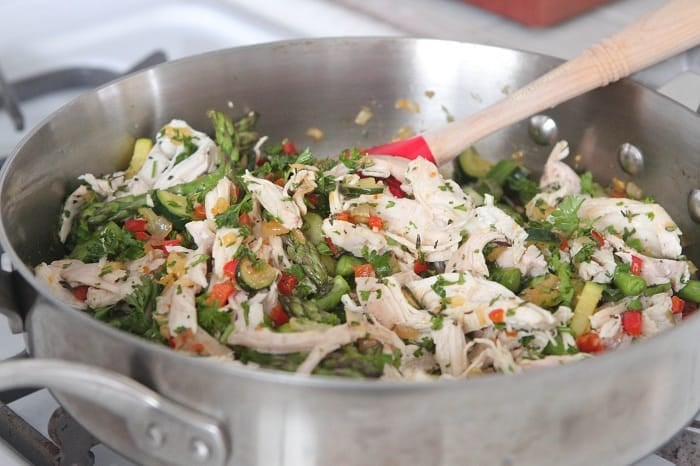 Add your cooked, shredded chicken breast and season with a touch of salt and pepper.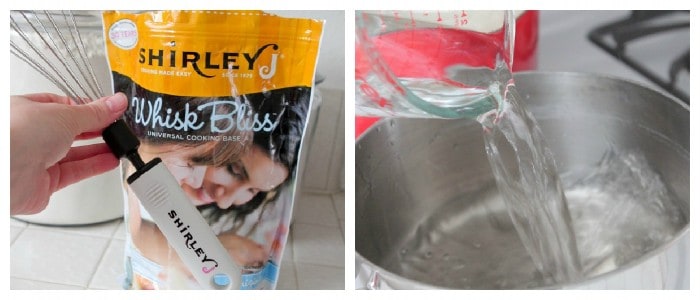 Ok, time for Shirley J's Whisk Bliss. Bring 4 cups of water to boil.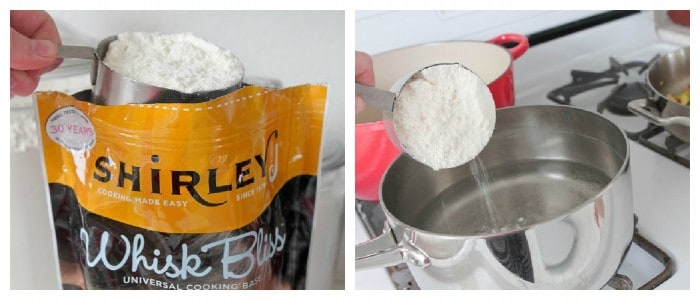 Whisk in 1 cup of Whisk Bliss.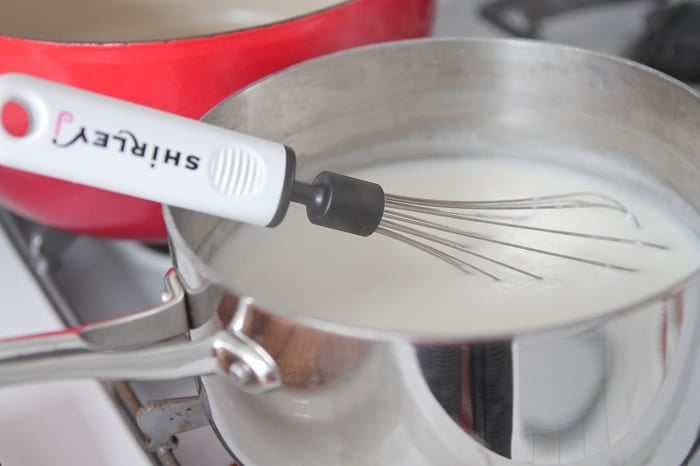 Bring the sauce to a boil until creamy and thick. Literally took just a few minutes. Reduce heat.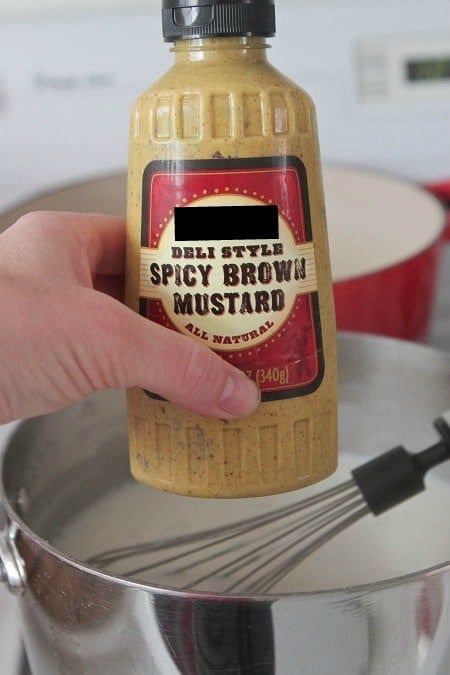 Stir in 3 tablespoons of Dijon or spicy brown mustard.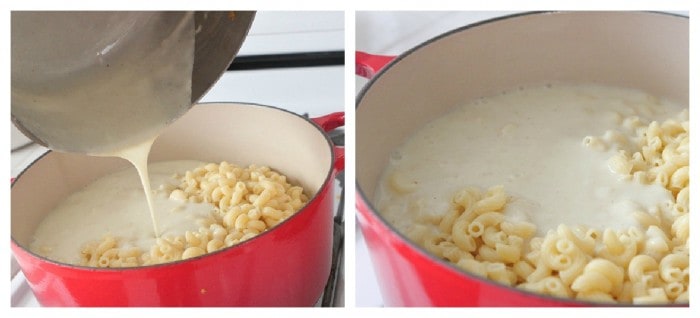 Pour sauce into cooked pasta.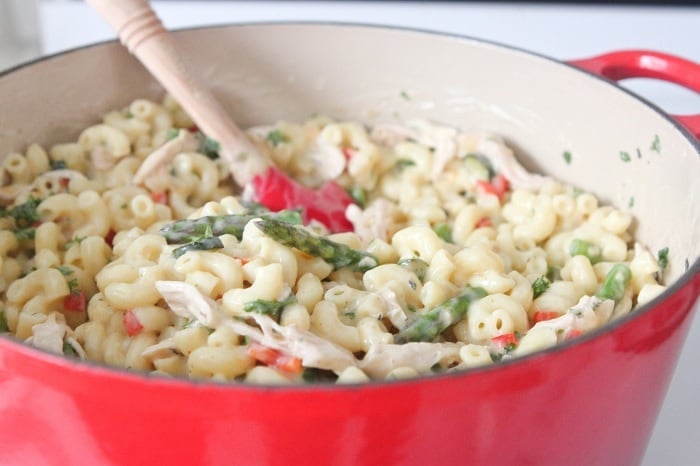 Add the lovely cooked vegetables and chicken.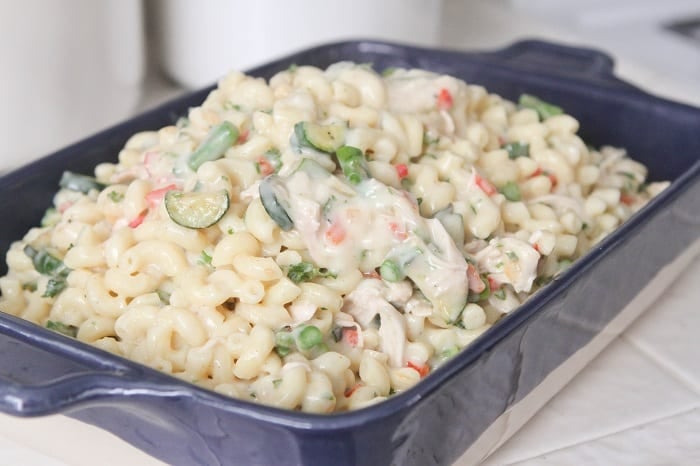 Transfer to a 9×13 inch baking dish.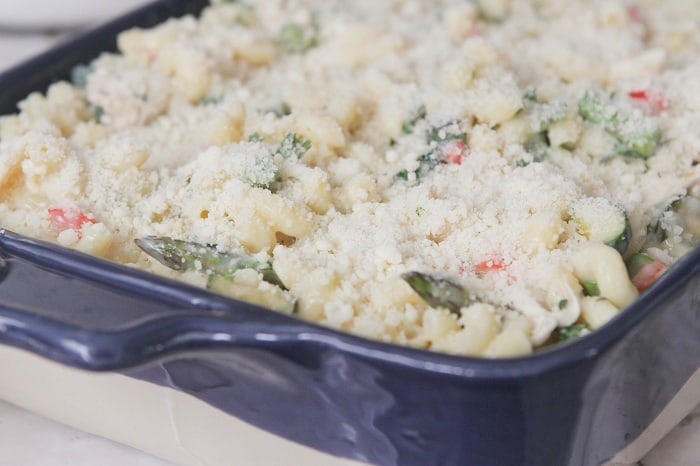 Top with Parmesan Cheese and it's time to bake!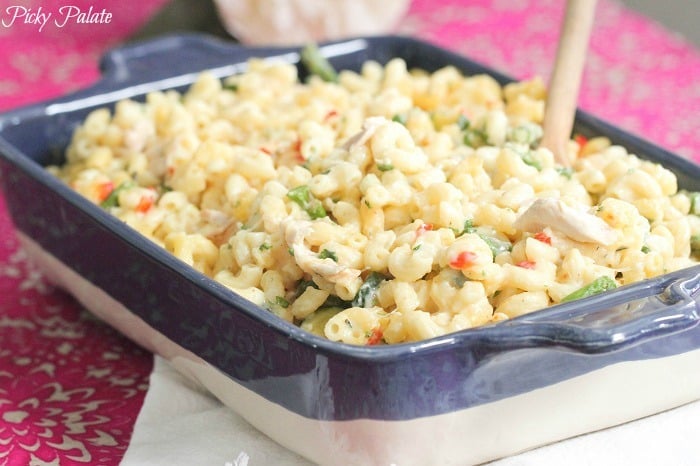 [ziplist]
Creamy Dijon Chicken and Thyme Pasta Bake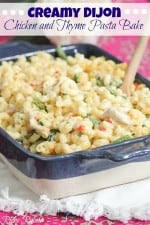 Ingredients
1 pound

dry elbow pasta

1/2 pound

fresh asparagus, ends trimmed

2 tablespoons

extra virgin olive oil

2 cups

chopped zucchini

1 cup

finely diced red pepper

1 cup

finely diced white onion

2 tablespoons

fresh minced garlic

1/4 cup

chopped fresh parsley

2 tablespoons

fresh finely chopped thyme leaves

2 medium

cooked shredded chicken breast

1/4 teaspoon

kosher salt

1/4 teaspoon

freshly ground black pepper

4 cups

water

1 cup

Shirley J Whisk Bliss Original

3 tablespoons

Dijon Mustard

4 tablespooons

freshly grated Parmesan Cheese
Directions
Preheat oven to 350 degrees F. and lightly spray a 9×13 inch baking dish with non-stick cooking spray.
Place trimmed asparagus onto a silpat or parchment lined baking sheet. Bake for 10 minutes them remove from oven. Once cooled, chop into 1 inch pieces.
Cook pasta according to package directions, drain under cold water then transfer to a 5 quart dutch oven or large pot.
Heat olive oil into a large 3 quart skillet over medium heat. Add zucchini, red pepper, onion, and garlic. Cook and stir for 5 minutes until slightly softened. Add parsley and thyme, stirring to combine. Add chopped asparagus and stir. Add shredded chicken and season with salt and pepper.
Boil water and whisk in Shirley J Whisk Bliss. Stir and bring back to a boil until thick and creamy. Reduce heat to low and stir in Dijon mustard. Pour Dijon sauce over cooked pasta then add in cooked vegetables. Stir to combine then transfer to prepared baking dish. Top evenly with Parmesan Cheese and bake for 25 minutes until slightly golden. Remove from oven and serve.
Makes 8 Servings
This is a sponsored post for Shirley J however thoughts and opinions are my own.
Giveaway!
To enter, see the Rafflecopter widget below. The Winner will receive a $400 Williams Sonoma Gift Card to use towards (if desired) the fabulous 5 Quart Le Creuset Dutch Oven that I used to prepare the dish along with a 9×13 inch Emile Henry baking dish that I used as well. We are also giving away a $100 gift card to Shirley J for you to try out their 20+ other products!
FOLLOW PICKY PALATE ON INSTAGRAM! Show me what recipes you're making from Picky Palate by using #pickypalate.
Other recipes you may enjoy...
Comments