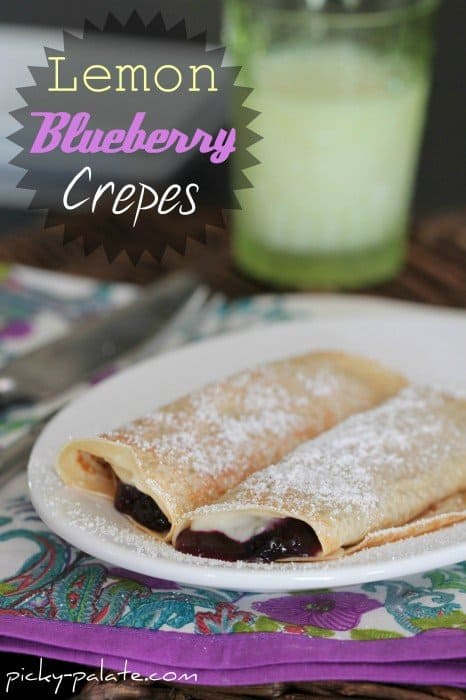 Over the last few weeks my family has been Crepe crazy. I've been making crepes of all kinds sweet and savory. I must say, out of all the crepe recipes I've been testing, this one has been our favorite!
Here's another perfect Mother's Day Brunch recipe for you where I use the beautiful pink KitchenAid Blender to help make my crepes. Be sure to check out KitchenAid and Cook For The Cure for a wonderful cause!
Now, if you have never attempted to make your own crepes, do not panic, they take a little practice swirling your pan, but once you get it, you are whipping up crepes in no time at all. I use an inexpensive crepe pan with a very shallow rim that makes it nice and easy to flip your crepes, but I have certainly made crepes in a regular skillet as well. So no worries!
Alright, let's take a look.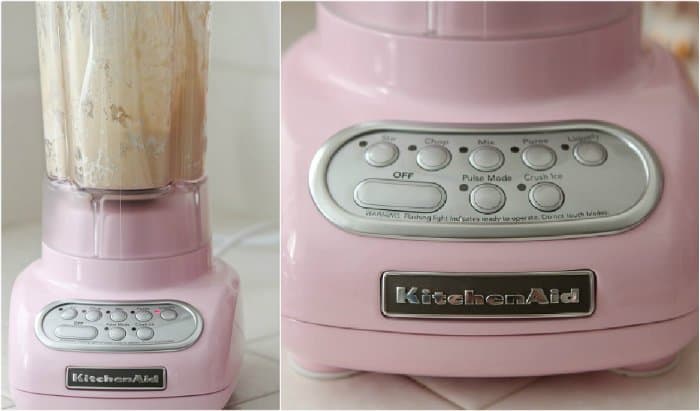 I prepare my crepe batter in my blender, which takes a whole 15 seconds. It's wonderful! Stay tuned for Friday's Giveaway where you can win a gorgeous Pink KitchenAid Blender of your own!!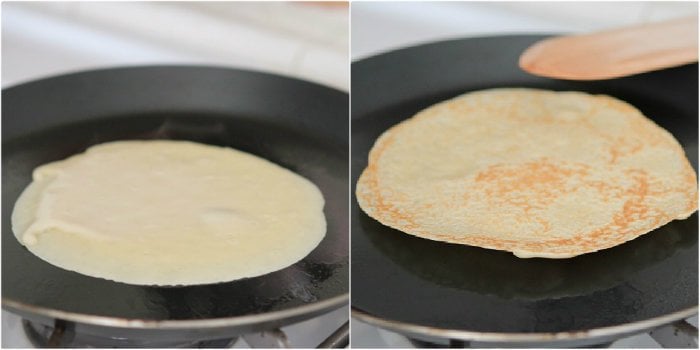 So the trick with making crepes is as soon as you pour your batter into your hot skillet, you swirl it around so your crepe is thin and round like picture 1 on the left. It takes a little practice, but I assure you it's very easy once you've got the hang of it! After about 30 seconds to 1 minute, you flip to cook both sides.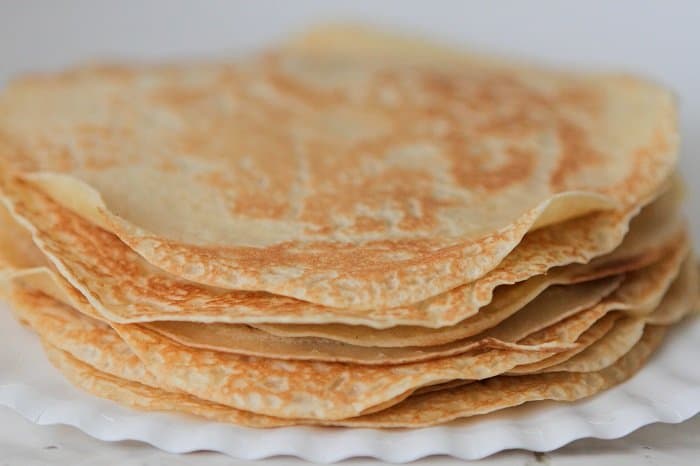 The whole stack of crepes takes about 10 minutes. Yippee!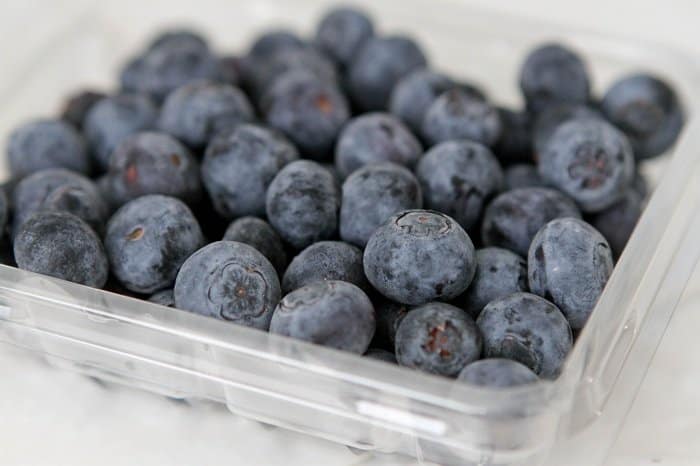 Let's start the blueberry sauce. Take 1 cup of beautiful fresh or frozen blueberries and place them into a small saucepan.
You'll add some sugar, cornstarch and lemon juice.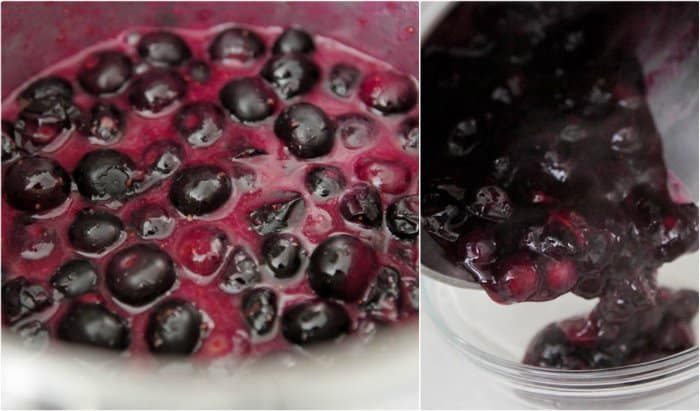 Cook and stir until you get a bubbly thick, sweet gorgeous sauce like this.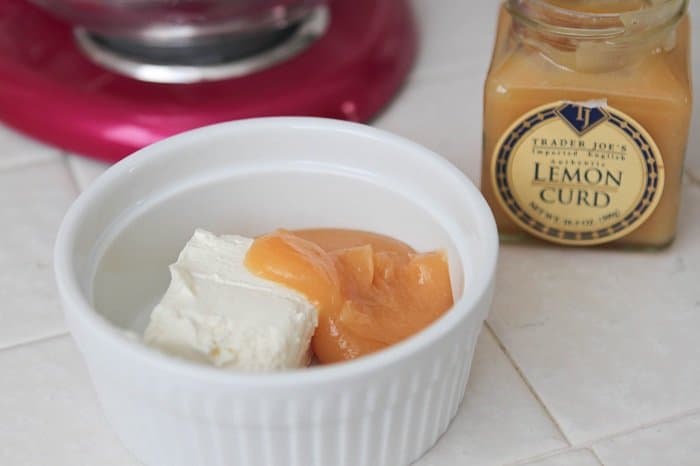 Time for the lemon cream. You simply stir together equal parts cream cheese and prepared lemon curd. You can usually find lemon curd at your grocery store, but I gave you a link just in case. I will be spreading this combo on everything now. It's tart, sweet and irresistible 🙂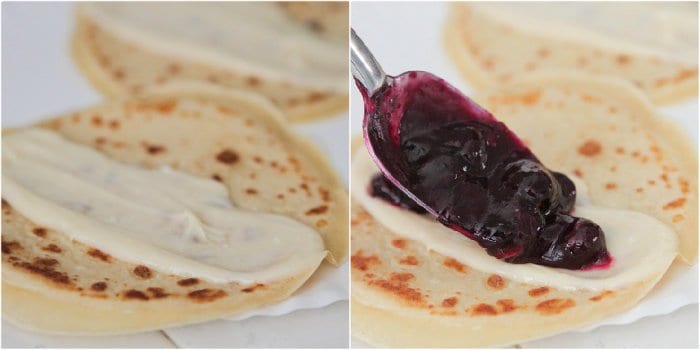 Let's layer our crepes with a thin layer of lemon cream then top with a small spoon of blueberry sauce.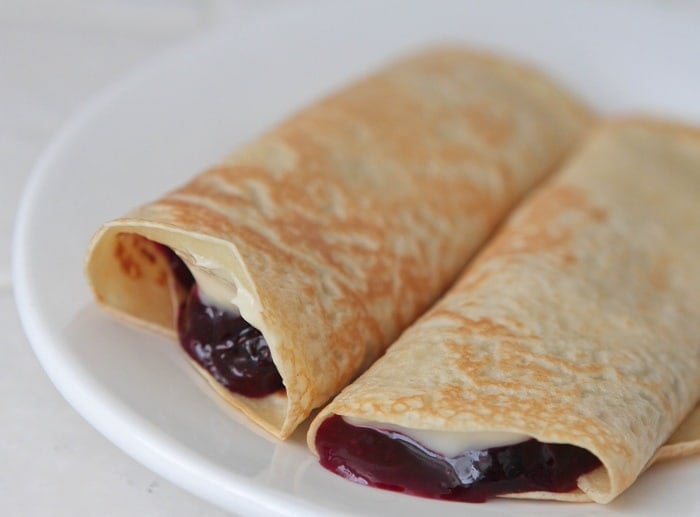 Roll em' up then go grab some powdered sugar to make it look pretty and fancy.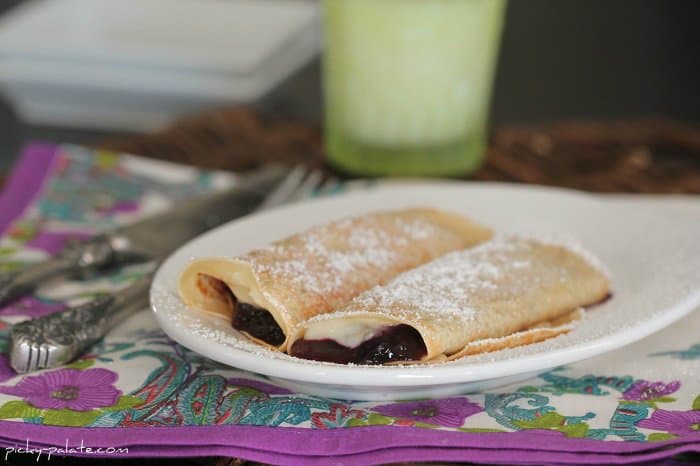 Dust with powdered sugar using a small strainer (or your fingers if you don't have one) and voila'! How gorgeous and simple is this?! Love it.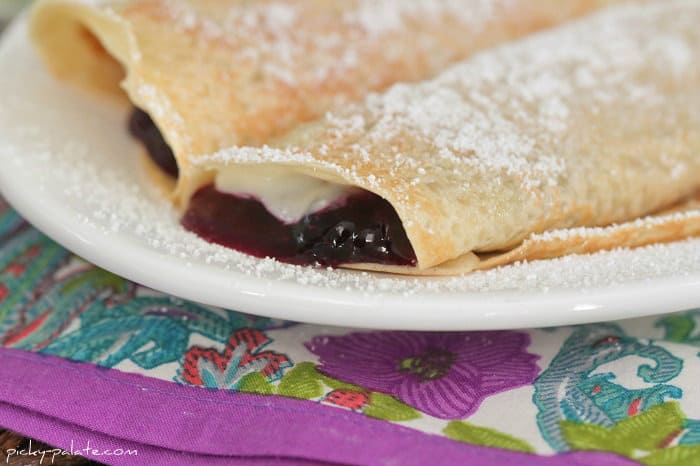 [ziplist]
Creamy Lemon Blueberry Crepes
3/4 cup all purpose flour
2 tablespoons granulated sugar
1/2 cup milk
1 egg
1/4 teaspoon pure vanilla extract
1 tablespoon melted butter
1 cup frozen blueberries
1/4 cup plus 1 tablespoon granulated sugar
1 1/2 tablespoons cornstarch
1/2 tablespoon lemon juice
1/2 cup prepared lemon curd
3 tablespoons softened cream cheese
1. Place flour, sugar, milk, egg and vanilla into a blender, blending until well combined, about 20 seconds. Pour crepe batter into a large measuring cup and set aside.
2. Place blueberries, sugar, cornstarch and lemon juice into a medium bowl, mixing to combine. Transfer to a medium saucepan over medium low heat. Stir and cook for 5 minutes, until bubbly. Remove from heat and set aside.
3. Place lemon curd and cream cheese into a small bowl, mixing until smooth and combined.
4. Heat a crepe pan or 12 inch non stick over medium heat. Spray lightly with cooking spray. Pour 2-3 tablespoons of crepe batter into pan swirling all the way around to get a nice circular crepe. Cook for about 1 minute on the first side or until turning golden then flip and cook for another 30 seconds-1 minute. Transfer to a paper towel lined plate. Continue cooking crepes until all the batter is gone. Makes about 10 crepes.
5. Fill each crepe with a thin layer of lemon curd cream and a spoon of blueberries. Roll crepes and sprinkle with powdered sugar. Now eat!
Makes about 10 crepes
______________________
Have a great day! Come back soon 🙂