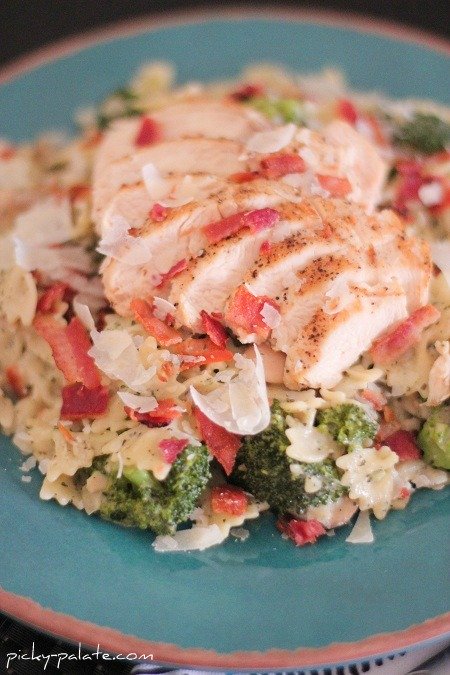 Over Christmas break, I made this fun pasta dinner at my mom's house. It's creamy, simple and full of great flavor the whole family will love.
I love Barilla's line of mini pasta shapes. I can't find them everywhere, but I can always count on finding them in AZ. I chose the cute mini farfalle for my recipe.
Let's take a look…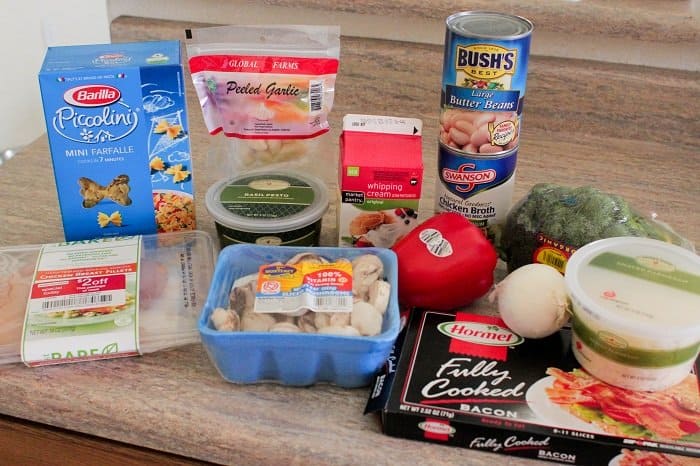 Here's your line-up. Pretty simple right? You can even use up any vegetable you might have laying around the fridge.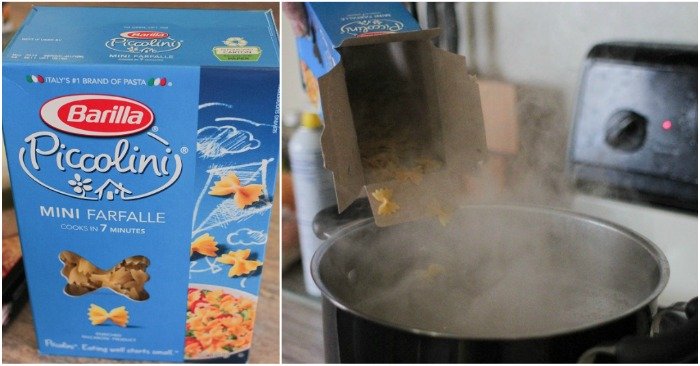 Here are those mini farfalle. Cook them in boiling water until al dente. Love that they are done in 7 minutes 🙂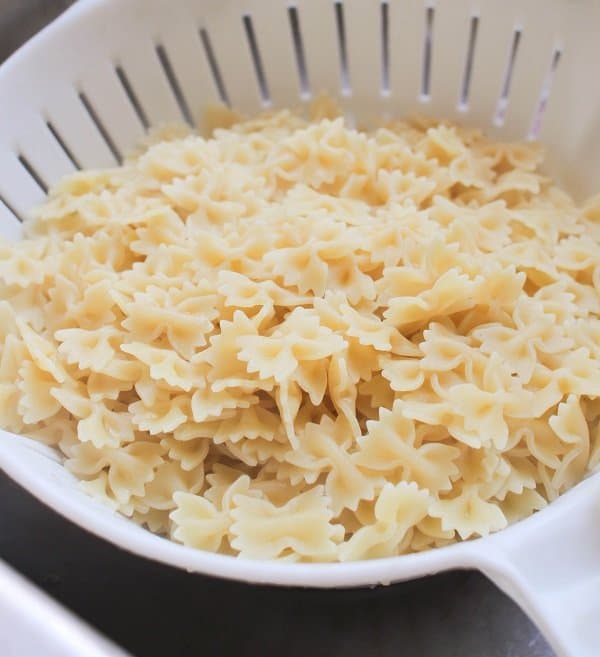 Perfect-o!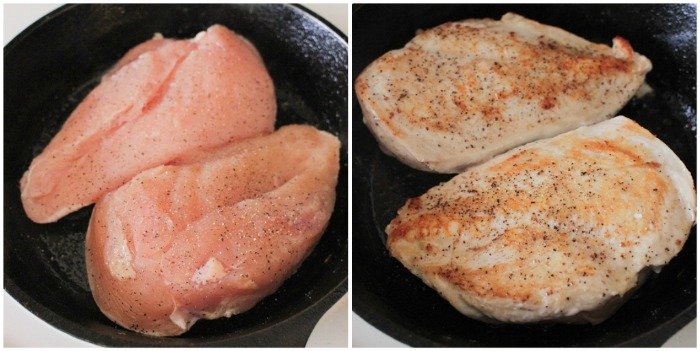 I used two large chicken breasts and cooked them in a cast iron skillet. I browned both sides on the stove top then finished it off in the oven for about 20 more minutes. They were perfectly juicy.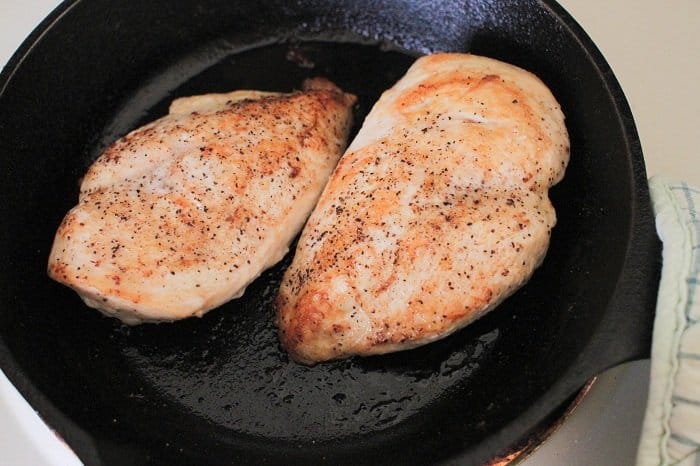 Yum 🙂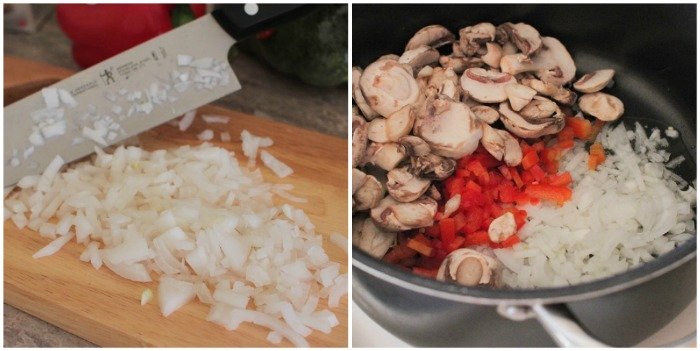 Time to start the veggies. I used onions, red bell peppers and mushrooms here.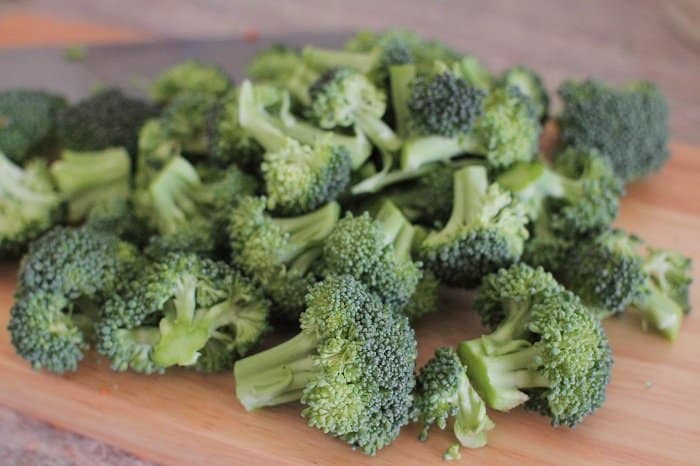 I also tossed in some broccoli florets.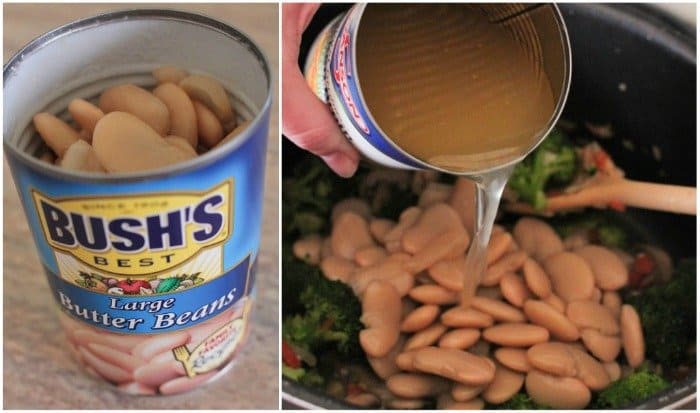 I have an abnormal fetish with these large Butter Beans from Bush's. However, if you can't get a hold of them, any white bean will do.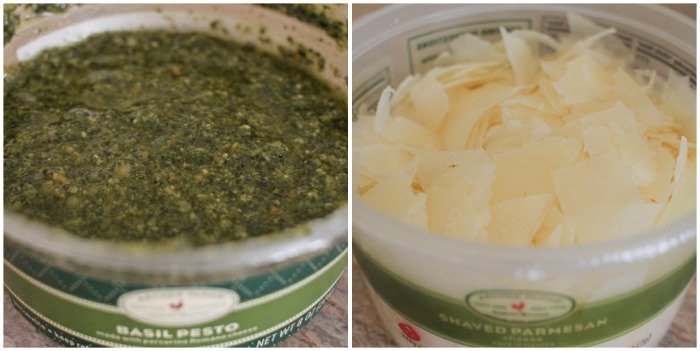 Is there anything better than pesto and Parmesan? I think not.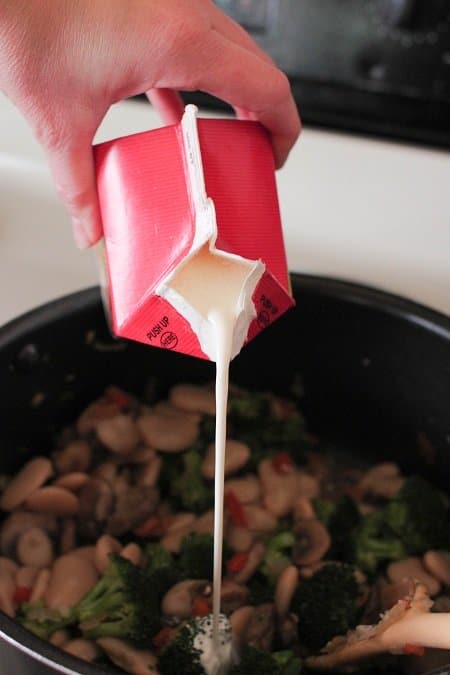 A little cream please 🙂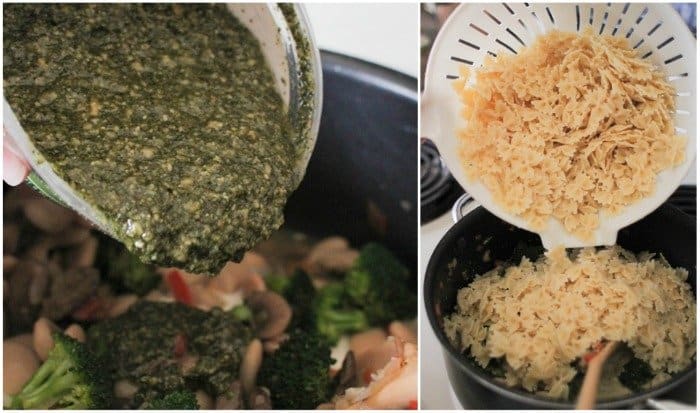 Time to add the pesto and pasta. It's almost done!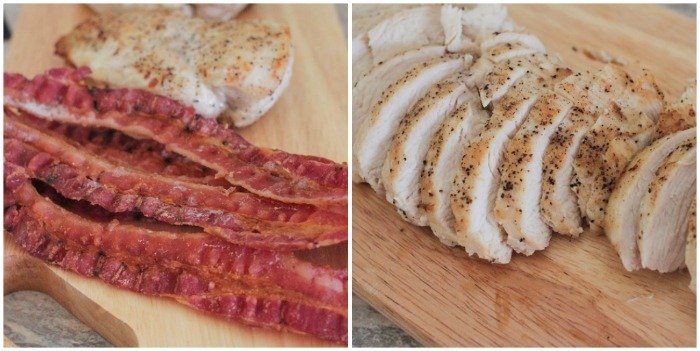 Bacon and chicken time!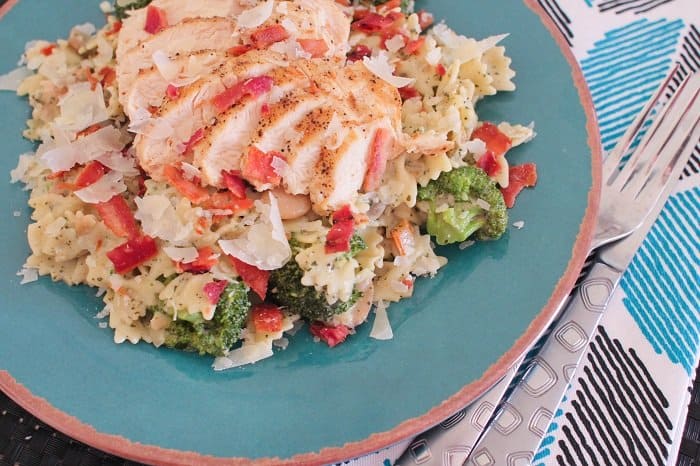 Here you have a simple any night dinner that the whole family will gobble right up. Enjoy!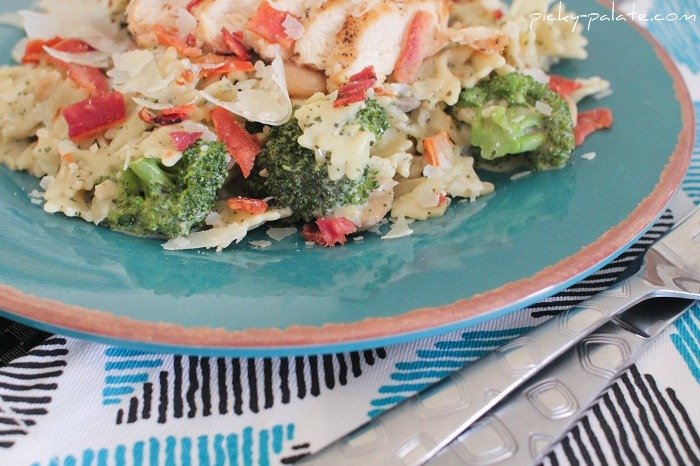 [ziplist]
Chicken Bowtie Pasta
2 tablespoons extra virgin olive oil
2 large chicken breasts lightly seasoned with salt and pepper
1 pound mini bowtie pasta
2 tablespoons extra virgin olive oil
1 medium onion, finely chopped
3/4 cup finely chopped red bell pepper
2 cups sliced mushrooms
2 tablespoons minced garlic
4 cups broccoli florets
15 ounce can large butter beans or other white bean
15 ounce can reduced sodium chicken broth
1 cup heavy whipping cream
1/2 cup prepared basil pesto
1/2 cup grated parmesan cheese
1 cup cooked, crumbled bacon pieces
1. Heat oil in a medium cast iron skillet over medium heat. Place lightly seasoned chicken breast into hot skillet and cook for about 4 minutes per side, until lightly golden brown. Transfer skillet to a preheated 350 degree oven and continue baking for 20-25 minutes until chicken is cooked through. Let chicken rest for a good 15 minutes.
2. Cook pasta according to package directions, drain, run under cold water and set aside.
3. Place oil into a large dutch oven or pot over medium heat. Saute onion, bell pepper, mushrooms, garlic and broccoli for 10 minutes. Stir in beans, chicken broth, cream, pesto and Parmesan cheese. Stir until well combined and reduce heat to low. Stir in pasta, bacon crumbles and chicken. Simmer until ready to serve. Note: Stir pasta every 5 minutes if not serving right away. It thickens quick and needs stirred. Add additional broth, cream or milk to loosen sauce.
Makes 8 servings
________________________________
Have a great day! Come back soon!