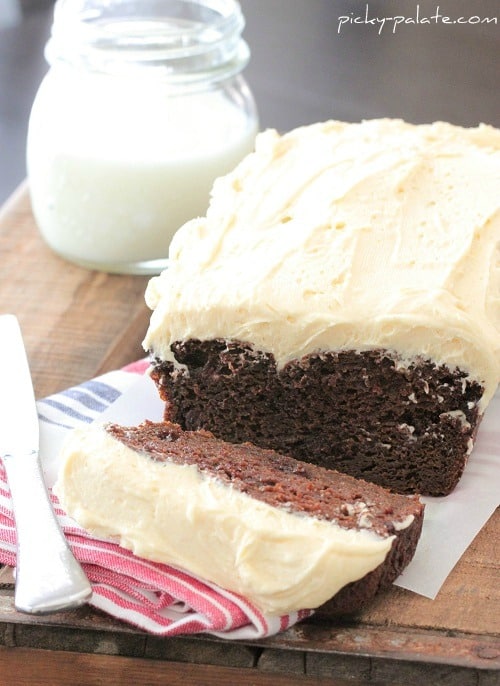 Fall baking is here friends and I am loving it!! Get a load of this ultra easy and incredibly perfect chocolate pumpkin cake with a thick layer of fabulous pumpkin spice buttercream. can you tell I am a little excited about this recipe? Lol!
I've always been a fan of jazzing up cake mixes and this is another quick and simple dessert that will have your guests ooing and ahhing. Hope you enjoy!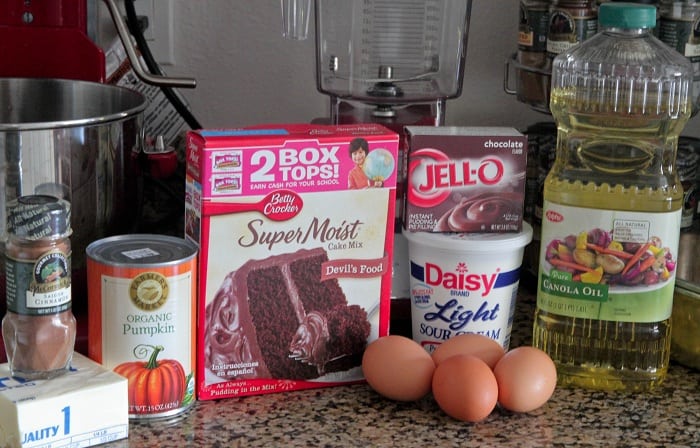 Here's your line up 🙂 Add powdered sugar to the left by the butter and cinnamon 🙂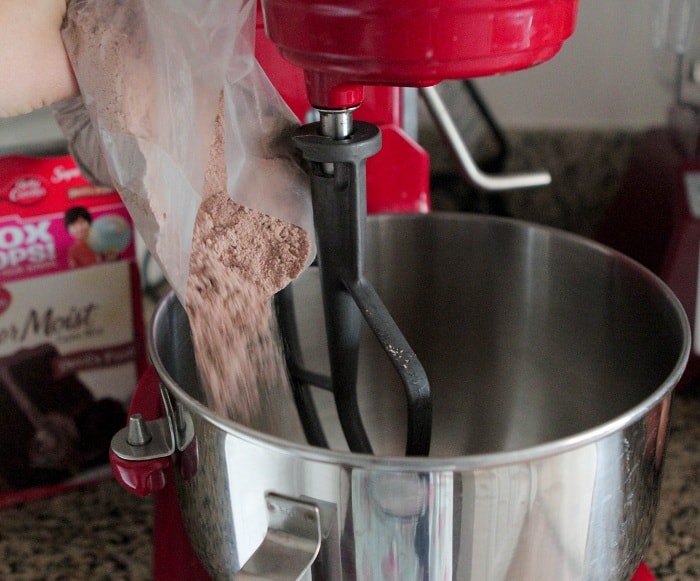 I love this recipe, because you add everything to the mixer 🙂 Start with the cake mix.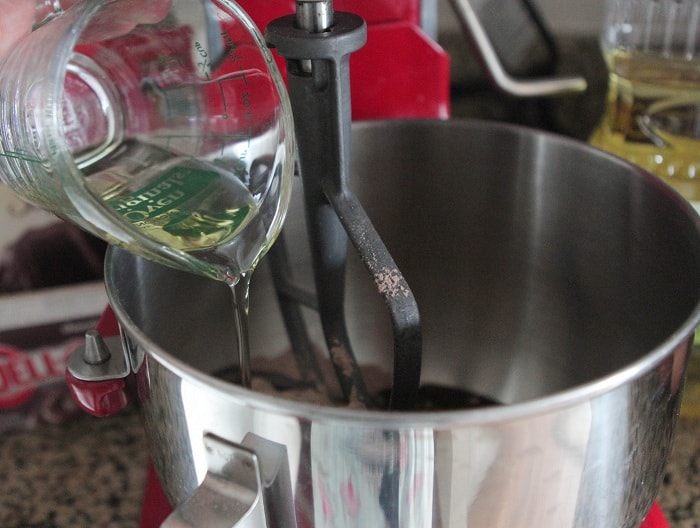 In no particular order, add your oil.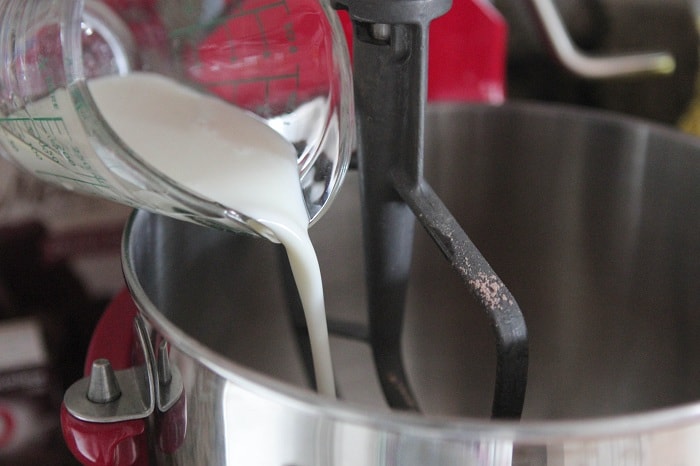 Buttermilk.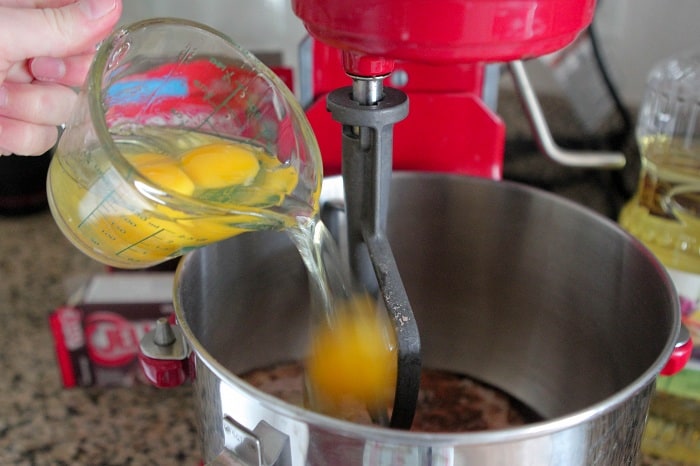 4 large eggs.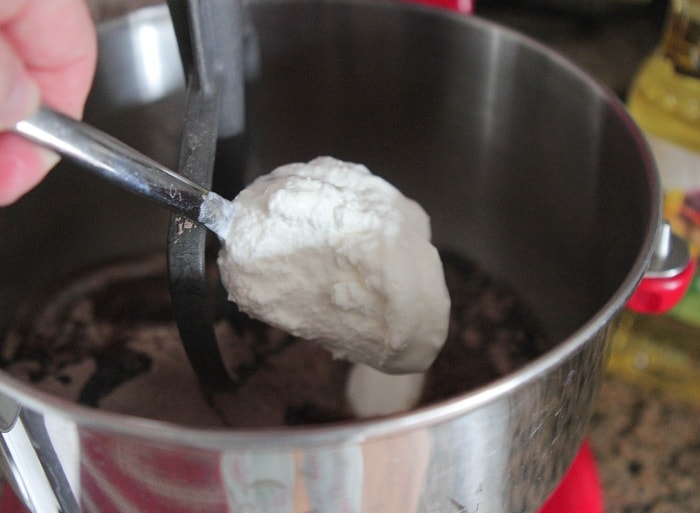 1/2 cup sour cream.
Find yourself a 15 ounce can of pumpkin. I love this particular brand from Trader Joes.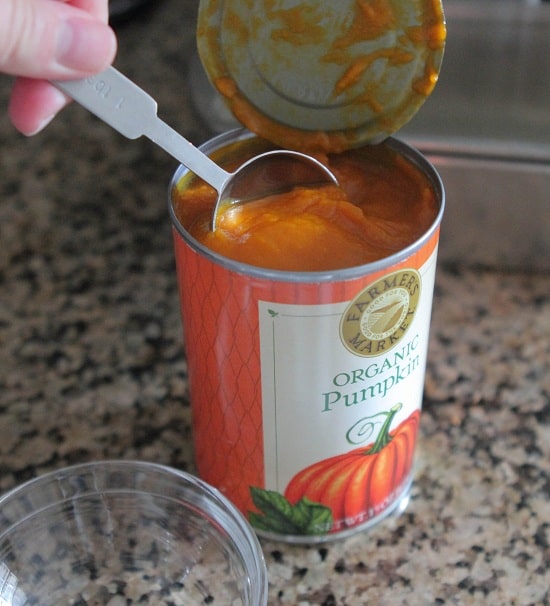 Reserve 2 tablespoons of pumpkin for the buttercream.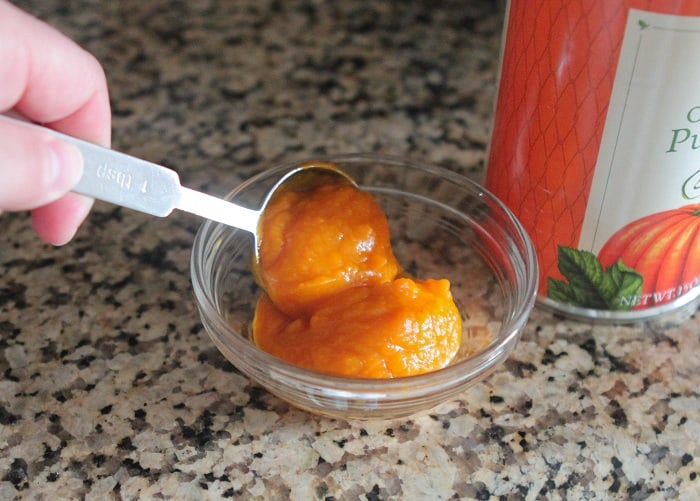 Set the 2 tablespoons of canned pumpkin aside for the buttercream.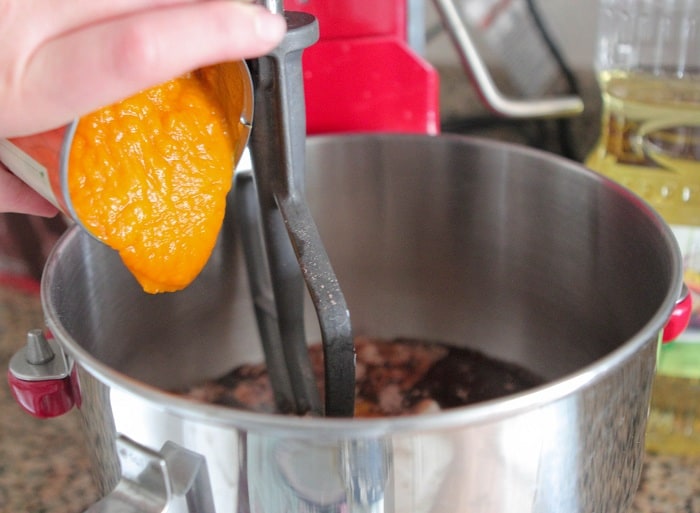 Add the remainder of the canned pumpkin to the mixer.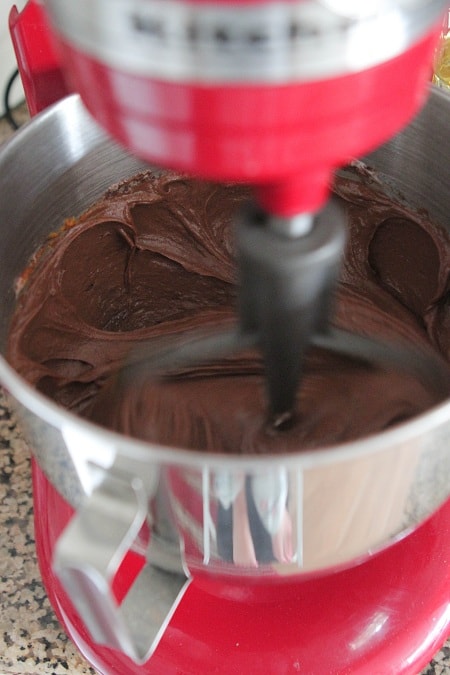 Give it all a good mix, until well combined, about 1-2 minutes.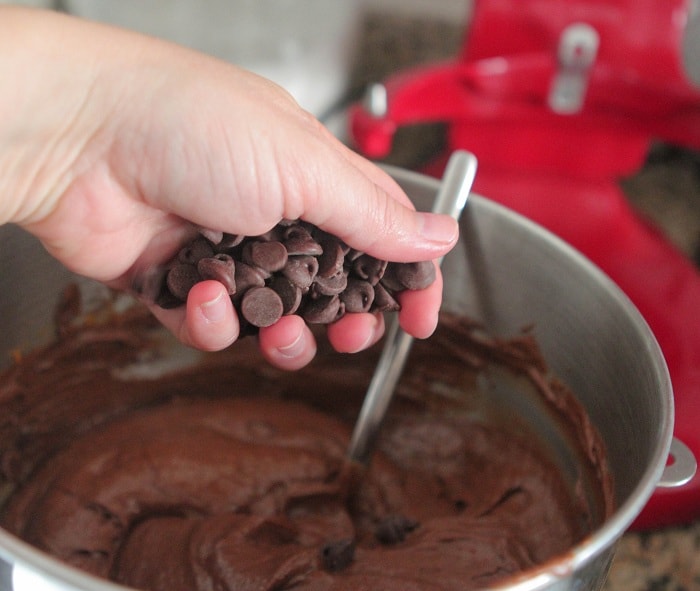 Stir in your chocolate chips.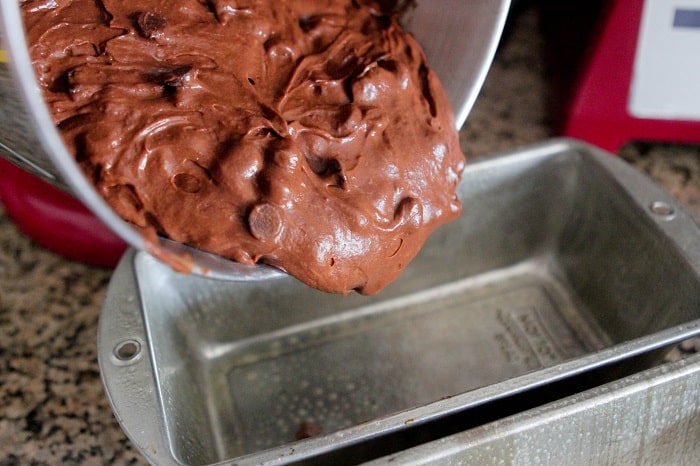 Divide evenly between prepared bread pans.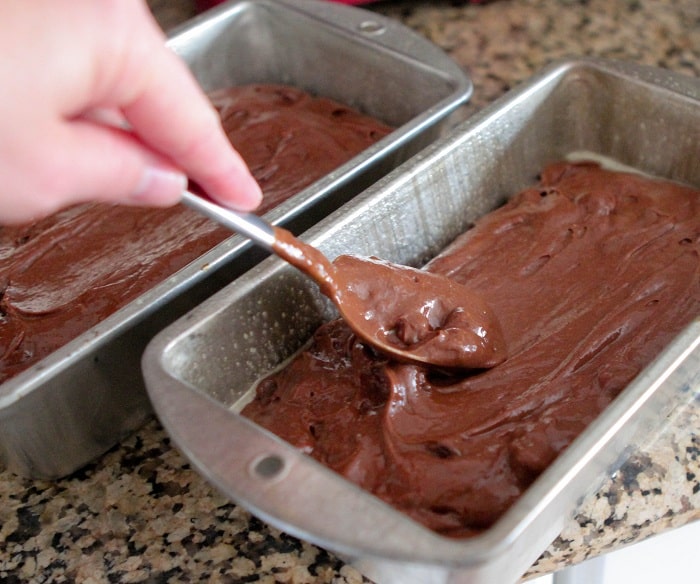 Spread evenly and bake at 350 degrees F. for 55-65 minutes.
Love!!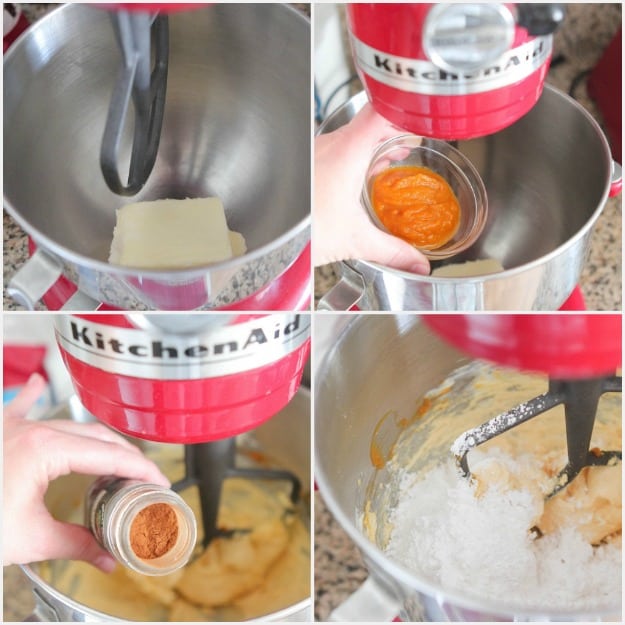 While the cakes are cooling, prepare your buttercream 🙂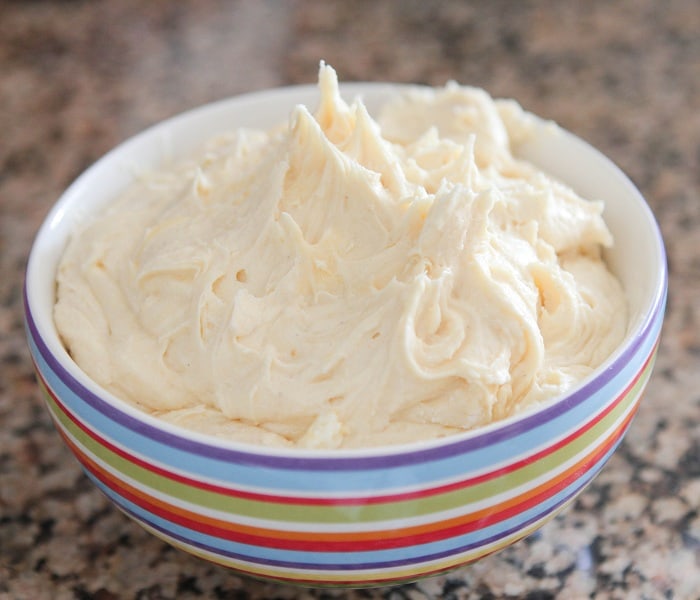 Ahhh, pumpkin spice buttercream. This stuff is deadly.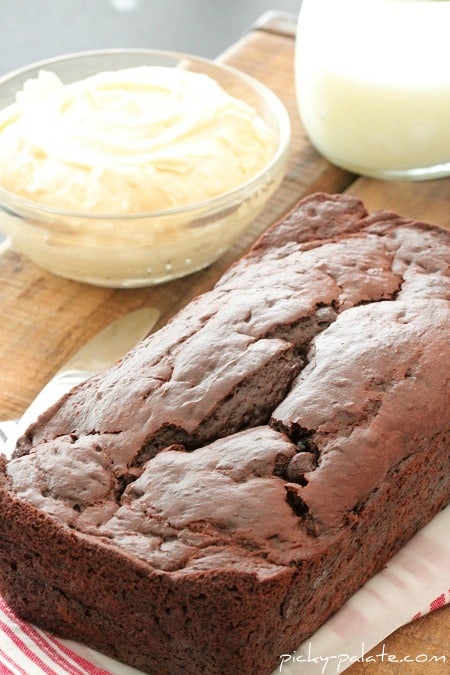 I will admit…the cakes are good even without the frosting. Perfectly moist and fabulous.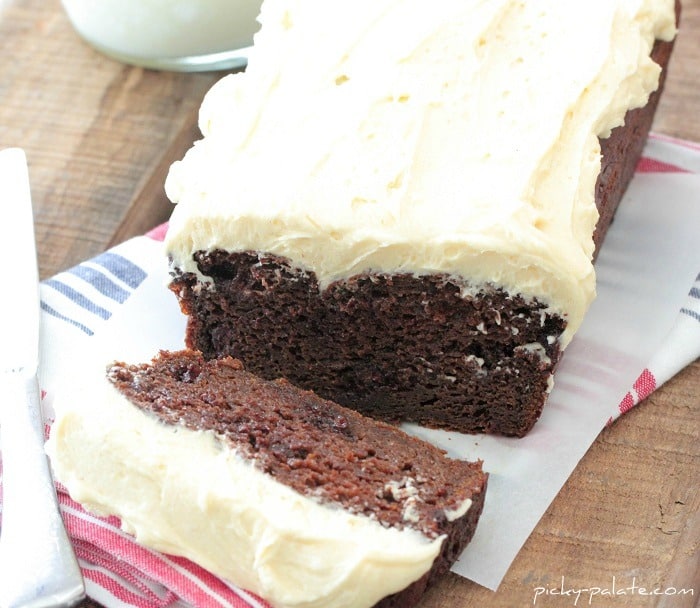 I happen to be a buttercream girl, so bring on the Pumpkin Spice Buttercream 🙂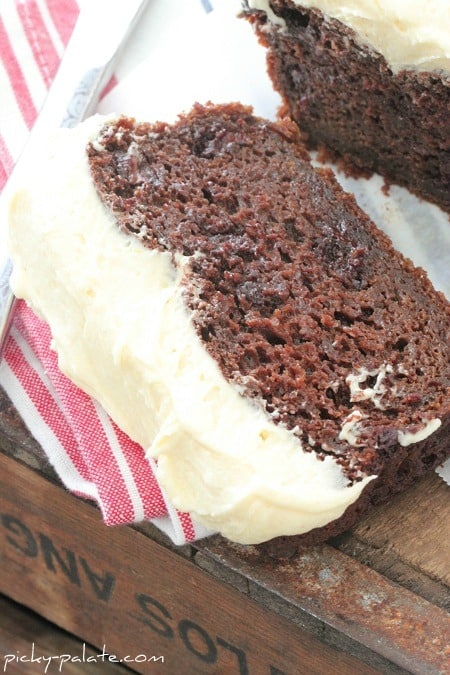 Enjoy friends 🙂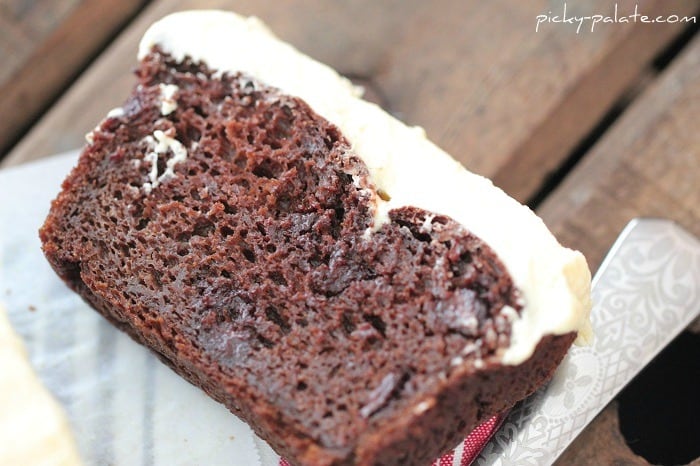 [ziplist]
Double Chocolate Pumpkin Cake with Pumpkin Spice Buttercream
1 box devils food cake mix
1 small box instant chocolate pudding
1/2 cup canola or vegetable oil
1/2 cup buttermilk or milk
4 large eggs
1/2 cup sour cream
15 ounce can pumpkin (reserving 2 Tablespoons for buttercream)
2 cups semi-sweet chocolate chips
Pumpkin Spice Buttercream
2 sticks unsalted butter, softened
2 tablespoons reserved pumpkin
1/4 teaspoon ground cinnamon
4 to 5 cups powdered sugar
2 to 4 tablespoons milk
1. Preheat oven to 350 degrees F. and spray two 9×5 inch bread pans with non-stick cooking spray.
2. In a stand or electric mixer, place cake mix, pudding mix, oil, buttermilk, eggs, sour cream and can of pumpkin, and chocolate chips–mix all ingredients until well combined, about 1 to 2 minutes. Divide cake batter evenly into prepared bread pans. Bake for 55-60 minutes or until cooked through.
3. While cakes are baking prepare the buttercream. Place butter, reserved 2 tablespoons pumpkin and cinnamon into stand or electric mixer. Mix on high until well combined. Slowly add the powdered sugar until thick and creamy. Slowly add the milk until buttercream is a nice consistency. Frost over cooled cakes, slice and serve.
Makes 16 servings
Note: This recipe can be used to make 24 cupcakes as well. Bake at 350 for about 15-20 minutes, until baked through.
Note: This recipe can also be used to make two 9 inch cakes for layered cakes. I'd start the bake time at 30 minutes at 350 and check often from there 🙂
________________________________
Hope you enjoy 🙂 Have a great day!