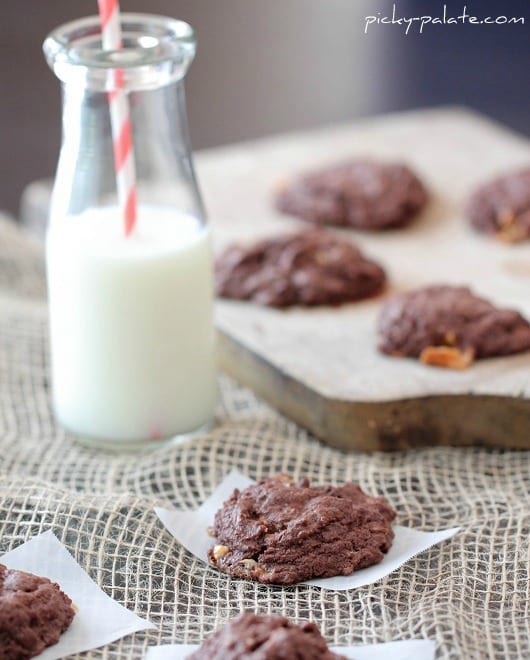 The Halloween candy was calling my name last week at Target hence my latest cookies 🙂 Snickers is one of my favorite Halloween goodies to steal from the boys bag.
There is something so irresistible about a gooey chocolate cookie with your favorite candy bar inside nice and chunky. There is no hiding it, this is an amazing cookie! Hope you enjoy 🙂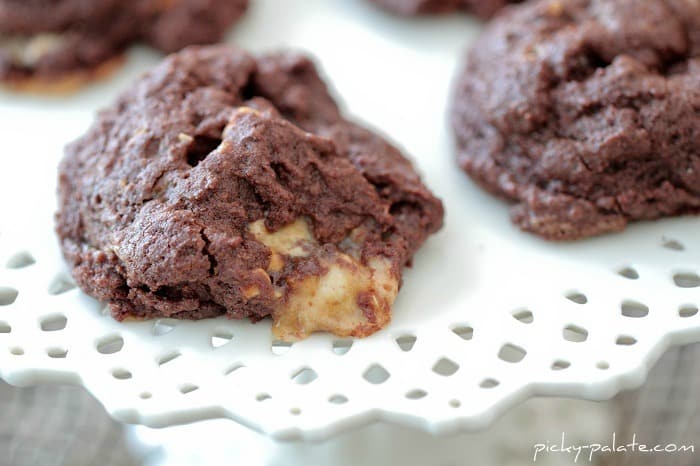 Love the Snickers chunk oozing out the side of this one 🙂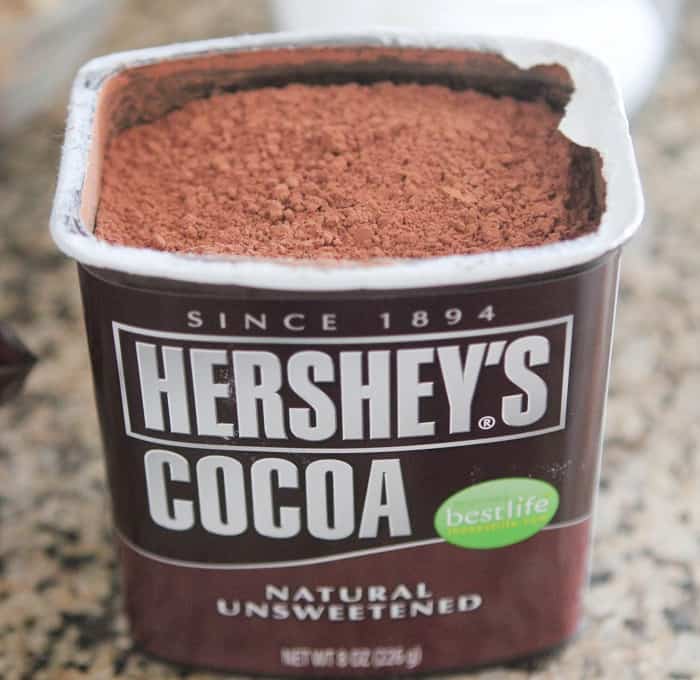 Ok, first things first, make sure you have some nice cocoa powder.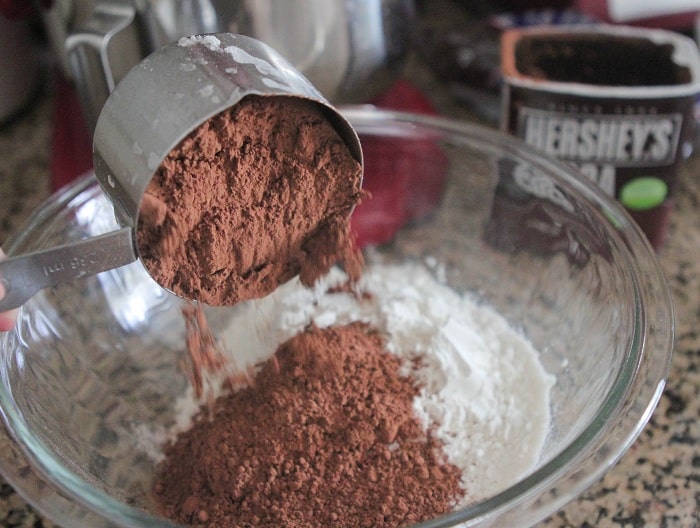 Add the cocoa powder to your flour, baking soda and salt.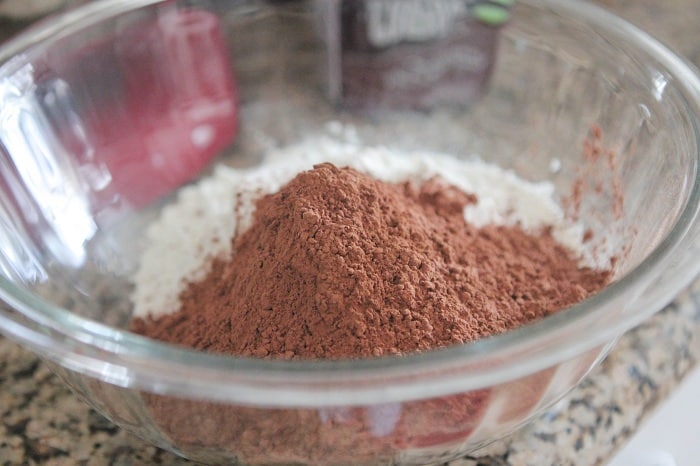 Like so 🙂
Time to cream you butter and sugars.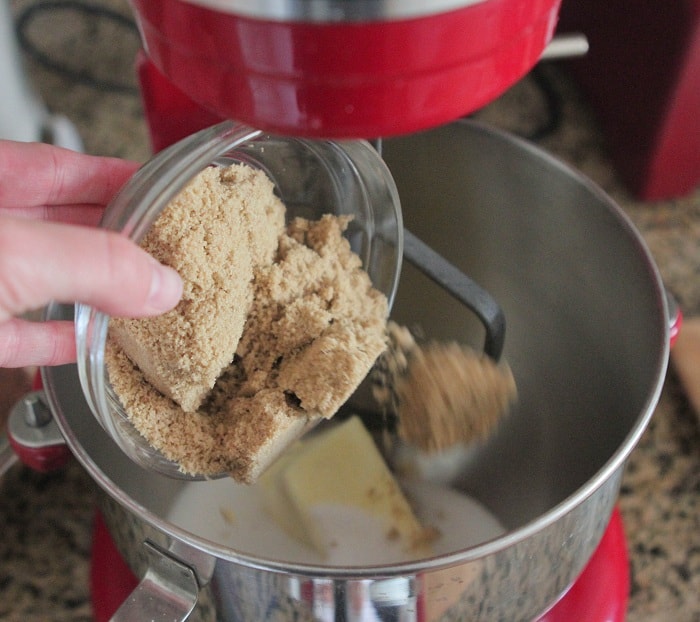 Add your brown sugar too 🙂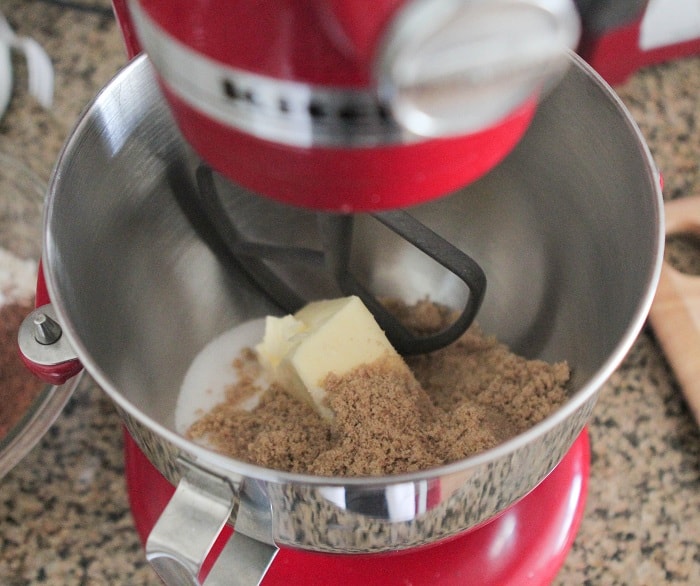 Beat until light and fluffy!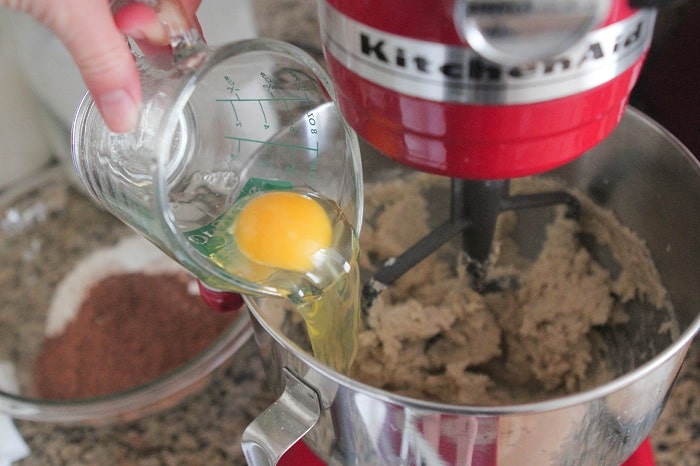 Add your eggs.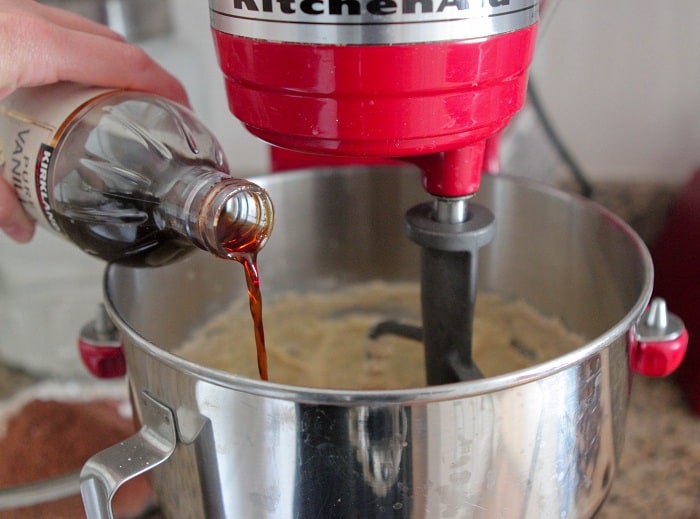 ….and vanilla 🙂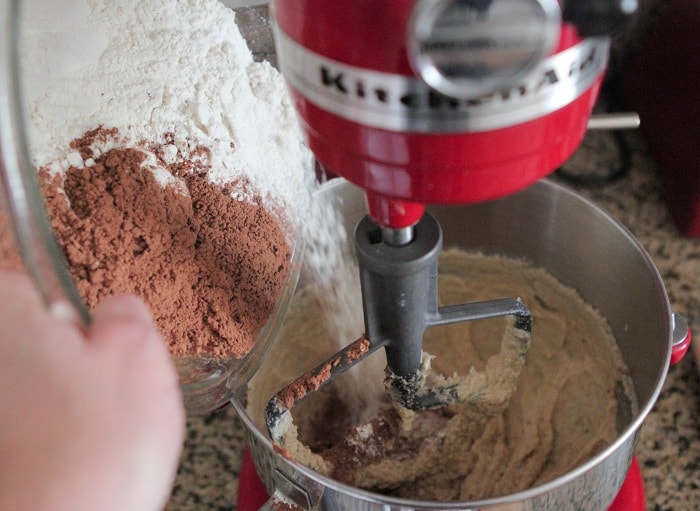 Add those dry ingredients to the wet ingredients.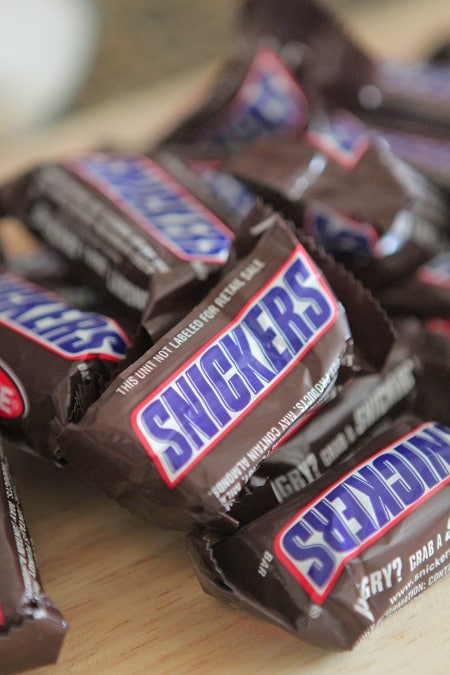 My favorite part!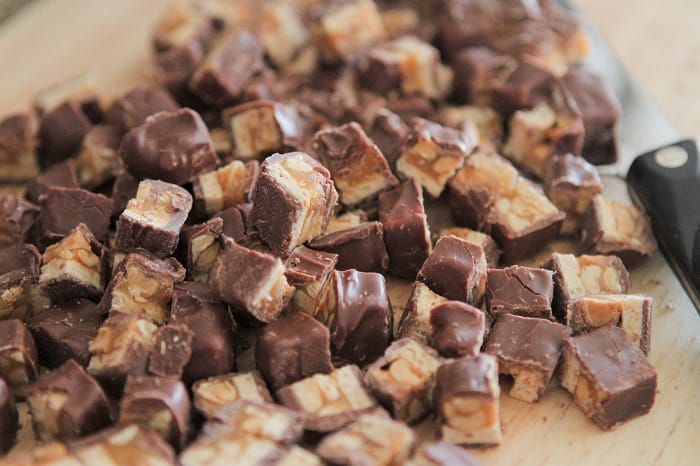 Cut those Snickers bars into nice chunks for the cookies.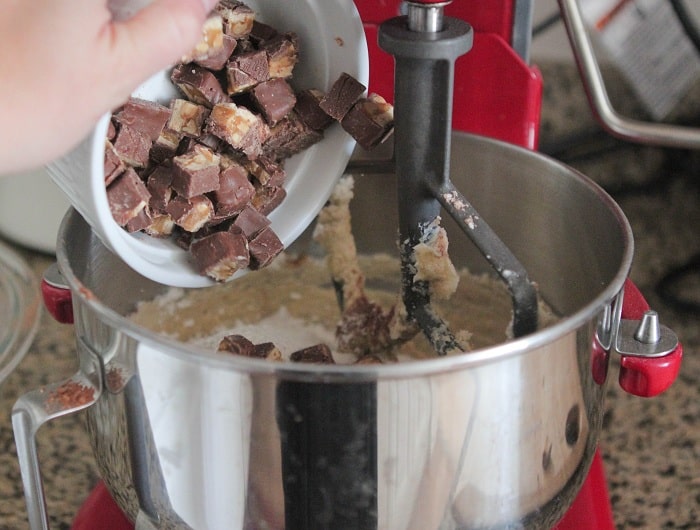 Add them to the mix.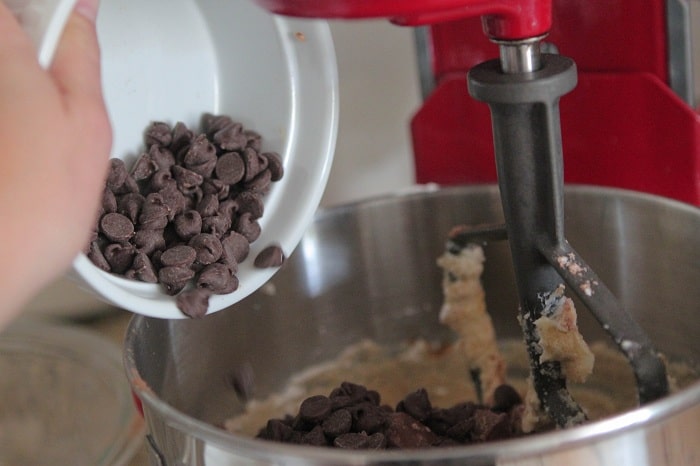 ….along with the chocolate chips, yum!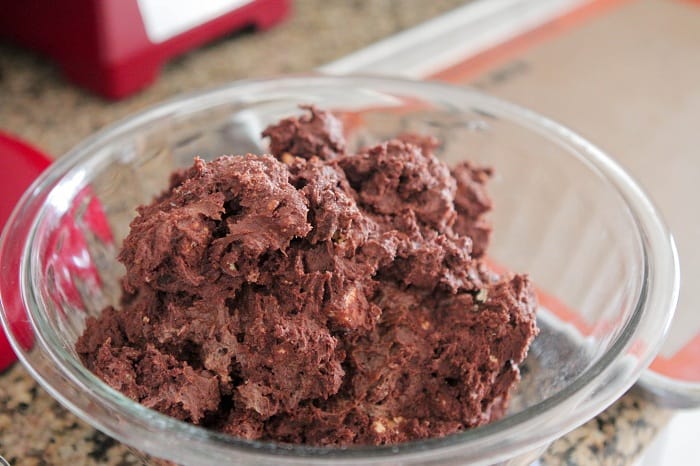 You'll get this fabulous chocolaty dough.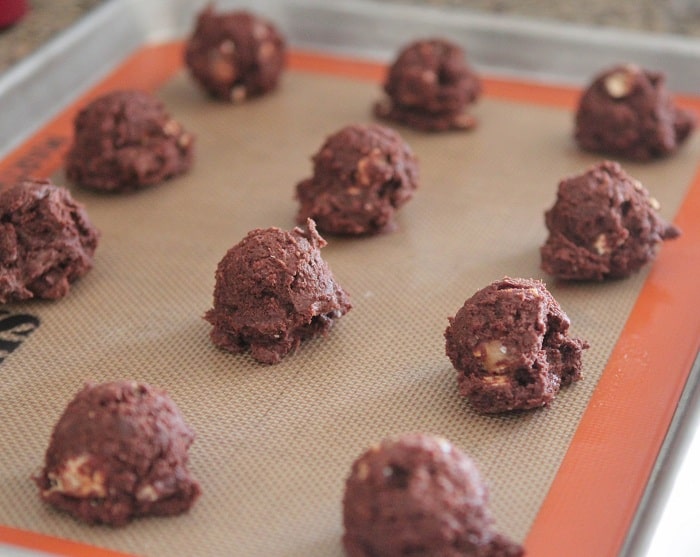 Scoop onto your prepared baking sheet. Bake at 350 degrees F for 12-15 minutes.
Ahhhh, perfection 🙂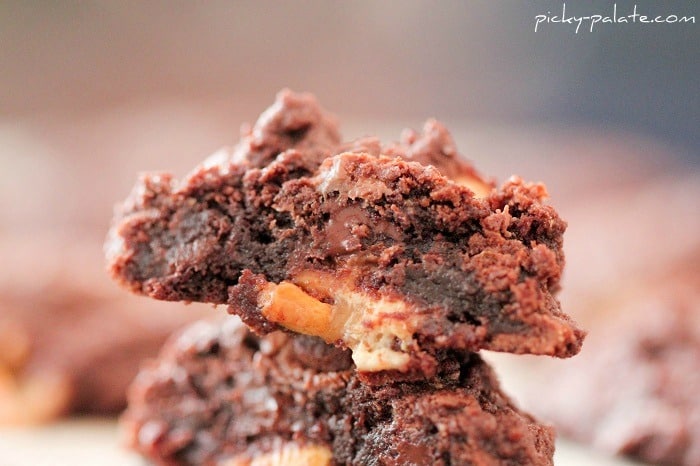 [ziplist]
Double Chocolate Snickers Chunk Cookies
2 sticks softened butter
1 cup granulated sugar
3/4 cup packed light brown sugar
2 large eggs
1 tablespoon pure vanilla extract
1 3/4 cups all-purpose flour
1 cup cocoa powder
1 teaspoon baking soda
1/2 teaspoon kosher salt
19-20 Snack-size Snickers bars, quartered
1 1/2 cups chocolate chips, I used semi-sweet
1. Preheat oven to 350 degrees F. and line a large baking sheet with parchment paper or a silpat liner.
2. In a stand or electric mixer, beat butter and sugars until well combined. Add eggs and vanilla, beating until well combined.
3. Place flour, cocoa, baking soda, and salt into a large bowl. Add to wet ingredients along with Snickers chunks and chocolate chips, slowly mixing until just combined. Scoop dough onto prepared baking sheet and place 1 inch apart from each other. Bake for 14 to 16 minutes, until cooked through. Let cool on baking sheet for 5 minutes before transferring to a cooling rack. Serve with milk.
Makes 3 dozen cookies
_________________________________
Have a great day! Come back soon 🙂