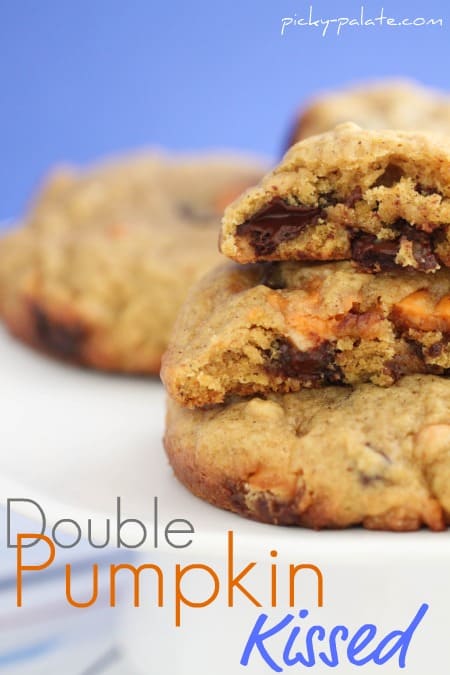 I know, another Pumpkin recipe!! I can't stop baking with pumpkin right now and I must say that I am loving every minute of it. The way the house smells is enough to motivate me to bake all the time 🙂 Cinnamon, nutmeg and ginger are probably my favorite beautiful smells coming from the oven, yum!
Here is a fun, simple cookie with lots of spunk. I am such a sucker every time I pass those Holiday kisses, my hands uncontrollably pick them up and put them in my cart. So to use up my favorite holiday kisses, I created this fun and oh so tasty cookie that you are going to love.
Take a peek and happy Fall baking!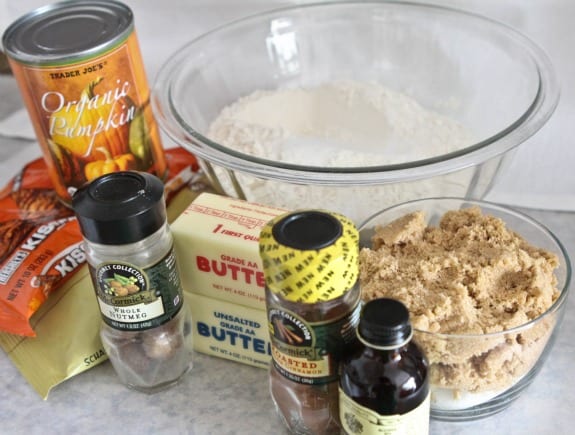 Here's your line-up. Don't mind that I forgot the 2 eggs for the photo shoot. Was having a blonde moment!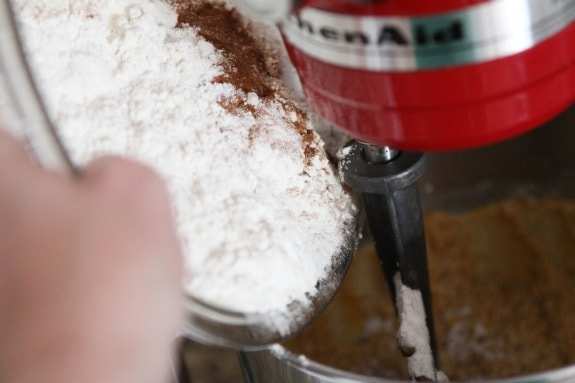 Cream your butter and sugars, add you eggs, vanilla and pumpkin then toss in the dry ingredients 🙂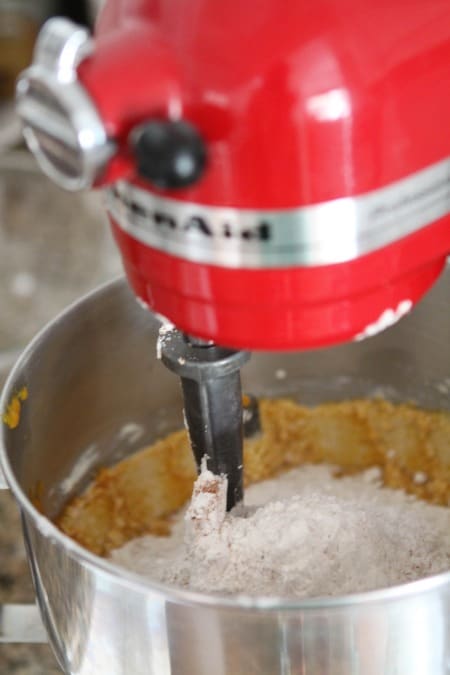 I just liked this picture 🙂 I need a wall of just my kitchen aid shots!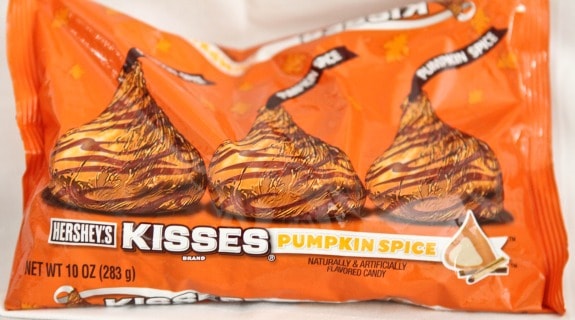 You know these bad boys. Unwrap 35 or so 🙂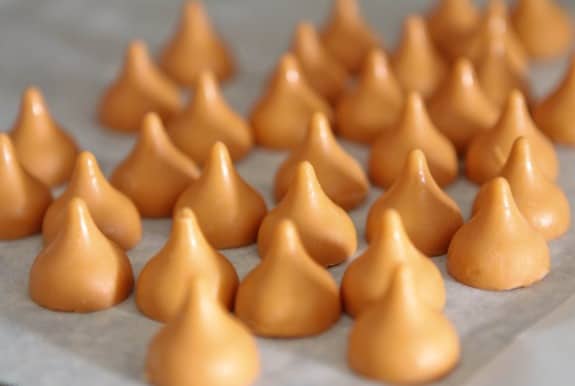 Love these!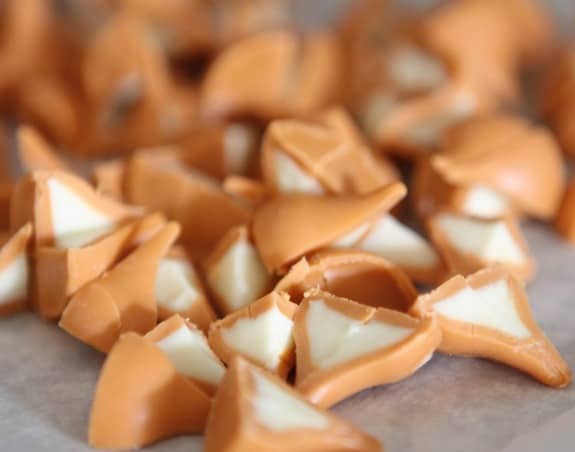 Quarter each little kiss.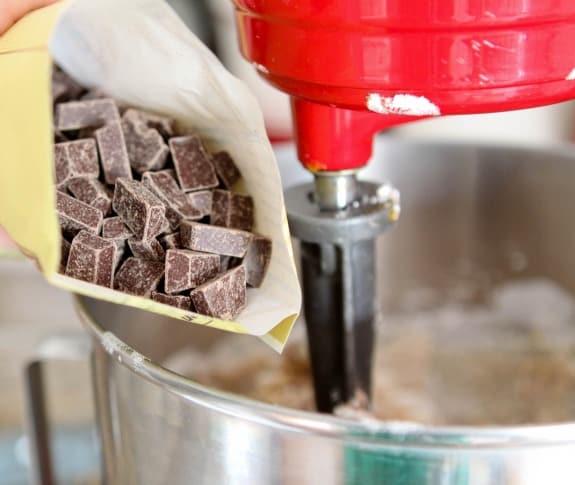 Toss in your tasty chocolate chunks….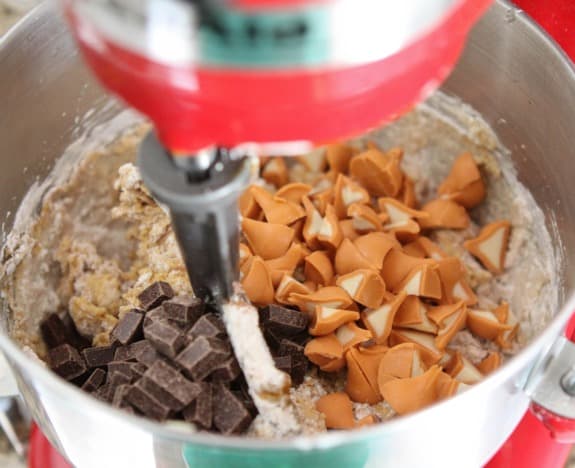 Along with those kisses!

Break out your muffin top pan, scoop in your dough, press down and bake! (you can also use a normal baking sheet and make tradition cookies with a cookie scoop with this recipe, both delish)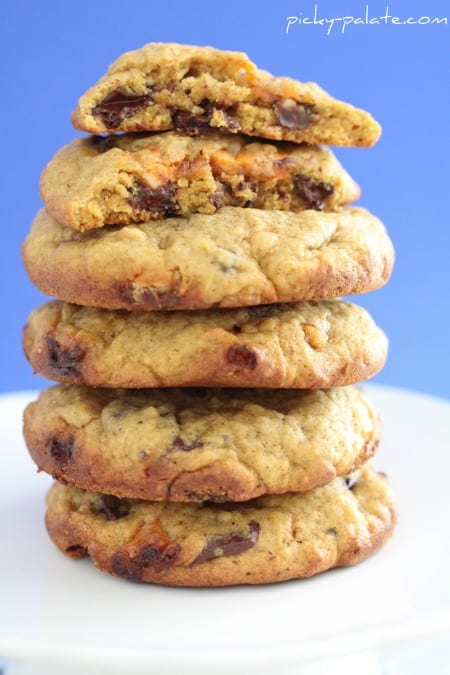 [ziplist]
Double Pumpkin Kissed Chocolate Chunk Cookies
2 sticks softened butter
1 Cup granulated sugar
3/4 Cup packed light brown sugar
2 large eggs
1 Tablespoon pure vanilla
1 Cup pumpkin, from can
3 1/4 Cups all purpose flour
1 teaspoon salt
1 teaspoon baking soda
1 teaspoon ground cinnamon
1/4 teaspoon fresh grated nutmeg
12 oz bag chocolate chunk pieces (or chocolate chips work fine too)
35 or so unwrapped Pumpkin Spice Kisses, quartered
1. Preheat oven to 350 degrees F. In stand mixer, cream butter and sugars until light and fluffy. Beat in eggs and vanilla until well combined then add pumpkin.
2. Place flour, salt, baking soda, cinnamon and nutmeg into large bowl; mix to combine then slowly add to wet ingredients then chocolate and kisses. Mix only until just combined.
3. If using muffin top pan, scoop 1/4 Cup dough into each muffin top cup that has been sprayed with non-stick cooking spray. Press to spread to edges. Bake 10-12 minutes or until edges begin to brown. Let cool in pan for 5 minutes before transferring to cooling rack. If using baking sheet, scoop medium cookie scoop of dough onto a silpat or parchment lined baking sheet, about an inch apart. Bake for 9-11 minutes or until edges just begin to brown. Let cool on pan for 5 minutes before removing.
24 large muffin top size cookies
4 dozen regular size cookies
___________________________________
Have a great week and weekend, see you soon!