Sharing What To Eat at Festival of Holidays, Disney California Adventure park with you today! Had a blast sampling my way through the Marketplaces!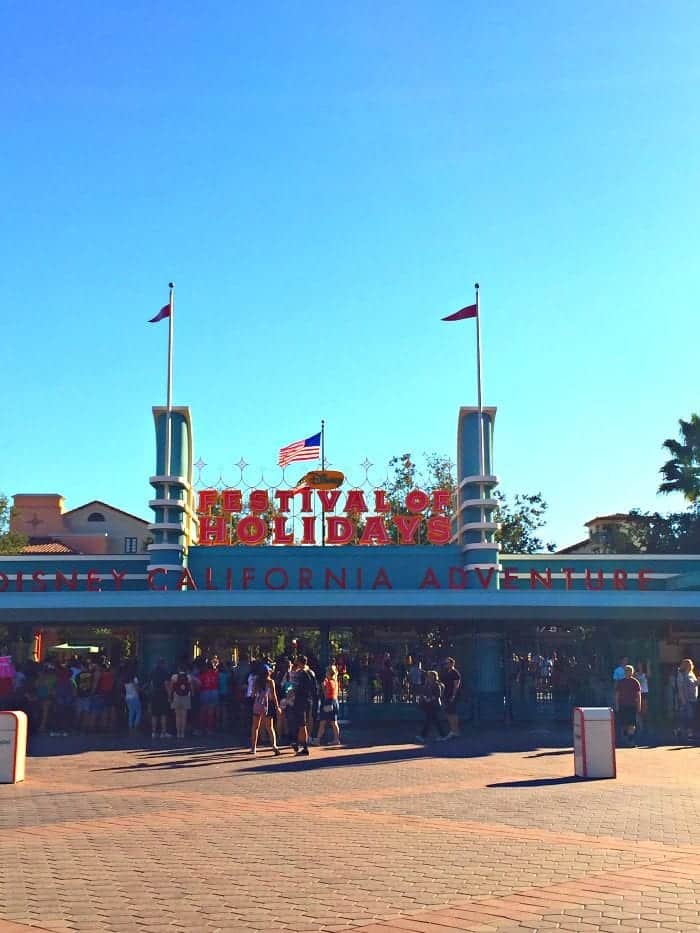 Festival of Holidays is going on right now at Disney California Adventure through January 8, 2017. We had an absolute blast walking from Marketplace to Marketplace. So many great food choices!

A few things to note…Festival of Holidays is a free event with your Disney California Adventure park ticket. Each Marketplace has food and drinks for purchase.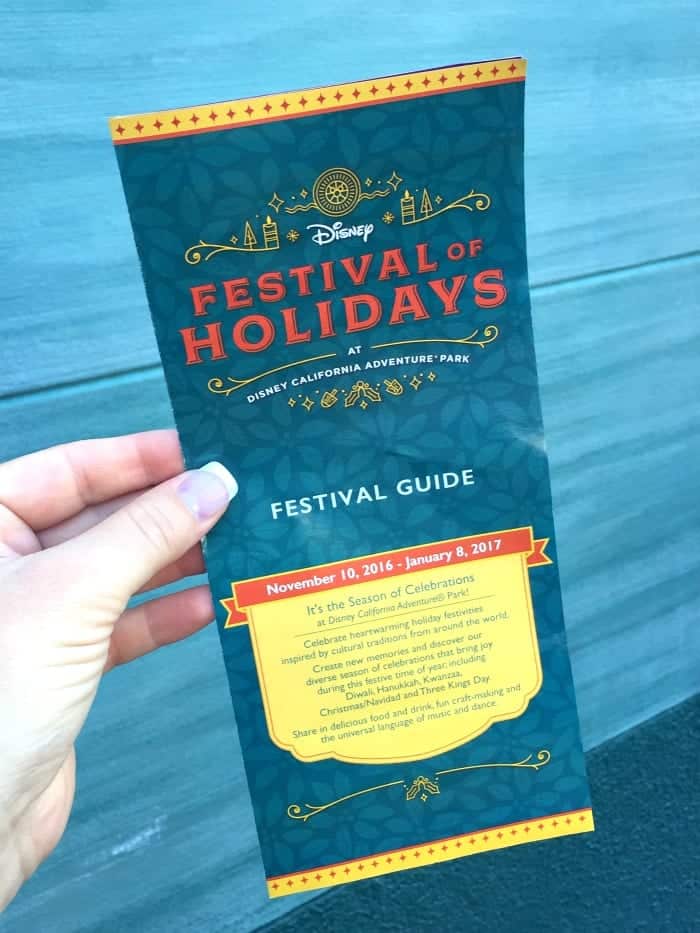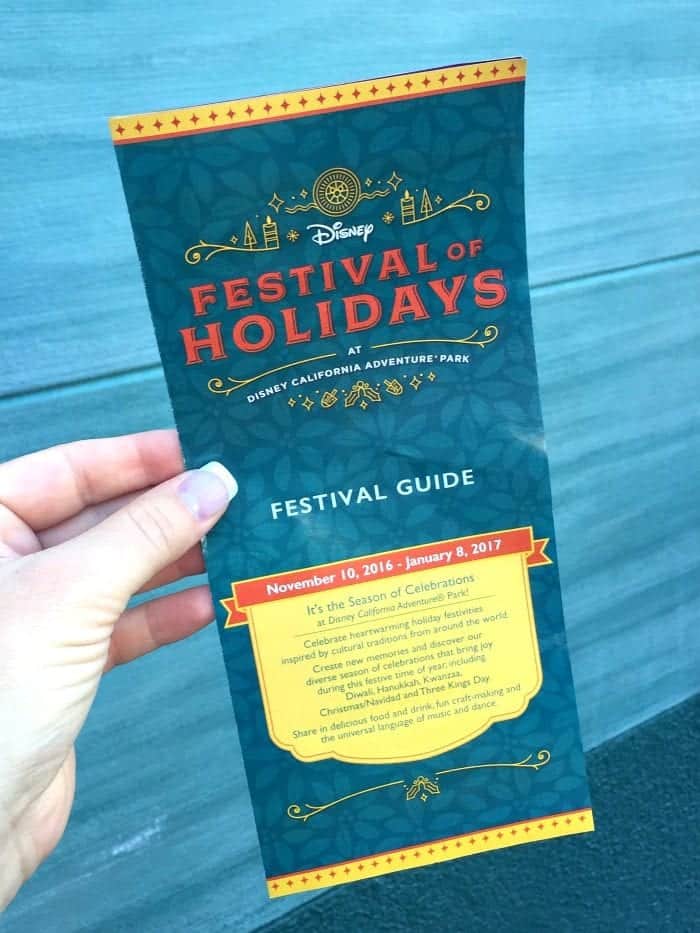 When you enter into Disney California Adventure park, pick up your Festival Guide Map. It shows you where each Marketplace is located along with their menu.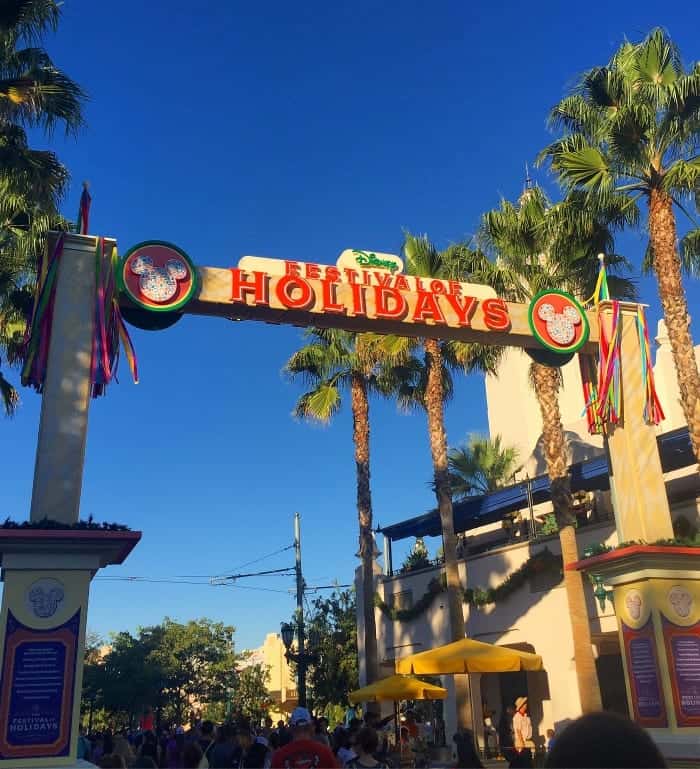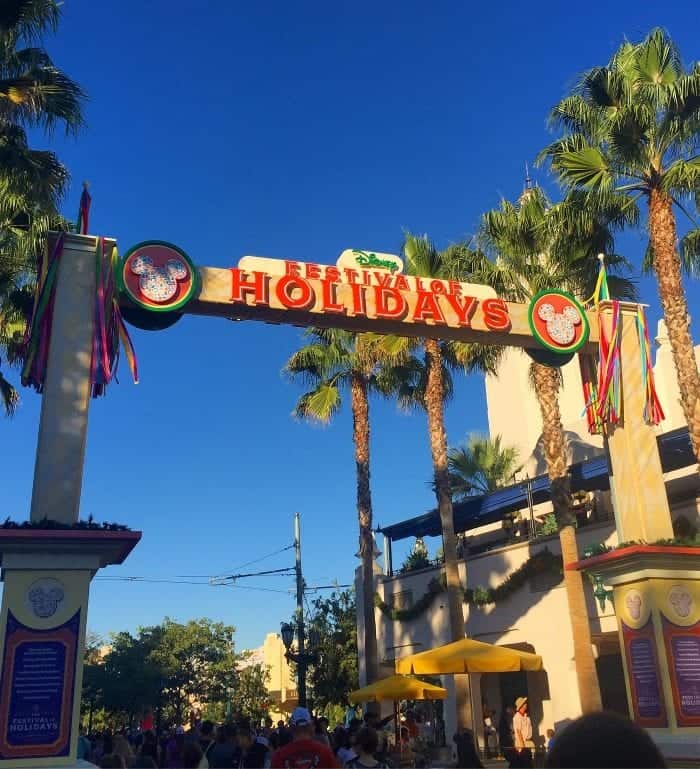 You'll walk into the start of the Festival right past Carthay Circle Restaurant.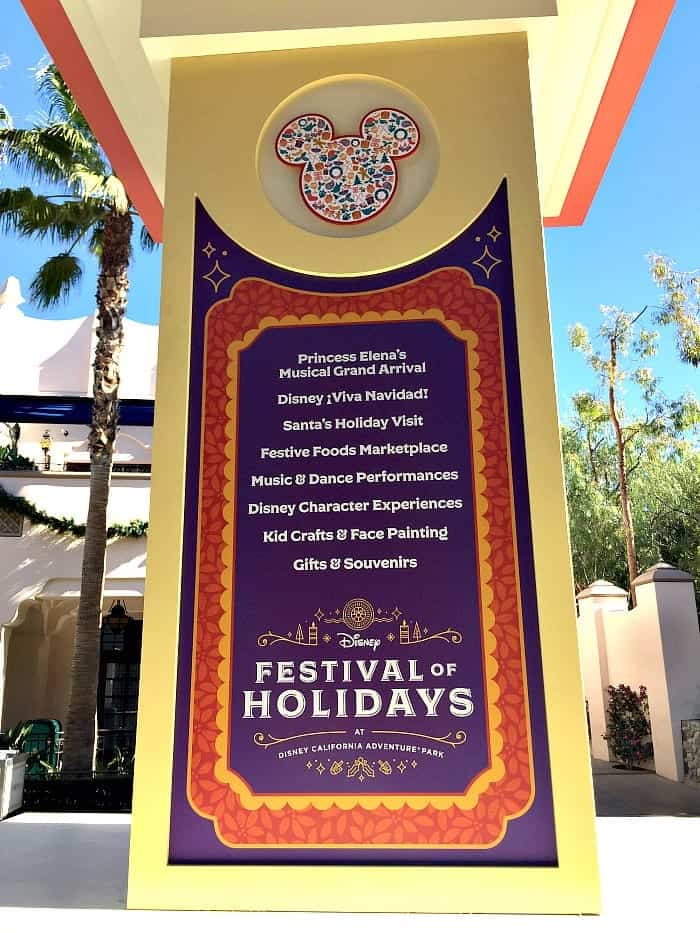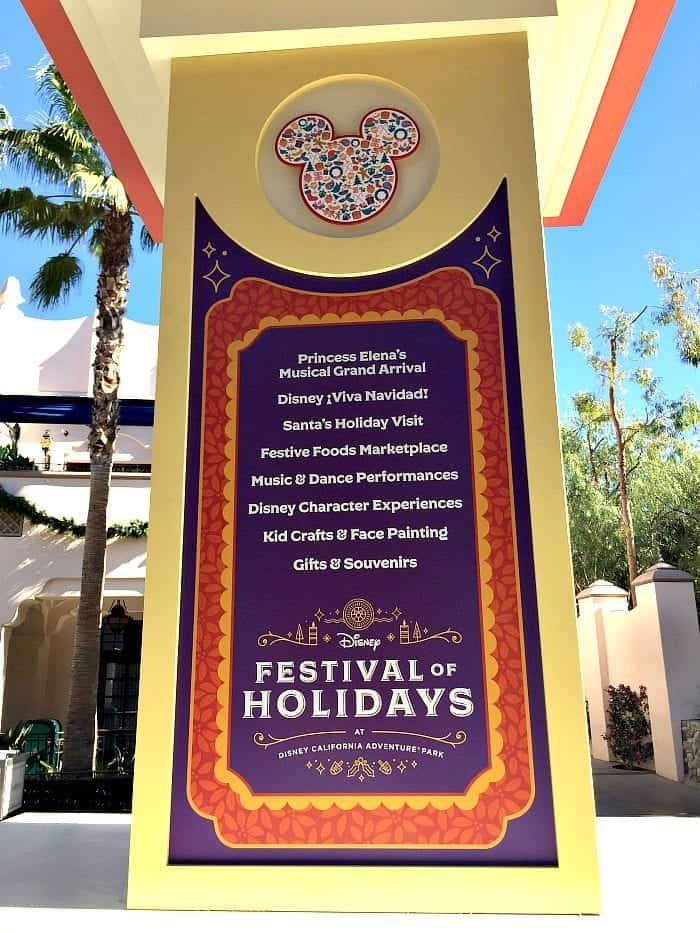 Here's a list of the different events available for the Festival.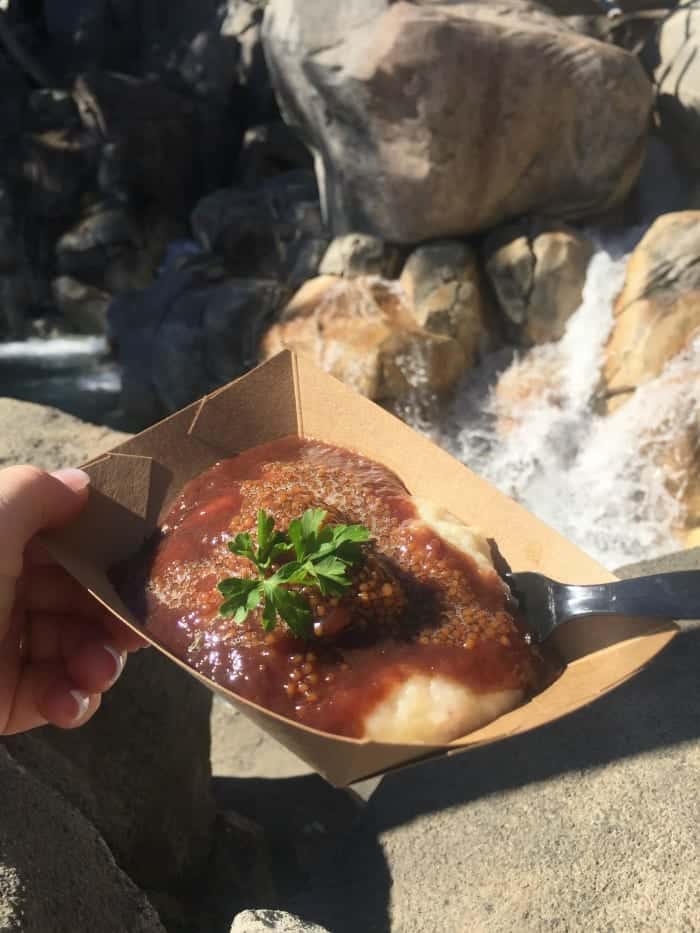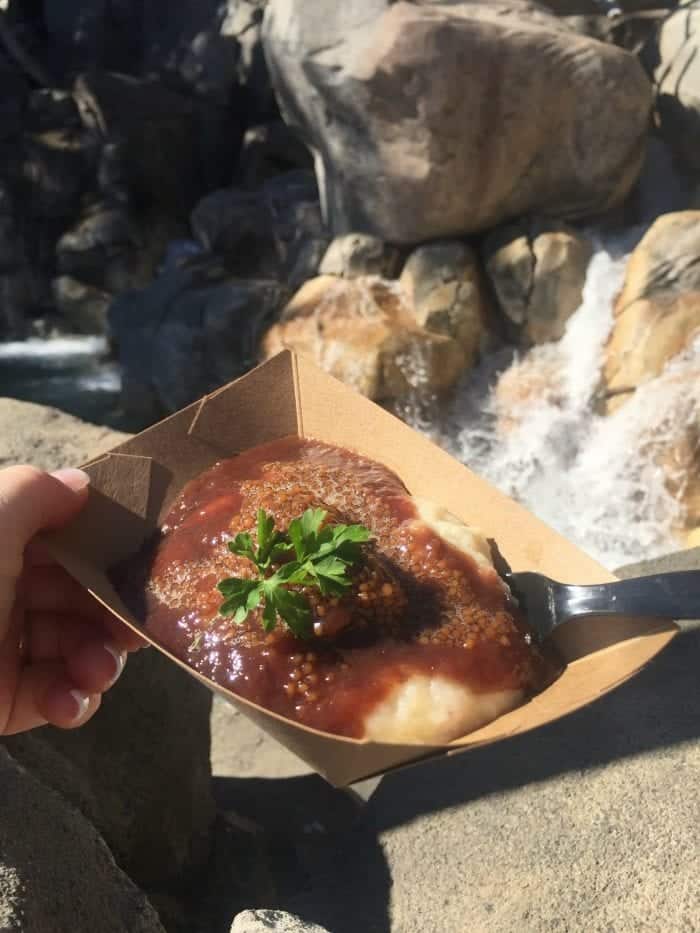 At the Heritage Cottage Marketplace, Number 1 on the guide map you can order the Braised Beef Short Ribs with smashed potatoes and sauerbraten sauce. This was one of my favorites of the day. Not too photogenic, so you'll just have to take my word for it 🙂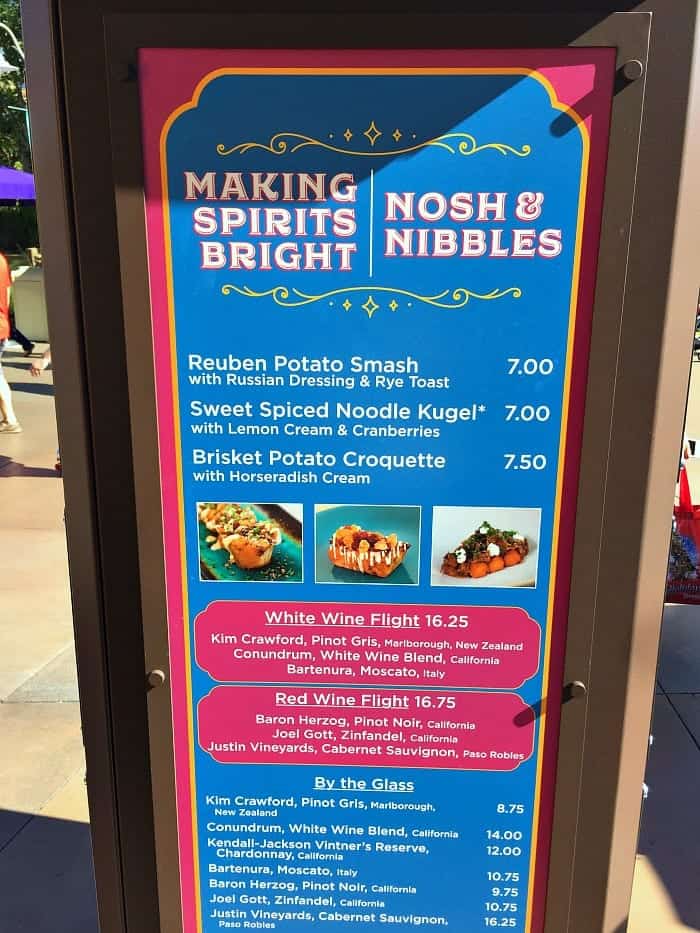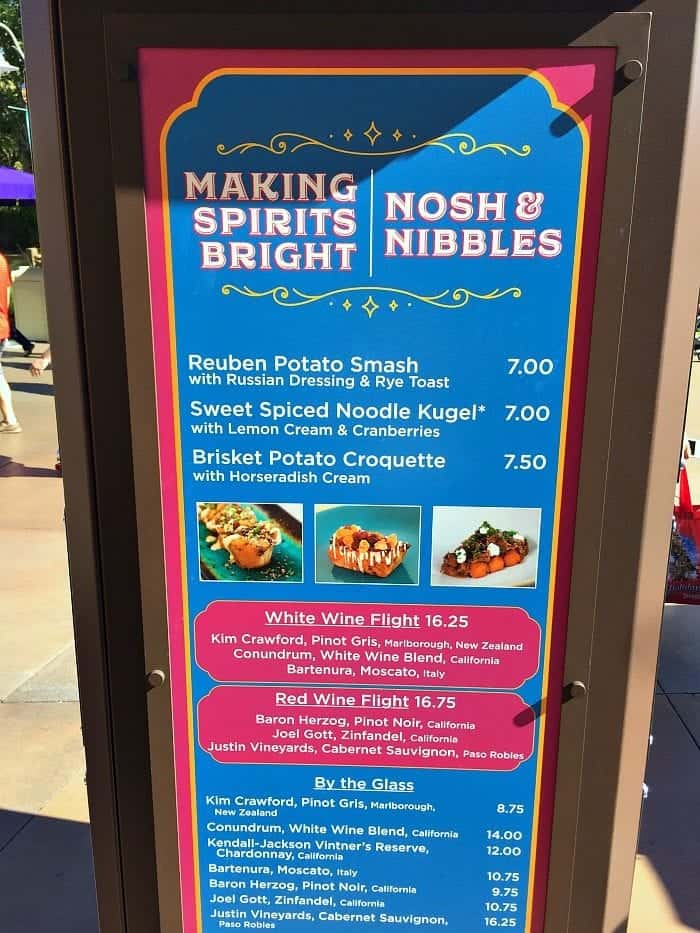 Number 3 on the guide map is the Nosh and Nibbles Marketplace.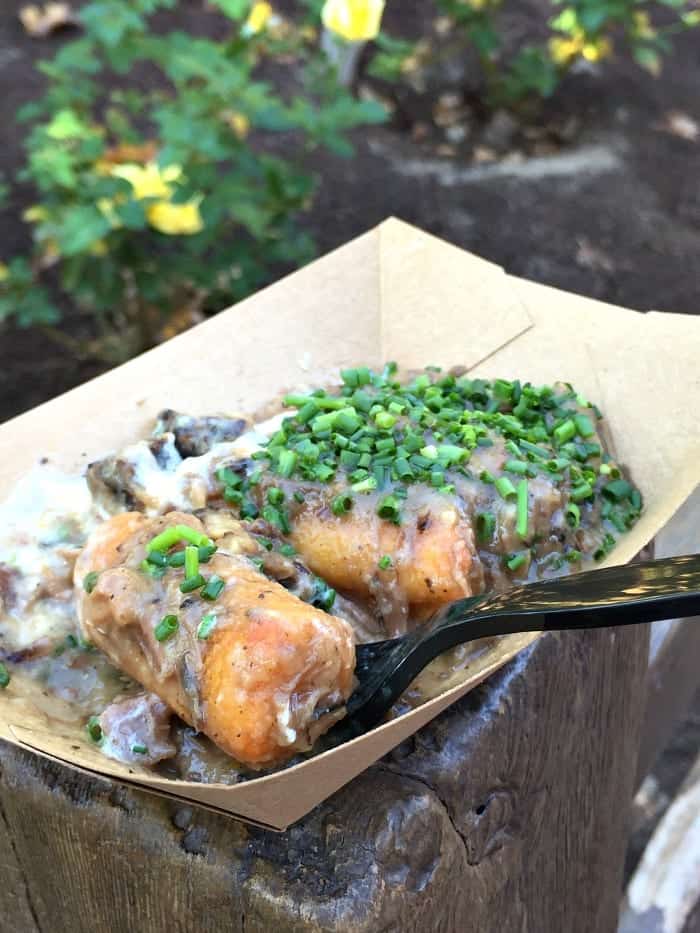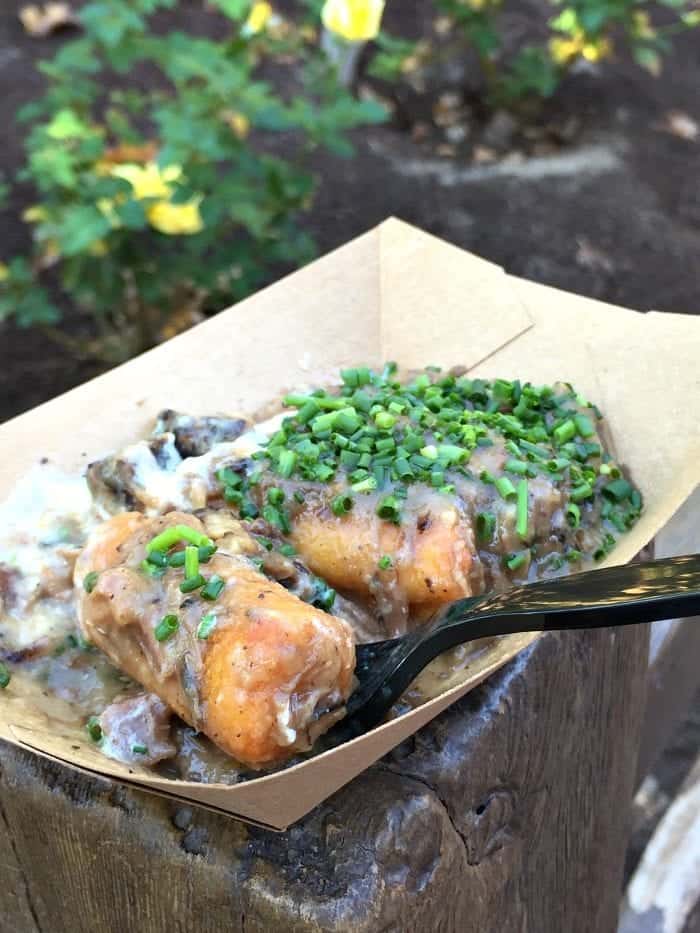 We ordered the Brisket Potato Croquette with horseradish crème. This was AMAZING!!!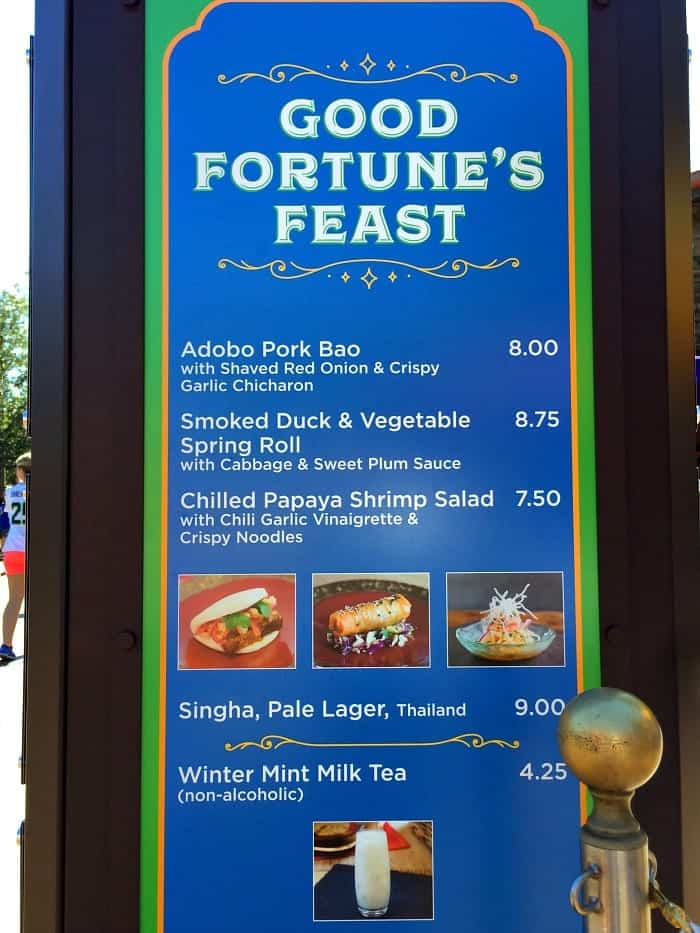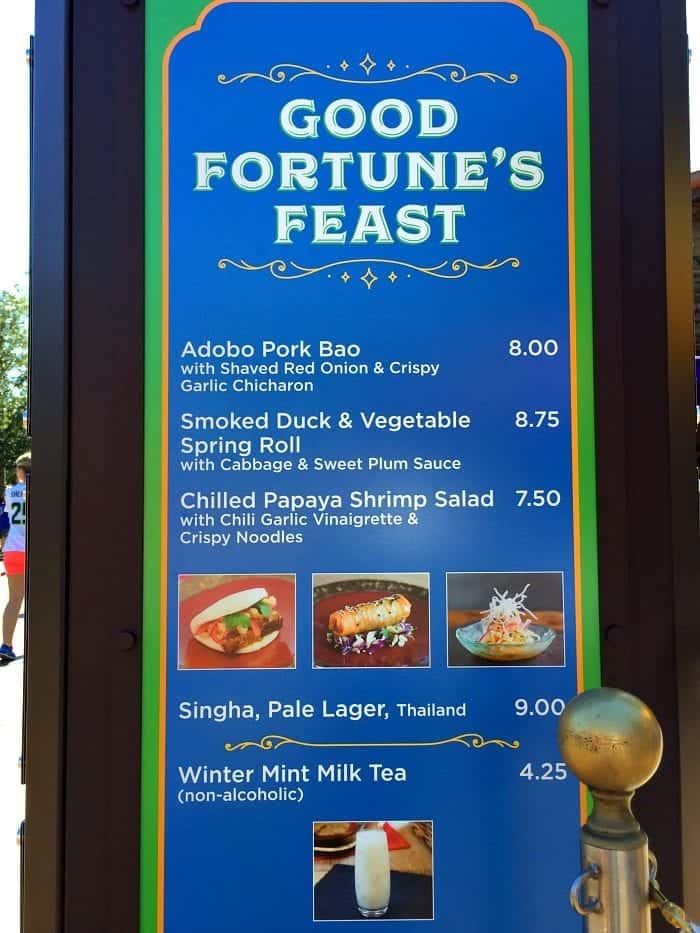 Marketplace Number 4 on the guide map is Good Fortune's Feast.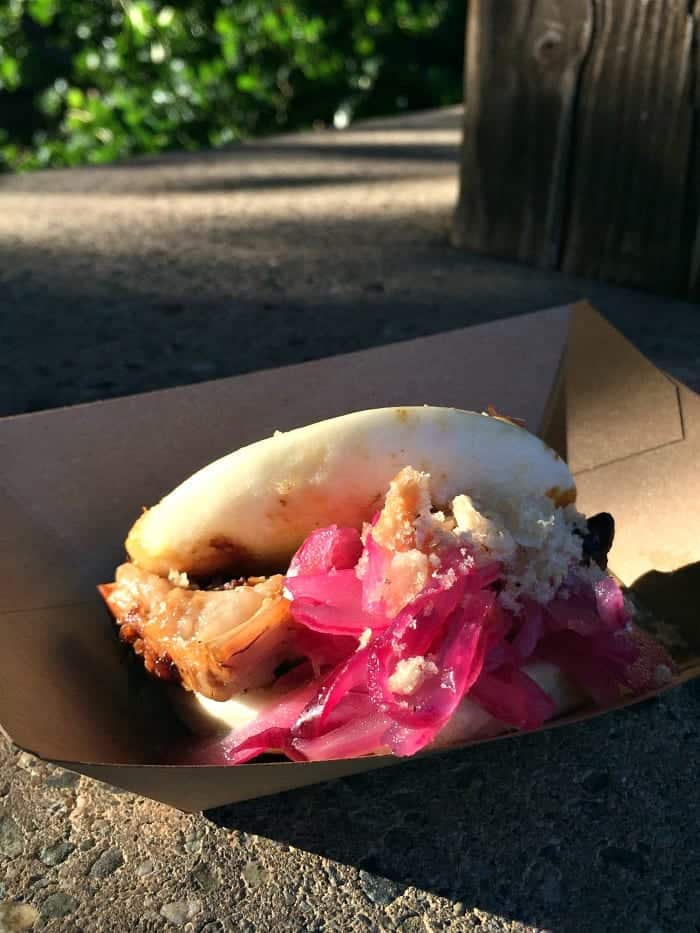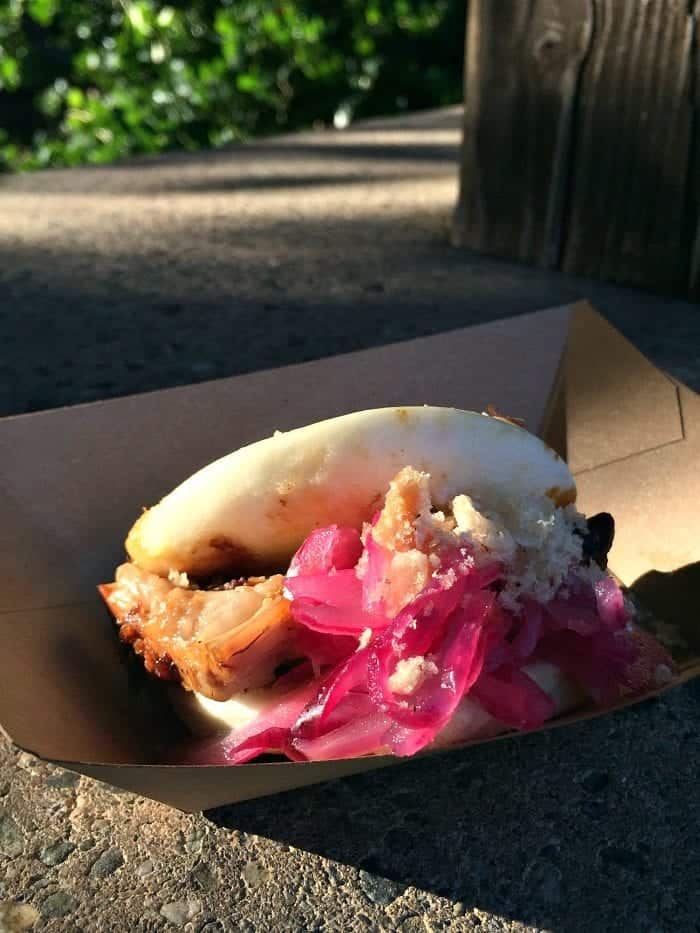 We tried this Adobo Pork Bao with shaved red onion and crispy garlic chicharron. It was fantastic! Soft steamed bun and flavorful pork make for a perfect bite. This is a good one!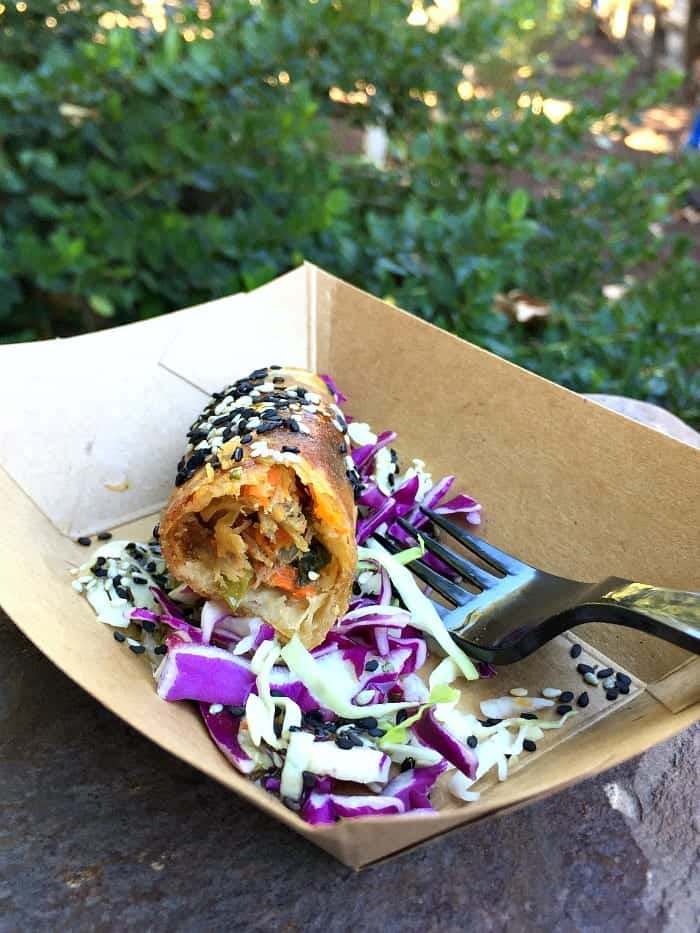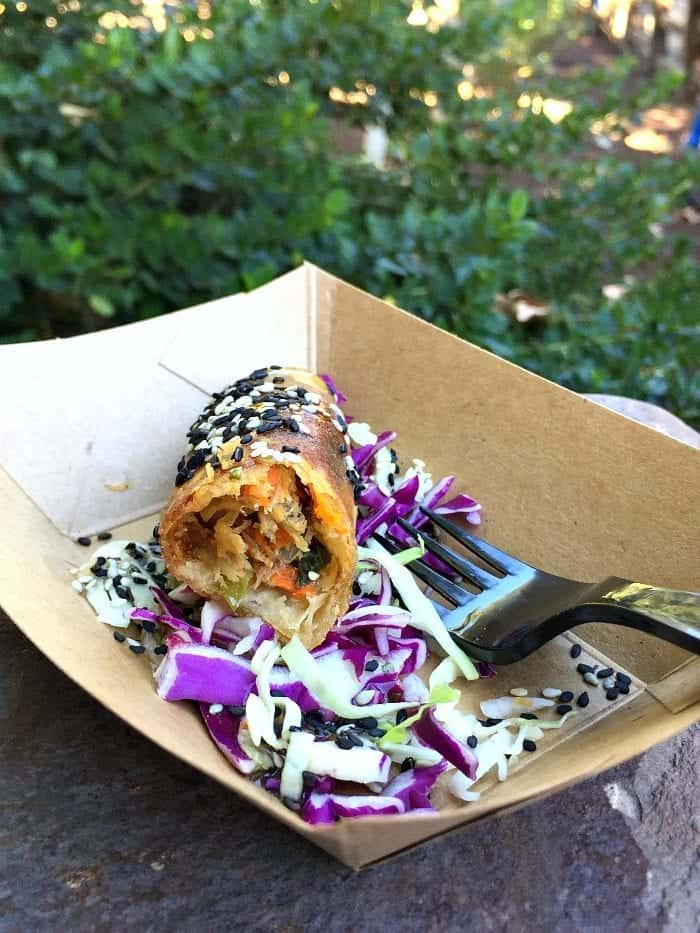 Another from Good Fortune's Feast is the Smoked Duck & Vegetable Spring Roll with cabbage and sweet plum sauce. Another winner! My husband and I both loved this.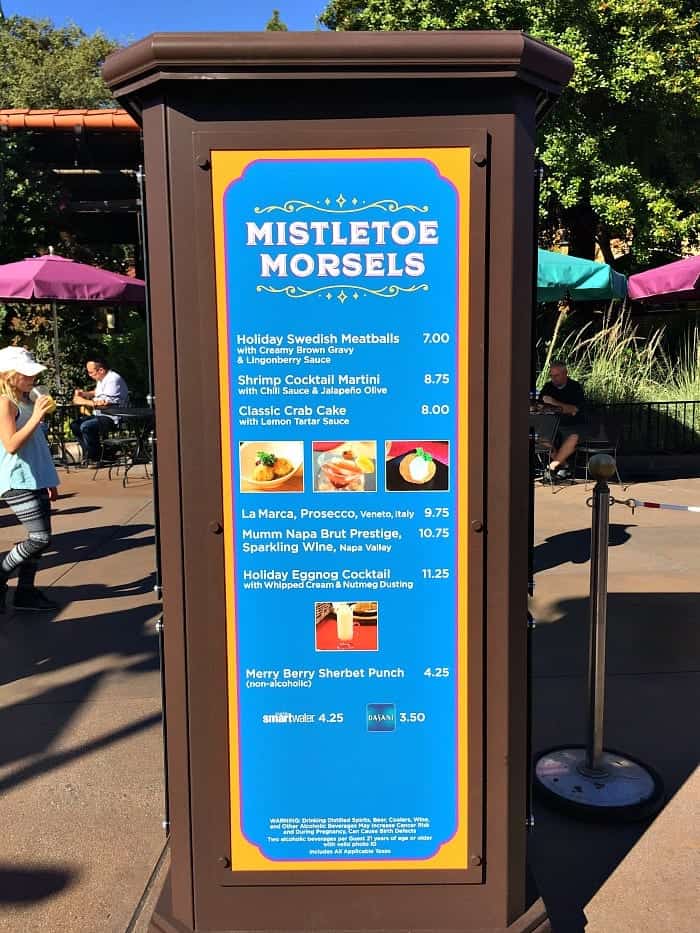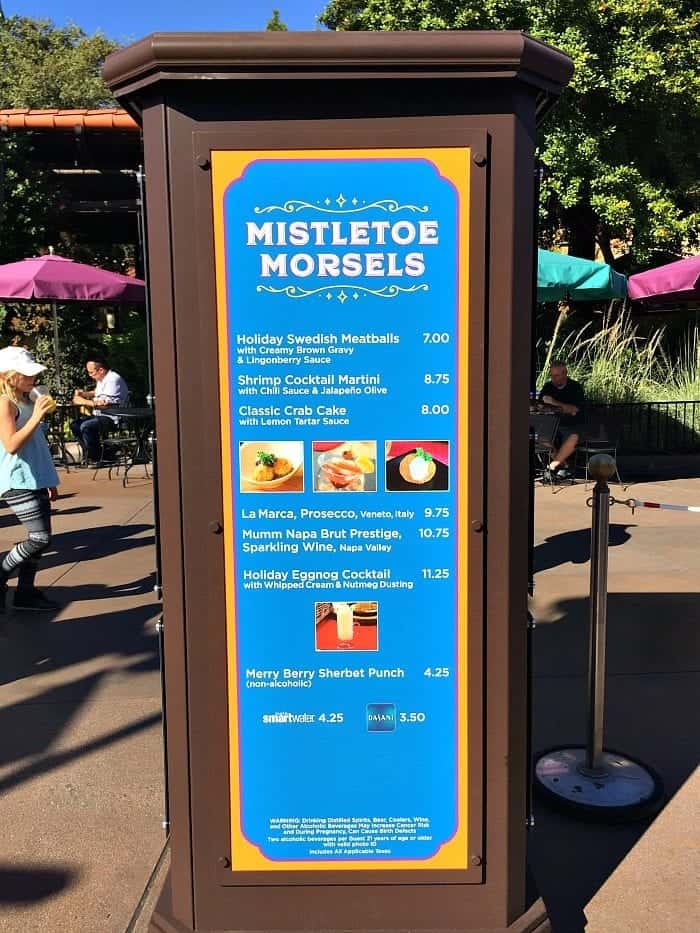 Marketplace Number 7 on the guide map is Mistletoe Morsels.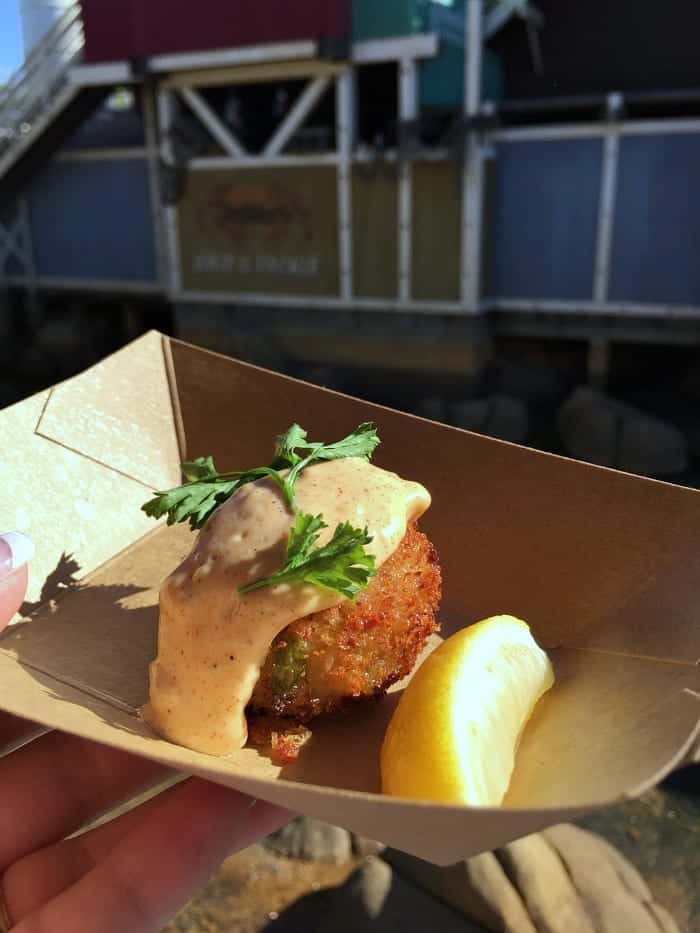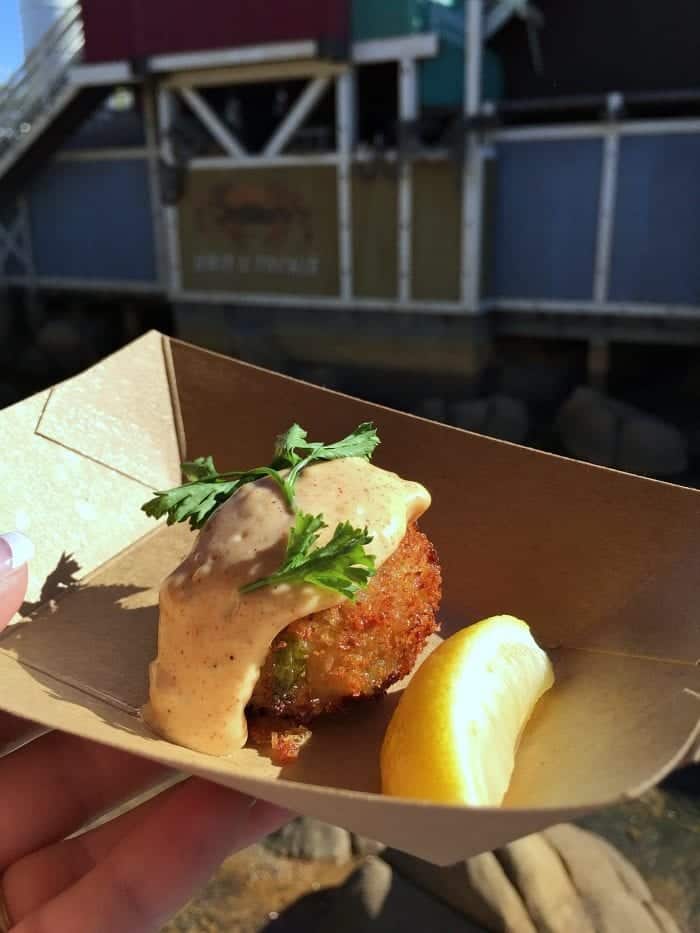 We sampled the Classic Crab Cake with lemon tartar sauce. If you are a crab cake fan, don't miss this one!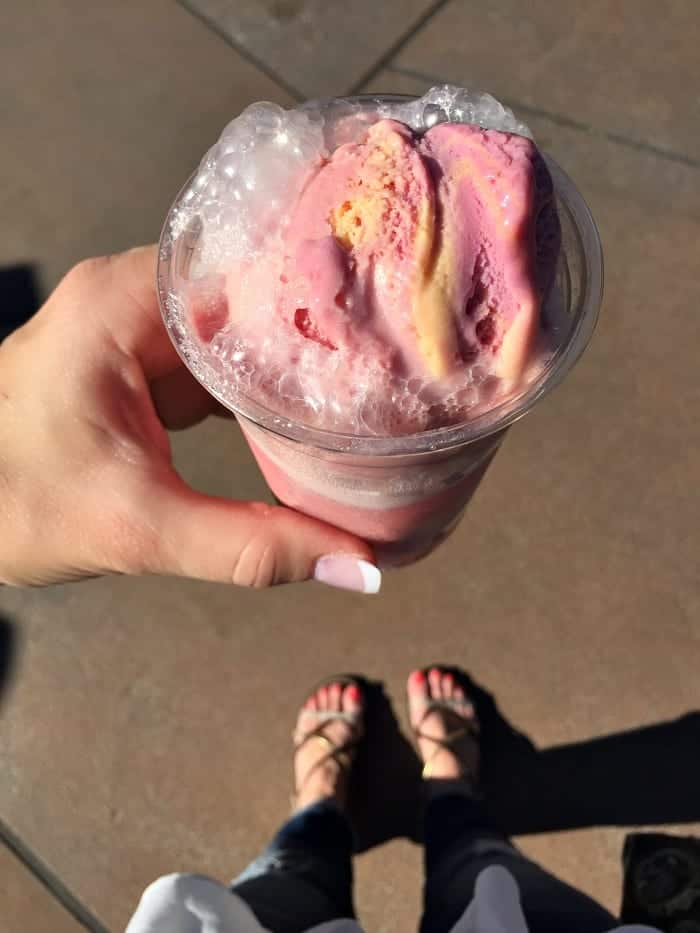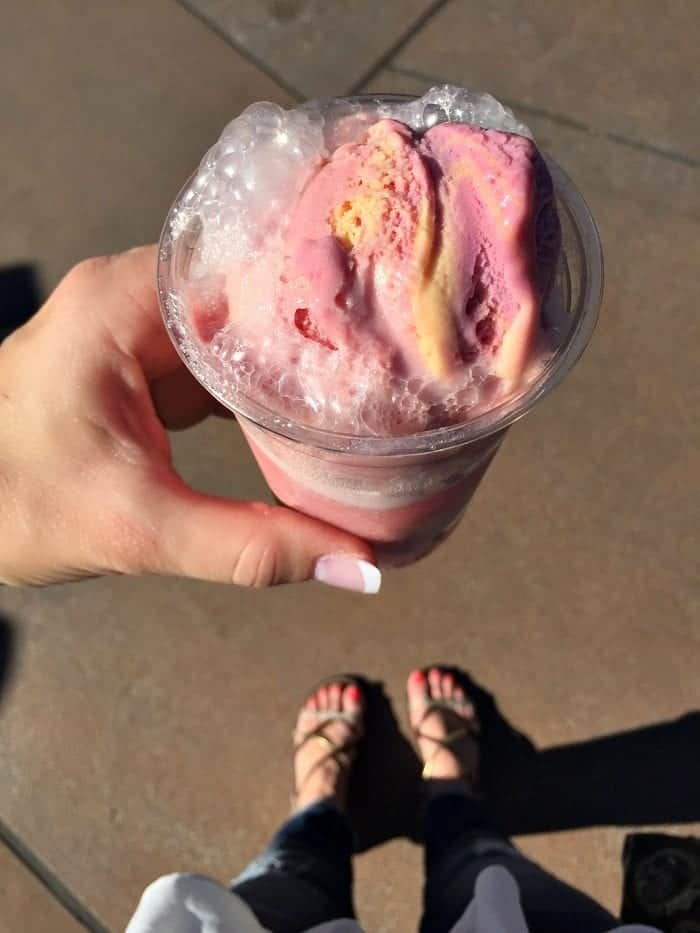 Also from Mistletoe Morsels is this Merry Berry Sorbet Punch. This is a great non-alcoholic option.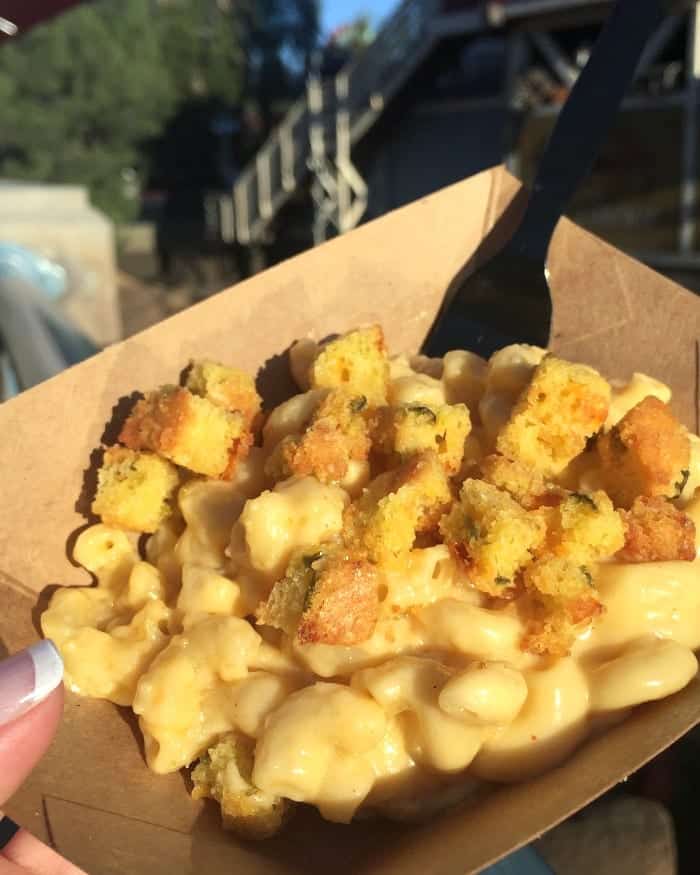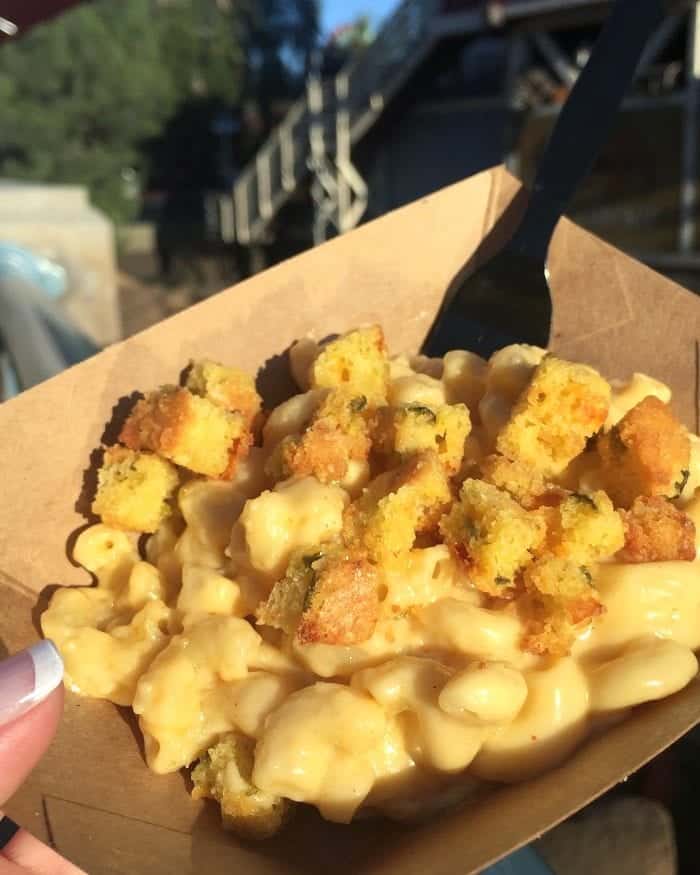 The Southern Home Holidays Marketplace, Number 8 on your guide map, has this Southern Mac & Cheese with jalapeño cornbread crumble. The flavor is great! My only complaint was I wish the cornbread crumbles were soft like cornbread. They had an unusual hard texture. Overall 2 thumbs up.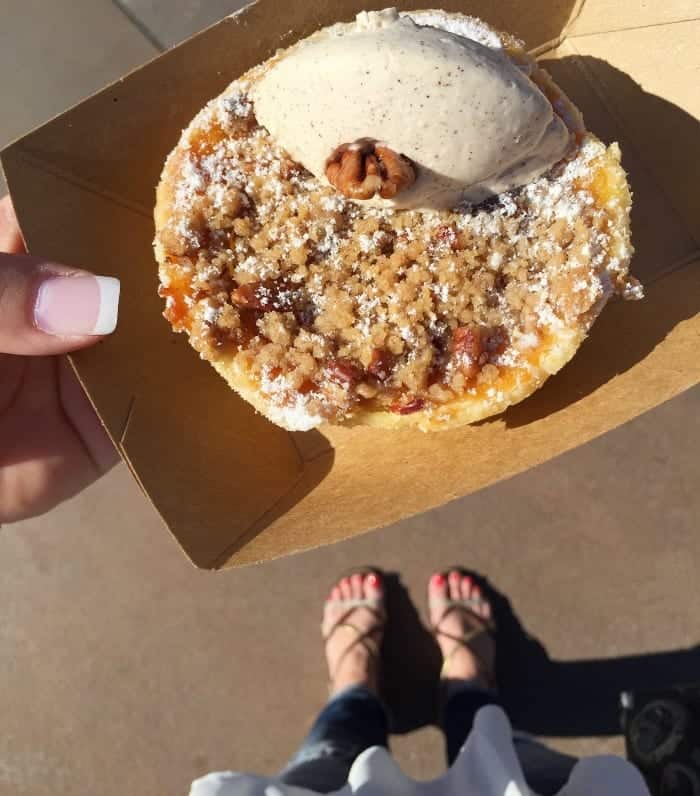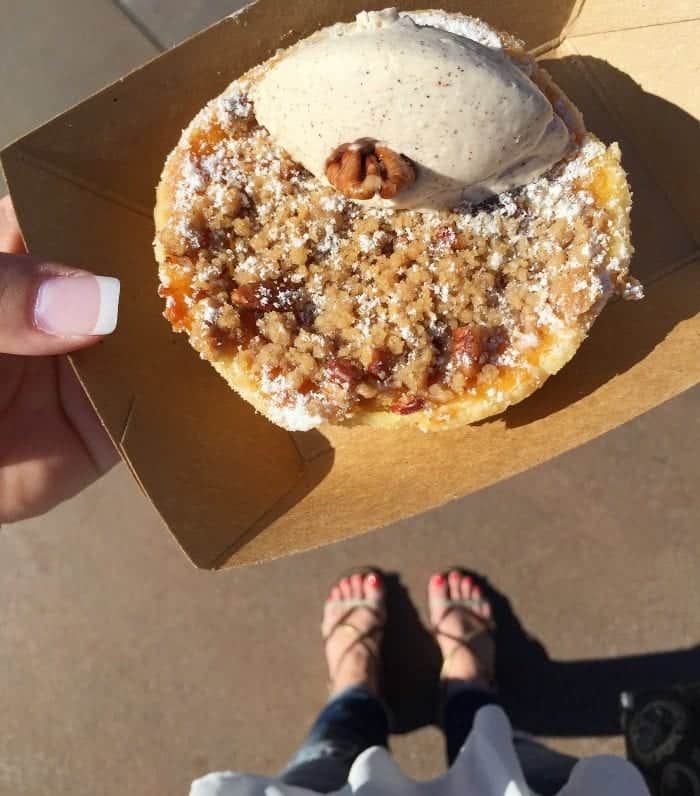 The Southern Home Holidays Marketplace also has this Sweet Potato Pie with candied pecans. This was such a treat. We loved this sweet little pie.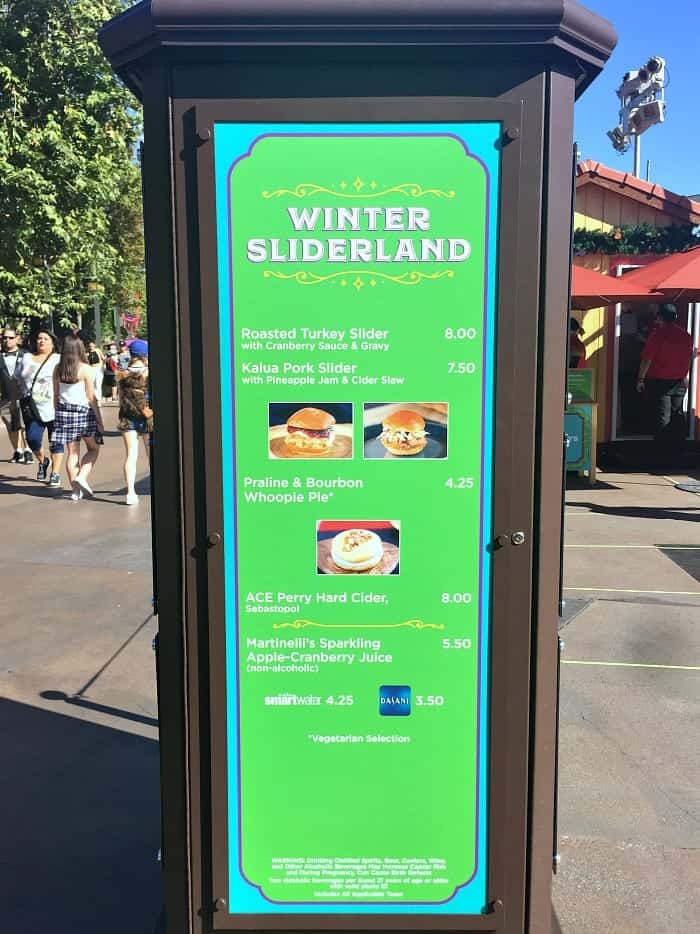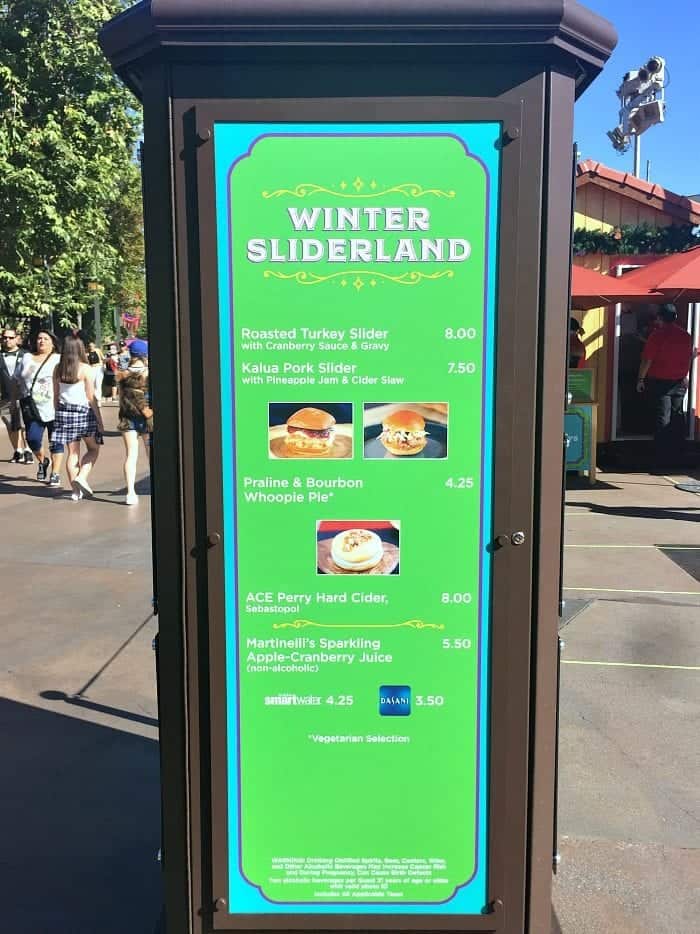 Winter Sliderland Marketplace, Number 9 0n your guide map had all kinds of deliciousness going on!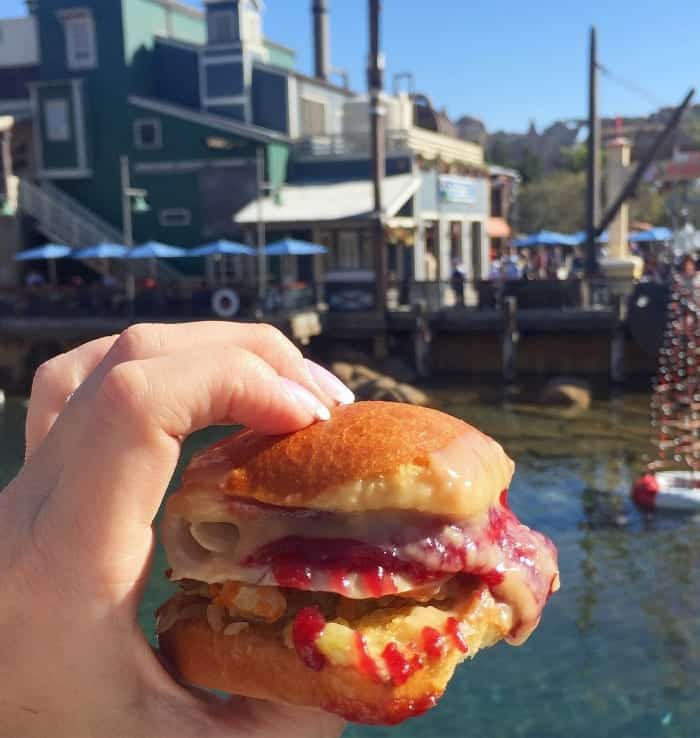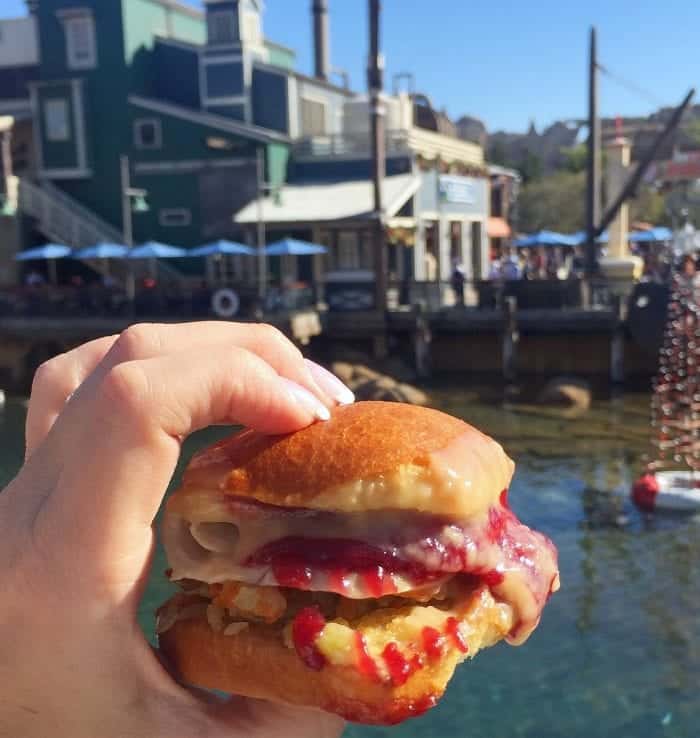 This is the Roasted Turkey Slider with cranberry sauce and gravy. Seriously like Thanksgiving Dinner in a bun. Note that this is a mess to eat, but well worth it. Loved this one!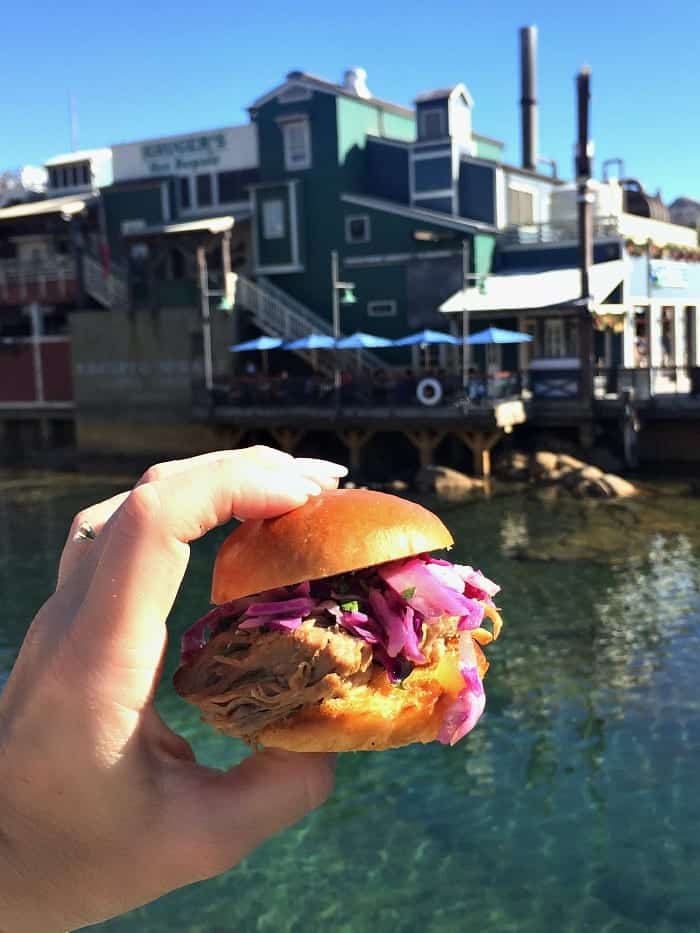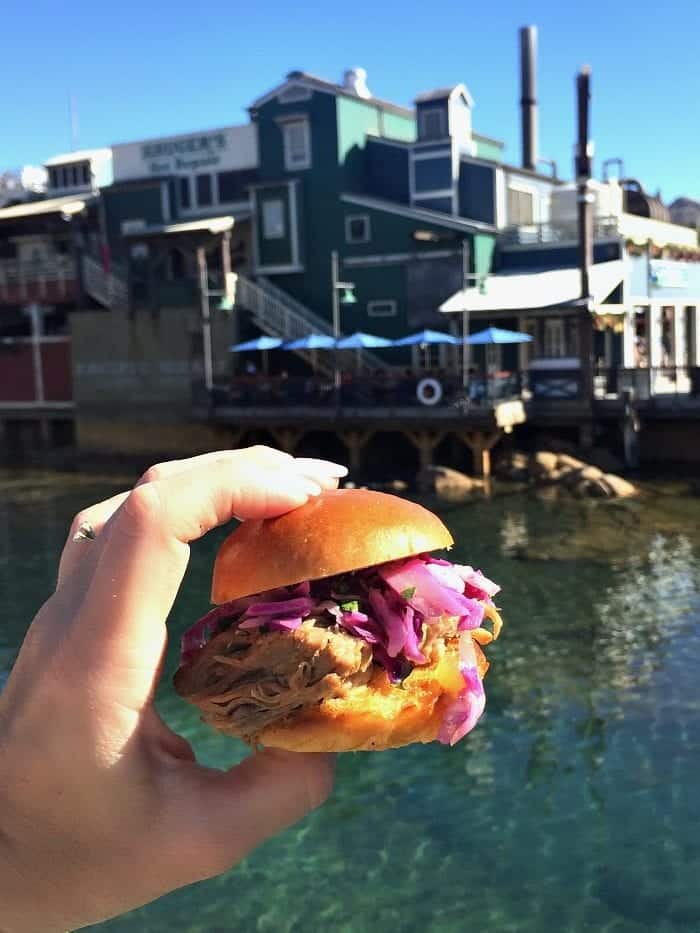 You can also order this Kalua Pork Slider with pineapple jam and cider slaw. It rocked. That is all 🙂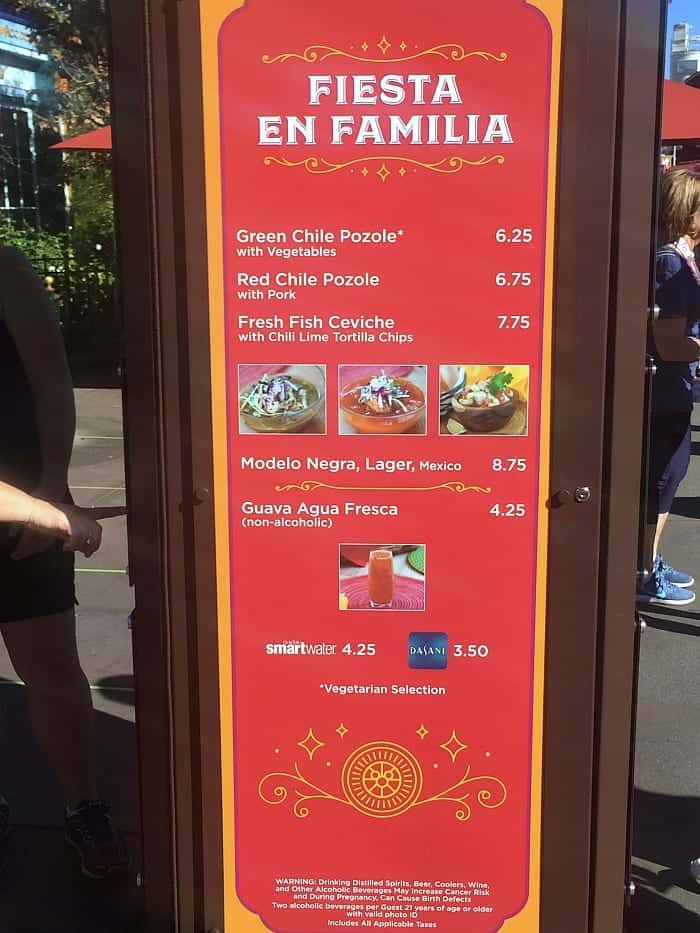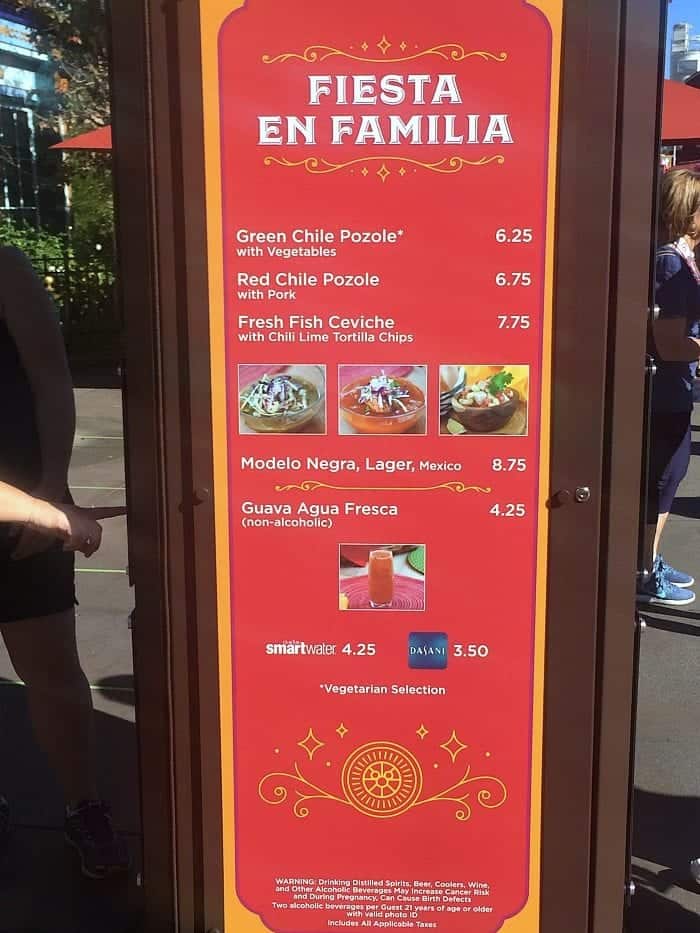 The Fiesta En Familia Marketplace is Number 10 on your guide map.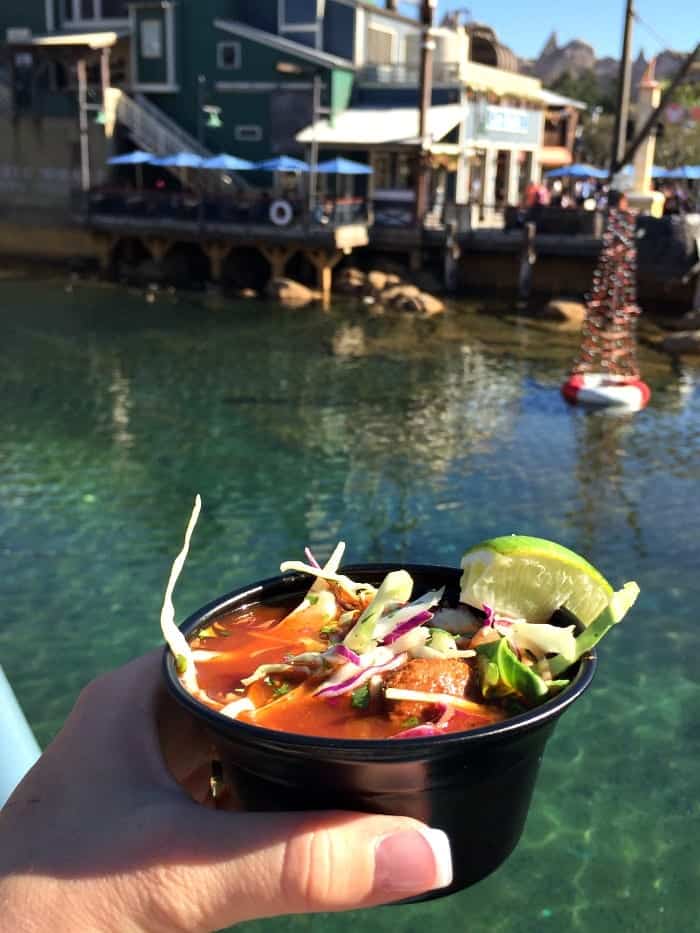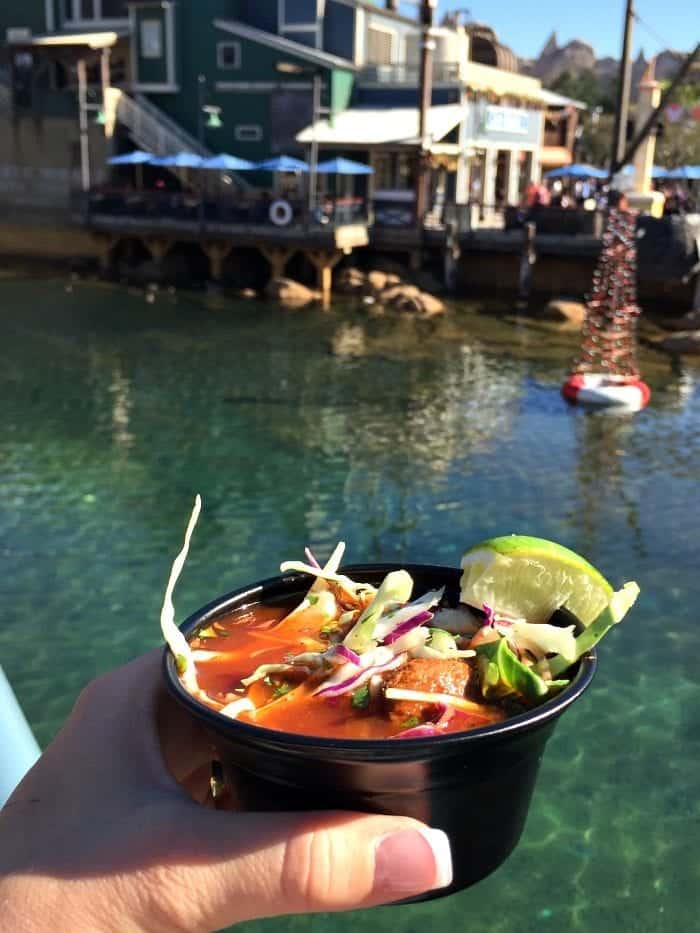 We ordered the Red Chile Pozole with Pork. Really good! It reminded me of a beef enchilada soup. The pork was so flavorful and tender. Two big thumbs up on this one.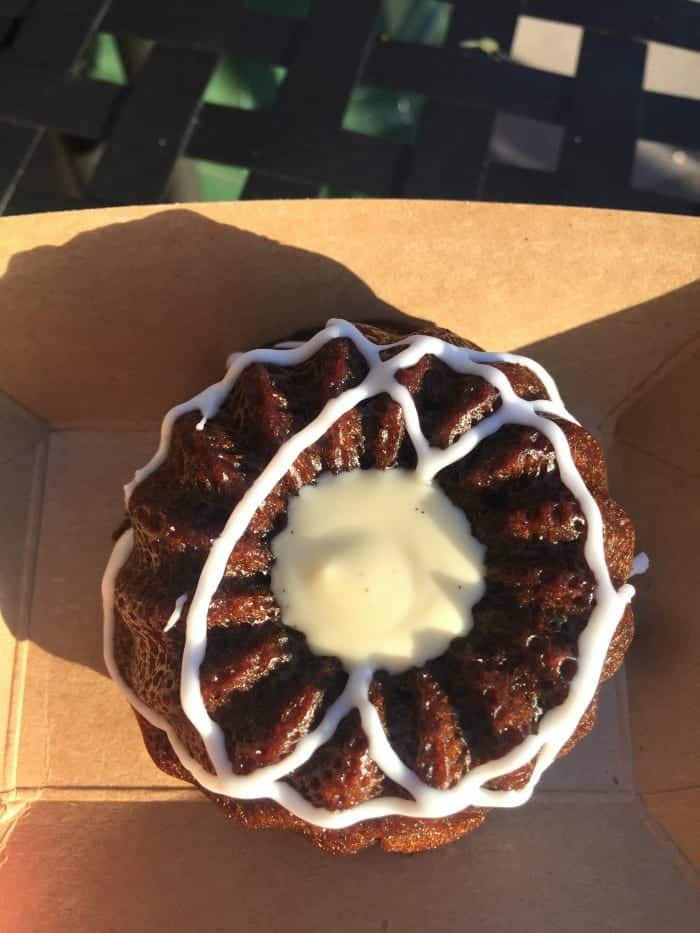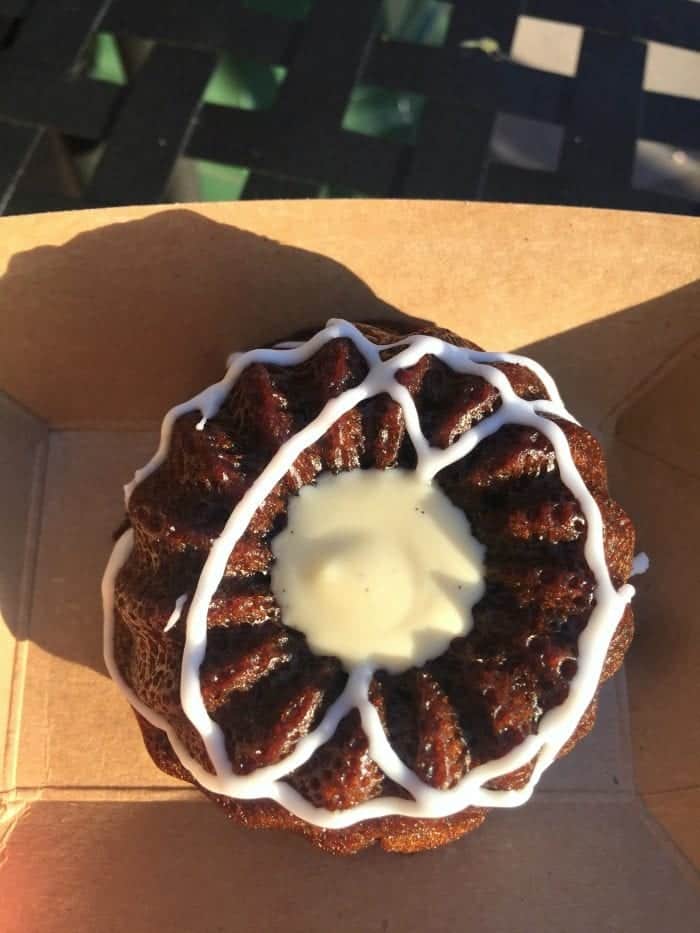 Yuletide Yummies Marketplace in Number 11 on your guide map. You can order this Gingerbread Bundt Cake with orange-vanilla sauce. If you are a gingerbread fan, you'll love this one. The orange-vanilla sauce in the middle is incredible.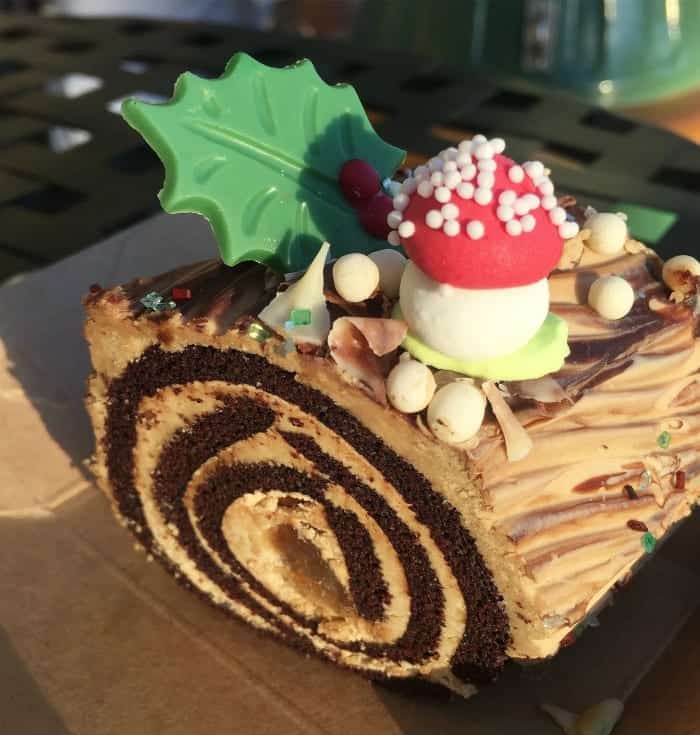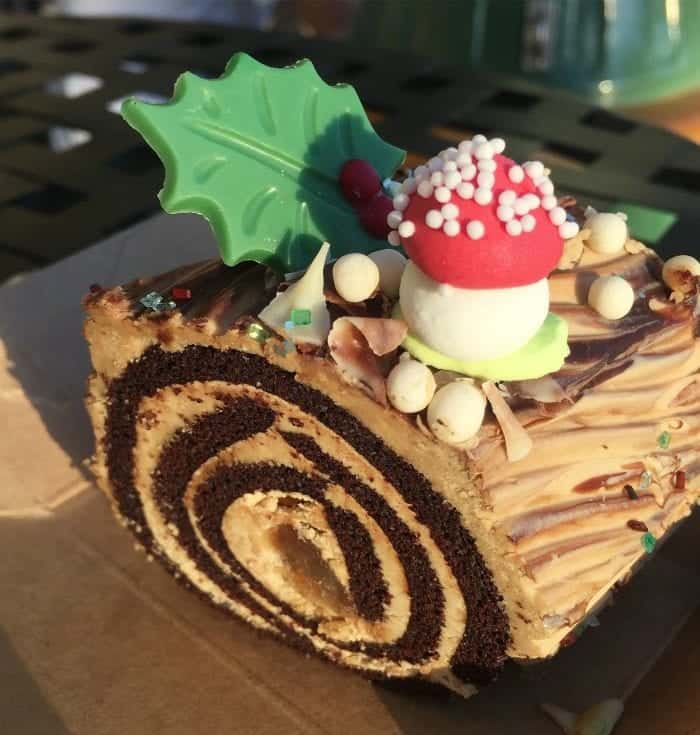 You can also find this adorable Mocha Yule Log with candied chestnuts at the Yuletide Yummies Marketplace. In all honesty, this was not our favorite. The cake itself was pretty dry, but I give it 2 thumbs up for how adorable it is 🙂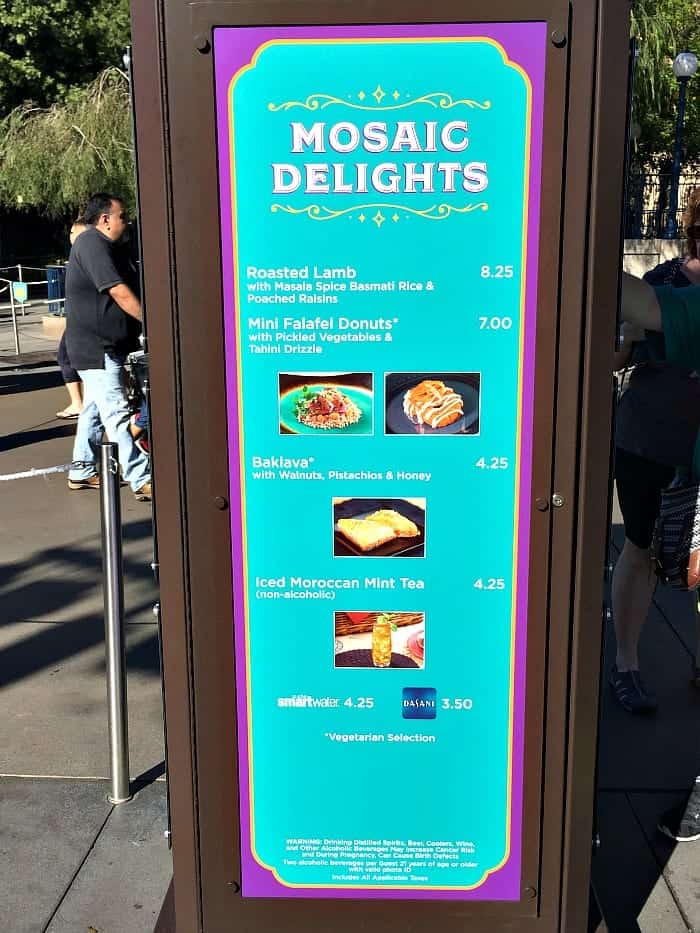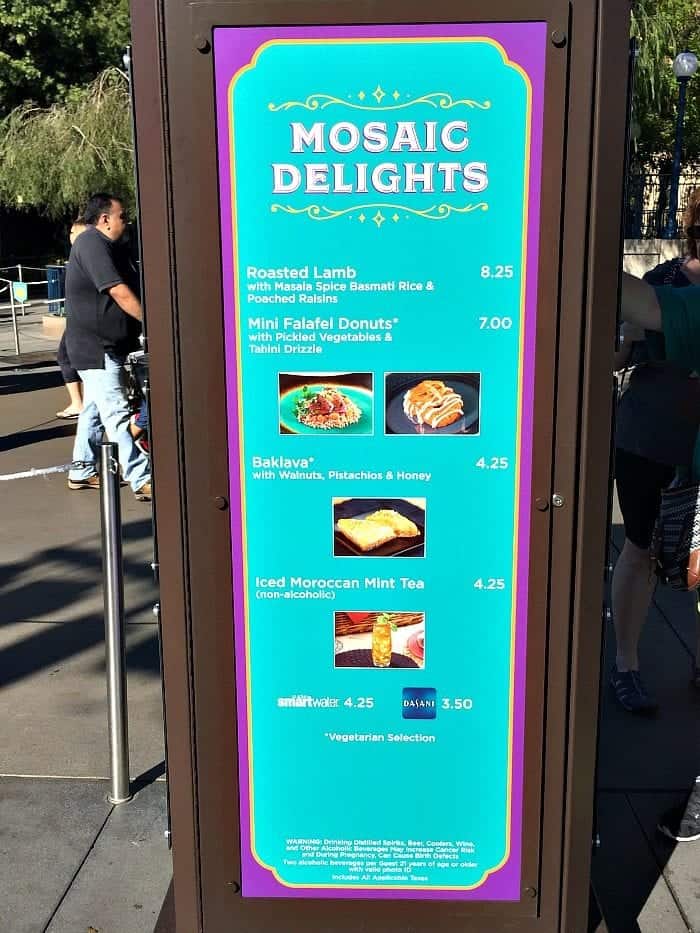 Mosaic Delights Marketplace is Number 12 on your guide map. Didn't order anything here, but you can take a peek at the menu.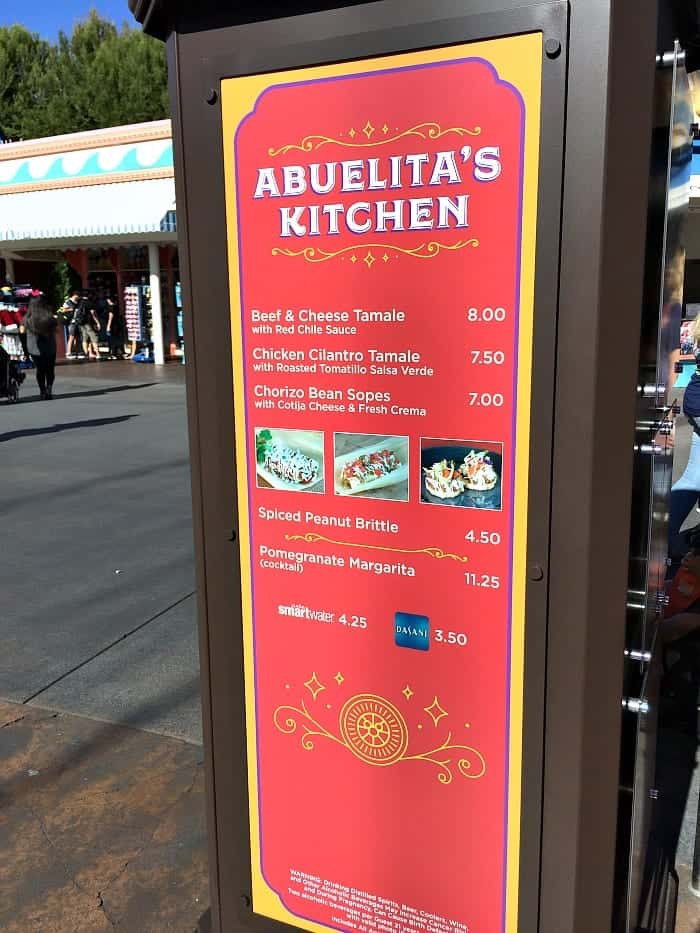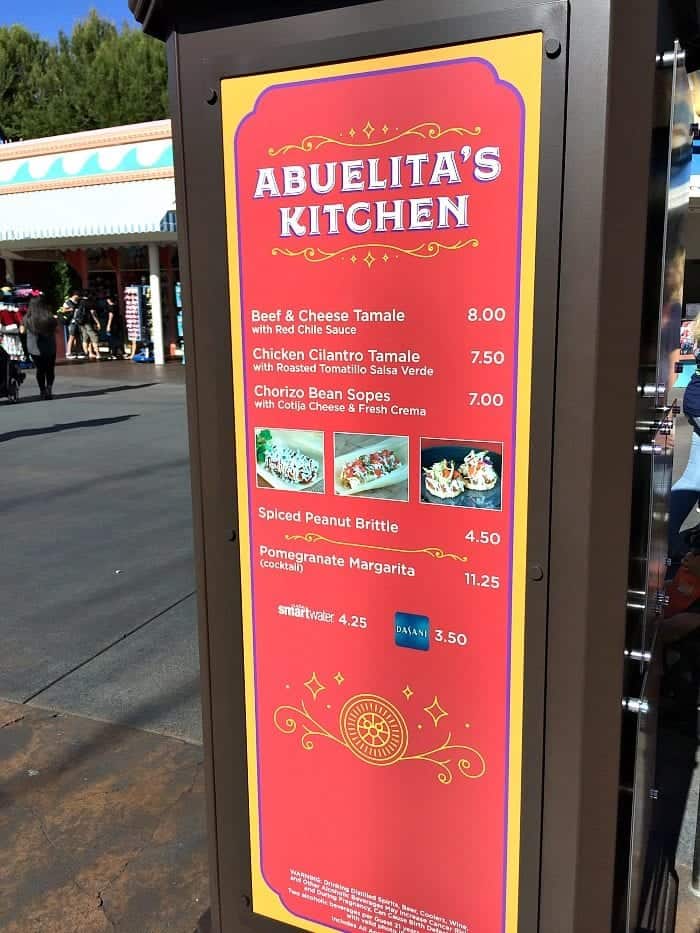 Arbuelita's Kitchen Marketplace is Number 13 on your guide map. Another favorite of ours.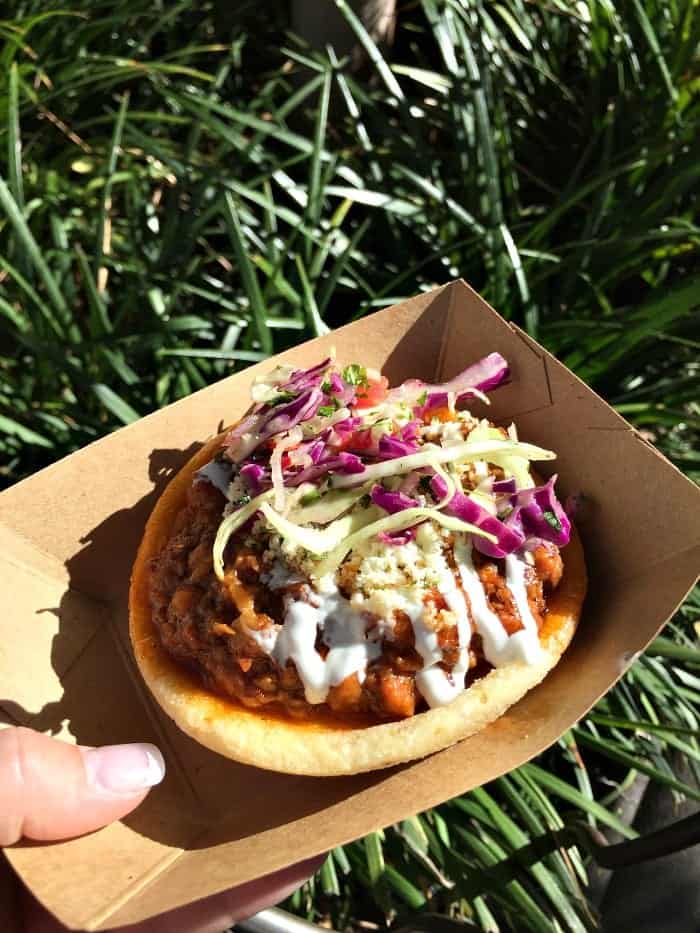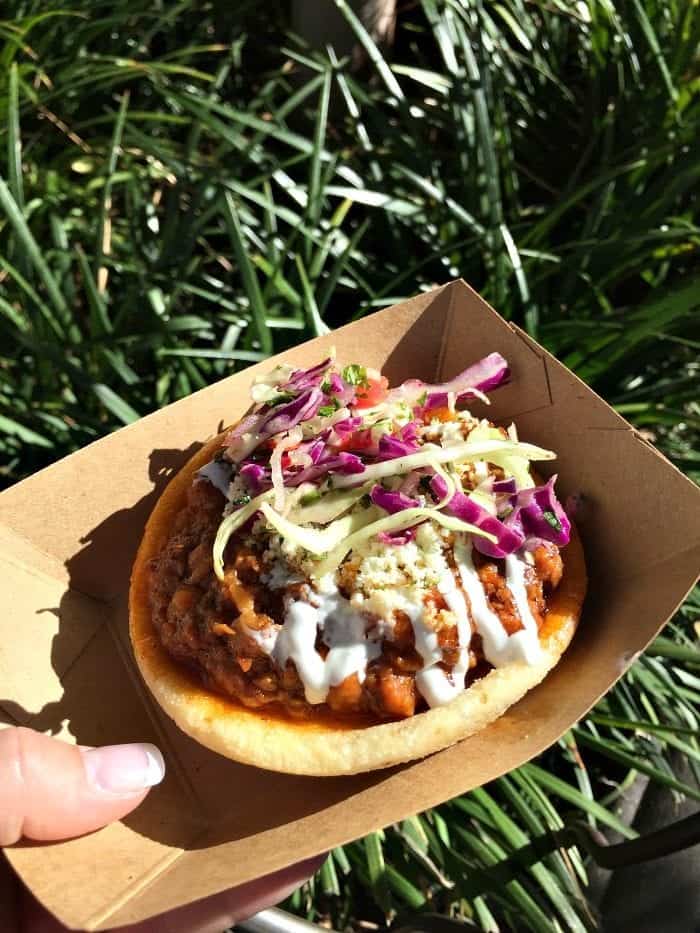 We ordered the Chorizo Bean Sopes with Cotija cheese and fresh crèma. My husband declared this his favorite of all of the marketplaces. It was really delicious. Worth ordering for sure!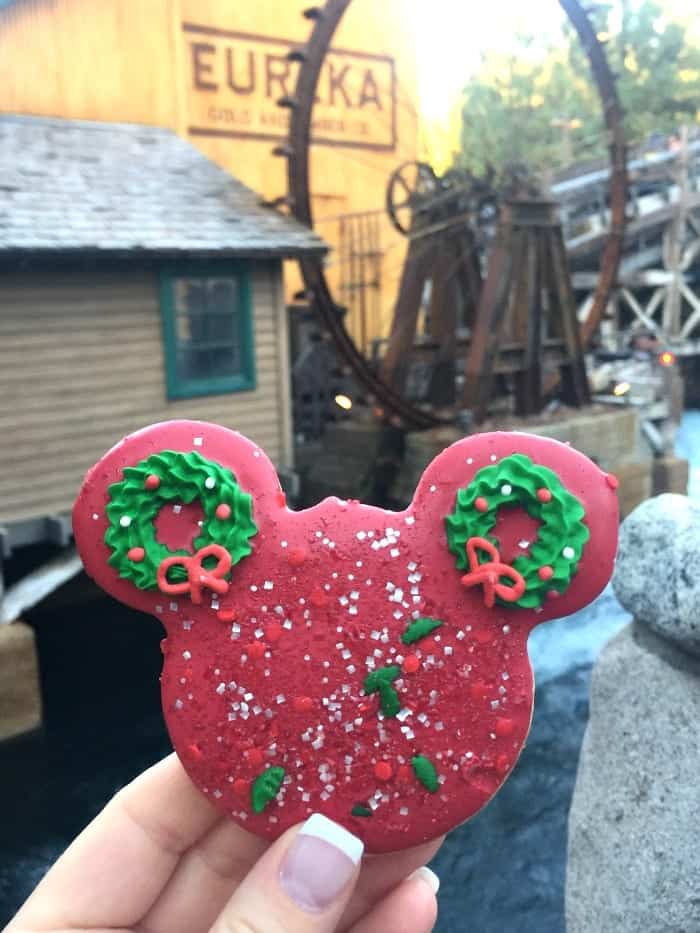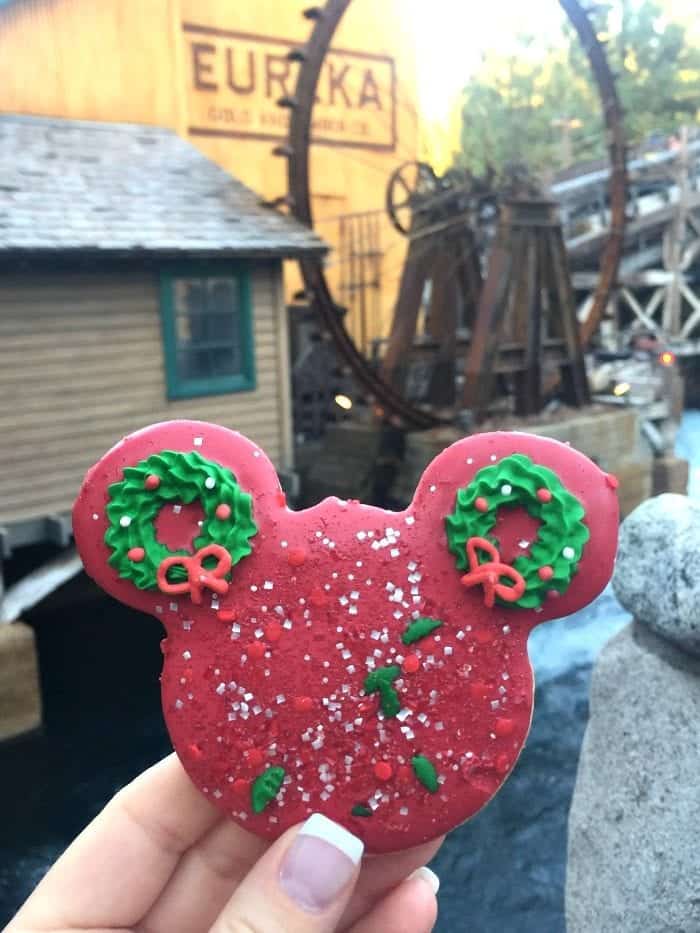 Treats For Santa Marketplace is Number 14 on your guide map and you can find this cute Mickey Holiday Sugar Cookie. They've also got the following:
Mickey Snowman Cookie Decorating Kit
Harvest Puff Pastry
Assorted Cookies
Classic Panettone
Candied Chestnut Panettone
Peppermint Bark
Pumpkin Seed Brittle
Walnut Fudge
Warm Bourbon Cider
White Hot Chocolate with house-made peppermint marshmallows
Holiday Fruit Punch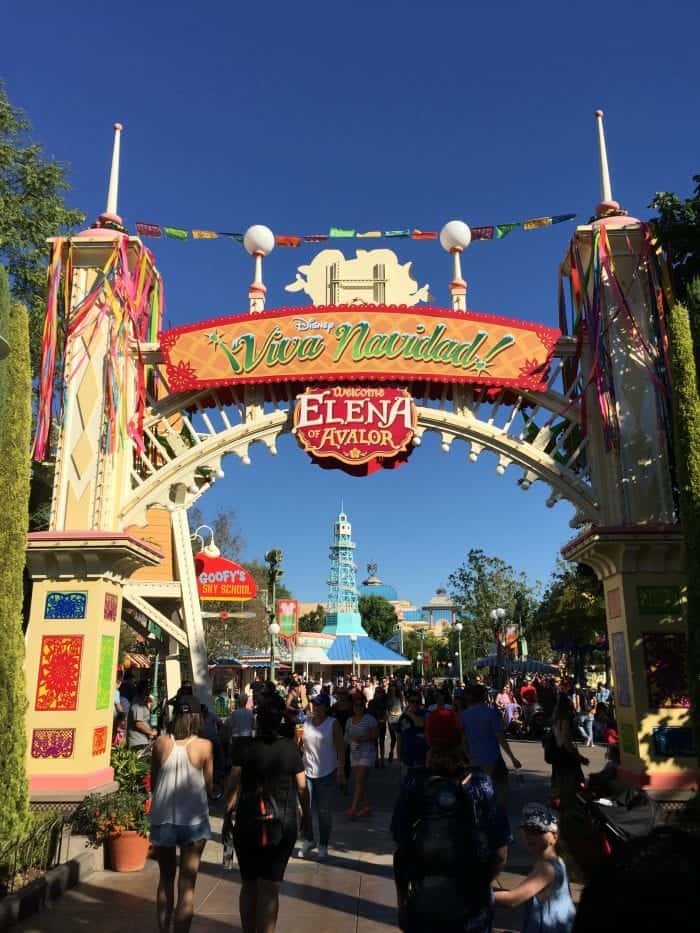 iViva! Navidad is a fun area you've got to check out! Located in Paradise Garden Grill area, discover the sights, sounds and flavors of this special celebration throughout the holiday season. The following information is via Disneyland.com.
Disney Characters
Keep an eye out for favorite Disney friends—dressed in their holiday best. You never know who'll be dropping by to share some magical moments and warm winter hugs.
Holiday Entertainment
Throughout ¡Viva Navidad!, an exciting lineup of guest artists—from bands to comics to storytellers—will be making spirits bright with captivating live performances.
Dazzling Décor and Delicious Delicacies
We're decking the halls of Paradise Garden with special festive accents. You won't want to miss the bright and cheerful holiday decorations, featuring colorful hanging papél picado banners and fresh flowers.
While you're there, stop by Paradise Garden Grill to savor the authentic Mexican specialties we're serving up throughout the holiday season.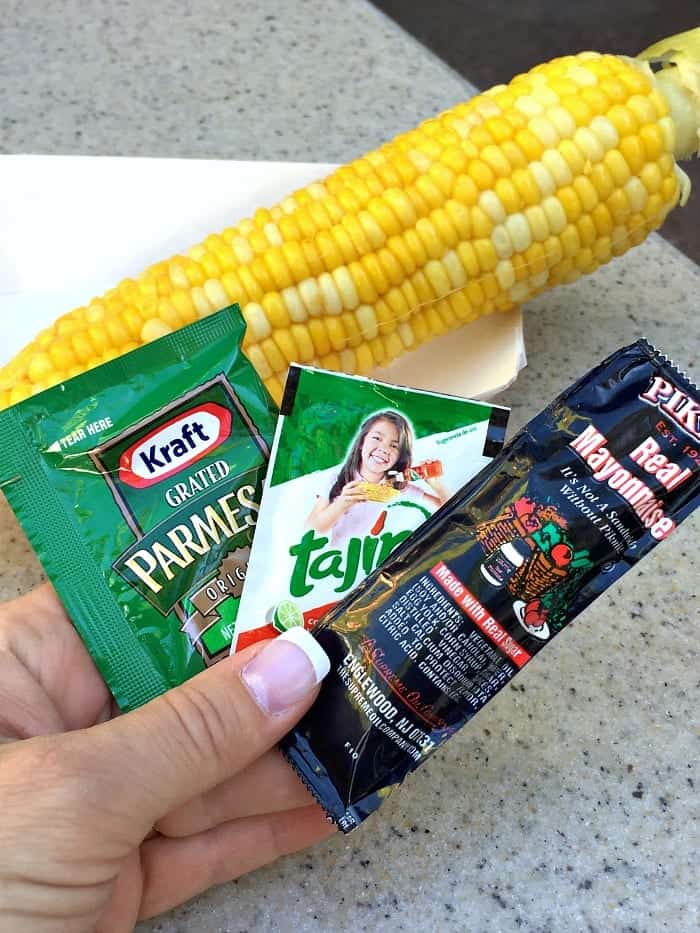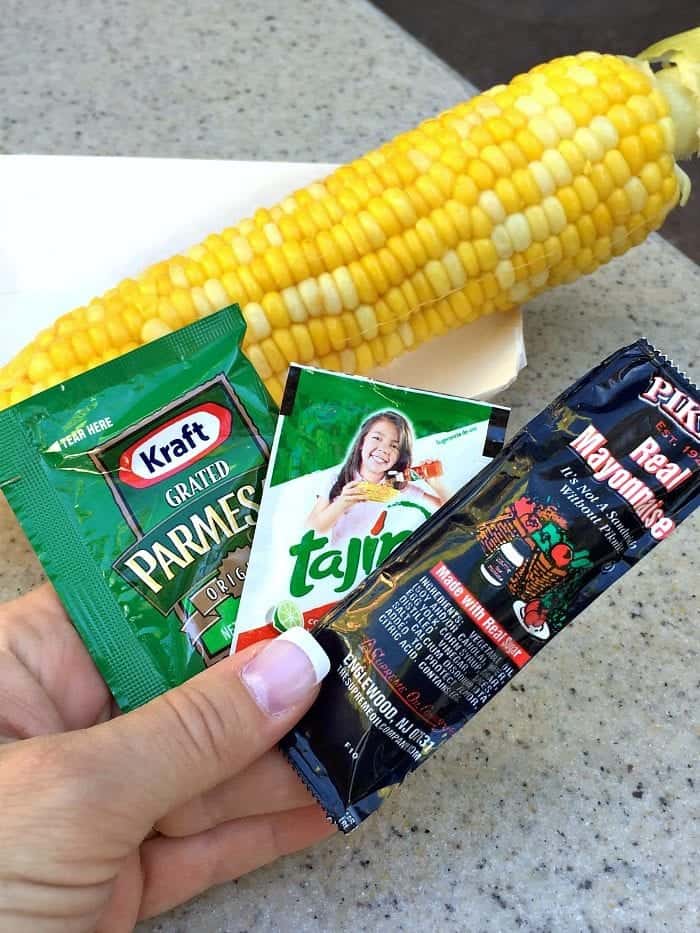 There's a little cart outside of Paradise Garden Grill where you can get a Mexican Street Corn kit. I thought I died and went to heaven!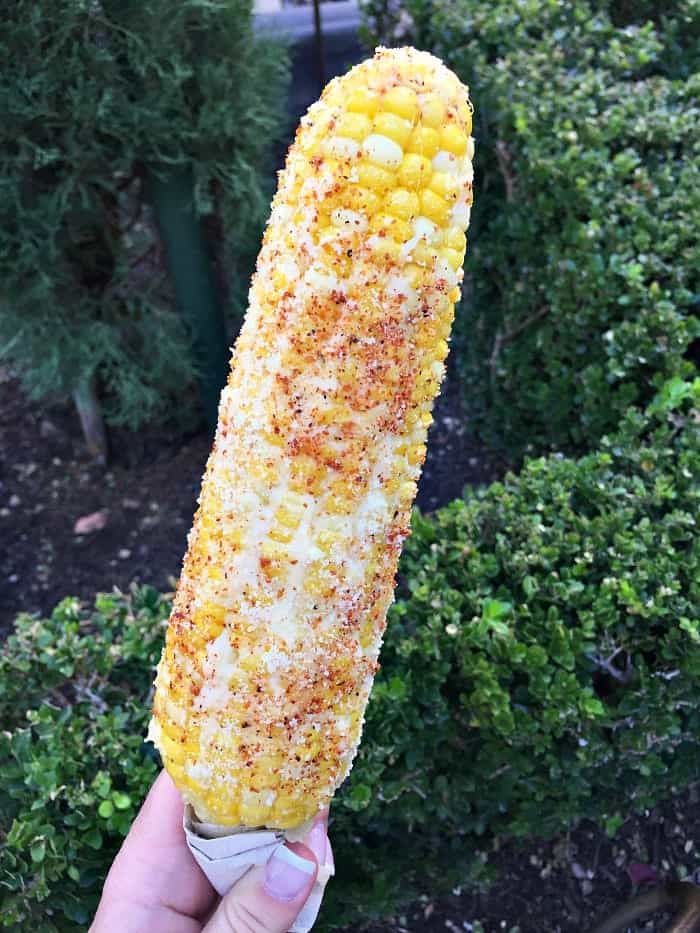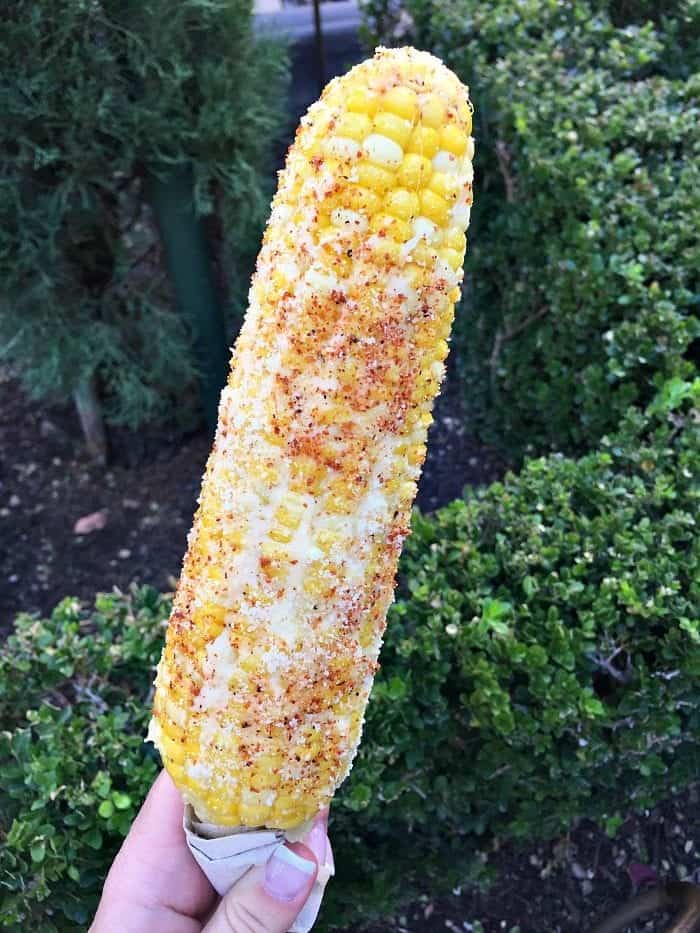 You assemble your own delicious street corn….and let me tell you, it's absolutely delicious!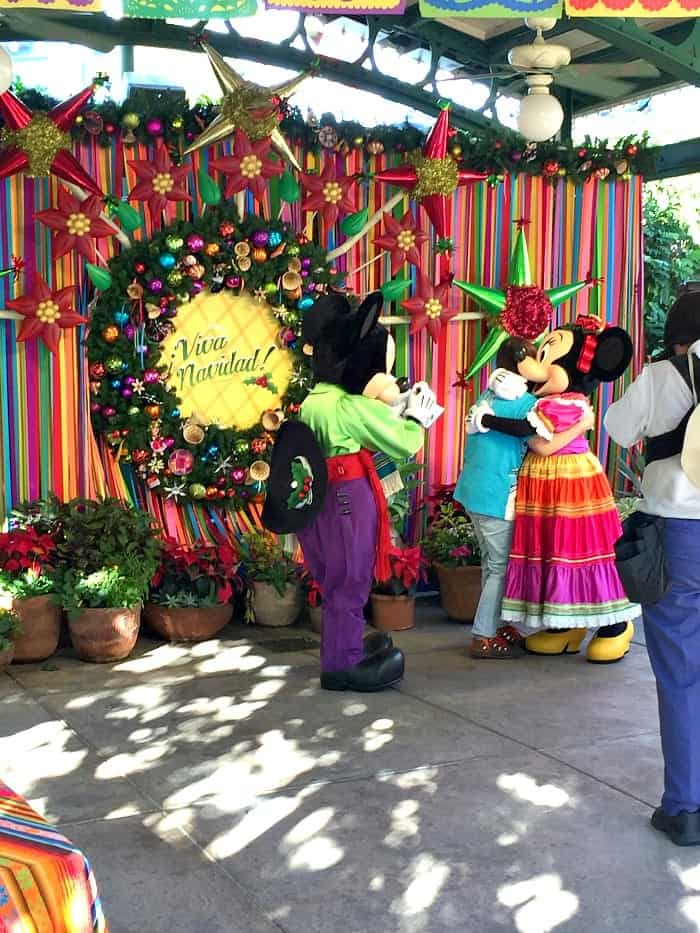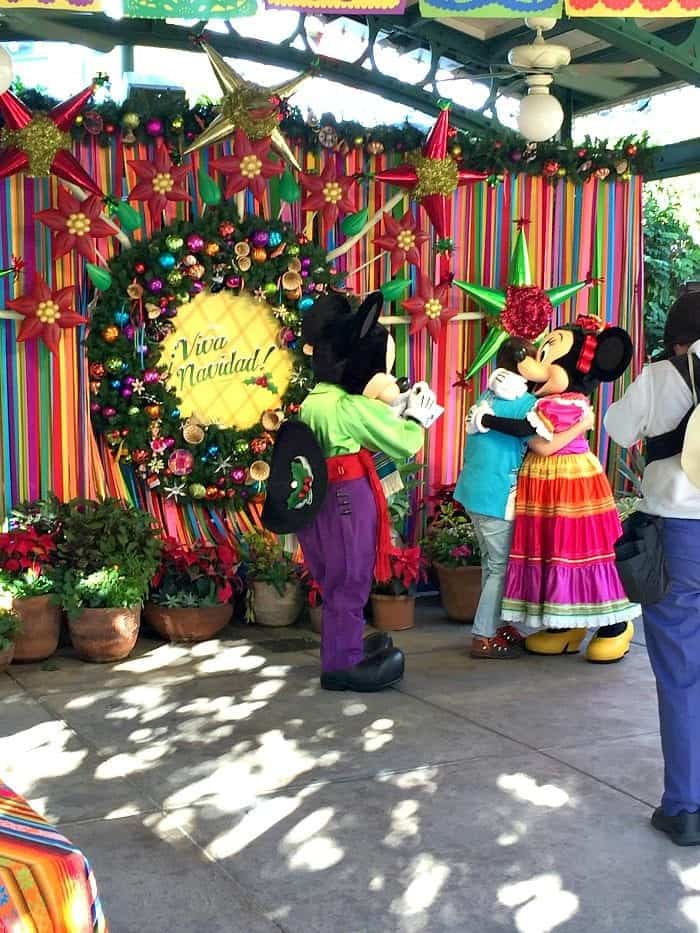 You can also find a very festive Mickey and Minnie ready for picture taking! Princess Elena of Avelor is also in this area for meet and greets.
The Disney Parks Blog is a great reference for a complete guide to the Fesitval. Check it out HERE.
If I had to pick our very favorites they'd be the Chorizo Bean Sopes from Arbuelita's Kitchen Marketplace, the Roasted Turkey Slider from the Winter Sliderland Marketplace, and the Sweet Potato Pie from Souther Home Holidays Marketplace.
Hope you enjoyed our review!!
Pin to your favorite Disney Board!