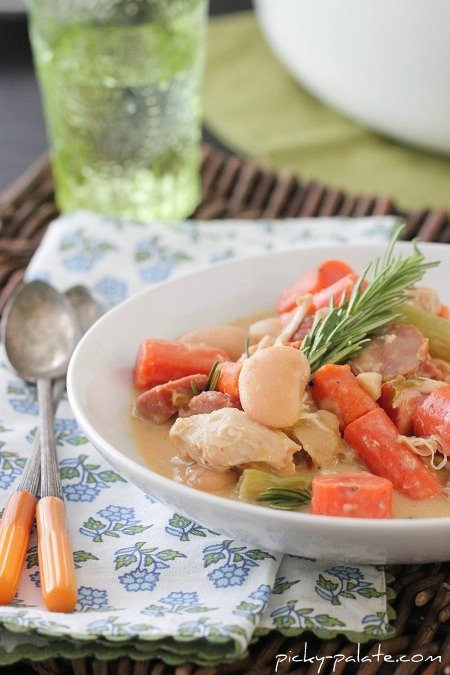 Fist off, Happy Halloween to everyone! Such a fun day ahead with my boys. Can't wait to dive into all the festivities 🙂
There is not much better than a giant Dutch oven full of a piping hot stew. The smell alone brings everyone running to the kitchen. I love this recipe for so many reasons, I'd say mostly because it is such perfect comfort food.
I used giant Butter Beans to add to my recipe however if they freak you out (Lol) then use a regular can of white beans in its' place. Whatever you choose, you are sure to love this big pot of love 🙂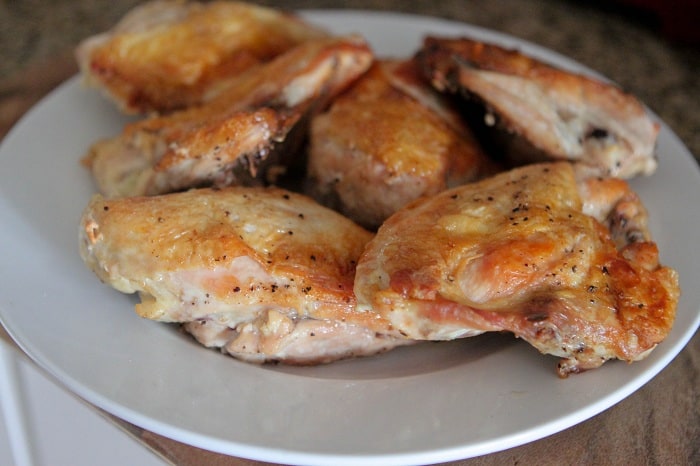 Ok, you have a few options here. I was in the mood for using chicken breast on the bone for this recipe. I browned it in my Dutch oven then finished it off in the oven. The chicken is incredibly flavorful and tender…..however if you want to speed things up, use any shredded chicken you'd like 🙂 A rotisserie works great.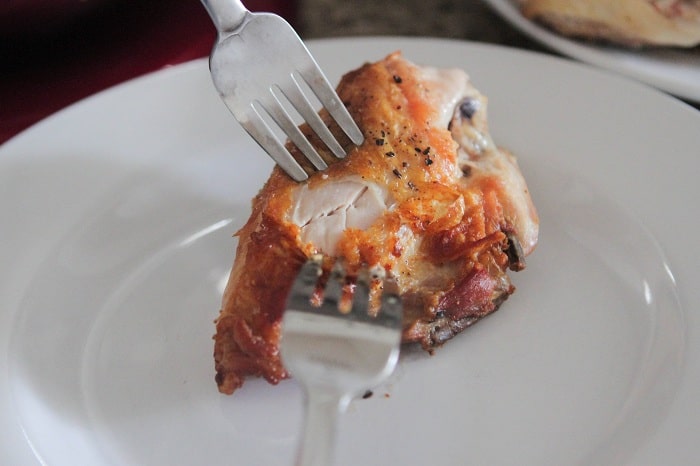 I removed the skin and shredded the chicken.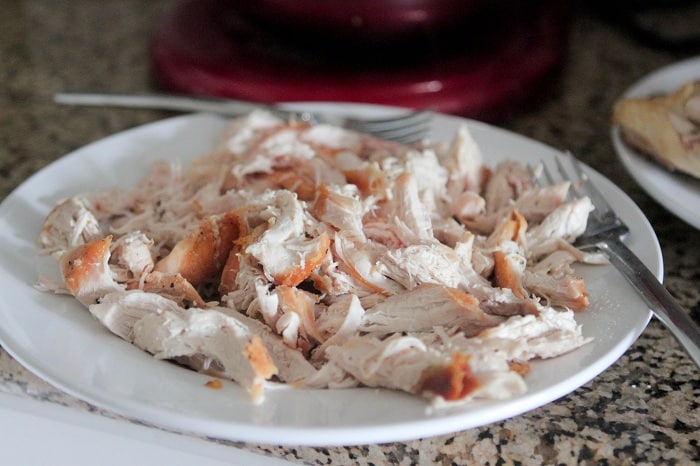 About 4 cups shredded chicken breast. Yum!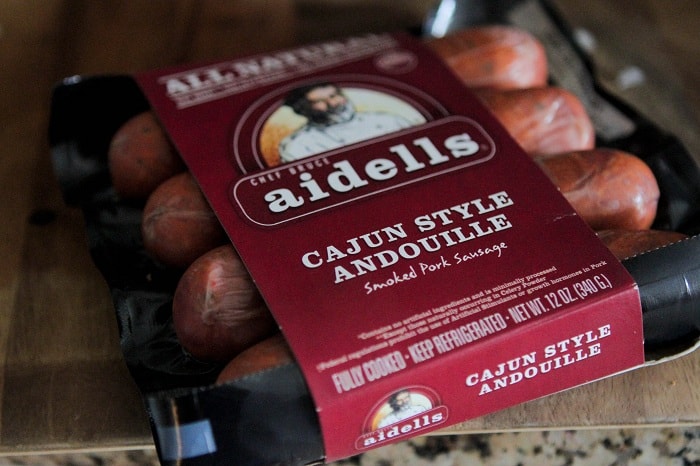 I love this brand of sausage. It's all natural and my favorite to use. Use any cooked sausage links you prefer.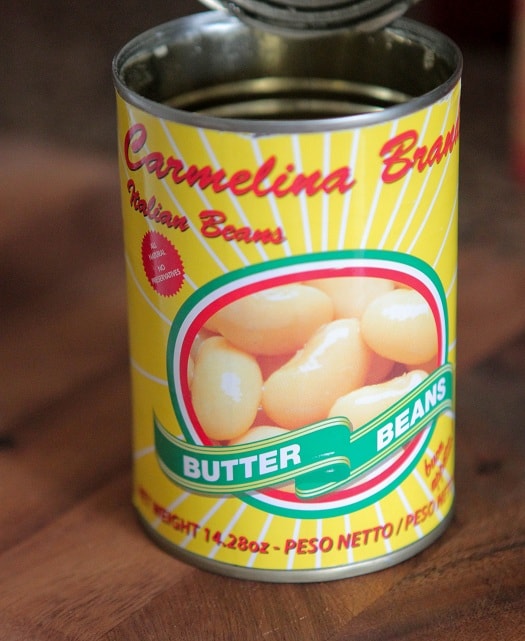 Here are those giant white beans called butter beans. They taste just like white beans but they are bigger. I happen to love them 🙂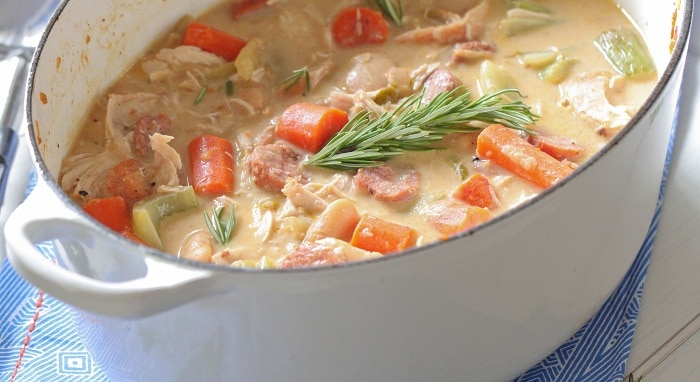 Please forgive my lack of step by step photos. When I was preparing this recipe I had horrible light in my kitchen, so just read over the recipe this time 🙂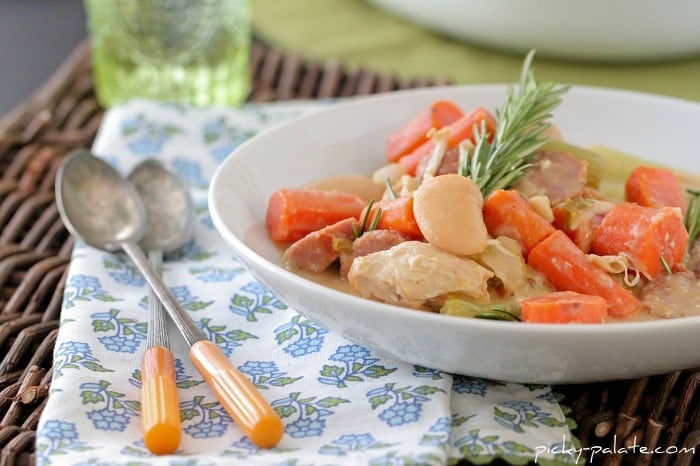 So excited for you guys to try this recipe. It's a big bowl of comfort food! Enjoy!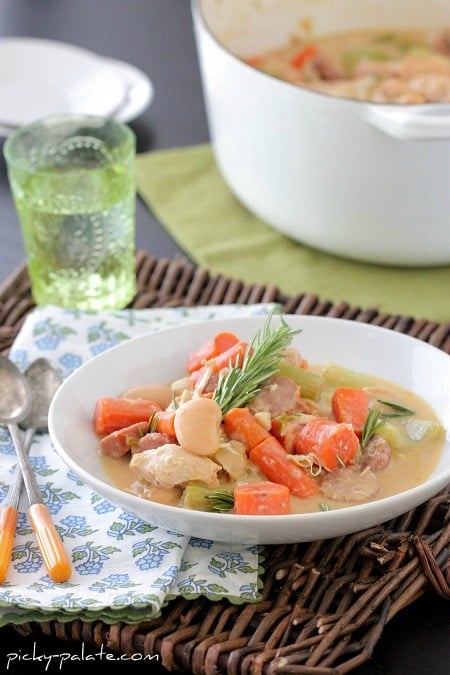 [ziplist]
Fall Style Chicken Stew with Sausage and Beans
2 tablespoons extra virgin olive oil
1 1/2 pounds chicken breast (I used chicken on the bone)
2 tablespoons extra virgin olive oil
1 pound carrots, peeled and cut into 1/2 inch pieces
4 stalks celery, cut into 1/2 inch pieces
1 large onion, diced
12 ounces cooked sausage links, sliced
15 ounce can White Beans, drained and rinsed
2 tablespoons butter
2 tablespoons all purpose flour
2 cups chicken broth
1/4 teaspoon kosher salt
1/4 teaspoon freshly ground black pepper
1/4 teaspoon garlic salt
1. Preheat oven to 350 degrees F.
2. Place oil into large Dutch oven over medium heat. Season each chicken breast with a pinch of salt and pepper then place into hot oil. Cook for 5 minutes each side, until golden brown. Once golden brown, place pot into oven and bake for 30 minutes, until cooked through. Remove chicken and transfer to large plate or cutting board. Let rest for 10 minutes then shred. I removed skin and just used the shredded breast.
3. Place same Dutch oven with chicken drippings over medium heat. Add carrots, celery and onion cooking until tender, about 15 minutes, stirring frequently. I cover with lid to speed the process. Add sliced sausage and beans, stirring to combine. Reduce heat to low.
4. Place butter into a medium pot over medium heat. Once melted whisk in flour until thick and combined. Slowly add chicken broth. Will start out thick, keep whisking and slowly add remaining broth. Whisk for a good 5 minutes then transfer to pot of vegetables. Season with salt, pepper and garlic salt, stirring to combine. Reduce heat to low and let simmer until ready to serve. Garnish with fresh Rosemary.
Makes 8 servings
________________________________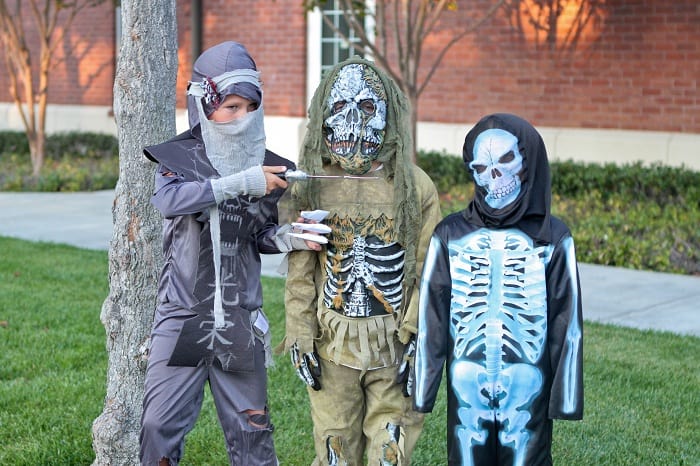 Love this photo of my boys on the right with their buddy at our neighborhood's Trunk or Treat this past weekend. The creepier the better in our house, lol! Happy Halloween.
Have a great day! Come back soon!