Sharing my experience staying at the lovely Four Seasons Orlando! This posh resort is near all of the Walt Disney World Parks.
Four Seasons Orlando
I was so excited for this stay at the Four Seasons Orlando with my girlfriends. It was just as lovely as I knew it would be. Right away, you drive up to a grand entrance and palm trees lining the property. Just fabulous.
Does Four Seasons Orlando Offer Free Transportation To Parks?
Yes, the front desk has a printout with all of the times that the bus takes Four Seasons guests to and from the Parks. We ended up using Lyft for our rides so we could leave as we pleased, but it was nice to know free transportation was available if needed.
How Far is the Resort From The Parks?
Magic Kingdom and Epcot were less than a 10 minute Lyft ride. For your reference, when we take a Lyft to Magic Kingdom, we have the Lyft take us to the Contemporary Resort parking lot and then we walk to the Magic Kingdom entrance from there. Lyft rides to Hollywood Studios and Animal Kingdom are close to a 15 minute drive to the drop off locations.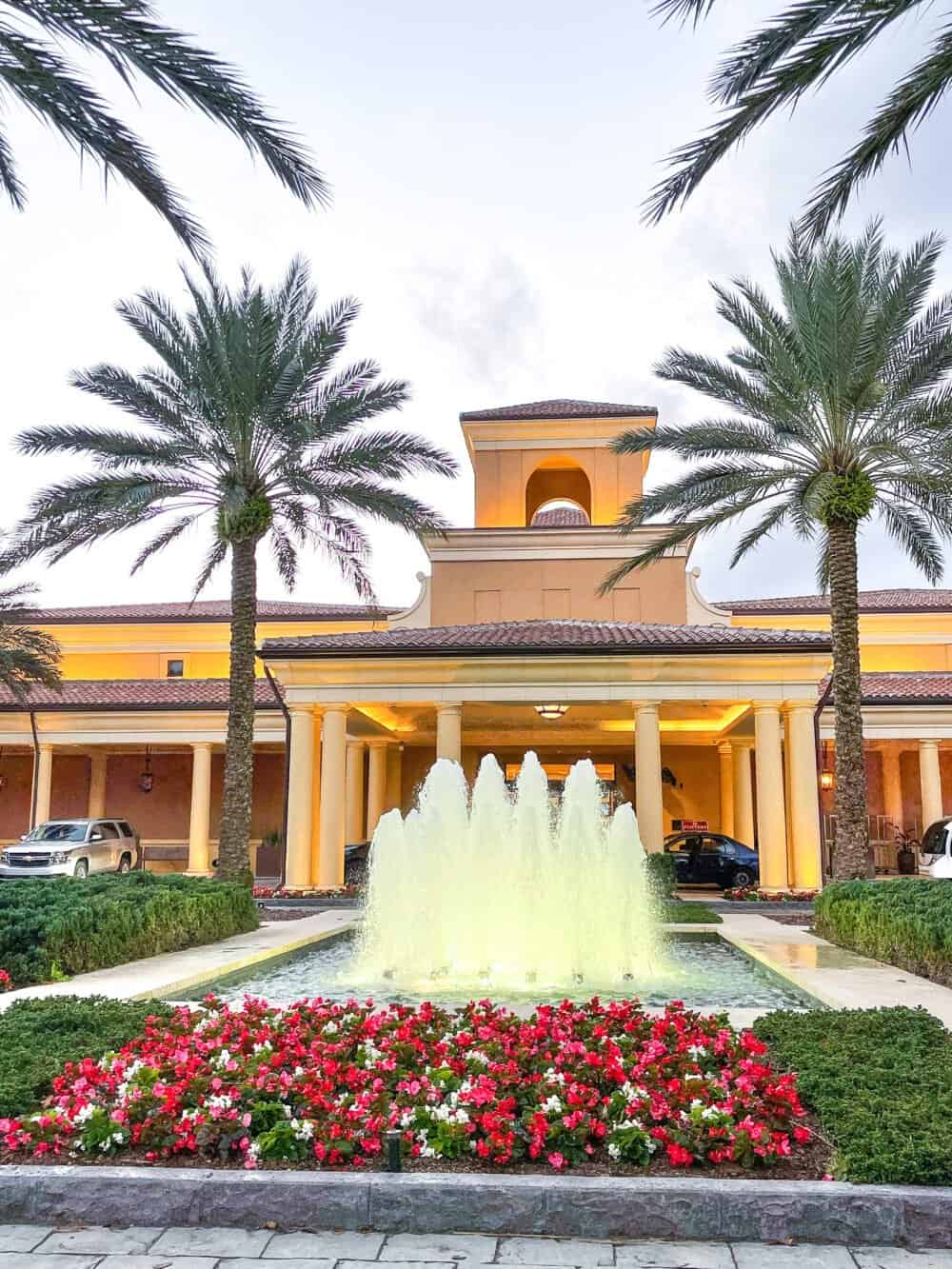 Safety Measures in Place at Four Seasons Orlando
Upon entering the lobby, there is an automatic temperature screening that takes place before reaching the front desk.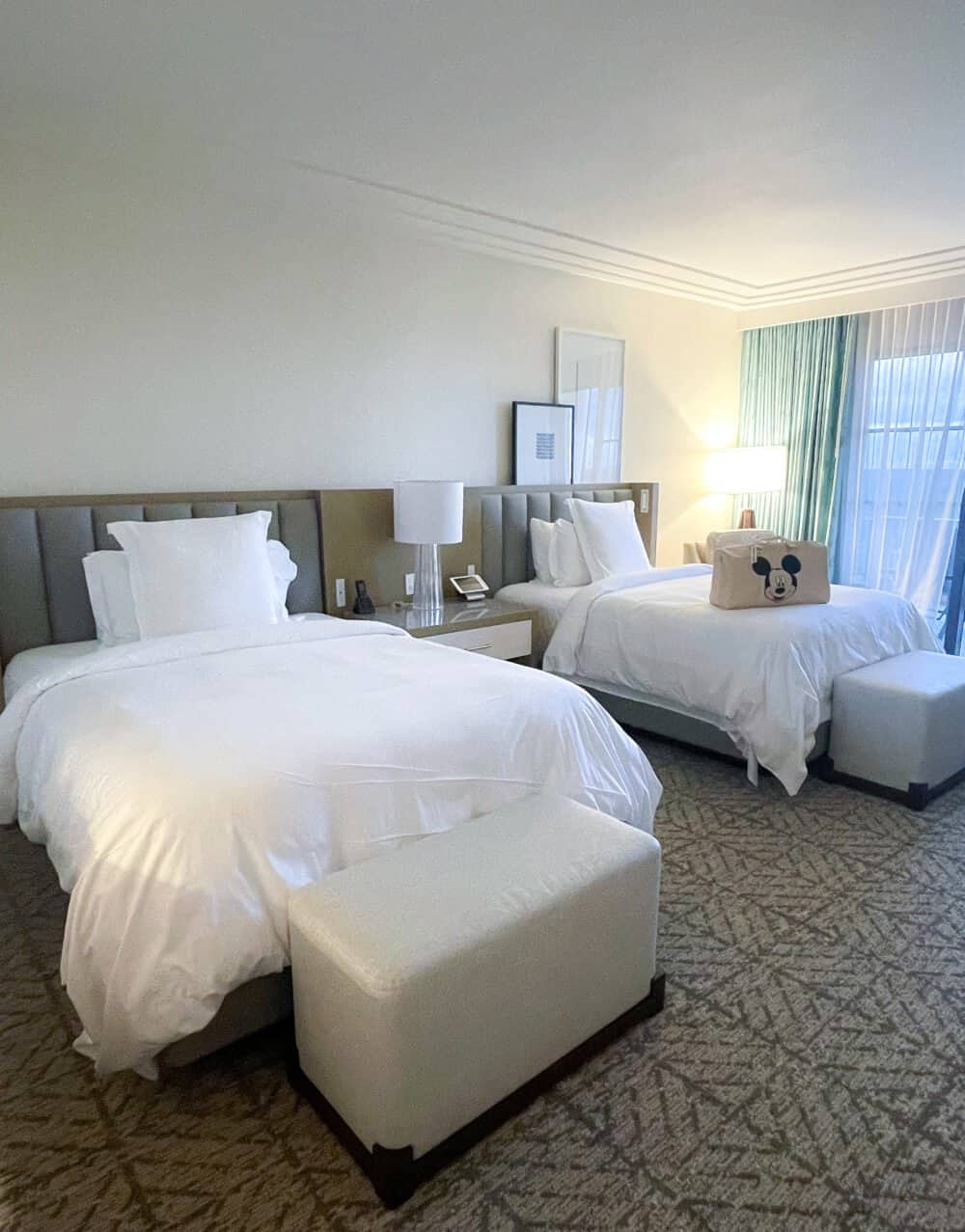 Four Seasons Orlando Rooms
Our room did not disappoint. The room was bright and light. Cozy beds and dreamy views. I can't wait to visit again. I purchased the bag from the Fable gift shop.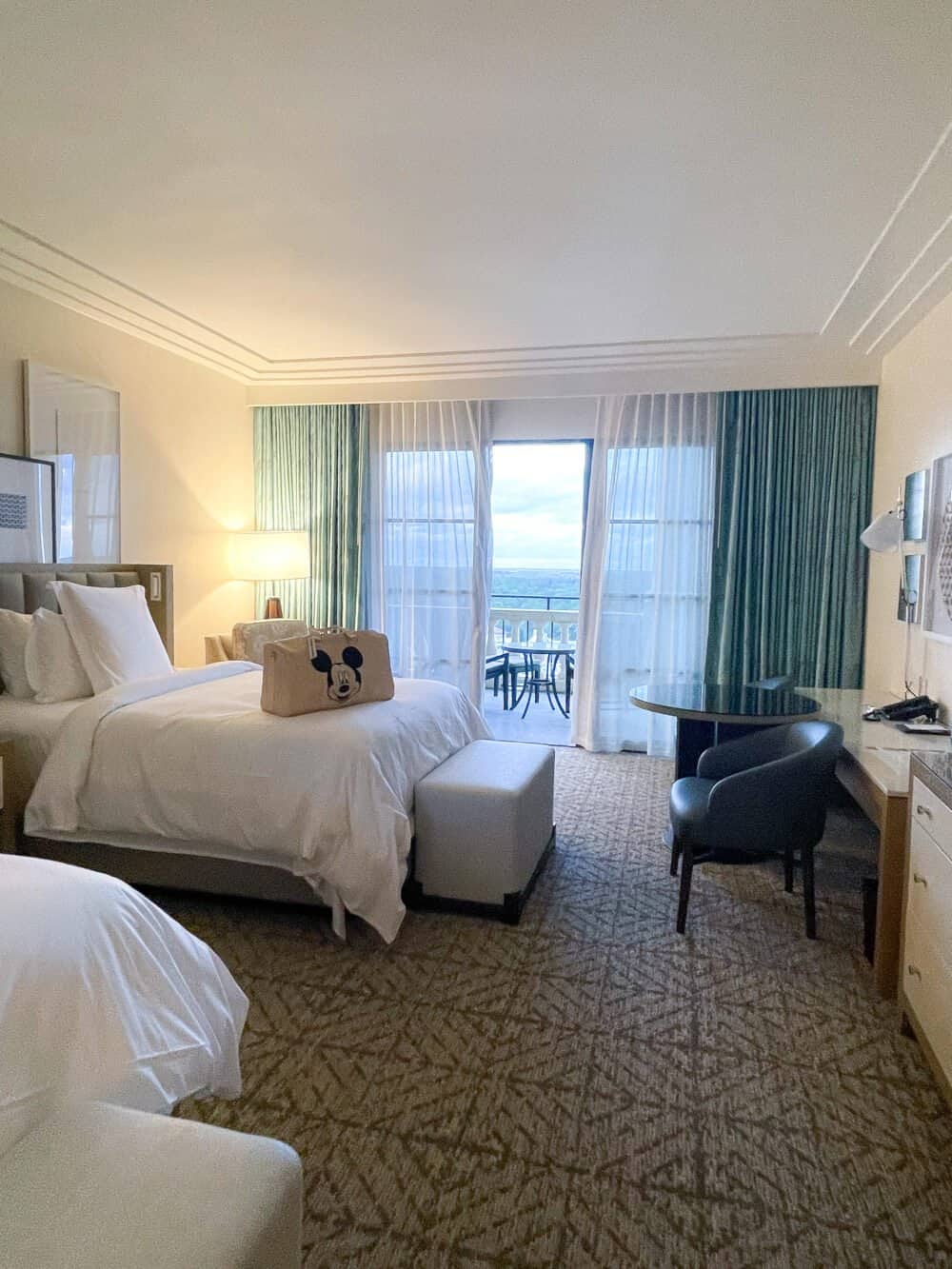 Another view of our room. Plenty of room and desk/drawer space.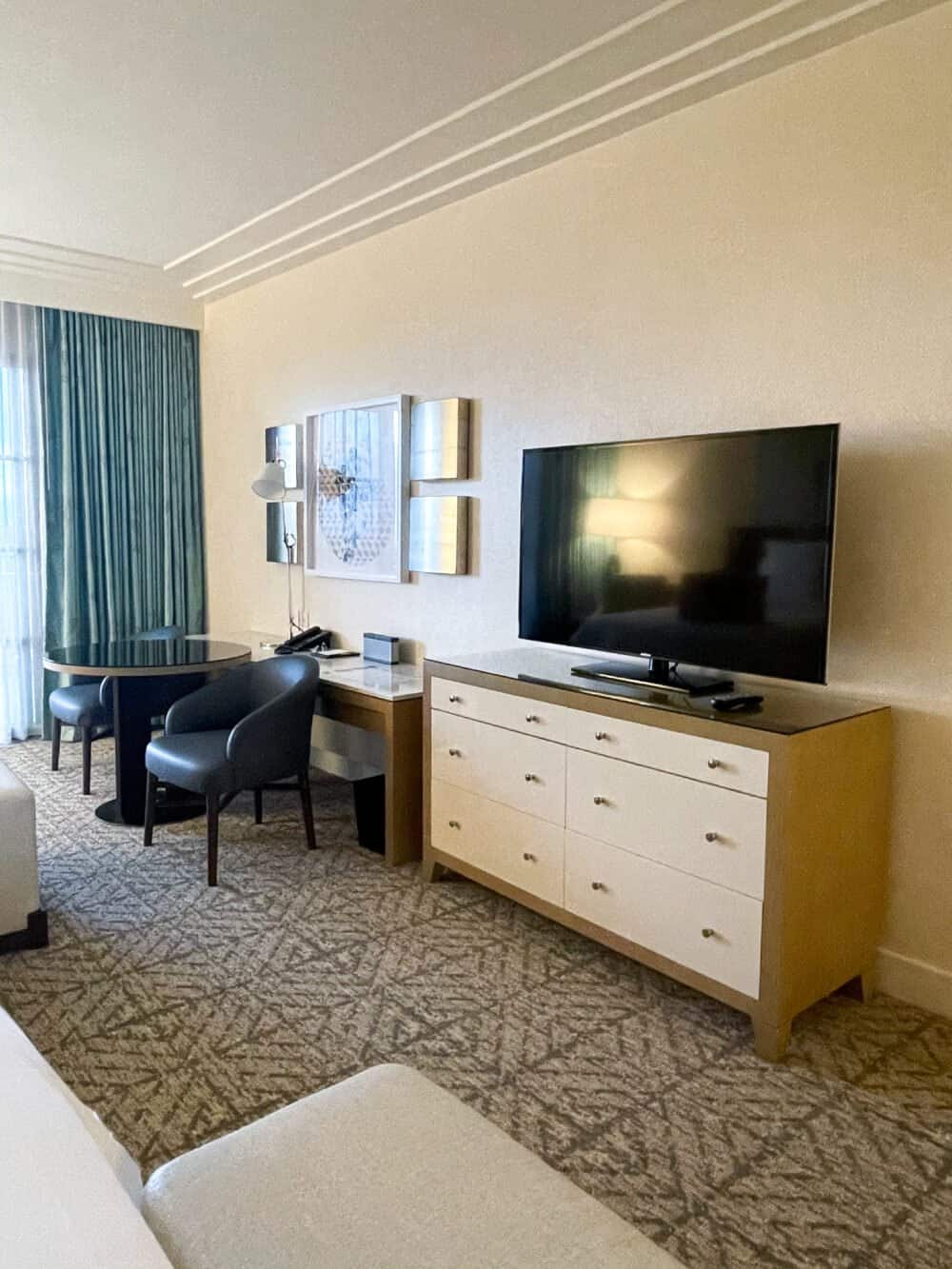 Tv and desk area.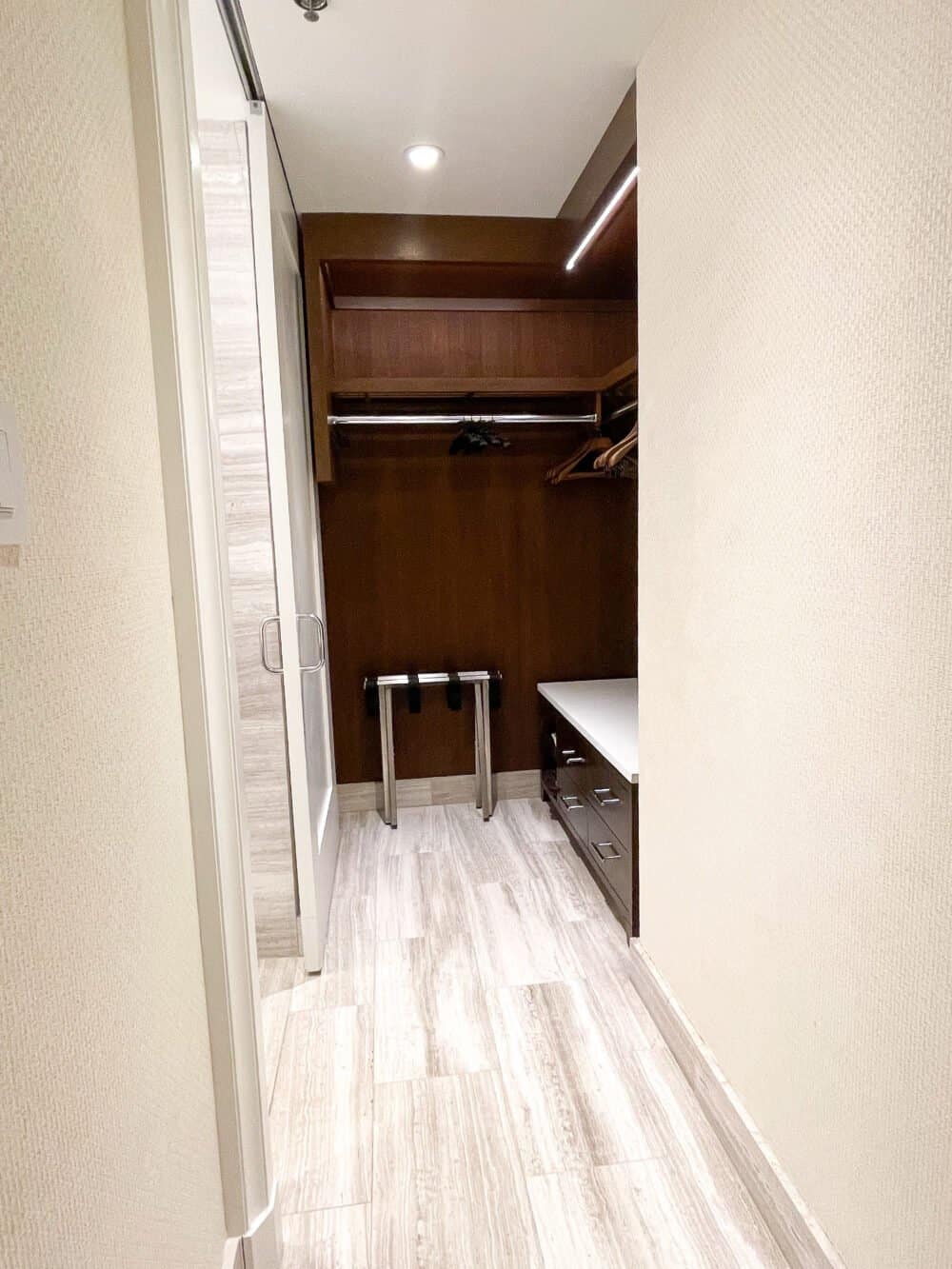 The closet space was very nice. More drawers and lots of hanging space for your clothes. There was also a Nespresso machine, small refrigerator and safe for your valuables.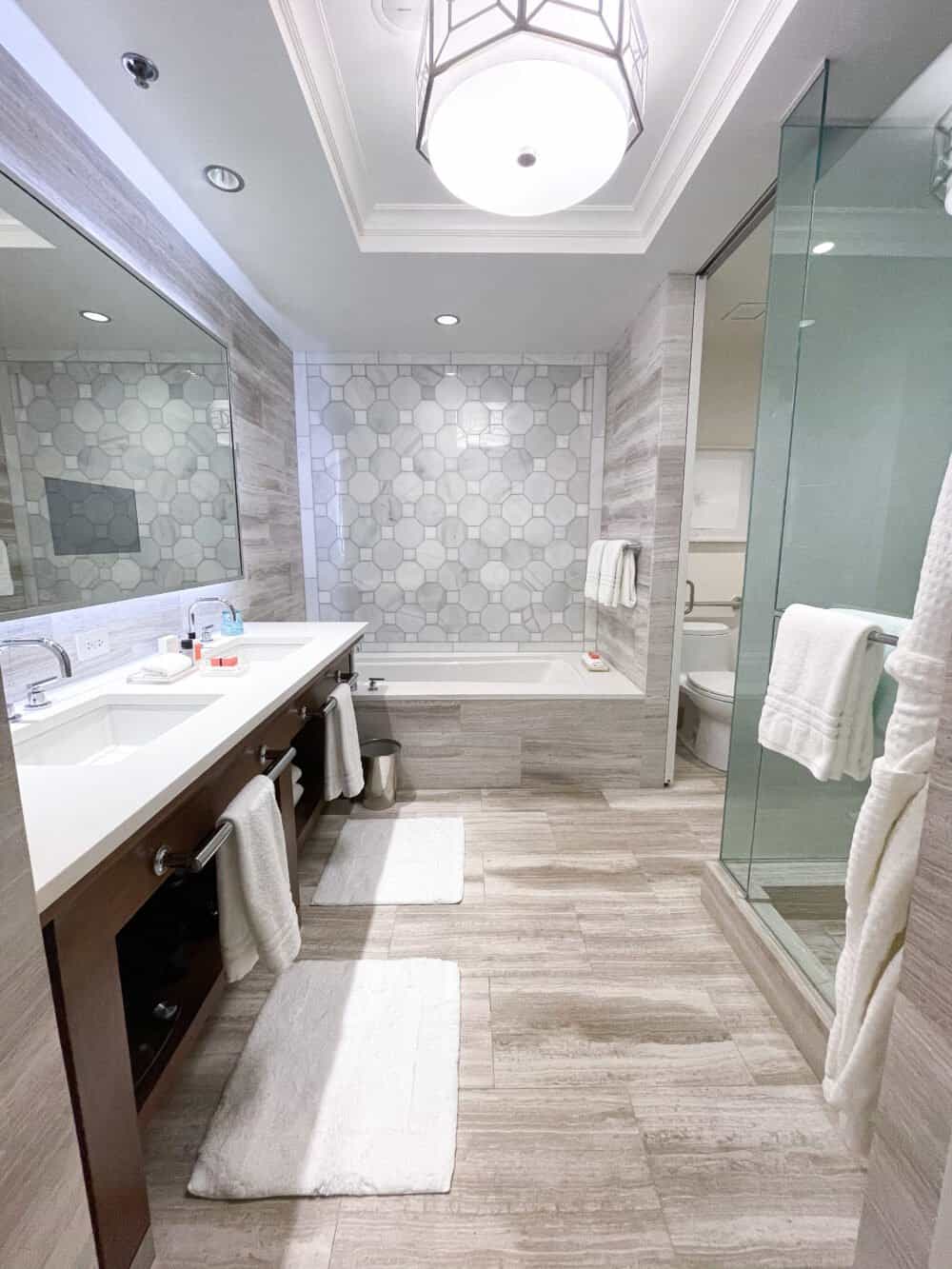 The bathroom was just as lovely as I knew it would be. Roomy, great lighting, large shower and tub.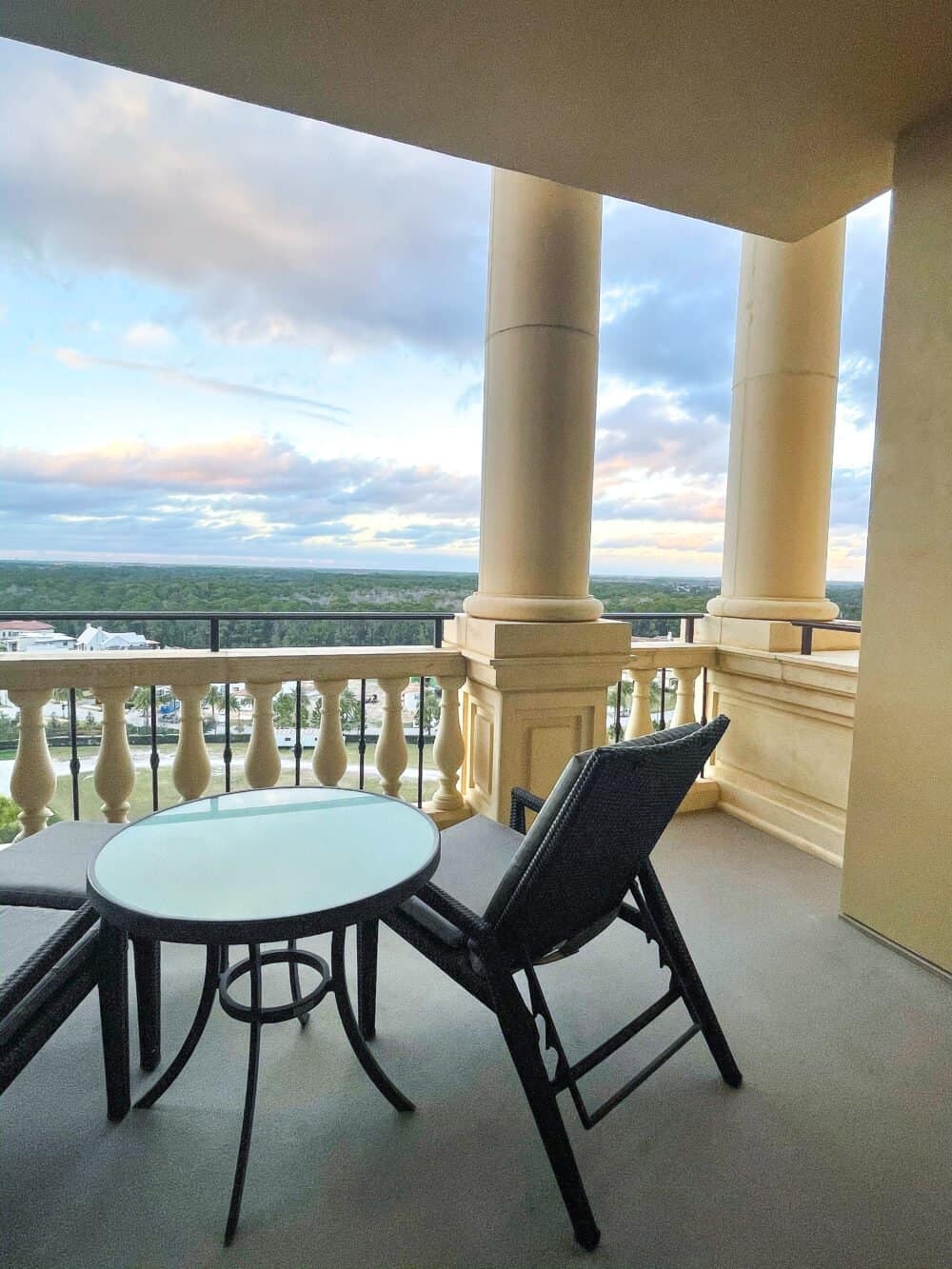 We had the Golden Oak view from our room and it was magical with cotton candy skies.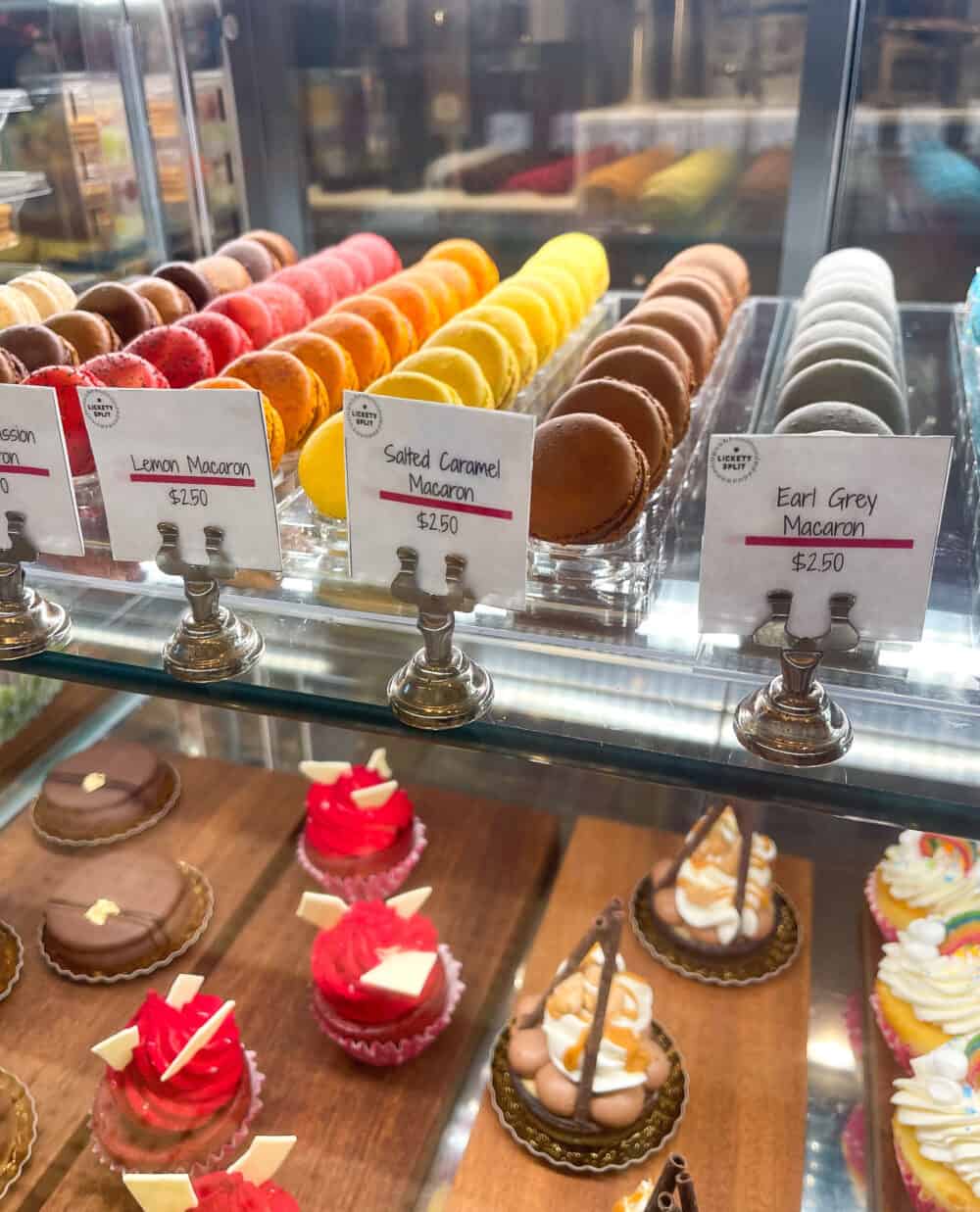 Lickety Split Coffee Shop
Just about every morning before we headed out to the Parks, we stopped at Lickety Split which is located just outside of the front desk. Not only is it a coffee shop, but they sell gelato, pastries, baked goods, breakfast items, fresh juices, energy drinks and more.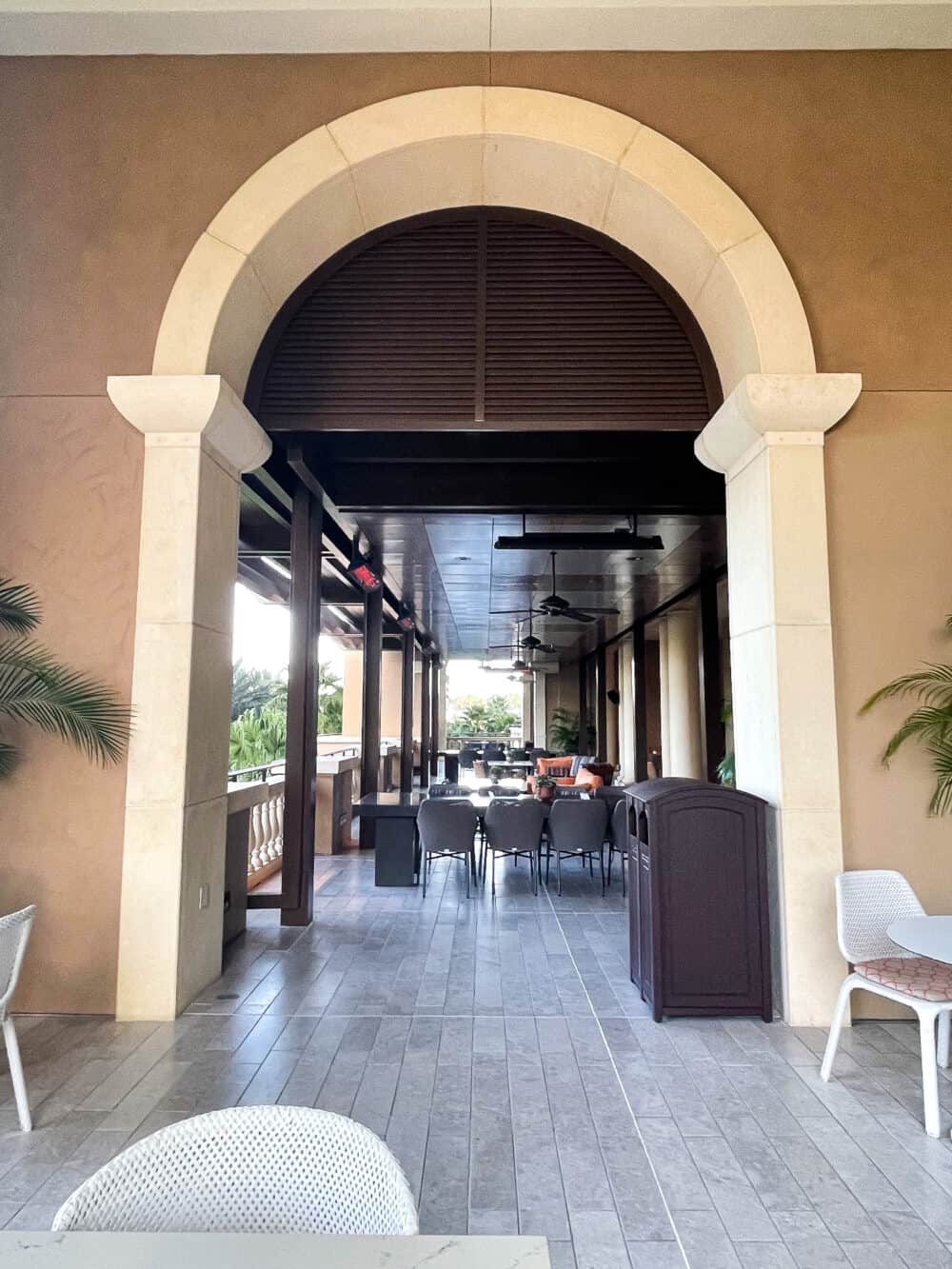 Outside the back of Lickety Split is a beautiful seating area that connects to a restaurant. Wait until you see the views below.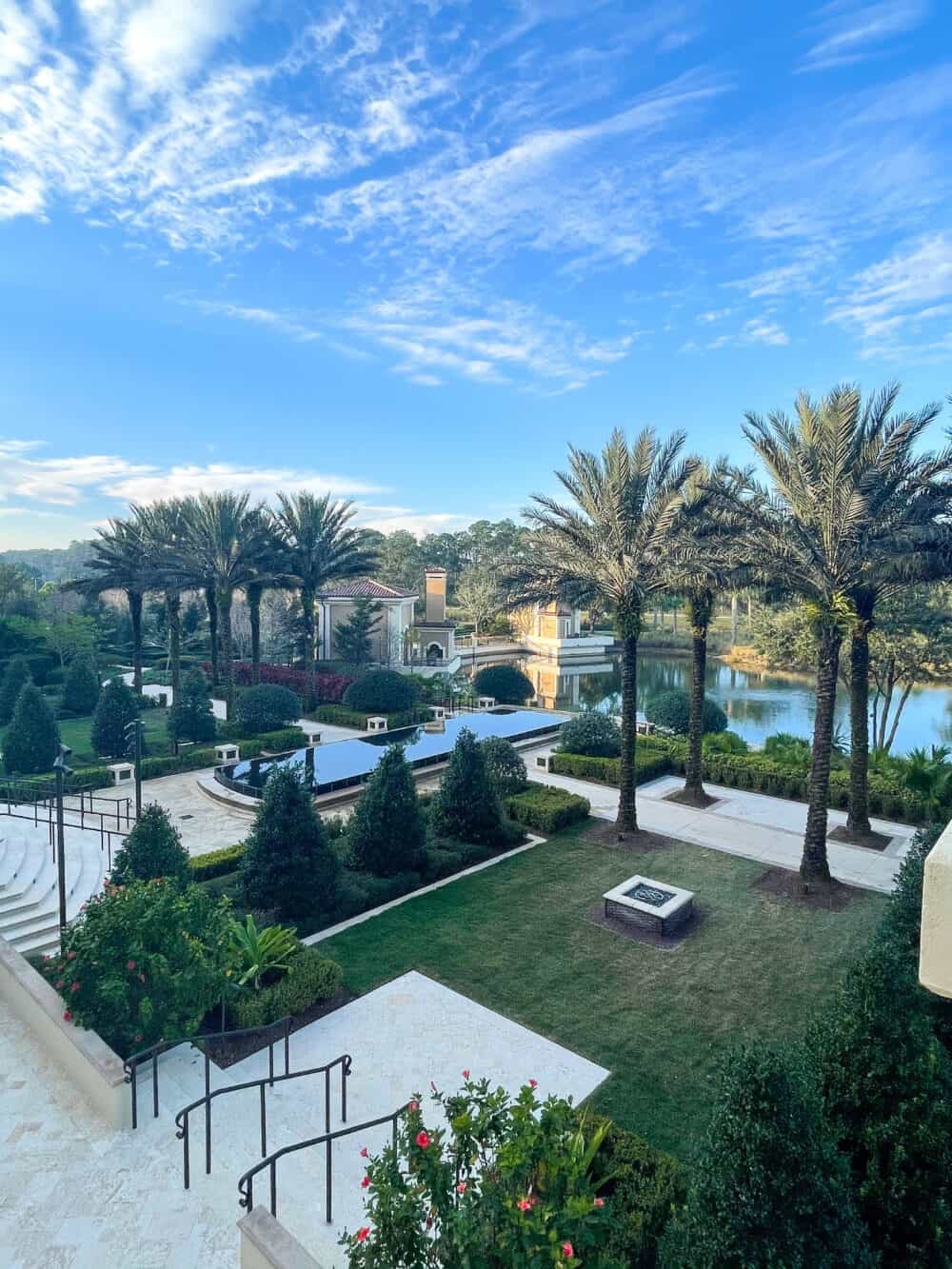 The most beautiful views around the resort.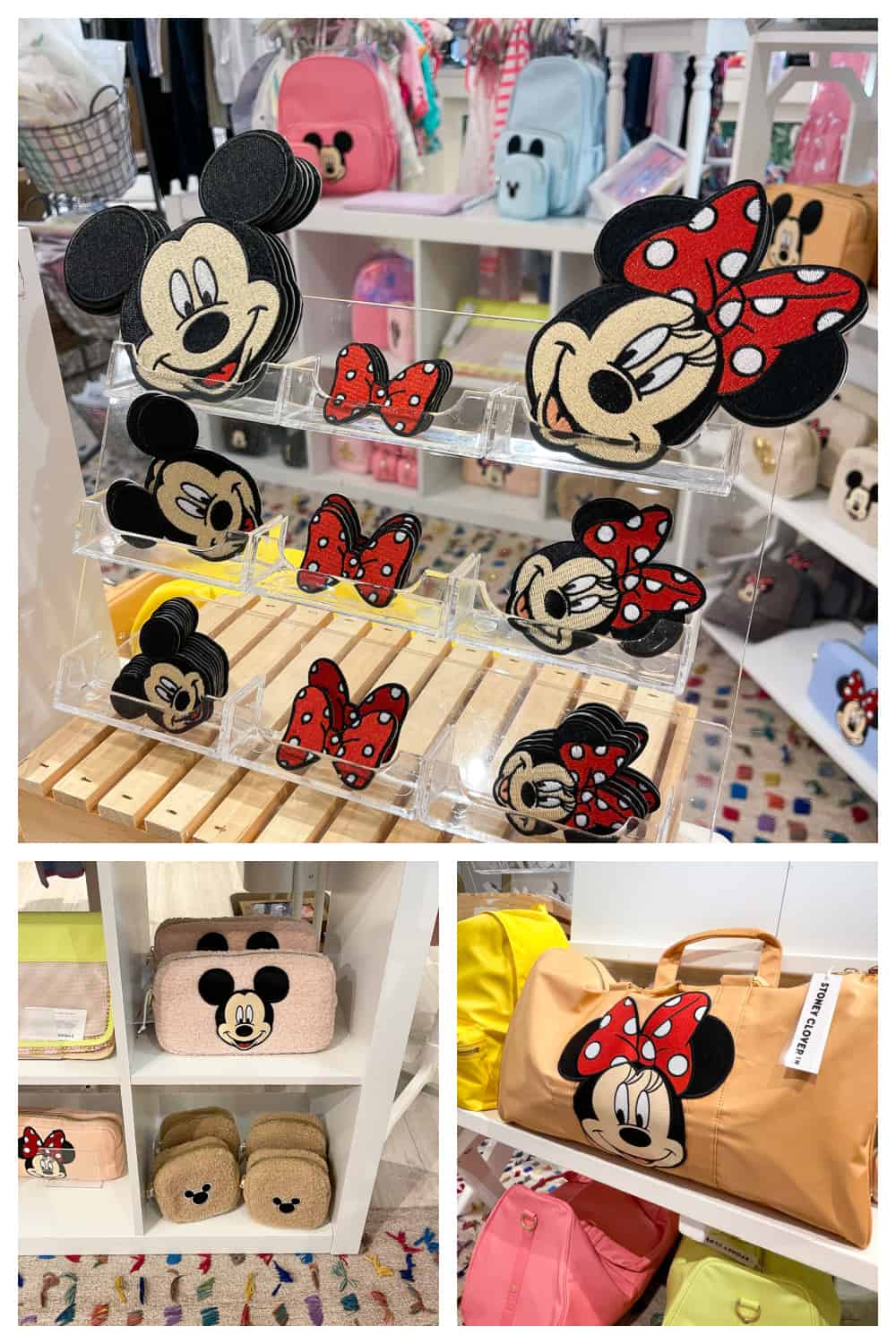 Fable Gift Shop
If you are a Stoney Clover Lane fan, you know what a treat it is to have theirDisney line available only at the Four Seasons Orlando Fable Gift Shop. Currently they're not taking phone orders, so it's in store purchase only. It really is the cutest merchandise. Be sure to check it out at the resort. Located right past the front desk towards the elevators.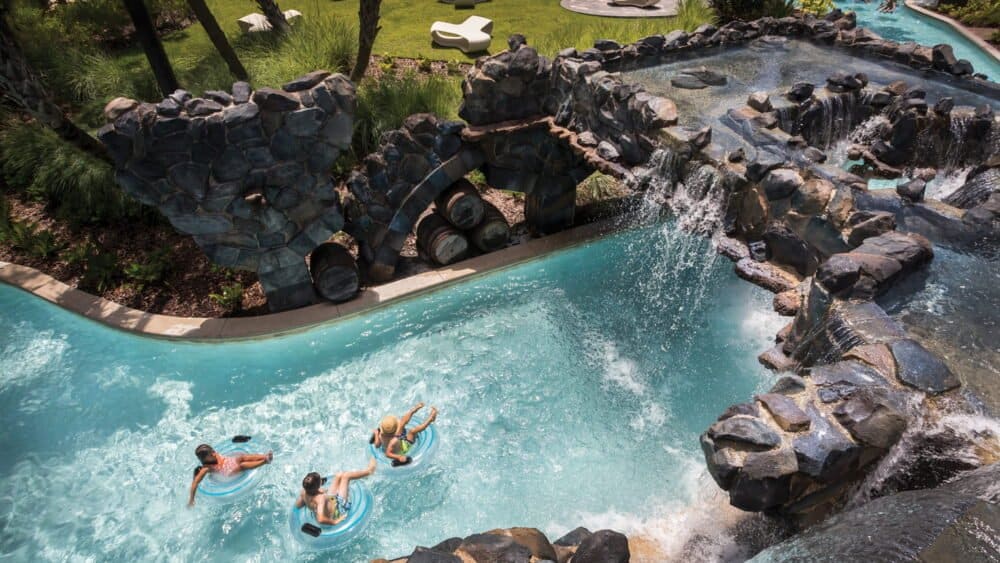 Photo via Four Seasons Orlando website.
Four Seasons Orlando Pools
I regret not having time to enjoy more of the resort, but now I have something to look forward to exploring next visit!
Photo via Four Seasons Orlando website.
This waterslide looks like so much fun. Hope to enjoy it next visit.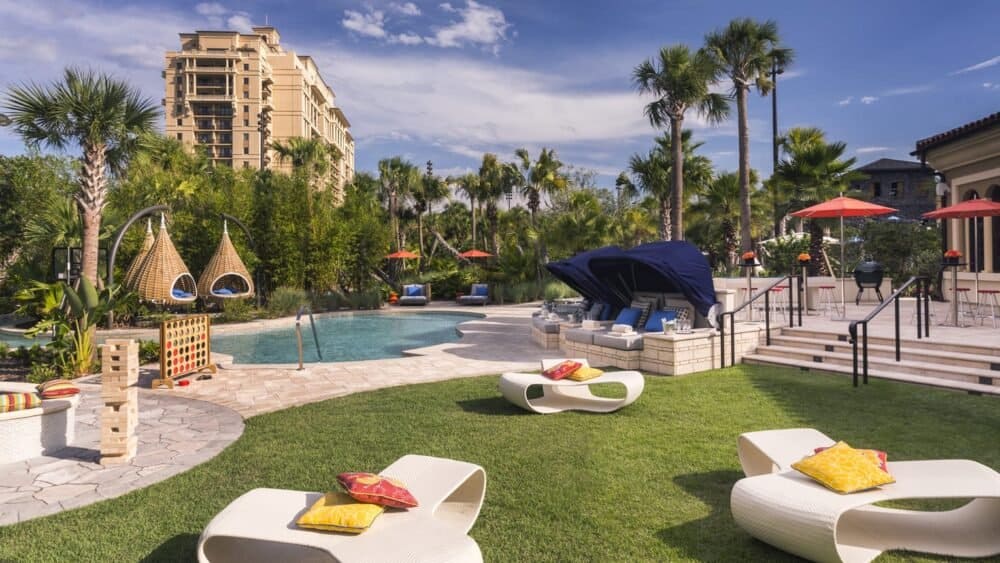 Photo via Four Seasons Orlando website.
This area is calling my name. I'd like to spend a whole day here 🙂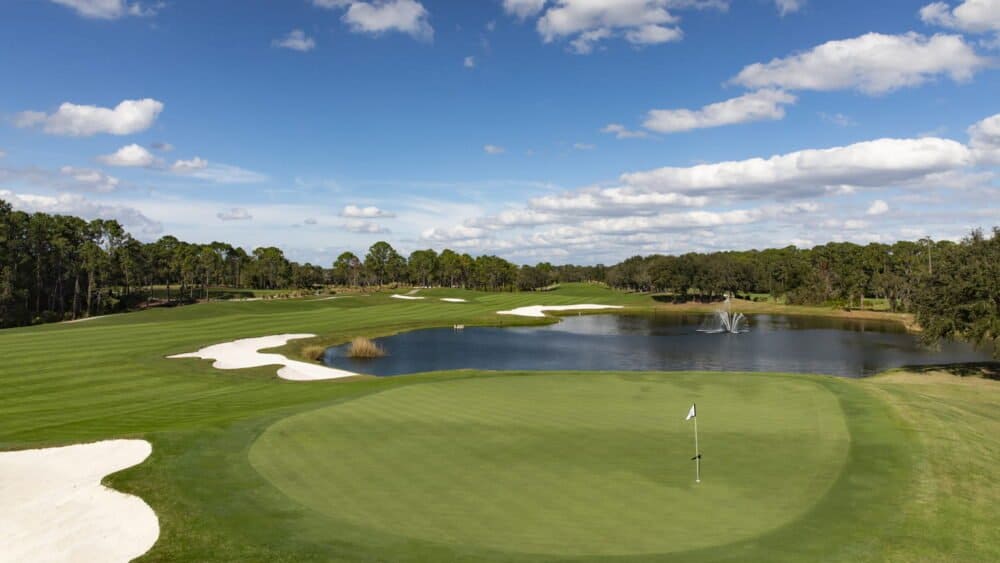 Photo via Four Seasons Orlando website.
My husband and boys would love this! So many things to explore and see at the resort. Hope you enjoyed my tour around the Four Seasons Orlando. If you are looking for a nicer stay during your next Walt Disney World vacation, this resort was an absolute dream.
Pin To Favorite Travel Board