Here's another easy family pleasin' way to kick up that old spaghetti we all have week after week. You ready for this ultra difficult dinner? Break out a fabulous fresh loaf of bread (I used a nice ciabatta from Trader Joes), lather it up with butter, sprinkle with Lawry's Garlic salt, top with prepared spaghetti and cheese then bake for 20 minutes or so until hot. It is easy, incredible and everyone loves it! It's like having your garlic bread and spaghetti all wrapped up in one cute little package. Enjoy!!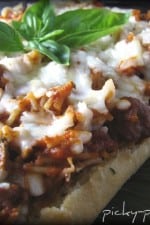 Garlic Toasted Spaghetti Bruschetta
Loaded with buttery garlic bread, soft spaghetti, and gooey mozzarella cheese, this easy dinner is the ultimate comfort dish!
Print
Pin
Ingredients
Softened butter

Frehch bread or ciabatta bread

cut in half lengthwise

Lawry's Garlic Salt with Parsley

l

Lb of your favorite prepared spaghetti

Shredded mozzarella cheese
Instructions
Preheat oven to 375 degrees F. Spread butter over cut sides of bread. Sprinkle lightly with garlic salt. Top with prepared spaghetti that's been cut into small pieces with kitchen scissors then sprinkle with shredded mozzarella cheese. Bake for 20 minutes or until cheese is melted and hot. Let cool for 5 minutes then cut into strips. Serve warm.
Keywords:
easy garlic bread, garlic cheese bread, homemade garlic bread
_______________________
Thanks for stopping by! Come back soon for some sweet treats!