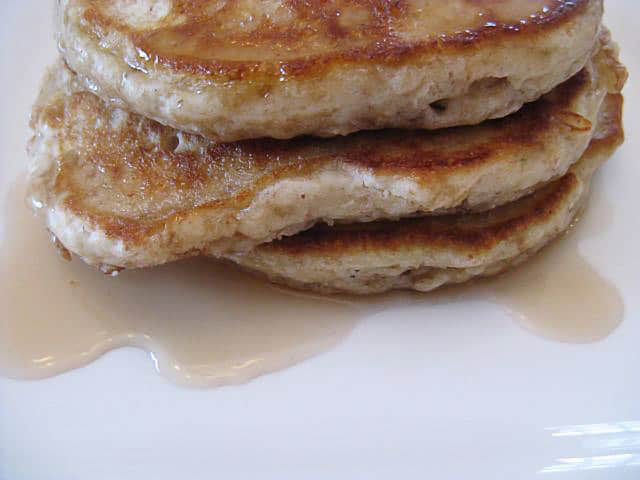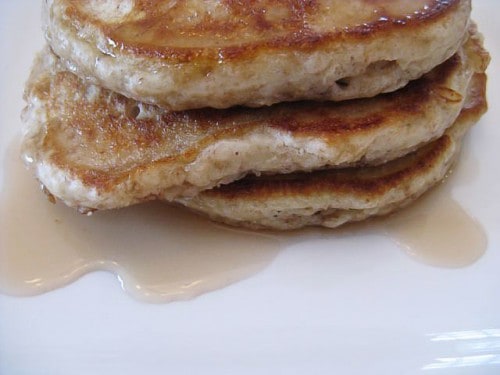 Hey Picky-Palate readers! I am zesty from zestycook.com and am very excited to be guesting posting today on Jenny's blog.
I was tossing around the idea of what to feature here today and I was going back and forth between a pasta dish and a breakfast pancake that I truly love. I opted for the breakfast pancake so I really hope you like it.
This pancake is a little different form the standard pancake from a box but it still very easy to whip up yourself in no time at all. The key features I feel in this recipe is the whole wheat flour, oatmeal, nutmeg and apple. It really gives the pancake a heartiness that matches up well with the maple syrup.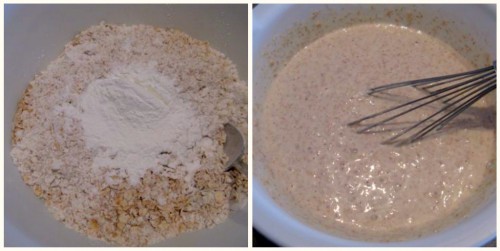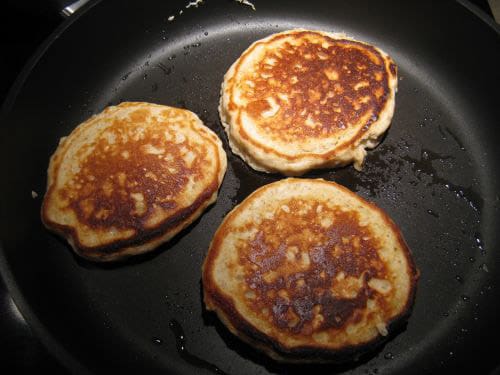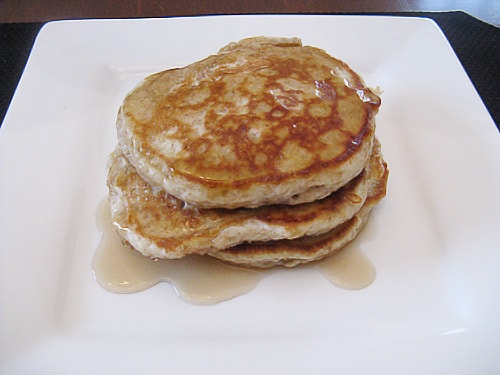 Whole Grain Apple Oatmeal Pancakes
Ingredients
1 Cup Oats
1 Cup All Purpose flour
1 Cup Whole-wheat flour
1/2 Cup Shredded Apple ( Peeled )
2 Tbsp. Baking powder
1/2 Tsp. Nutmeg
1/2 Tsp. Salt
1 1/2 Cup Milk
1/4 Cup Vegetable oil
2 Eggs
1 Tsp. Vanilla
2 Tbsp. Honey
Method
1. Preheat a large skillet over medium heat.
2. Whisk together the oats, flours, baking powder, nutmeg and salt.
3. In a second bowl, whisk together the milk, oil, eggs, vanilla, apple and honey.
4. Pour the wet into the dry mixture and stir briefly, just until combined.
5. Add a little tiny bit of oil to the pan before spooning the batter into the skillet.
6. Once bubbles form on the outside of the pancake and do not fill in again – it is time to flip them over. Let cook on the other side until complete.
7. Flip just once – plate them up.
8. Enjoy!
Zesty Tip: My biggest tip when cooking pancakes is to ensure you have the griddle, skillet or pan up to the right temperature. Make sure it is hot enough, because if not the pancakes will absorb the oil and they will taste terrible.
Well there you have it. Give this a try for your next breakfast and let Jenny and I know what you think of them. I would be more than grateful if you had never clicked over at zestycook.com before that you had over there now and check it out.
I hope you have a great day and look forward to sharing recipes and photography in the future.
Take care
zesty
____________________________________
Thanks for visiting Zesty, your pancakes look delish!