Roasted Apples and Peanut Butter Crescents | Pillsbury recipes
Sharing my Roasted Apples and Peanut Butter Crescents today!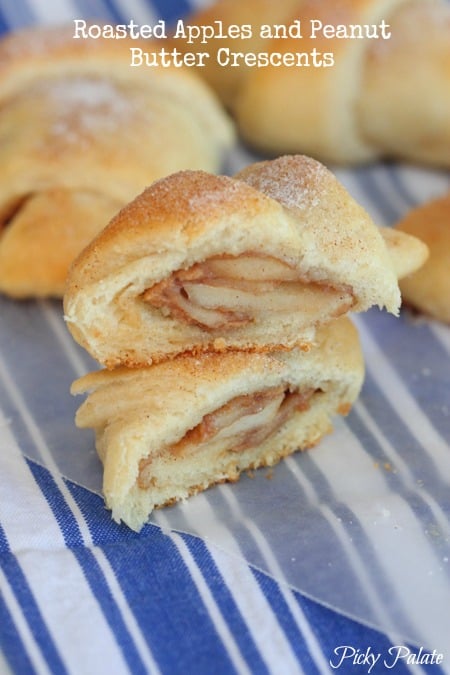 It's always a pleasure partnering with Pillsbury! I grew up enjoying their products, not to mention I was a finalist in the Pillsbury Bake-Off twice! I remember brainstorming for pillsbury recipes with an abundance of ideas hitting me; so anxious to see if any of them were selected. I know how the current Pillsbury Bake-Off contestants feel. I've been in Las Vegas since this past Friday through tomorrow covering the Bake-Off live, so be sure to follow me on Instagram to see all of the fun!
So, today we are talking Pillsbury Cresent Rolls. I am kinda in love with them. There are about a zillion things you can do to create an amazing little work of art. I developed a simple Roasted Apples and Peanut Butter Crescent recipe that is going to knock your socks off. Just wait until you give these a try. I LOVE the apples and peanut butter combo, it works so lovely inside the crescent dough! This is such a great recipe to get the kids in the kitchen with you. They'll love to help in all of these simple steps.
Enjoy!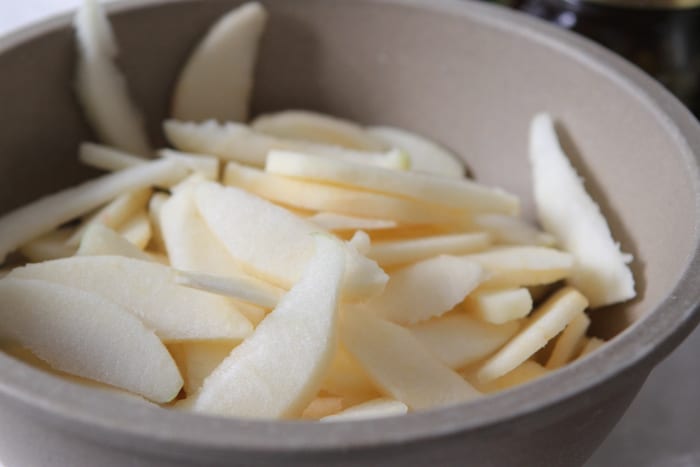 Let's start by thinly slicing your apples into a nice mixing bowl.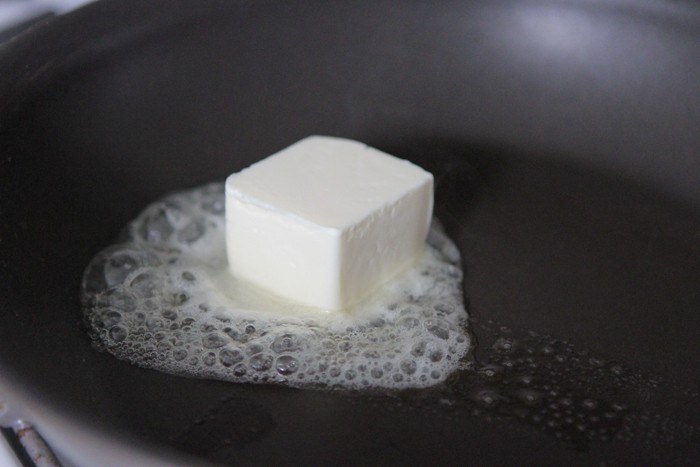 Melt some butter into a medium skillet. Sizzle sizzle!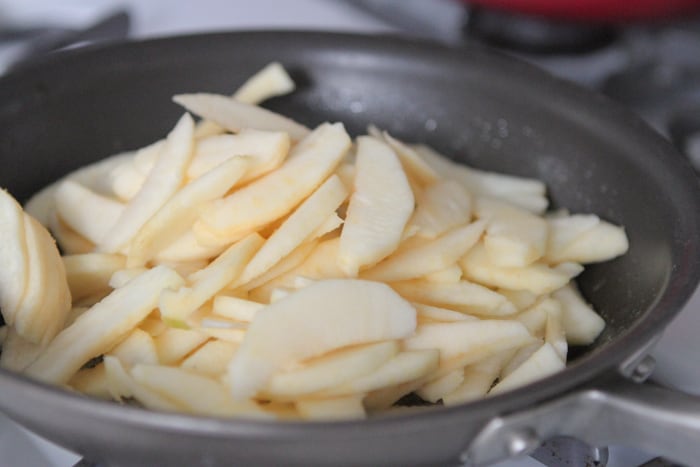 Add your apple slices and toss with the melted butter.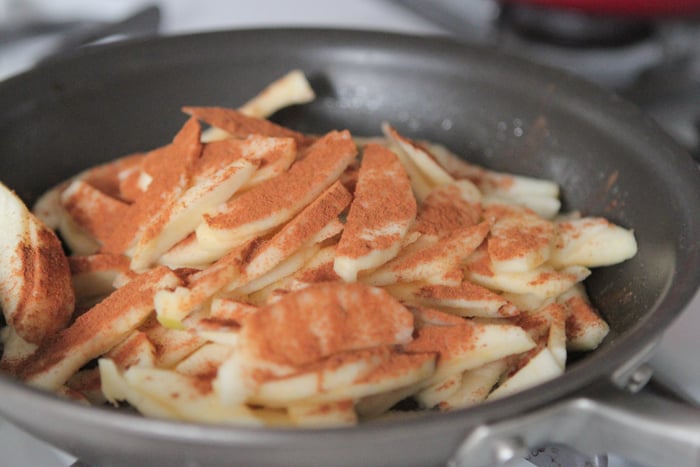 Add your cinnamon right on top.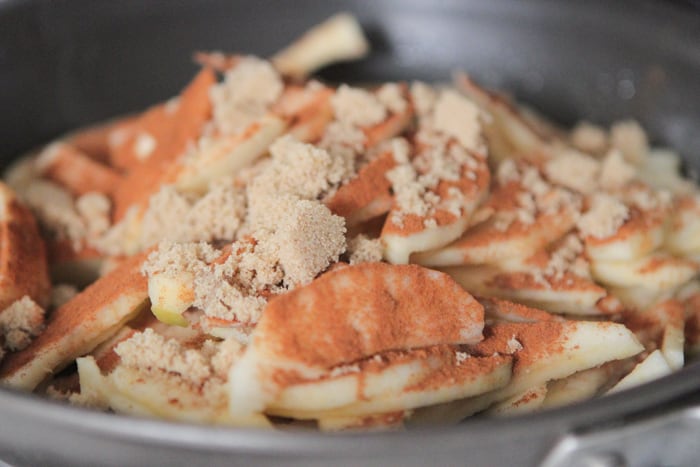 Brown sugar up next.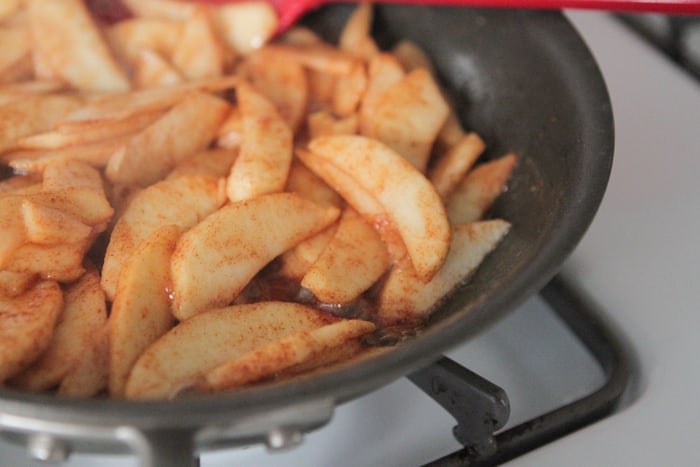 Stir and let cook for 3 minutes or so. You want the apples to still have a little "bite" to them.

Time to unroll your crescent dough. I love using crescent when creating Pillsbury recipes.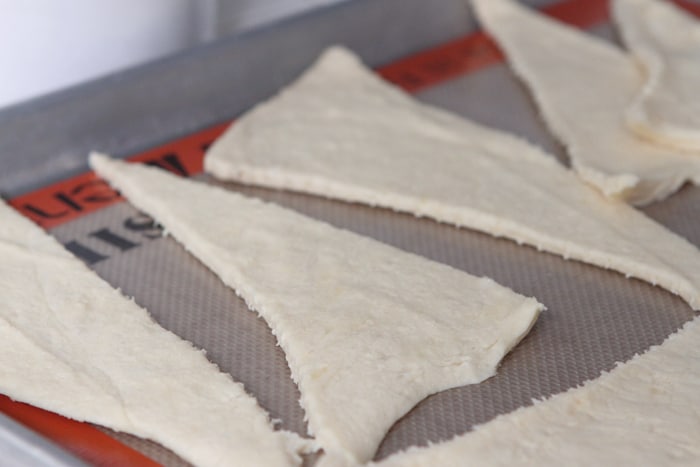 Separate into triangles.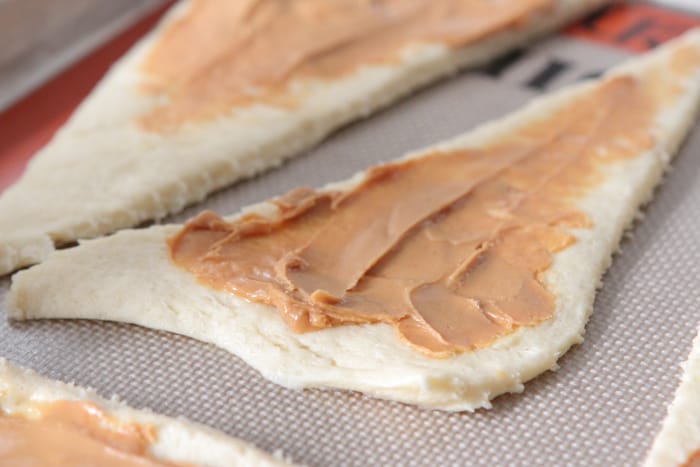 Spread with a thin layer of peanut butter.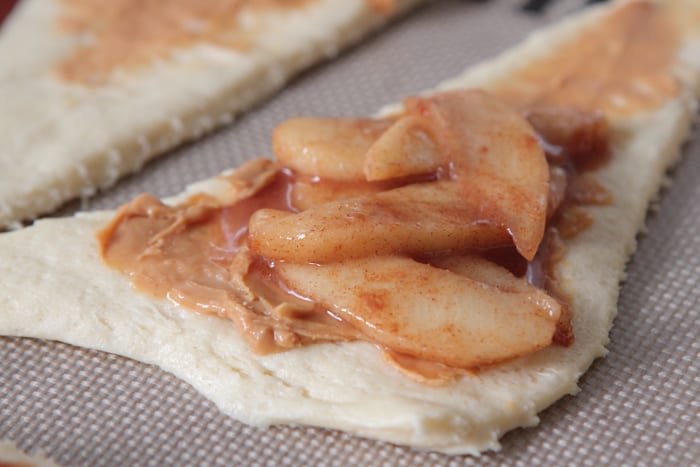 Top with a nice spoonful of apples.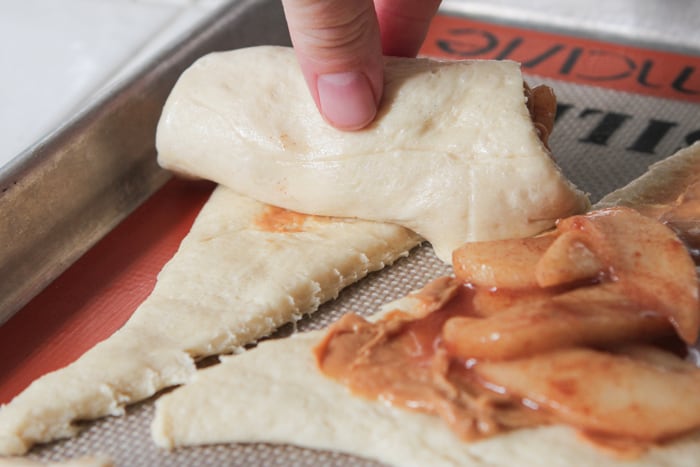 Starting with wide end of triangle, start rolling crescents over filling towards small end.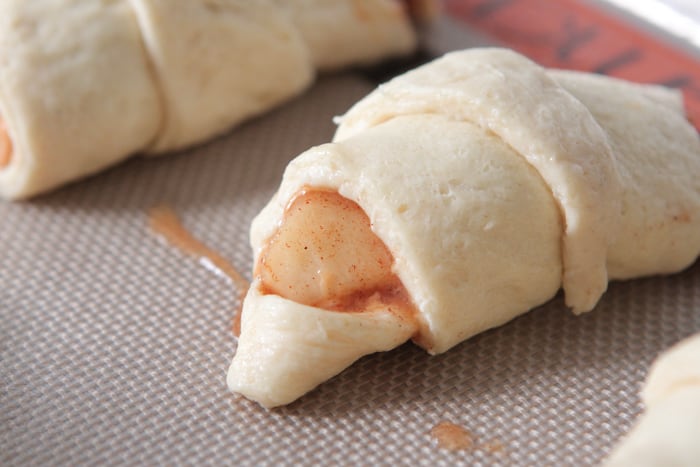 Perfect!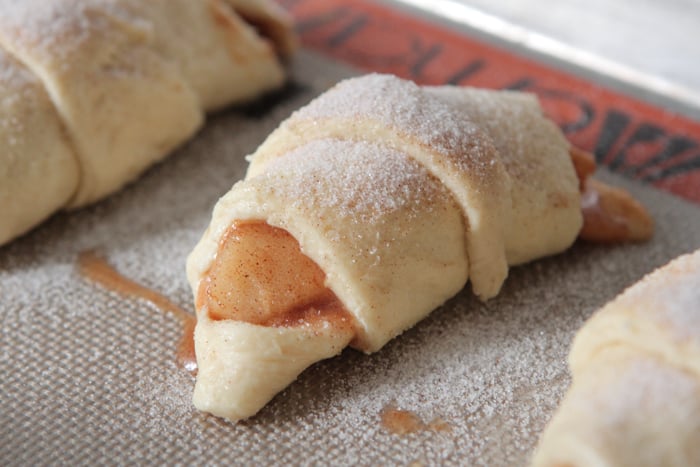 Sprinkle with cinnamon and sugar then time to bake.
Bake until golden and gorgeous 🙂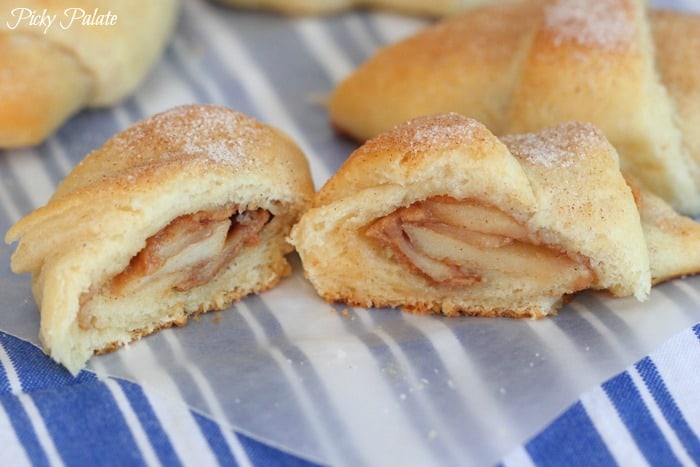 Let cool then cut in half if you'd like.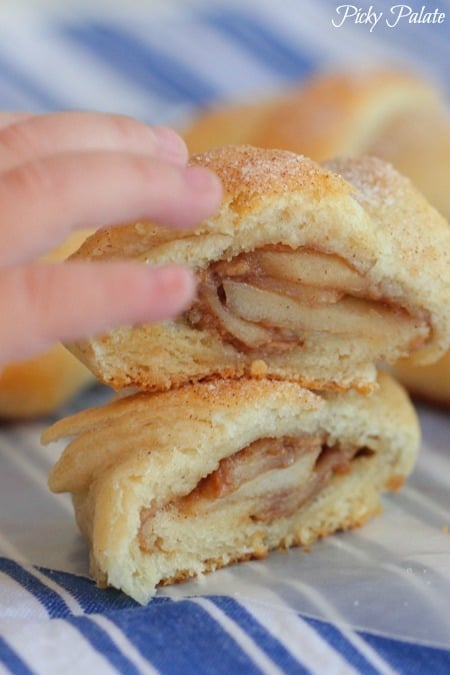 Watch those little fingers that will snatch these as soon as they can. Pax tried pulling a fast one on me 🙂
[ziplist]
Roasted Apples and Peanut Butter Crescents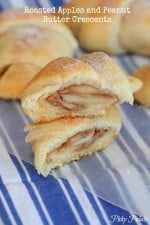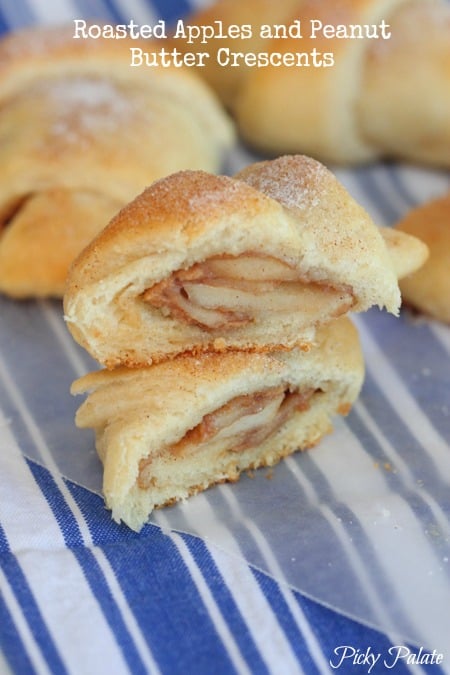 Prep time: 15 min | Cook time: 15 min | Total time: 30 min
Ingredients
2

medium apples (I used pink lady), peeled and thinly sliced

2 tablespoons

butter

1/2 teaspoon

cinnamon

2 tablespoons

light brown sugar, packed

12 ounce can

Pillsbury Grands Crescent Rolls, 8 count

1/4 cup

creamy peanut butter

2 tablespoons

granulated sugar

1/4 teaspoon

ground cinnamon
Directions
Preheat oven to 350 degrees F. and large skillet over medium heat. Add butter to skillet to melt. Stir in apples, cinnamon and brown sugar. Let cook for about 3 minutes. Apples should not be too soft. Remove from heat.
Unroll crescents onto a large baking sheet lined with a silpat liner. Spread each crescent evenly with a heaping teaspoon or two of peanut butter. Place a spoonful of spiced apples to the wide end of the crescent. Starting at wide end of crescent, start rolling to thin end (see pictures for a visual). Sprinkle tops with sugar and cinnamon mixture. Bake for 13-16 minutes or until golden brown. Let cool for 10 minutes then serve warm.
Makes 8 Servings
FOLLOW PICKY PALATE ON INSTAGRAM! Show me what recipes you're making from Picky Palate by using #pickypalate.
Other recipes you may enjoy...
Comments