Sharing the Fluffernutter Churro that we love so much from Disneyland! This churro recipe is topped with peanut butter, marshmallow creme and mini chocolate chips. One of the best churros at the Parks from Willie's Churro Cart.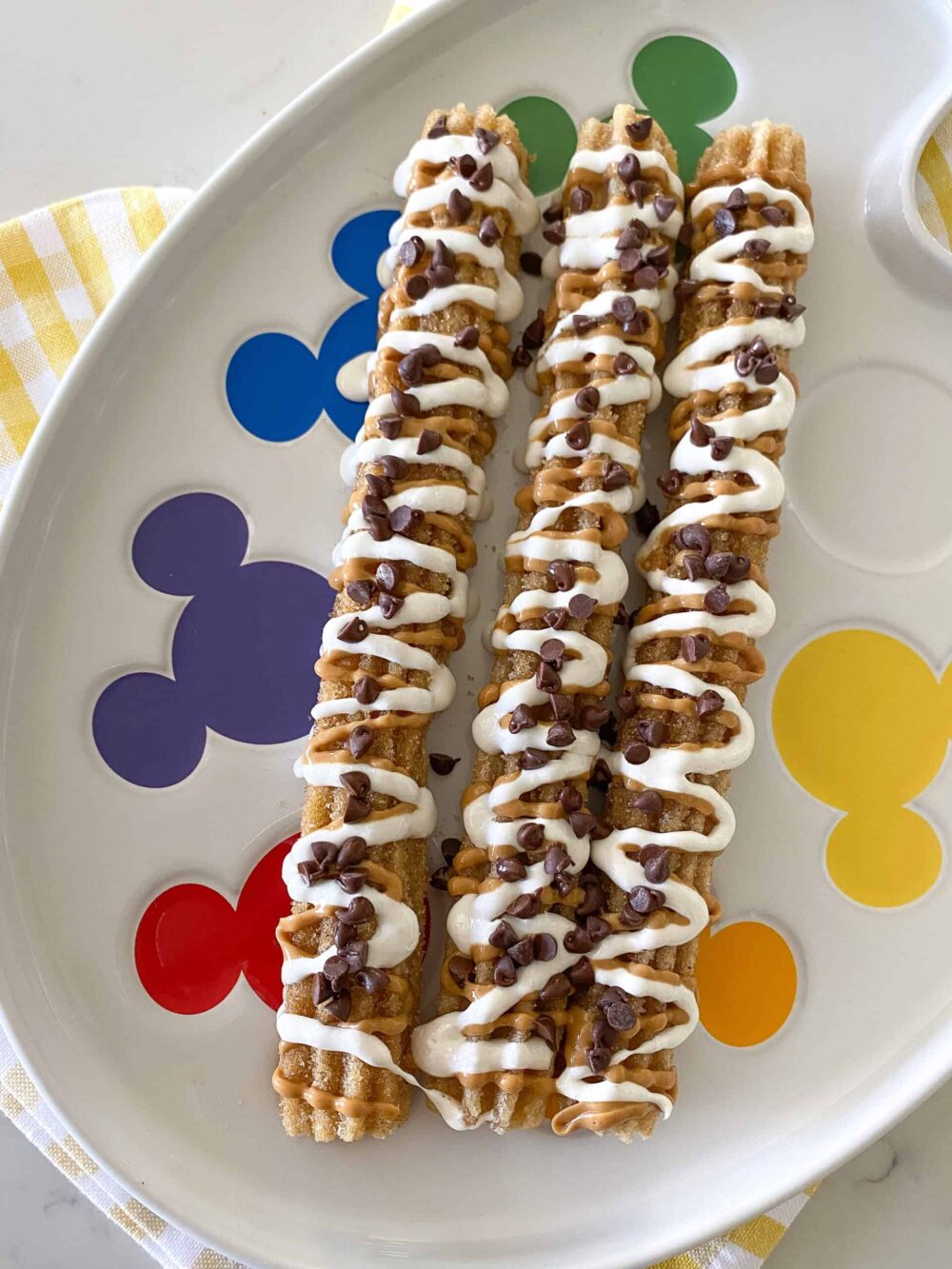 Fluffernutter Churro
If you've been to Disney California Adventure Park in the last few months, you know about this life changing churro. You can find it at Willie's Churro Cart as you enter Grizzly Peak.
While the Parks are temporarily closed, I've been making Disneyland Copycat recipes that have helped bring some Disney Magic inside our homes, which has been so much fun.
Over the last week or so, I've heard that you can find the frozen churros that Disneyland uses at their Churro Carts at Smart and Final. The brand is Tio Pepe's. While I have not confirmed it, I will tell you that I tested them and they are AMAZING. They taste just like the ones you get served warm from Disneyland. Smart and Final offers a delivery service too!
Be sure to try my Churro Toffee recipe too! Follow Picky Palate on Instagram for daily recipe inspiration.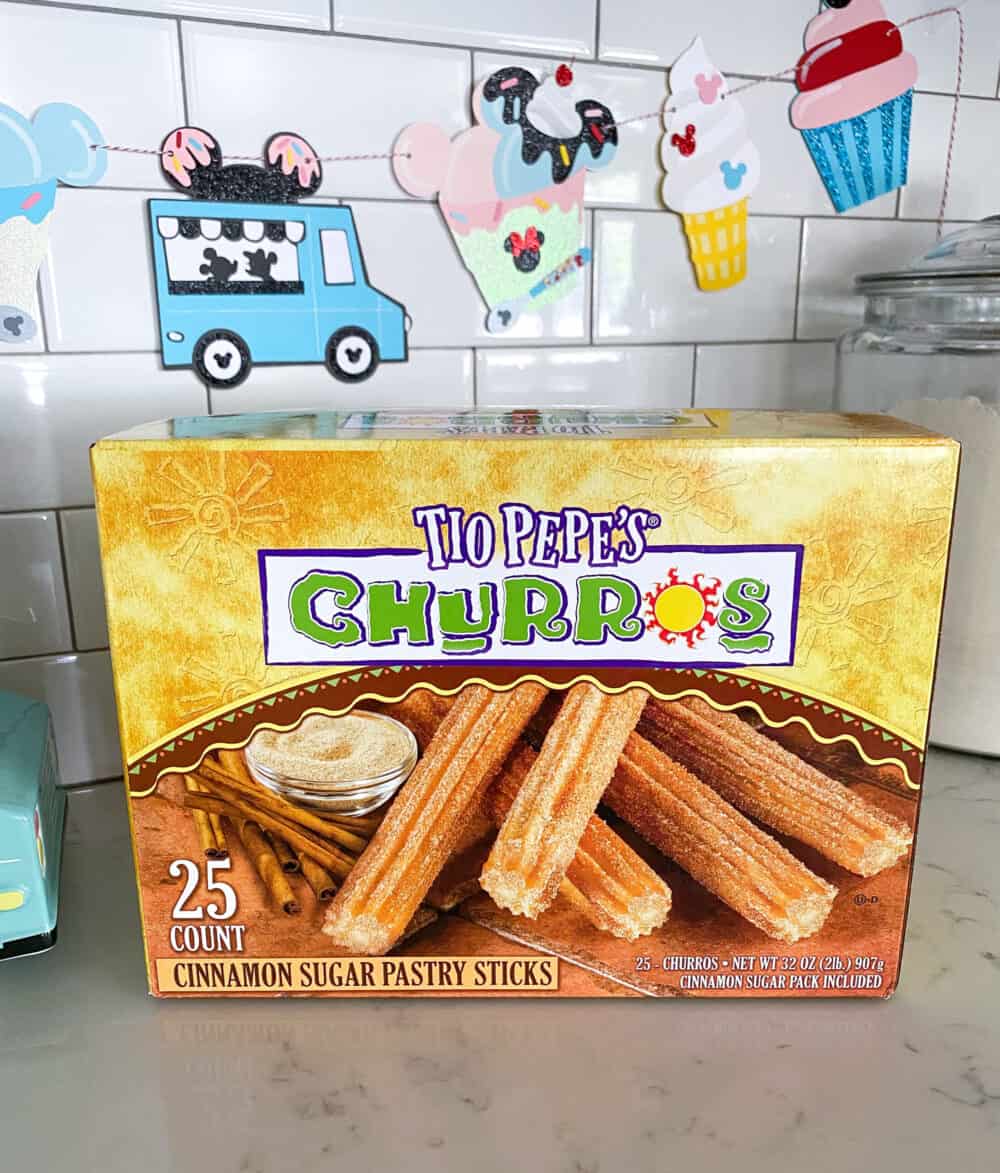 Disneyland Churros!
You want to look for the Tio Pepe's Frozen Churros from Smart and Final. They come in this 25 count box or a 100 count box that are quite a bit longer in length. Let me also say I was VERY skeptical about this. I am here to tell you that I was very pleasantly surprised! ….they 100% taste like the ones you get served at Disneyland, and I am a very picky critic.
Ingredients Needed To Make Disneyland Churros – Fluffernutter Style
Tio Pepe's Frozen Churros found at Smart and Final
creamy peanut butter
marshmallow creme
mini chocolate chips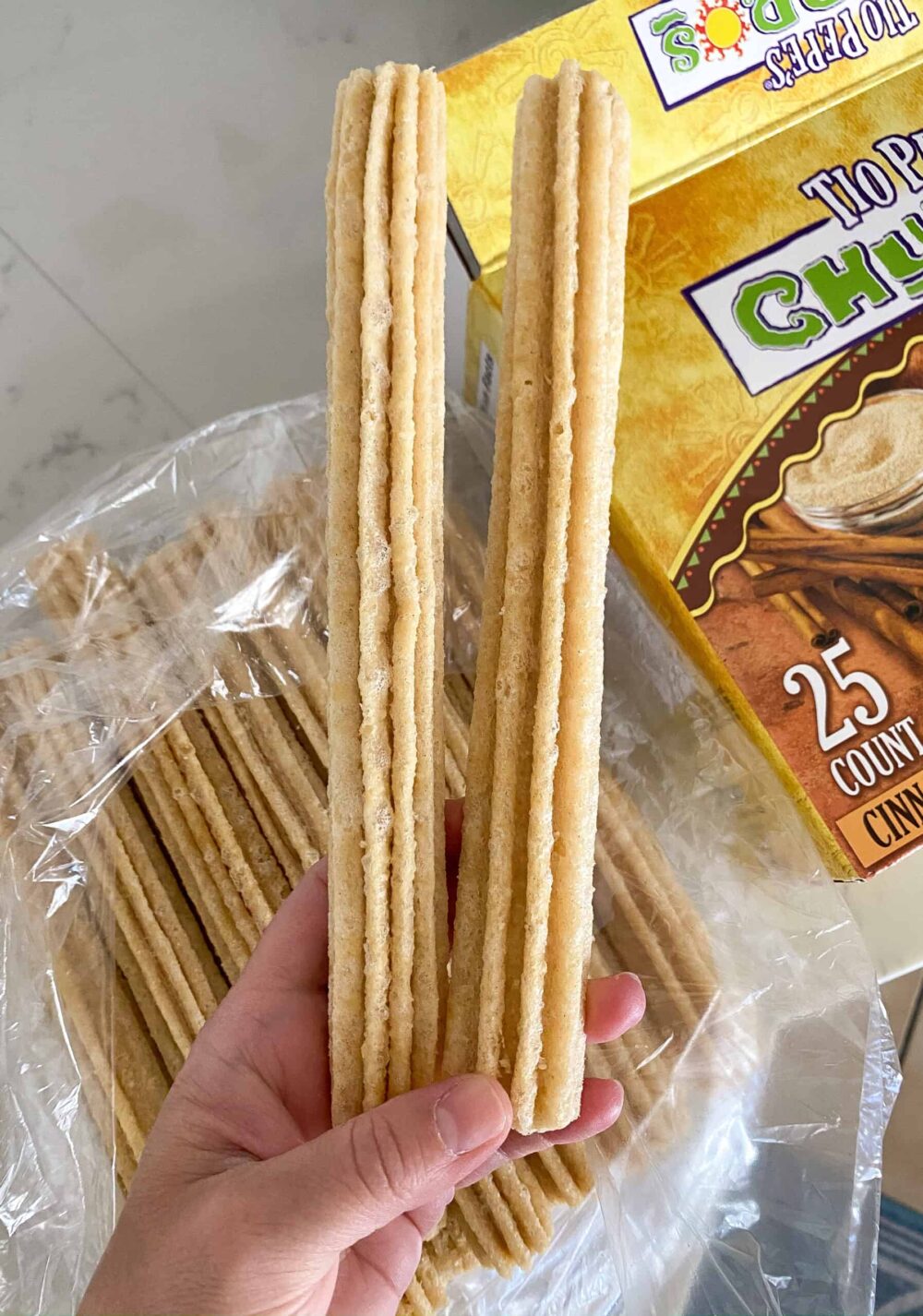 This is what the Tio Pepe's Churros look like out of the box. Not very impressive honestly…but I went with it and preheated the oven to 400 degrees F. to try them out!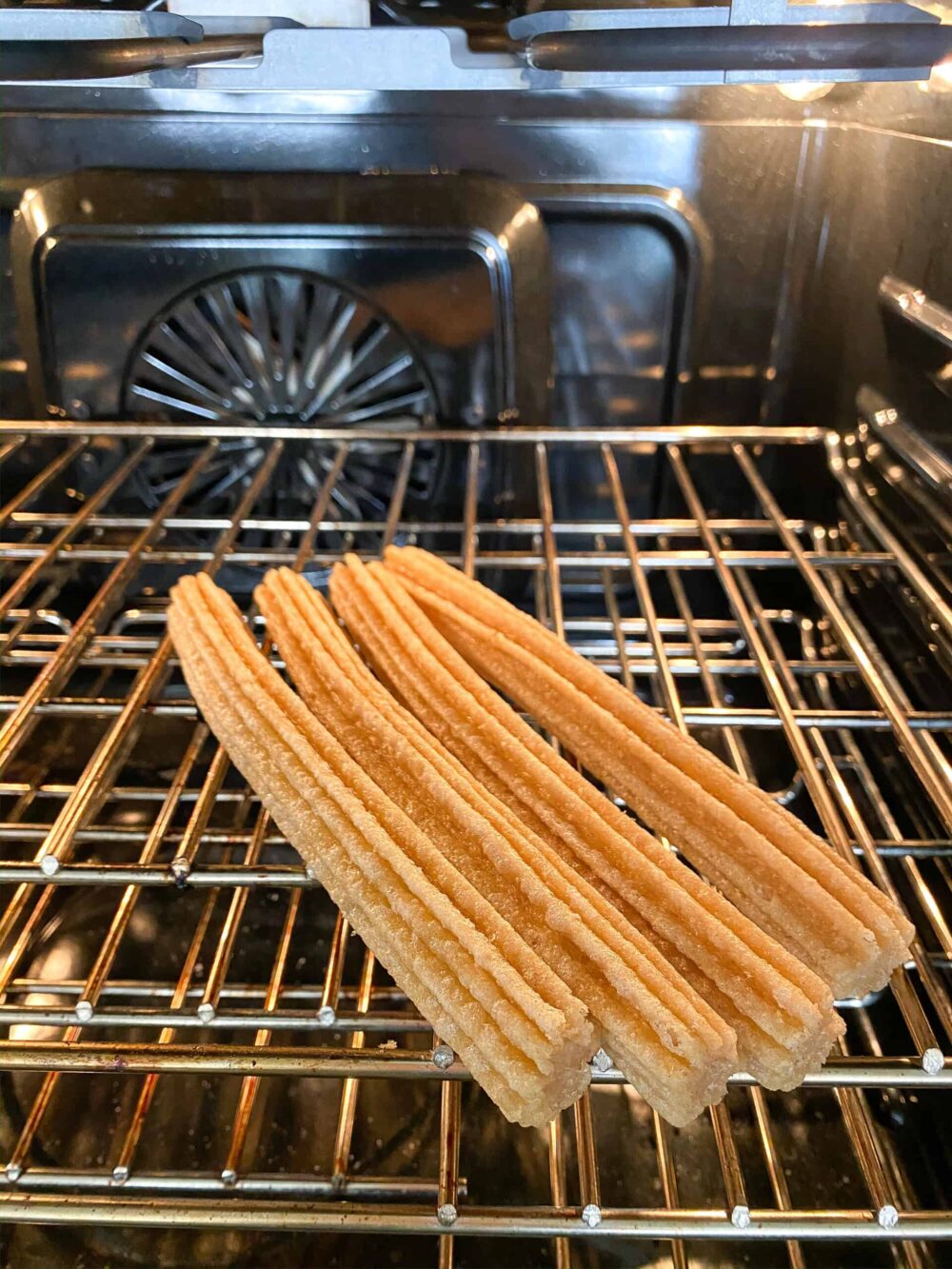 The instructions say to place the frozen churros right onto your oven rack. Next time I'll place a cookie sheet under them to catch the drippings. I had some drippings at the bottom of my oven that starting smoking for a second. Learn from my mistake 🙂 Bake the churros for 4-5 minutes until crisp on the outsides.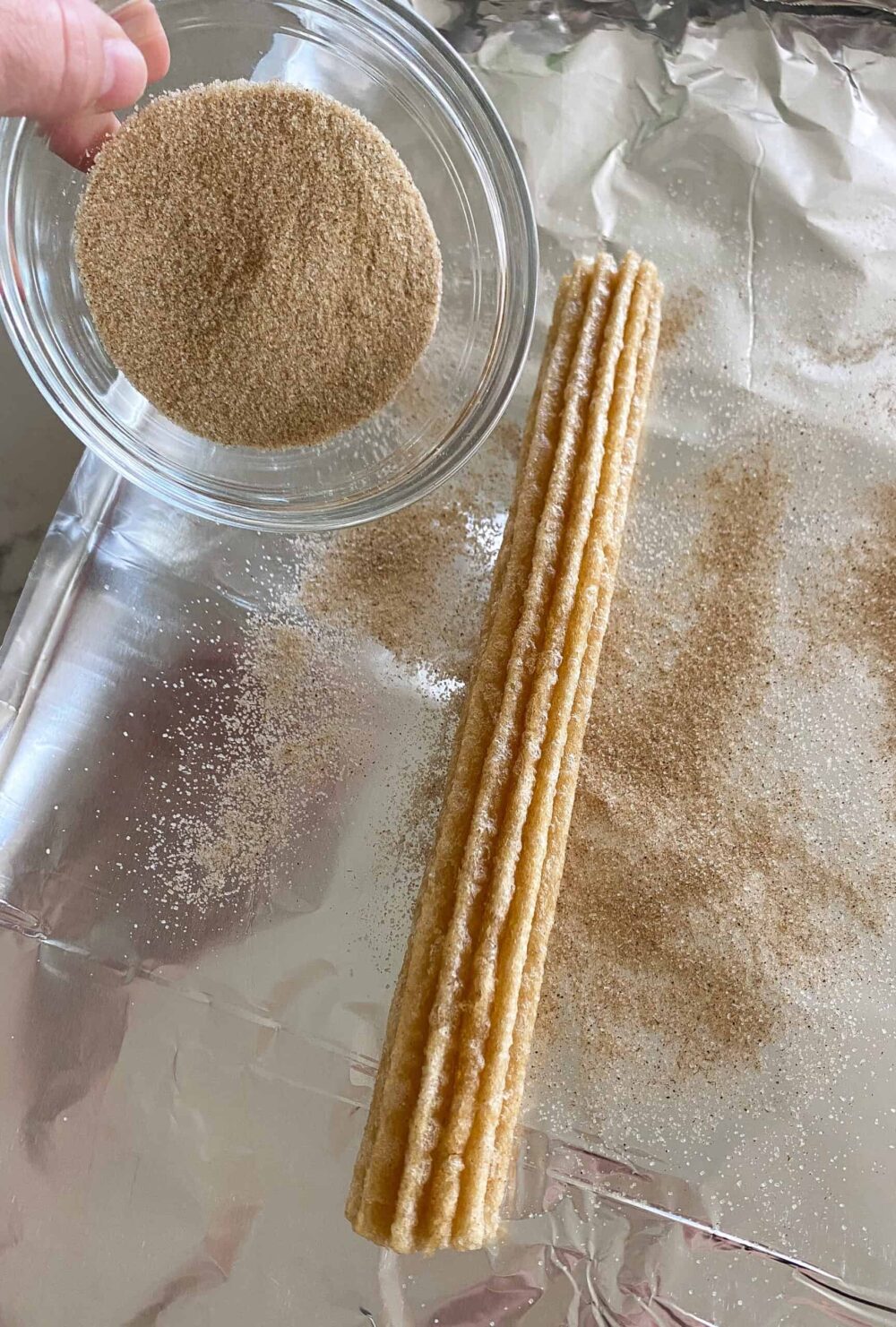 With some kitchen tongs, place hot churros onto some tin foil or parchment paper and sprinkle/roll into cinnamon sugar, all sides. The cinnamon/sugar mixture comes included inside the box of frozen churros.
How To Make Fluffernutter Churros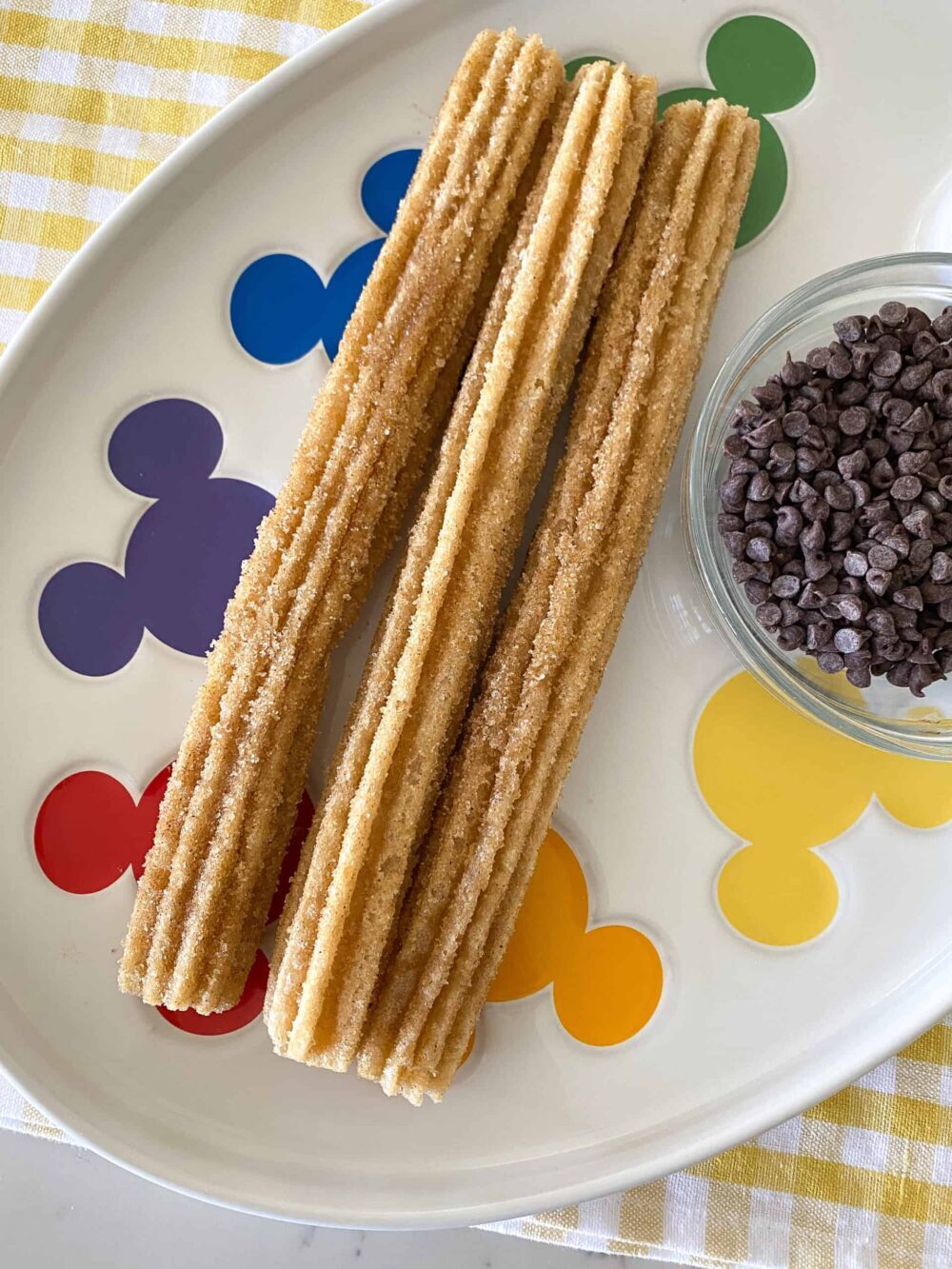 Once your churros are coated in the cinnamon sugar mixture place onto a serving plate. My serving plate is from the Ink and Paint Collection, found it from the Shop Disney website.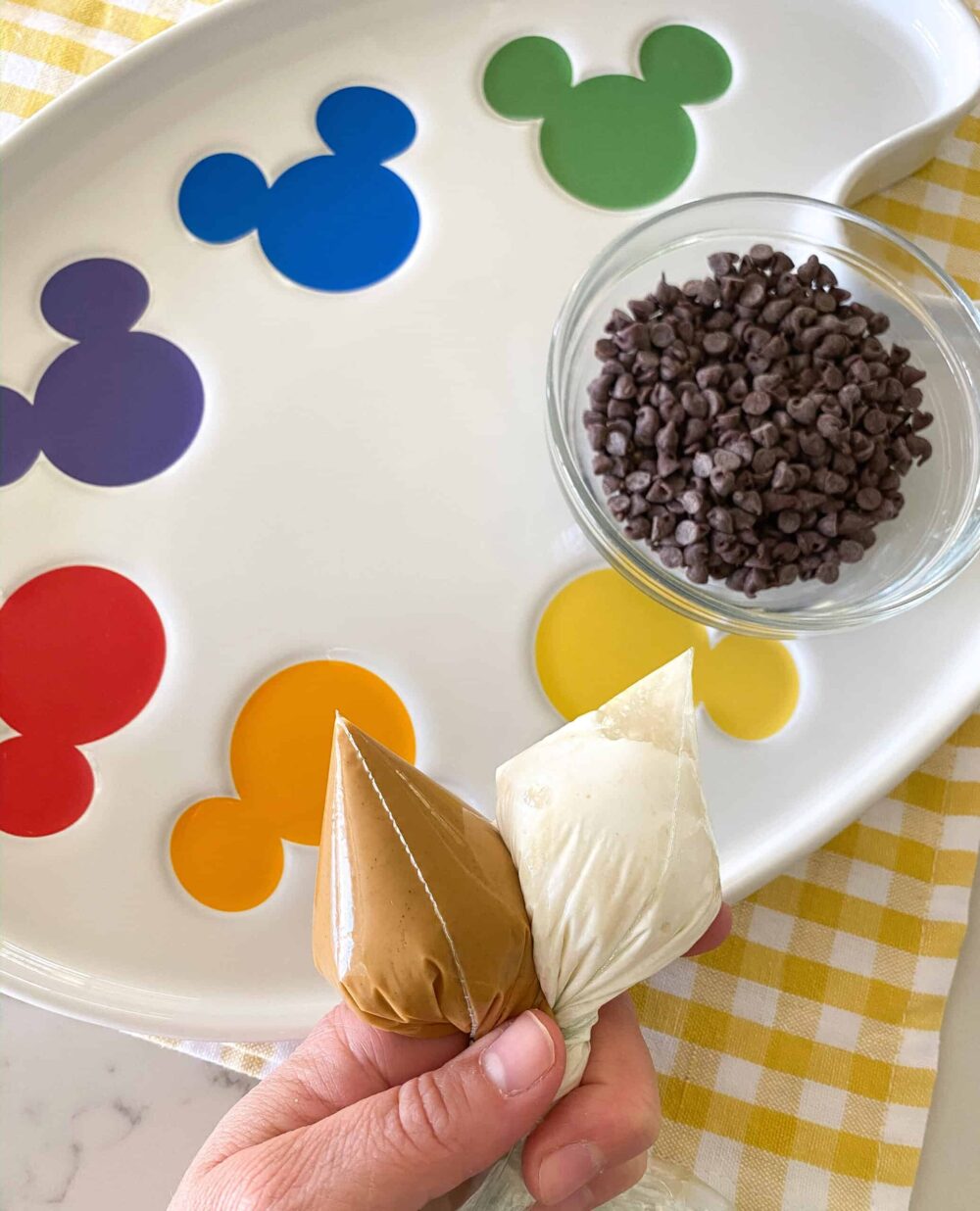 You'll need some slightly melted peanut butter and marshmallow creme for your churros. I place the peanut butter and marshmallow creme into 2 separate heat proof bowls and microwave separately for about 30 seconds until easy to stir. Place into 2 Ziplock baggies to use as little make shift piping bags. When ready, snip a small corner and use to drizzle.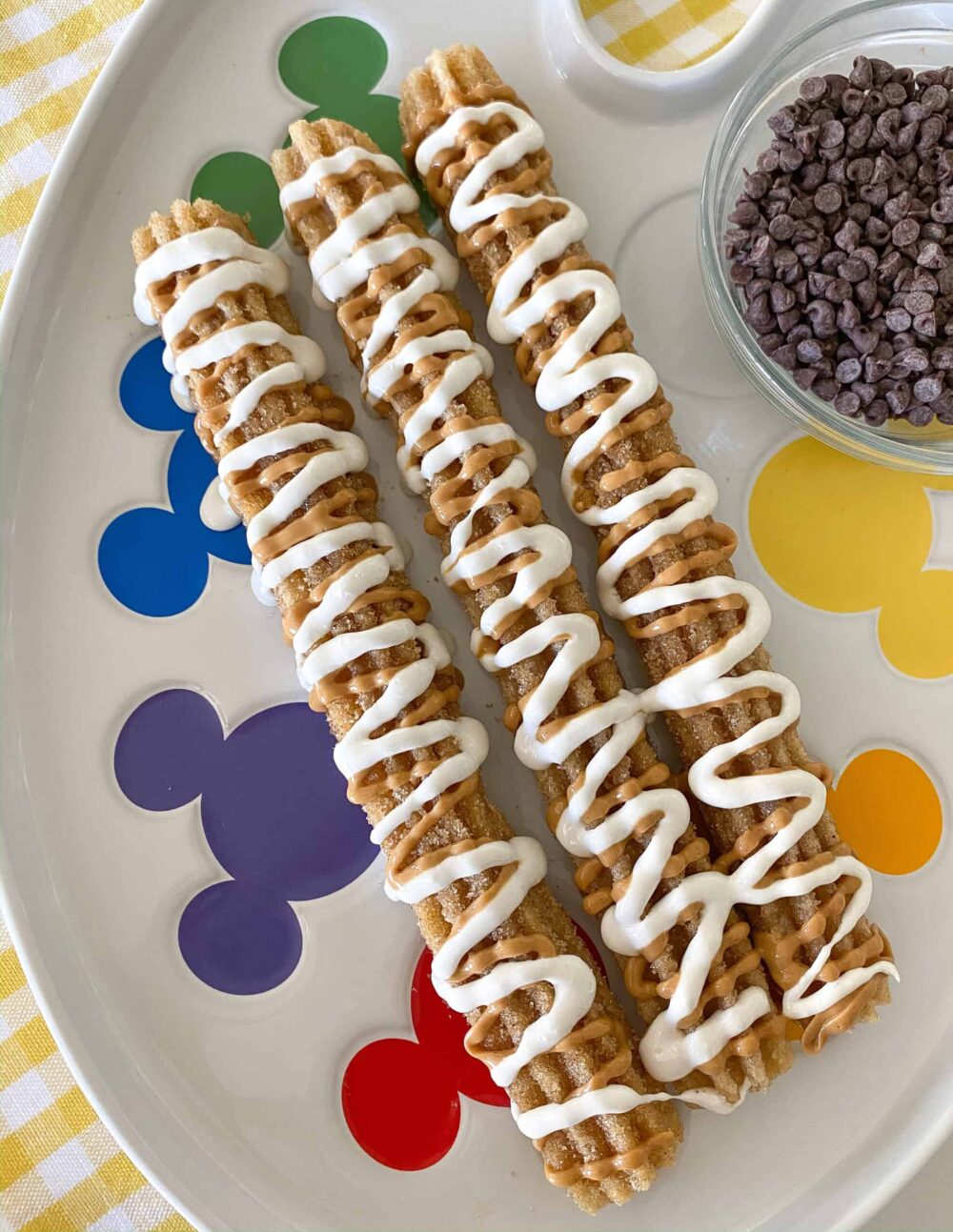 Drizzle with peanut butter then marshmallow creme evenly over tops.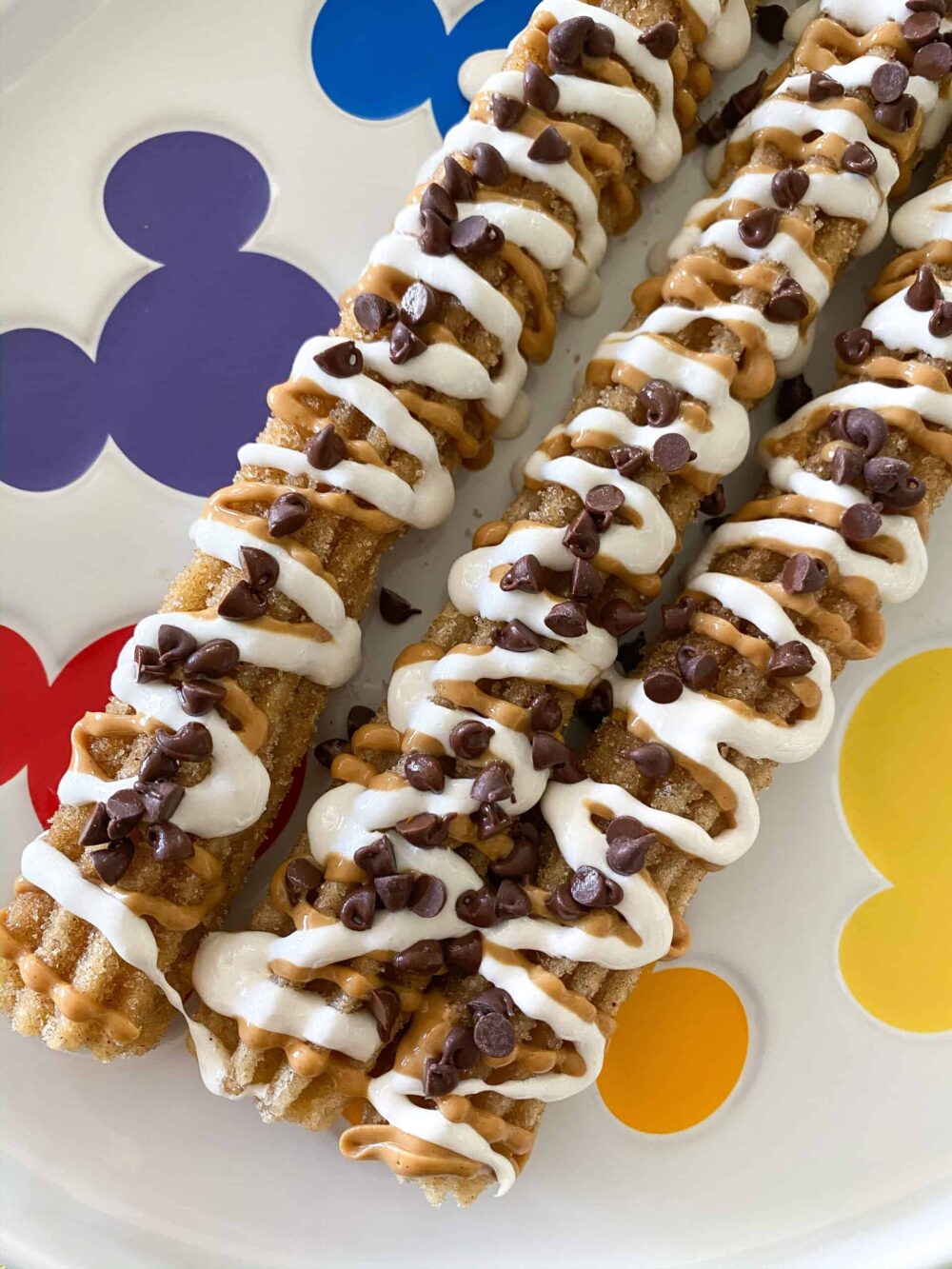 Top with mini chocolate chips and EAT! I'm telling you, it's almost identical! So so happy about this! Hope you enjoy!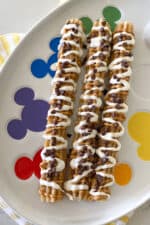 How To Make Fluffernutter Churro - Disneyland Churros
Make the Fluffernutter Churro just like they sell at Disneyland! Delicious and simple!
Print
Pin
Ingredients
Tio Pepe's Frozen Churros

This is what Disneyland uses! Find at Smart and Final

Cinnamon Sugar Mixture

comes in box

1/2

cup

creamy peanut butter

1/2

cup

marshmallow cream

1/4

cup

mini chocolate chips
Instructions
Preheat oven to 400 degrees F. Place 4-6 frozen churros on oven racks, bake for 4 1/2 minutes. Remove and immediately sprinkle with a couple teaspoons of the cinnamon sugar mixture that comes in box.

Place churros onto a serving plate. Warm peanut butter in a heat proof bowl for about 30-45 seconds. Stir until smooth then transfer to a ziplock bag. Snip corner and use as a little piping bag to drizzle peanut butter over churros.

For marshmallow cream, spray a heat proof bowl with cooking spray and spoon cream into bowl. Microwave for about 30 seconds. Spray spoon with cooking spray and stir cream until smooth. Transfer to a ziplock bag, snip a corner and use as a little piping bag to drizzle over churros. Top with mini chocolate chips and serve warm.
Nutrition
Calories:
248
kcal
|
Carbohydrates:
22
g
|
Protein:
8
g
|
Fat:
16
g
|
Saturated Fat:
3
g
|
Sodium:
151
mg
|
Potassium:
209
mg
|
Fiber:
2
g
|
Sugar:
15
g
|
Calcium:
14
mg
|
Iron:
1
mg
Keywords:
churro, churros, disneyland churros, fluffernutter churro
Pin Disneyland Churros To Your Favorite Recipe Board!