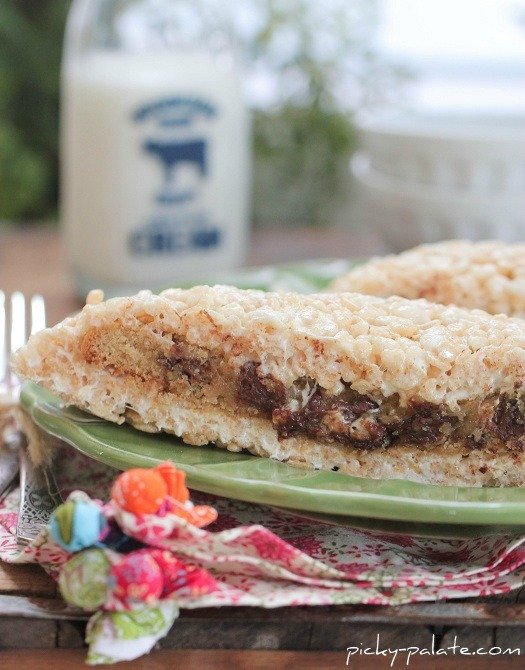 Please do not ask me where this idea came from, I have no explanation for my crazy ideas. I had no idea how a warm cookie wrapped in rice krispie treat would turn out, but after one bite I knew I had a winner! Not only is this totally adorable and will have everyone talking, it is no kidding….so delicious.
I created the recipe for one giant serving which actually serves 8 small servings. The beauty is, you can use whatever size cookies you would like. Just form your rice krispie rounds according to the size of your cookies. See my note at the bottom of the recipe. You can stuff about anything inside these fun cookies. I also tried brownies, but will be trying Nutella, Peanut Butter, Biscoff and a whole bunch of other fun things 🙂
Hope you enjoy!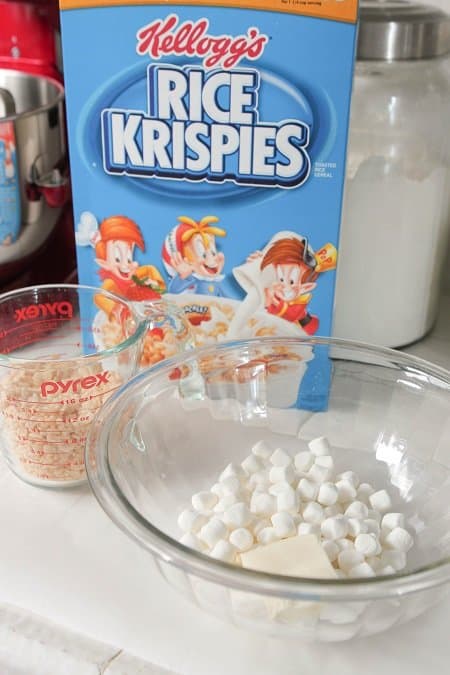 I whipped up a small batch of rice krispie treats. My biggest tip for you is work fast. Have everything measured out before you start. This will make all the difference in the world 🙂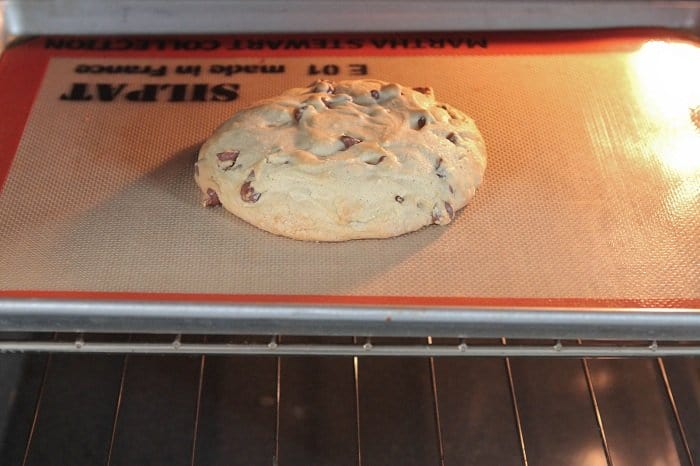 I created another giant chocolate chip cookie recipe for you. It's all prepared in one bowl. And might I add it is incredible by itself, so take note 🙂 Let this baby cool for 10 minutes before preparing the rice krispie portion.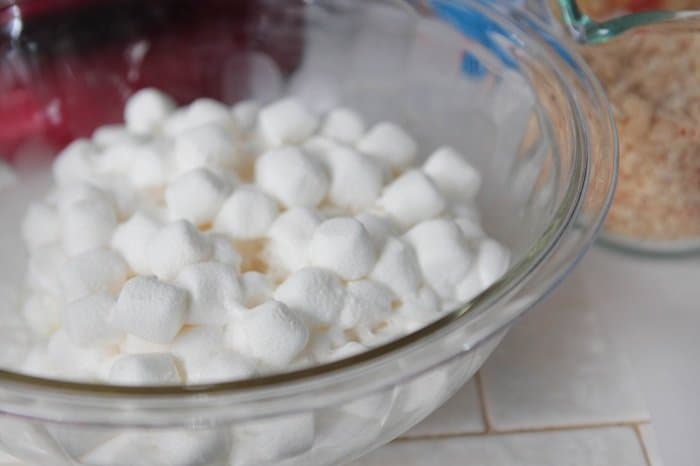 Melt those beautiful marshmallows until perfectly puffed.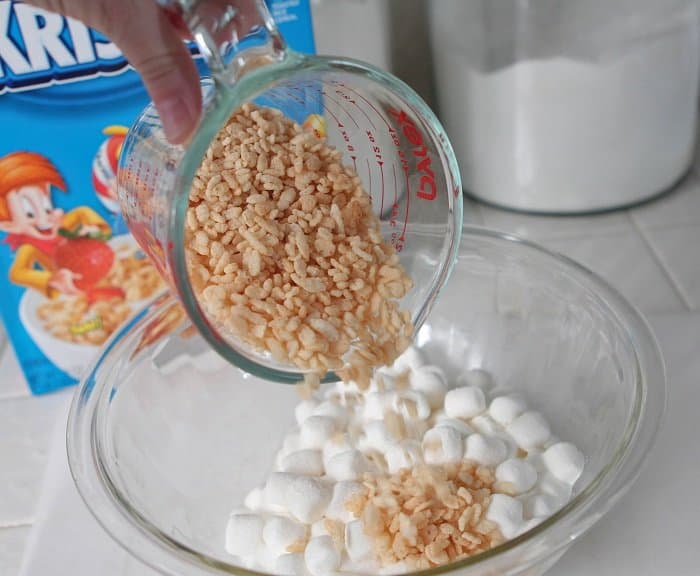 Here's where you need to work quick. Stir the cereal and marshmallows then take half and form into a nice round as you see below.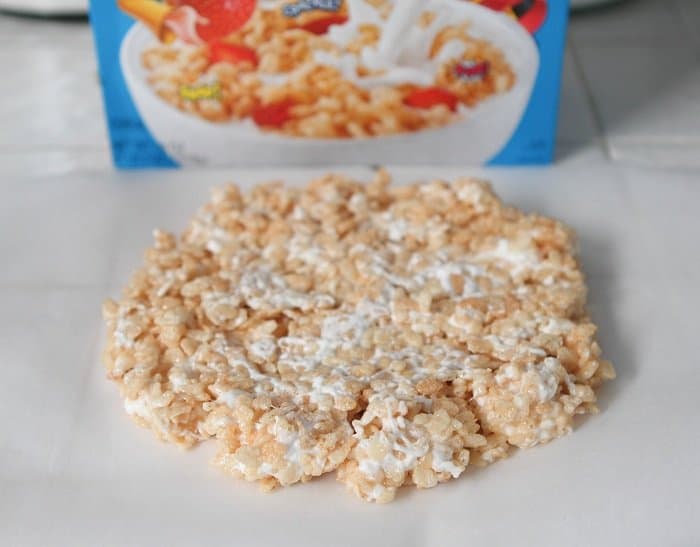 You will press your rice krispie a little wider than the size of cookie you are using. I am using a large cookie, so I made an even wider circle. Get it? Ok, good 🙂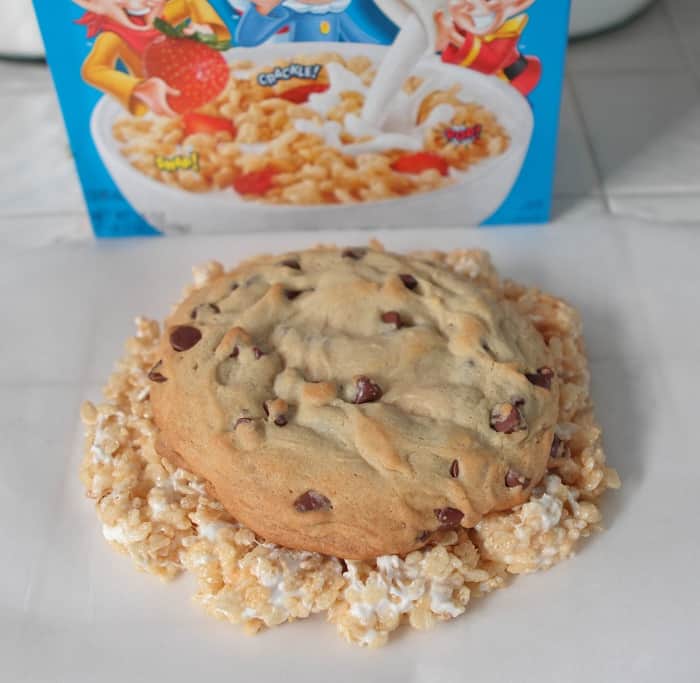 Ahhhhh, crazy right?!
I love these crazy cookies.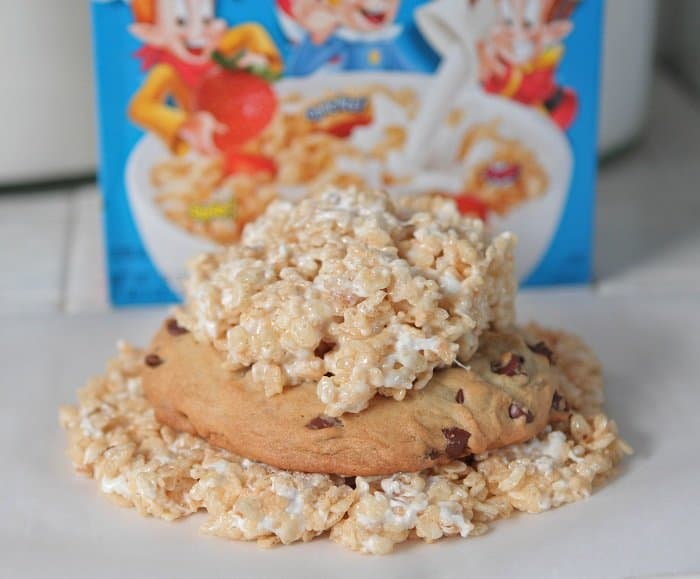 Place the second half of krispie treat mixture on top and….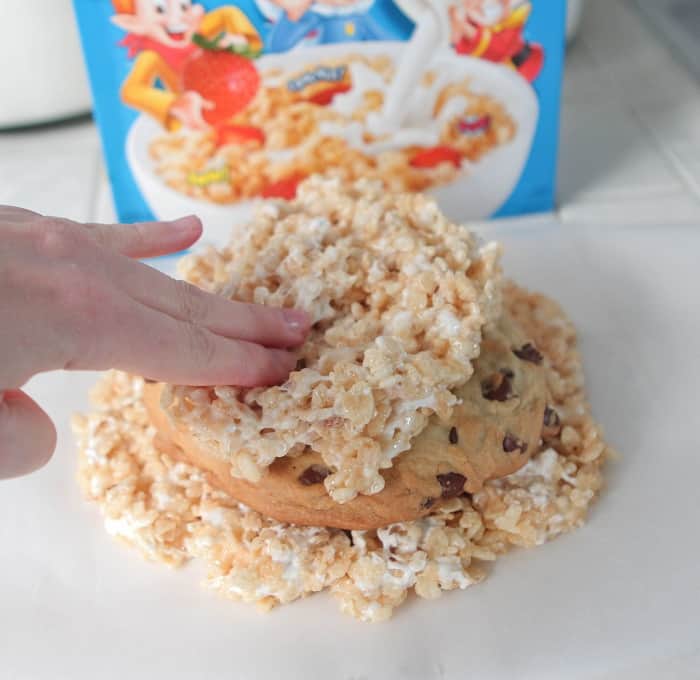 …spray your hands with cooking spray then quickly press and seal edges around cookie.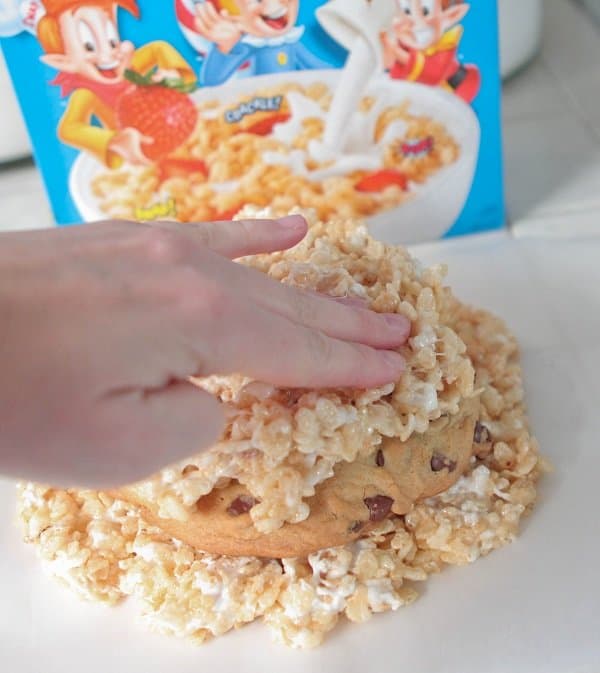 You'll find the cooking spray on your hands is a necessity 🙂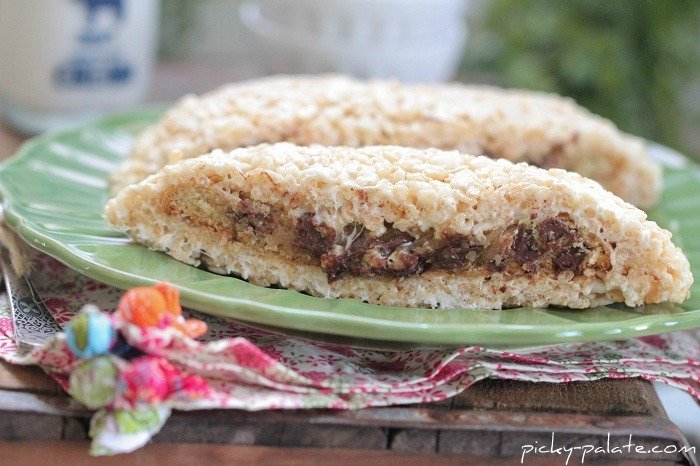 Here you have my Inside Out Rice Krispie Chocolate Chip Cookie. Love!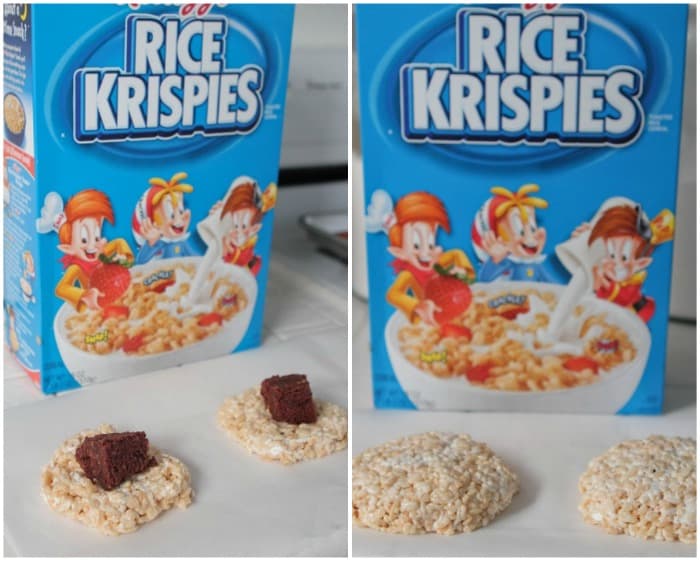 I tried the same technique with some brownie bites too. Equally as fun and delish!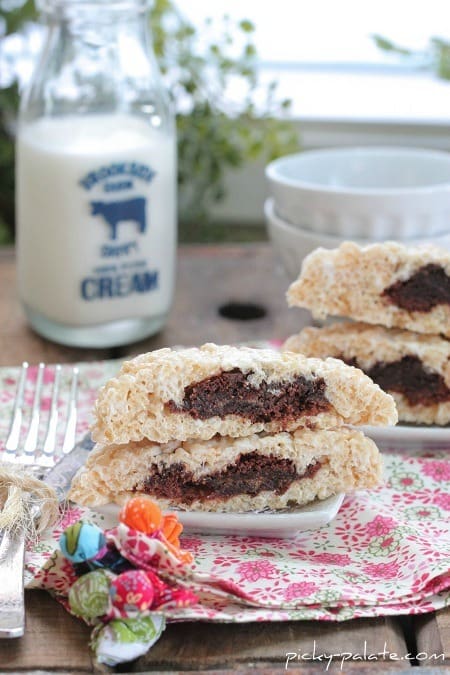 See? Can't wait to try other things 🙂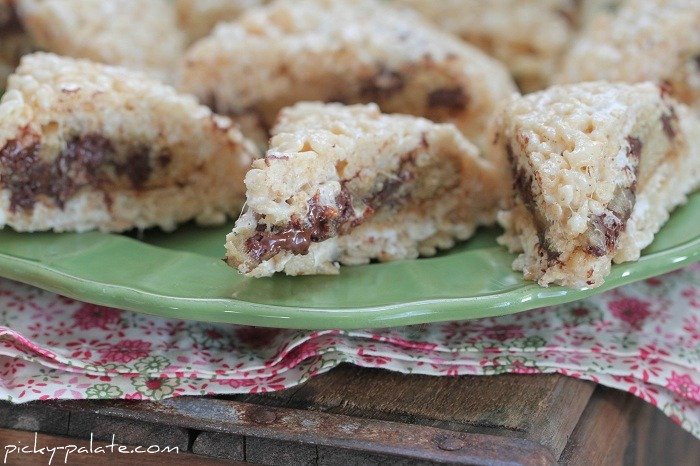 I cut the rest of my giant cookie into 8 wedges so I could share. How fab is this?!
[ziplist]
Inside Out Rice Krispie Chocolate Chip Cookies
Giant Chocolate Chip Cookie Recipe
2 Tablespoons softened butter
2 Tablespoons granulated sugar
2 Tablespoons light brown sugar, packed
2 Tablespoons beaten egg
1/4 teaspoon pure vanilla extract
1/2 cup plus 1 tablespoon all purpose flour
1/4 teaspoon kosher salt
1/4 teaspoon baking soda
1/2 cup chocolate chips
___
2 1/2 cups mini marshmallows
2 tablespoons butter
3 cups rice krispie cereal
1. Place butter and sugars into a medium bowl, beat until light and fluffy, about 1 minute. Add egg and vanilla, mixing to combine. Add flour, salt, baking soda and chocolate chips, mixing to combine. Transfer dough to a parchment or silpat lined baking sheet and bake for 15 minutes or until baked through. Remove and let cool for 10 minutes on baking sheet.
2. Place marshmallows and butter into a microwave safe bowl and heat for 60 seconds, until puffed. Working quickly stir in rice Krispie cereal until well combined. Divide mixture into 2 and take half and press into a round just bigger than your cookie onto parchment paper. Quickly place warm cookie on top of pressed mixture and quickly press remaining treats on top of cookie sealing edges and smoothing top. Should be round.
Makes 1 large cookie, cut into 8 wedges
*Note, Try stuffing brownie bites, smaller cookies, peanut butter, Biscoff, Nutella and so much more!
____________________________
Have a great day! Come back soon!