Sharing our Tips For Mickey's Halloween Party Disneyland Park today!
Mickey's Halloween Party
Visiting Disneyland Park during Halloween Time for Mickey's Halloween Party is one of my favorite things….like ever. It is so festive, colorful and best of all Spook-tacular!

Tips For Mickey's Halloween Party
When you arrive to the Park, get your Mickey's Halloween Party map guide to help plan your evening. Note that with you Mickey's Halloween Party ticket, you can get you into the Park 3 hours before the start time of the Party. This is great if you don't want to purchase an additional park ticket. Saves quite a bit of money. We arrived and 3pm and stayed until almost midnight so we got plenty of park time in.
If you want a family or group picture in front of the giant Mickey Pumpkin, go as soon as possible. The line seems to get longer the later the Party gets going. It looks really fun at night lit up as well.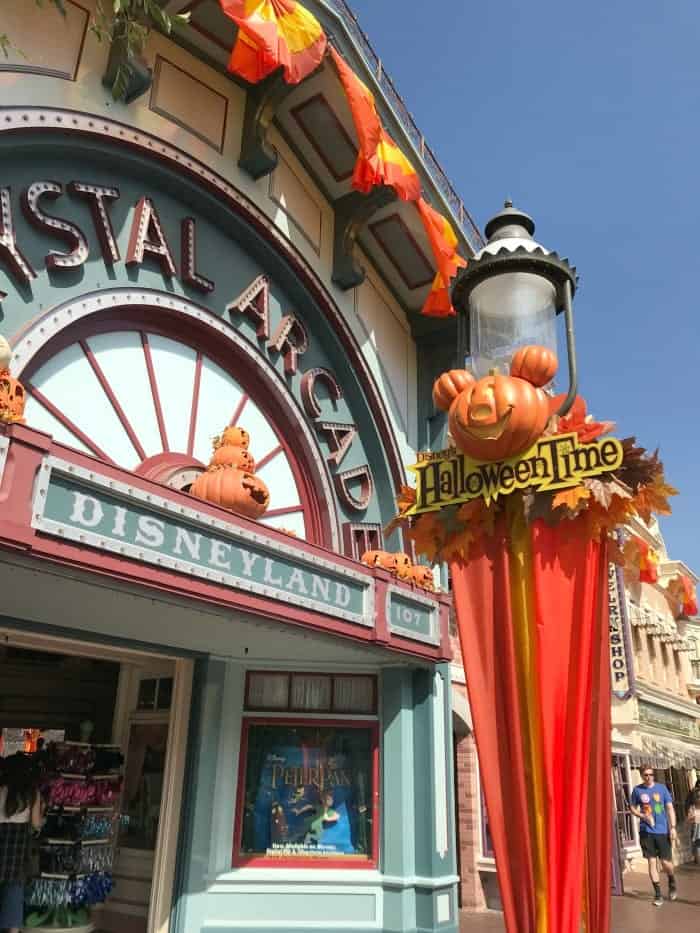 There is so much to do, see, and eat during Mickey's Halloween Party. Make sure you look at all of the fun details around each Land! You'll notice families dressed up in spectacular costumes and then other families who just go in everyday clothes. Anything goes!
Candy Trails at Mickey's Halloween Party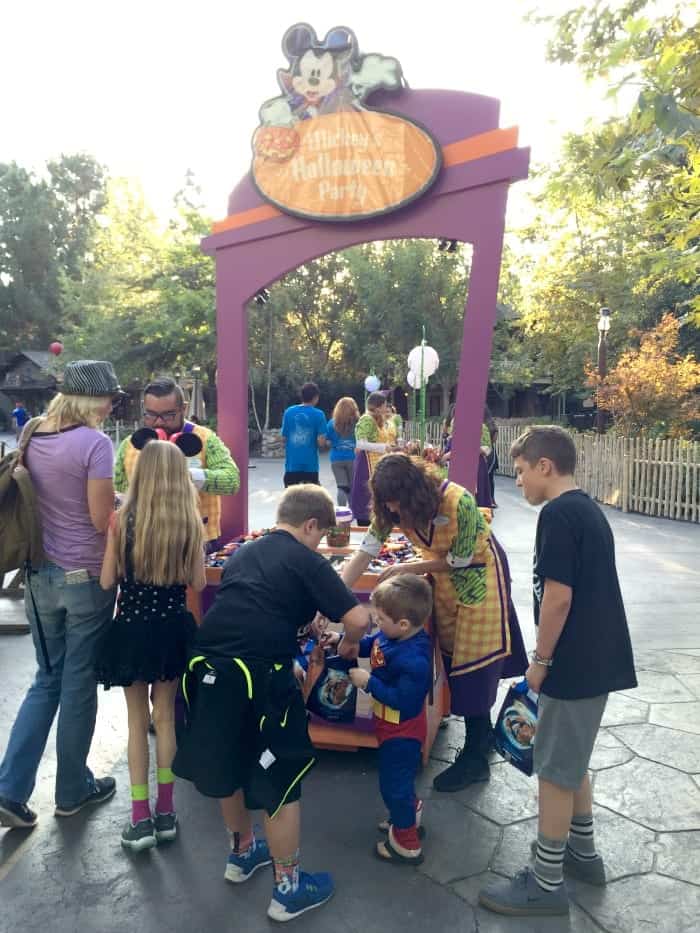 Trick-or-treating around each of the "Lands" is such a highlight for the kids. We like to start at Critter Country and Toon Town, because they open their trick-or-treating stations one hour before the party starts. We started in Critter Country at 5pm then raced to Toon Town. By 6pm the boys had full bags of candy and we could take advantage of riding rides with less crowds. It was awesome!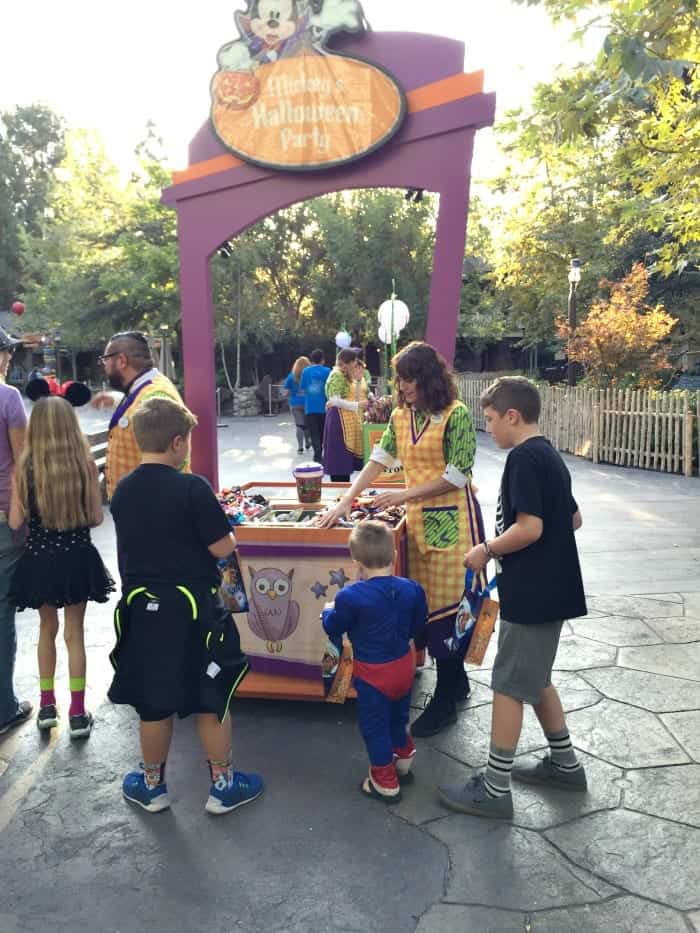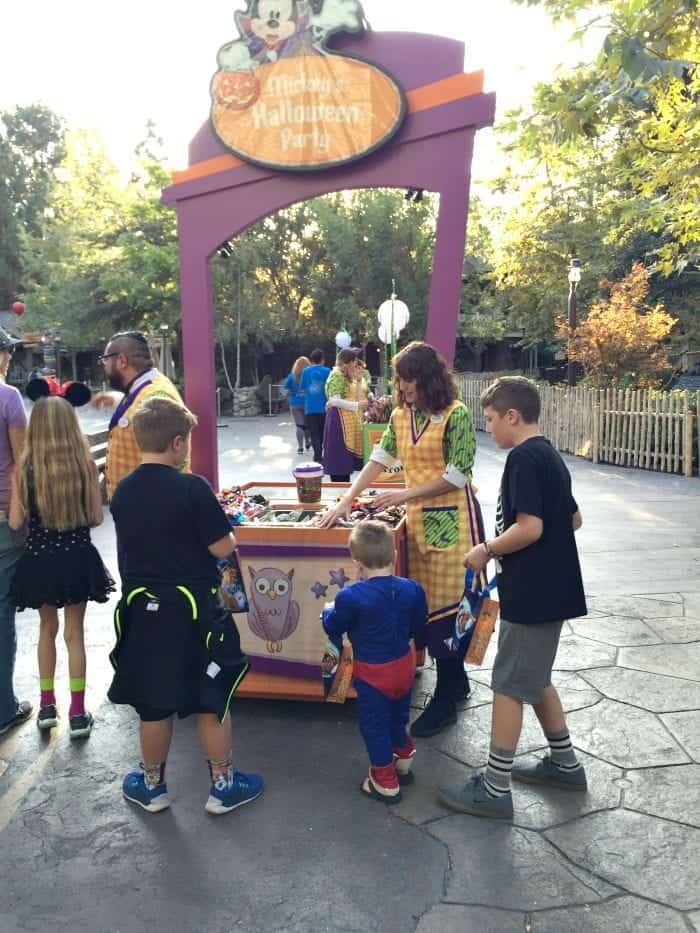 Not many people seemed to know about Critter Country opening their trick-or-treating at 5pm. We were practically the only ones there. Score!!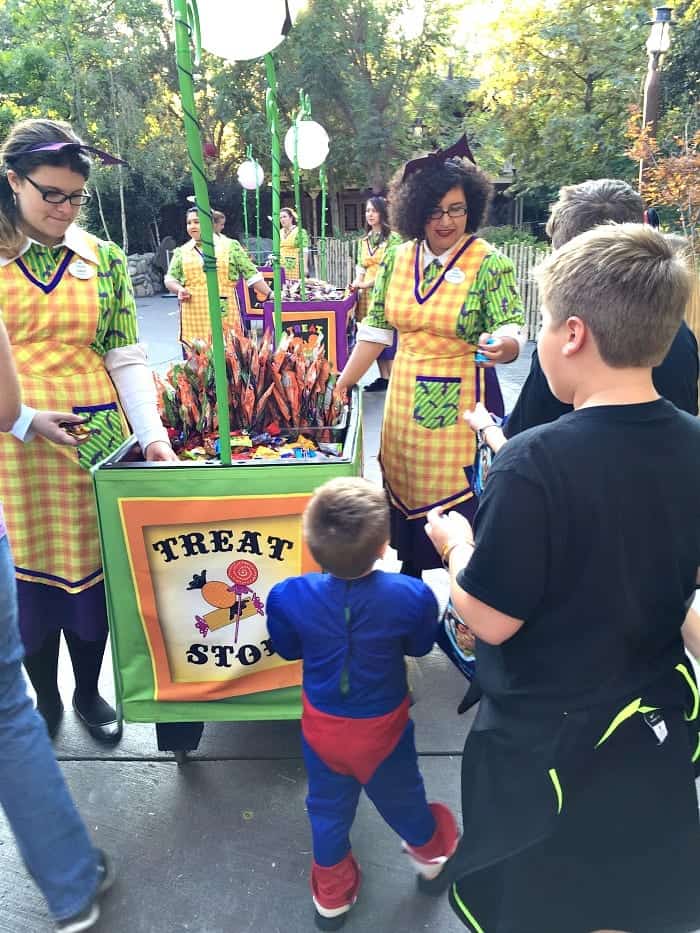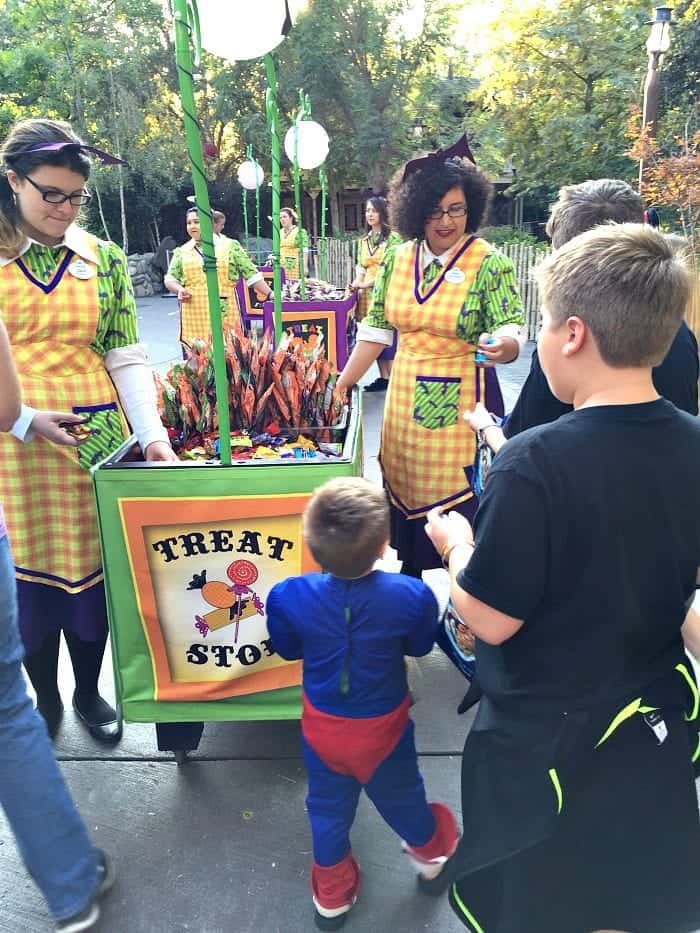 The Cast Members are amazing. So cute with the kids. They are very generous with their candy distribution as well.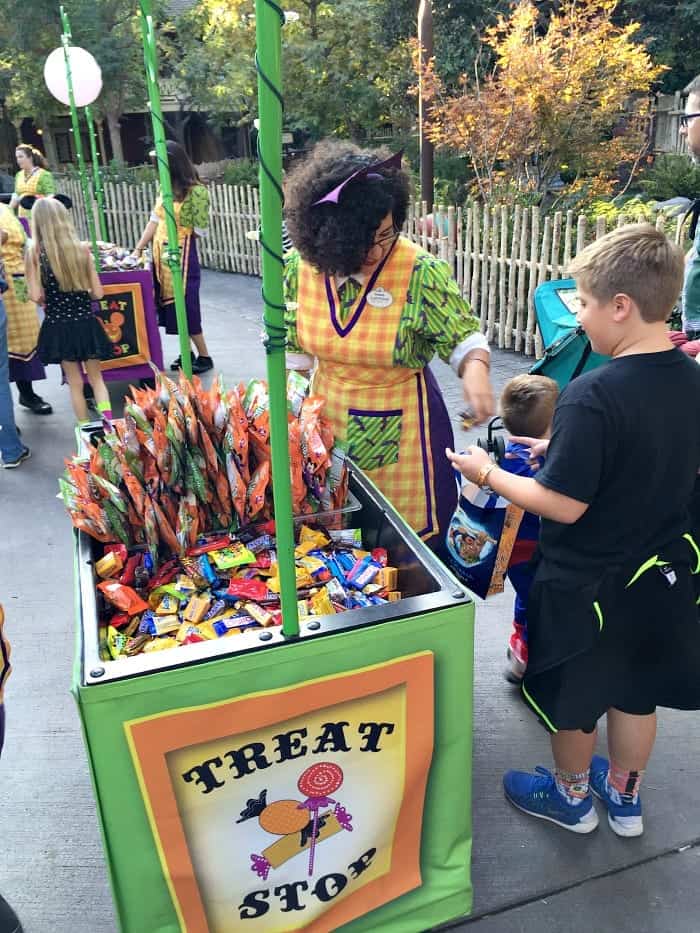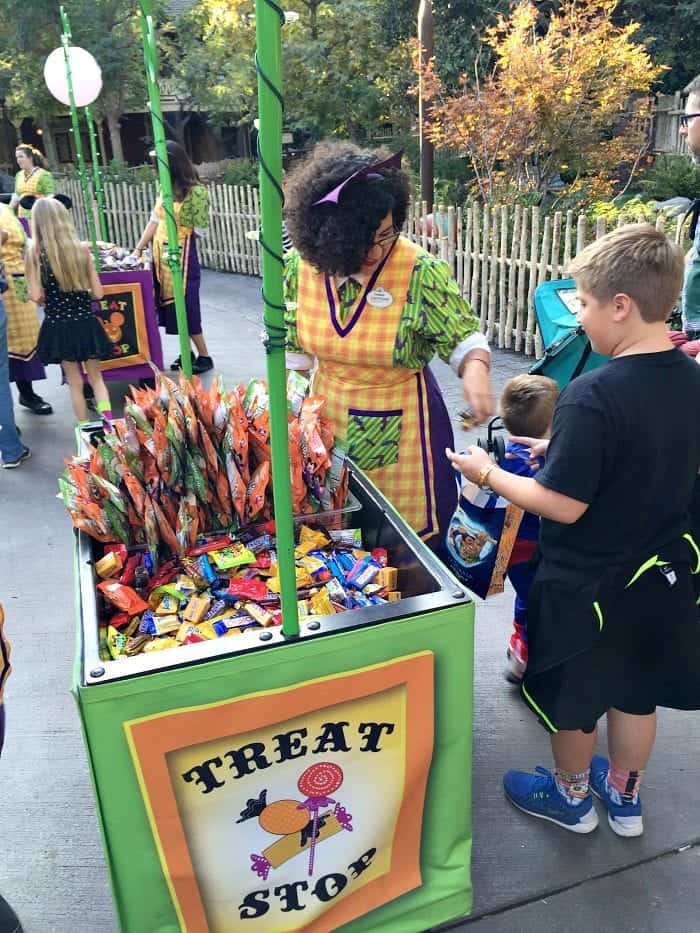 Each station has a little something different. While there's lots of traditional Halloween Candy, you'll also get apple slices, carrot sticks, Pirates Booty, Goldfish, Z Bars, Potato Chips, and other cookies and treats. Really fun!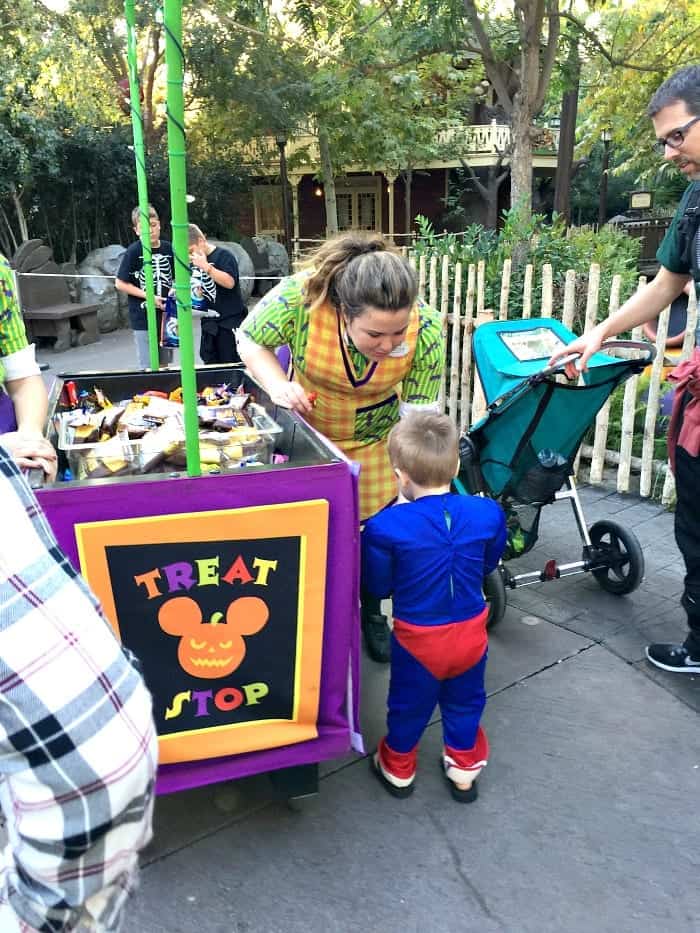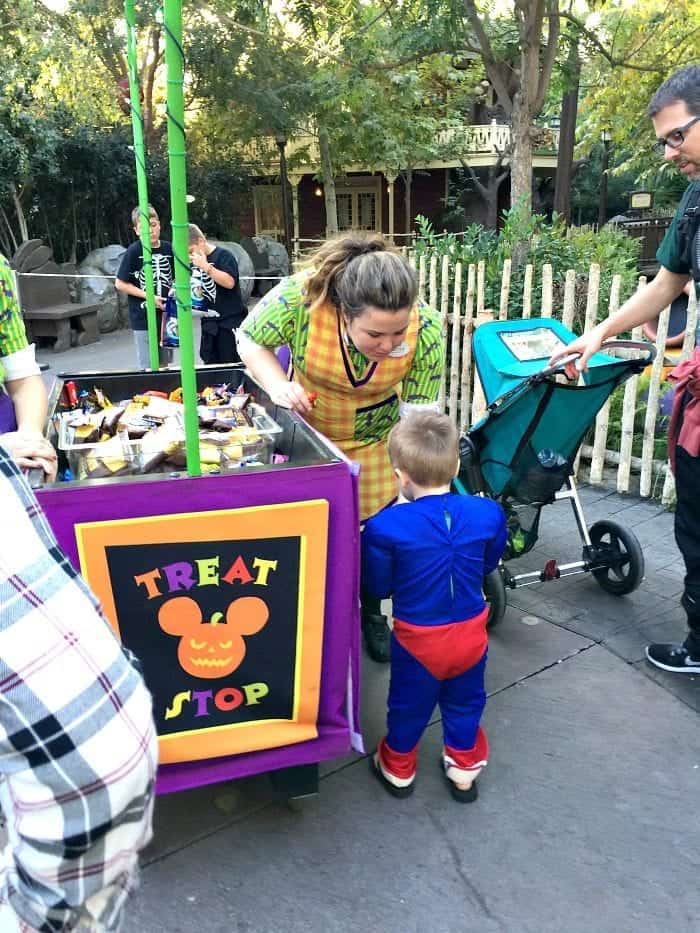 I had so much fun watching Pax and my older boys run from station to station. Superman was on a mission!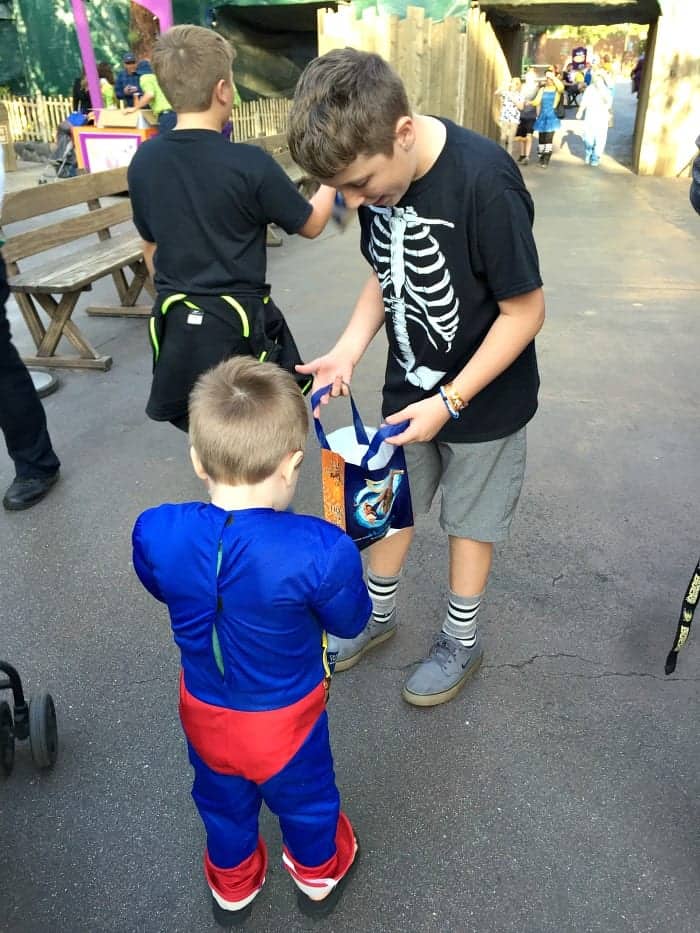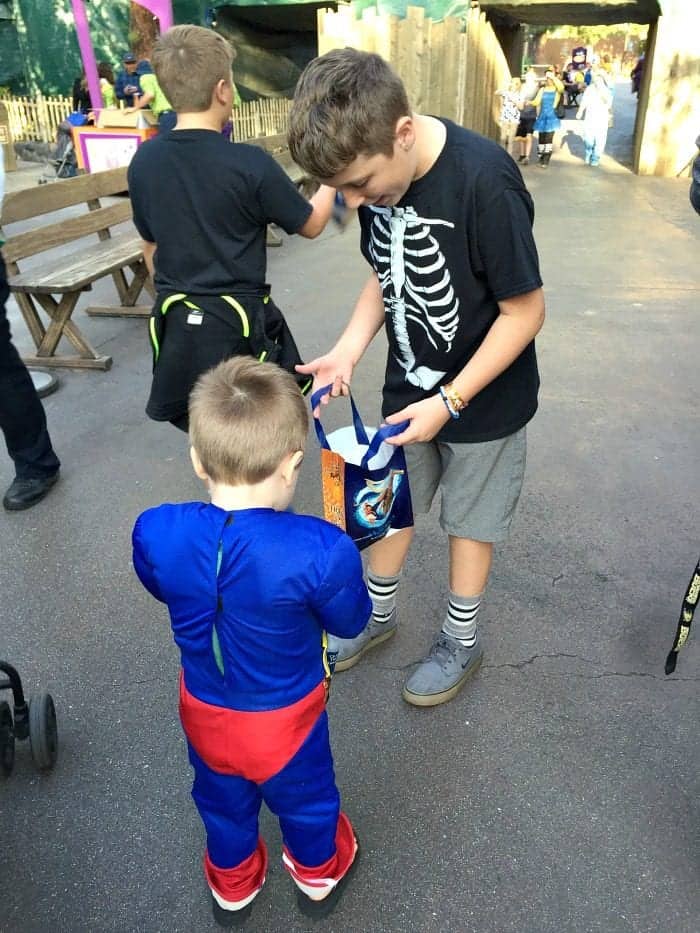 Big brothers helping Pax decide what candy to snack on.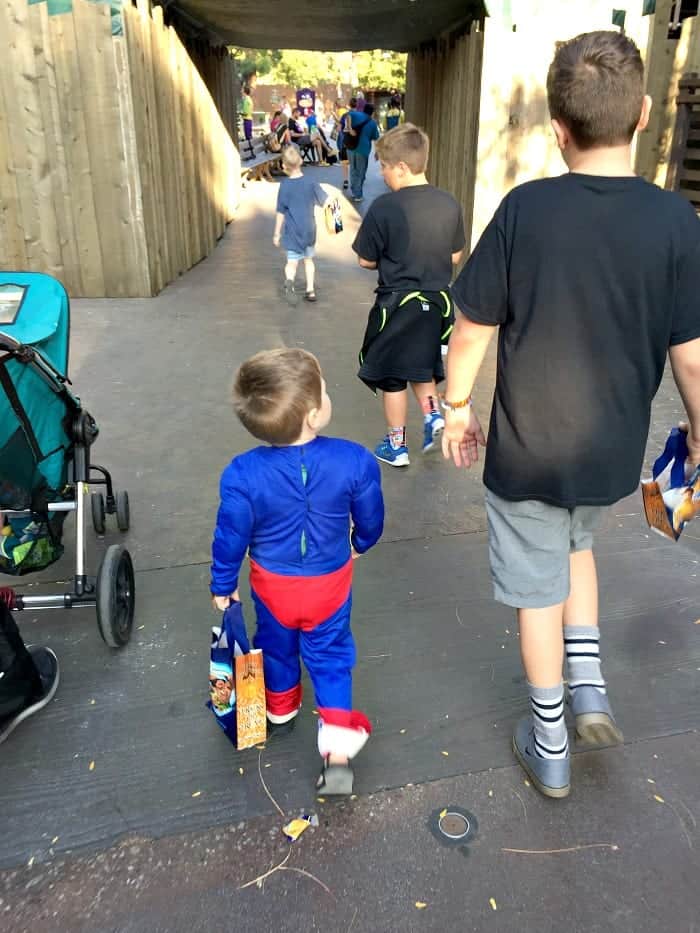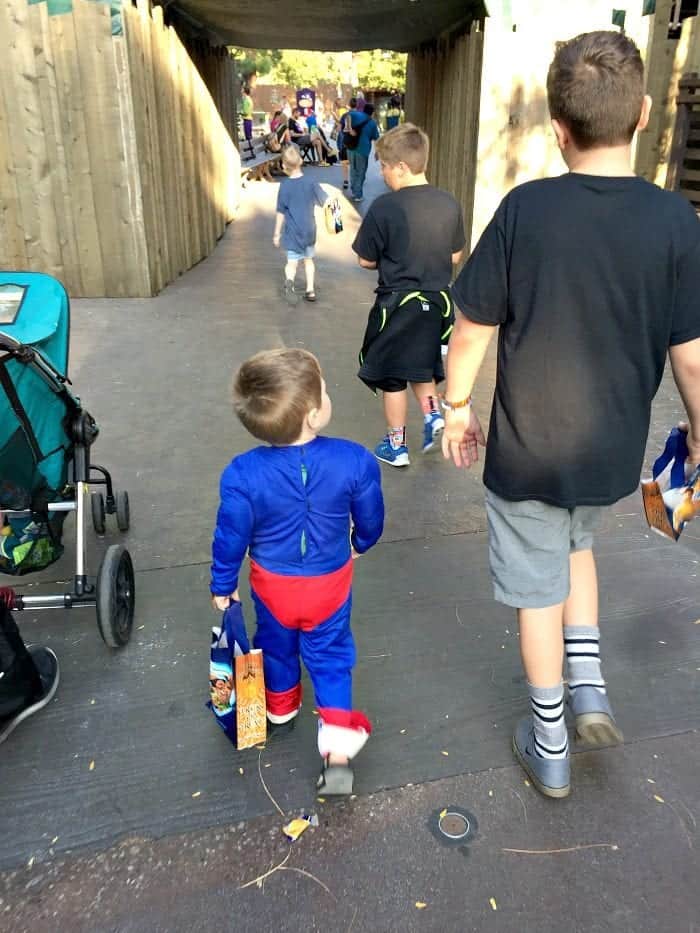 Critter Country was a success! Off to Toon Town for more fun.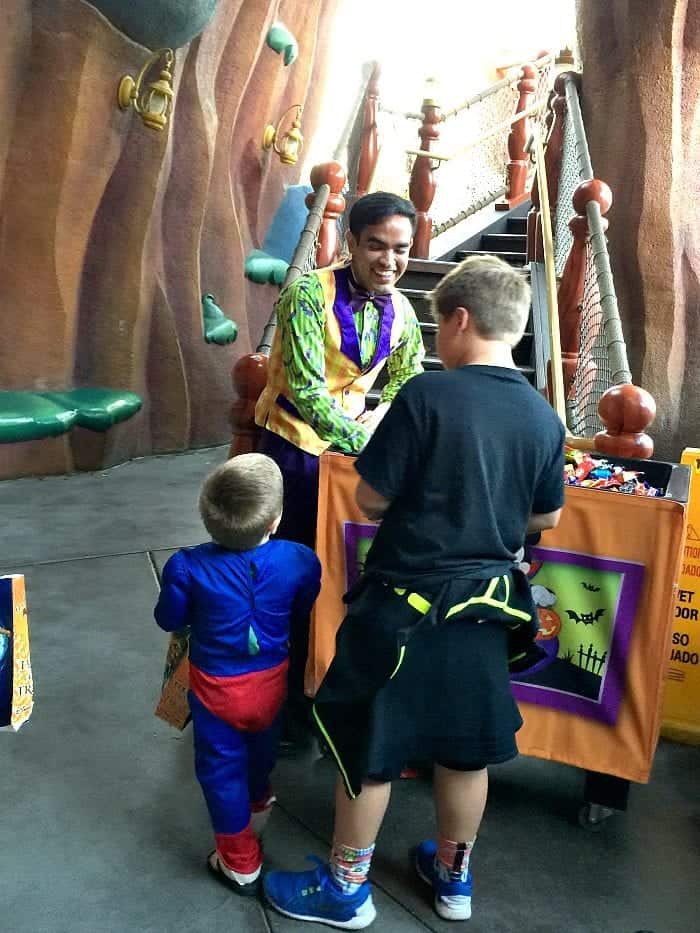 Take note that if you plan on trick-or-treating in Toon Town, it might be best to start there and line up about 4:30pm. We saw people lining up near Toon Town even before 4:30pm. We ended up getting there about 5:20pm and waited in some pretty long lines. I'd say we finished the entire Toon Town by 6 or 6:15pm.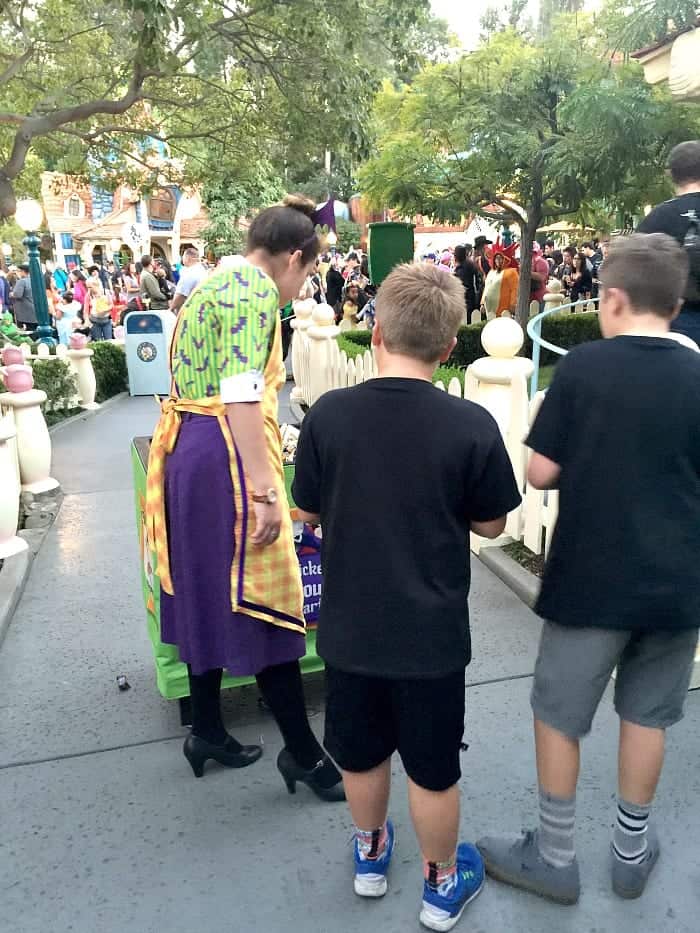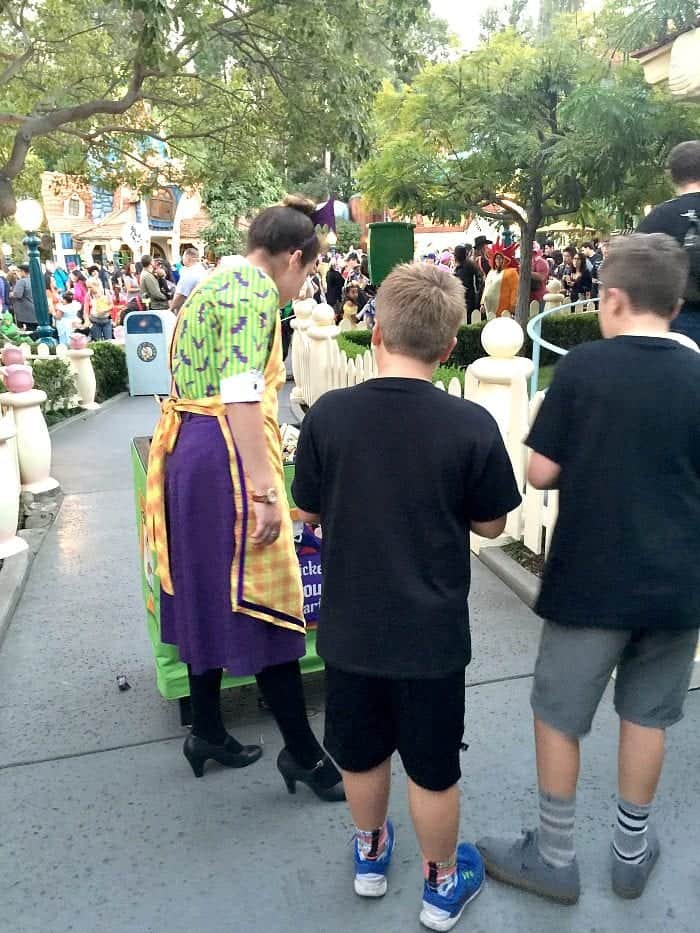 After Toon Town, the boys had full bags of candy. The lines take you through each area of Toon Town.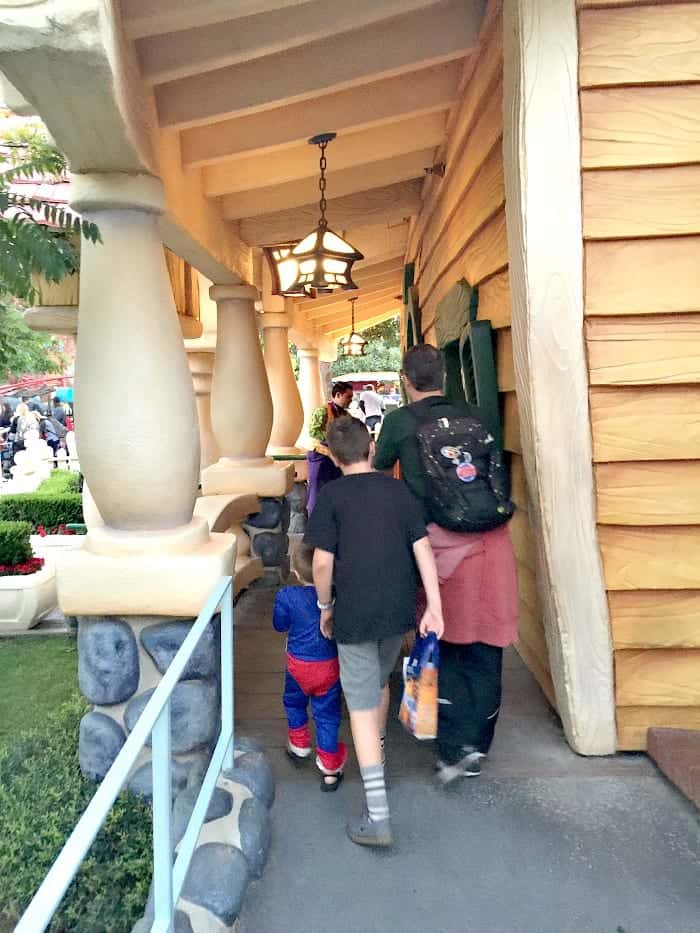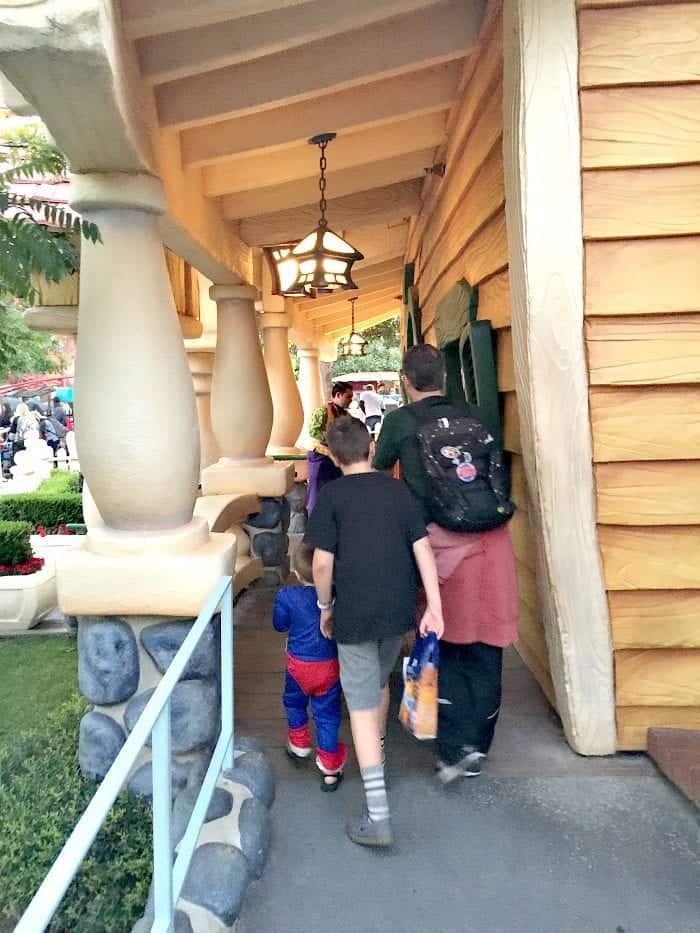 This was the boys going into Mickey's House for our last stations. After this, we rode as many rides as we could while everyone was still trick-or-treating.
Frightfully Fun Parade at Mickey's Halloween Party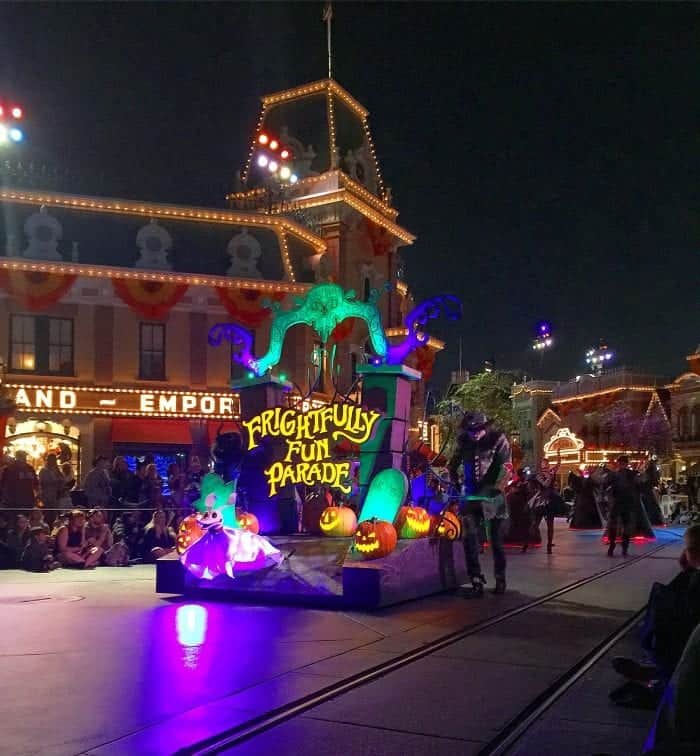 Ok, let's talk about the parade. There's a special parade just for guests at Mickey's Halloween Party called the Frightfully Fun Parade. It is AWESOME. Note that people start saving spots for their family up to 2 hours early. I had my husband save us a spot 1 hour early and we sat towards the front of Main Street U.S.A. meaning we were the last ones to see the parade. No big deal other than instead of the parade starting at 8:50pm for the people sitting at the start of the parade, it got to us right before 9:15pm. A little more wait time, but we also didn't have to save seats for 2 hours.
Another important note is the Headless Horseman rides down Main Street U.S.A. right before the parade starts. I'd say he rode by us right before 8:50pm. Don't miss it, very cool to see!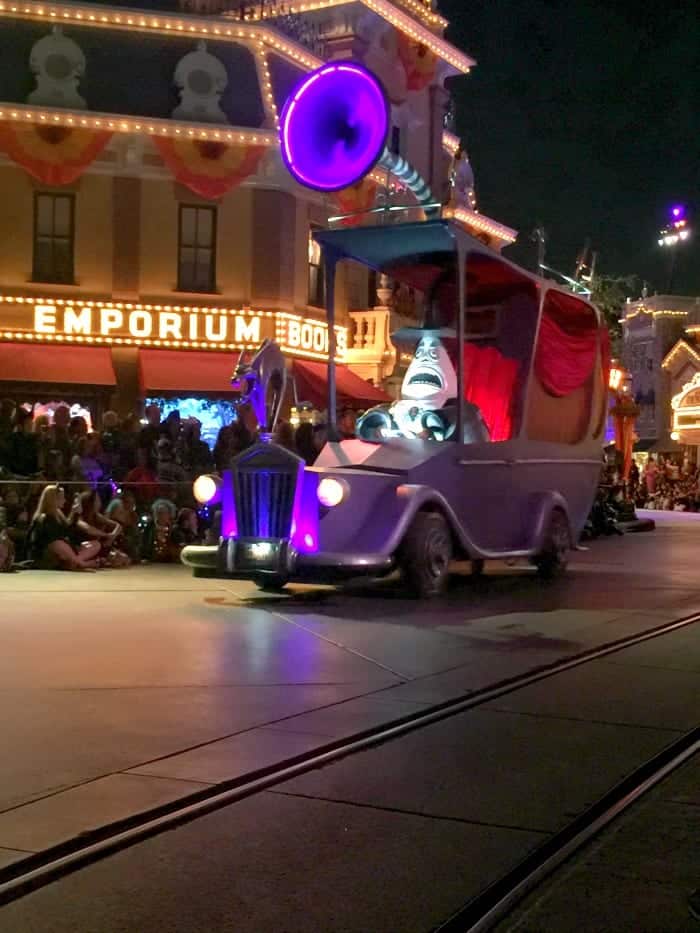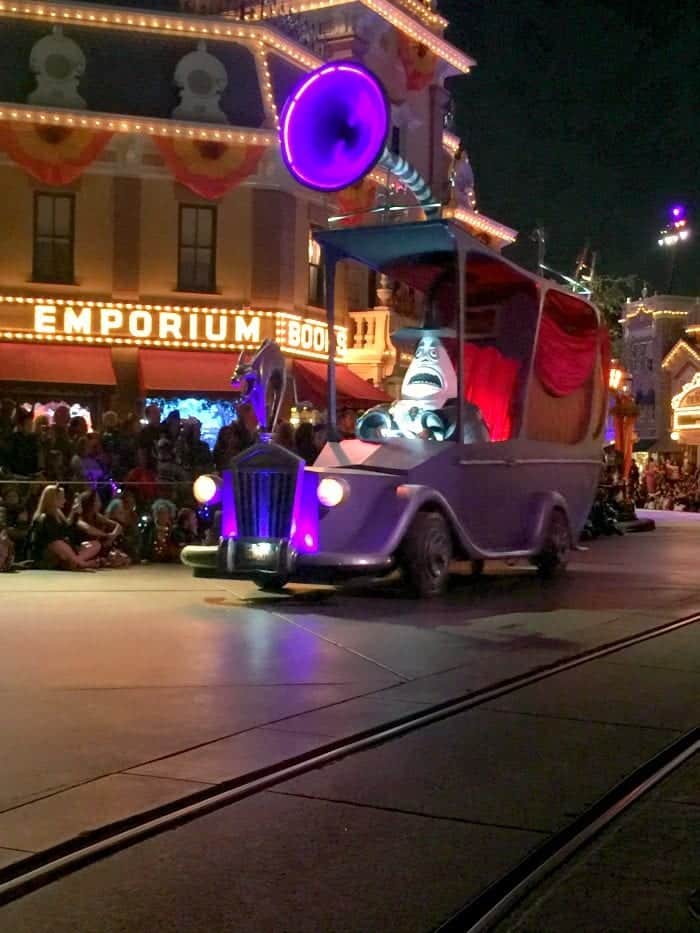 Lots of fun things to see during the parade. The music is amazing too.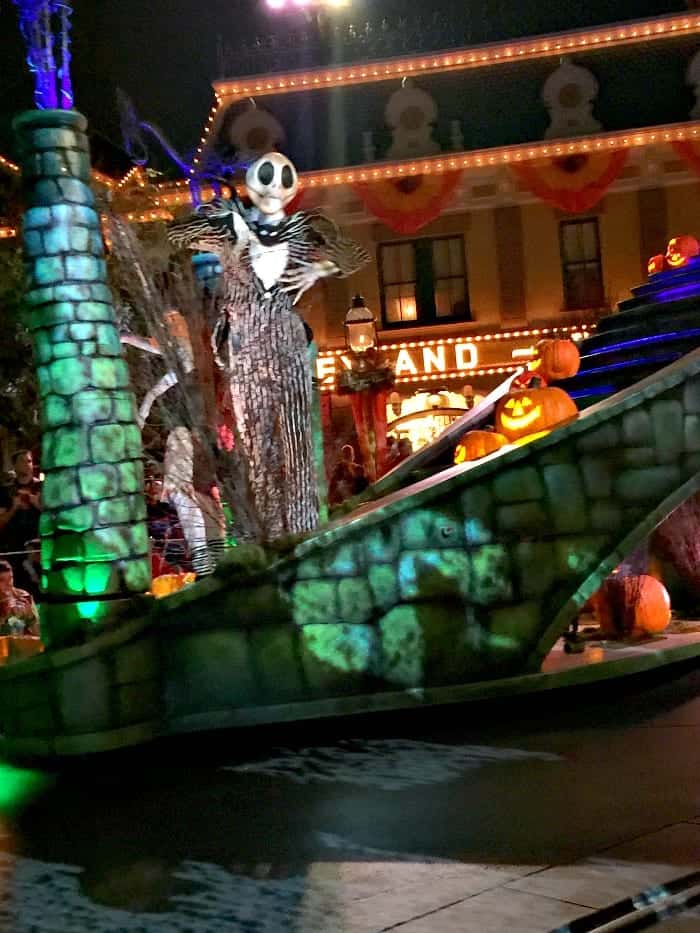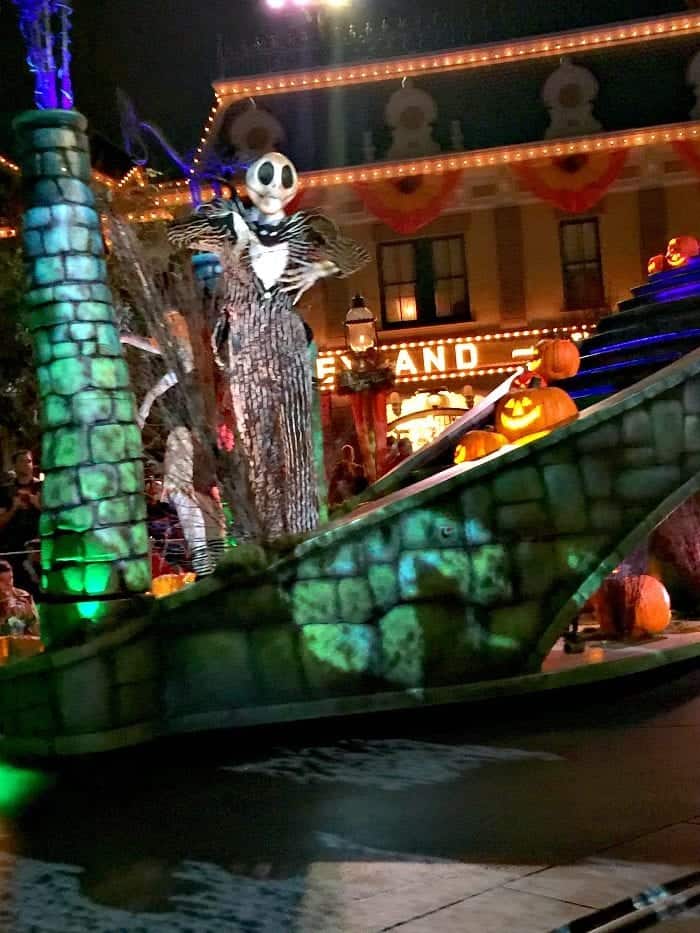 Jack!!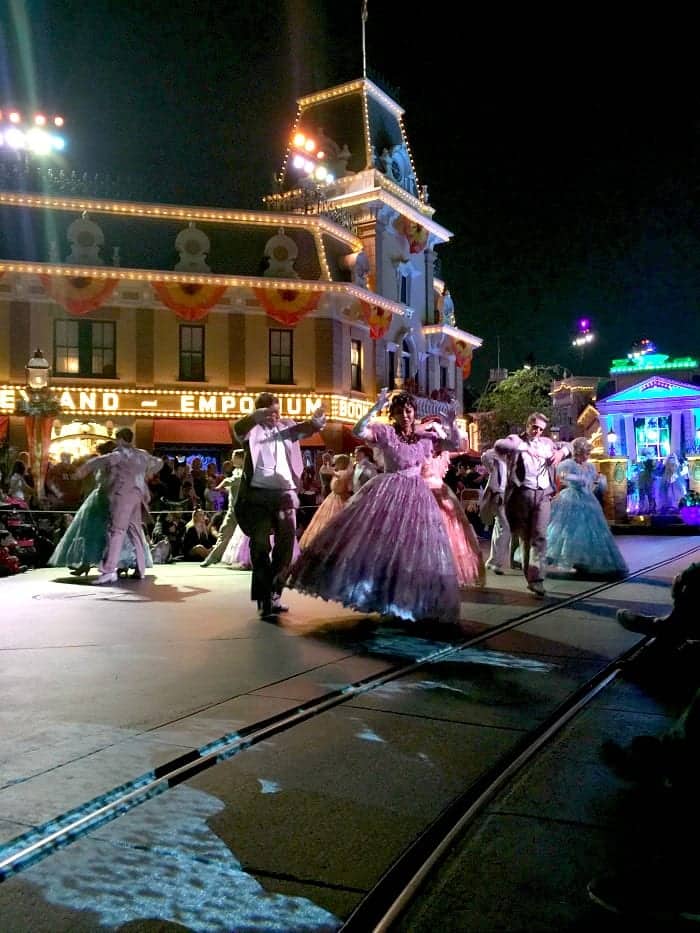 The zombie dancers were my favorite! So great!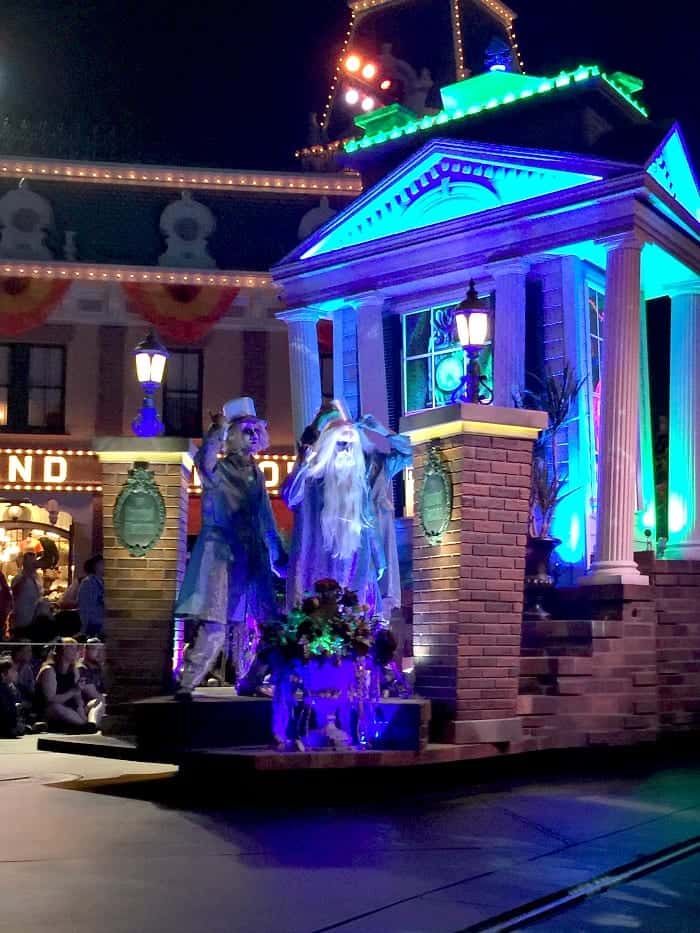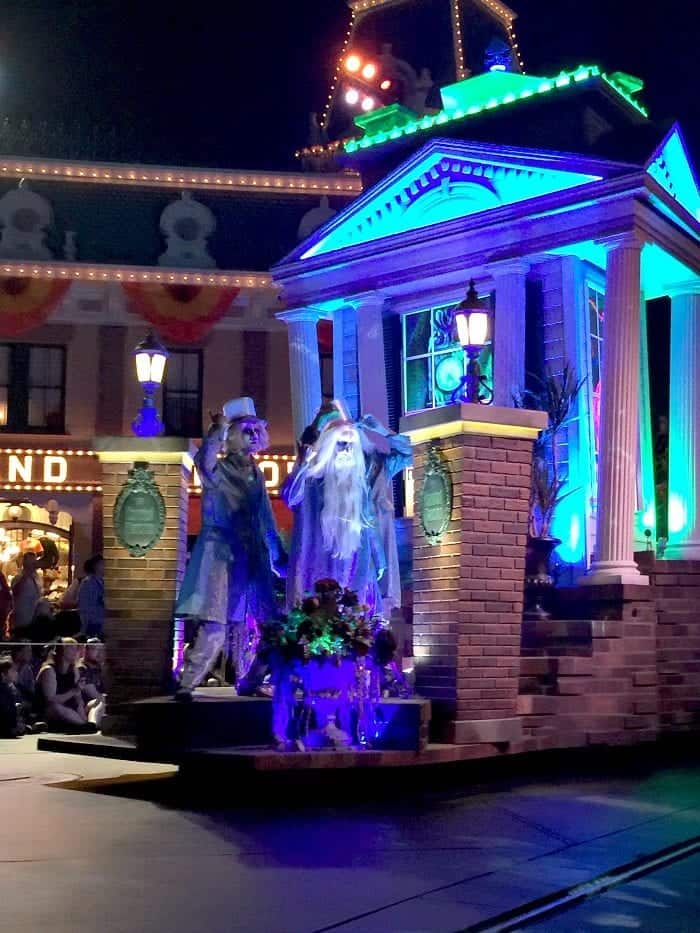 Haunted Mansion hitchhiking ghosts!!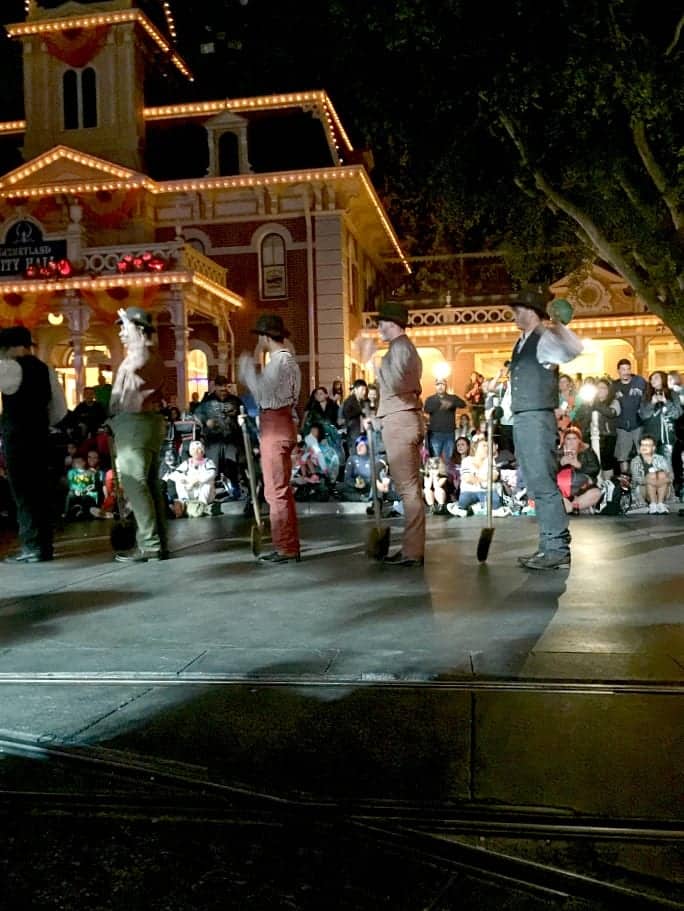 The Grave Diggers drag their shovels through the street and sparks fly! Way cool!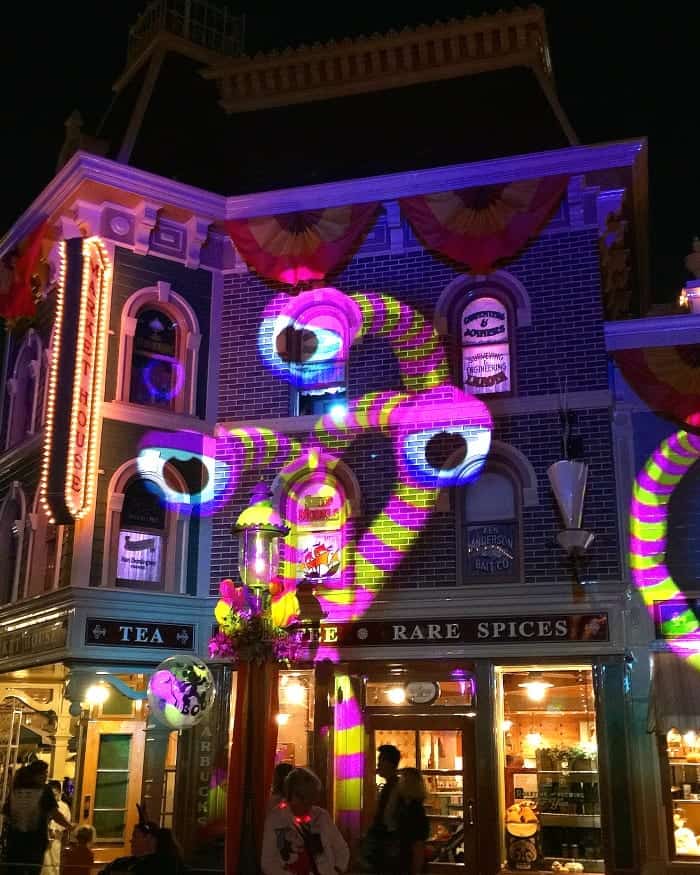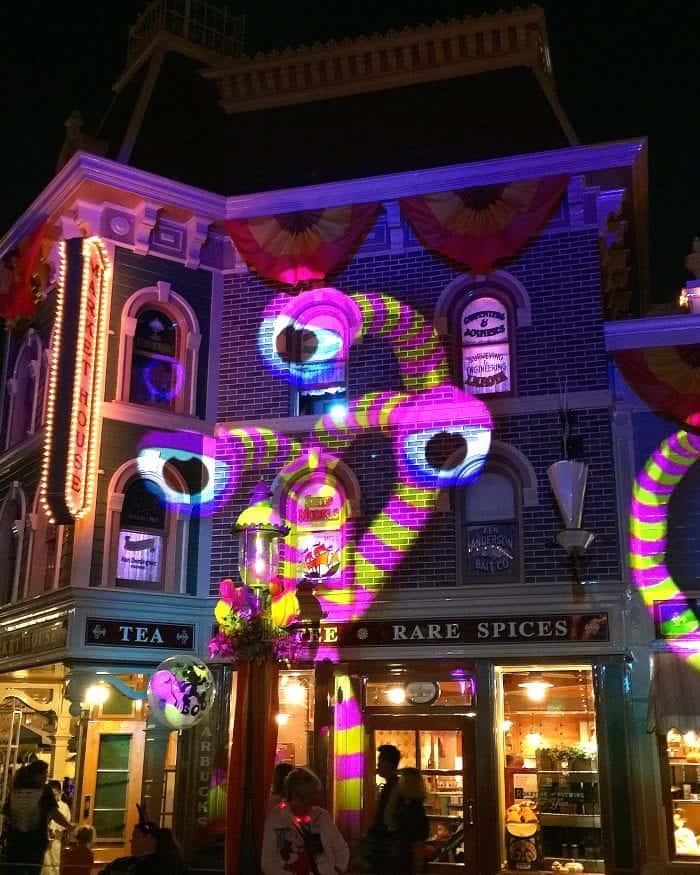 Main Street U.S.A. turns in too a Boo-tastic sight. Frightfully fun music and Halloween images cover the buildings. This was a highlight for me.
Disney Villains at Mickey's Halloween Party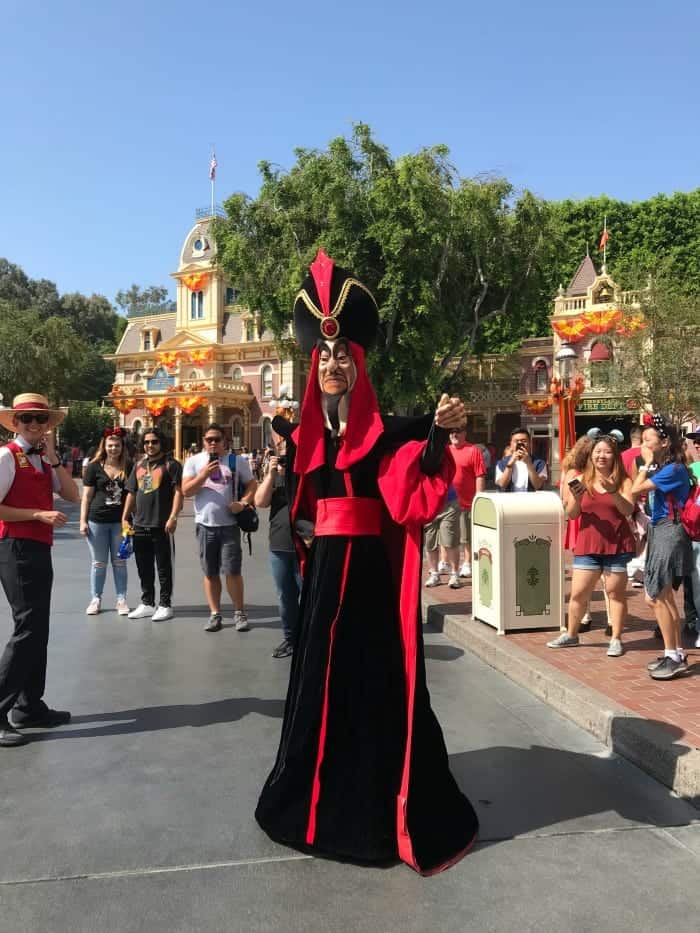 Meet your favorite Disney Villains at "Villains Square on Main Street U.S.A. Lines can get long, so I'd also recommend going as soon as possible for your photo!
Costumed Characters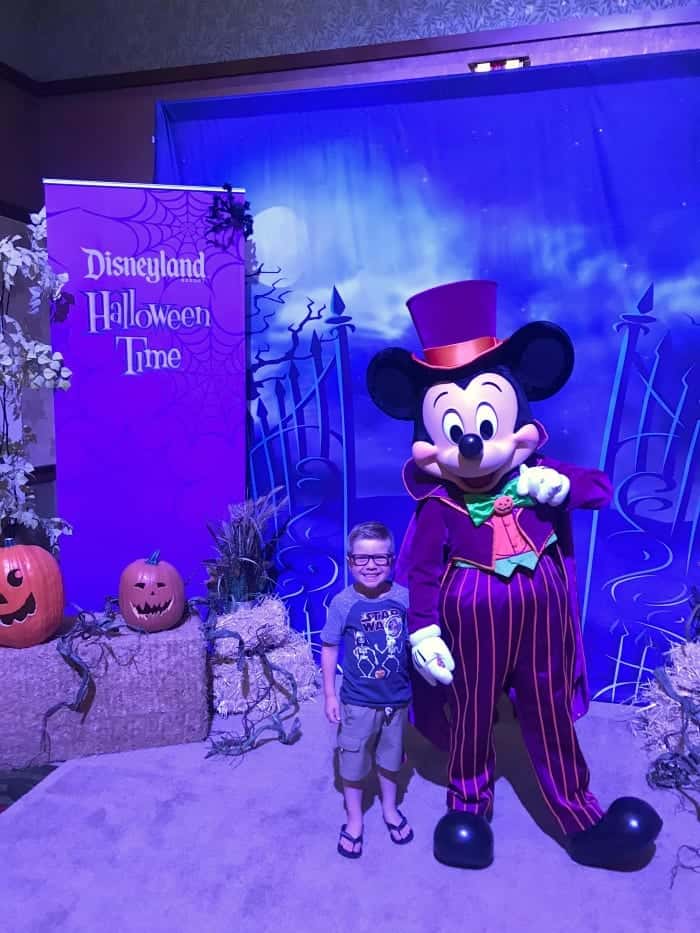 You'll find Mickey and his Pals around Main Street U.S.A. in their Halloween best! Keep an eye out for these cuties for the perfect photo op!
Cadaver Dans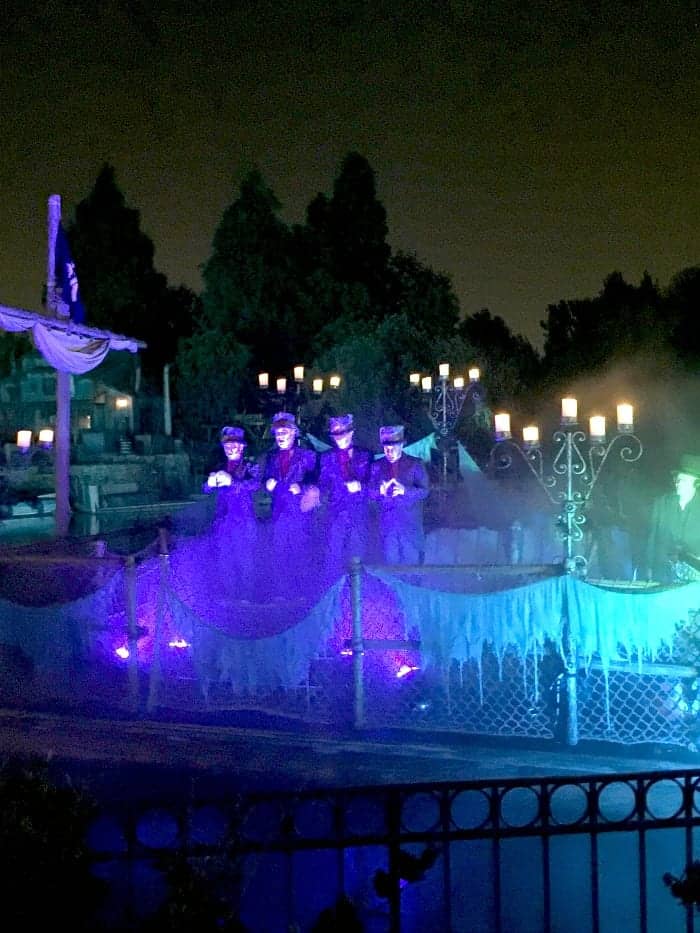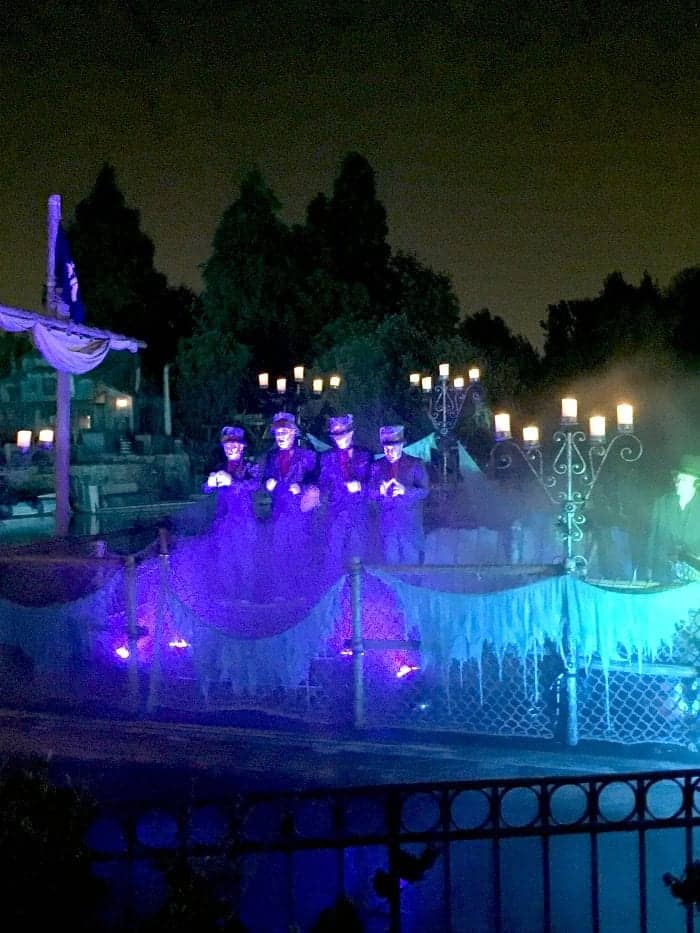 The Cadaver Dans float through the river across from Pirates of the Carribbean singing the best Halloween tunes. These guys rock.
Halloween Attractions
Be sure to check out Disneyland Park's Space Mountain Ghost Galaxy and Haunted Mansion Holiday. Two of our very favorites this time of year!
The Halloween Tree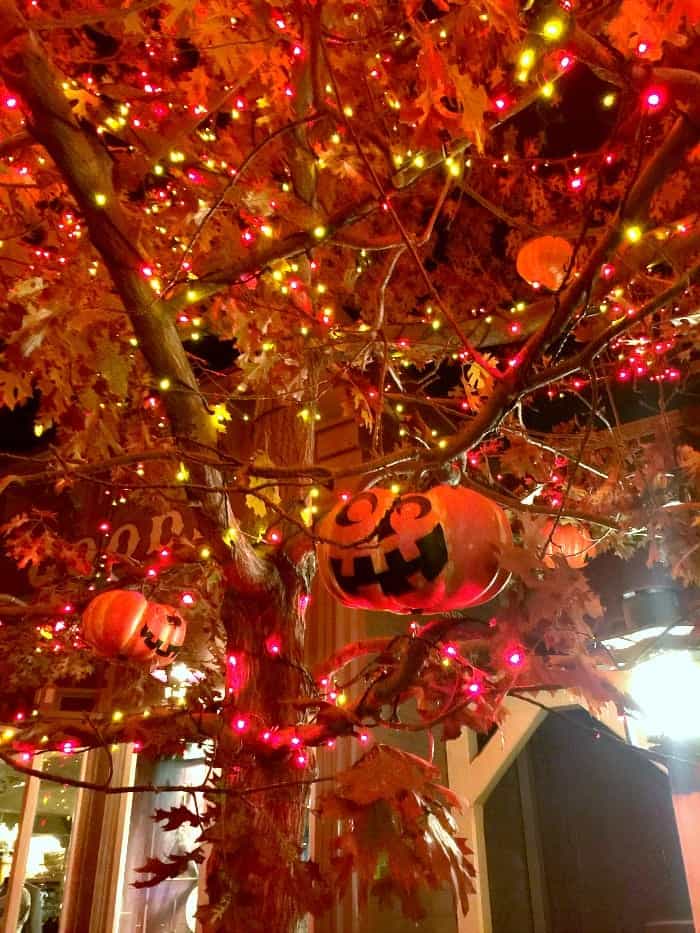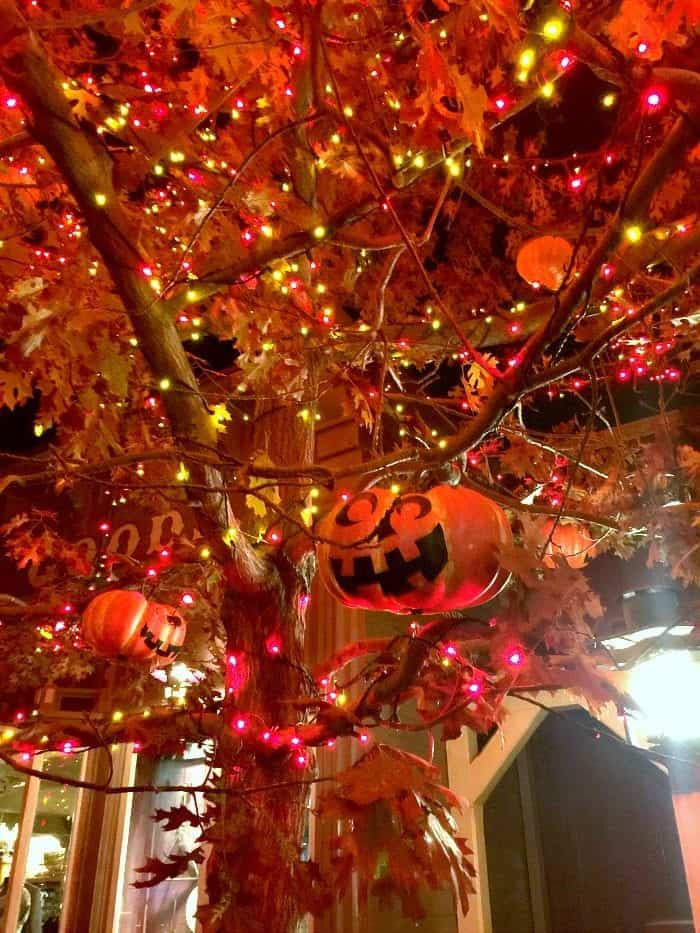 The Halloween Tree in Frontierland is so festive. Be sure to take a look at all of the pumpkin details. Very cool.
it's a small world Projections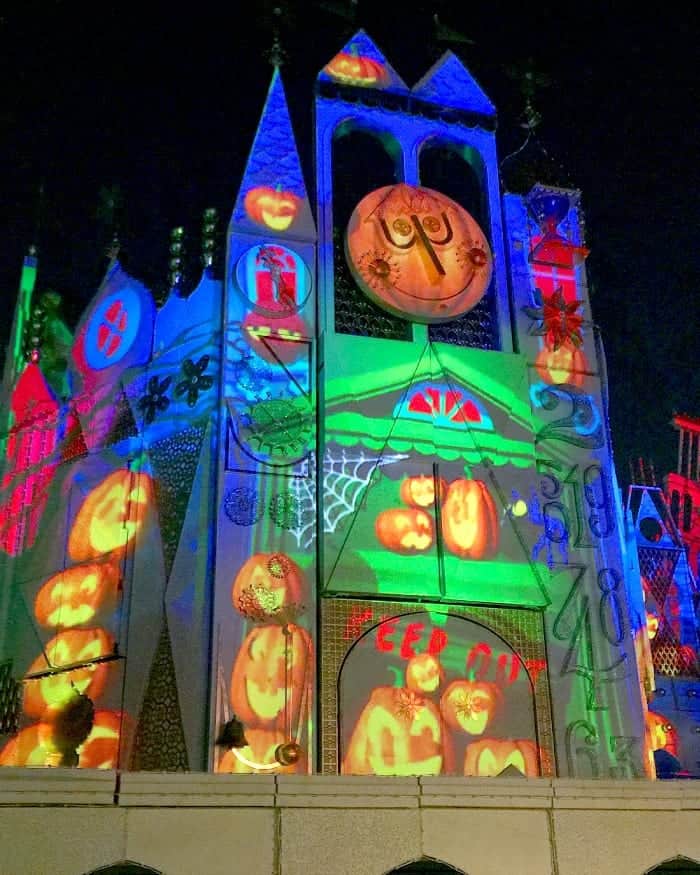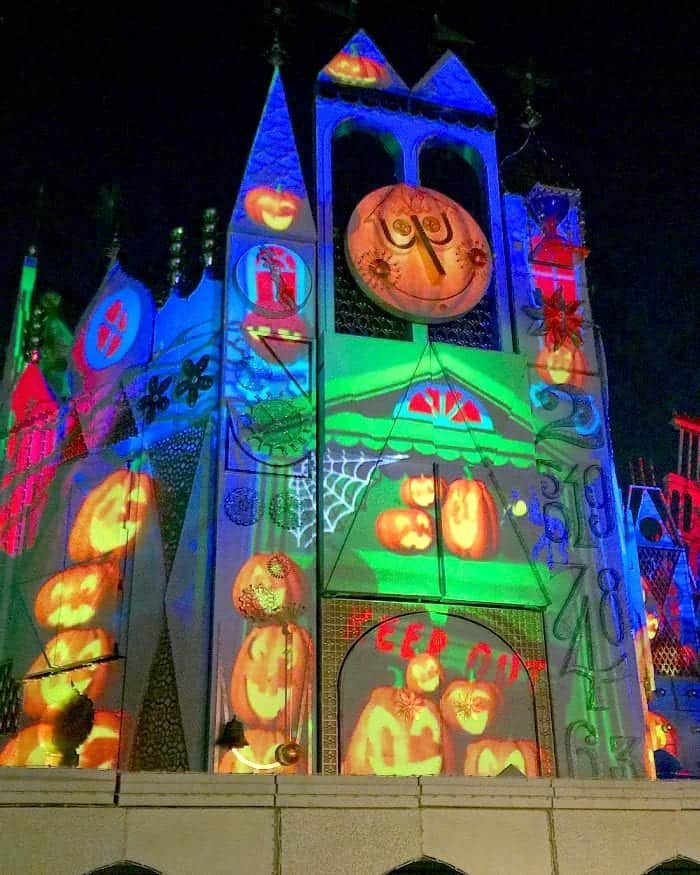 When the parade ended we tried getting a good spot for the Halloween Screams Firework Show, but didn't quite make it. I did catch "it's a small world" decorated for Halloween. How cool is this?
The Halloween Time Food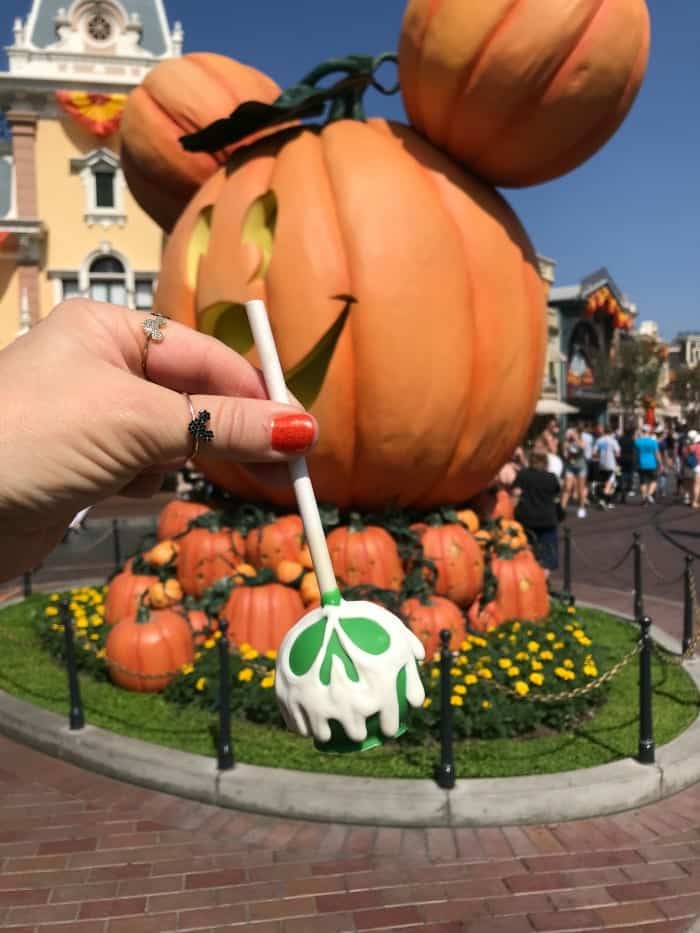 You will find so much fun Halloween Time food and treat options during this time of year. Keep your eyes open for the festive goodies.
See my reviews on the 2018 Halloween Time Food at Disneyland Resort HERE.
Be sure to arrange your Mickey's Halloween Party tickets in ADVANCE. Most party nights sell out especially the closer it gets to Halloween. If you missed this year, there's always next year. It is such a highlight for us! Enjoy!
Pin to your favorite Disneyland Board!