Sharing my experience – Disneyland Halloween Time Food Guide 2018!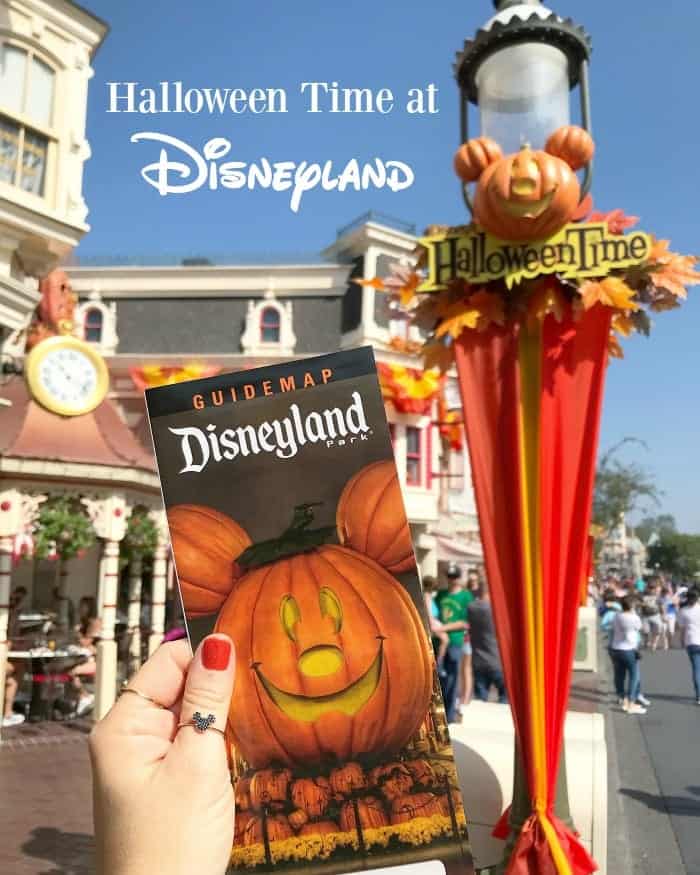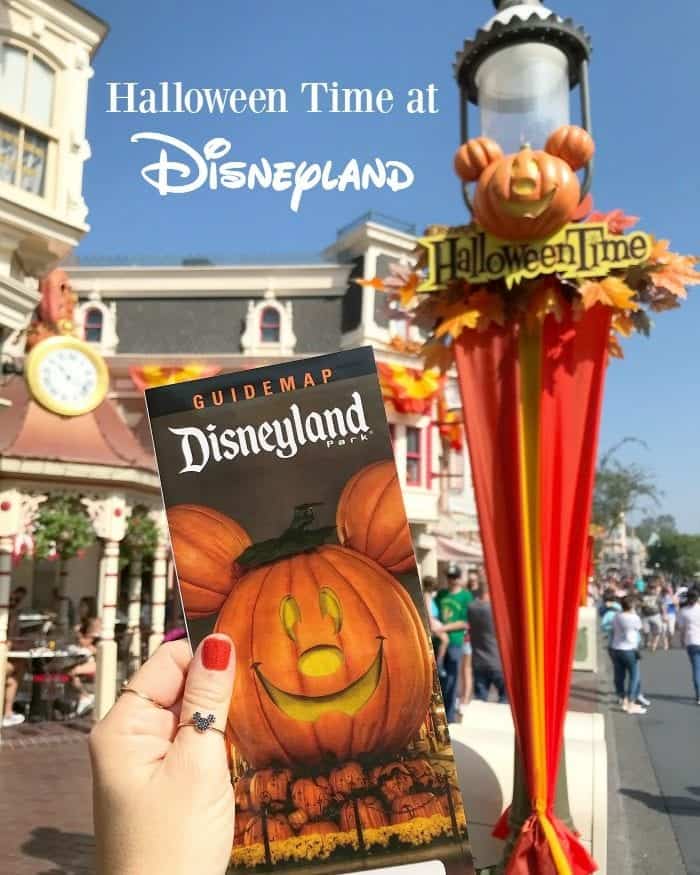 It's absolutely no secret that Halloween Time at Disneyland Park is one of my favorite times to visit ALL YEAR. It is so festive with the colorful banners, pumpkins lining Main Street U.S.A. and so many other Halloween details throughout the Parks. It is absolutely a must in my book. Now onto the FOOD! I swear every year Disney gets more and more delicious sweets and eats for us to try. I've eaten LOTS of what's to offer this season, so let's take a look at some of my favorites. I'll be adding to this in the coming weeks, so stay tuned!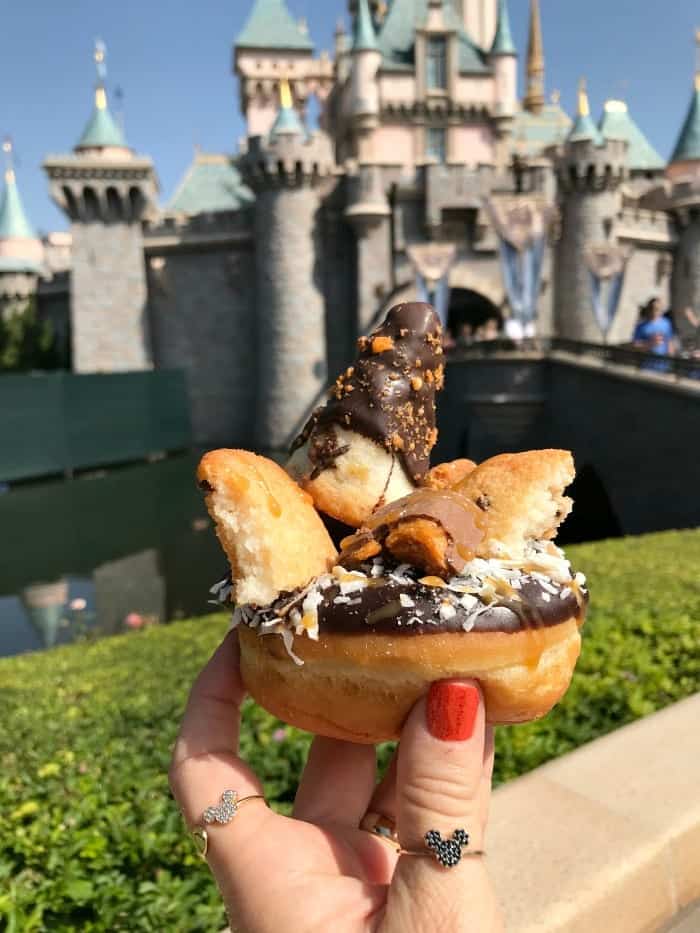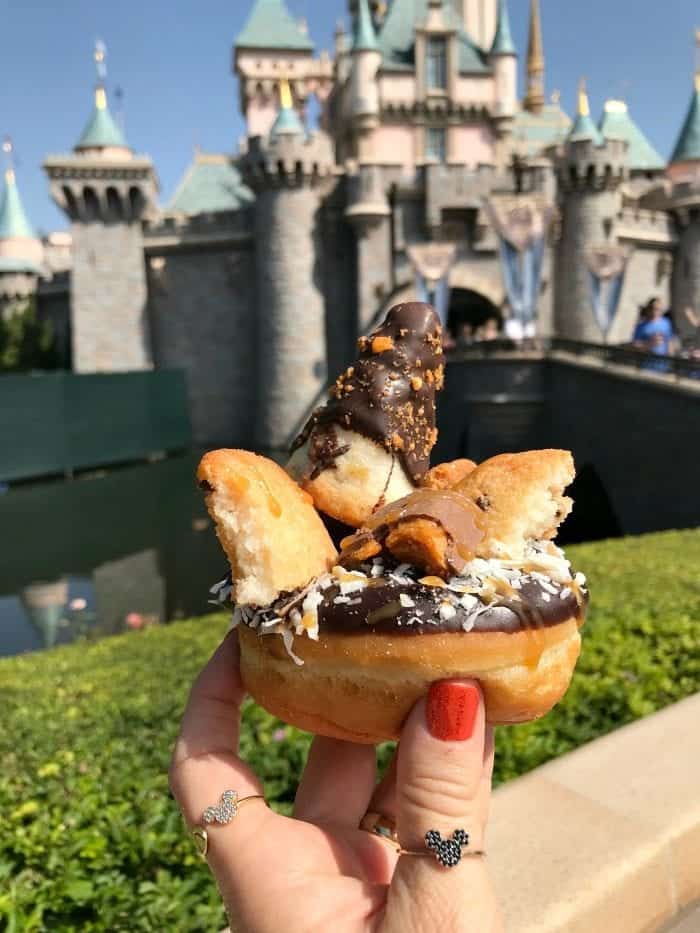 First off, not necessarily part of the Halloween Time Food offerings, but this Dark Avalanche Doughnut just showed up at the Coffee Cart near the entrance of Frontierland. It was fantastic with the dark chocolate covered Matterhorn Macaroon, Butterfingers and even Macaroon Chocolate Chip Cookie pieces. It's loaded with all kinds of goodies. I highly recommend sharing this one.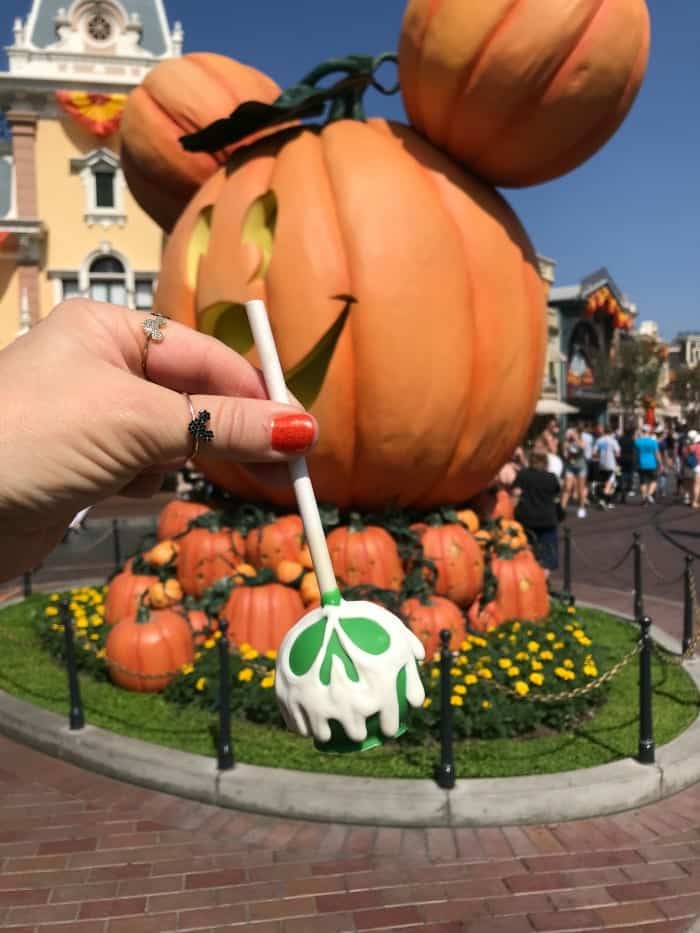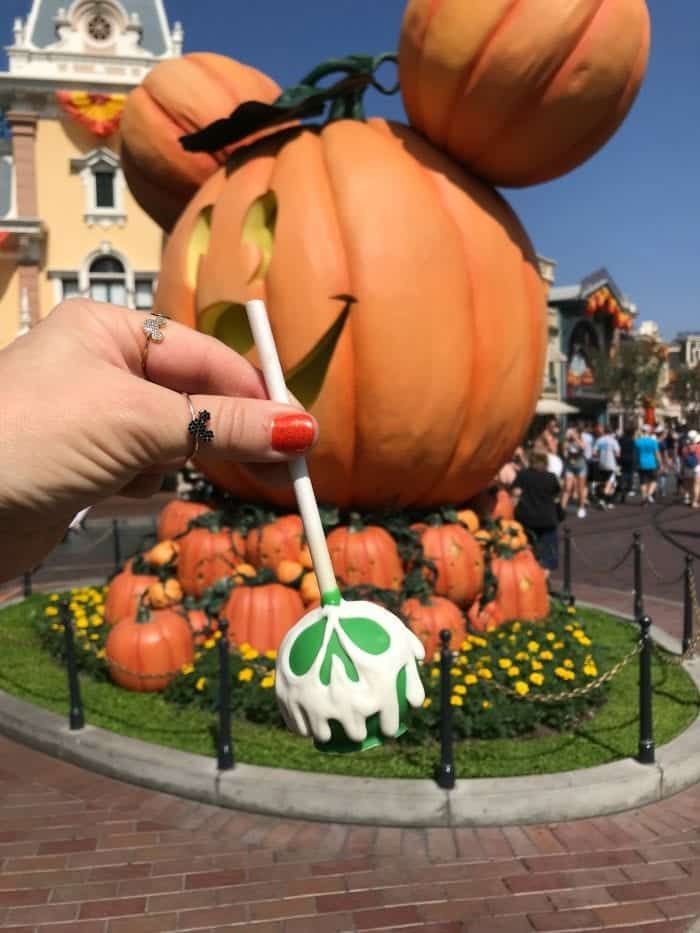 The bakeries at the Parks are stocked with some of the most adorable cake pops, crispy treats, cookies, cupcakes and more! Be sure to stop by Disneyland's Candy Palace, Pooh Corner and Disney California Adventure Park's Trolley Treats to see everything. This Poison Apple Cake Pop is delicious and makes a pretty cute photo too 🙂 The inside of mine was red velvet. Ask the Cast Member when ordering.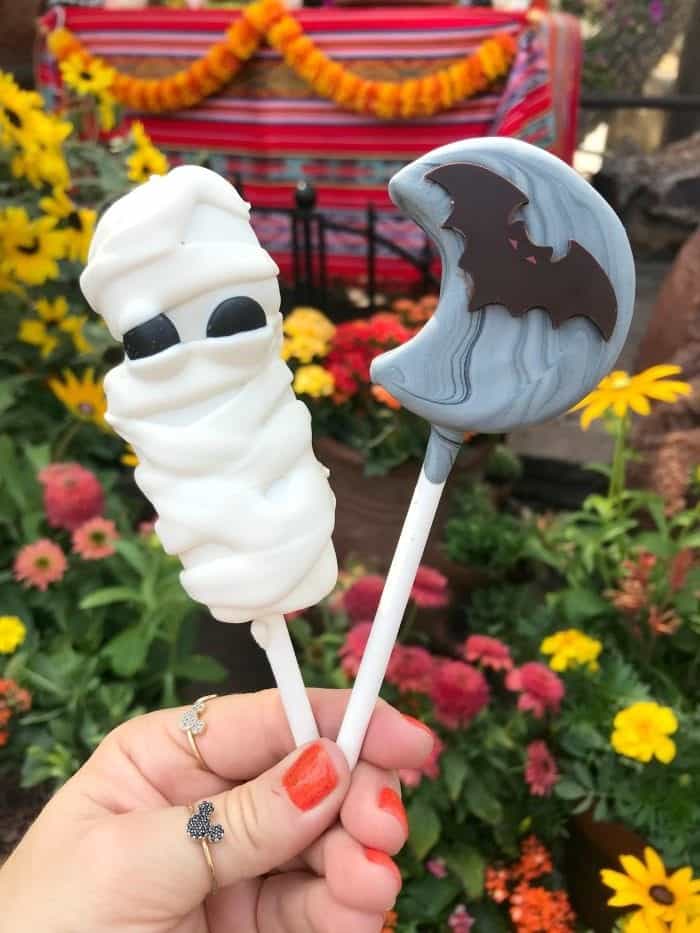 More adorable bakery options. Mummy Marshmallow Wand and the Bat Cake Pop. Found at the same bakeries as listed above. Be sure to check out Marceline's Confectionery in Downtown Disney District as well.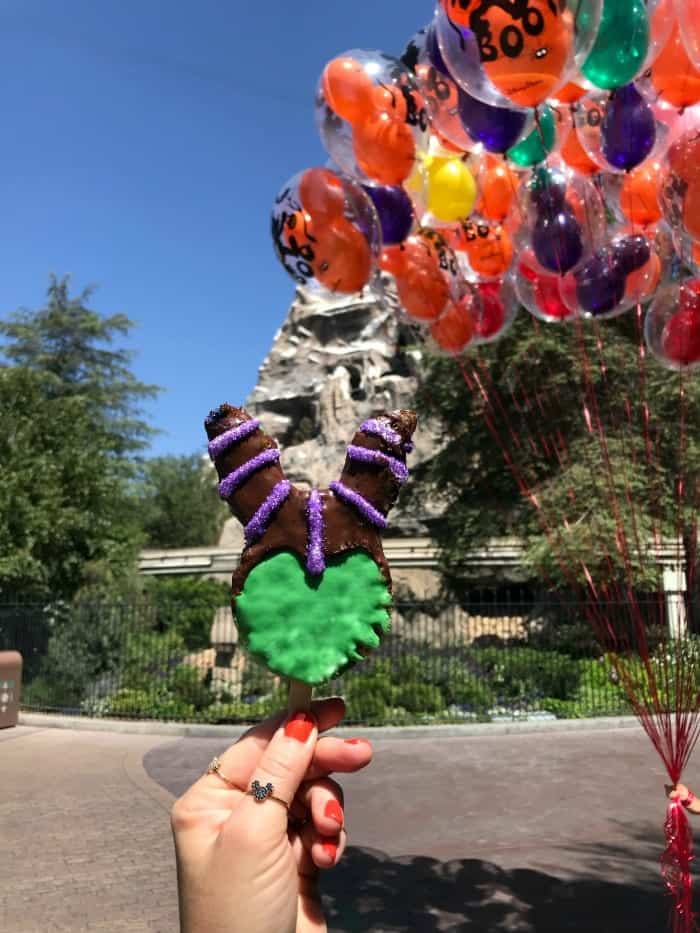 How adorable is the Maleficent Crispy Treat?! Makes the perfect snack and again, literally adorable.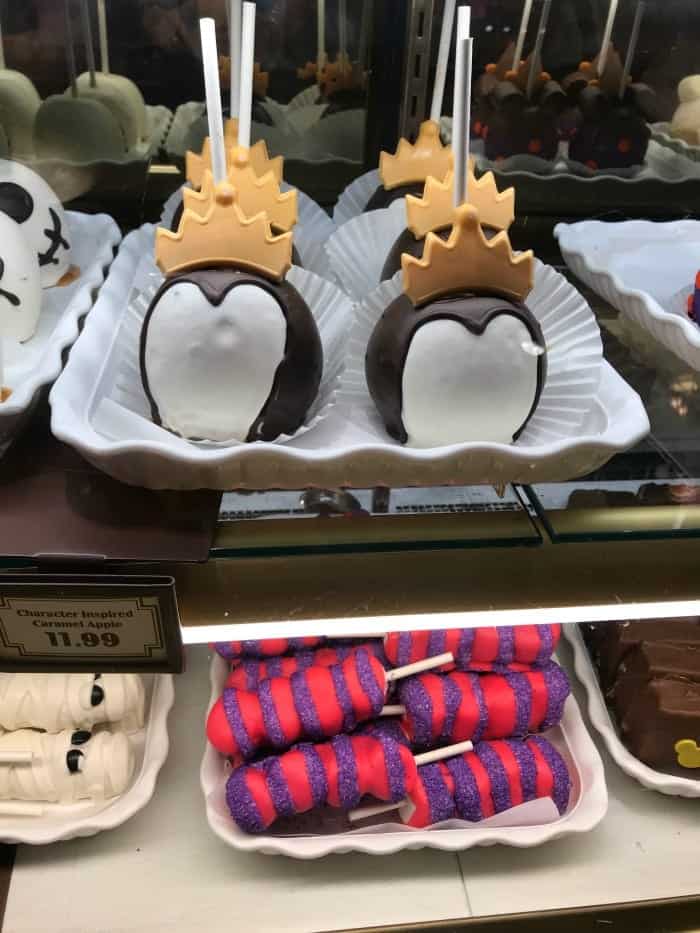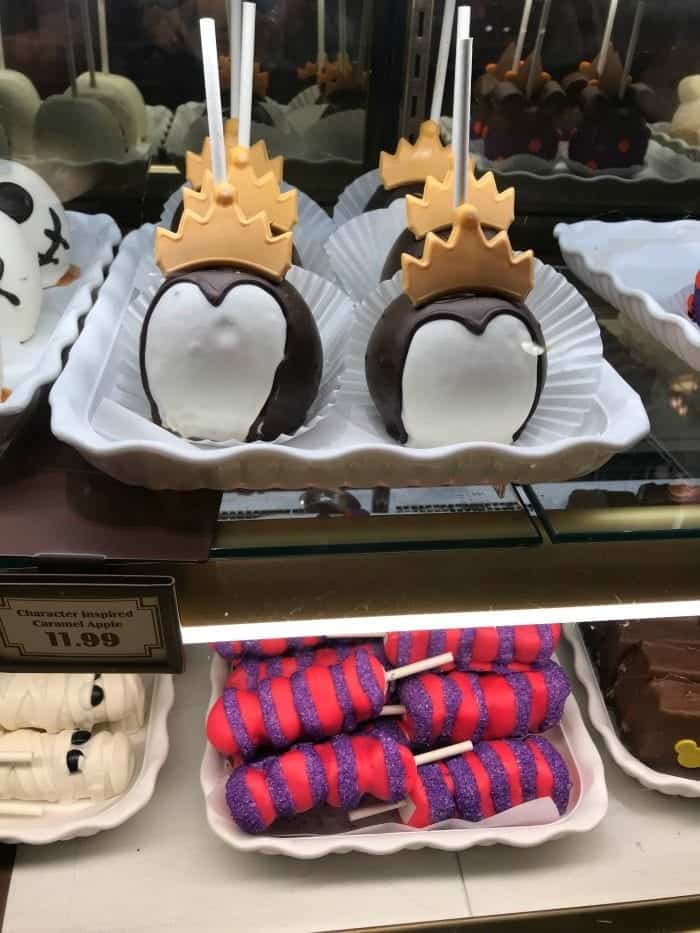 I rarely get the Gourmet Apples when I'm at the Parks, but I LOVE peeking at what they have at the bakeries. So so cute for Halloween Time!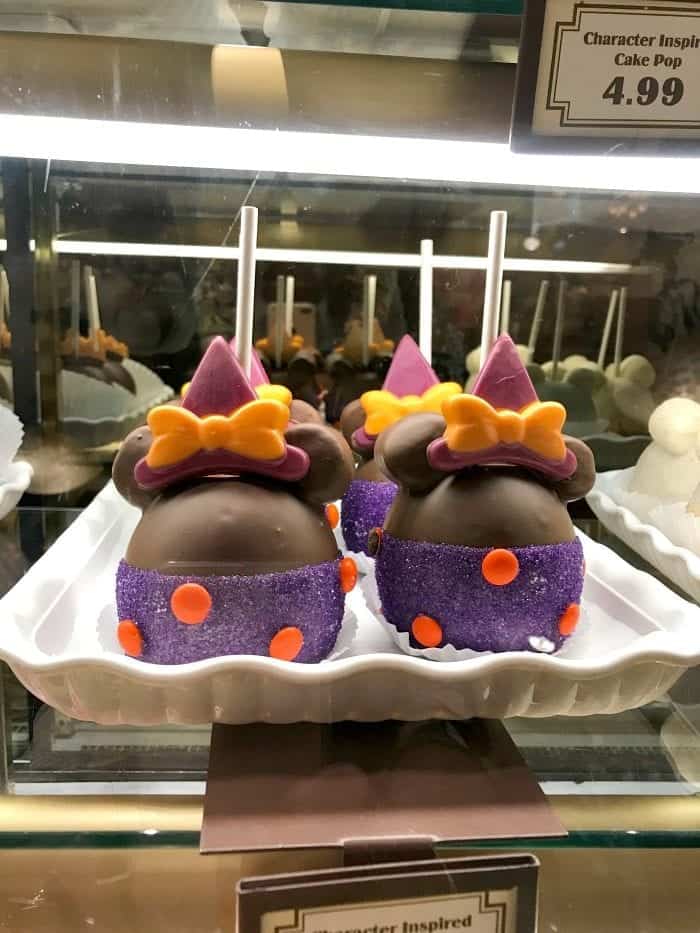 The Minnie Mouse Witch….I mean so so cute!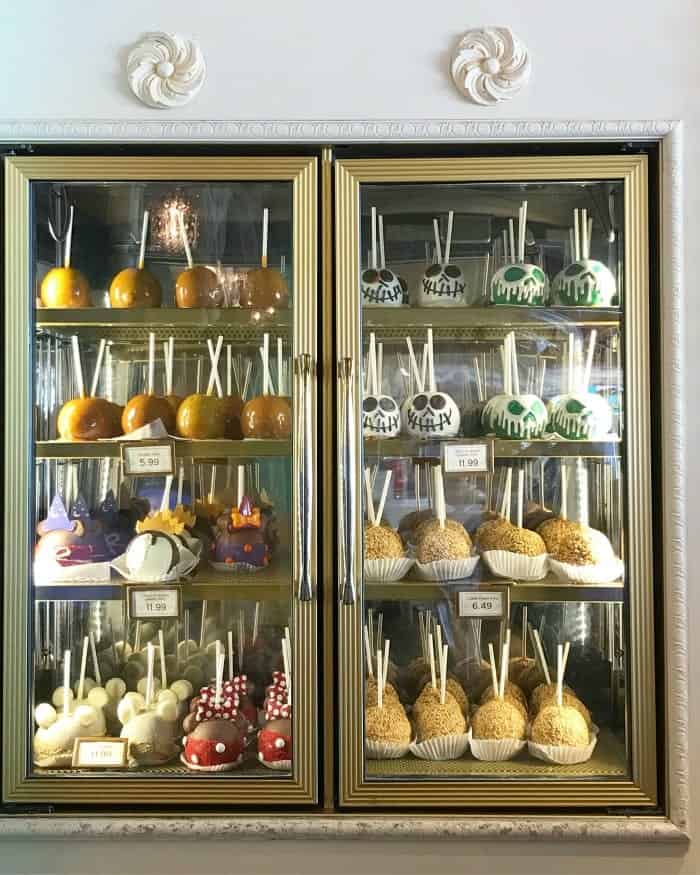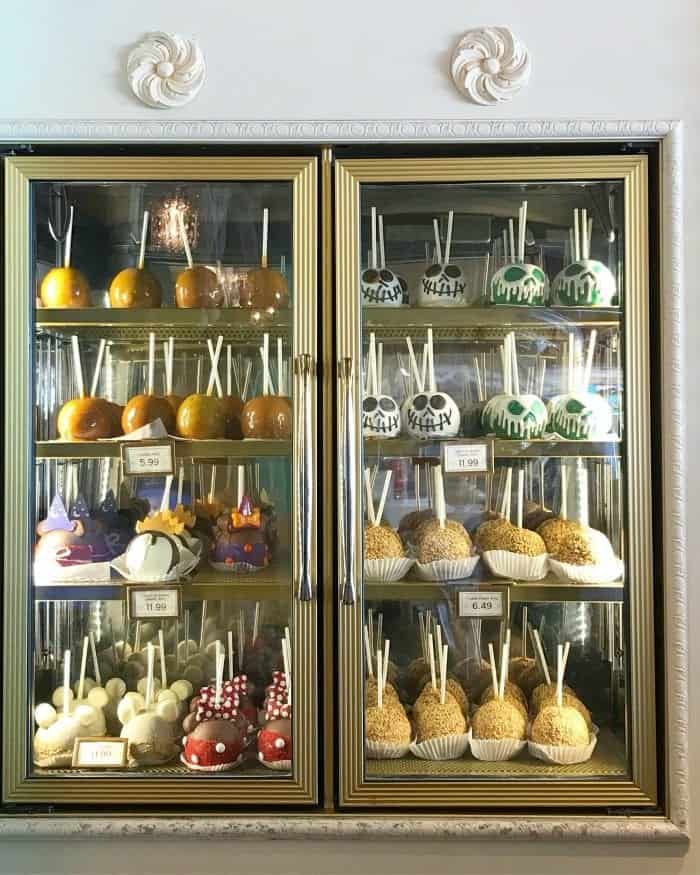 One of each please, lol!! This is the Apple display at Candy Palace near the slush machines 🙂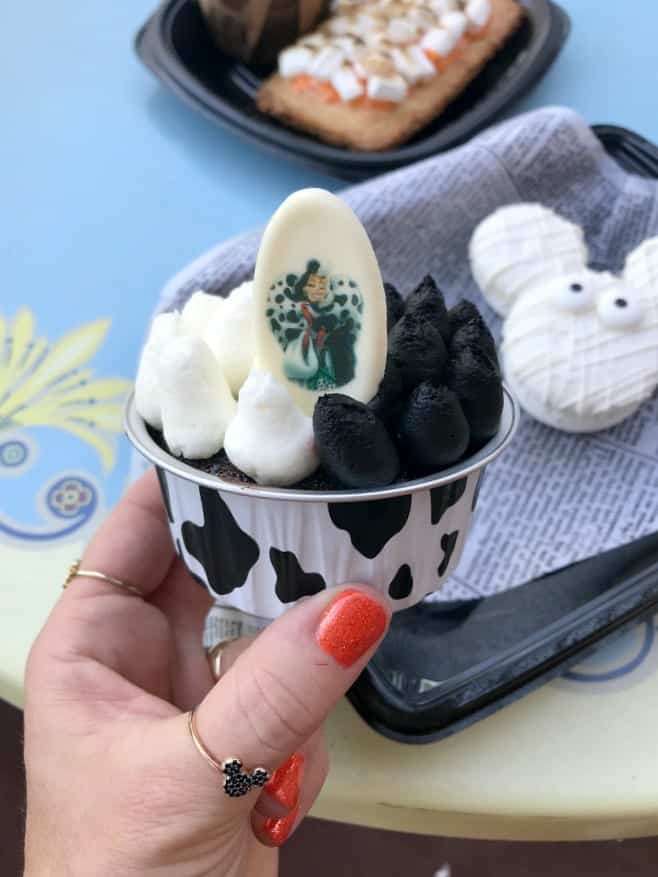 Jolly Holiday Bakery Cafe has lots of delicious Halloween Time treats to try. This is the Cruella Brownie. It's topped with black and white chocolate mousse! Mmmmm!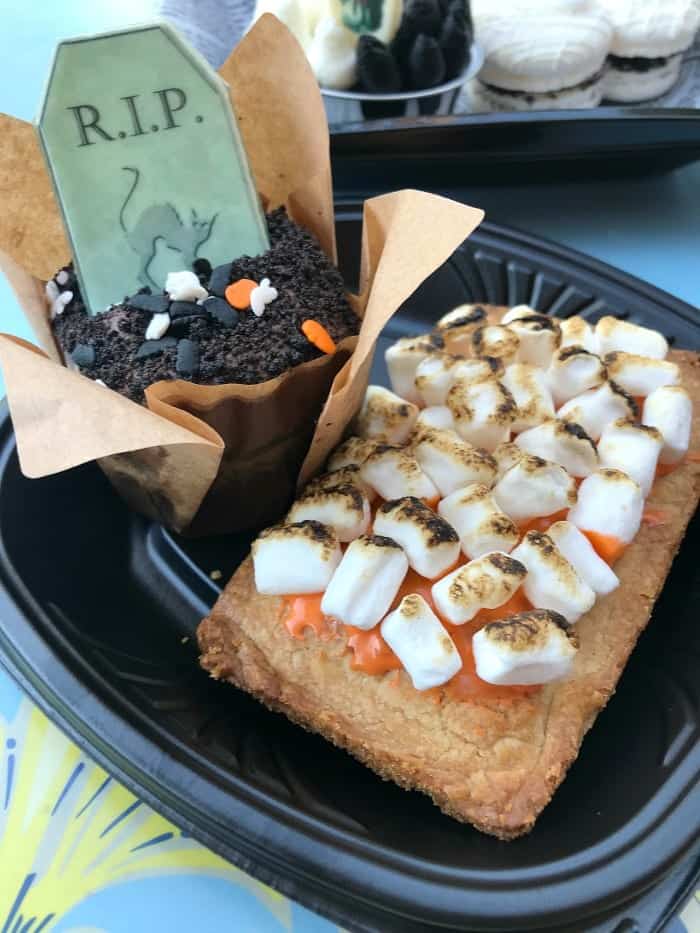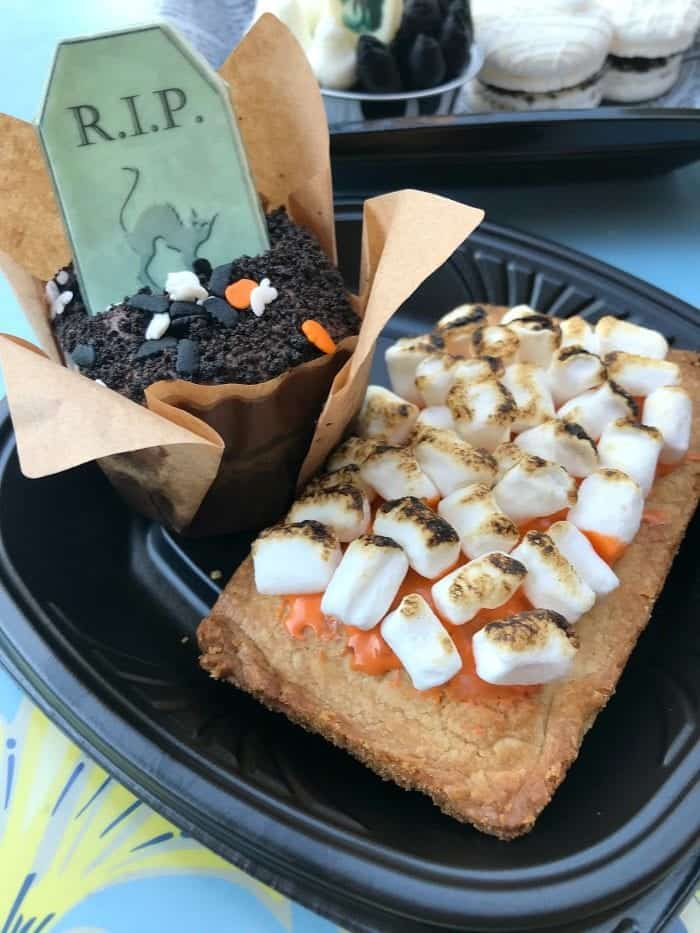 This is the Graveyard Cupcake and the Sweet Potato Hand Pie. Really liked the hand pie. Tasted like pumpkin pie to me!
Here's a peek of the inside of the Sweet Potato Hand Pie. Loved it.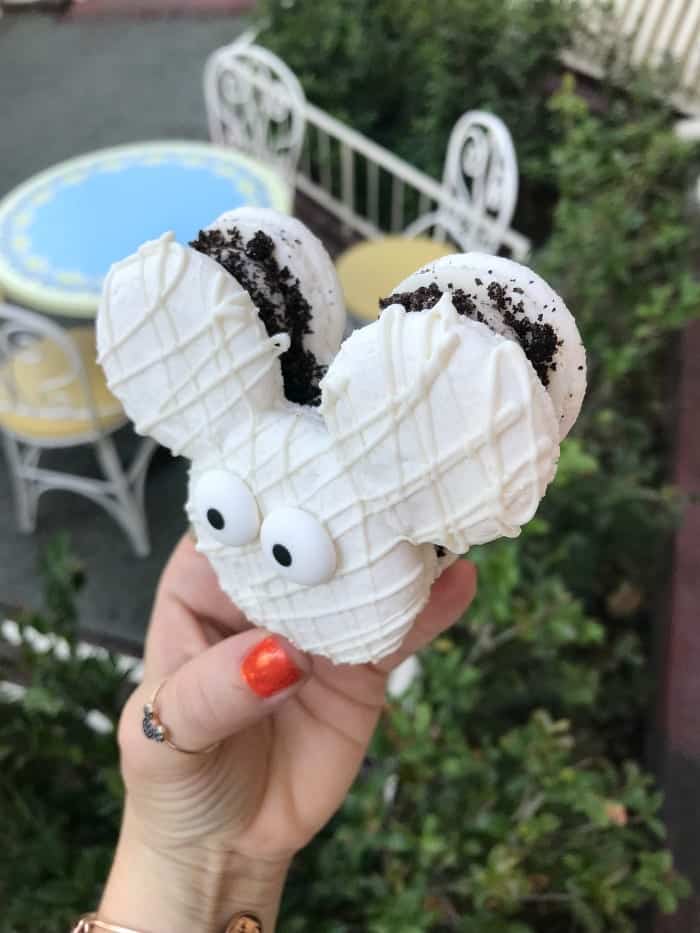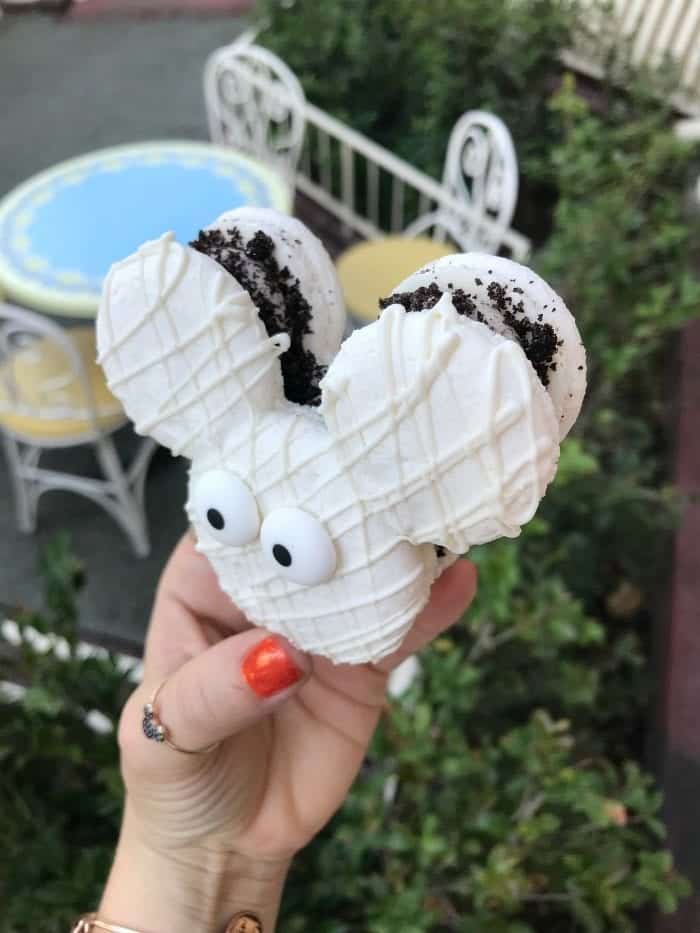 The Mummy Macaron got a little make-over this year with a cookies and cream filling. It's delicious. Would order this one again for sure.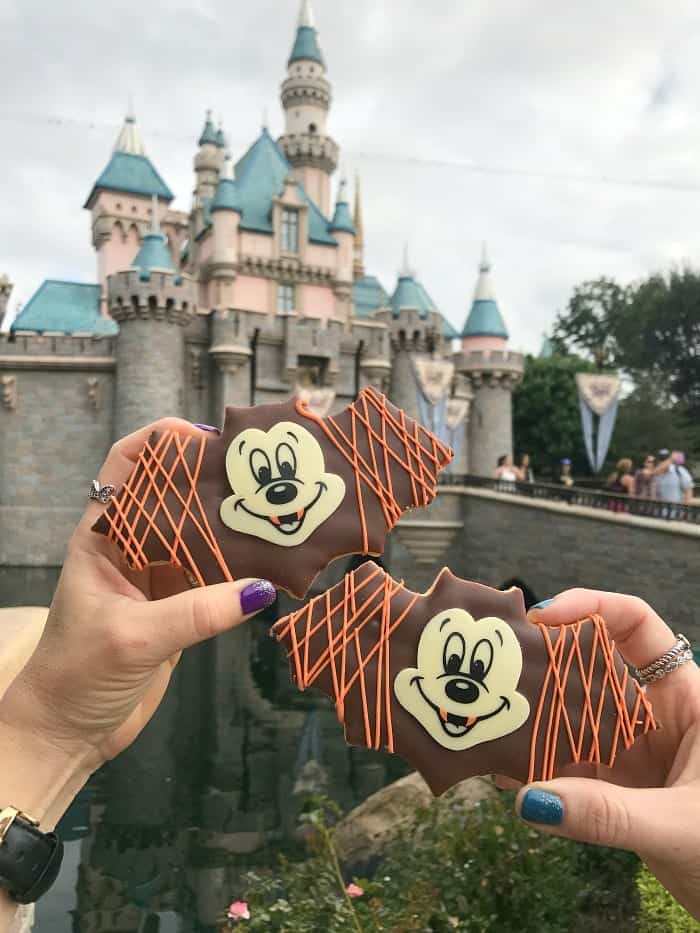 Jolly Holiday has these adorable Bat Mickey Sugar Cookies. Always a fun snack!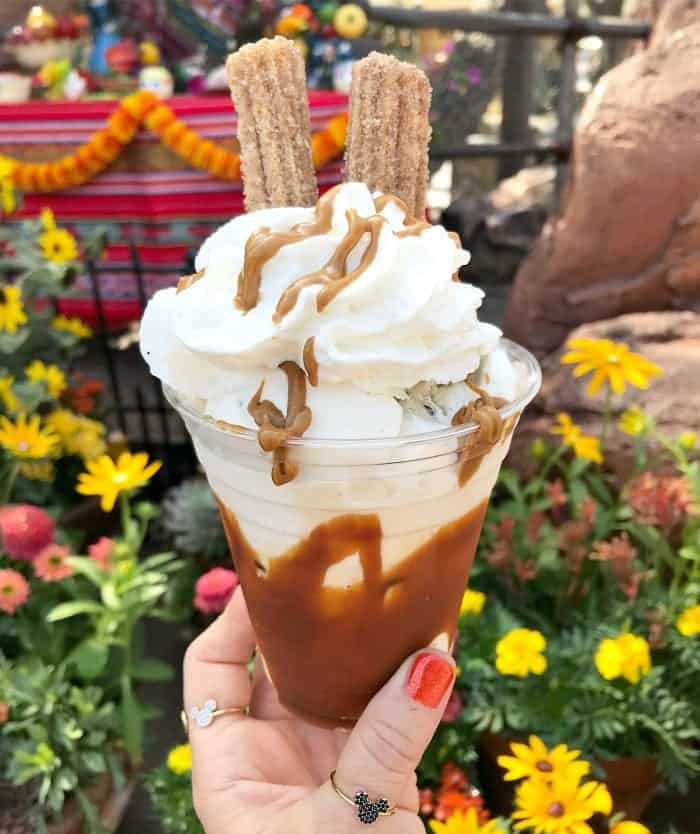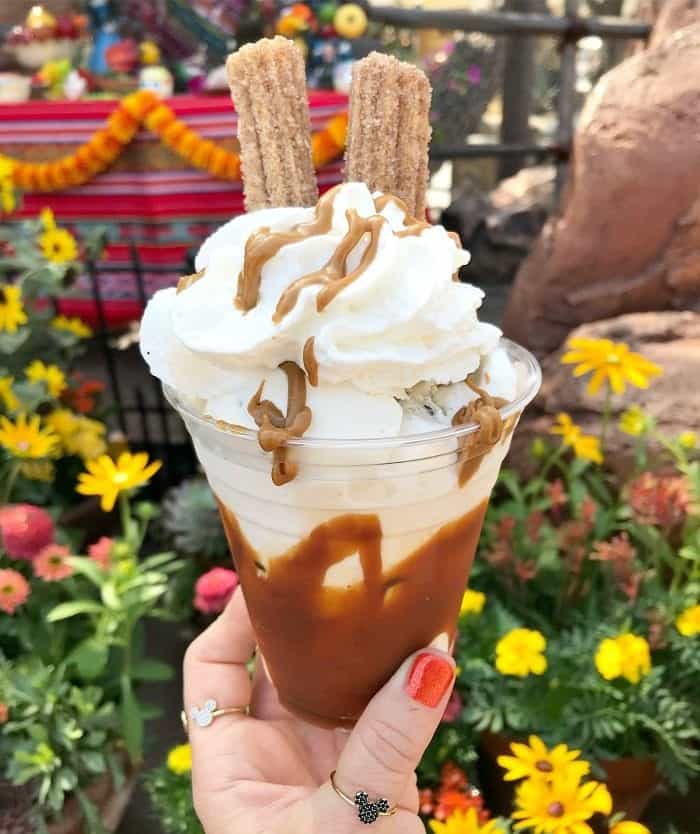 Over at the Golden Horseshoe, you can get the Churro Sundae. This was one of my very favorite things of EVERYTHING we tried! Don't miss this one. The Churro Sundae has a cookie butter drizzle garnished with a cinnamon sugar-dusted churro and topped with cajeta and whipped cream. The ice cream has cookie dough pieces which was an awesome surprise.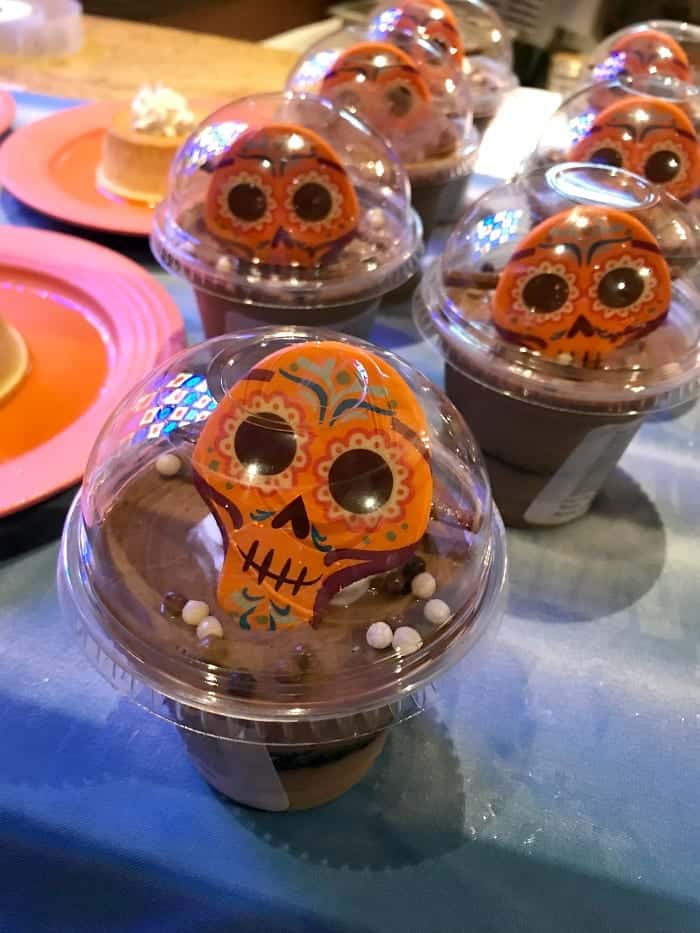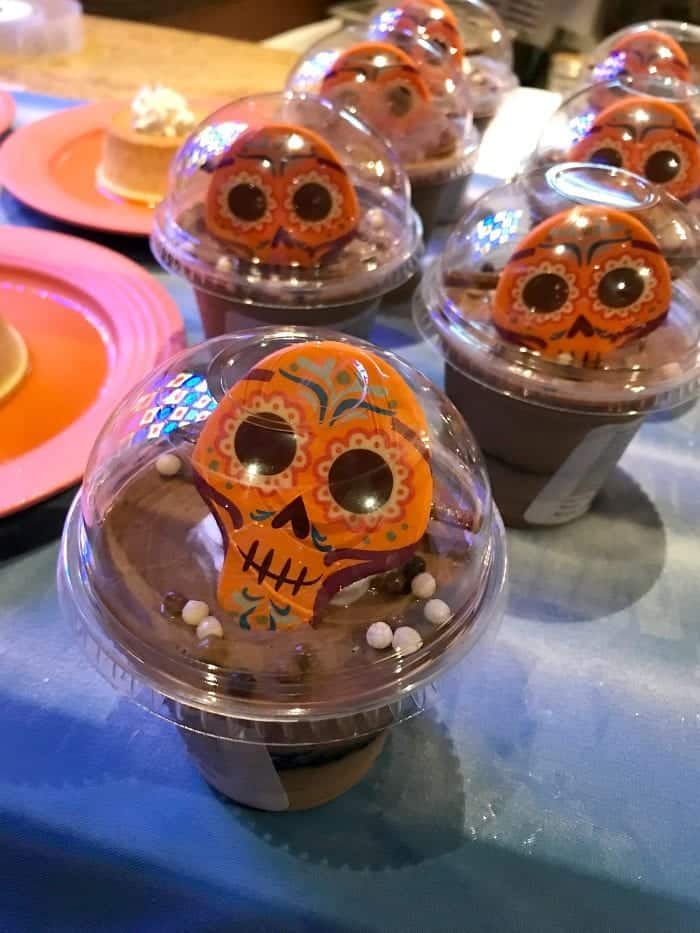 Over at Rancho Zocolo in Frontierland, you can get this Orange Sugar Skull Pot de Crème.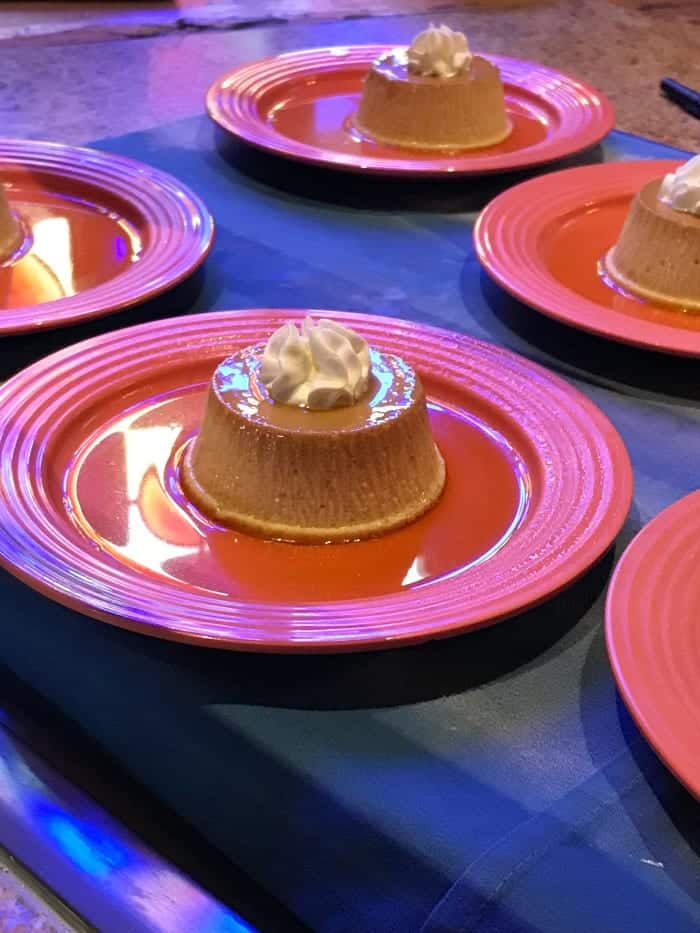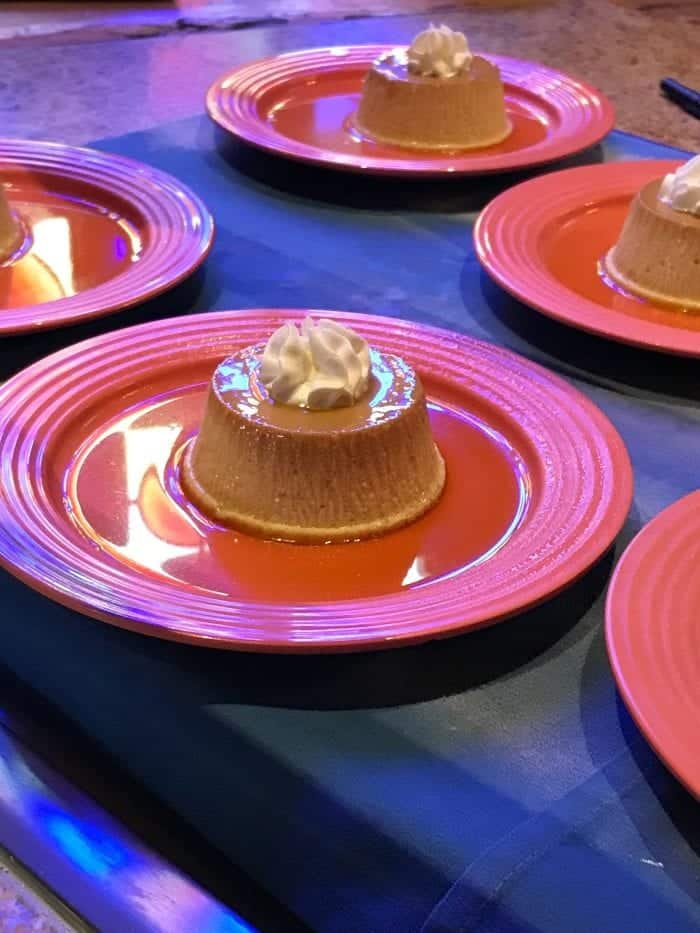 They also had this tasty looking Flan!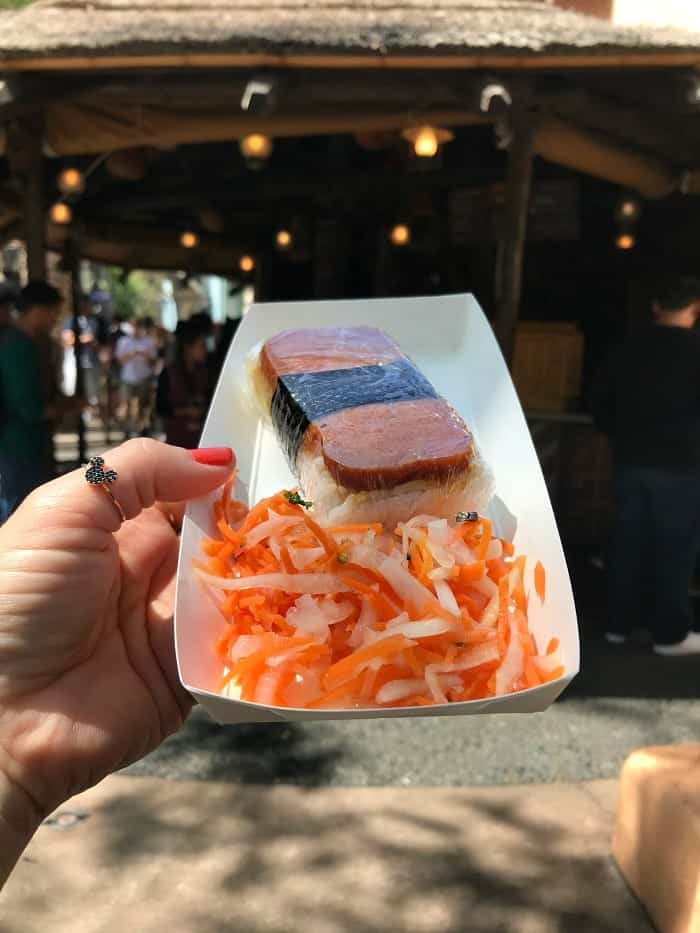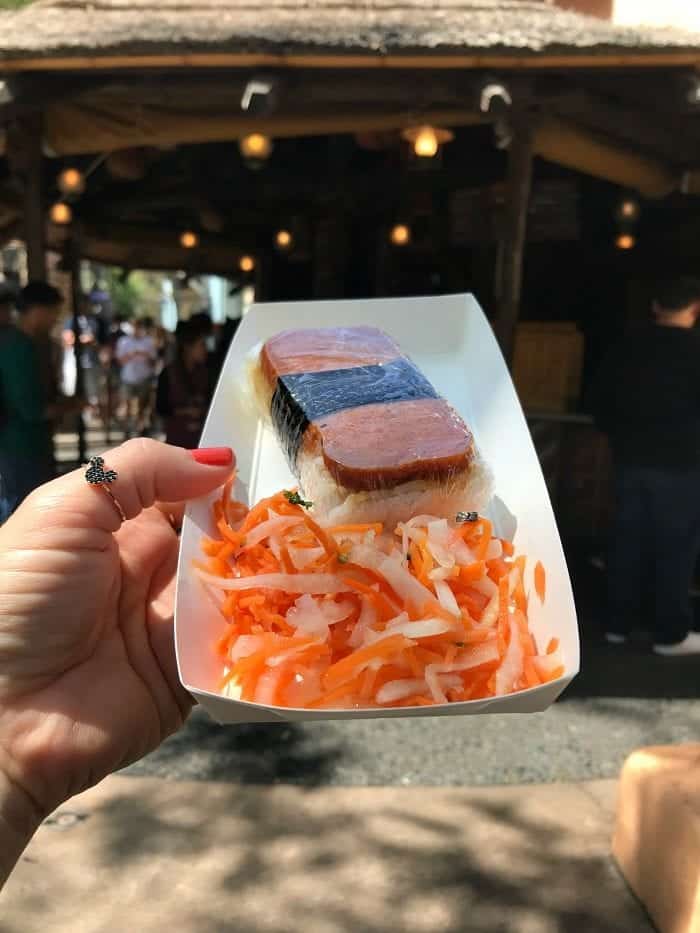 I tried the Musubi Special from Bengal Barbecue in Adventureland. It's not served warmed up so keep this in mind. I liked the flavors but it wasn't my favorite food of the day. Musubi Special – spiced ham musubi with lemongrass jasmine rice and pineapple teriyaki sauce and served with pickled daikon and carrots topped with furikake flakes.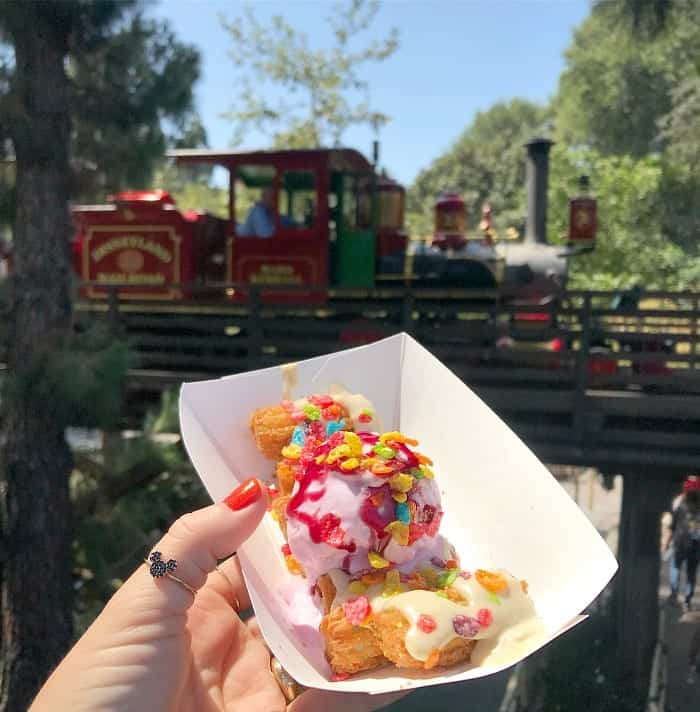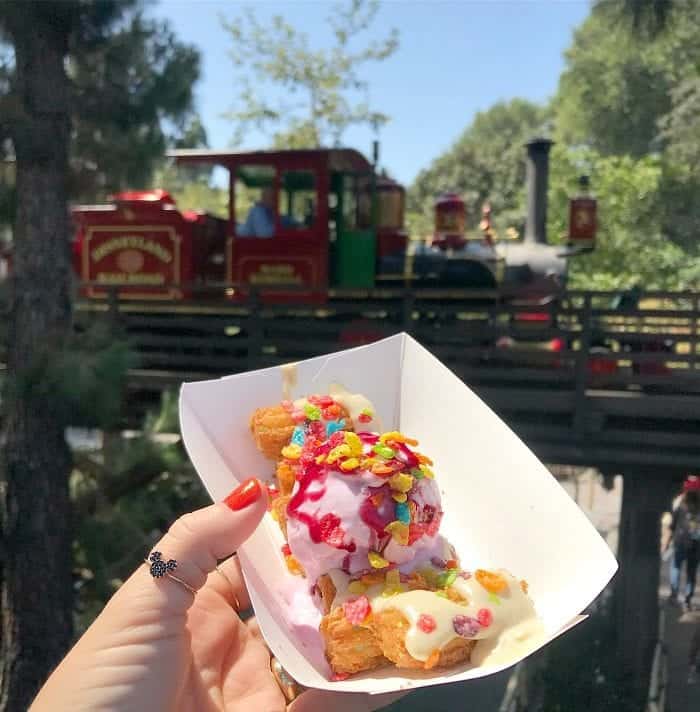 We headed over to Critter Country to try Hungry Bear Restaurant's Churro Bites Cereal Sundae! LOVED this one as well. Usually is served with bananas, but ours didn't come with them. Didn't ruin the dessert at all. Super yum!! The Churro Bites Cereal Sundae has fruit cereal-dusted churros, cereal milk anglaise, strawberry ice cream, and raspberry sauce.
Halloween Time Churros!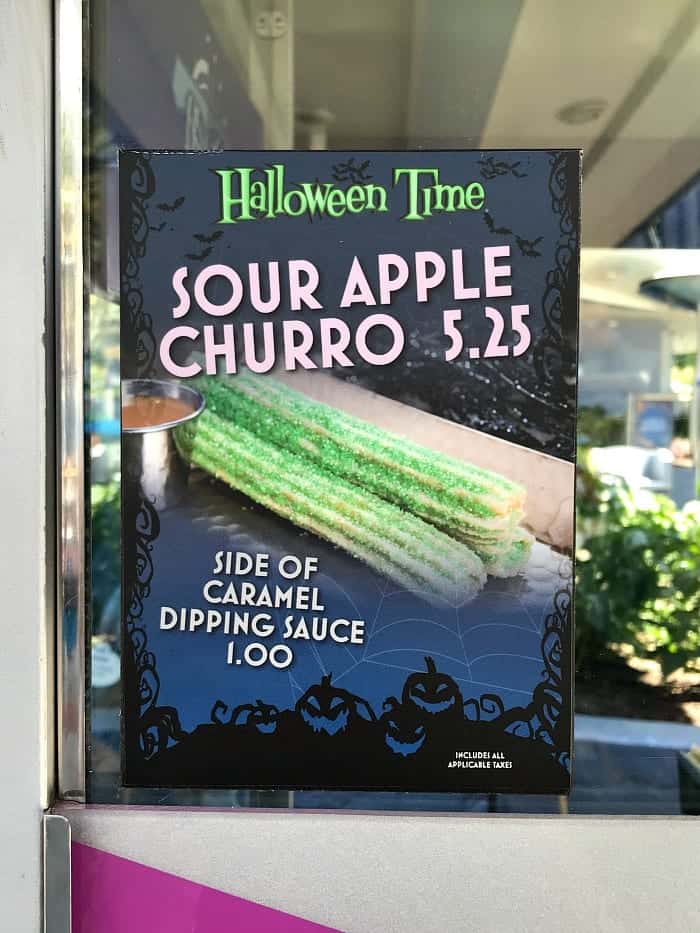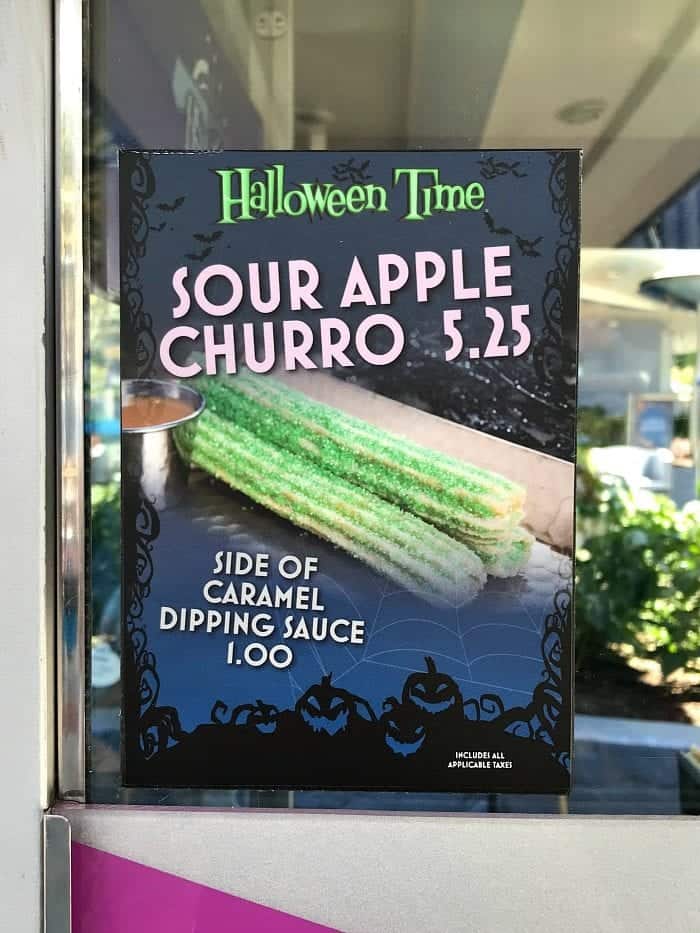 There are so many fun churros to try! Buckle up and make a list. My favorite churro this year for Halloween Time is definitely the Sour Apple Churro with the Caramel Dipping Sauce.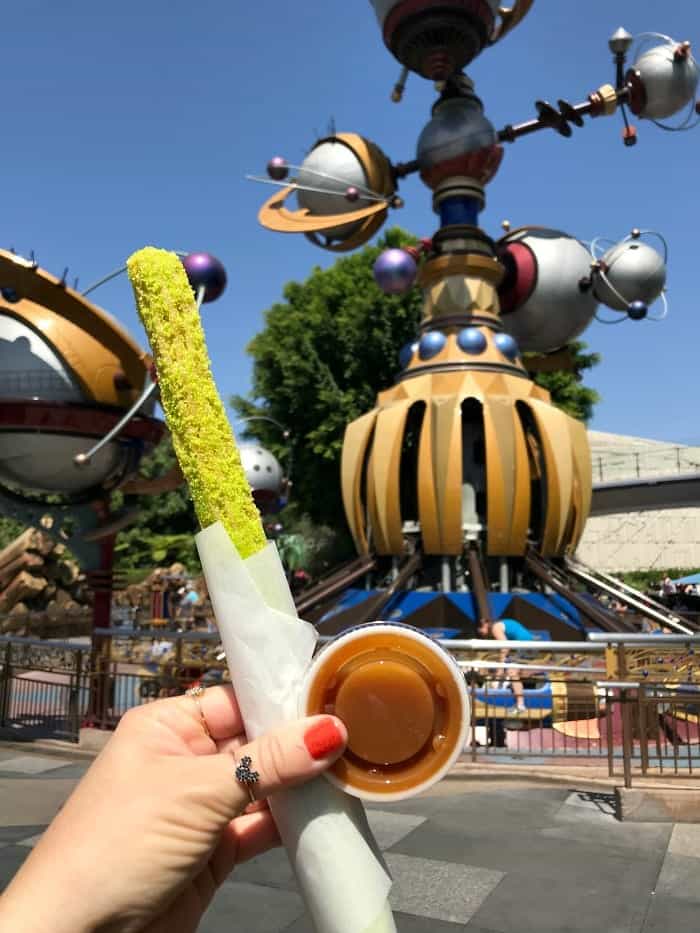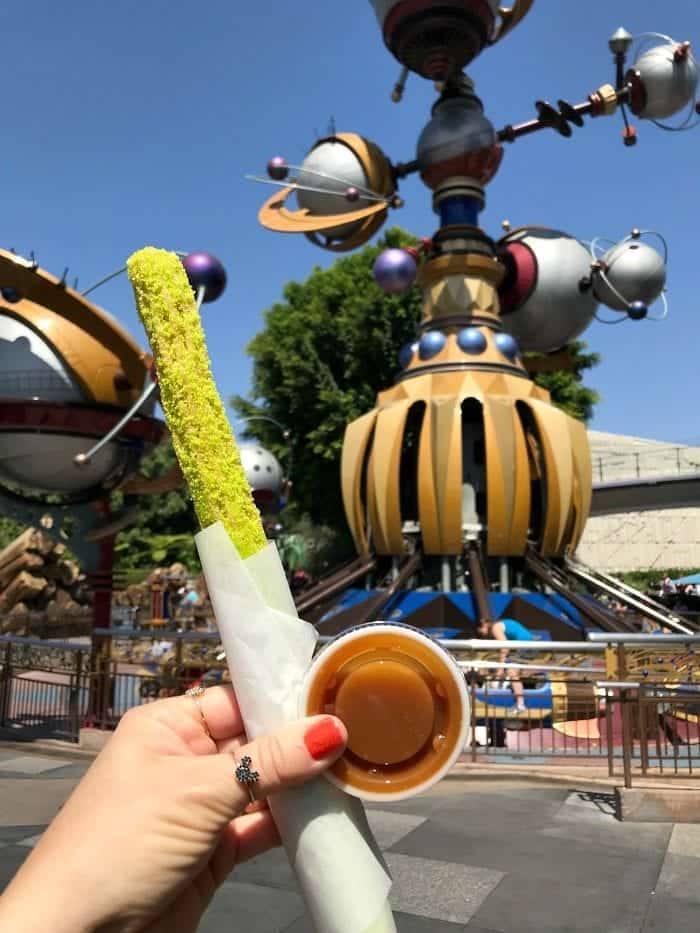 They don't skimp on the Sour Apple Sugar, lol! Head over to the Tomorrowland Churro Cart for this one. So good!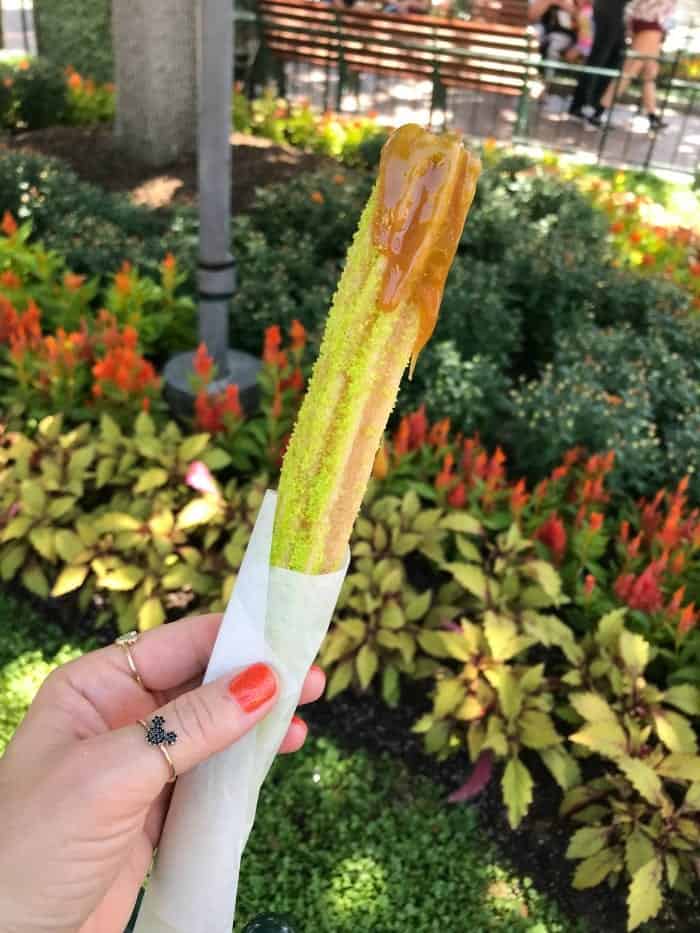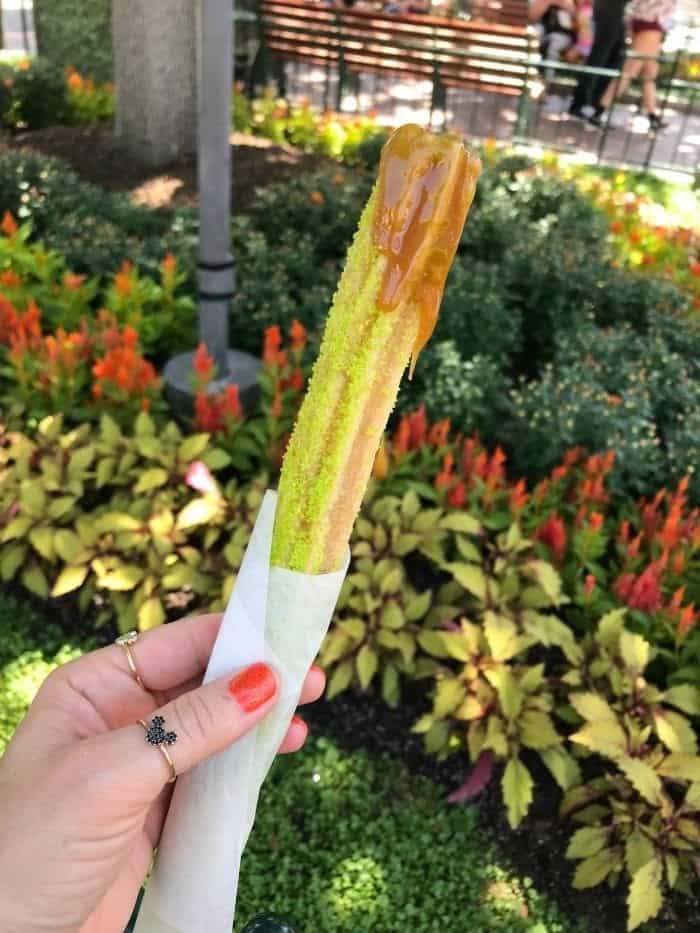 Wait until you dip it in the Caramel Sauce…..game changer!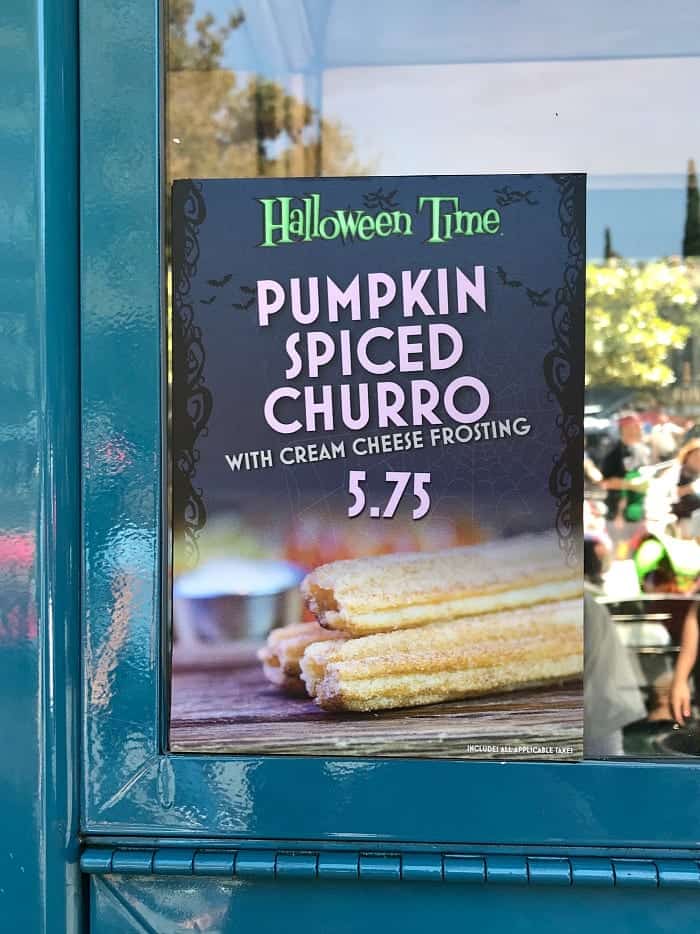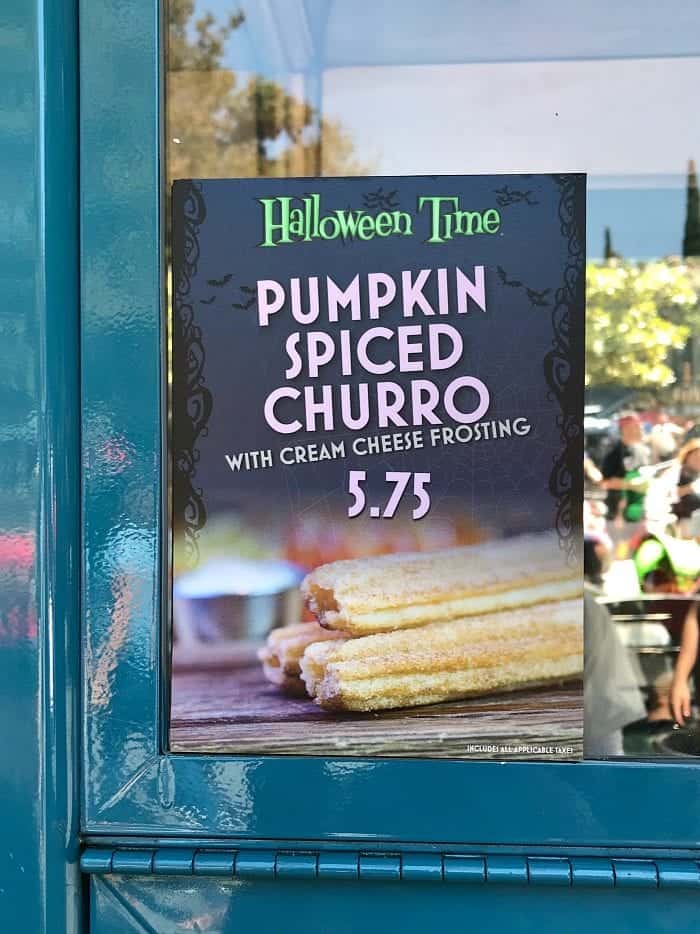 Over in New Orleans Square you can pick up the Pumpkin Spiced Churro with Cream Cheese Frosting. I had this one last year minus the frosting. It's good! Anxious to try it with the cream cheese frosting. Photo coming soon!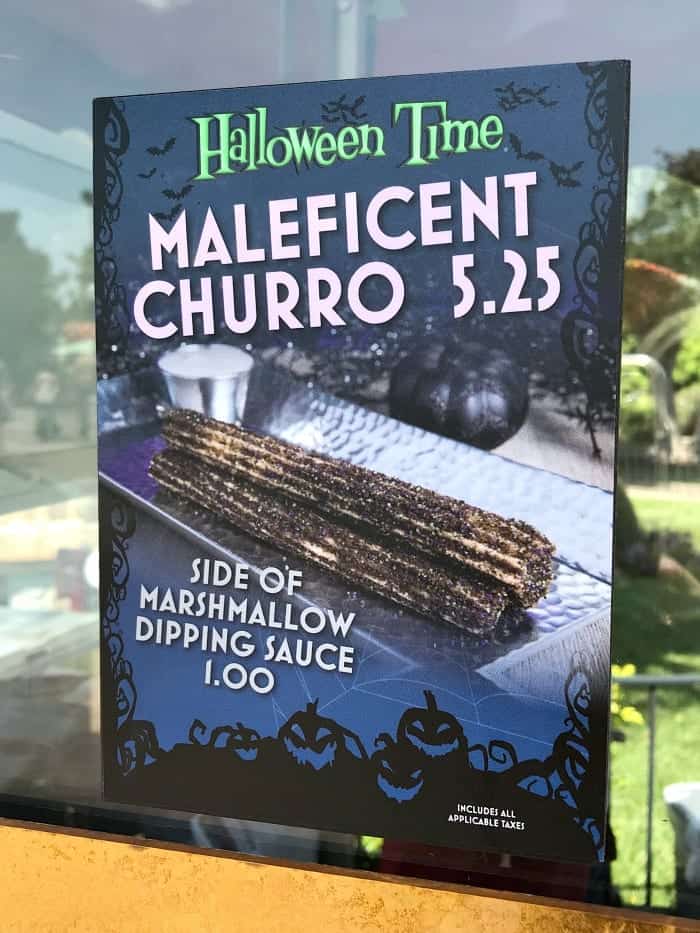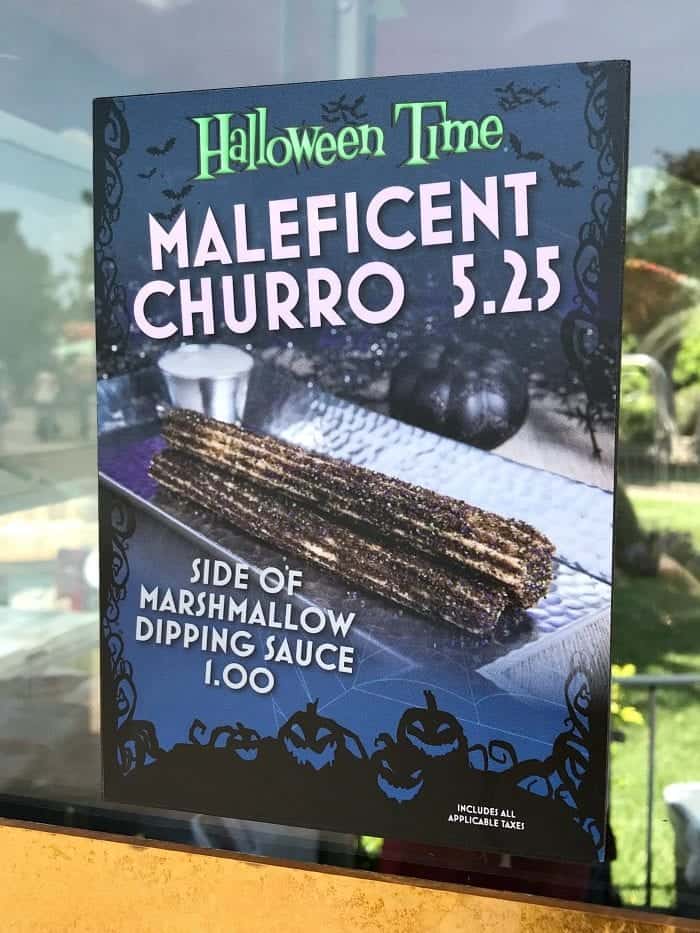 Head over to the Churro Cart by Sleeping Beauty Castle to try the Maleficent Churro and side of Marshmallow Dipping Sauce!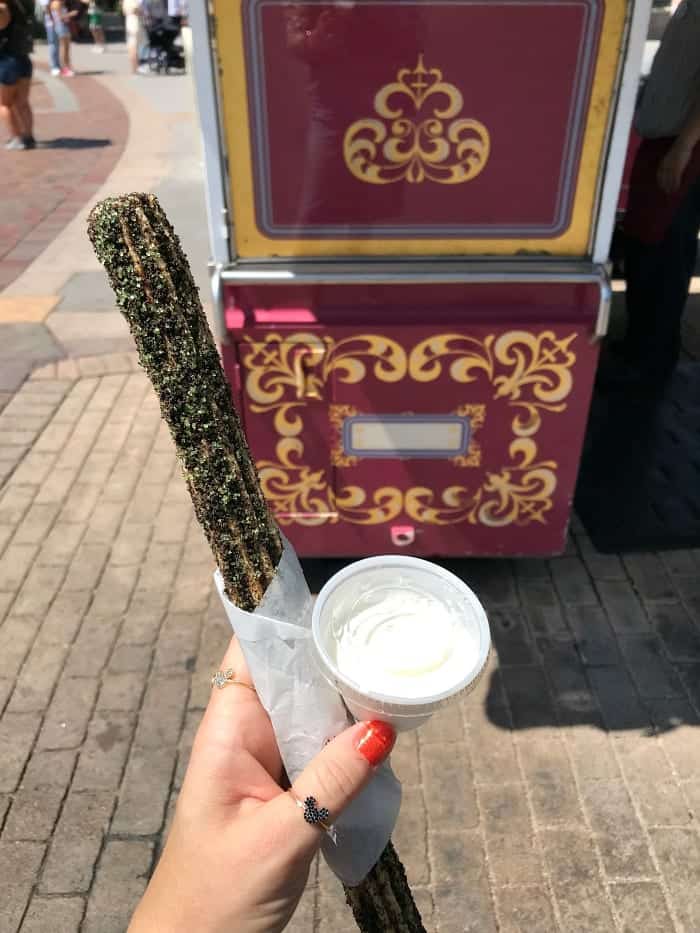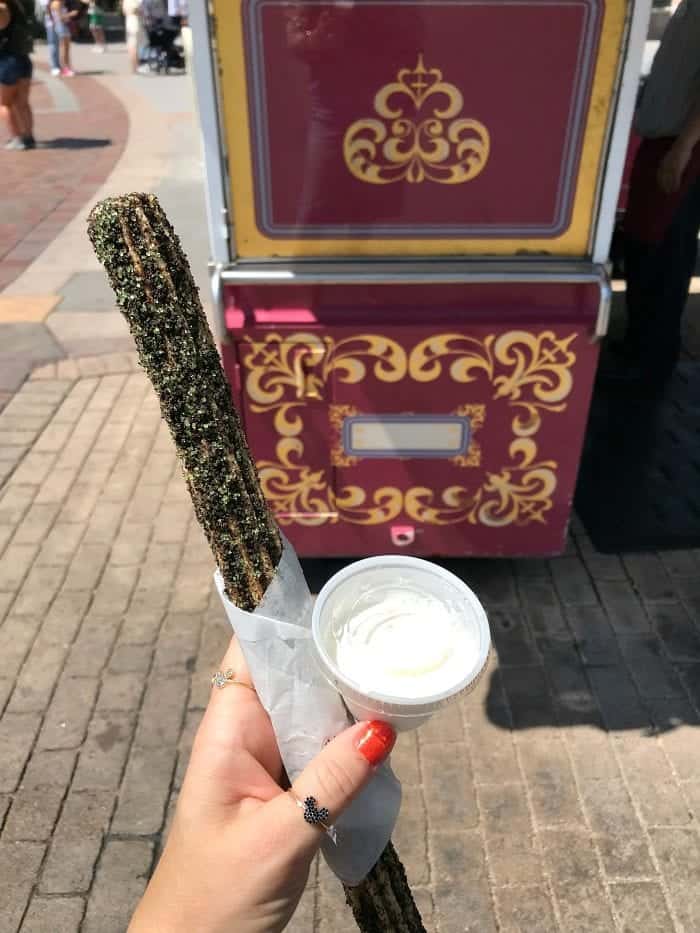 This one was just your typical churro. The sugar is not flavored. Was pretty good with the dipping sauce, but I'd get the others before this one.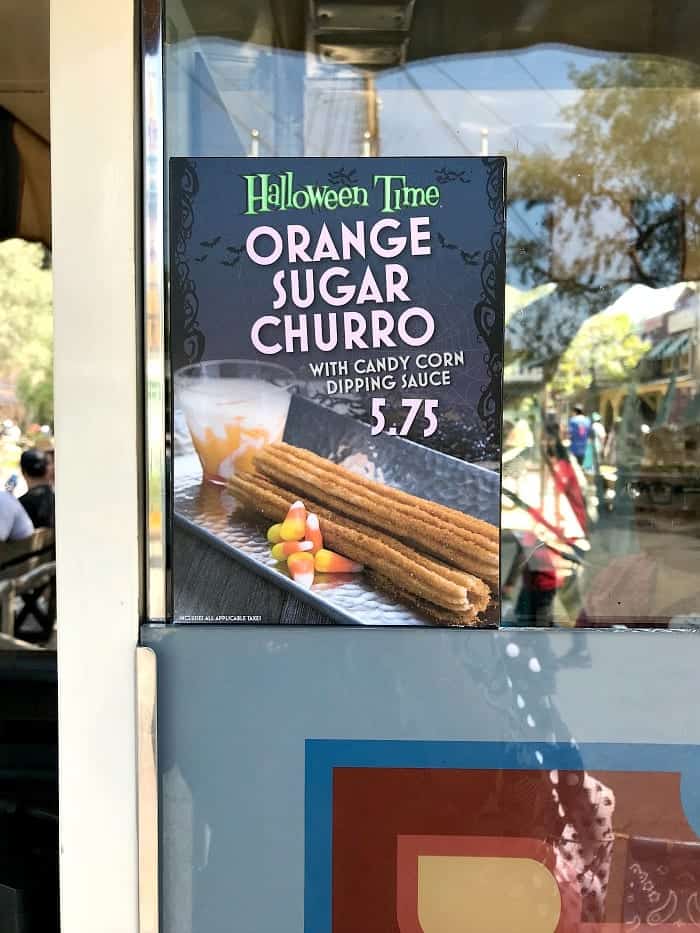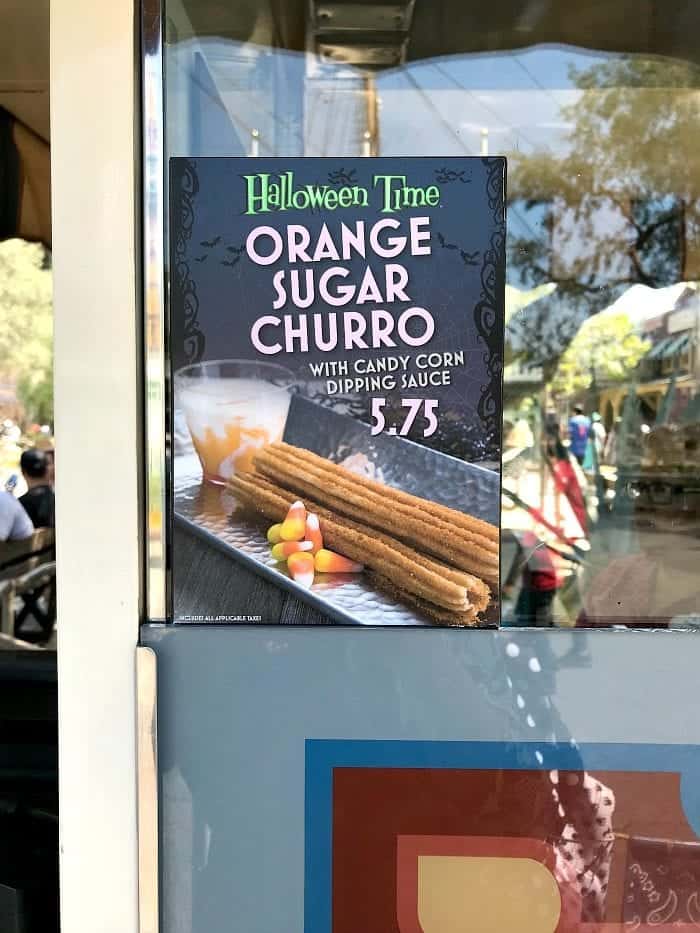 The Churro Cart in Frontierland has this Orange Sugar Churro with Candy Corn Dipping Sauce.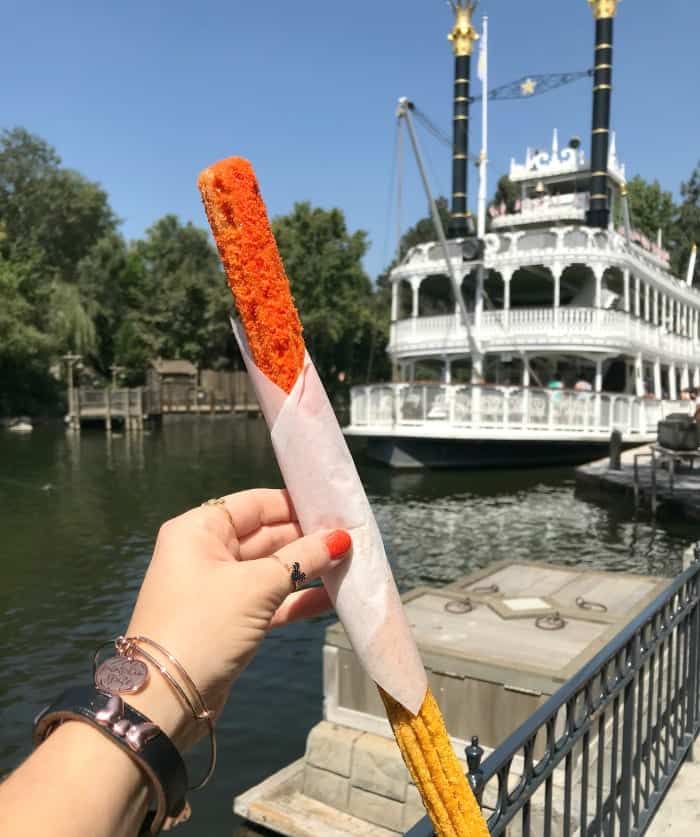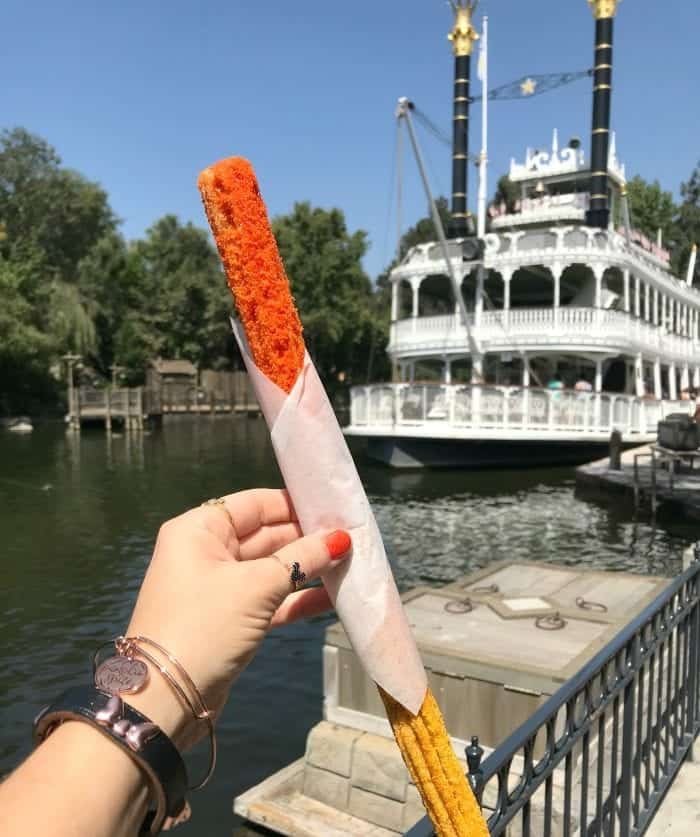 It's super adorable because it's got the candy corn colors! I didn't taste any flavored sugar on this one, but when dipped in the sauce I thought it was really good.
Disney California Adventure!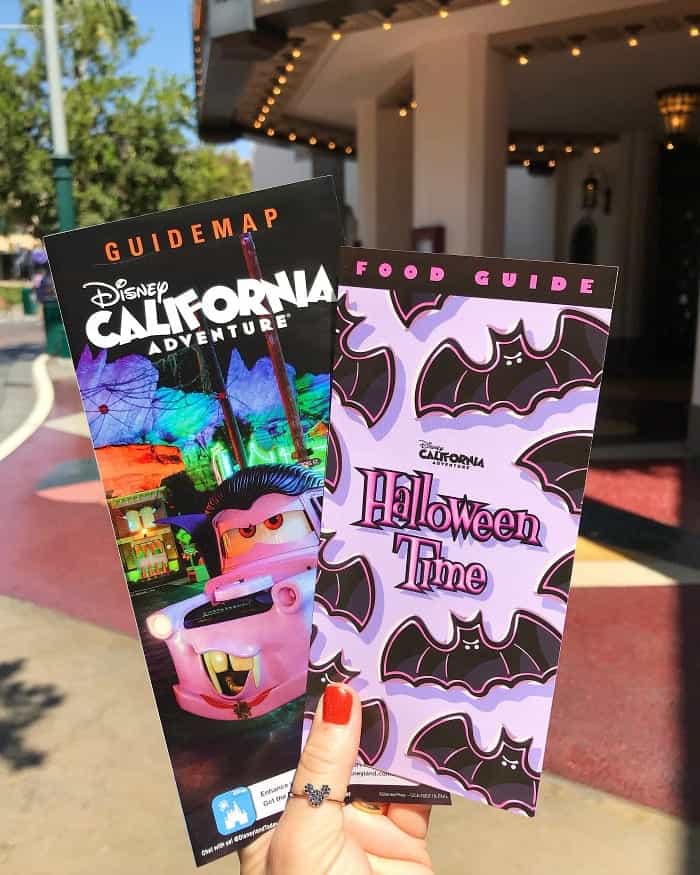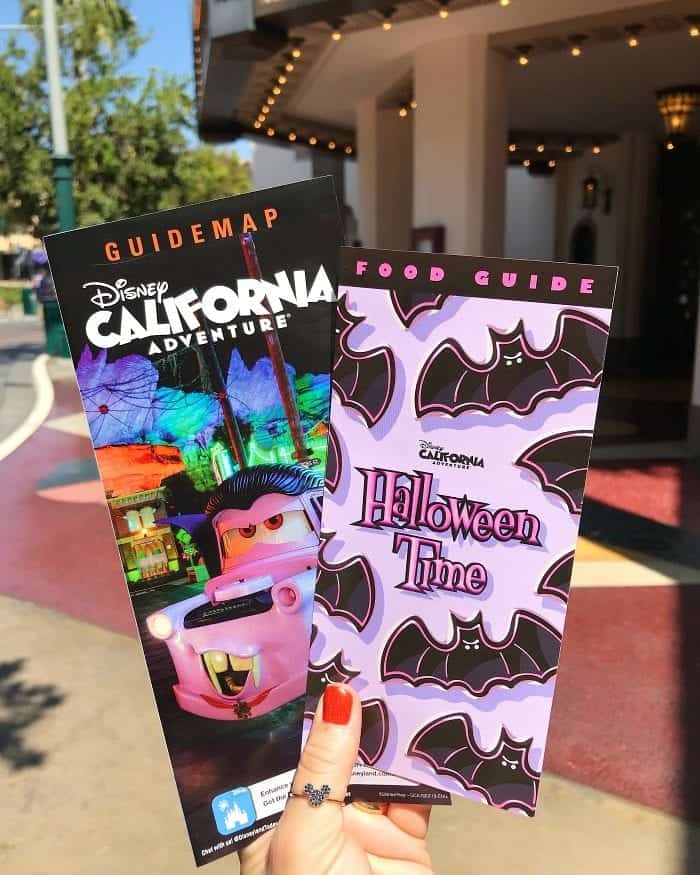 Disney California Adventure is equally magical during Halloween Time! So much to do, see and…..EAT! Disney foodies!!! Make sure you check out the new Guide Maps and Food Guide at the Parks during Halloween Time!! The Guide Maps are found at the ticket counters at the entrances of the Parks and the Food Guide is found at the info booths and Guest Relation spots. Just pop in and ask for one. They're super helpful and the guide tells you exactly where to find all of the fun Halloween Time Food at BOTH parks.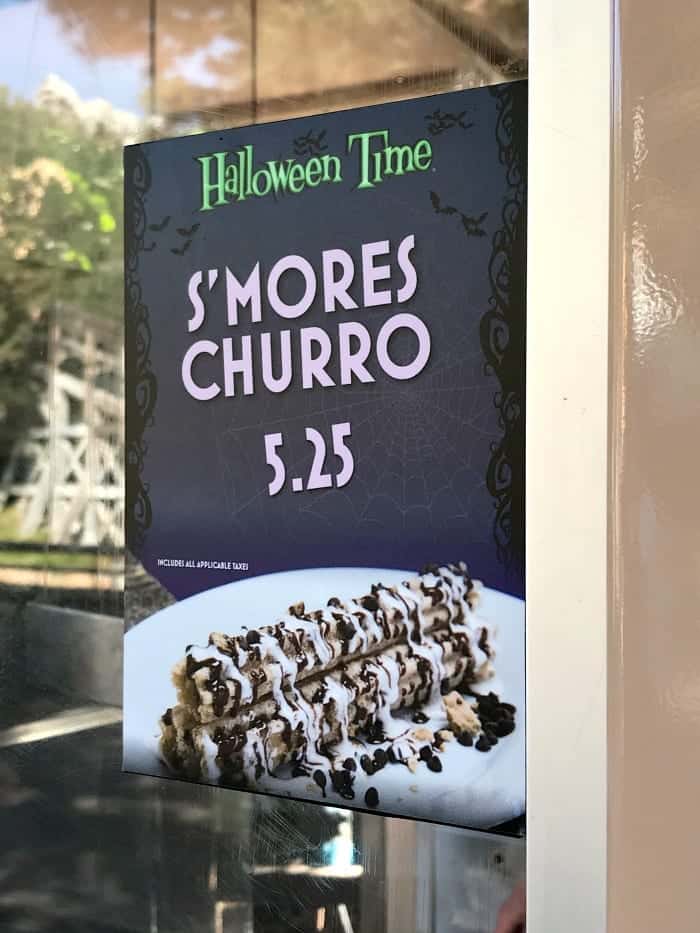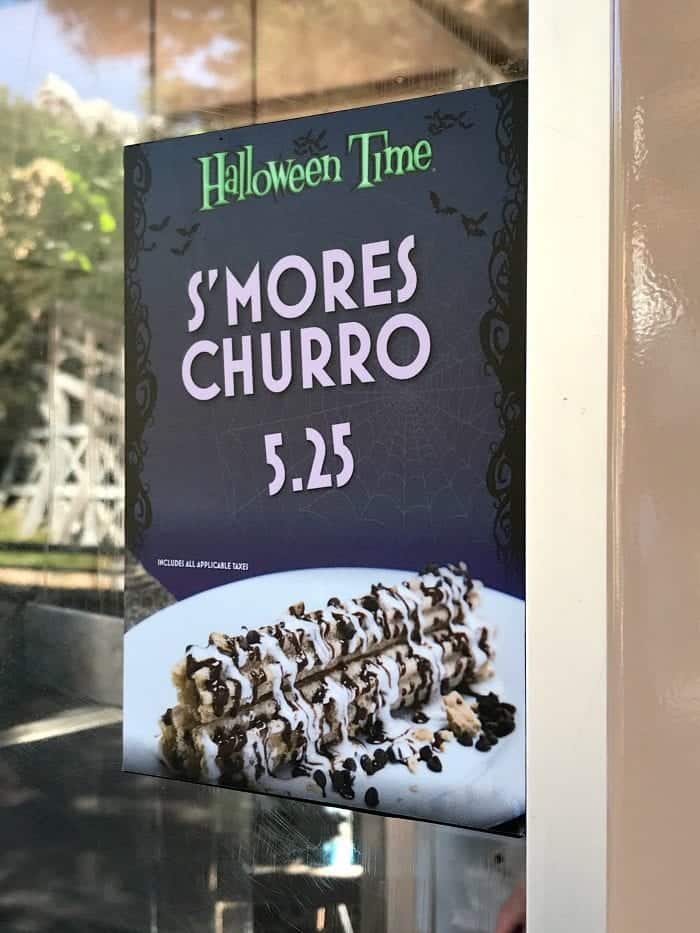 Head over to the Grizzly Peak Churro Cart, past Redwood Creek area to find the S'mores Churro!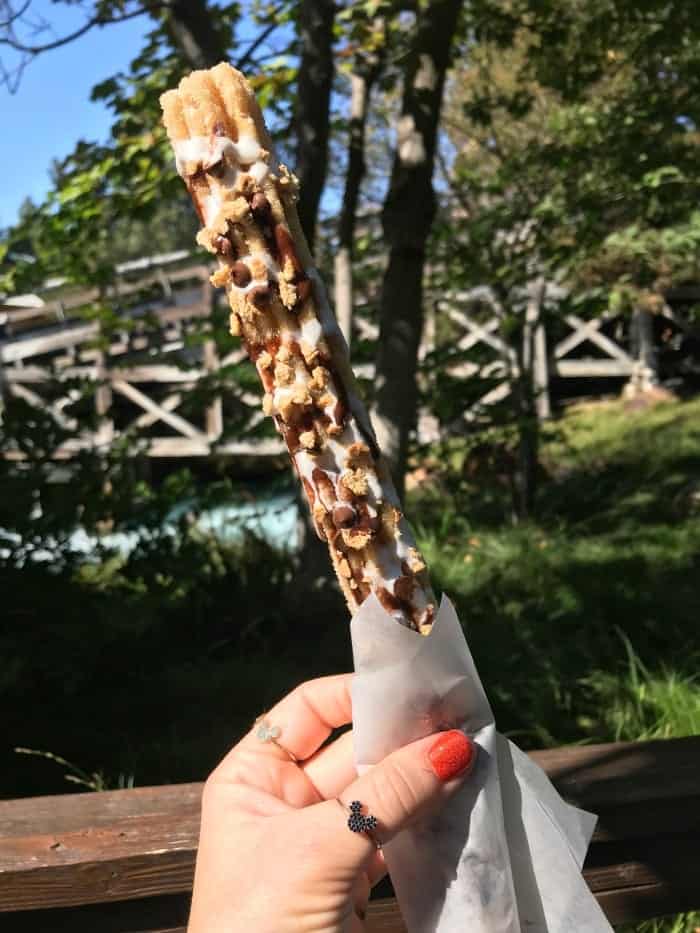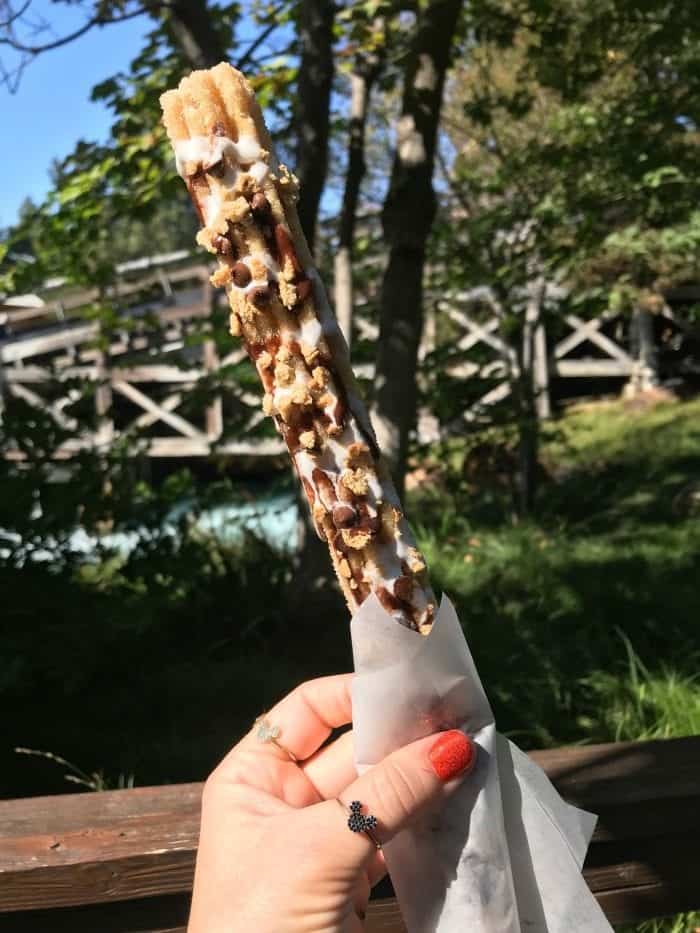 This was my second favorite Churro of all the churros we sampled! Covered in marshmallow, chocolate and graham cracker pieces. YUM!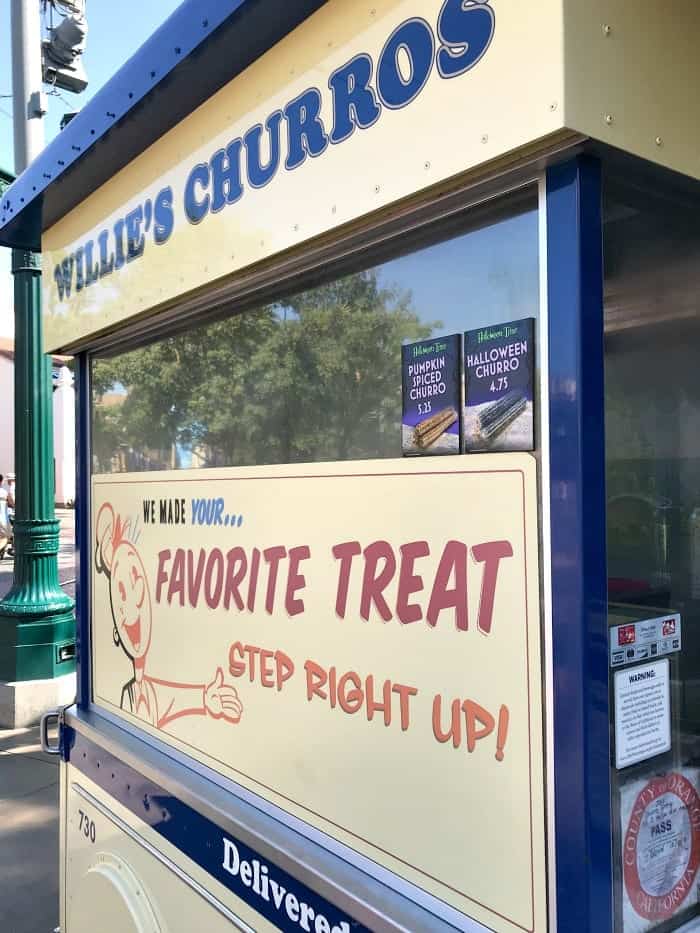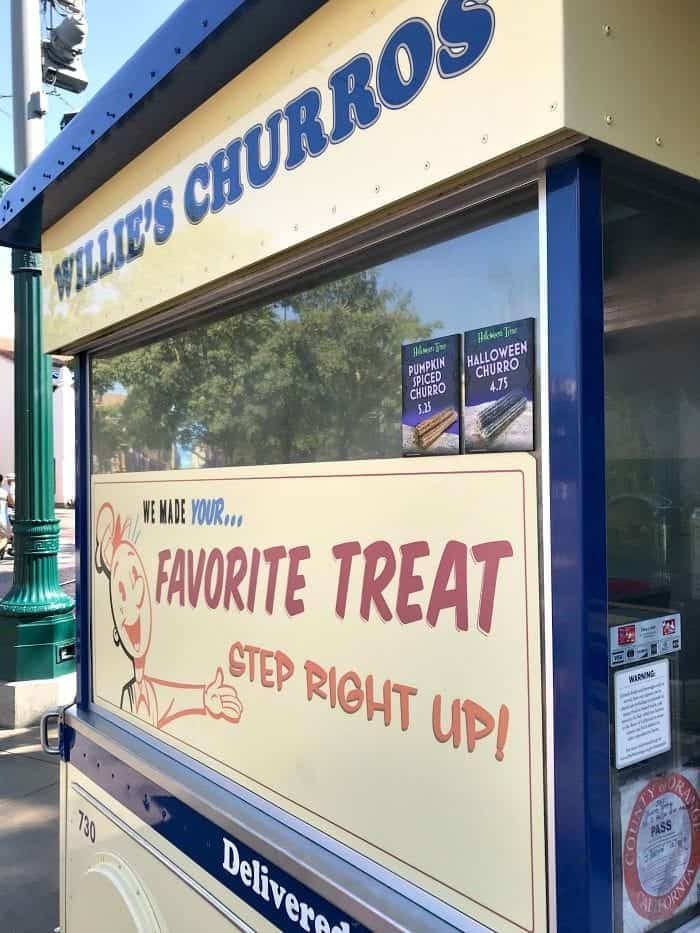 Willie's Churro Cart right across from Trolley Treats and Clarabelle's area you'll find the Pumpkin Spiced Churro and Halloween Purple Churro. These are fun, but again I'd go with the others before these.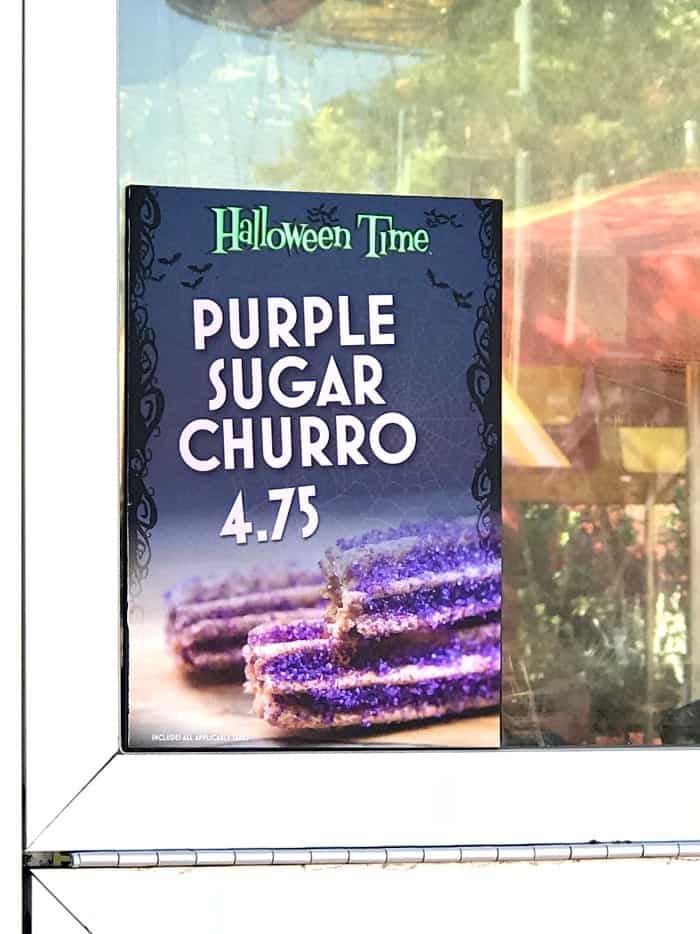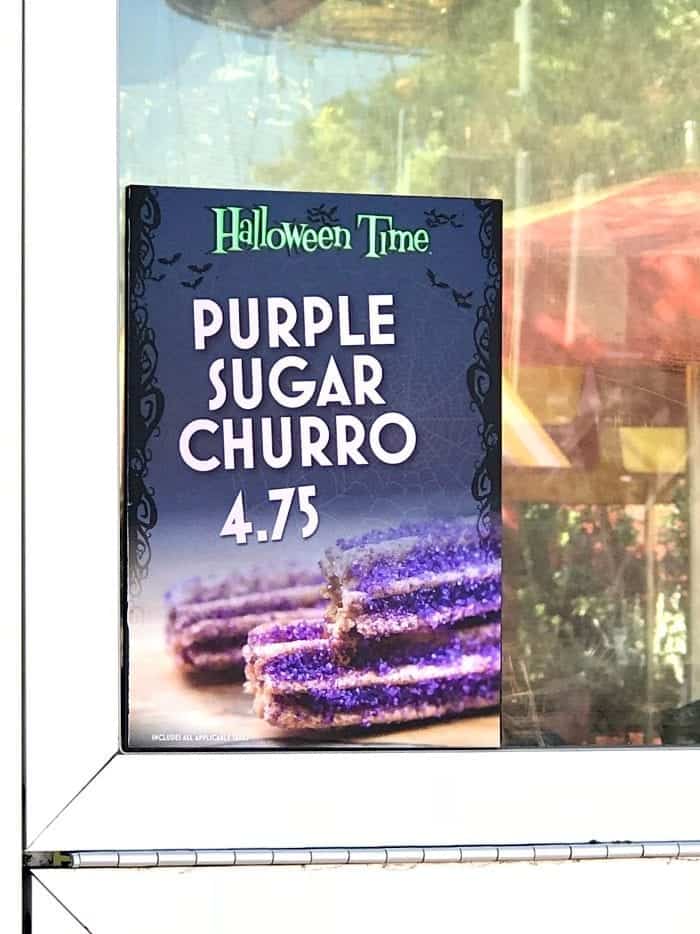 The Churro Cart over by Goofy's Sky School also has a Purple Churro.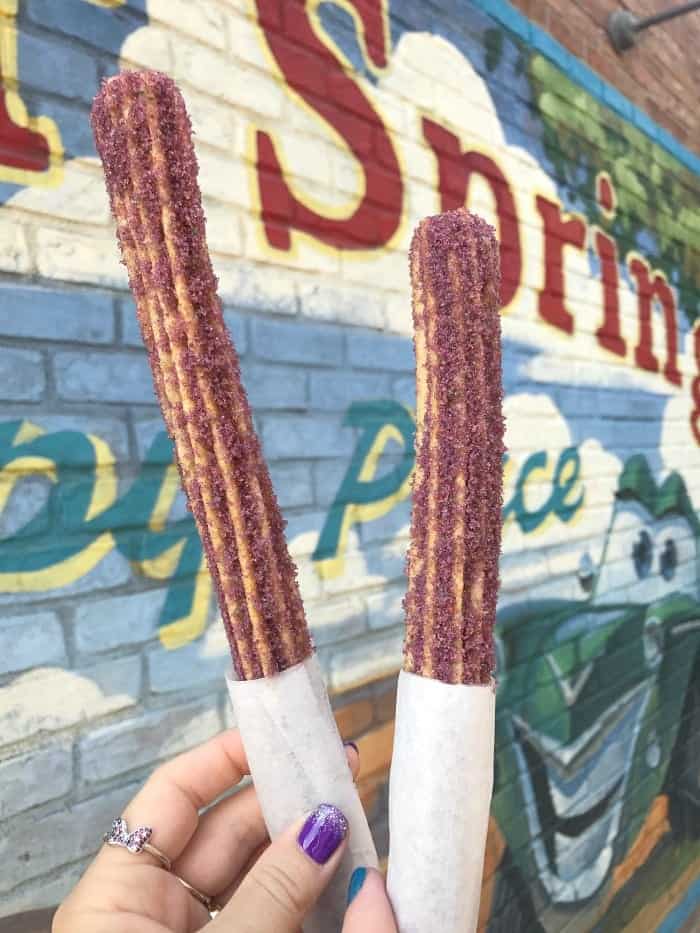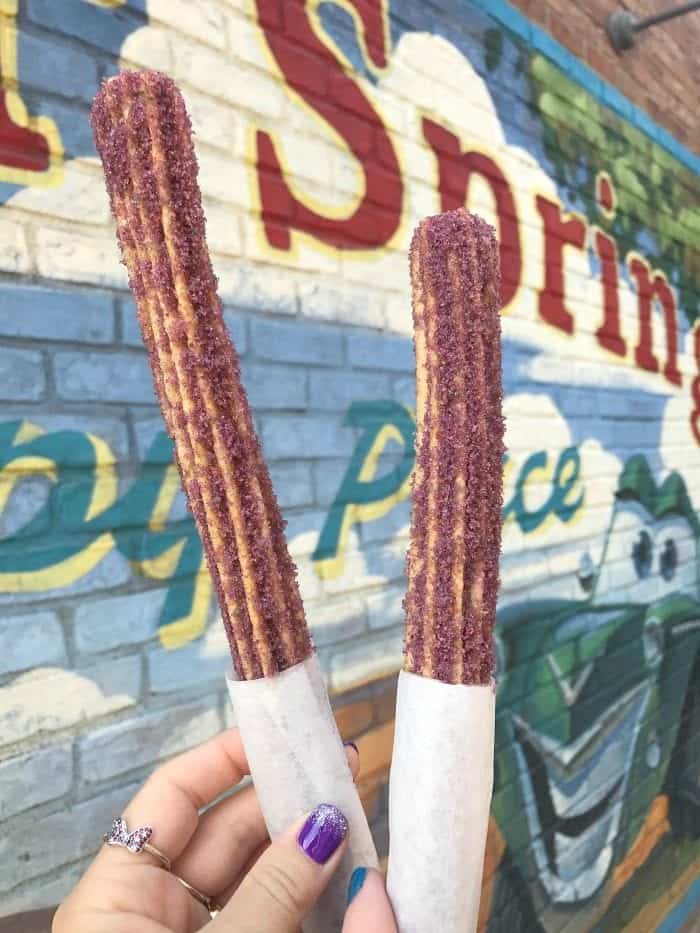 Colorful and pretty, but a Pass for me…..if I'm going for the best Halloween Time Churro.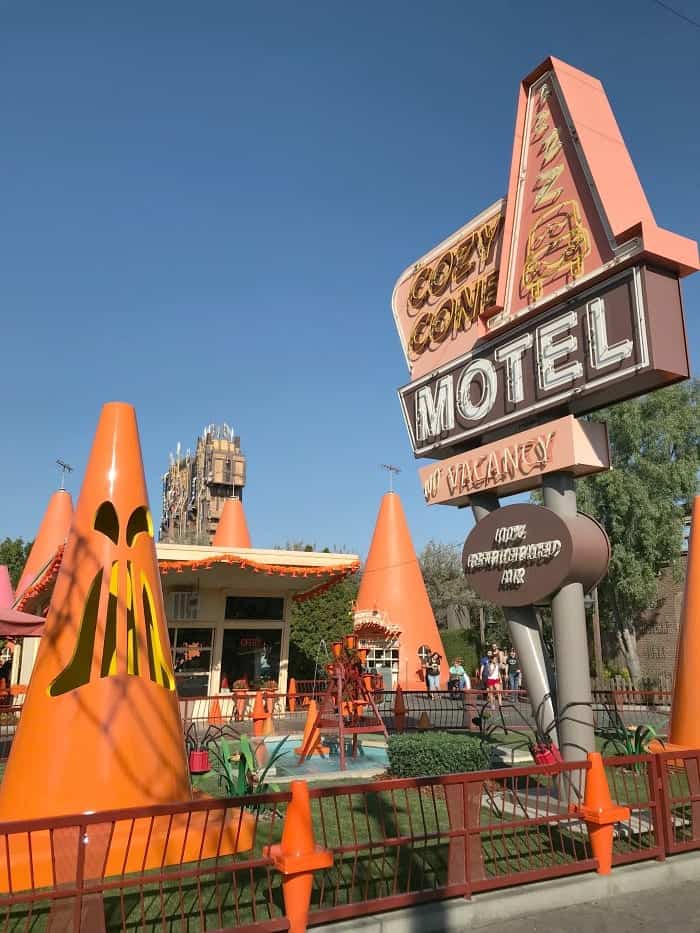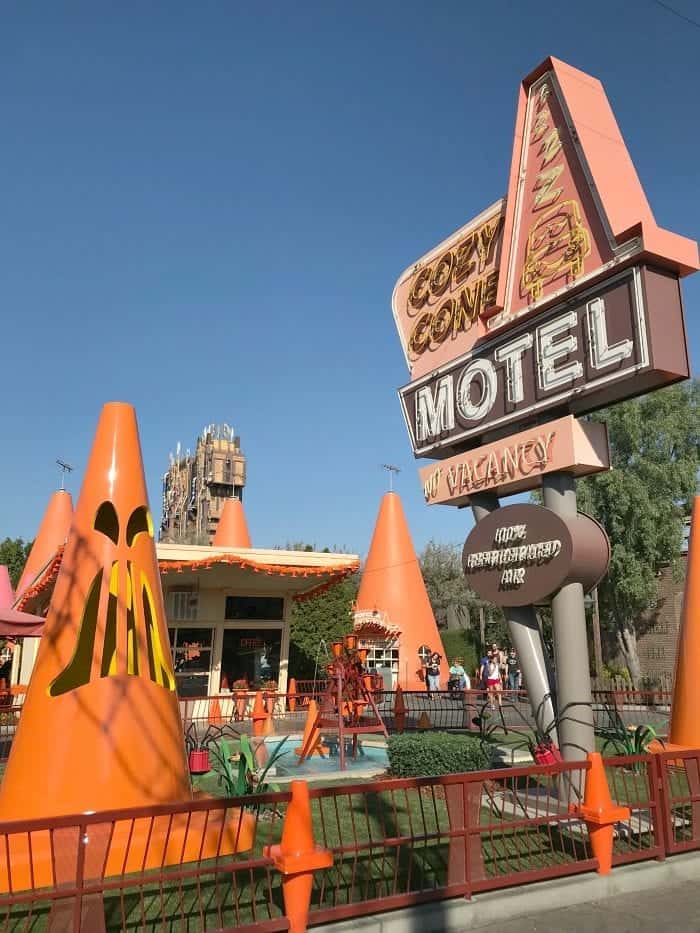 Cozy Cone Motel also has the Pumpkin Spice Churro with Cream Cheese Frosting available.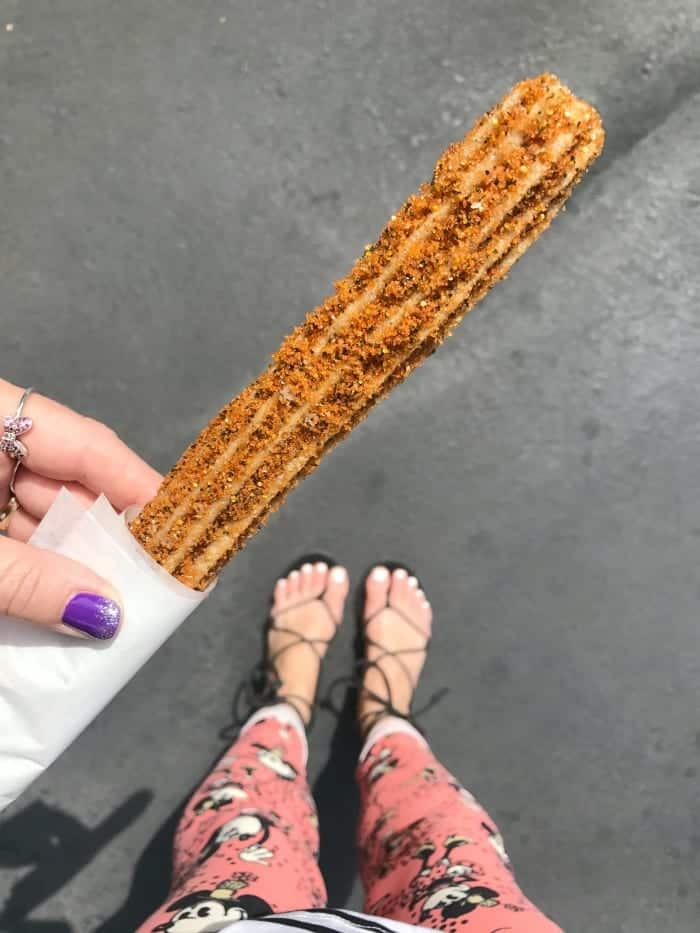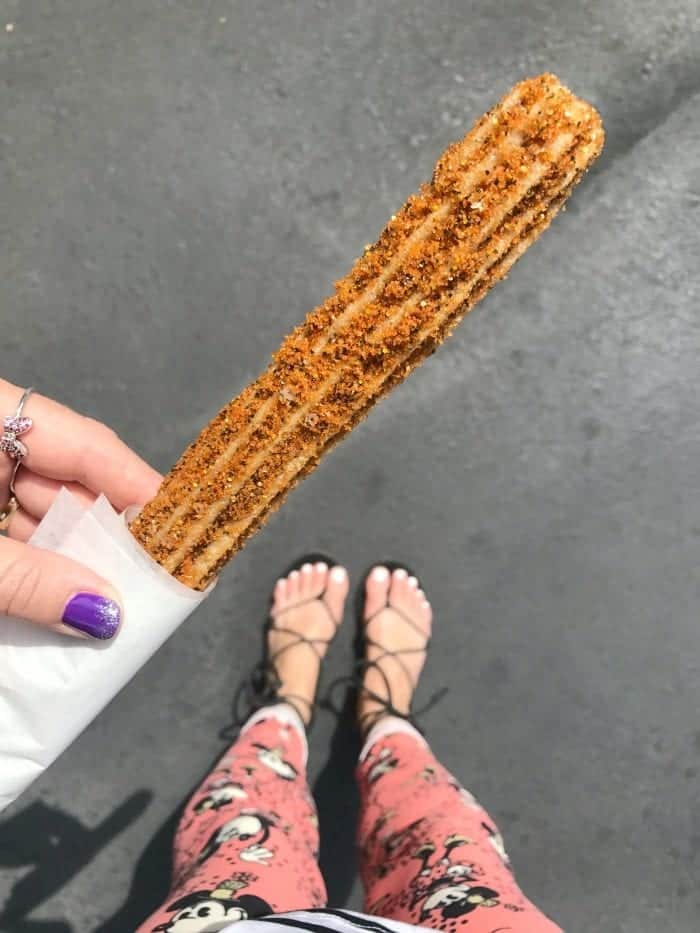 Pumpkin Spice Churro. Again, not my favorite of the choices. I'll try it with the cream cheese frosting to see if it changes my mind.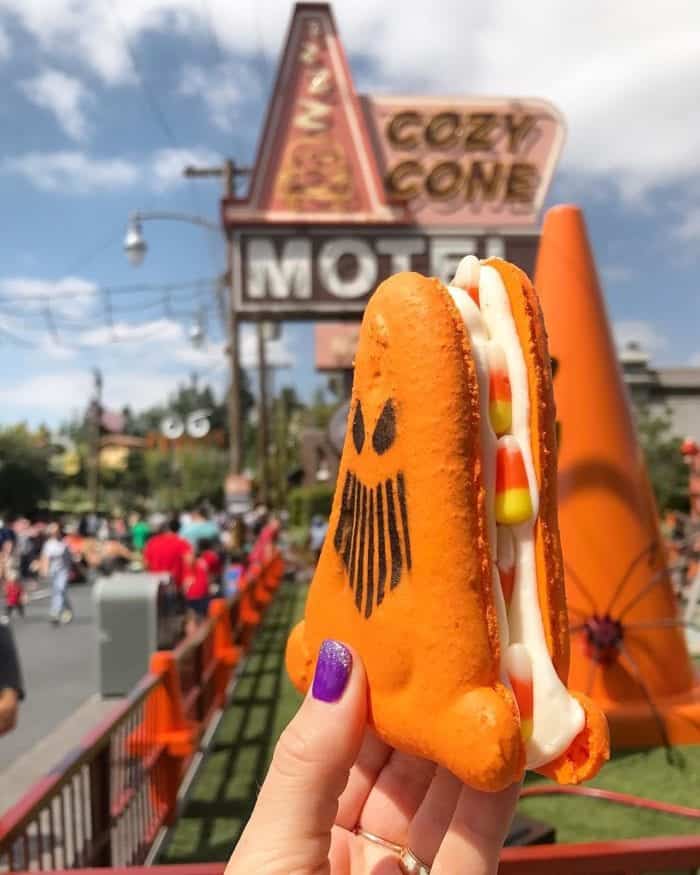 Cozy Cone Motel has this adorable "Spokey"-Cone Macaron! It's filled with marshmallow buttercream and candy corn. This one is sweet sweet sweet so share with a couple people and you'll be good to go 🙂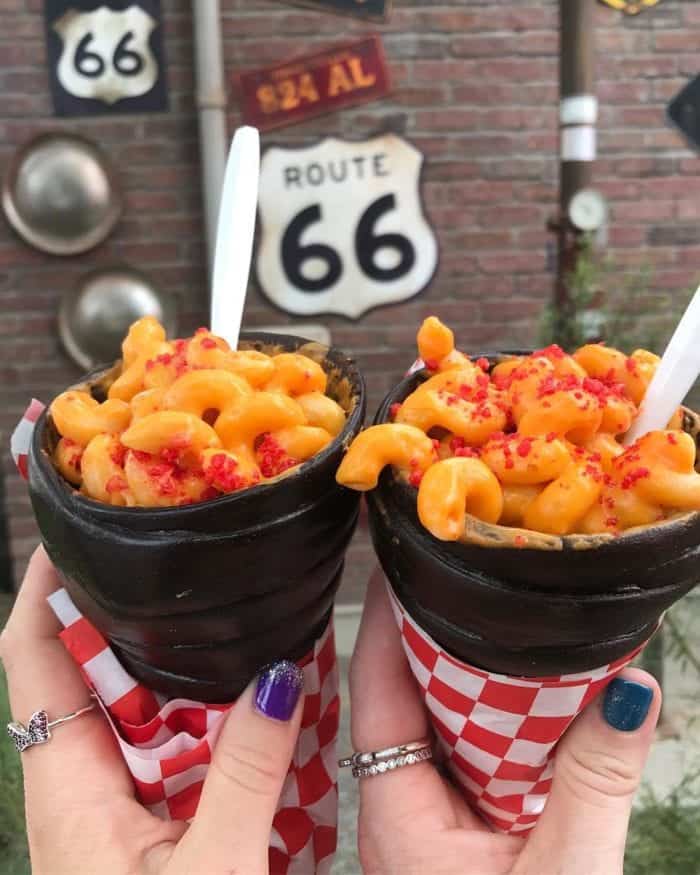 Cozy Cone Motel also has these Slow-Burnin' Mac and Cheese Cones – fresh-cooked pasta with spicy red pepper cheese sauce topped with crushed chile-cheese puffs and served in a bread cone. It is spicy delicious. If you don't mind a little spice, you will LOVE these! One of my favorites!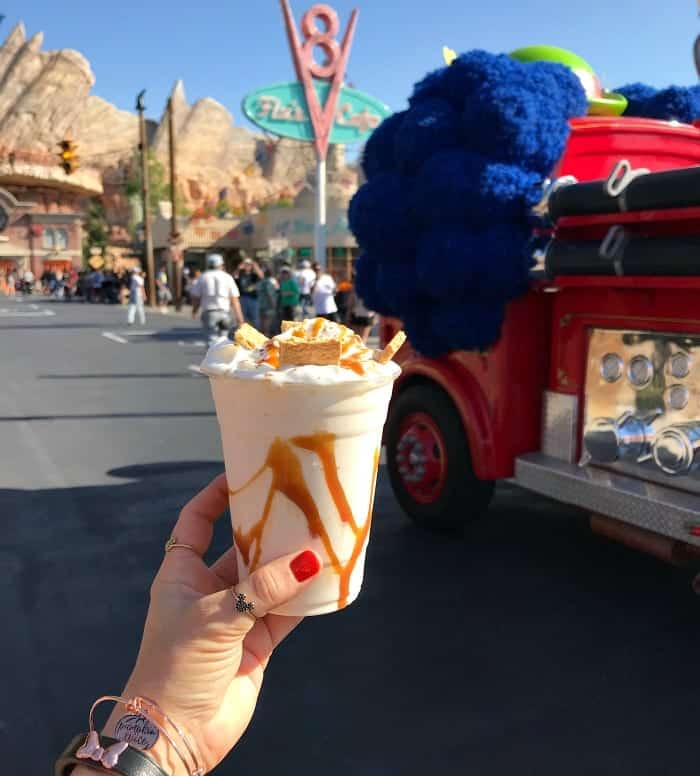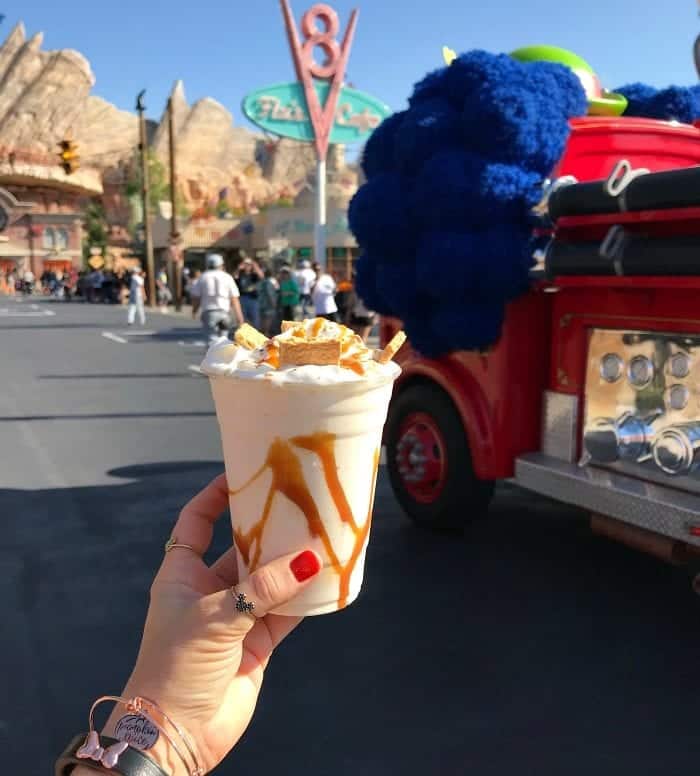 Right across from Cars Land over at Flo's V8 you can find this Pumpkin Pie Shake that is another WINNER! Sweet pumpkin pie flavors with a caramel lined cup and graham crackers on top. One of my favorites!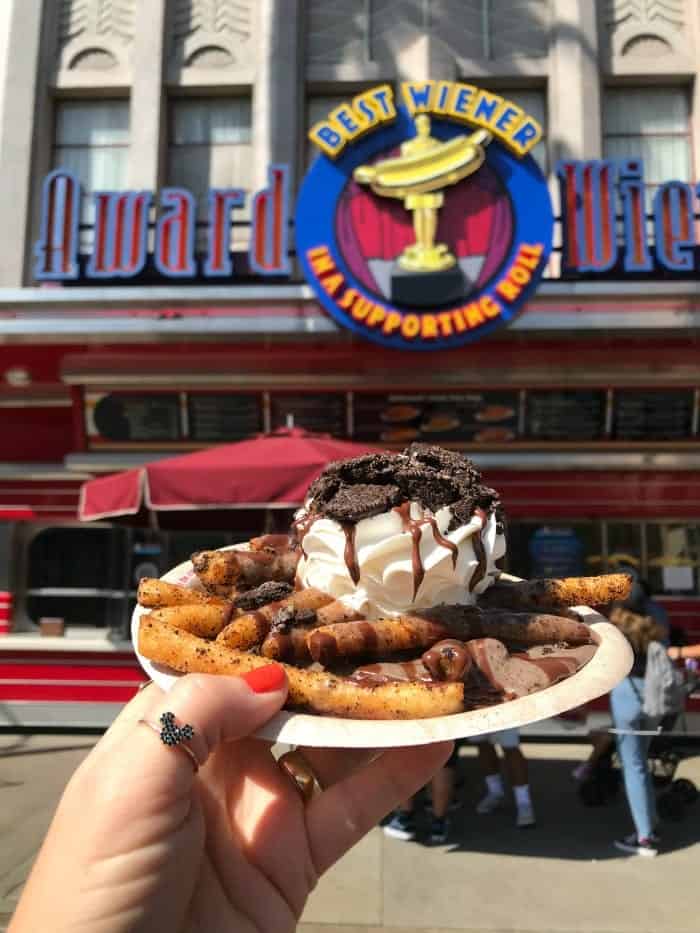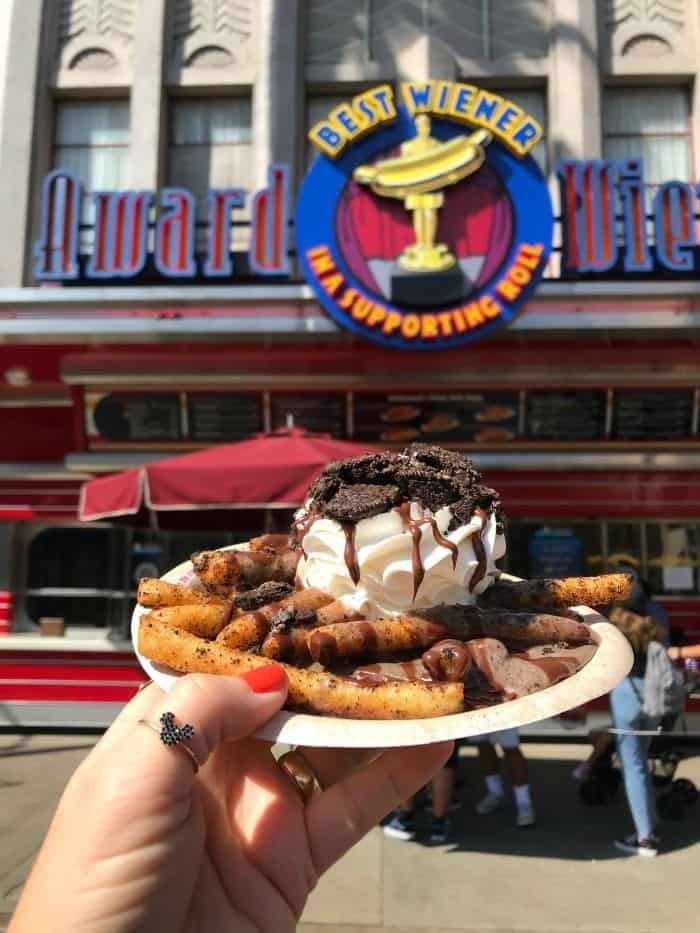 Award Wieners in Hollywood Land has these Cookies and Cream Funnel Cake Fries that knocked my socks off! One of my favorite treats of EVERYTHING we tried! Don't miss this one!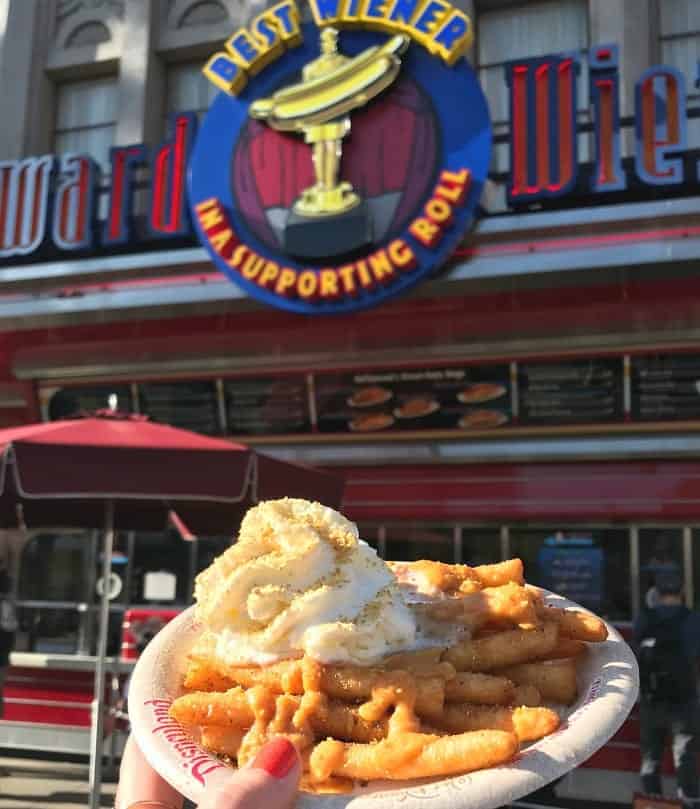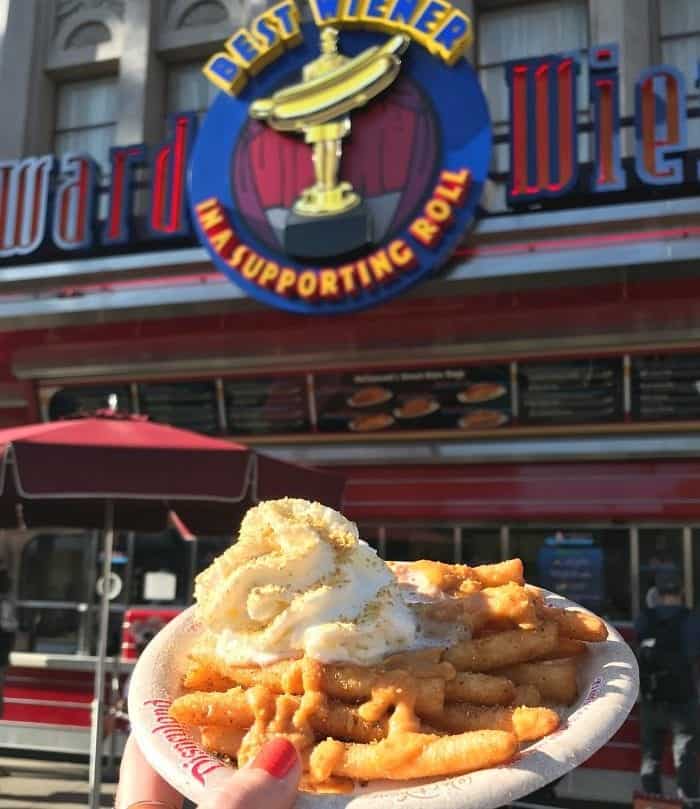 Equally delicious was the Pumpkin Spice Funnel Cake Fries! Honestly I'd get both and share! Super fun!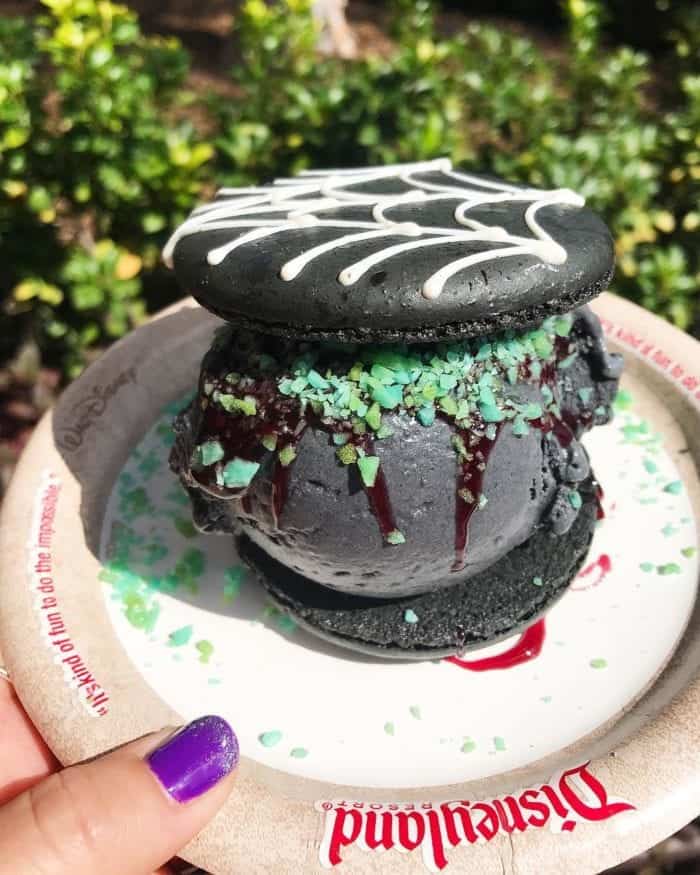 Over at Clarabelle's on Buena Vista Street you can get this The Spider Silk Macaron Ice Cream Sandwich. It's 2 black macarons with Charcoal Tart-Cherry Ice Cream topped with Pop Rocks Candy and Raspberry Sauce. It's definitely a fun dessert to share. It wasn't my favorite of all of the Halloween Time options, but still gorgeous and fun with the Pop Rocks.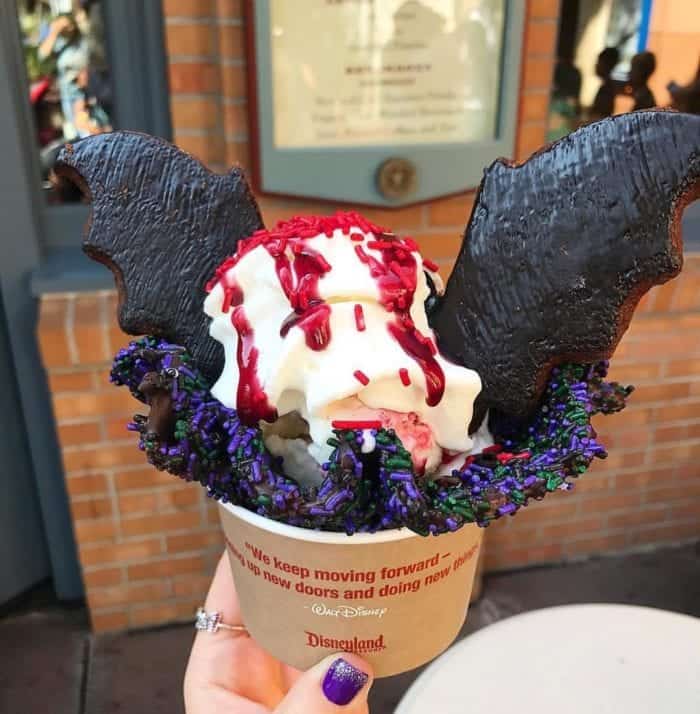 This is the Bat Wing Sundae from Clarabelle's. Talk about a show stopper! I really liked this one! The bat wing cookies have a slight orange flavor to them and I loved the Raspberry sauce and chocolate dipped waffle cone bowl.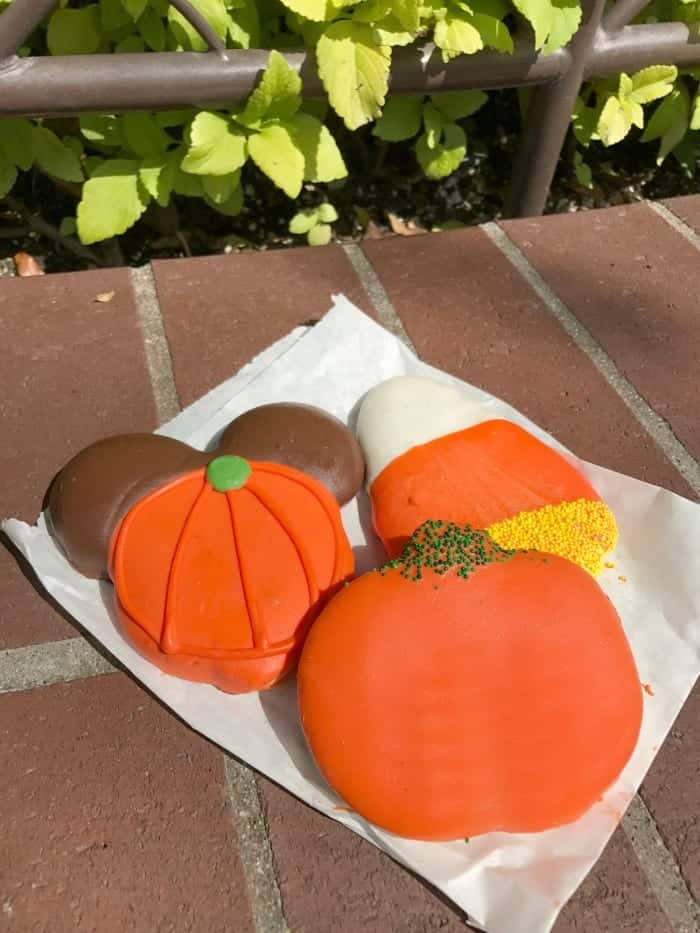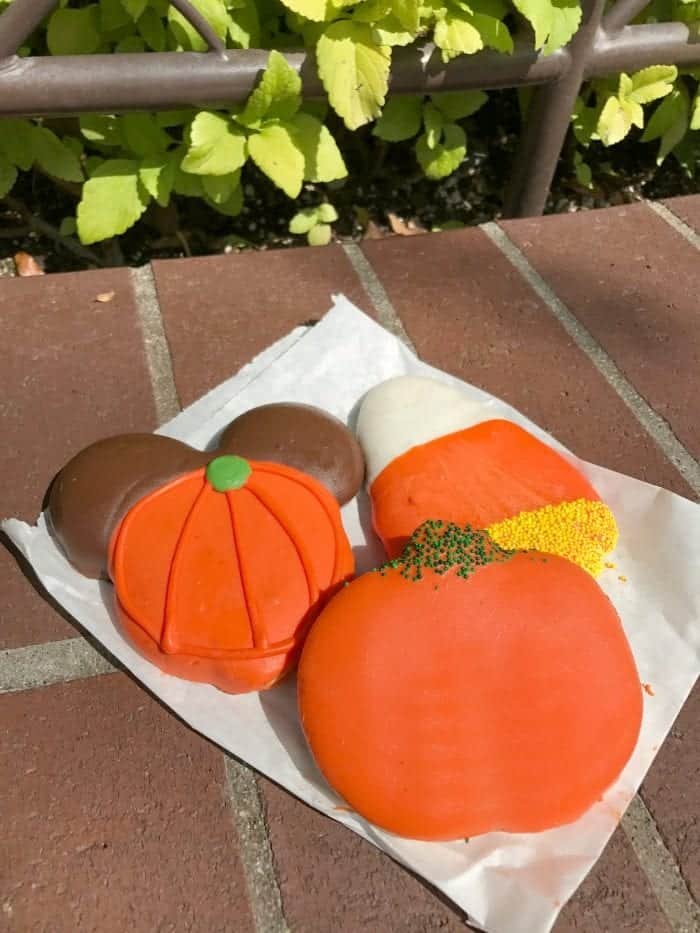 Right next door to Clarabelle's is Trolley Treats with some of the most delicious bakery goodies to choose from. If you want to pick up some snacks for the day, Trolley Treats is where it's at when you're visiting Disney California Adventure Park!
My Favorite Halloween Time Food…
Ok, so most likely you won't be trying EVERYTHING during your visit to Disneyland this Halloween Time Season, so let me tell you my absolute favorites.
Disneyland Park Don't miss the Churro Sundae from Golden Horseshoe and the Sour Apple Churro with Caramel Dipping Sauce. By far my favorites of the day. If you have the appetite to squeeze in one more I'd go with the Churro Bites Cereal Sundae from Hungry Bear. ….and if you have time for one more, get the Mummy Macaron from Jolly Holiday Bakery Cafe.
Disney California Adventure Park Don't miss BOTH of the Funnel Cake Fries from Award Weiners. The Cookies and Cream + Pumpkin Spice were both winners! I also REALLY enjoy the Slow Burning Mac and Cheese Cone from Cozy Cone Motel and the Pumpkin Pie Shake from Flo's V8. The Bat Wing Sundae from Clarabelle's if you can squeeze one more in 🙂
Hope this helps! Enjoy!
Pin To Your Favorite Disney/Travel Board!