"Mrs. Flake, this is Dr. …, I hate doing this over the phone, but I need to tell you that your baby is very sick and there is a chance he is not going to make it." Those are the words I had to hear from a Dr. the day after Paxton was born. I was in complete shock then went into a massive breakdown as you could imagine.
Let me take you back 4 weeks ago. On Sunday September 2nd, Cullen and I put the boys to bed then watched a movie together. I joked saying, wouldn't it be fun to have the baby on Labor Day?! Well, that is exactly what happened. We went to the hospital at 5am, early Monday morning. I had contractions all night long and sure enough I was indeed in labor. The nurse took my blood pressure a couple times and it was much higher than it usually was so they decided I could have Pre-eclampsia which meant I needed to be on a horrible medication called magnesium sulfate to prevent going into seizures. Yikes. Great start, huh?
I thought, how bad could this medication really be…..well, it sucked….big time. Has anyone else had to be on it? Let's just say, you feel like you have the flu and you have double vision, which was a total nightmare. I'll never forget trying to see what time it was throughout the day and I kept seeing 2 clocks on the wall. You can't focus on anything. So…I had to be on that before delivery and 24 hours after. Fun stuff 🙂
I immediately requested the epidural. I don't know what has changed in the last 7 years, but I could still feel my legs and thought, this can't be good. I am going to feel everything. Sure enough, the epidural did not work that great. I still felt the contractions most of the time. Nightmare. Ok, fast forward a few hours and Paxton was finally born at 4:22pm. He was beautiful. The pain I felt was gone as soon as he came.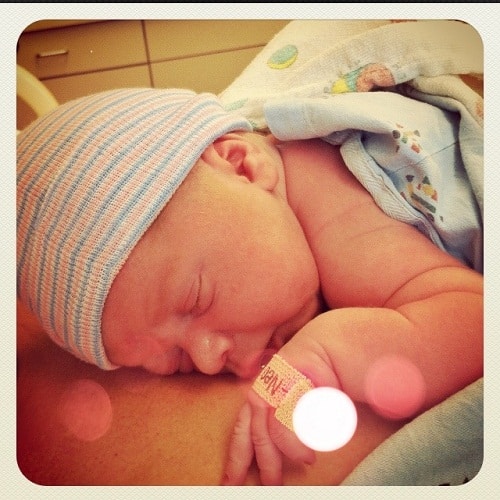 They laid sweet Paxton on my chest for about 20 minutes. He had the pulse ox on his hand so they could watch his oxygen level. At first all was well, but the nurse was a little concerned that his oxygen level was a little low so she took him to the Dr. to get checked out further. That was the last I saw Paxton at the hospital I delivered him at. I had no idea what was ahead.
Within a couple hours I was told that Paxton needed to be transferred to another hospital that was more equipped to help his lungs. I thought, ok this is just like what my 7 year old had when he was born. Since they were both 3 weeks early, they needed help developing their lungs for a few days. Boy was I wrong.
A few hours after they transferred Paxton, I got the dreaded phone call from the Dr. telling me how sick Paxton was and that there was a chance he wasn't going to make it. He needed to be transferred to Children's LA Hospital immediately. I could not even believe what I was hearing. Could I really lose this sweet baby boy that was just laying perfectly on my chest the day before? Needless to say I was a train wreck in my hospital room. I was all by myself left with those horrible words going over and over in my head from the Dr. and I couldn't stop crying. It was uncontrollable. I have honestly never felt so much heartache in my life.
Fast forward to the next morning. My mom, dad and sister came in from AZ when they heard the news. Thank goodness they came. I desperately needed them. My mom stayed at the hospital with me and I got released Wednesday morning. At this point Paxton was at Children's LA Hospital, one of the best hospitals in the country that specializes in helping the sickest babies.
There is no one who could have prepared me for how I was about to see my sweet baby boy.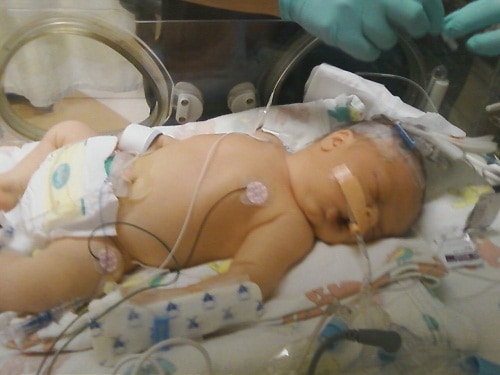 I will never forget walking through the cold NICCU doors for the first time seeing my sweet Paxton laying lifeless in his plastic little bed with tubes and wires over his entire body. He was on a high frequency ventillator which shook his whole chest with air. I had never seen anything like it. It was horrible. Paxton had what was called Persistent Pulminary Hypertension that they believe he got from an infection while he was being delivered. Possibly from swallowing his meconium. I was so confused and scared.
To make a long story short, Paxton was at Children's LA for 2 weeks. It seemed like an eternity. I drove every single day for an hour and a half each way to sit with my little boy. The nurses and Dr.'s were wonderful. They taught me so much about the condition Paxton had and told me once he is better there will be no long term effects. I was so grateful to hear this.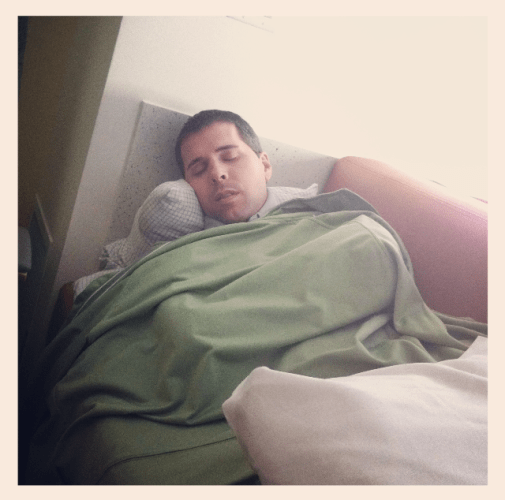 Cullen and I spent long days and nights in that NICCU room watching, waiting and sometimes sleeping. I won't miss this one bit. After 2 weeks, the Dr.'s at Children's LA decided Paxton was well enough to be transferred back to our hospital. He had more healing to do, but was no longer in danger.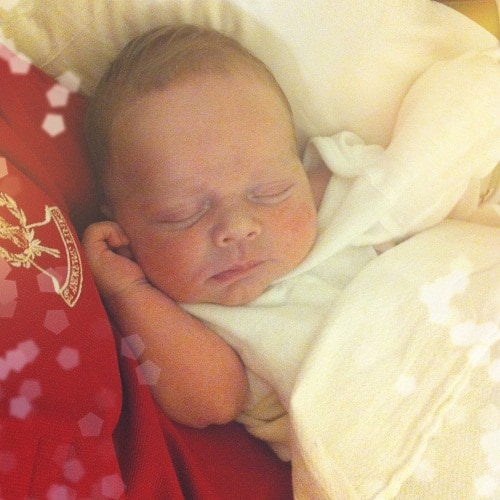 Once Paxton was transferred back to our hospital, his progress was better and better. He quickly got off of his medication and we even got to hold him for the first time in 2 weeks.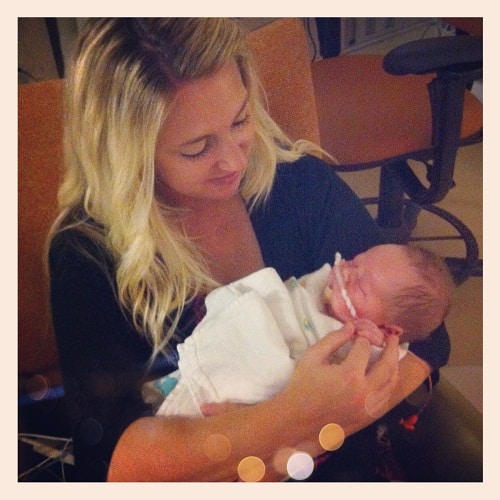 Can you imagine not holding your new baby for 2 weeks?! It was so hard, but talk about a sweet moment when I got to hold him again.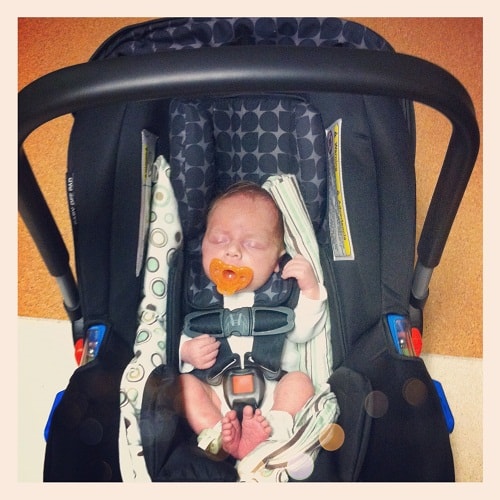 On September 25th we got to take him home! I have never been so grateful. We could finally start our life with our new baby boy. Mason and Brady were so anxious to have their baby brother in our home. It was without a doubt the longest 3 weeks of our lives.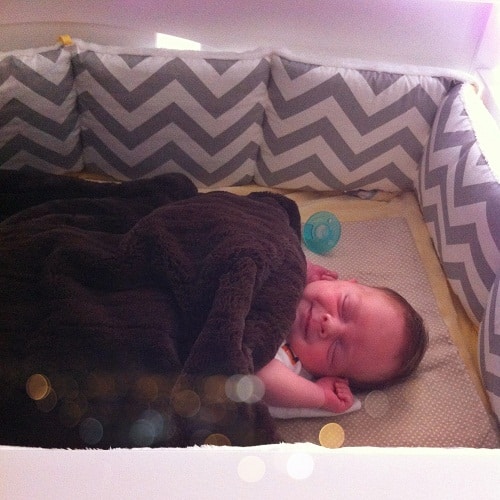 We've had Paxton home for 5 days and he is the sweetest little boy we could have ever asked for. I am grateful everyday for him. Through this whole experience, I received so many emails, Facebook, Twitter and Instagram comments from all of you praying for Paxton. I am so thankful and grateful he had prayers coming from all over the country. What a lucky little boy 🙂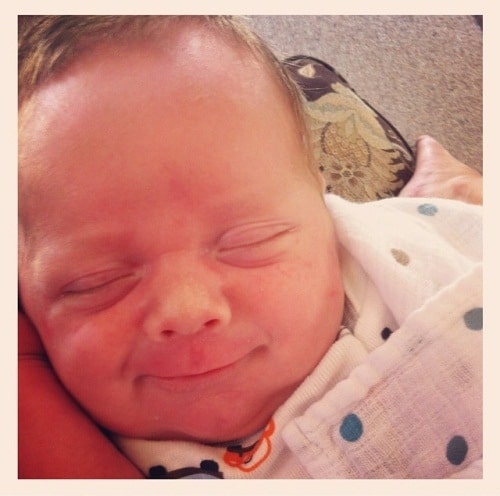 Every time he falls asleep he smiles. I can't help but think he's still in touch with the angels. It melts my heart. Thanks again for all of your support, we love you all!
Love,
The Flake Family