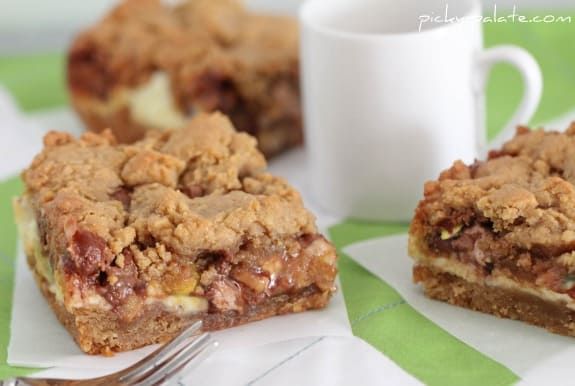 Raise your hand if you've got Halloween candy leftover? Well, we do! I had to do something with it, so…..I baked. Shocker right? 🙂
Wait until you try these gooey (if you are impatient like me to wait for them to cool) peanut buttery, cream cheesy fabulous cookie bars. Another quick and simple recipe to put together with a mighty tasty outcome, go unwrap those chocolate bars and bake a sweet treat for your friends and neighbors!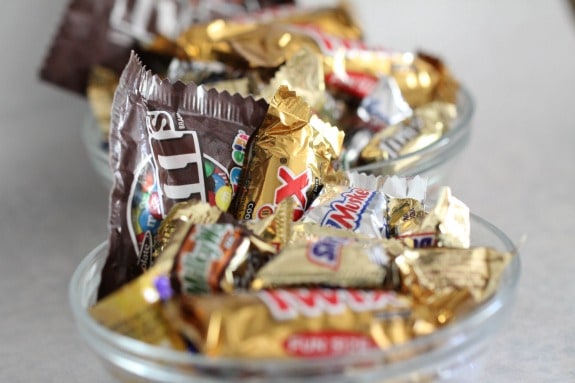 Look familiar? I am seeing this stuff in every room in the house!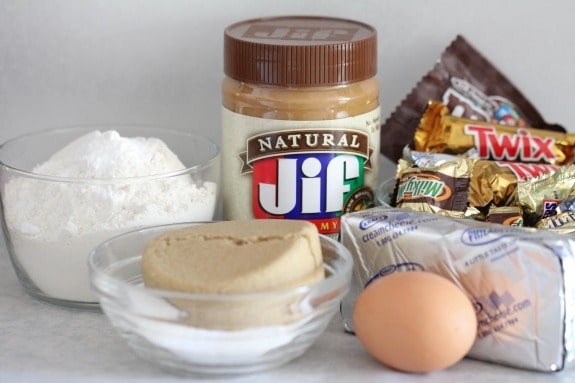 Line up….nice and easy, just how I like it 🙂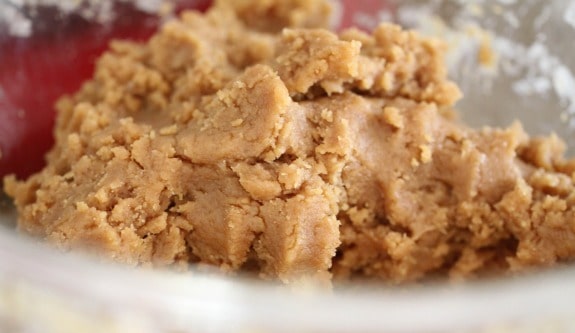 First things first, mix up your peanut butter cookie dough.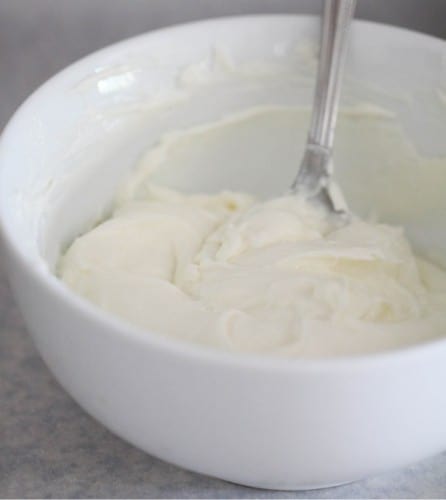 Next is your cream cheese layer which is just softened cream cheese and a little sugar mixed until smooth.
Press 1/2 of that cookie dough into the bottom of an 8×8 inch baking dish then top with the cream cheese mixture.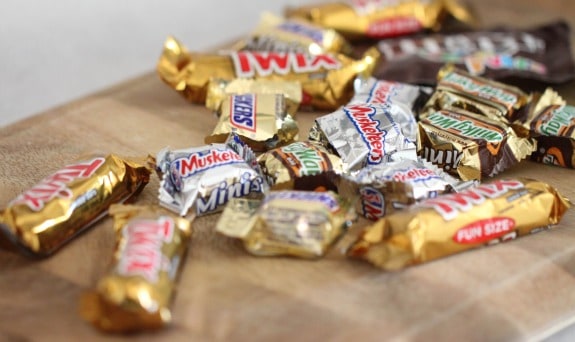 Time for the candy layer!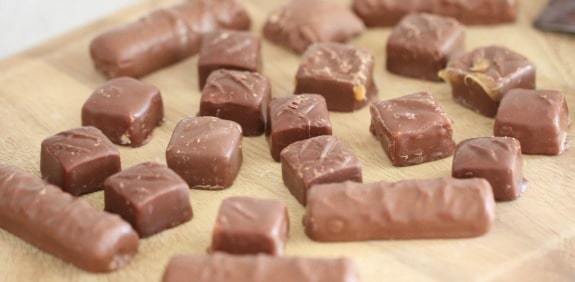 Gotta love Halloween 🙂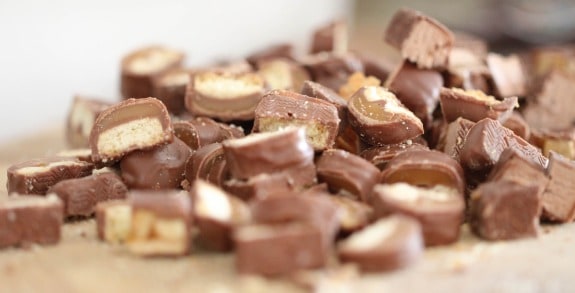 Give a few good chops and….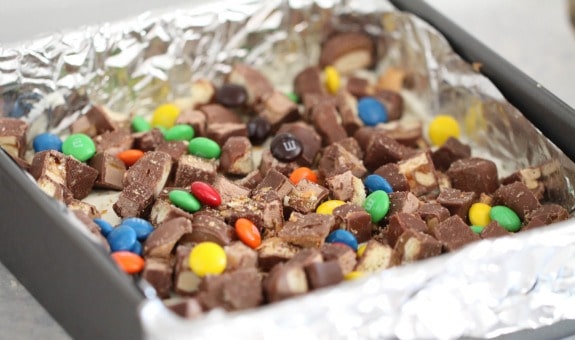 …top over your cream cheese layer.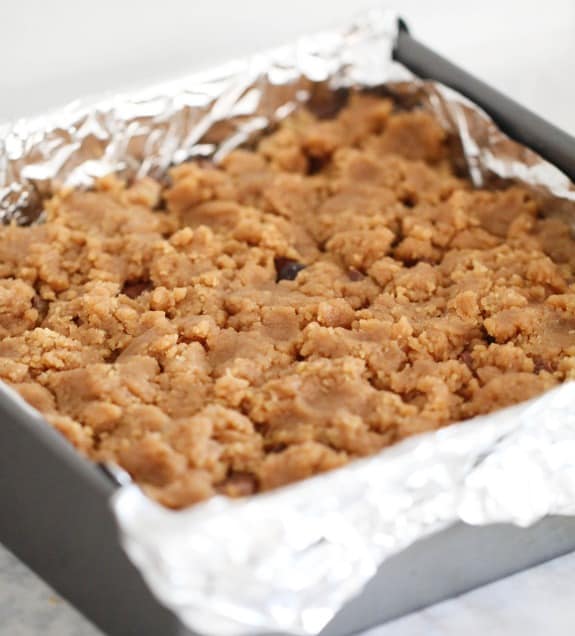 Top with remaining cookie dough and time to bake! 350 degrees F for 25-30 minutes.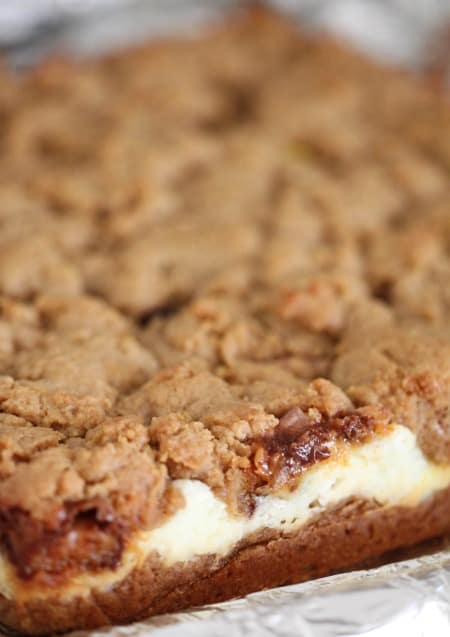 Mmmm 🙂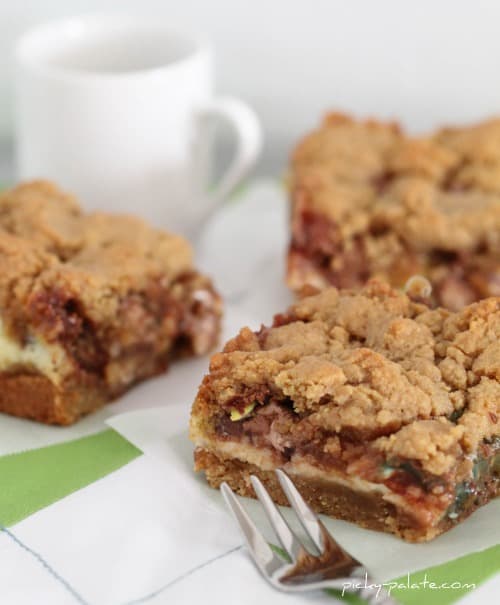 Let cool completely ( I did not, do not follow my bad example) However, I kind of like them gooey like this anyway 🙂 Grab a tall glass of milk and enjoy….then give some away to your favorite neighbors and friends!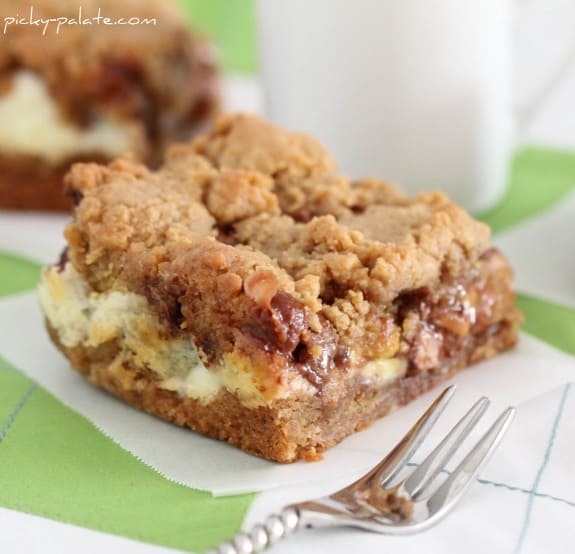 [ziplist]
Peanut Butter Cookie and Cream Cheese "Candy" Bars
1 Cup creamy peanut butter
1/2 Cup granulated sugar
1/2 Cup packed light brown sugar
1 large egg
1 teaspoon pure vanilla extract
1 1/4 Cups all purpose flour
1/2 teaspoon baking powder
3/4 teaspoon baking soda
1/4 teaspoon salt
3-4 Tablespoons hot water (enough to dampen the dough)
8 oz softened cream cheese
3 Tablespoons granulated sugar
25 pieces favorite leftover Halloween chocoaltes!
1. Preheat oven to 350 degrees F. In stand mixer, beat peanut butter and sugars until well combined. Add egg and vanilla to combine.
2. In mixing bowl, mix flour, baking powder, baking soda and salt to combine. Slowly add to wet ingredients then pour in hot water. Press half of dough into an 8×8 inch baking pan lined with foil and sprayed with cooking spray.
3. In another bowl mix the softened cream cheese and sugar until smooth then layer over peanut butter dough. Cut up chocolates and layer over cream cheese then top with remaining peanut butter cookie dough. Bake for 25-30 minutes or until cookie turns golden brown. Remove and let cool completely then cut into squares.
9 large bars
_____________________________________________
Happy Baking, see you soon!