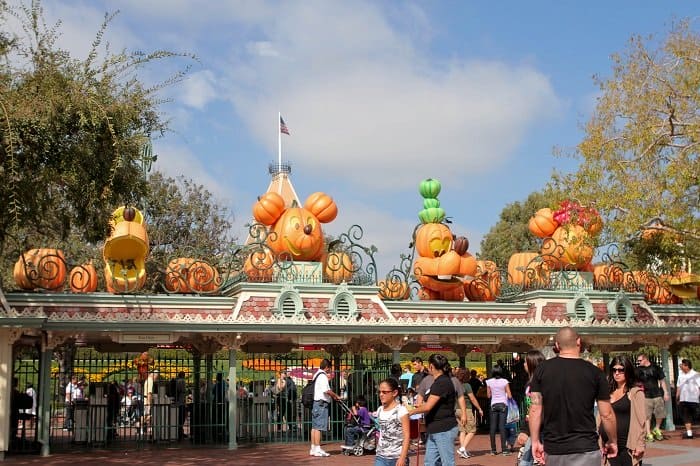 Have you been to Disneyland during the month of October? If not, you must. It is so fun and festive. I caught these photos a few weeks ago and just love them. These Disney character pumpkins greet you as you come into the park 🙂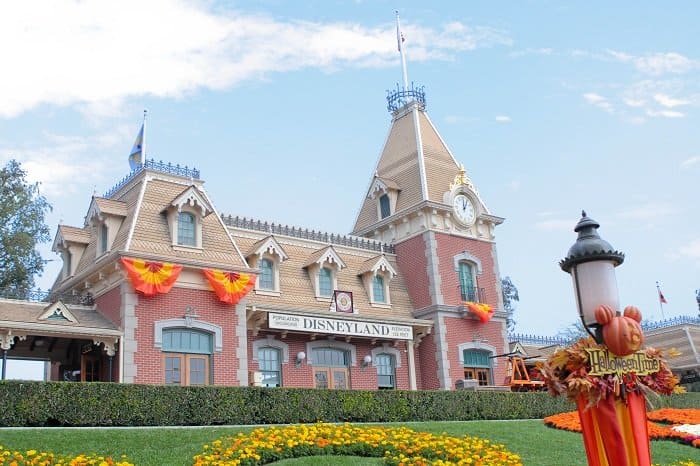 Here's another glimpse of the front of Disneyland. Fun!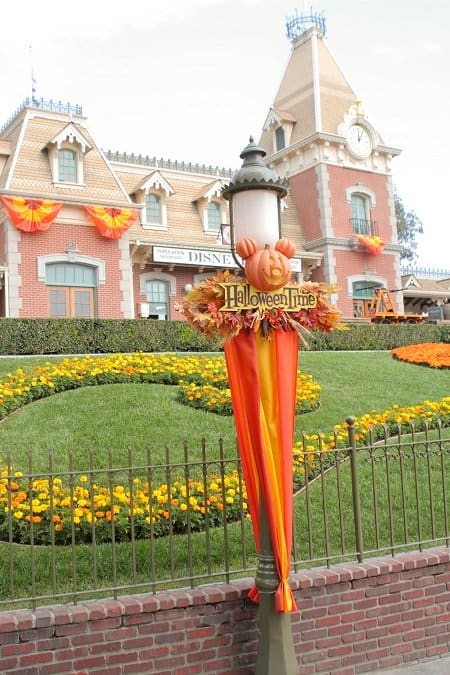 These decorations line the lights of Main Street as well as the entrance area.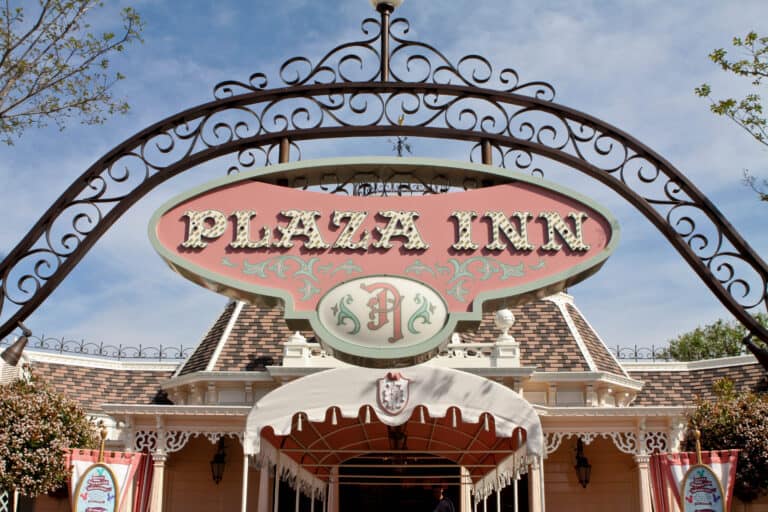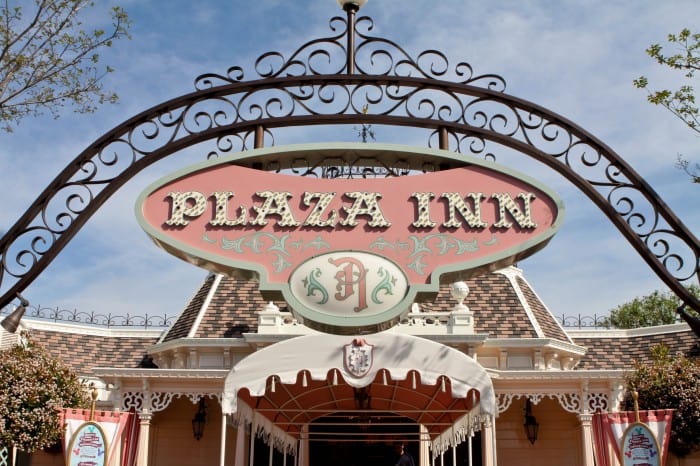 Today, I will be reviewing the Plaza Inn Restaurant right off of Main Street before heading into Fantasy Land. It has a fancy pink entrance that makes you so excited to go inside.
Here is the menu below:
Plaza Inn Specialty Chicken – Three pieces of chicken, fried to a golden brown, seasoned with distinctive herbs and spices. Served with mashed potatoes, buttermilk biscuit and mixture of vegetables. $13.49
Pot Roast – Slow-roasted, served with vegetables, buttermilk biscuit, mashed potatoes and gravy. $14.49
Penne Pasta – Topped with Parmesan cheese, served with Italian bread and one of these flavorful sauces: Marinara, Bolognese, Chicken Pesto Alfredo Sauce – $12.49
---
Salads
Cobb Salad – Fresh tossed mixed greens, with chicken, bacon, egg, tomatoes, and blue cheese dressing $10.49
House Salad – Mixed greens, carrots, tomatoes and choice of dressing $3.99
---
Child's Menu
Chicken – Choice of a baked or fried chicken leg, with mashed potatoes, green beans, seasonal fruit, and choice of small Low-Fat milk, small Low-Fat chocolate milk, juice or small bottled water. $6.99
Penne Pasta – Topped with Marinara or Bolognese sauce. Served with fresh seasonal fruit, Italian bread, and choice of small Low-Fat milk, small Low-Fat chocolate milk, juice or small bottled water. $6.49
---
Beverages
Coke, diet Coke, Sprite, Root Beer, Fanta Orange, Light Lemonade, Iced Tea, PowerAde – Regular $2.79, Large $3.29
Hot Cocoa $2.79
Chocolate Milk $2.79
Hot Tea $2.79
Coffee – Regular or Decaf $2.79
Apple Juice $1.79
Low-fat Milk $1.79
---
Assorted Desserts Available $4.99
Chocolate Cake $4.99
Whole Fruit – $1.79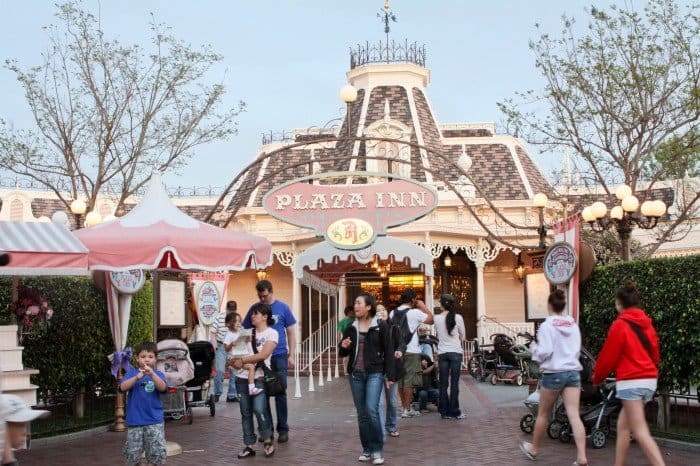 Here's another look of the front of the restaurant.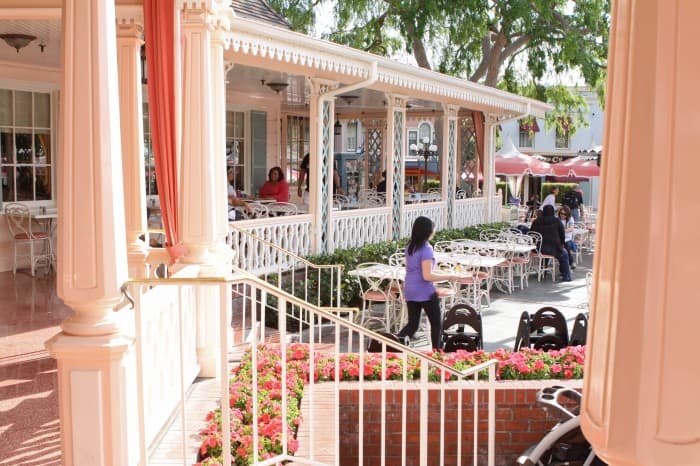 There is inside dining and a large seating area outside. You can also have birthday parties in the outside area. Looked like the kids were having a blast 🙂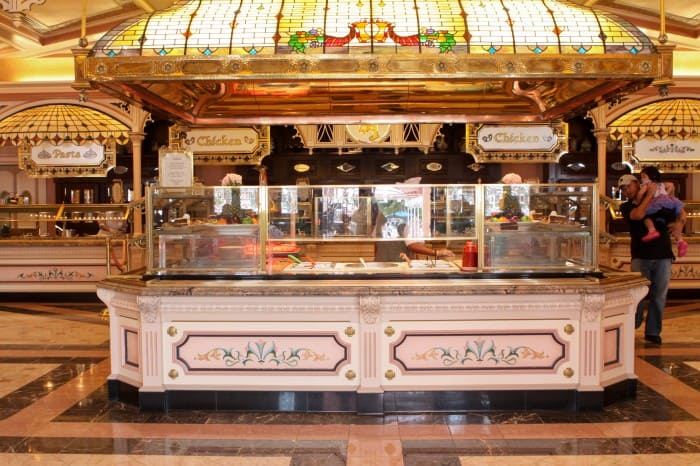 As you walk through the entrance you will see a number of areas to choose from. You have a pasta area, chicken area, beef area and of course a dessert area.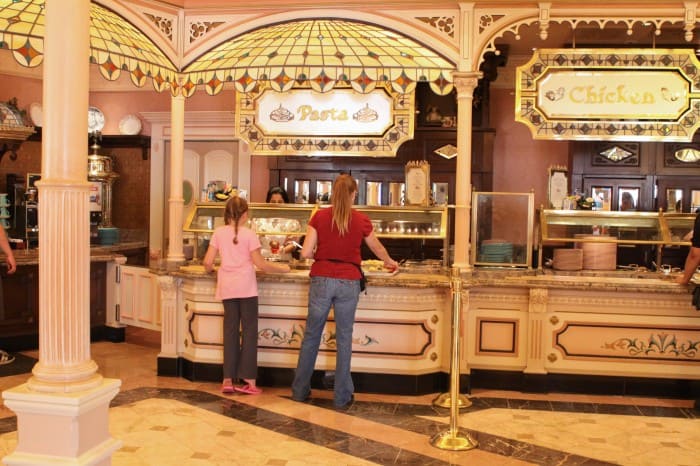 You walk right up to the counter to the type of food you are in the mood for and the server plates everything up and hands you your plate that you put onto your tray.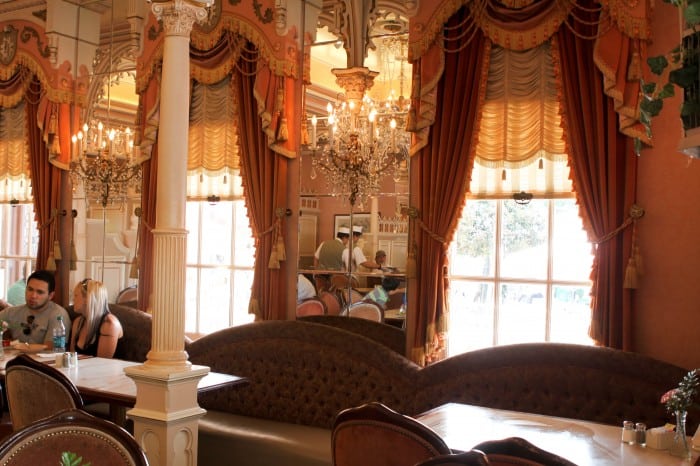 The inside dining is very nice. Soft decorative booths and fancy gold studded pink velvet chairs.
The boys and I chose a seat by the window so I could snap some photos of our food. Here is the Pot Roast served with vegetables (green beans), mashed potatoes and a buttermilk biscuit. I have to be honest, when I am at Disneyland this is not the kind of food I am in the mood for, so it wouldn't be my first choice. But it if you are in the mood for a hearty dinner, The Plaza Inn is your place!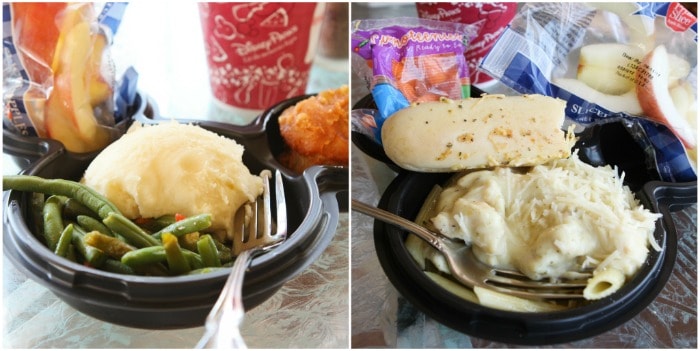 One of my boys ordered the Fried Chicken Leg that comes with mashed potatoes, vegetables, apples and a drink. He said the chicken was awesome 🙂 My other son ordered the penne pasta that you can choose alfredo or red sauce. It comes with a bread stick, apples and a drink. He liked his as well.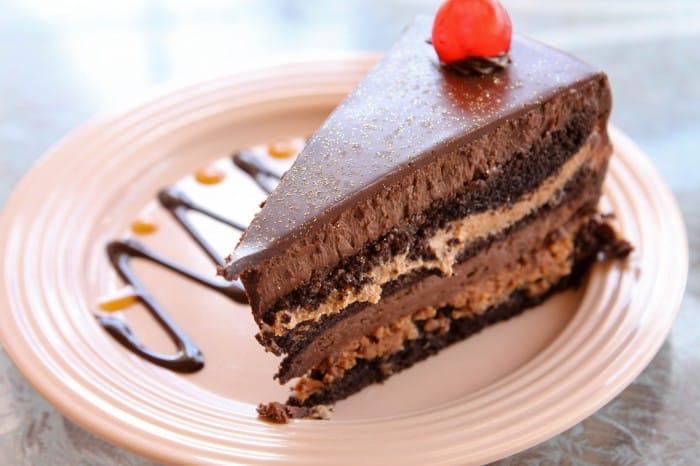 You know we had to order dessert right?! Well, the chocolate cake was very nice. Layers of chocolate mouse, cake and a crunchy layer at the bottom Yum! We'll order this one again.
Have you been to Plaza Inn? Tell us about your experience. I'd love to hear what you loved and maybe not so loved!
Disclosure: We are in no way associated or sponsored by Disneyland. Just a family who enjoys visiting the parks and giving you are honest reviews.