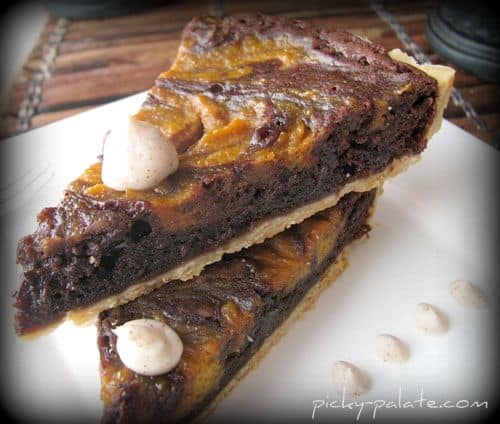 Ah the sweet smell of pumpkin pie and chocolate sneaking out of the oven. Doesn't get much better than that!
Hope everyone had a great weekend. Busy busy busy as usual around here with the boys sweaty soccer games and lots of running around. I was cracking up at the movie theater Friday night. My girlfriend and I went to see "Fame" and couldn't help feeling so old! We were the only ones in the entire theater that wasn't cheering and clapping throughout the various parts of the movie. At least it was entertaining, guess I'm just a teenie bopper at heart!
Another simple Fall lovin' recipe for you today. It's a fabulous way to jazz up that trusty box of brownie mix you've got laying around the pantry. Swirl in some of my pumpkin pie recipe and out comes this gorgeous, looks like you've slaved all day in the kitchen, little slices of heaven. Top each slice with some cinnamon spiced cream cheese and you are good to go. Enjoy!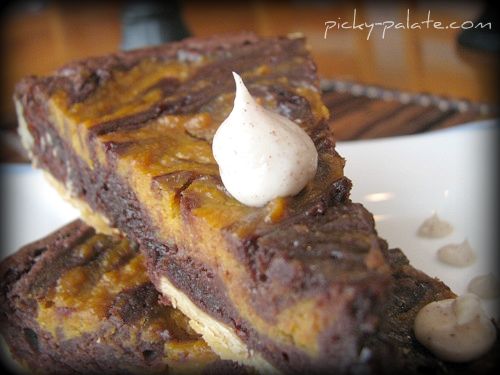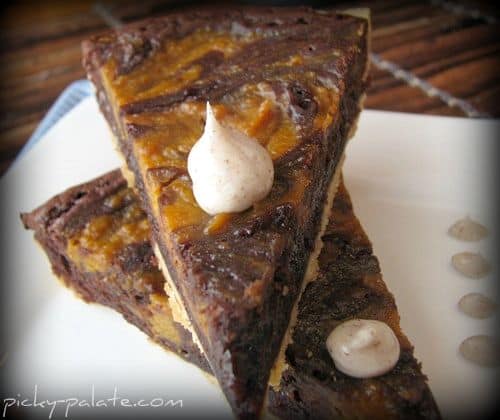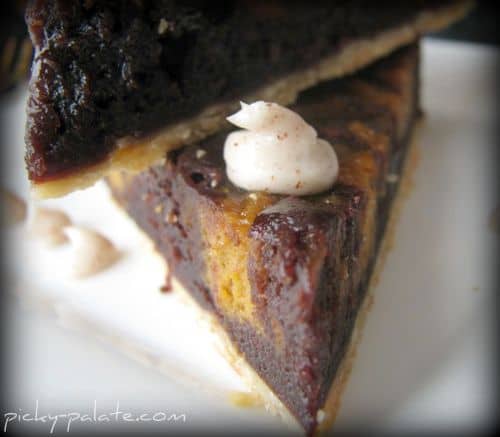 Pumpkin Pie Swirled Brownie Tart
2 rolls Pillsbury pie crust, thawed (or use your own pie crust recipe)
2 boxes brownie mix (8×8 inch size)
1 Cup pumpkin, from can like Libby's
1/4 Cup granulated sugar
1/4 Cup evaporated milk
1/2 teaspoon cinnamon
1/4 teaspoon nutmeg
1 egg beaten
______________
4 oz softened cream cheese
1/2 Cup powdered sugar
1 Tablespoon milk
1/4 teaspoon ground cinnamon
1. Preheat oven to 350 degrees F. Unroll pie dough from packaging and press into 2 tart pans with removable bottoms or 2 pie pans work just fine too. If you are using a pie pan make sure it's not a deep dish style, the brownie mix will not fill to the top. With a fork, poke holes into the bottom of each crust then bake the pie crusts for 15 minutes then remove from oven. Prepare each brownie batter according to package directions. Pour each of the mixes into your tart or pie pan.
2. In a large bowl beat the pumpkin, sugar, milk, cinnamon, nutmeg and egg until well combined. Divide into 2 equal parts and dollop spoonfuls over each brownie pie. Take a knife and carefully swirl pumpkin pie into brownie batter without over swirling. You should see swirls. Be careful not to run your knife too far down tearing the crust. Bake for 35-38 minutes or until a toothpick comes out nearly clean when poked in the center of the brownie pie. Remove and let cool completely before slicing.
3. In a large bowl mix the cream cheese, powdered sugar, milk and cinnamon until smooth and creamy. Place dollops over each slice of pie. Serve with a tall glass of milk, enjoy!
8 slices
________________________________
Have a wonderful new week, come back soon with another Pumpkin recipe that's oh so good!