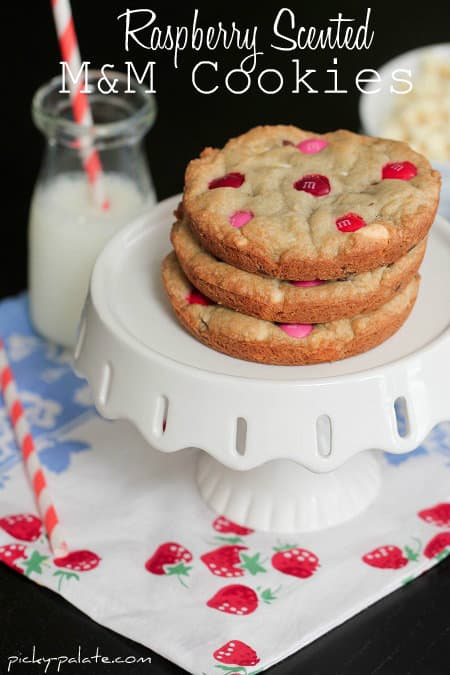 You know when I saw these fabulous Raspberry M&M's from Target that I was going to create another fun cookie right? Well, that I did! I thought it would be so fun to start with a raspberry butter that brings a perfectly hint of raspberry to each cookie with those delicious Raspberry M&Ms on top! Wait until you try these M&Ms, they are incredible right out of the bag, so try to leave some for the cookies 🙂
Hope you enjoy!!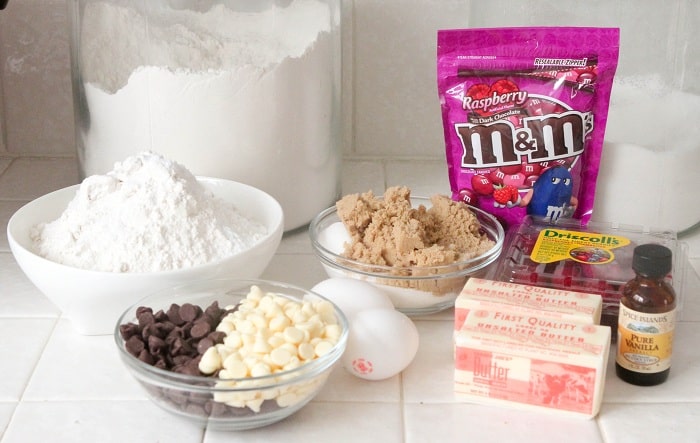 Here's your line up!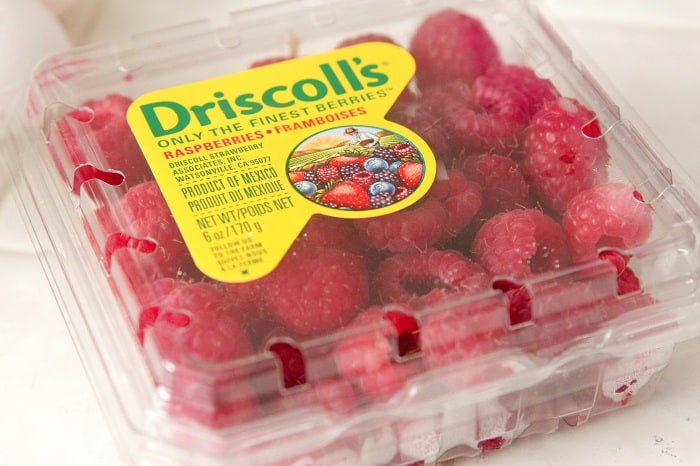 You'll need just about 1/2 cup of red raspberries to puree.

There are a number of ways you can puree your raspberries. I chose to just place them in my blender with 1 tablespoon water and mix until well combined. I placed the blended berries over my fine strainer to drain the juice. Make sense?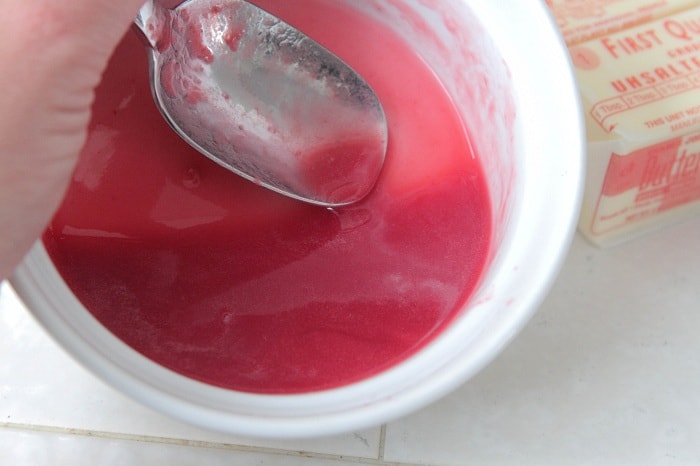 You get this beautiful berry puree. Makes the cookies smell and taste fabulous!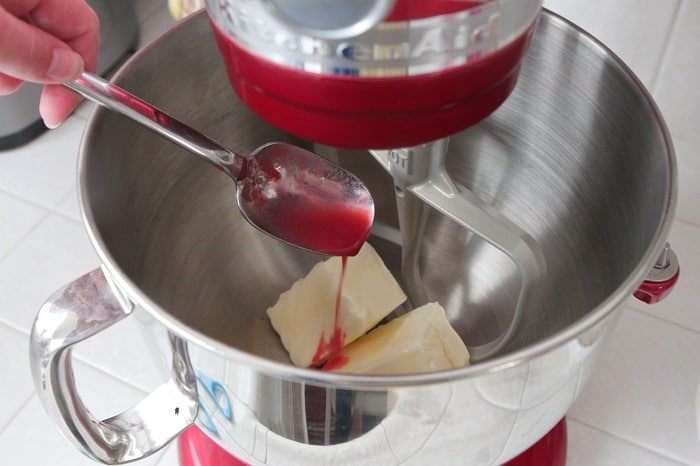 Drizzle 3 tablespoons of your puree into your softened butter.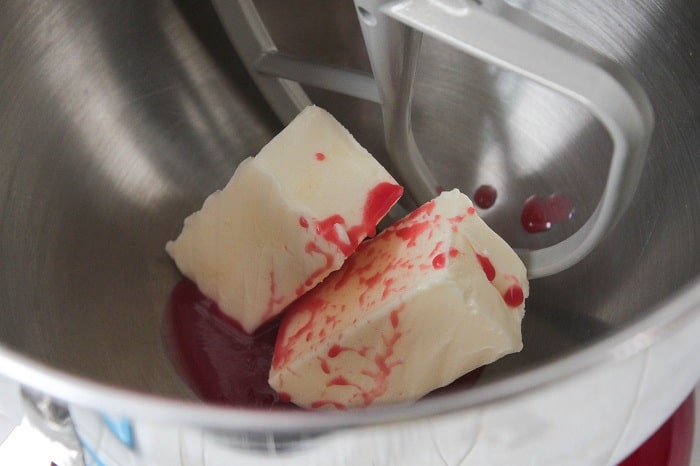 Pretty!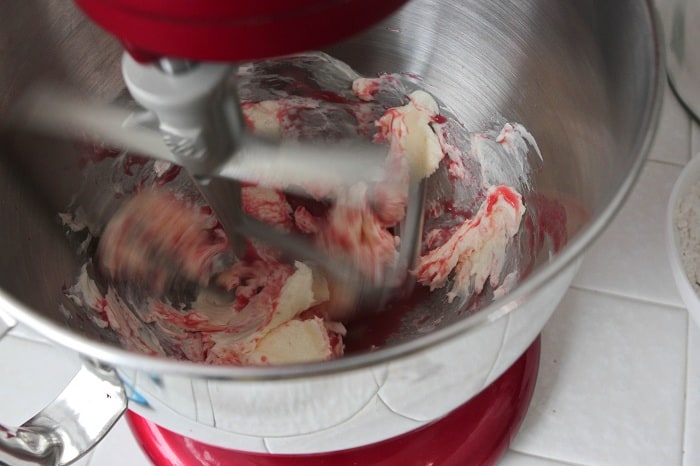 Raspberry butter in the works!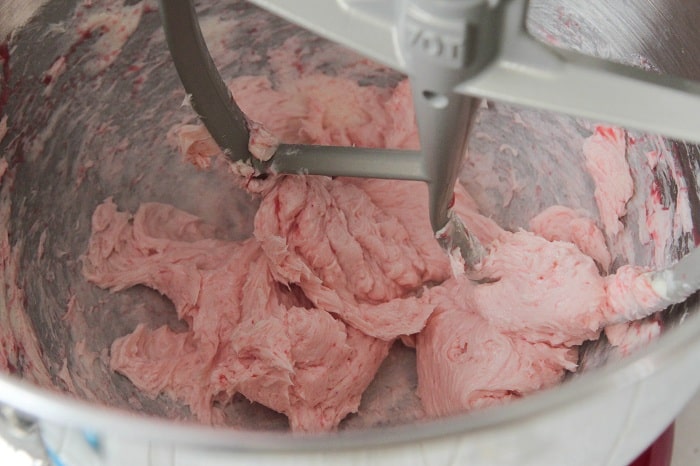 Ahhhhh, pink raspberry butter!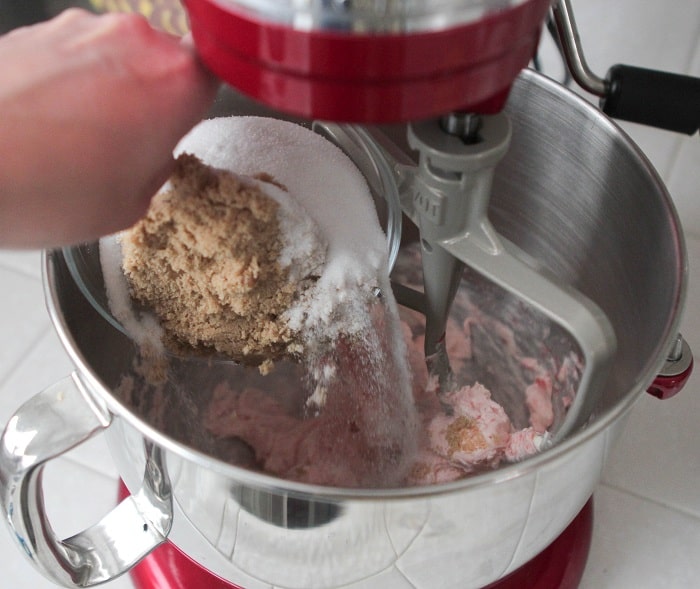 Add your sugars and mix, mix, mix!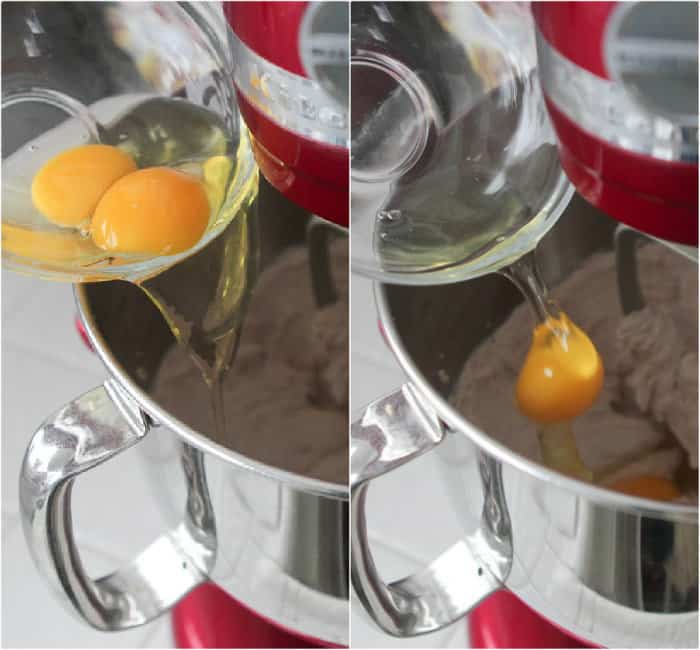 Add 2 beautiful eggs to the mix.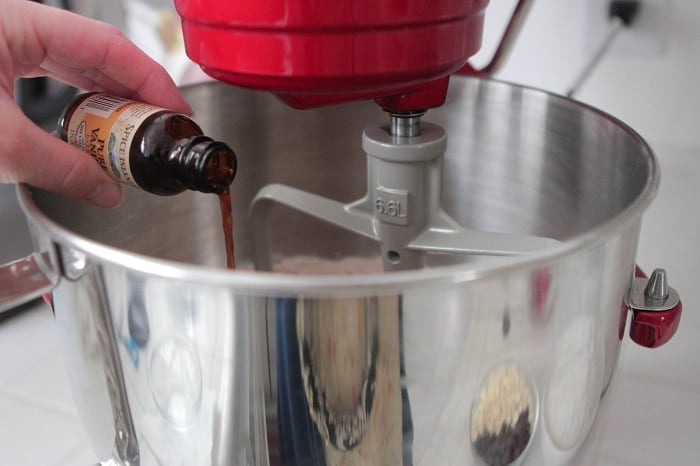 A little splash of vanilla.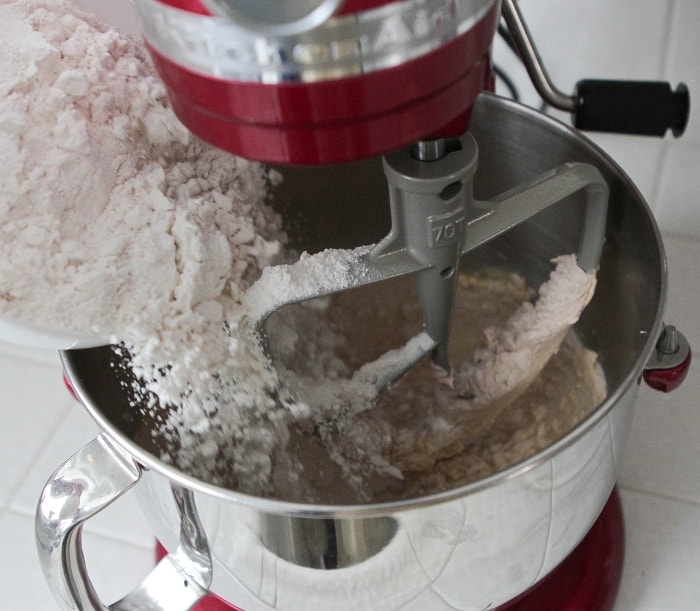 Time for the dry ingredients!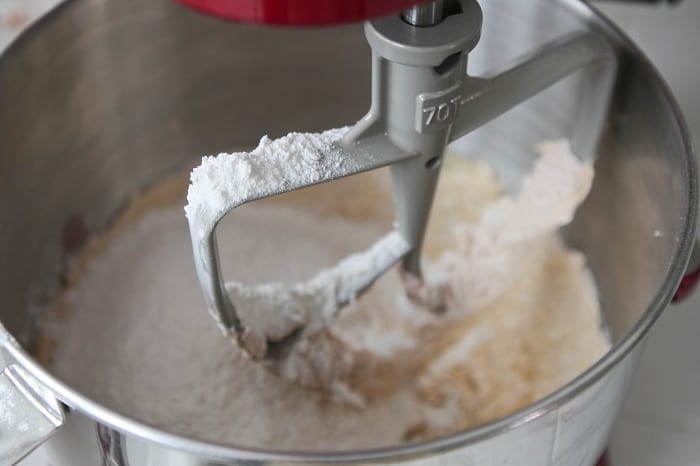 I took a moment to capture the flour on the beater. I'm a nerd.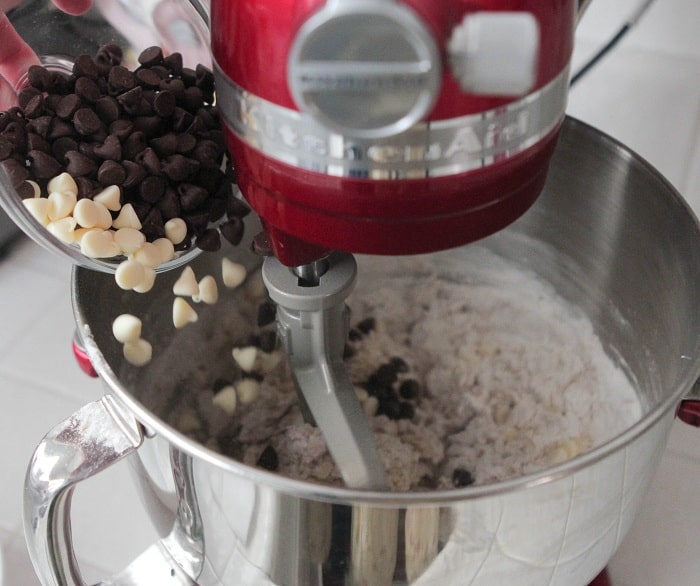 Add your chips.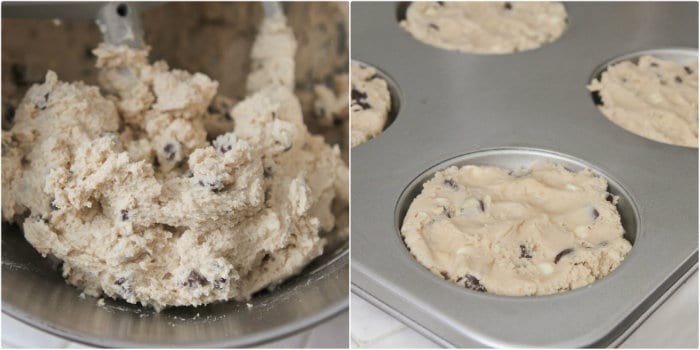 Give a little taste then press into your muffin top pan! Do you have a muffin top pan yet?! You need one! In all seriousness, they really make awesome cookies.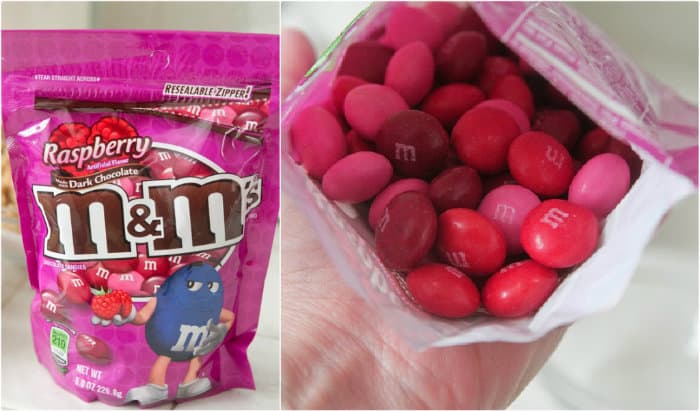 Oh how fabulous are these Raspberry M&M's? They really are delicious.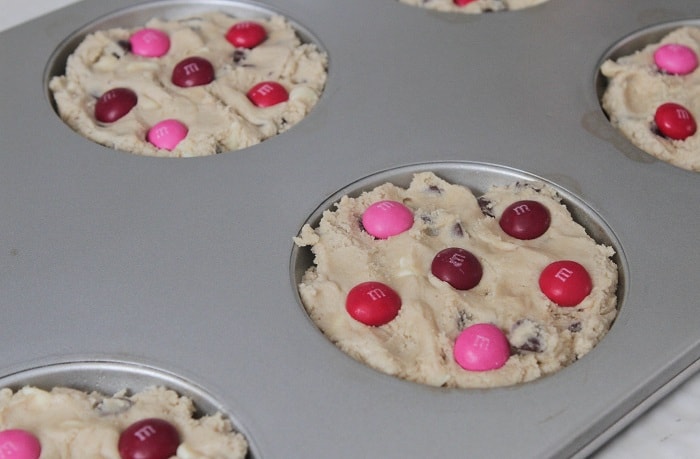 Press the M&M's into your cookies.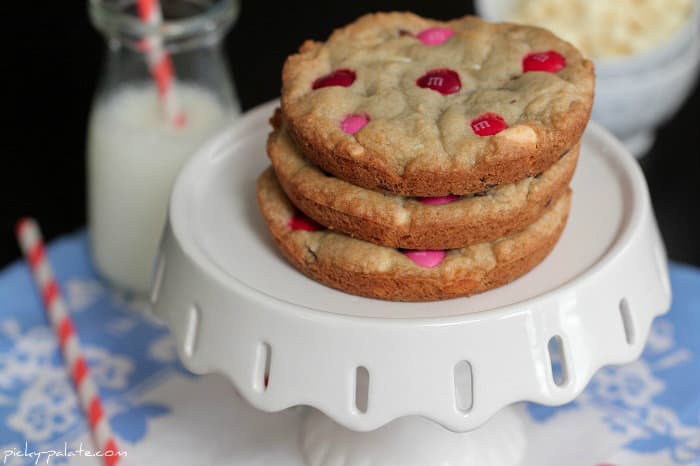 I love how nice and round the cookies turn out. They are perfect for packaging up too!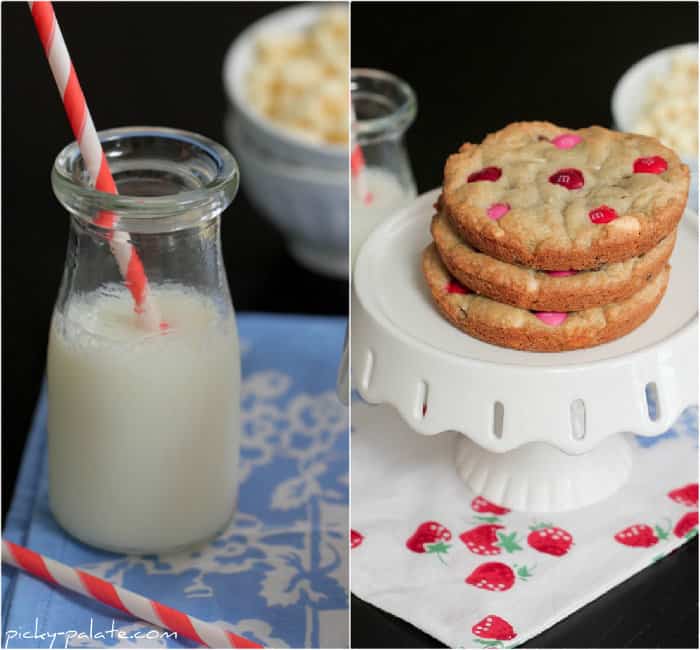 Serve with milk 🙂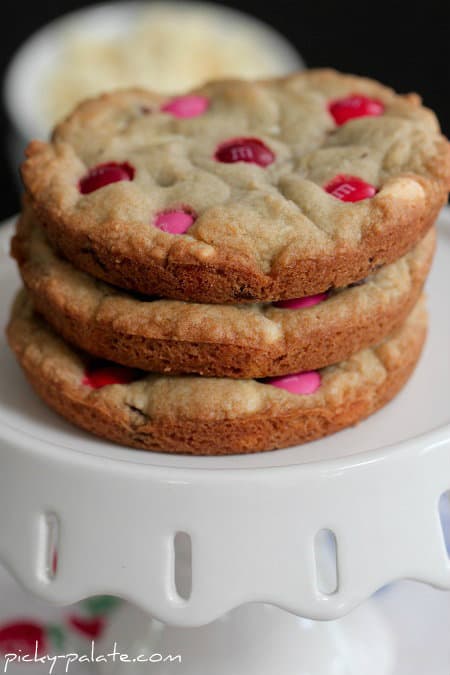 Enjoy!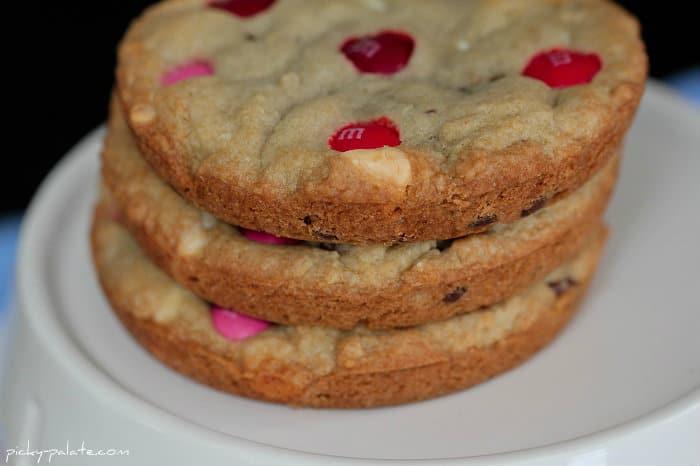 [ziplist]
Raspberry Scented M&M Cookies
2 sticks (1 cup) softened unsalted butter
3 tablespoons raspberry puree
3/4 cup granulated sugar
3/4 cup packed light brown sugar
2 large eggs
2 teaspoons pure vanilla extract
3 cups all purpose flour
1 teaspoon baking soda
1/2 teaspoon kosher salt
1 cup white chocolate chips
1 cup chocolate chips
1 bag Raspberry Chocolate M&Ms
1. Preheat oven to 350 degrees F. and lightly spray two 6 count Muffin Top Pans with cooking spray.
2. Place softened butter in bowl of stand or electric mixer. Place 1/2 cup raspberries into a blender with 1 tablespoon water and blend until well combined. Pour mixture over a fine strainer sieve placed over a small bowl to retrieve just the raspberry juice. Pour 3 tablespoons of the strained raspberry juice into the butter and beat on high until combined and pink.
3. Add sugars and beat for 2 minutes, until light and fluffy. Add eggs and vanilla beating until well combined. Slowly add dry ingredients, white and chocolate chips, beating until just combined. With a medium cookie scoop, add 2 heaping scoops of dough into each muffin top cup. Press to form around muffin top cup then top with 6 M&Ms pressing gently. Bake for 12-15 minutes, until edges become golden brown. Remove and let cool in pan for 10 minutes before removing. Remove from pans and serve.
Makes 12 large cookies
_____________________________
Have a great day! Come back soon 🙂