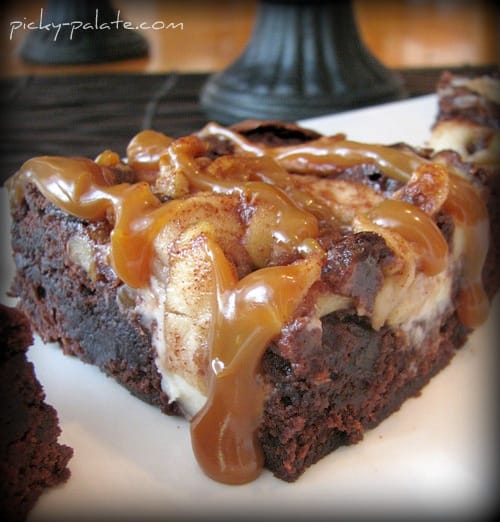 Good Thursday!
Headed to a preschool field trip this morning to a local pumpkin farm. My little guy is so excited, should be fun, sack lunch and all. Also, finally decided that my husband and I are going to be a "Pirate" couple for the Halloween party we have this weekend. We look like Disney Pirates of the Caribbean workers! I don't think he's thrilled with the afro wig I got to go with his! I'll be sure to take pictures!
I'm excited to share these devilish gigantic brownies today. These bad boys are perfect for any fall party you might have coming up. I whipped them up yesterday while the boys were at school and I must say, they are INCREDIBLE and oh so easy. Apples, cream cheese, caramel and brownies…. talk about a fabulous combination. What are you waiting for, get baking!!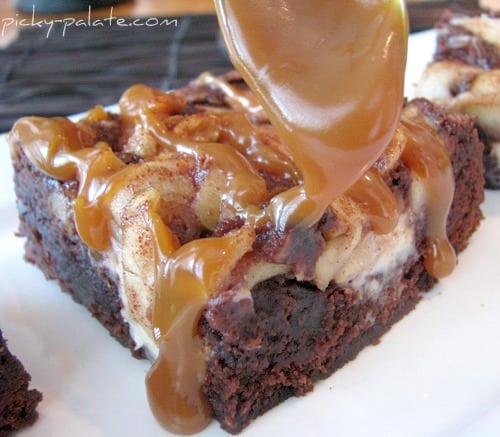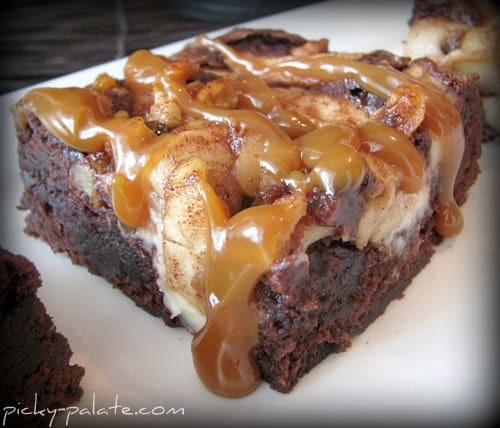 Roasted Apples N' Cream Caramel Topped Brownies
1 Box Pillsbury Brownie Mix, Family size, 9×13
8 oz softened cream cheese
1/4 Cup granulated sugar
4 Tablespoons butter
4 small-medium baking apples, peeled and thinly sliced
4 Tablespoons packed brown sugar
1 teaspoon ground cinnamon
3/4 Cup chopped walnuts (or other nut of choice)
Prepared Caramel sauce, warmed in microwave (I use the caramel apple dip or ice cream topping)
1. Preheat oven to 350 degrees F. Prepare brownie mix according to package directions. Pour into a 11×7 inch (makes thicker brownies) baking dish that's been lined and sprayed with tin foil (easier to remove and cut brownies). Place softened cream cheese and sugar into a mixing bowl, mix until smooth. Place dollops of cheese over brownie batter. Use a butter knife to carefully swirl without dragging against the bottom of dish.
2. Place butter into a large skillet over medium heat to melt. Add apples, brown sugar, cinnamon and chopped walnuts. Cook and stir for 5 minutes. Remove from heat and pour evenly over brownies. Bake for 45-55 minutes or until center of brownies are cooked through. Remove and let cool completely before cutting into squares. Just before serving, drizzle with caramel sauce.
8 large brownie squares
___________________________________
Have a great weekend! See you all with more goodies 🙂