Good Monday to you!!
Wait until you try these cute as can be little pink cookies! I don't know about your kids, but my kids love that Nestle's Strawberry Milk Powder. I certainly don't have it on hand all the time, but a month or so ago, I decided to treat the boys with it. After enjoying cup after cup of strawberry milk, the old wheels started turning as to what "else" I could do with this stuff…..cookies of course!! Not sure why I didn't think about it sooner, but I tell you, you're going to love this recipe! Next I'm trying the Chocolate Milk version 🙂
Had so much fun with my little stinker in the kitchen helping me make these cookies, had to add some snapshots of him at the mixer 🙂 Hope you all enjoy!!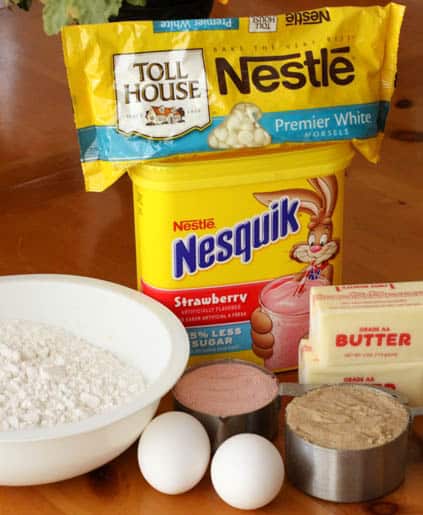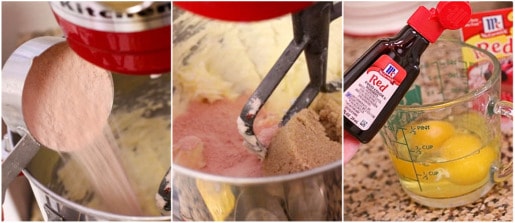 Here is where the strawberry milk powder is added, right along with the brown sugar and butter. I also added a drop or two of red food coloring to the eggs to give the cookies just a little stronger pink color. Love these! Now for my little helper….he LOVES working the old Kitchen Aid…and sampling the dough! Little cutie 🙂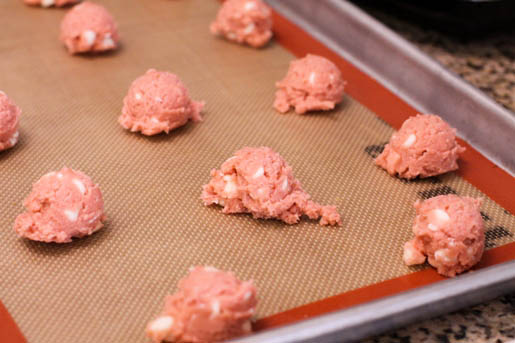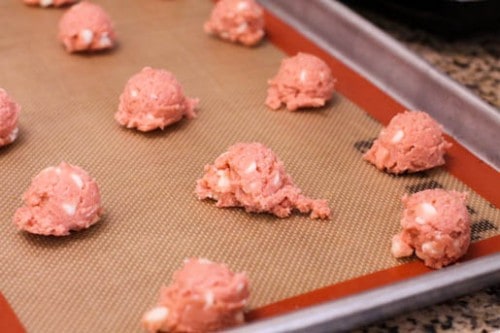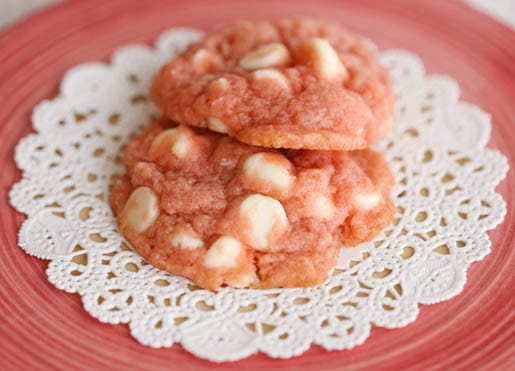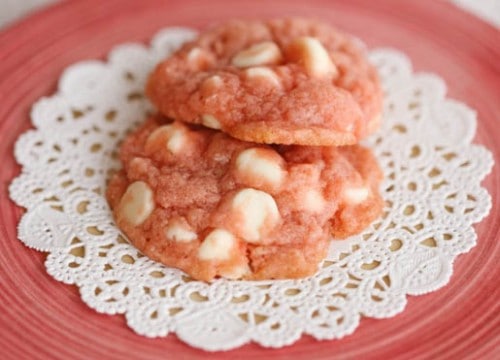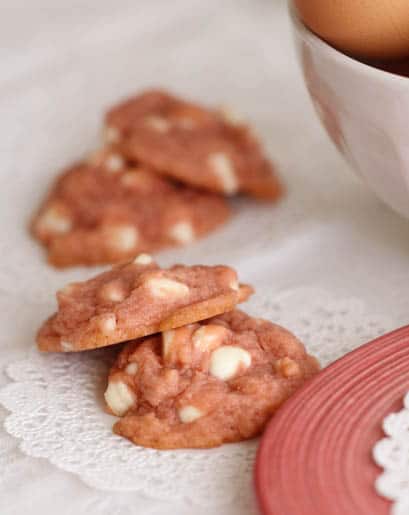 Strawberry Milk Chipsters
2 sticks softened butter
1/2 Cup strawberry milk Powder, Nestles
3/4 Cup brown sugar
2 eggs
1-2 drops red food coloring
1 Tablespoon pure vanilla extract
2 1/2 Cups all purpose flour
1 teaspoon baking soda
1/2 teaspoon salt
10 oz bag White Chocolate Chips
1. Preheat oven to 350 degrees F. In a stand or electric mixer beat the butter, strawberry milk and brown sugar until well combined. Place eggs into a bowl and whisk in 1-2 drops of food coloring. Pour into mixer along with vanilla and beat until combined, about 30 seconds. Place four, baking soda and salt into a large bowl; mix to combine then slowly add to wet ingredients along with white chips. Mix on low until just combined.
2. With a medium cookie scoop, scoop dough onto a silpat or parchment lined baking sheet about 1 1/2 inches apart. Bake for 9-11 minute or until edges just start to brown. Let cookies cool for 5 minutes before transferring to a cooling rack.
about 3 dozen cookies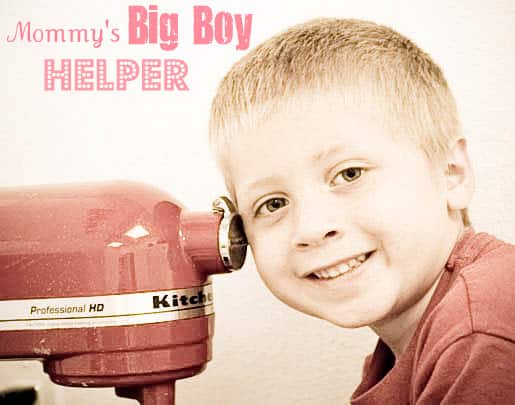 Have a great new week!! See you soon with more cookin'!