Sharing my tips on What NOT to miss at Get Your Ears On Celebration going on this year at Disneyland Resort! It's a party, get on over to the Parks for the fun!
The Get Your Ears On Celebration is happening now at Disneyland Resort! There hasn't been an end date given just yet, will update as soon as I hear. For now, there is all kinds of fun to be had at the Parks!
Meet Mickey and Pals In Their New Celebration Outfits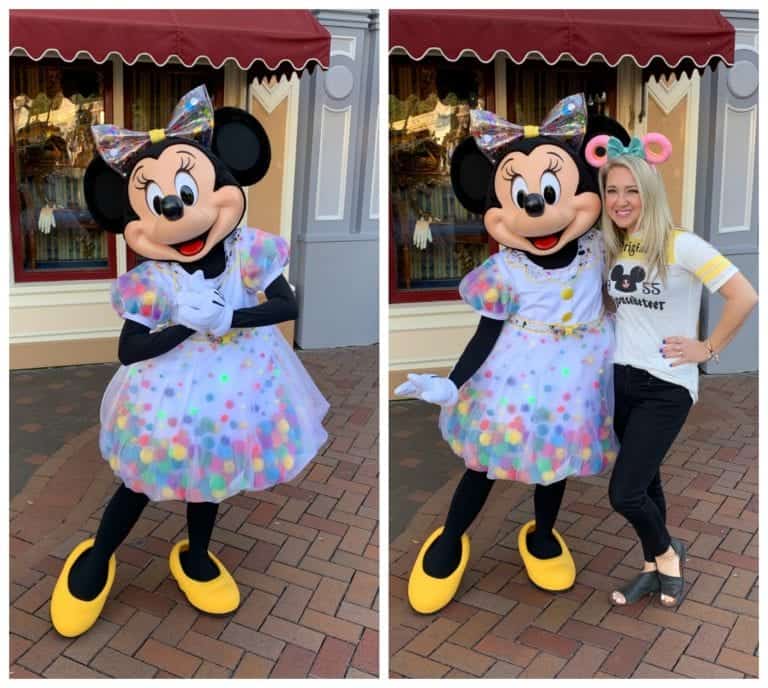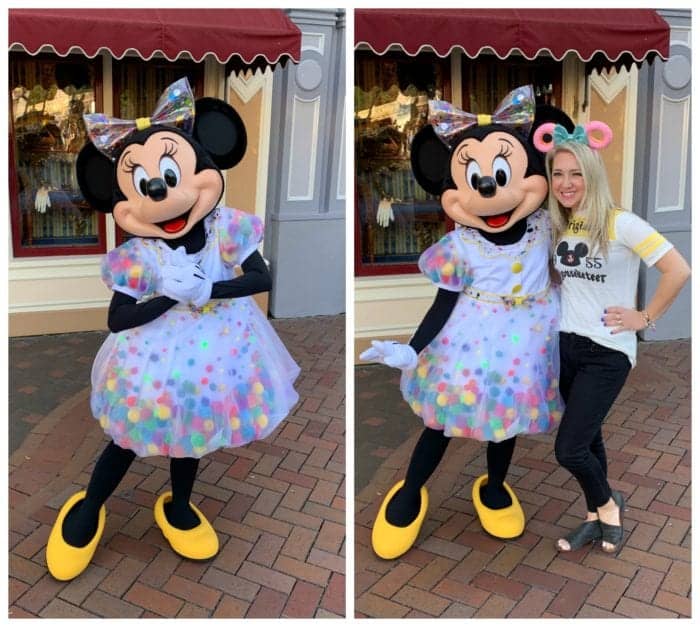 For the duration of the Get Your Ears On Celebration, you can get your photos taken with Mickey and Pals in their brand new outfits. They are so adorable and are available on Main Street, U.S.A. Minnie's dress is amazing!!!
Mickey Mouse's New Suit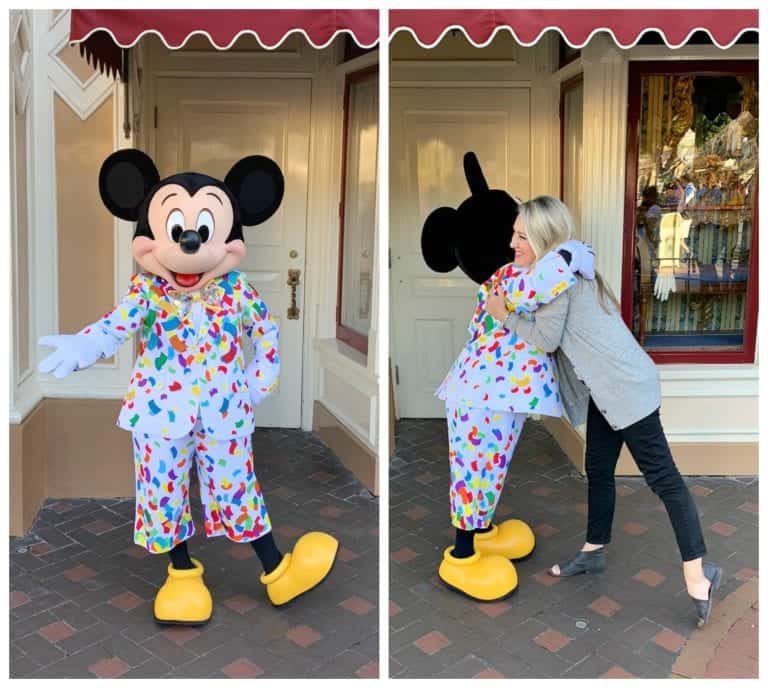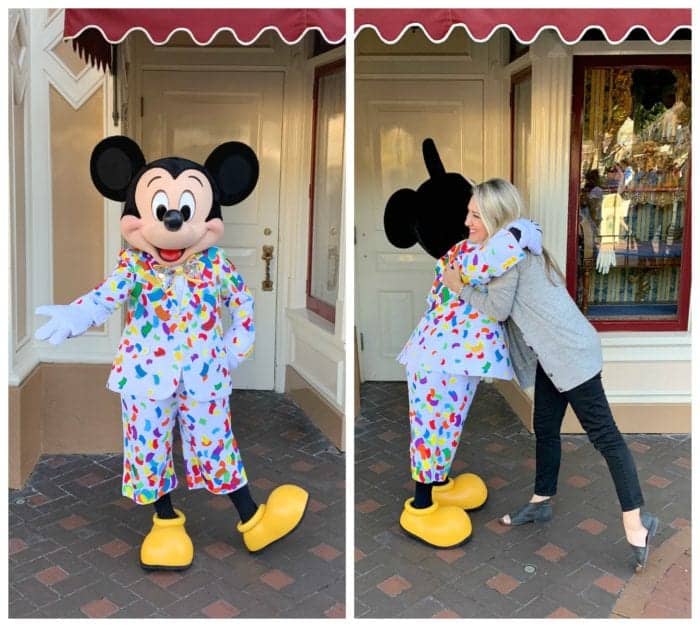 Mickey and his new Celebration Suit is so precious! Those short pants are adorable. Make sure to go find Mickey on Main Street, U.S.A.
Goofy's New Celebration Outfit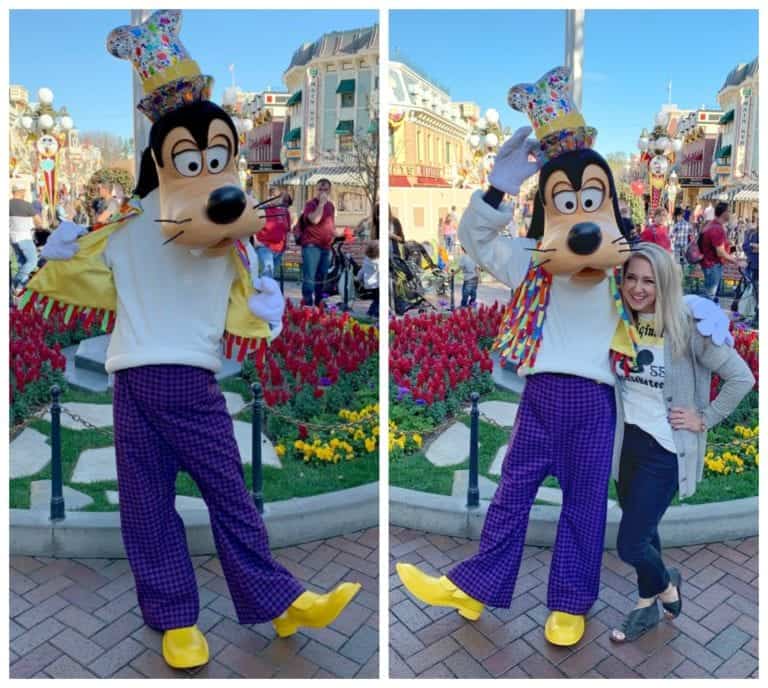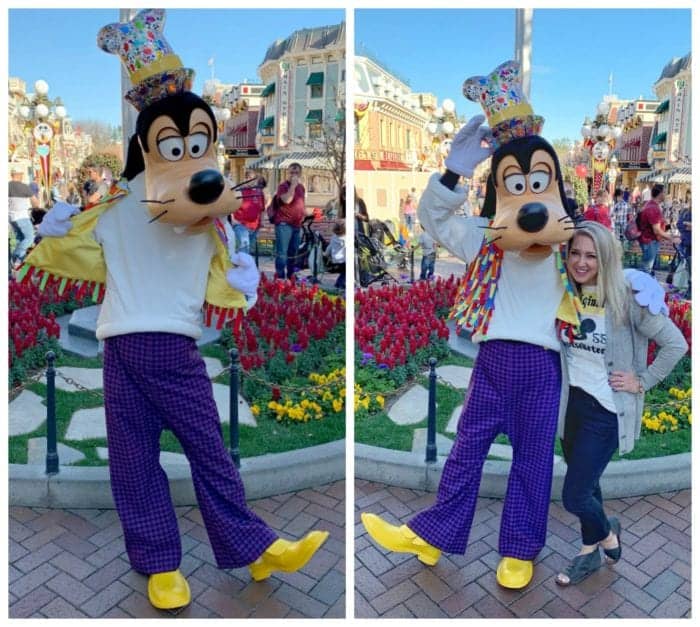 Goofy's fancy vest and bright purple pants are so much fun. Be sure to go find him as well!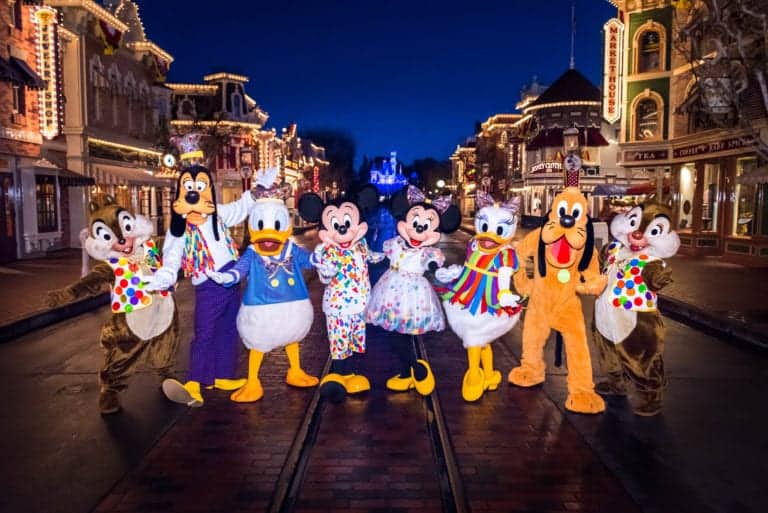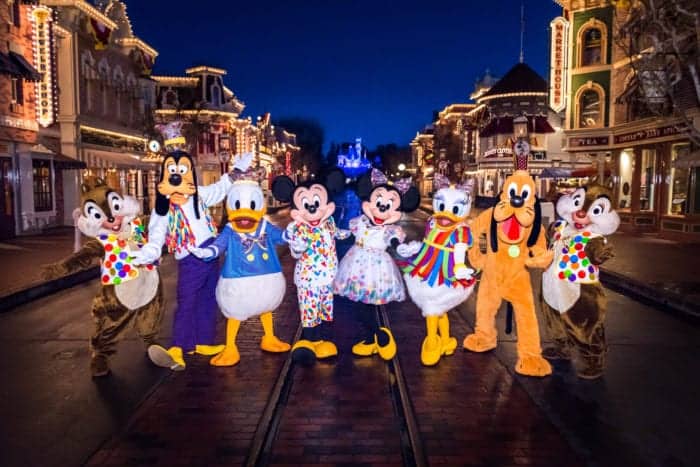 Photo via Disneyland Media
Here are all of the Pals available for photos in their Celebration get ups 🙂
New Mickey's Soundsational Parade Floats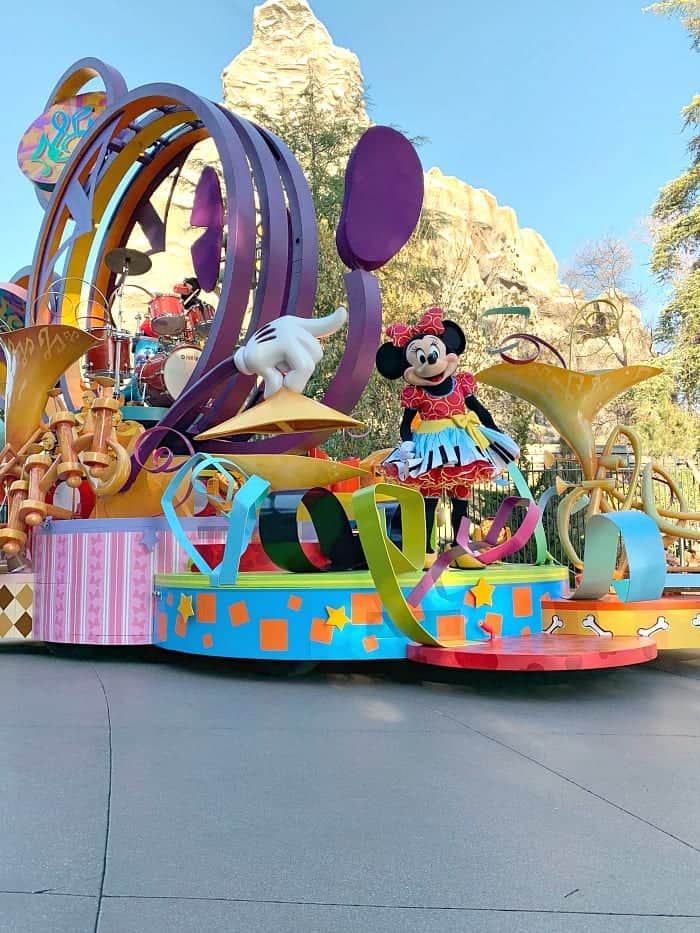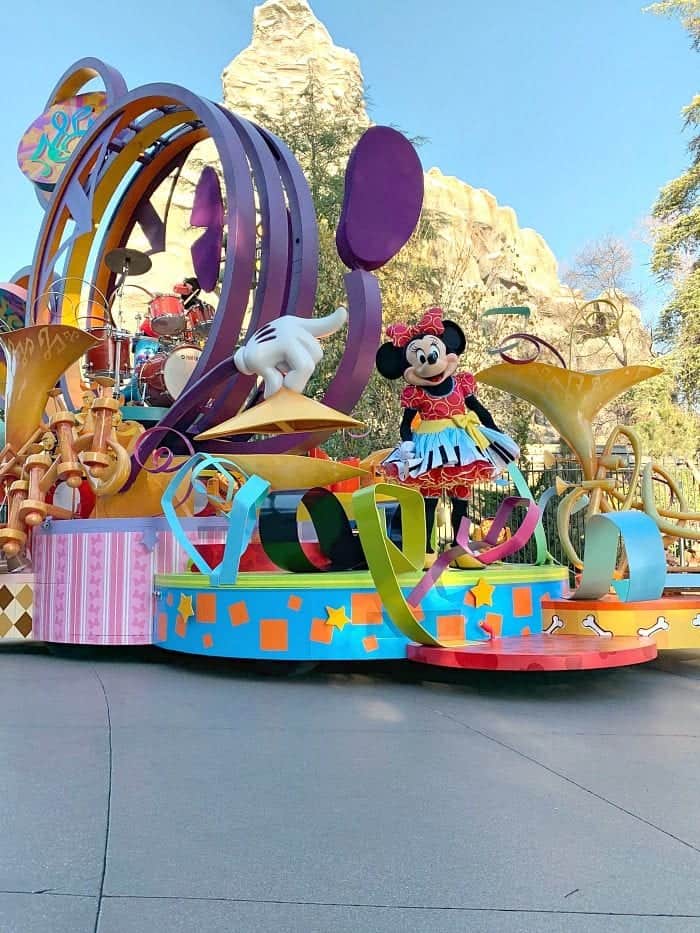 Be sure to catch Mickey's Soundsational Parade to see the new additions this year! Mickey leads the way, followed by Chip, Dale and a giant cake baked especially for the celebration—then keep your eyes peeled for Goofy, who's towing a larger-than-life pull-toy "gift"!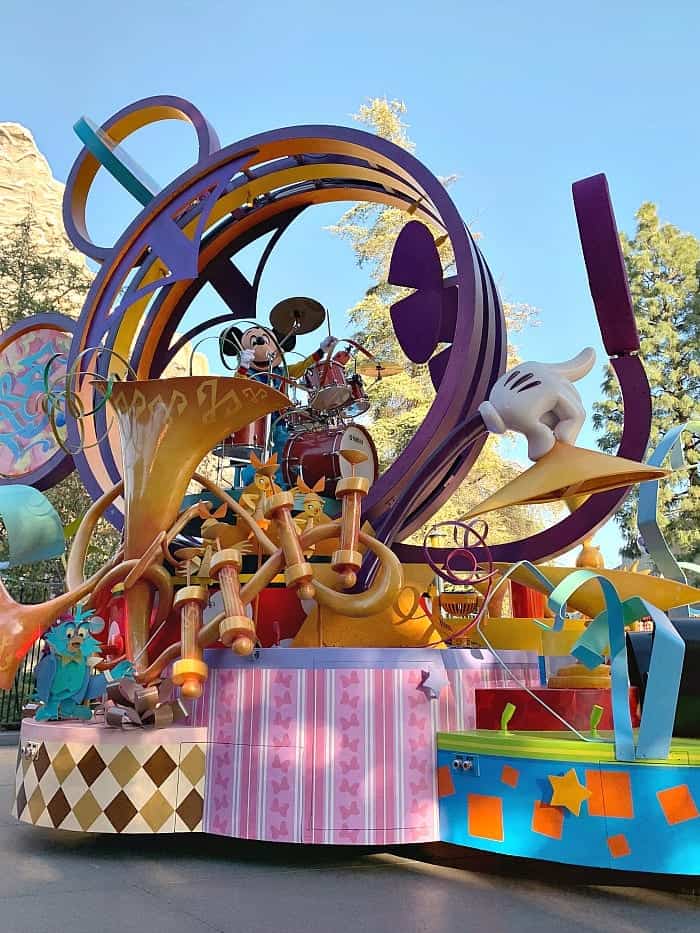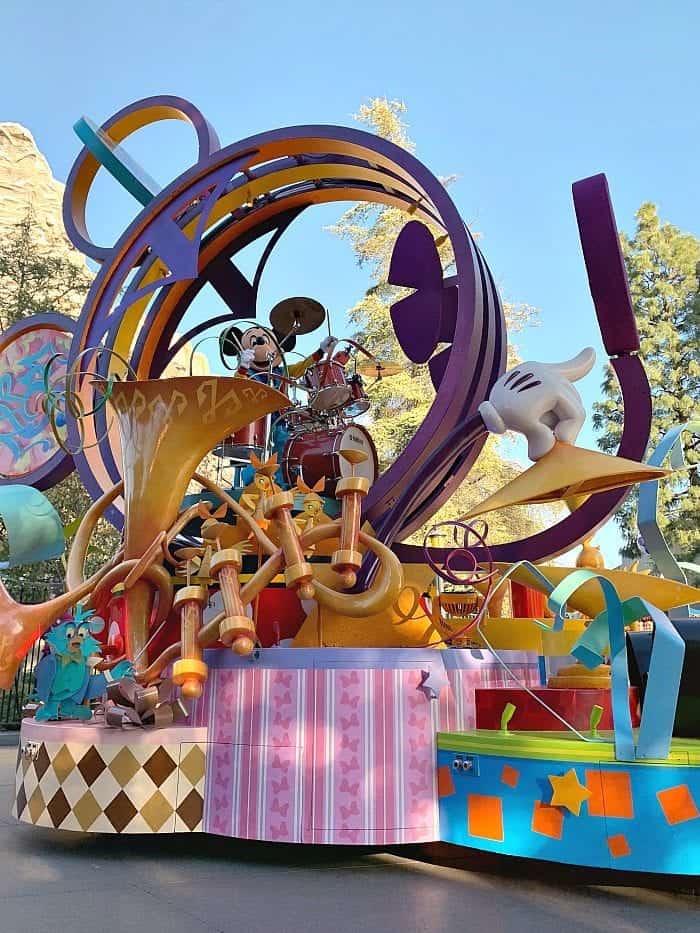 Mickey rocking out on the drums is so cute. The music has you dancing in your seats! Such a fun Parade!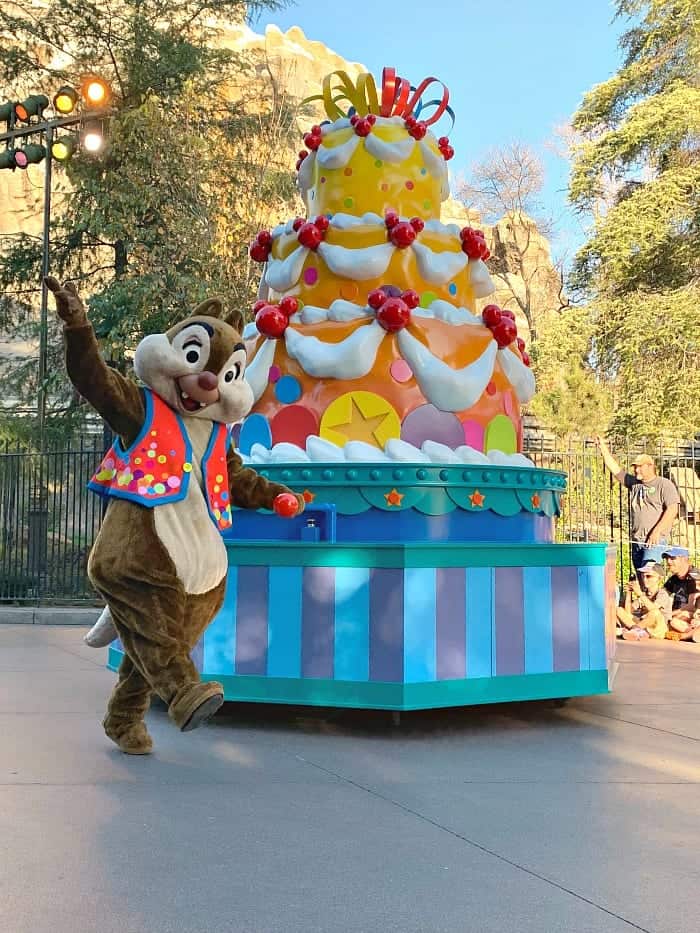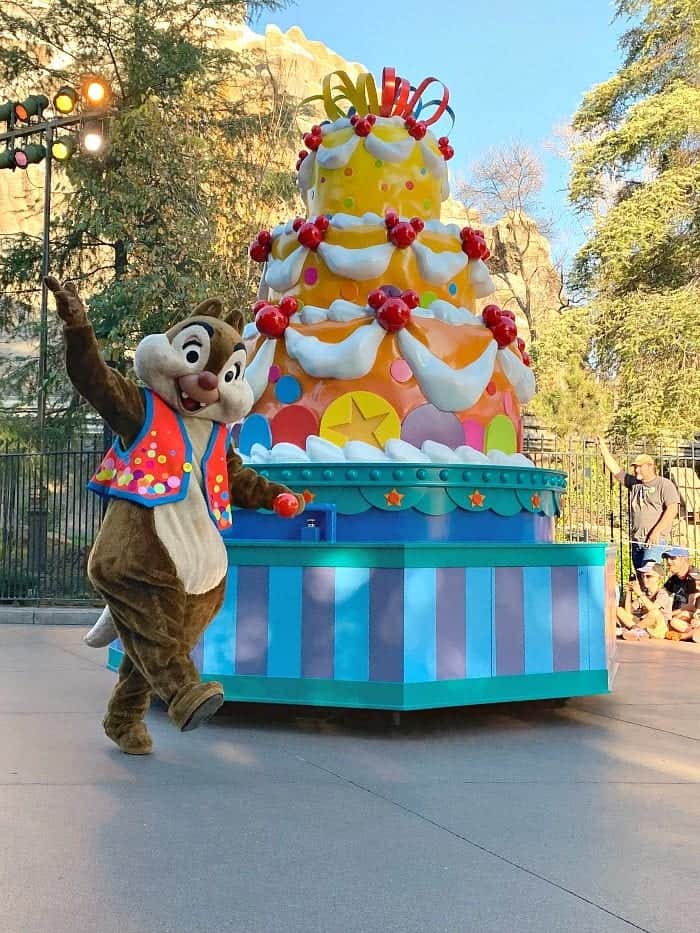 Chip and Dale…..adorable too!!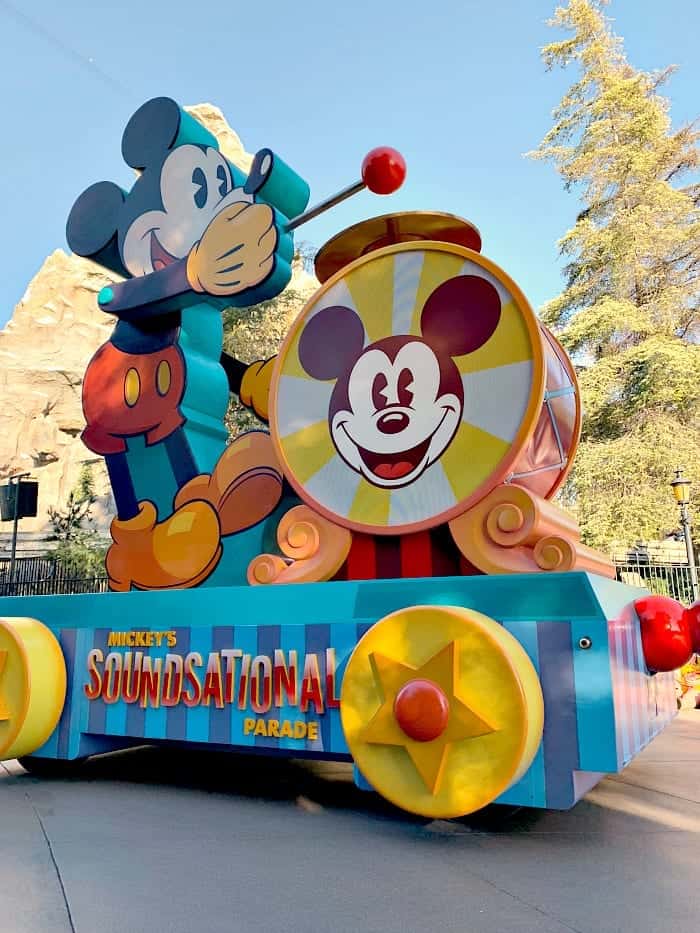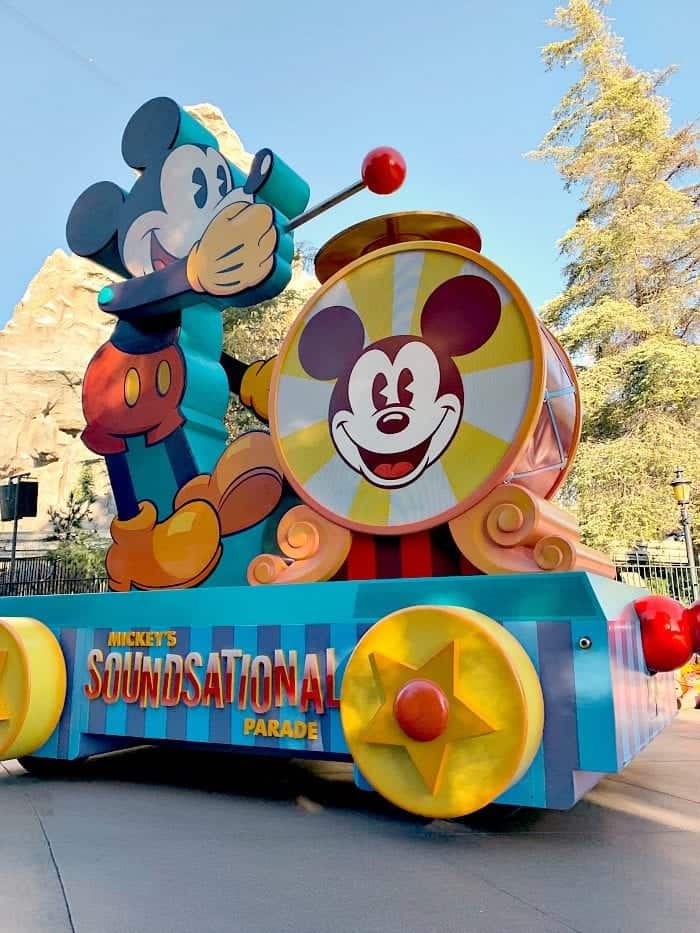 Another new float addition. I'd recommend finding your seat about 45 minutes in advance to make sure you have a seat for your group. We watched the Parade across from the Matterhorn in the shade. It's a great spot.
The Food!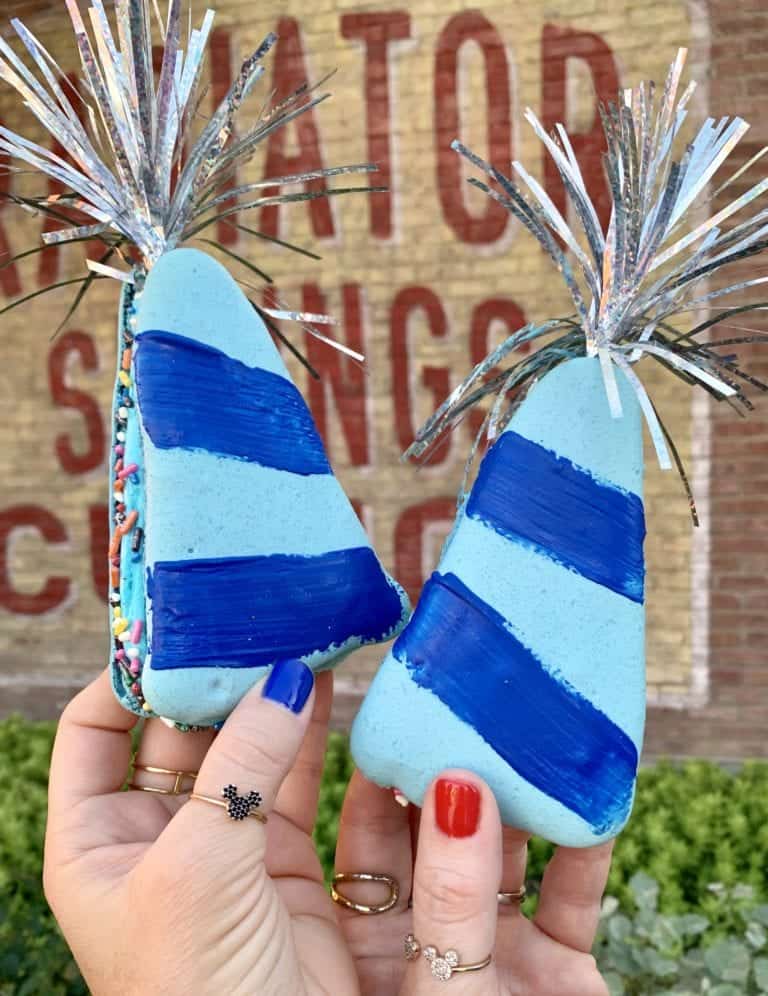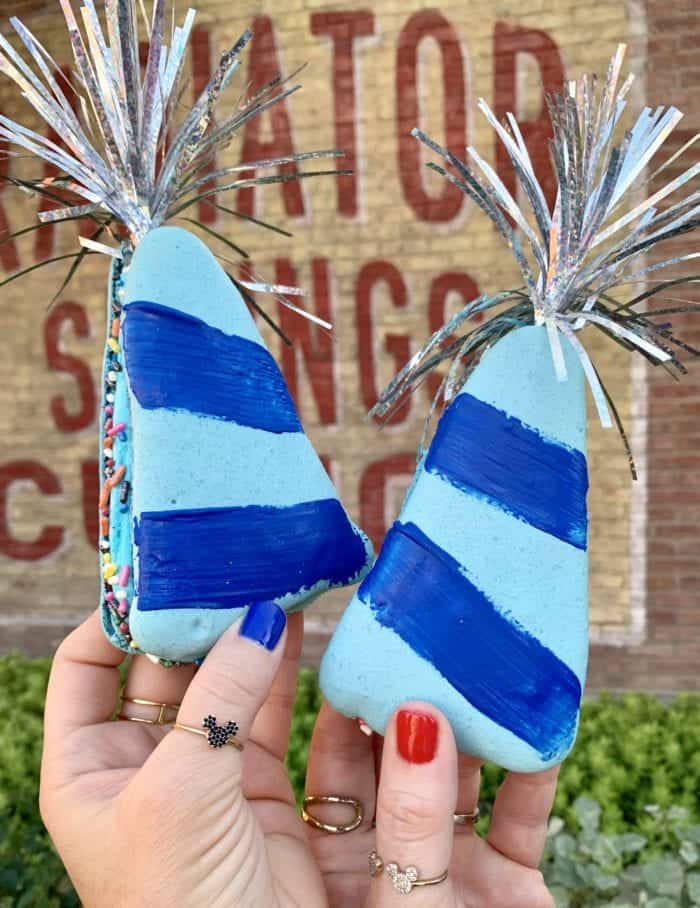 You'll find dozens and dozens of new Celebration Food and Treats available at both Disneyland Park and Disney California Adventure Park throughout the Get Your Ears On Celebration. I've reviewed all of the new food and treats HERE. Be sure to check it out. If you'll be at the Parks before February 18th, be sure to check out my post with all of the adorable Valentine's Month Food offerings HERE.
Mickey's Mix Magic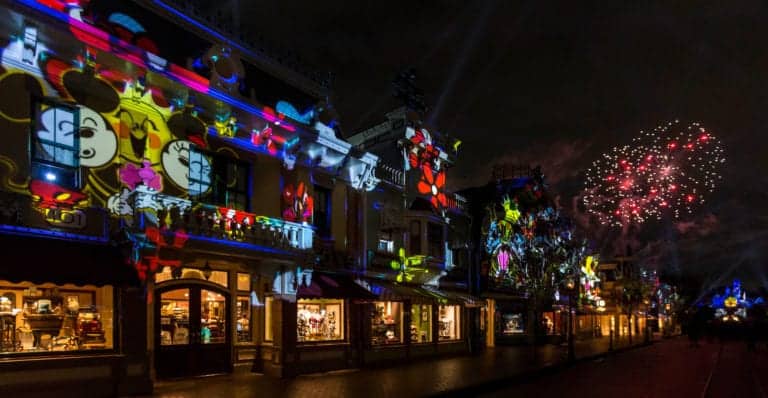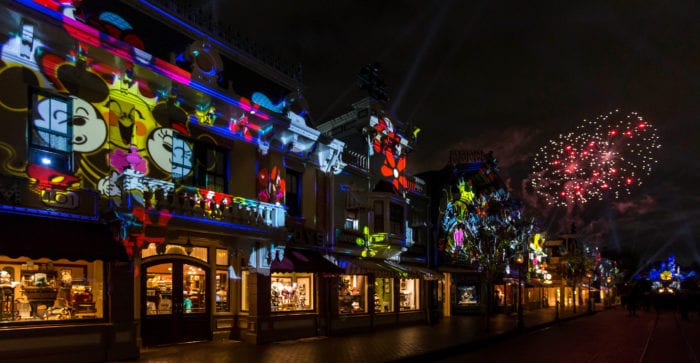 Photo via Disneyland Media
Rock your world at Mickey's Mix Magic, an all-new nightly extravaganza bursting with magical song tracks, kaleidoscopic projections and exciting lights and lasers guaranteed to electrify your soul!
The scene is set as state-of-the-art projections, lighting and lasers turn Main Street, U.S.A., the water screens on Rivers of America and the façade of "it's a small world" into dazzling displays of sight, sound and color.
On select nights, fantastical fireworks will add a pinch more pixie dust to the occasion. Attendees will be catapulted into a fun, family-friendly dance party sure to transform Disneyland Park into one of the greatest celebrations for Mickey and Minnie.
So get your ears on and don't miss the world's biggest mouse party!
Music to Your (Mouse) Ears
DJ Mickey virtually spins a playlist of remixed Disney tunes, including:
"It's a Good Time"
"I Wanna Be Like You"
"Ev'rybody Wants To Be A Cat"
"Friend Like Me"
"Grim Grinning Ghosts"
"Un Poco Loco"
"Let It Go"
"It's a Good Time" (Finale)
Fireworks occur on select nights only. Please check the your guide map and or Disneyland App for the performance schedule; nights featuring fireworks will be listed as Mickey's Mix Magic with Fireworks.
The New Merchandise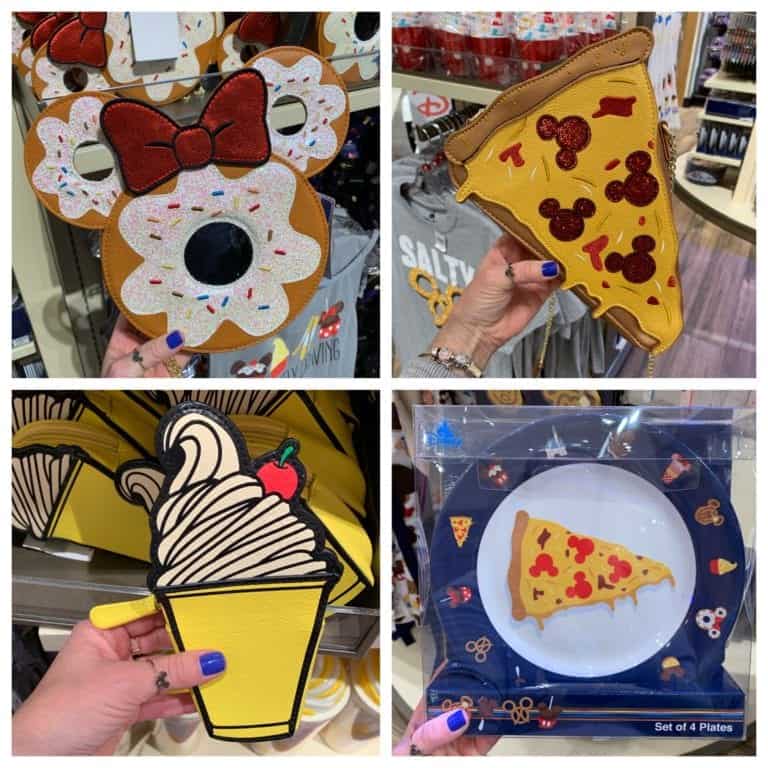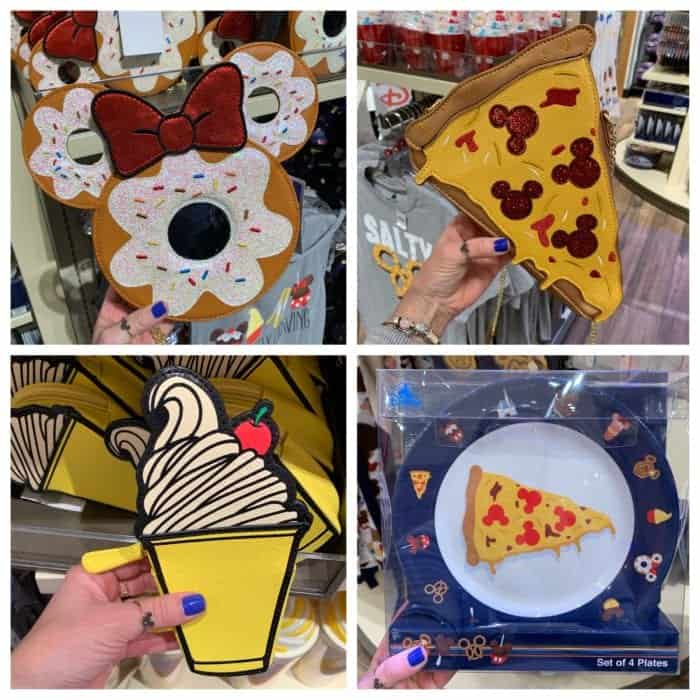 The Disney merchandise right now is literally the cutest I've seen it in YEARS. Like, I really need everything, lol! Just wait. Take a walk through all of the gift shops, you'll see what I'm talking about. Everything from the t-shirts to jewelry and home goods. You will need it all….and then some.
Pin To Your Favorite Disney Board!