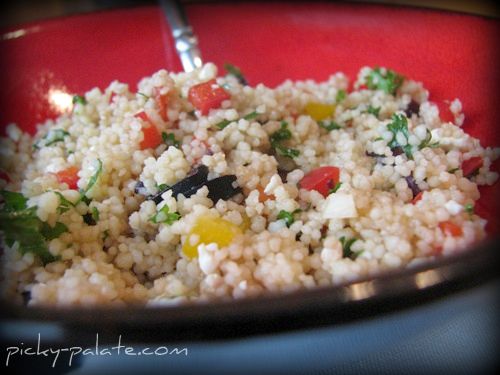 Good Monday morning!
Hope everyone had a great Halloween weekend. Our Halloween night was pretty short and sweet. My boys got pooped out after about 45 minutes after having spent most the day at their buddys' Birthday bash. My skeleton and Fantastic 4 guy were happy with their modest bags of candy. We went trick or treating in a beautifully decorated neighborhood with some friends. The weather was perfect, couldn't have asked for a better night! Scroll down to see some snapshots of our night 🙂
Ok, onto my 2 exciting secret recipes…..I am a Whole Foods junkie and often will leave my grocery shopping experience with a couple of salads from their extravagant deli area. Talk about selection! You can get about any type of cuisine you could ever want. I just love it. The following two salads are at the top of my list. After ordering these salads so often, I finally decided I've got to make them myself at home and YUM they turned out pretty darn close to the originals!
Take a peek and treat yourself to two fabulous salads this week!!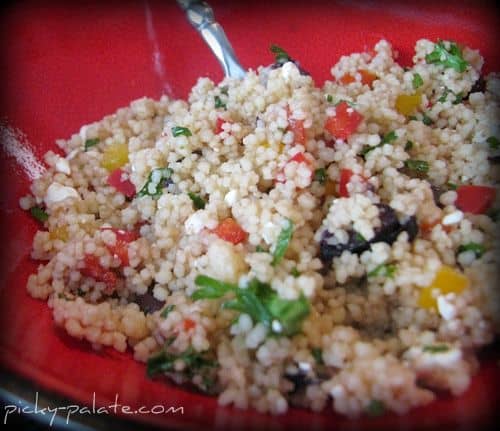 Whole Foods Mediterranean Couscous Salad….Picky Palate version

1 box Near East couscous, cooked according to package
3/4 Cup red bell pepper, diced
1/2 Cup yellow bell pepper, diced
4 oz container crumbled Feta Cheese
3/4 Cup Kalamata Olives, sliced
1 Tablespoon fresh minced garlic
1/4 Cup extra virgin olive oil
1 1/2 Tablespoons balsamic vinegar
Pinch of salt and fresh black pepper
1/2 Cup fresh parsley, chopped
1. Place cooked couscous into a large bowl. Let cool (put in the fridge to speed up the process). Add the bell peppers, feta cheese, olives and garlic to the couscous. Mix to combine.
2. In a separate bowl whisk the olive oil, balsamic vinegar, salt and pepper until well combined. Pour over couscous and mix to combine. Stir in fresh parsley and serve! Refrigerate leftovers.
4 servings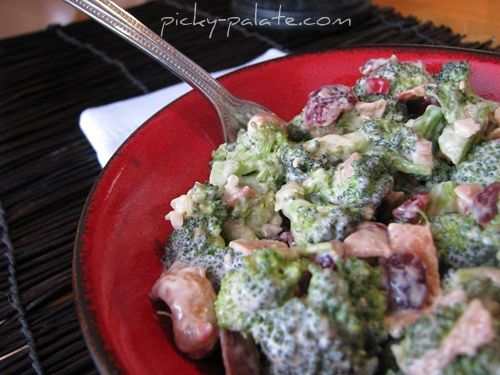 Whole Foods Broccoli Crunch Salad….Picky Palate version

1 1/2 Cups mayonnaise
3/4 teaspoon brown sugar
2 Tablespoons honey
2 Tablespoons apple cider vinegar
1/4 teaspoon salt
1/4 teaspoon fresh cracked pepper
1/8 teaspoon paprika
20 Cups broccoli florets (I got the big bag from Costco)
10 strips cooked, crisped bacon (crumbled)
1 Tablespoon fresh minced garlic
1/2 Cup diced red onion
1 1/2 Cups craisins
1 1/2 Cups cashews, coarsely chopped
1. In a mixing bowl, combine the mayonnaise, brown sugar, honey, vinegar, salt, pepper and paprika until well combined.
2. Place the broccoli, bacon, garlic, onions, craisins and cashews into a LARGE bowl. Pour dressing over top and gently mix to combine.
3. Refrigerate until ready to serve.
Serves 10-12
___________________________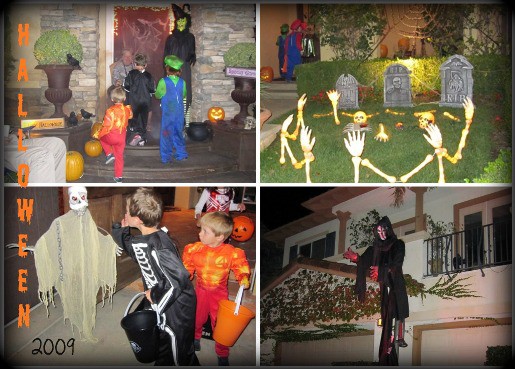 Here are my rugrats running around Halloween night. Was nearly impossible to get them to take pictures!
Have a great new week, see you soon!