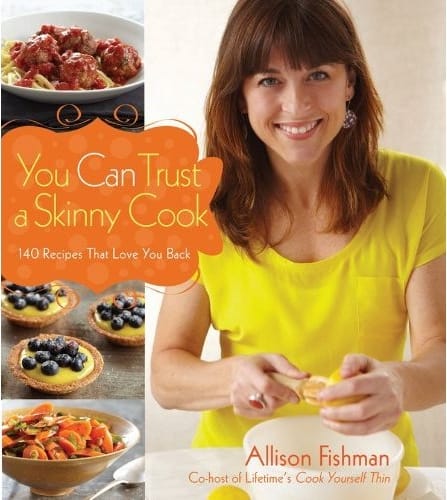 Thank you for entering. The contest is now closed and the winners have been notified 🙂
What a pleasure it was meeting Allison Fishman in person at the BlogHer Food Conference a few weeks ago in Atlanta. I have been dying to meet her for months since I found her fantastic cookbook! She is beautiful and so talented, so glad I had the chance to meet her. We both have the privilege of working with Wiley Publishing too, so exciting!
Wait until you flip through the pages of Allison's book, she's witty, funny and the photos are enough to make you want to make each and every one of her recipes! No kidding, I forgot that her recipes are healthy. Take a look at Amazon.com where you can get your own copy if you don't want to gamble with the giveaway 🙂
Here's a little more about Allison…..
Allison Fishman is a cooking teacher, food writer, and personal coach. She is the author of You Can Trust A Skinny Cook, and a contributor and the TV spokesperson for Cooking Light magazine. She was a co-host of Lifetime's Cook Yourself Thin and TLC's Home Made Simple. A passionate home cook, Allison has worked for Martha Stewart, Food Network, and Atkins as a food stylist, recipe developer, and cookbook editor. Her writing and recipes have appeared in Saveur, Fine Cooking, Glamour, Real Simple, and Everyday Food. Allison is the founder of The Wooden Spoon, a private cooking school designed to give modern food lovers the skills to prepare delicious meals at home, and a graduate of Cornell University and The Institute for Culinary Education. She has a Masters degree in Food Studies from New York University and recently moved from Brooklyn, NY to Montclair, NJ.
Here's How To Enter:
1. Tell us…"What is your favorite healthy meal to prepare for your family?" Heaven knows we all need more of these ideas!
2. For extra entries, Follow Picky Palate on Twitter, RSS Feed and Like us on Facebook. Leave 3 separate comments for this.
3. Contest ends Sunday June 19th 8pm PST. Winner will be chosen by Random.org and be notified by email.
4. Giveaway provided by Wiley Publishing.