This American Heritage Chocolate Tart is beautifully delicious! A chocolate lovers dream!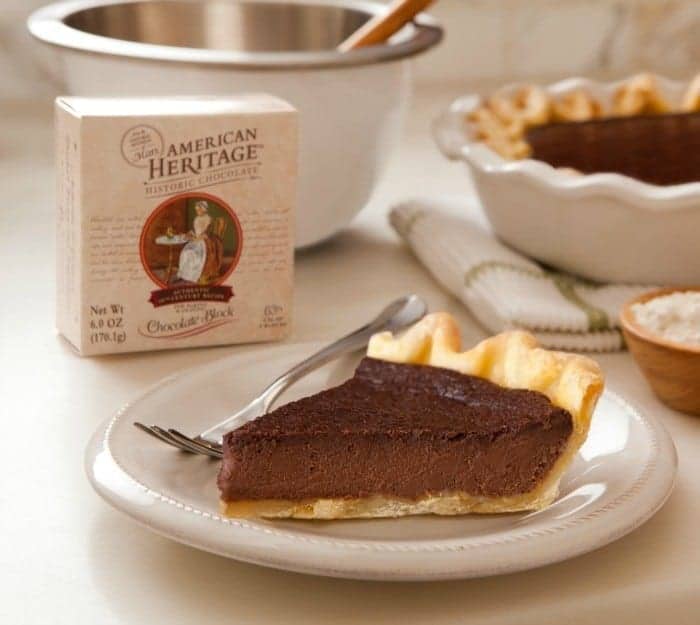 Thrilled to be partnering with American Heritage Chocolate today to bring you a gorgeous recipe plus all kinds of fun news going on with them. Have you had their chocolate before? It is fantastic!
First off, let's talk about this gorgeous tart. See recipe below.

[post_thumbnail]Prep time: 20 min | Cook time: 40-45 min | Total time: 60-65 min, plus refrigeration time
Ingredients
6 ounce

American Heritage Chocolate Block

1 tablespoon

rice flour

3 tablespoons

white sugar (or to taste)

5 medium

egg yolks or 4 large

1 tablespoon

whole milk

1 pint

heavy cream

1

prepared, frozen 9" pie shell

pinch of

salt
Directions
Grate the chocolate into a bowl and set aside.
Combine salt, egg yolks, rice flour and milk in a separate bowl and set aside.
Pour all the cream and the chocolate into a sauce pan and heat to a boil, stirring constantly. Add the sugar and cook until both the sugar and the chocolate are melted.
Take a quarter of a cup of the hot mixture and slowly add to the egg yolk and rice flour mixture, stirring constantly with a whisk, to prevent scrambling.
Stir the warmed egg yolk mixture into the sauce pan and bring all the ingredients to a boil for about a minute. Set aside and allow it to cool to room temperature. While the mixture is cooling, preheat the oven to 350 degrees.
Pour the chocolate mixture into the frozen pie shell, set it upon a cookie sheet to prevent spillage and bake for 40-45 minutes, until set. Remove from oven and let it cool to room temperature. Refrigerate for 3-4 hours, or overnight.
Makes Eight 6 ounce Servings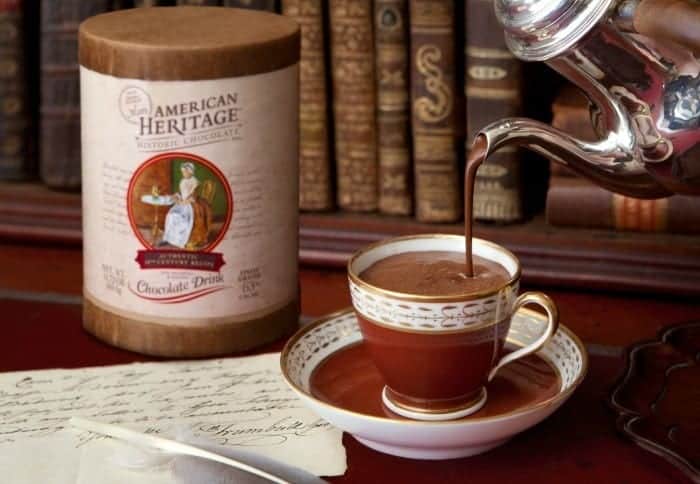 How gorgeous is this American Heritage Chocolate Drink?! Oh my goodness, thick, creamy and fabulous.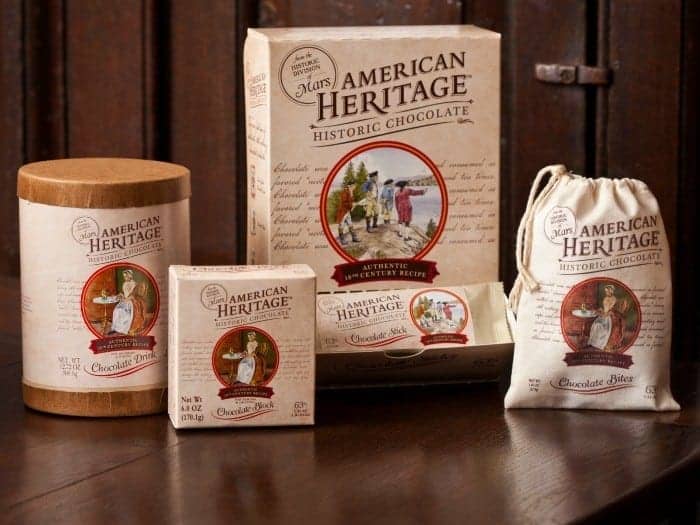 Chocolate is American History. It is more than just a food or confection. Chocolate reflects different groups of people, cultures and historical events throughout the ages, and allows us to share a common connection through time.
Mars Chocolate North America is dedicated to sharing chocolate's fascinating journey through time–how chocolate was made, how it was used, where it came from, and what it tasted like throughout history.
Made with all-natural ingredients and no preservatives, American Heritage Chocolate is an artisan dark chocolate containing 63% cacao. Mildly spicy, and slightly sweet, American Heritage Chocolate is flavored with a blend of spices and ingredients available during colonial times, including cinnamon, nutmeg, chili pepper, orange, anise and vanilla.
They offer Chocolate Sticks, Chocolate Bites, Chocolate Blocks and Finely Grated Chocolate Drink. They are sold at over 150 fine gift shops at historic sites and museums in the US and Canada.
For more information visit American Heritage Chocolate.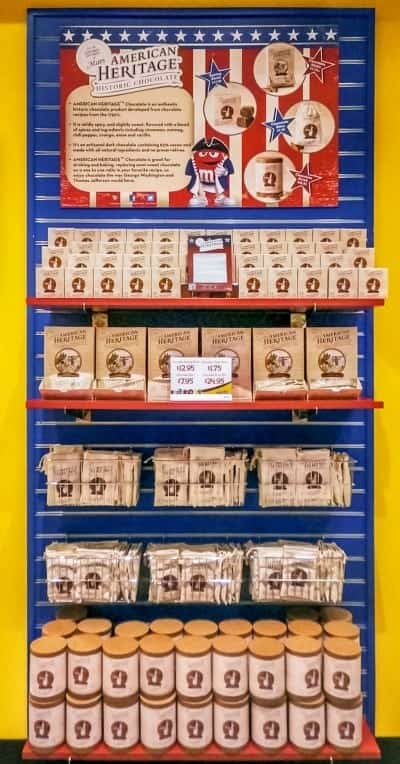 (April 16, 2015) Mars Chocolate North America is pleased to announce that American Heritage™ Chocolate—the company's authentic historic chocolate brand—is expanding west and will now be available at the company's iconic M&M'S World® store in Las Vegas. This is following the brand's recent launch in the M&M'S World® store in New York City in November 2014. Chocolate lovers and entertainment enthusiasts from around the world will get to learn more about chocolate's rich history and heritage as part of their M&M'S World® experience with American Heritage™ Chocolate's permanent display on the fourth floor. A team of Mars Chocolate History Ambassadors will share hands-on historic chocolate making demonstrations complete with a sampling of American Heritage™ Chocolate today, April 16, from 9am-3pm PST.
This post is in partnership with American Heritage Chocolate, however opinions are my own.