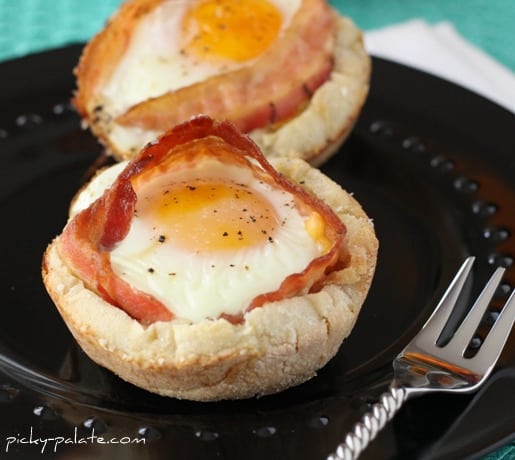 It's Thursday!! I am so excited for the Bertolli event coming up next week. Can't wait to see which of my readers gets to go with me, I pick the winner tomorrow! If you think you can take Mon-Wed off, don't forget to enter HERE.
Break out your Large Muffin pan folks, we are making Egg McMuffin Cups today! I love this recipe, it's almost too easy and too cute!
Who needs McDonalds when you can make your own delicious 4 ingredient Egg McMuffin yourself?! These are a blast to put together and look so cute on a plate. My kids loved this little breakfast in a cup.
I LOVE drizzling some good hot sauce over mine, definitely give it a try if you like things spicy 🙂 Have a beautiful Thursday, see you all soon!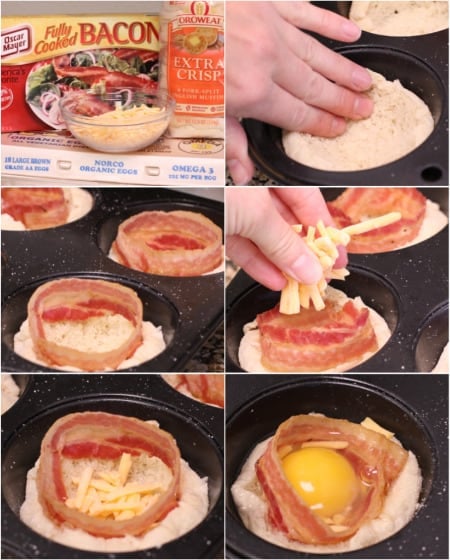 Here's the lowdown….press your english muffin inside Texas Size Muffin cups, line inside with bacon, sprinkle inside with cheese, break an egg inside, season with salt and pepper, bake and woo hoo you are done!! Mmmm!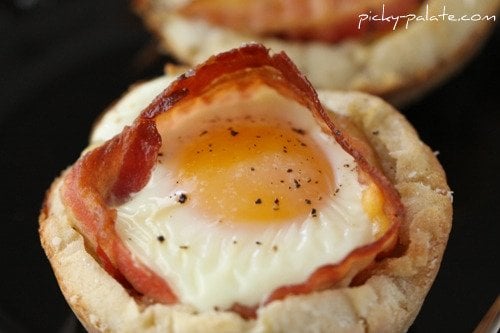 How cute?!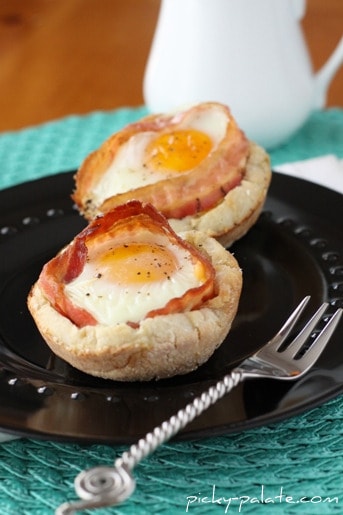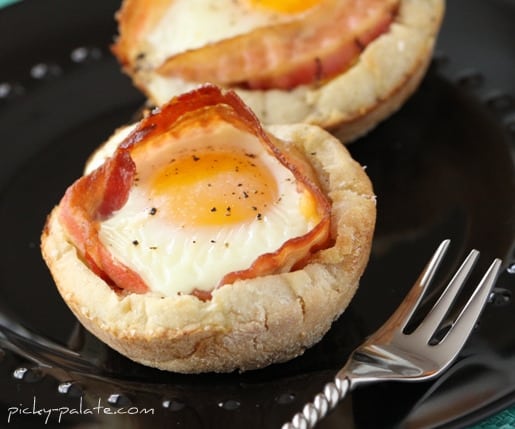 Bacon and Cheese Egg McMuffin Cups
3 whole english muffins, split
6 slices ready cooked bacon, not microwaved, just right out of package
1/2 Cup shredded cheddar cheese
6 large eggs
Pinches of kosher salt and fresh cracked black pepper
1. Preheat oven to 350 degrees F. Press english muffins carefully into bottom of a 6 cup Texas size muffin tin. Form a little circle with the bacon and place around inside of muffin. Sprinkle inside with cheese then top with a whole egg in each cup, keeping inside the bacon ring. Sprinkle with pinches of kosher salt and pepper. Bake for 15-20 minutes or until egg is cooked through, not jiggly 🙂
2. Remove and let cool for 5 minutes before removing from muffin tin. Serve as is or with some of your favorite hot sauce and a side of fruit!!
6 servings
__________________________________
Have a great rest of your week and weekend, come back soon 🙂