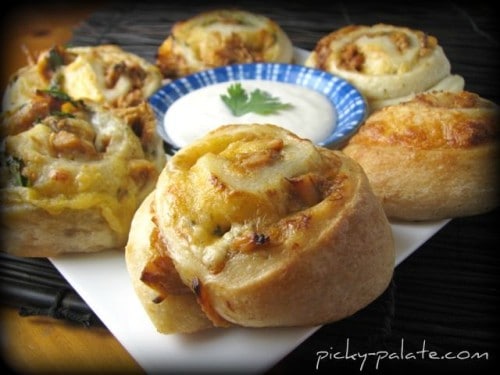 BBQ Chicken Pizza is one of those things that just never gets old in my book. I could order it every time we eat at California Pizza Kitchen and be a happy girl. We had some left over BBQ chicken this week and this is what I did with the leftovers. Talk about a fun and tasty lunch yesterday. You can make your own BBQ sauce or just use KC Masterpiece and don't tell anyone! I used Pillsbury's pizza dough in the can, but again feel free to use any ol' pizza dough that floats your boat. It's all delish, enjoy some Roll em' ups!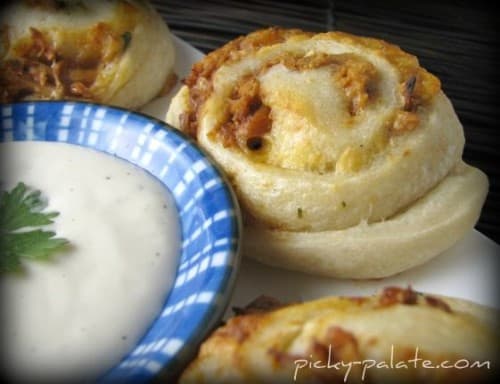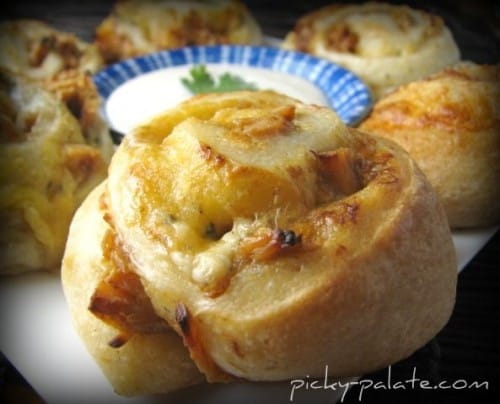 BBQ Ranch Chicken and Cheddar Pizza Roll em' Ups
1 Roll Pillsbury Pizza dough in can (or use other pizza dough of choice)
1/4 Cup prepared ranch dressing
2 Cups prepared shredded BBQ Chicken
1/4 Cup chopped fresh cilantro leaves
1 1/2 Cups shredded smoked cheddar cheese
Ranch Dressing for dipping
1. Preheat oven to 350 degrees F. Open can of dough and press into rectangle. Spread or drizzle ranch dressing evenly over dough then top with evenly with chicken, cilantro and cheddar cheese. Starting at long end roll dough into a log shape. Using a sharp knife, cut 1 inch pieces and place onto a greased baking sheet. Bake for 20-22 minutes or until golden brown. Serve with a side of ranch dressing for dipping.
_________________________