Disneyland dining is my favorite topic! Sharing the BEST Disneyland Restaurants for lunch! I've been to every restaurant at Disneyland Resort, let's talk about my very favorites for lunch!
Disneyland Dining For Lunch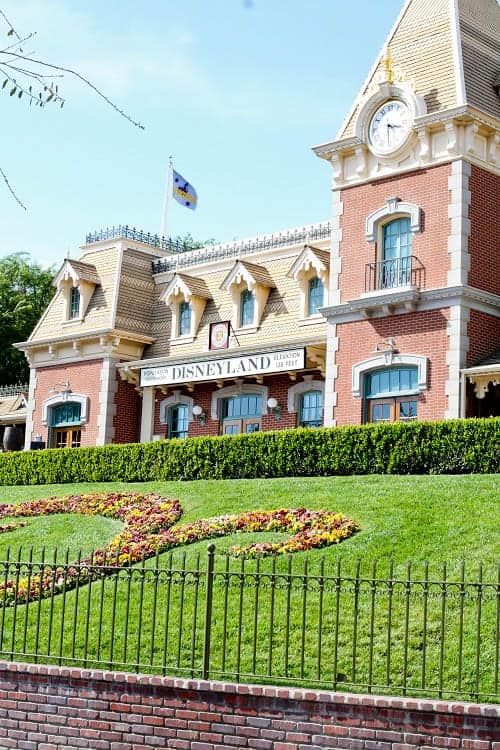 Best Lunch Options at Disneyland Park
Disneyland Dining in Disneyland Park! Say that ten times fast 🙂 Lots of delicious options and today we're talking about my favorite places to get the best lunch at the Parks! Did I miss your favorite? Let me know what your favorite lunch spots!
Check out my blog posts Best Disneyland Restaurants for Breakfast, Best Food at Disneyland Park and Best Food at Disney California Adventure Park! Follow Disney Hungry on Instagram for the Best Eats at Disney Parks!
Disneyland Dining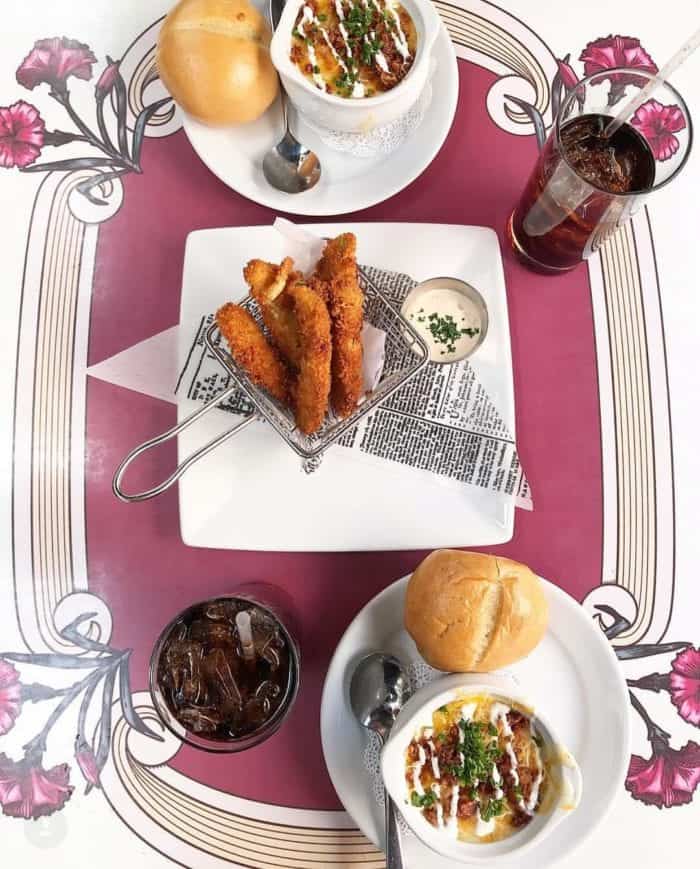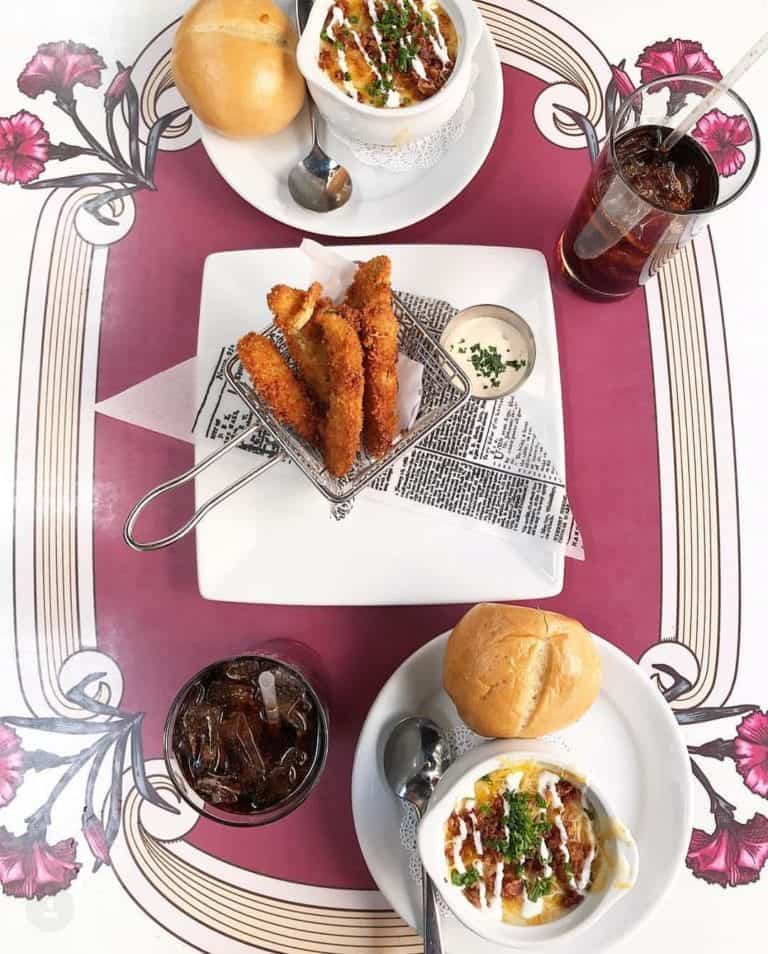 Carnation Cafe, Main Street, U.S.A.
Carnation Cafe located right in the middle of Main Street is such a great choice for lunch! I recommend it to guests on the daily. First tip: Get yourself a reservation. Carnation Cafe is a popular restaurant, so before you go, reserve your time on the Disneyland App. It's quick and easy to do.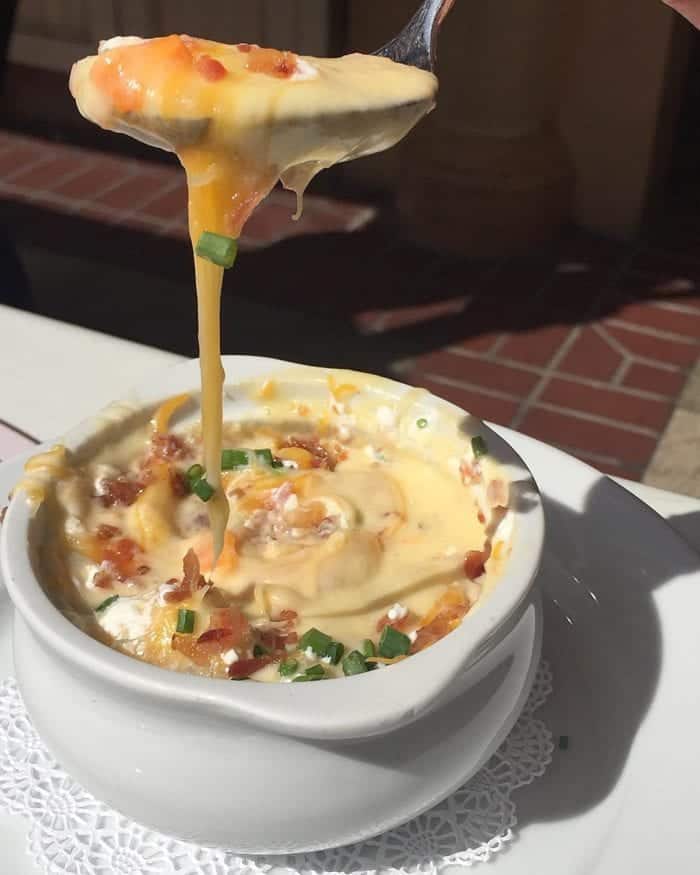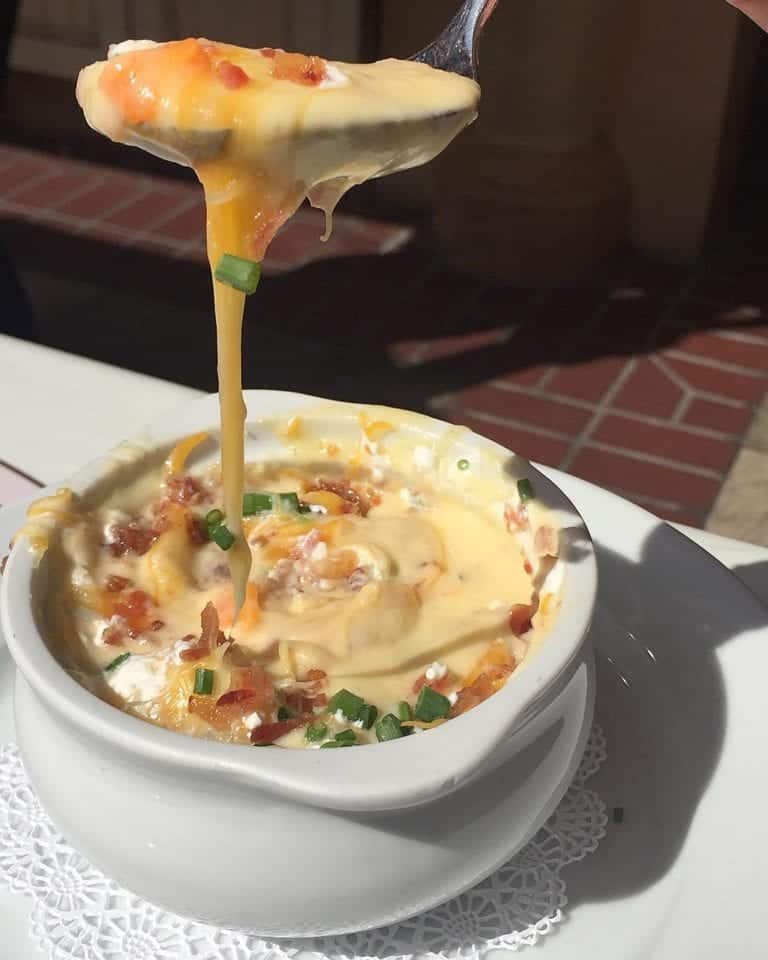 My favorite lunch combo is…..the Baked Potato Soup and Fried Pickles. I know, super healthy right? Lol! Sounds crazy, but it is literally one of my favorite lunches at the Parks. Try it for yourself!
Disneyland Dining

Little Red Wagon Corndogs, Main Street, U.S.A.
The Corn Dogs on Main Street U.S.A. from the Little Red Wagon are kinda famous around Disneyland. If you are looking for a quick lunch, you won't be sorry with one of these babies. Crispy, homemade and totally delicious.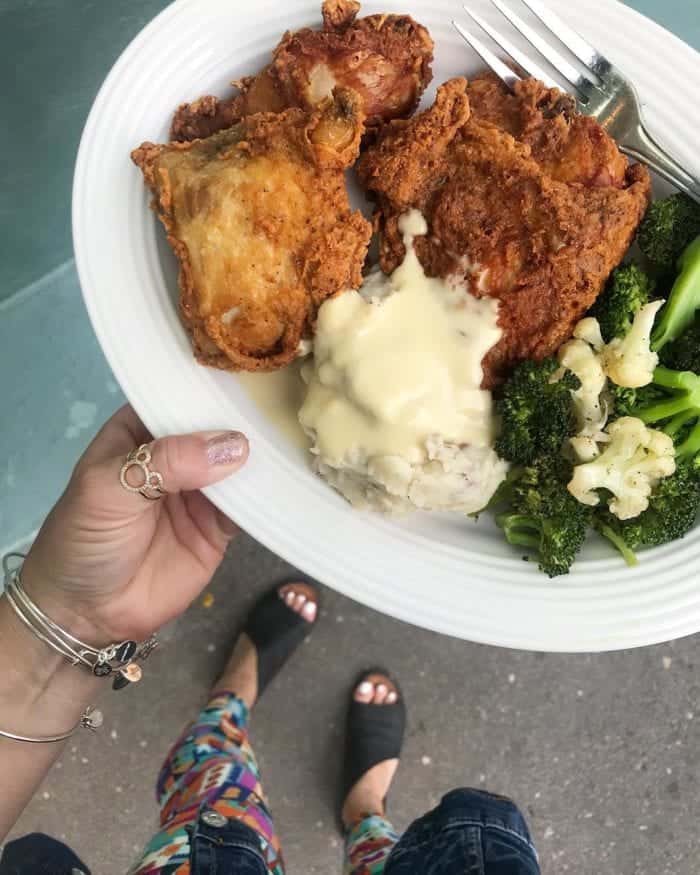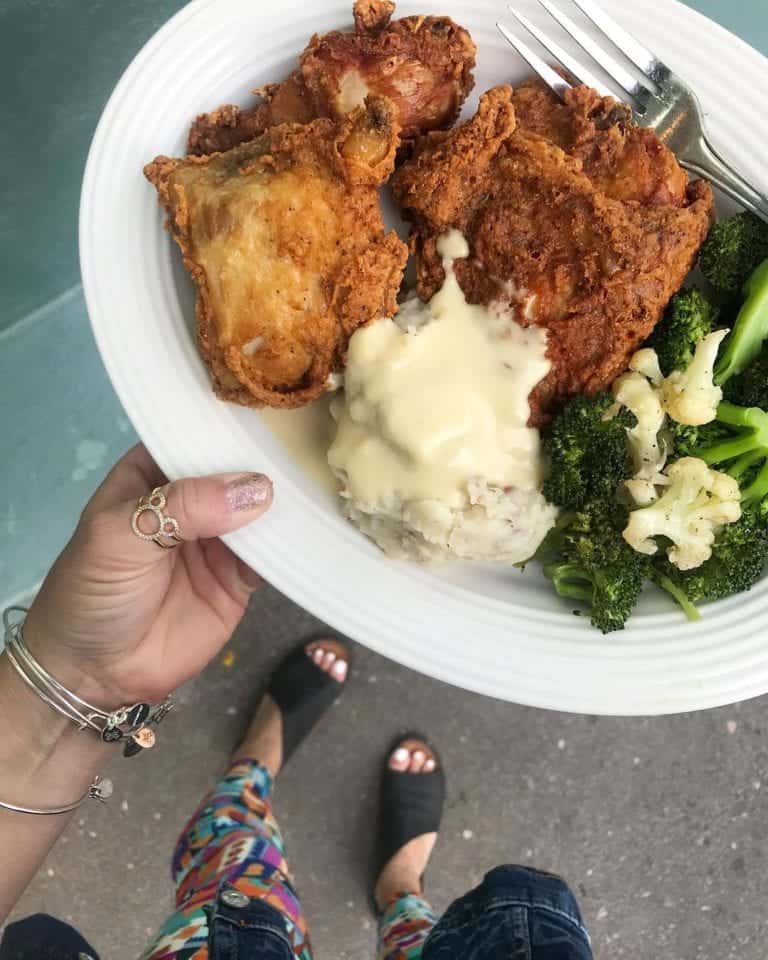 Plaza Inn, Main Street, U.S.A.
While I don't dine at Plaza Inn regularly for lunch, it's worth talking about if you are looking for some good Fried Chicken. It's a very well known menu item at Disneyland Resort. Plaza Inn is a lovely table service restaurant and a great choice if you are looking for a nicer, more relaxing lunch experience.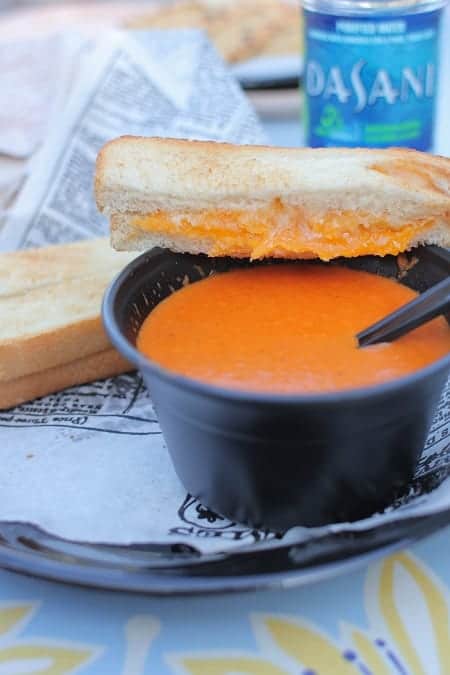 Jolly Holiday Bakery Cafe, Main Street, U.S.A.
Jolly Holiday as I shorten it, is another favorite for a quick service lunch at Disneyland Park. Hands down the Grilled Cheese and Tomato Soup is my favorite to order. You better believe I get one of their amazing bakery goodies to go as well.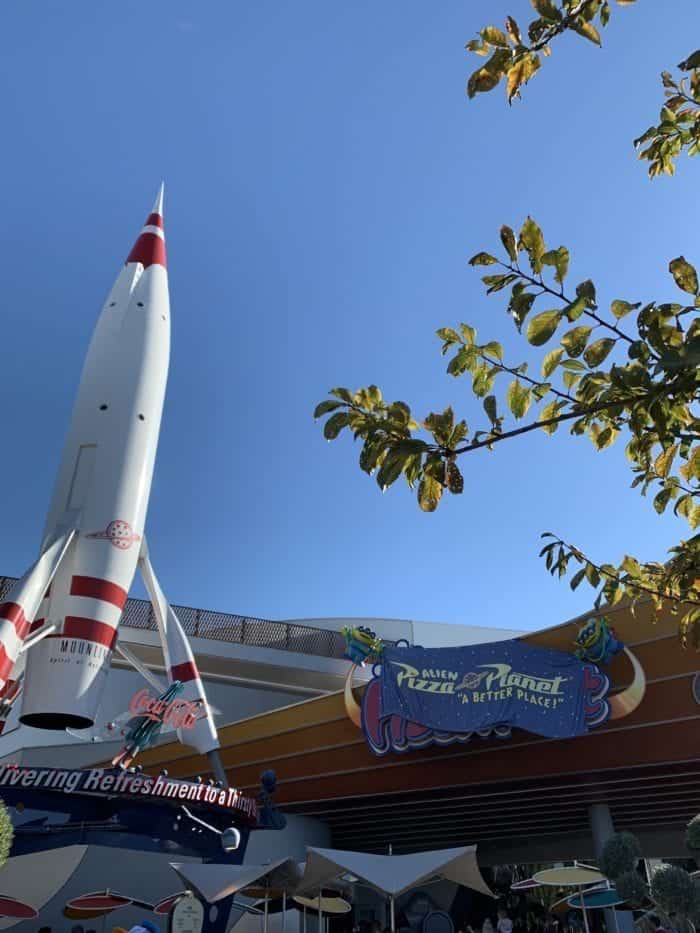 Alien Pizza Planet, Tomorrowland
I'll be honest, I rarely go to Tomorrowland for food, BUT if you are looking for decent pizza and salad, I'd send you to Alien Pizza Planet. It's got lots of inside seating, quick service style.
Bengal Barbecue, Adventureland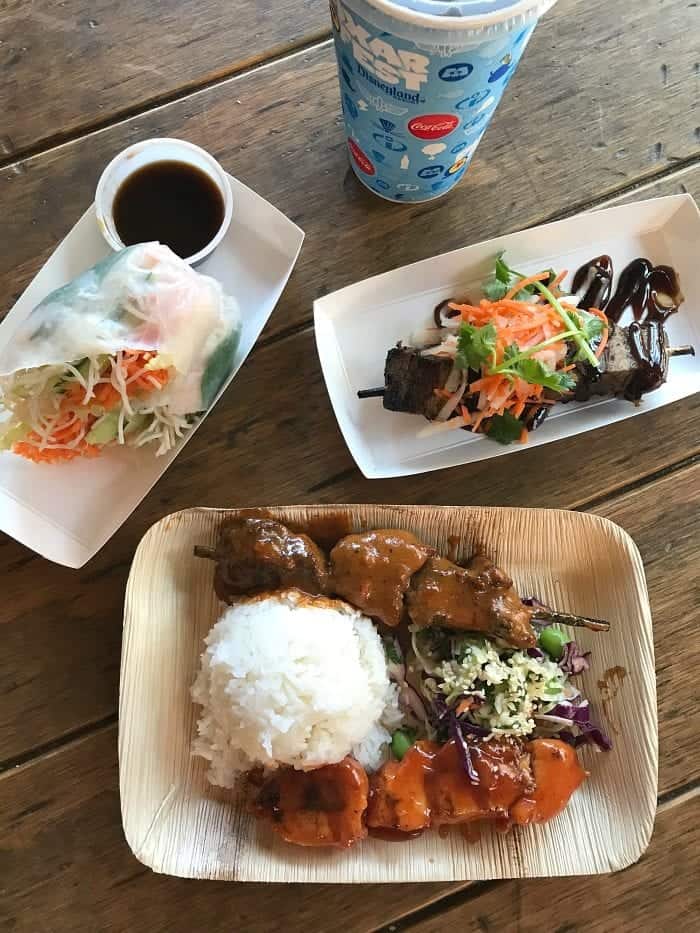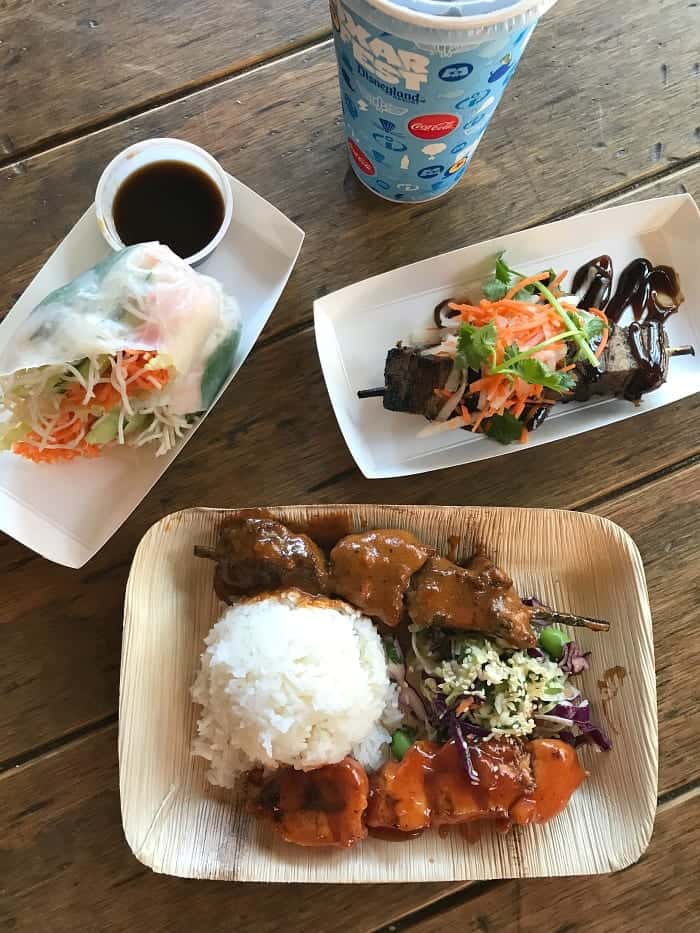 Bengal Barbecue located in Adventureland is one of my very favorite quick service restaurants at the resort. It's not big servings by any means, but the skewers and plates served are DELICIOUS! If you're looking for a good size lunch, go with the Bengal Plate featured in my photograph. You get choice of two regular Skewers served on a bed of Jasmine Rice with a side of Citrus-Miso Slaw. It's fantastic.
Disneyland Dining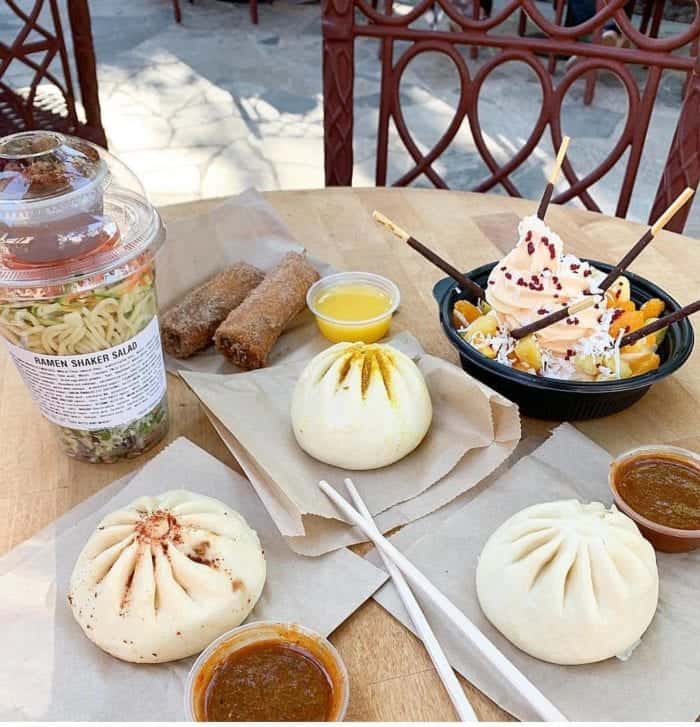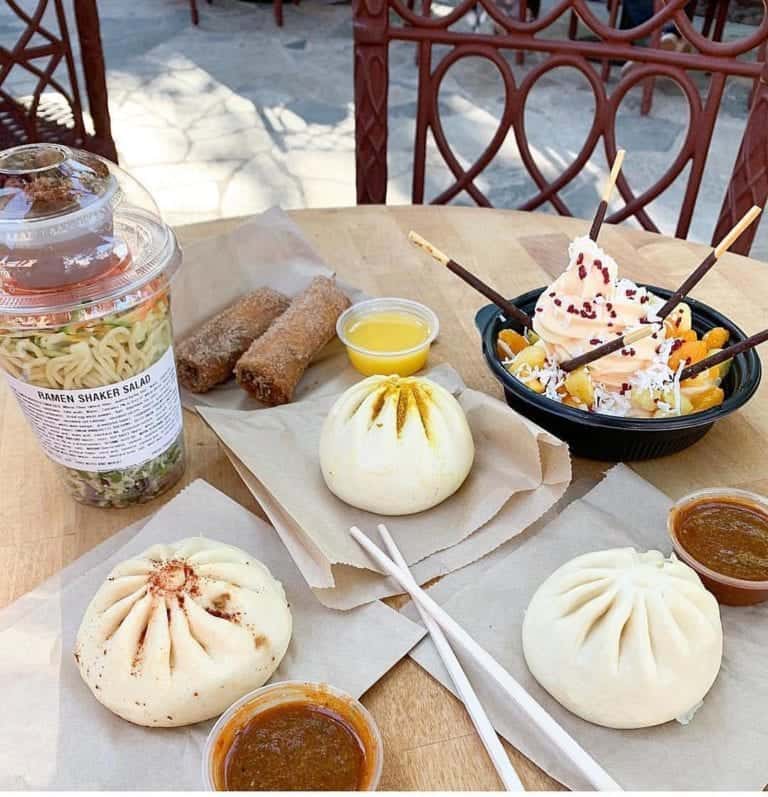 The Tropical Hideaway, Adventureland
One of Disneyland Park's newest quick service restaurants, The Tropical Hideaway has quickly become one of my favorites! Small bites to eat that are completely DELICIOUS! My favorites are the Beef Bao, Ramen Shaker and Loaded Dole Whip.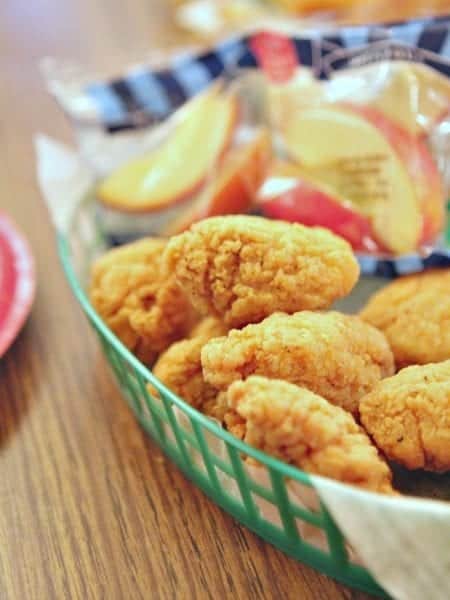 The Golden Horseshoe, Frontierland
The Golden Horseshoe located in Frontierland is the perfect quick service restaurant with lots of indoor seating complete with a fun show! The Golden Horseshoe as some pretty darn tasty Chicken Tenders and French Fries with Ranch or BBQ dipping sauce. The Fish and Chips is great too along with the Chili.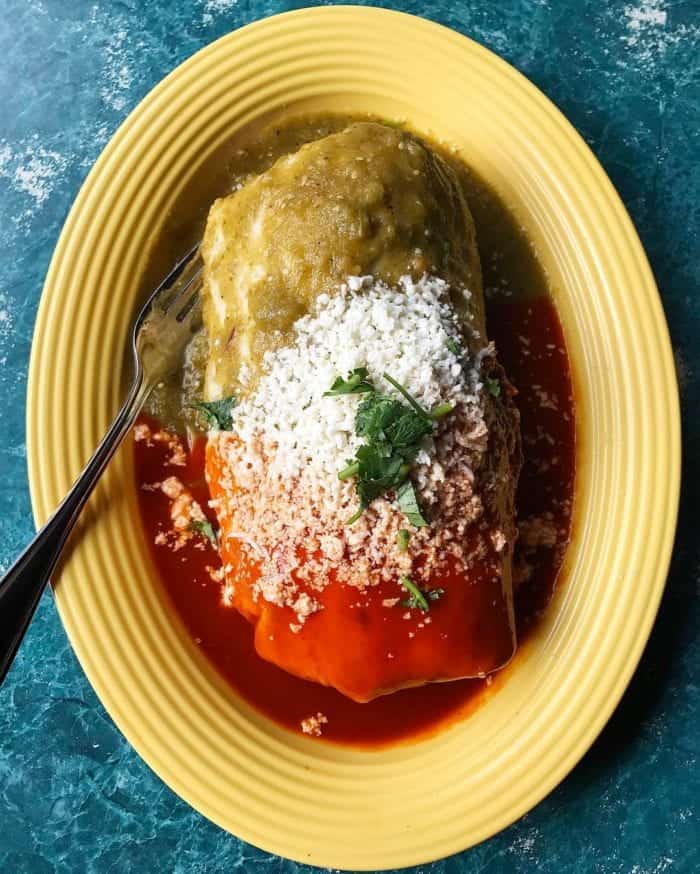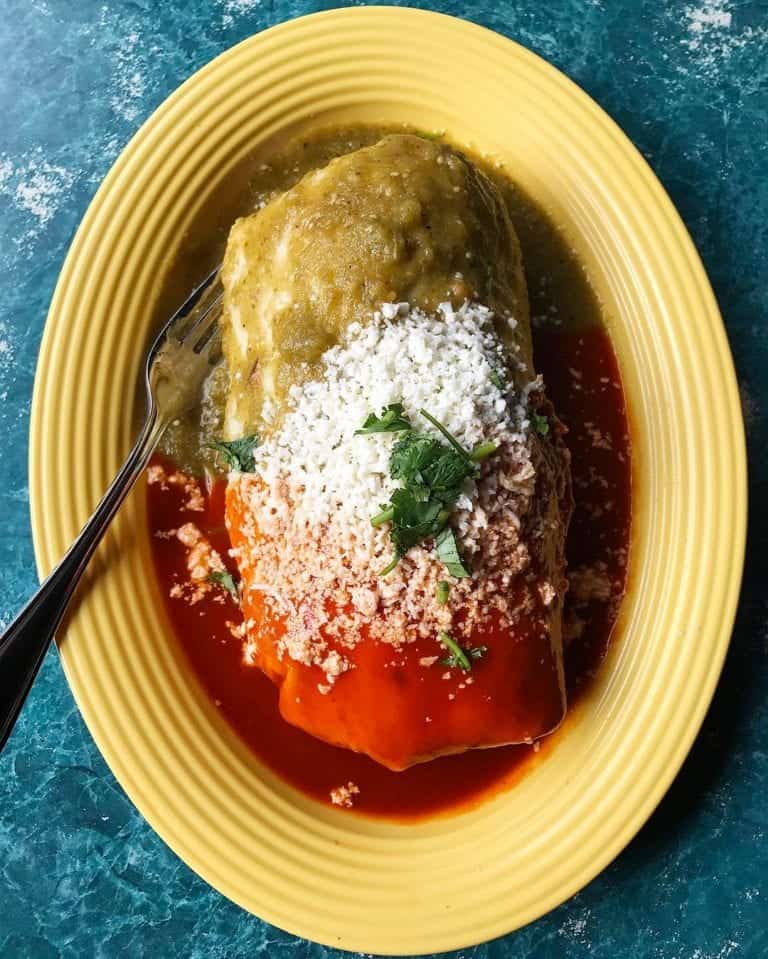 Rancho del Zocalo, Frontierland
Rancho del Zocalo located in Frontierland is a great option for a quick service lunch at Disneyland Park. The Mexican food is not the best I've ever had, but order the Secret Menu Burrito, the Zocalo Burrito. It is GINORMOUS and actually a delicious burrito. Plenty big to share with another person.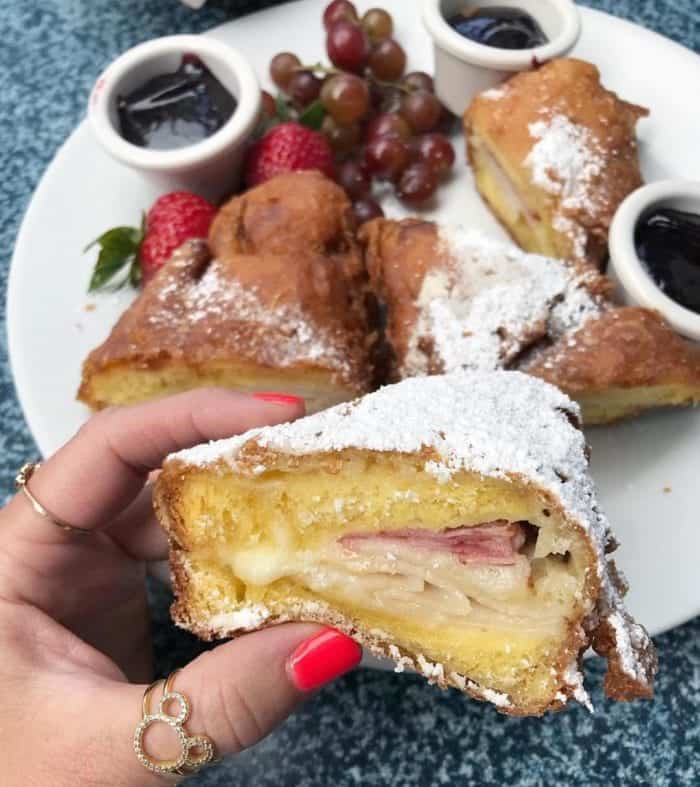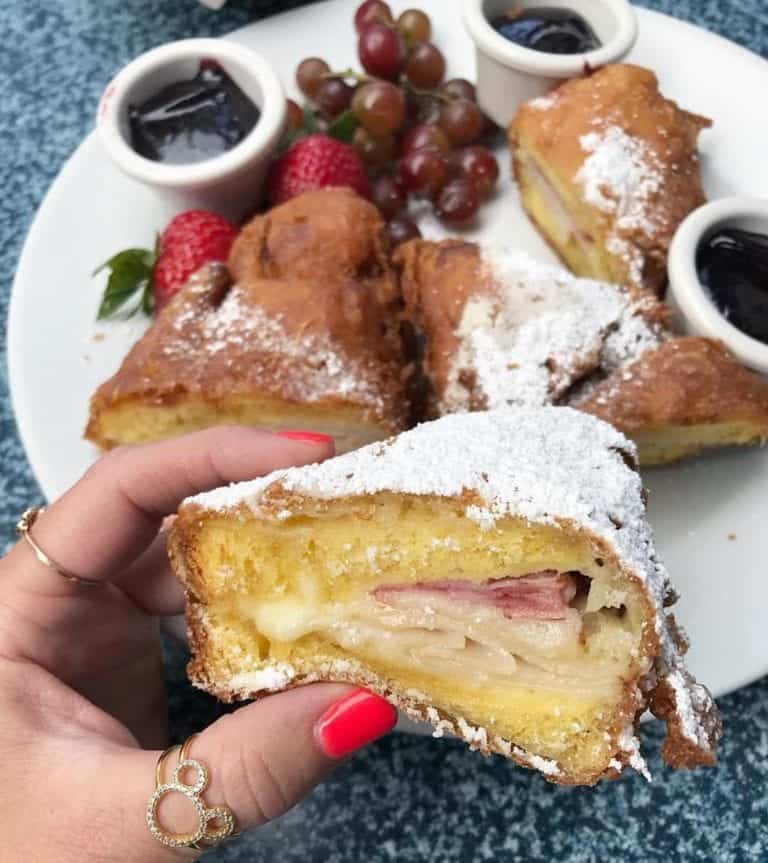 Cafe Orleans, New Orleans Square
Cafe Orleans located in New Orleans Square is another table service that I recommend to guests daily! It's fantastic for lunch or dinner, but I especially love enjoying a meal at lunch on the patio during the day. Lots of people watching with the views of Rivers of America close by.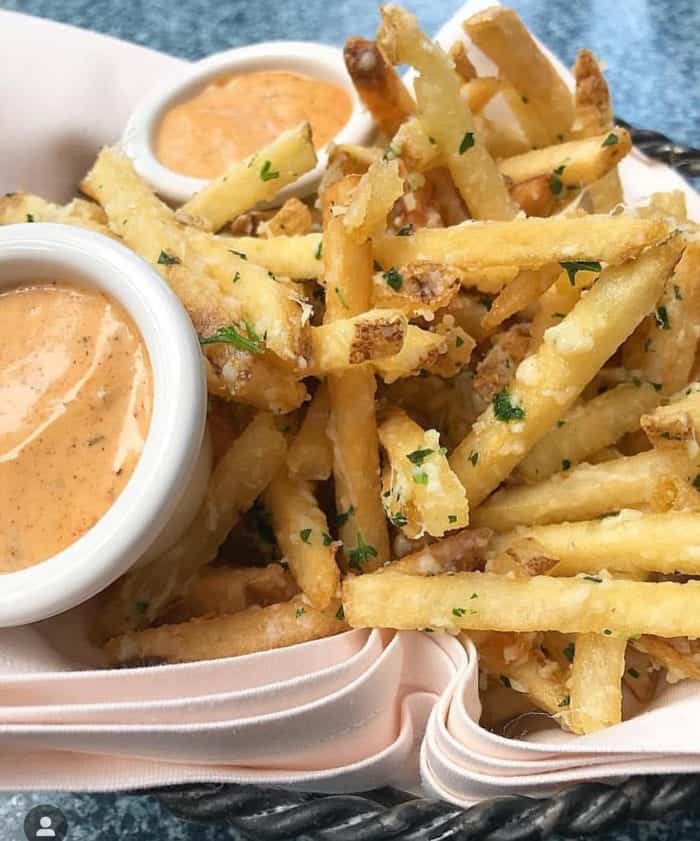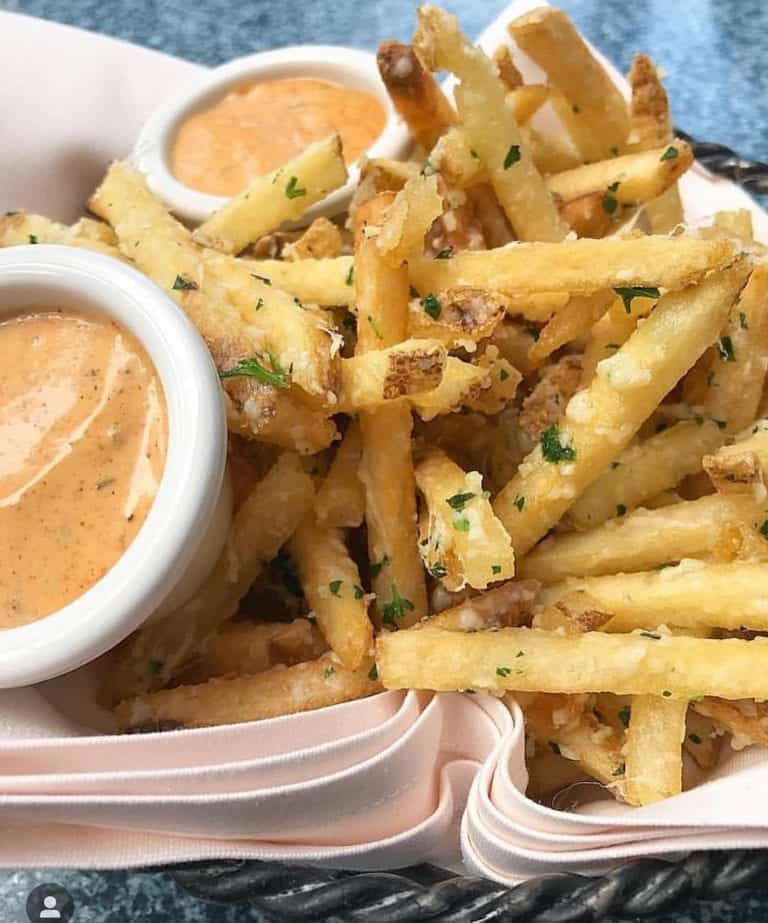 I'm all about the Monte Cristo, Pomme Frites and little cup of Gumbo at Cafe Orleans. Honestly the entire menu is fantastic, but those are my favorites I get on the regular.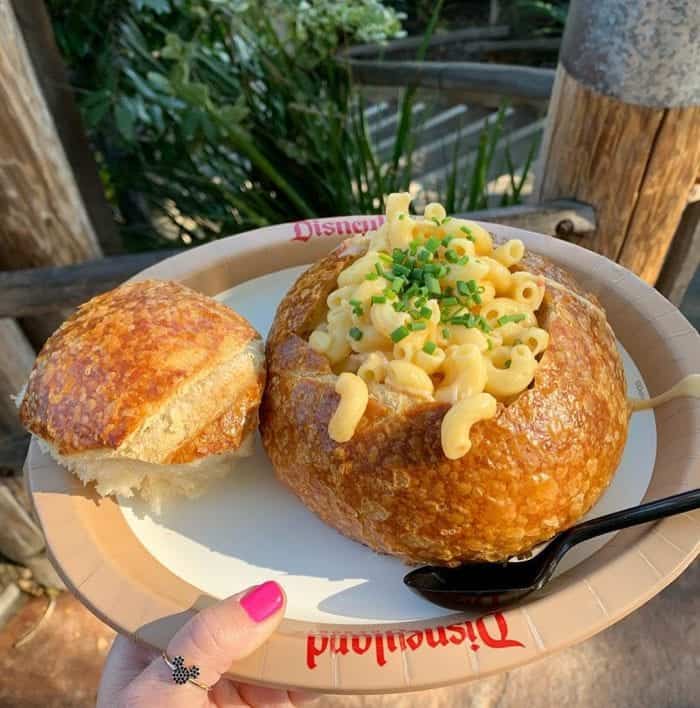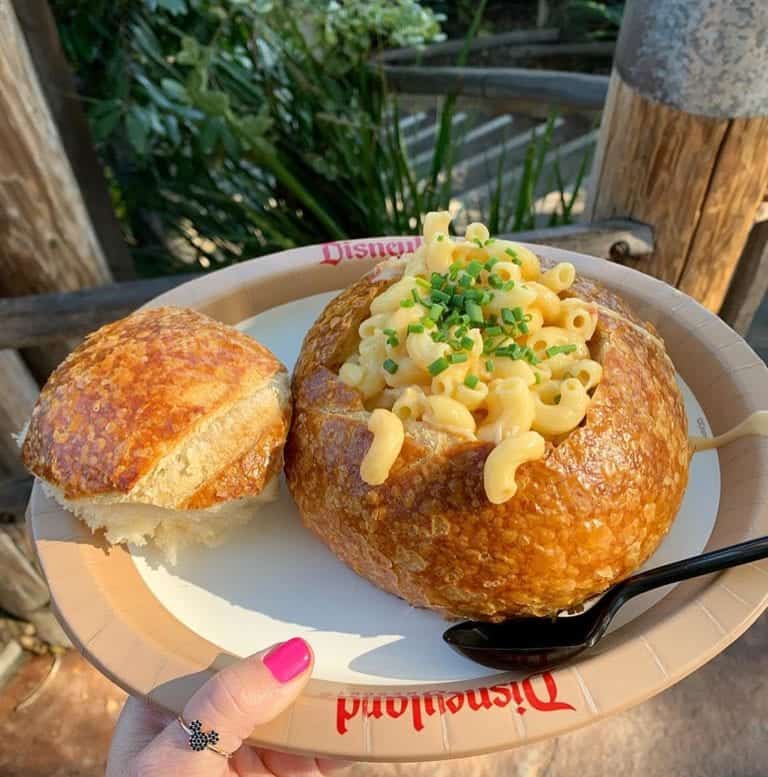 Harbour Galley, Critter Country
Harbour Galley is the cute little quick service restaurant right across from the Splash Mountain Drop area. Don't miss the Lobster Mac 'n' Cheese in a Sourdough Bread Bowl. It was a seasonal menu item that is now served throughout the year. Crossing my fingers it stays for good, one of my favorite meals at Disneyland Park. Keep in mind, there isn't much seating at Harbour Galley, but that never stops me from getting my Lobster Mac 'n' Cheese!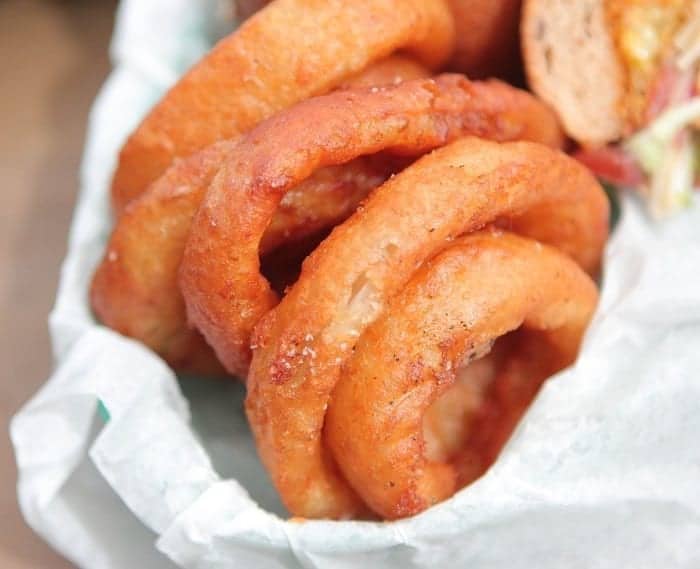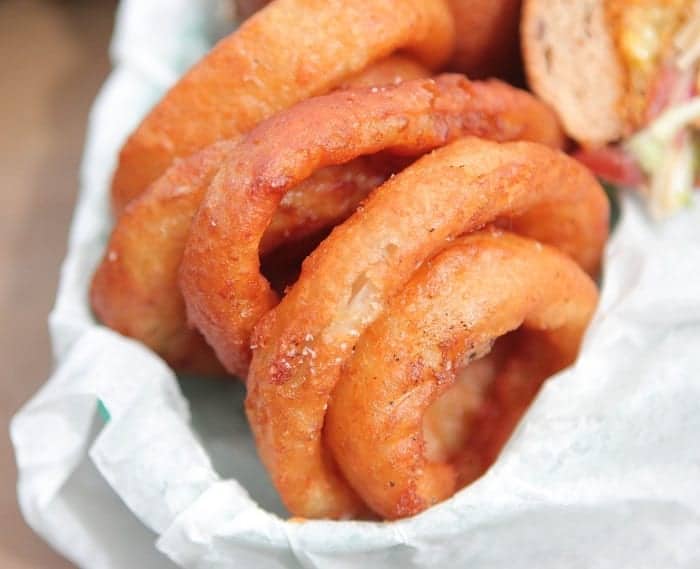 Hungry Bear Restaurant, Critter Country
Hungry Bear Restaurant located in Critter Country is another good option for a quick service lunch. While their burgers and chicken sandwiches are not the best I've ever had, their onion rings are AMAZING. Perhaps not my choice to go for a full lunch, but I'd go anytime of the day for a plate of their onion rings 🙂
Best Lunch Options at Disney California Adventure Park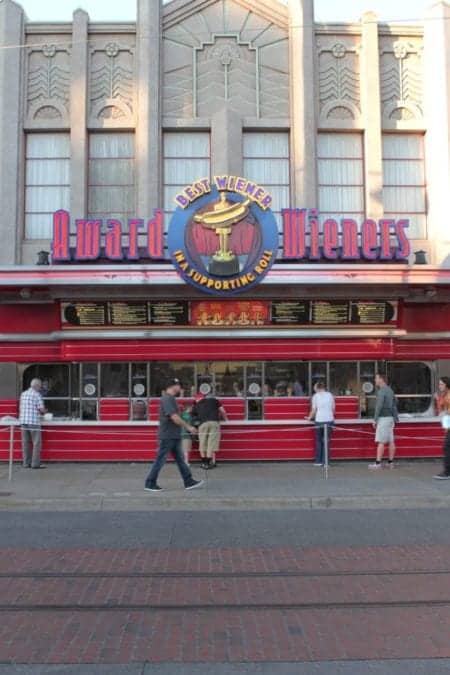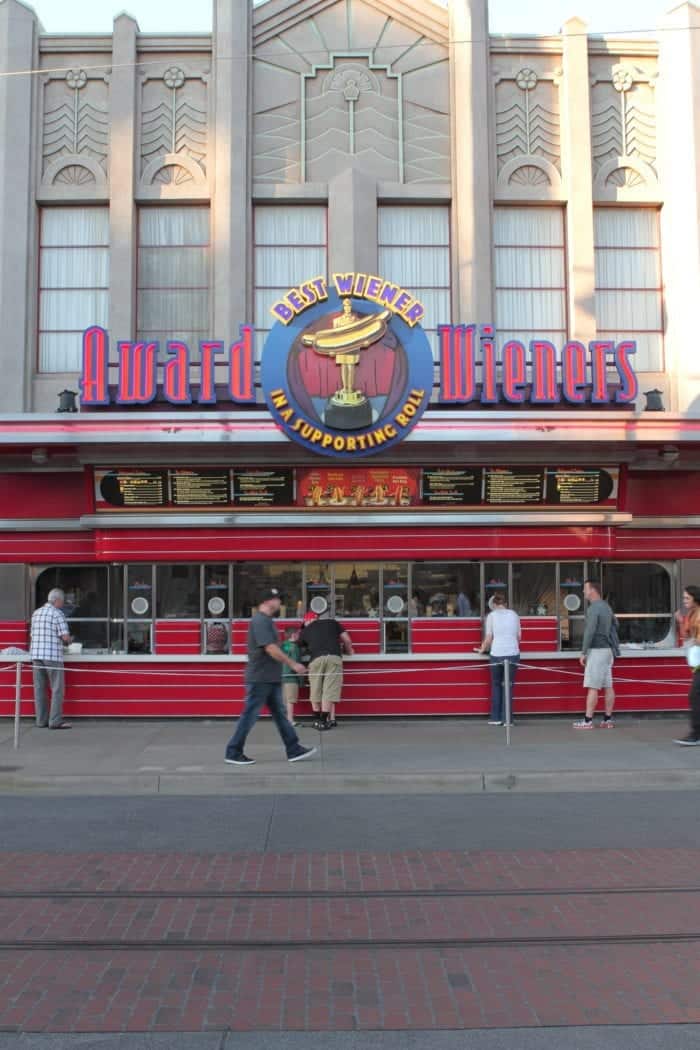 Award Wieners, Hollywood Land
If you are looking for a pretty darn good hot dog to eat on the go, Award Wieners in Hollywood Land is the place for you. They do have a covered seating area near the entrance line of Mickey's Philharmagic if you want to sit down with your meal. For dessert, don't miss their Funnel Cake Fries. One of my favorite sweet treats at DCA.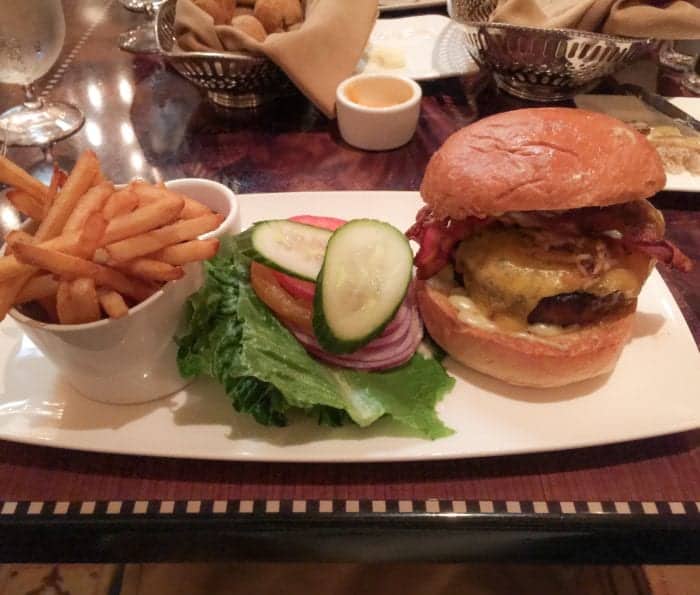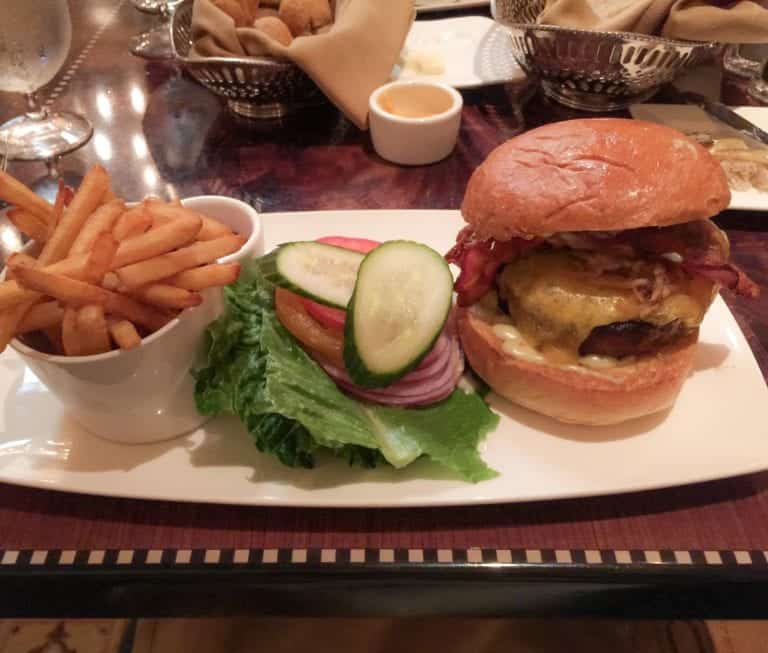 Carthay Circle Restaurant, Hollywood Land
Carthay Circle Restaurant is on my list for great lunch AND dinner restaurants, but I'm adding it to my lunch options if you are looking for a nicer table service experience. Their burger is AMAZING plus don't miss the Carthay Signature Biscuits as an appetizer.
You can definitely take kids to Carthay Circle, but I prefer going with just adults if I'm being honest. The food is delicious, atmosphere beautiful and the whole experience is worth it.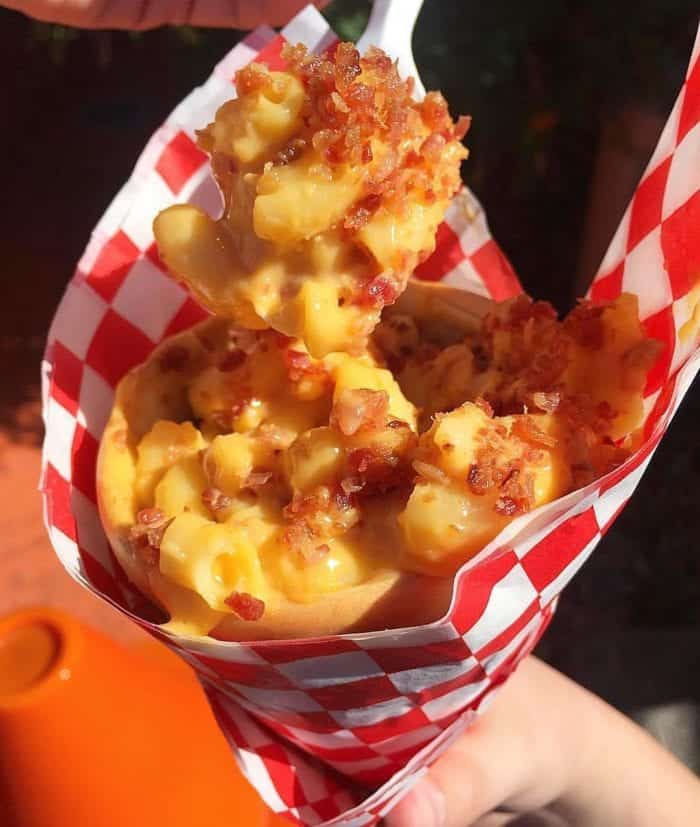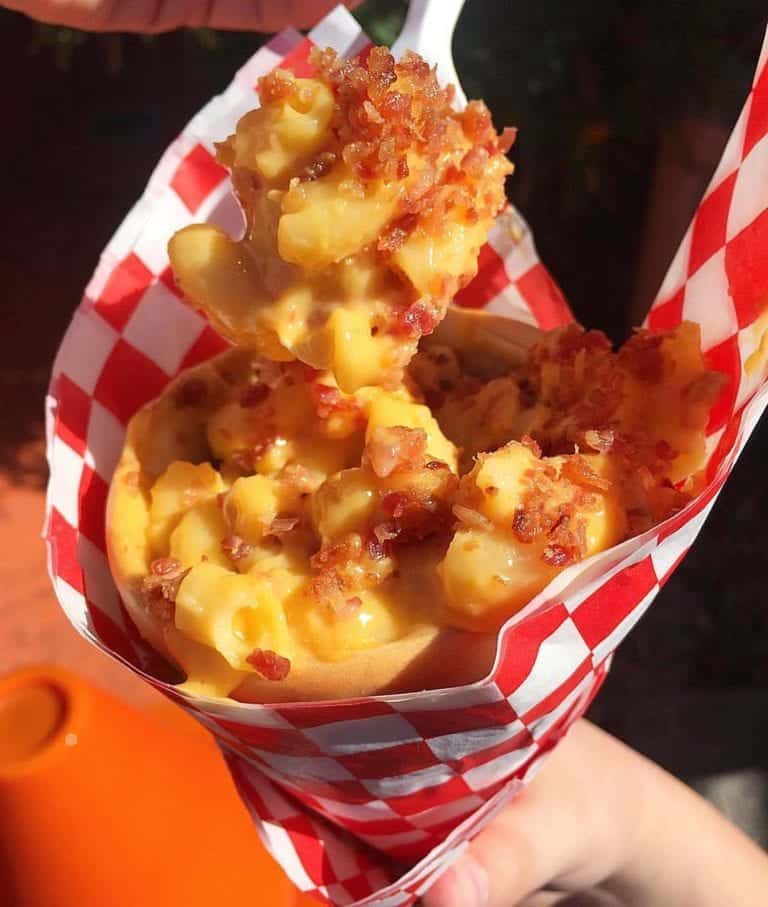 Cozy Cone Motel, Cars Land
Cozy Cone Motel over in Cars Land has some great quick bites to grab for lunch with my favorite Bread Cones! This is the Bacon Mac and Cheese Bread Cone perfect for eating on the go.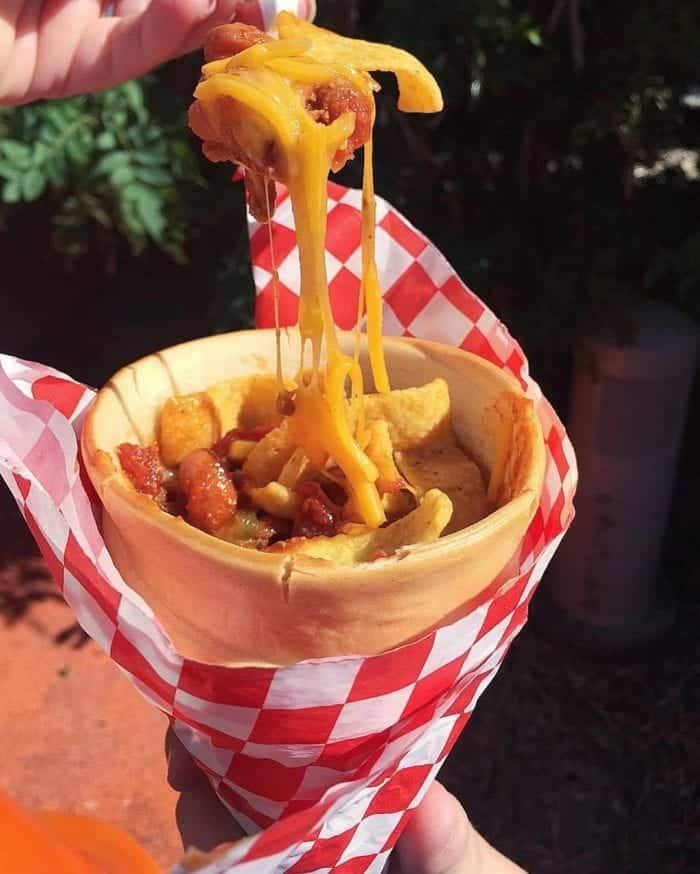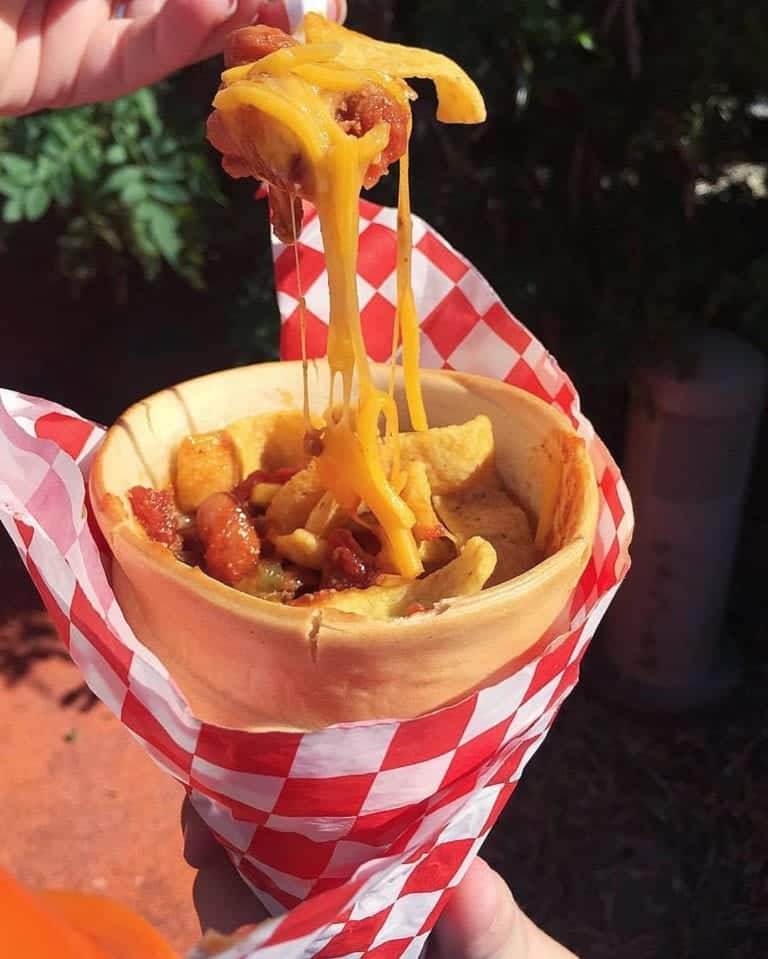 Cozy Cone Motel Cone #3
Over at Cone #3, you can get the Chili Con Queso Bread Cone and the Bacon Mac and Cheese Bread Cone above. Both amazing. The seating is not fantastic over at Cozy Cone Motel. If you are looking to sit down, you can check across the street at Flo's V8.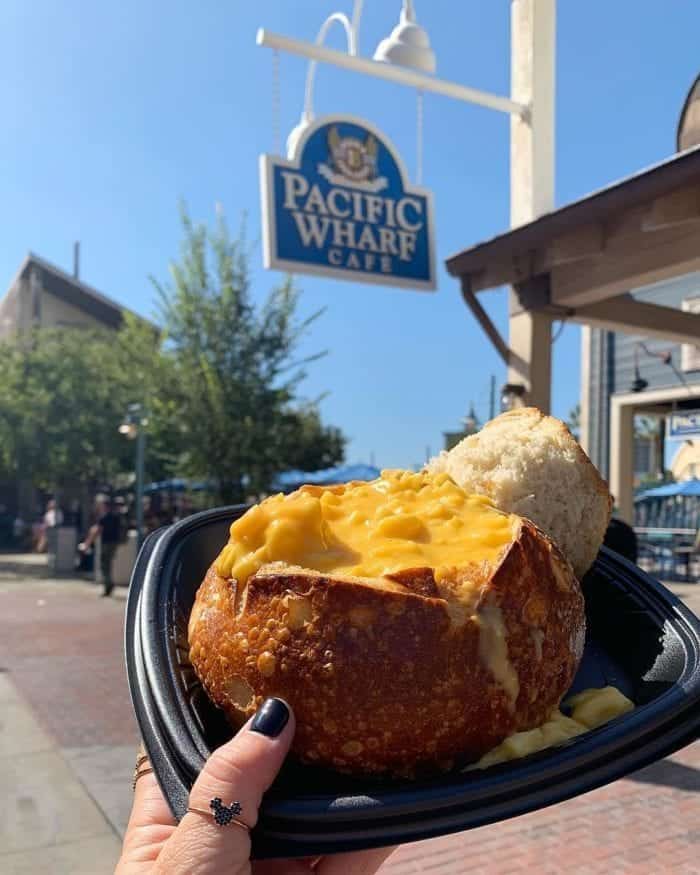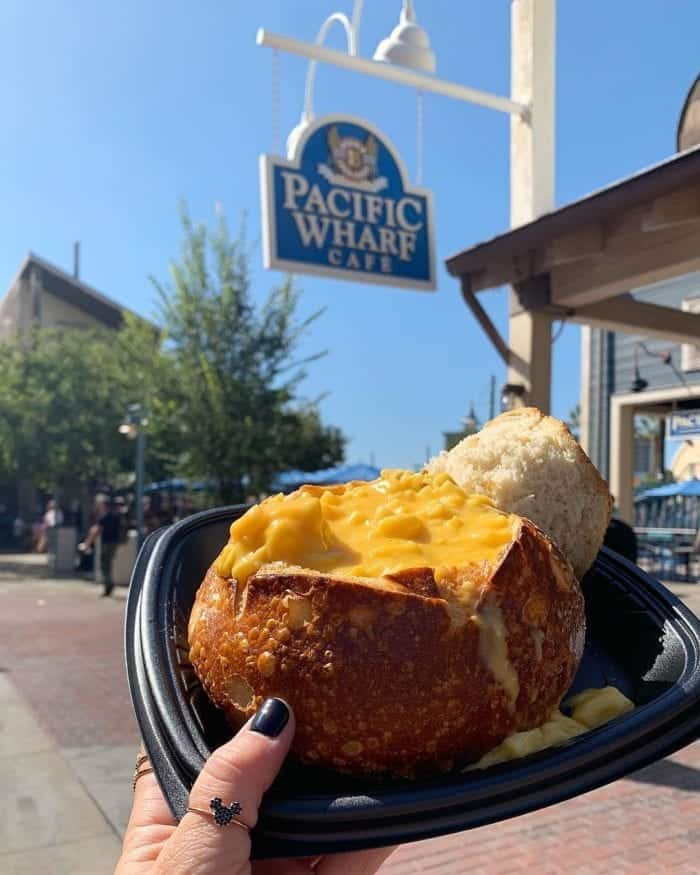 Pacific Wharf Cafe, Pacific Wharf
Pacific Wharf Cafe has this Mac and Cheese in a sourdough bowl on their secret menu that you MUST get. The perfect lunch for a day at Disney California Adventure Park! You won't see it listed on their menu, but ask the Cast Members for it. It's amazing 🙂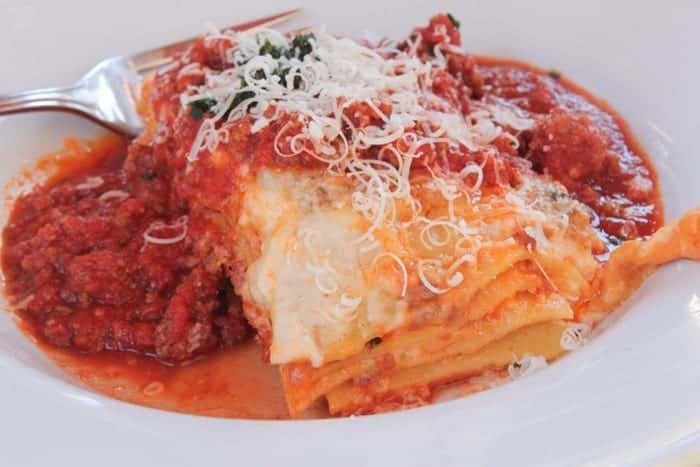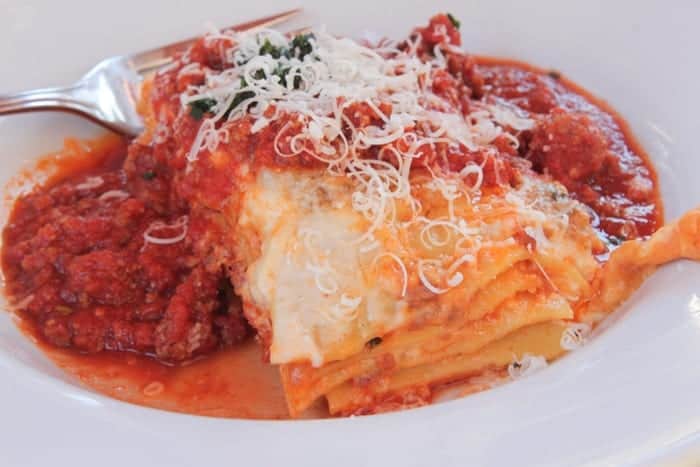 Wine Country Trattoria, Pacific Wharf
In all honesty, I don't dine at Wine Country Trattoria often, but I have to say their lasagna is pretty darn delicious. If you are looking for a nice table service restaurant with great views, Wine Country Trattoria might be just what you are looking for 🙂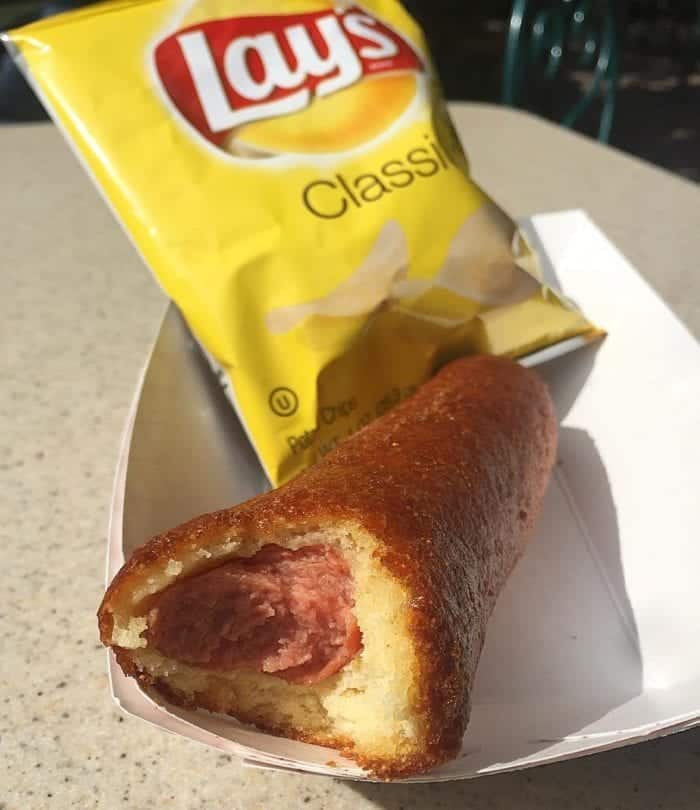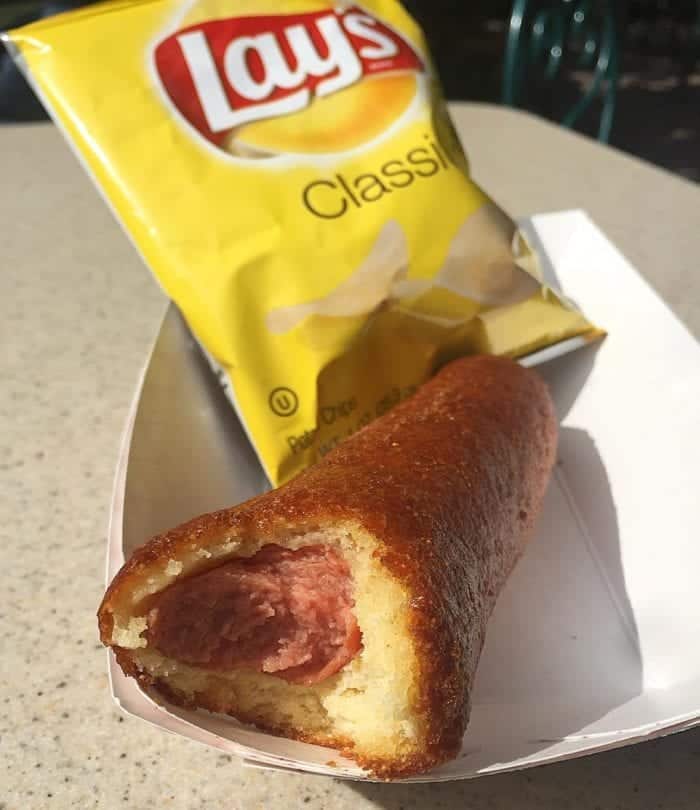 Corn Dog Castle, Paradise Gardens Park
Nothing says lunch at Disneyland Parks more than a crispy delicious corn dog. You can also get a delicious homemade corn dog at the Corn Dog Castle near Goofy's Sky School and across from Jumpin' Jellyfish area in Paradise Gardens Park.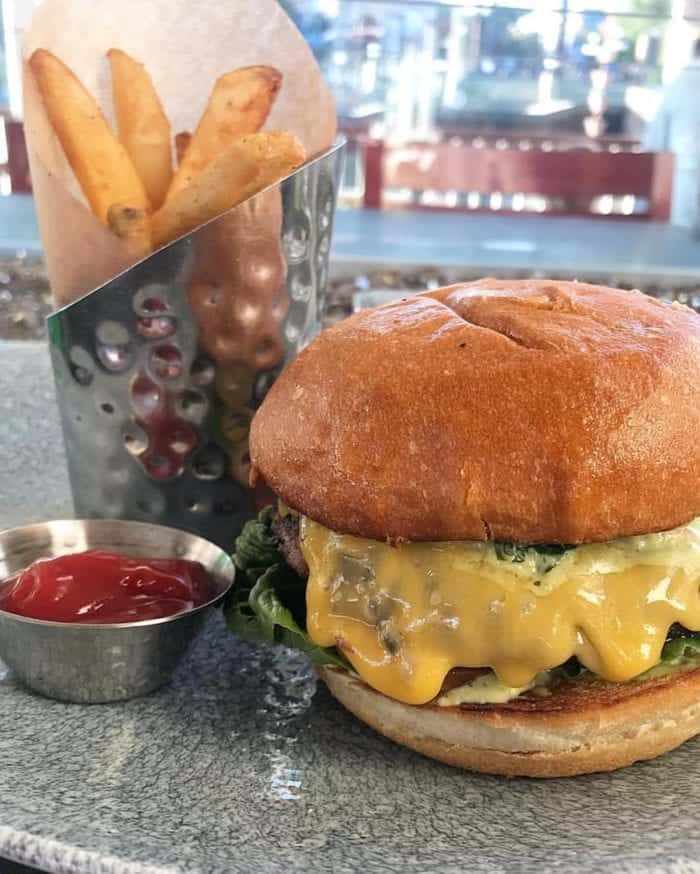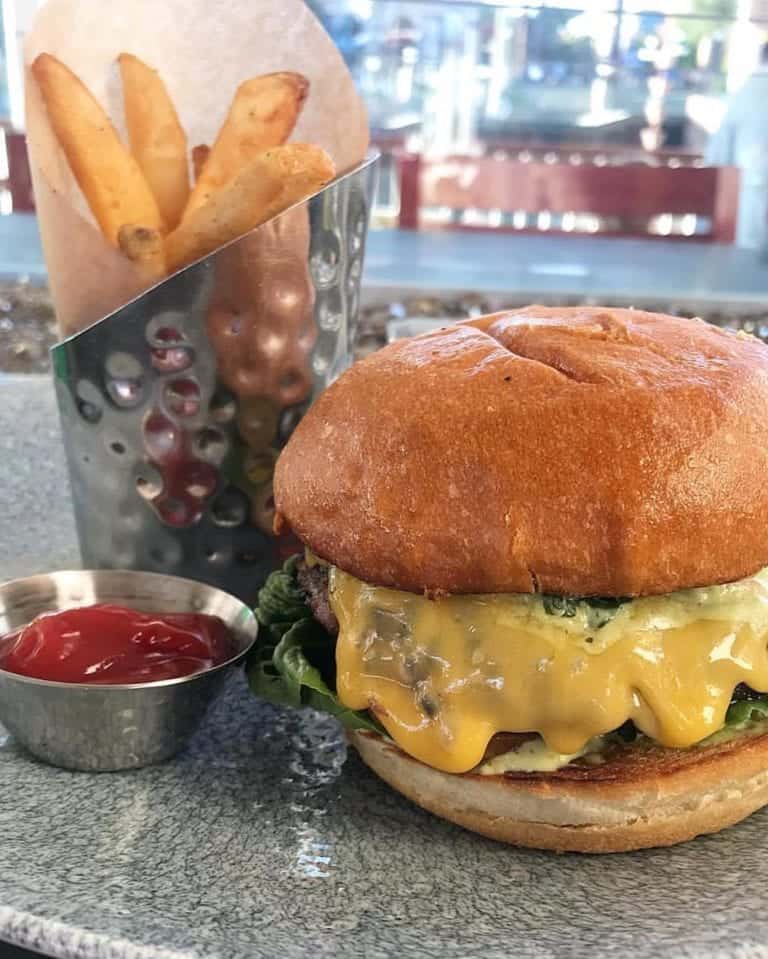 Lamplight Lounge, Pixar Pier
Lamplight Lounge on Pixar Pier is one of my very favorite lunch and or dinner restaurants at the Parks. This Cheddar Burger is off the charts delicious!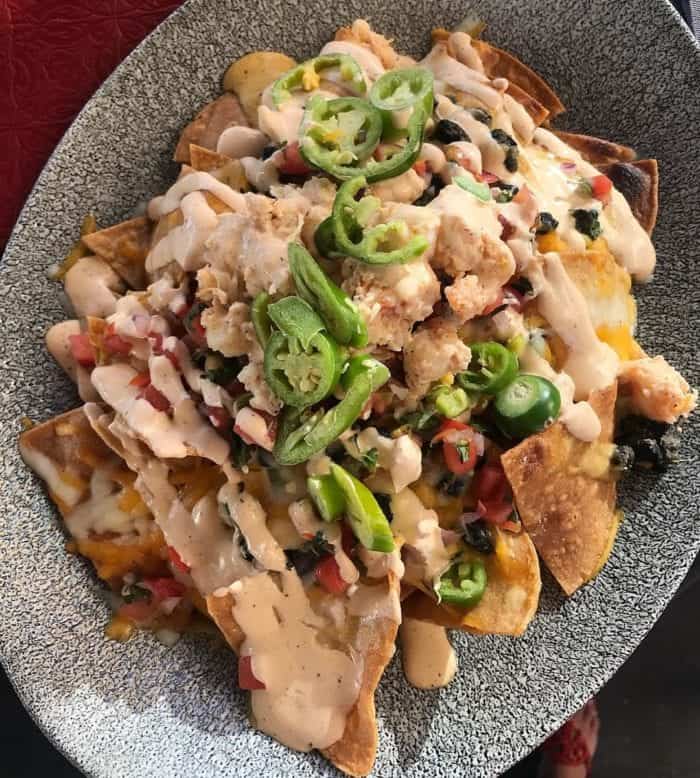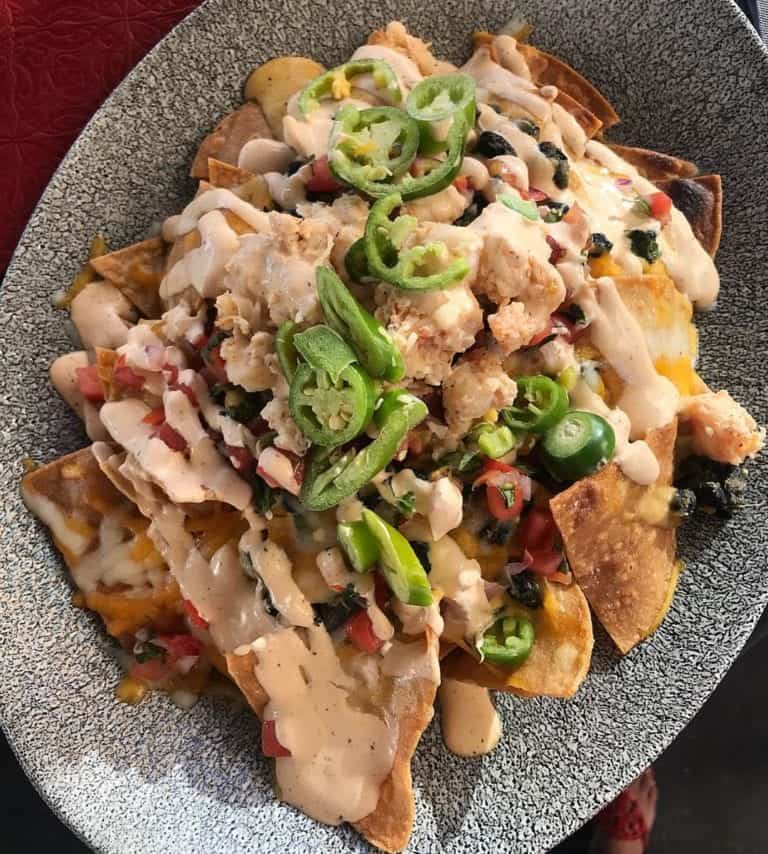 Another favorite at Lamplight Lounge is the gorgeous plate of Lobster Nachos. Do NOT miss this one. If you are not a Lobster fan, you can substitute chicken or beef…or no meat at all. This is a table service restaurant so get your reservations in advance. Simple to do right from your Disneyland App.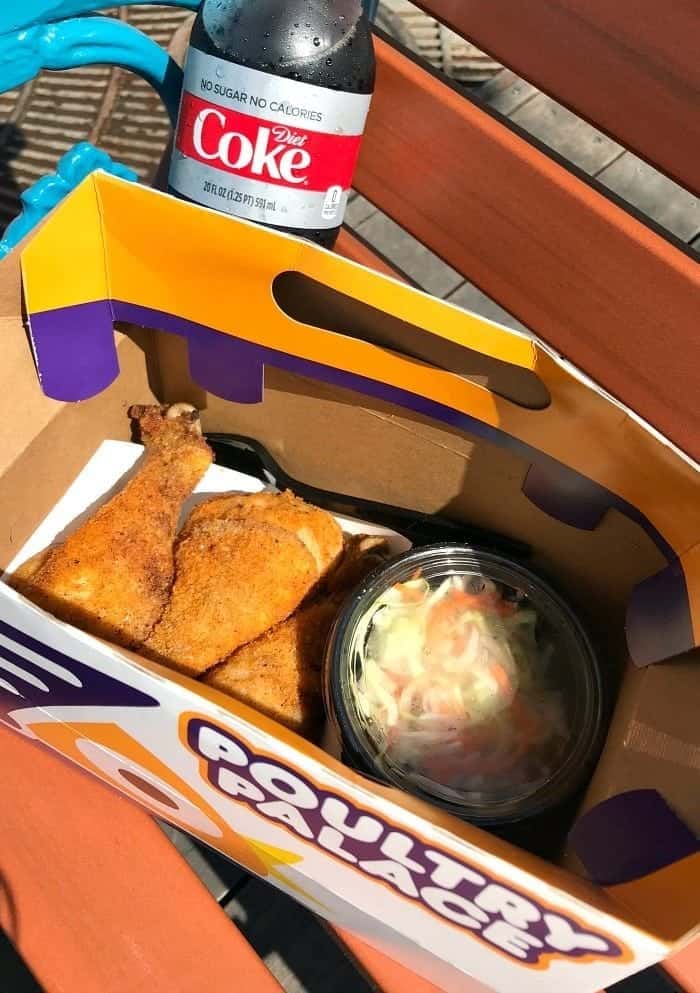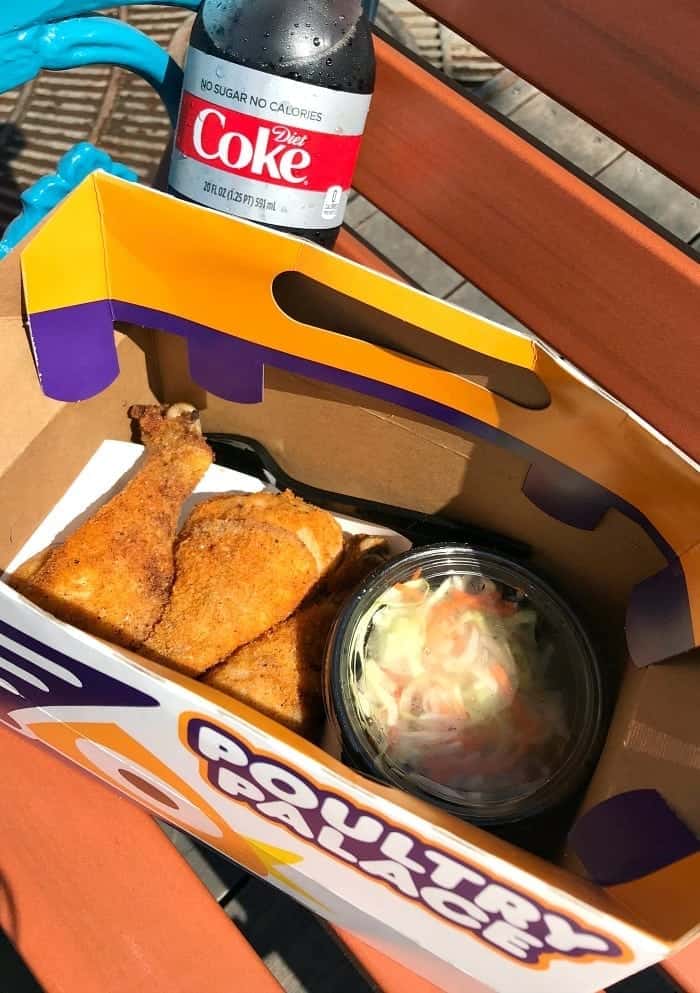 Poultry Palace, Pixar Pier
Head on over to Poultry Palace on Pixar Pier for some a delicious box of fried chicken and cole slaw. Perhaps a little messy to eat on the go, but this is a great quick lunch option at Disney California Adventure Park.
Disney's Grand California Hotel and Spa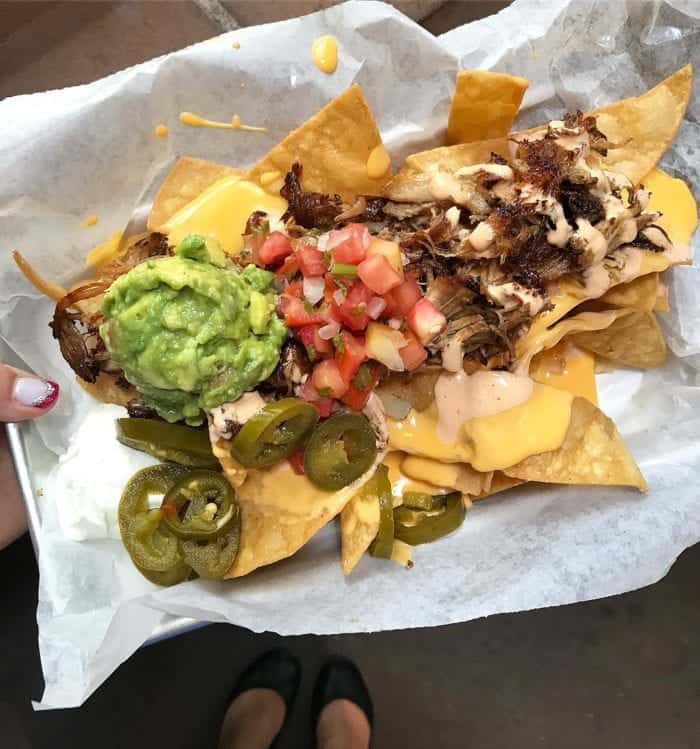 White Water Snacks, Disney's Grand California Hotel and Spa
White Water snacks, while not inside the Parks is easy to get to when at Disney California Adventure Park. The Entrance in Grizzly Peak takes you right to White Water Snacks. You do not need to be a guest to enjoy the food at the quick service restaurant. Their Carnitas Nachos are my favorite. They've got lots of really good lunch options. Check them out if you're looking for a little break from the Parks. It's usually not overly crowded.
Downtown Disney District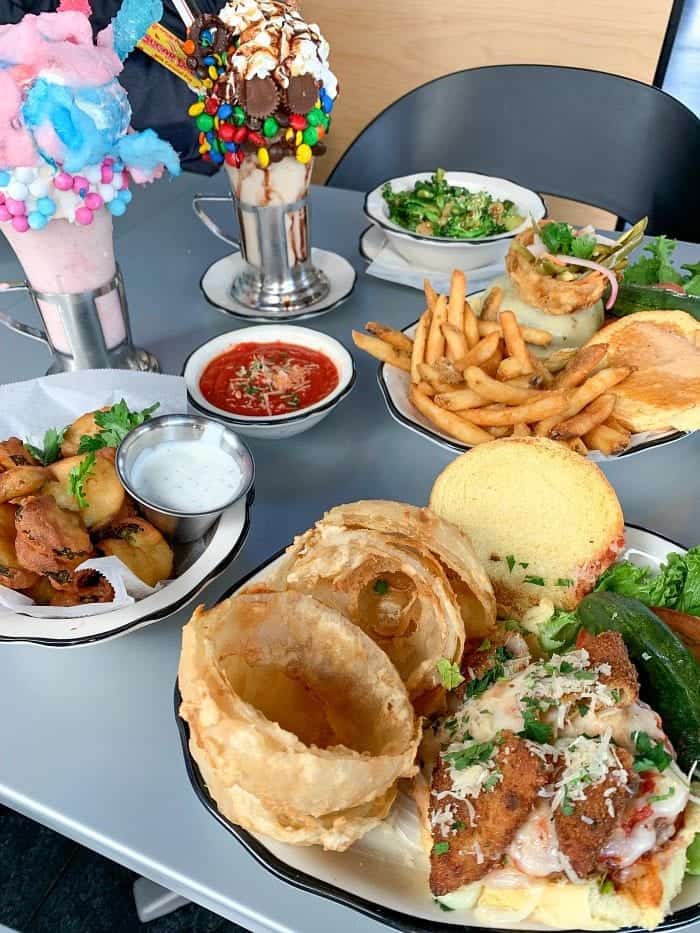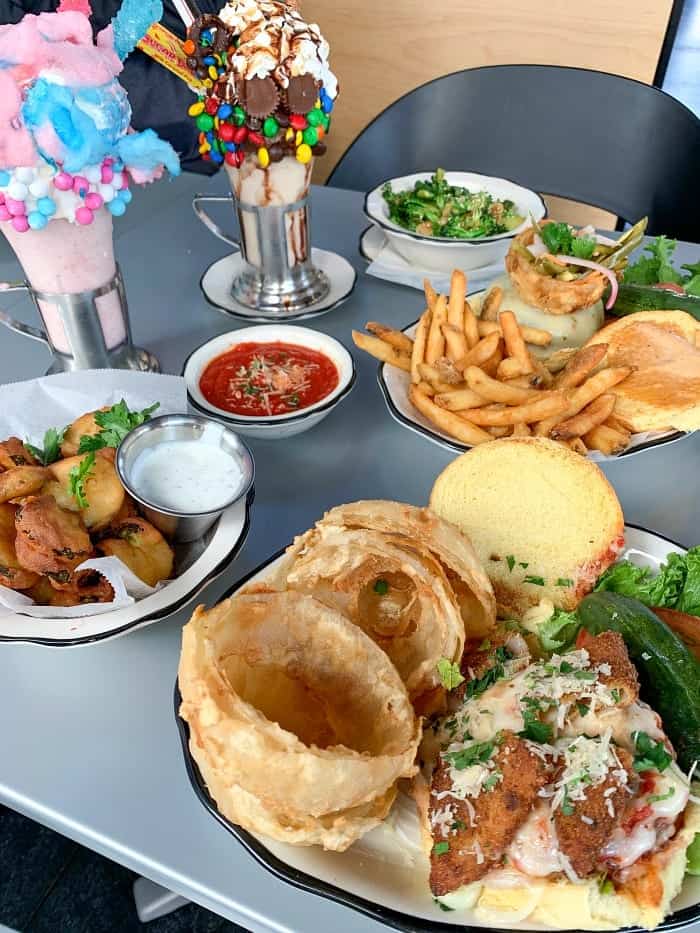 Black Tap Craft Burgers and Shakes, Downtown Disney
The fact that we have Black Tap in Downtown Disney, might be my favorite on earth currently. There's nothing better than a lunch at Black Tap. My favorites are the Pizza Burger and Fried Pickles. Obviously get some Crazy Shakes while you're at it! See my full review HERE.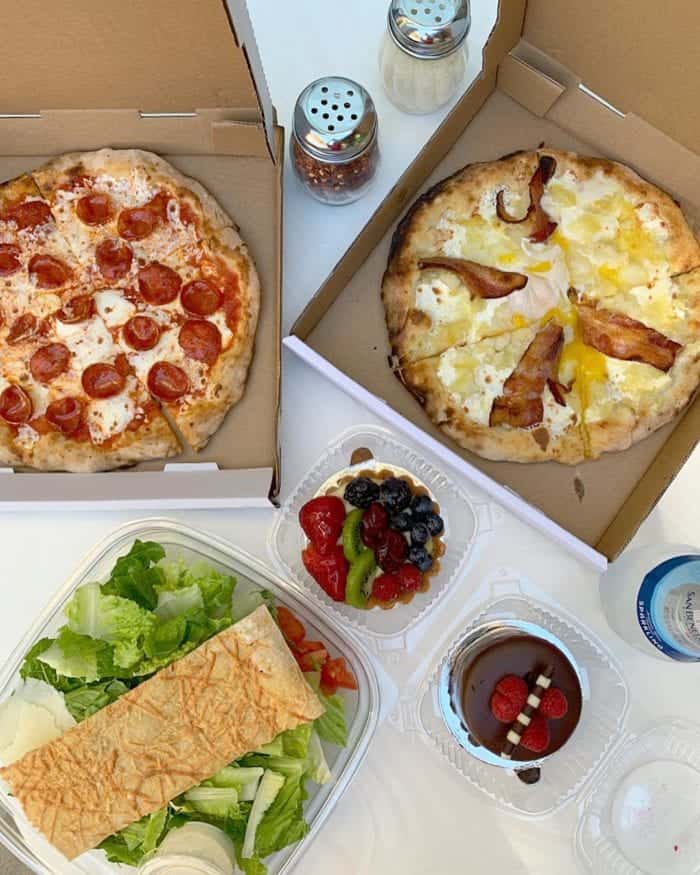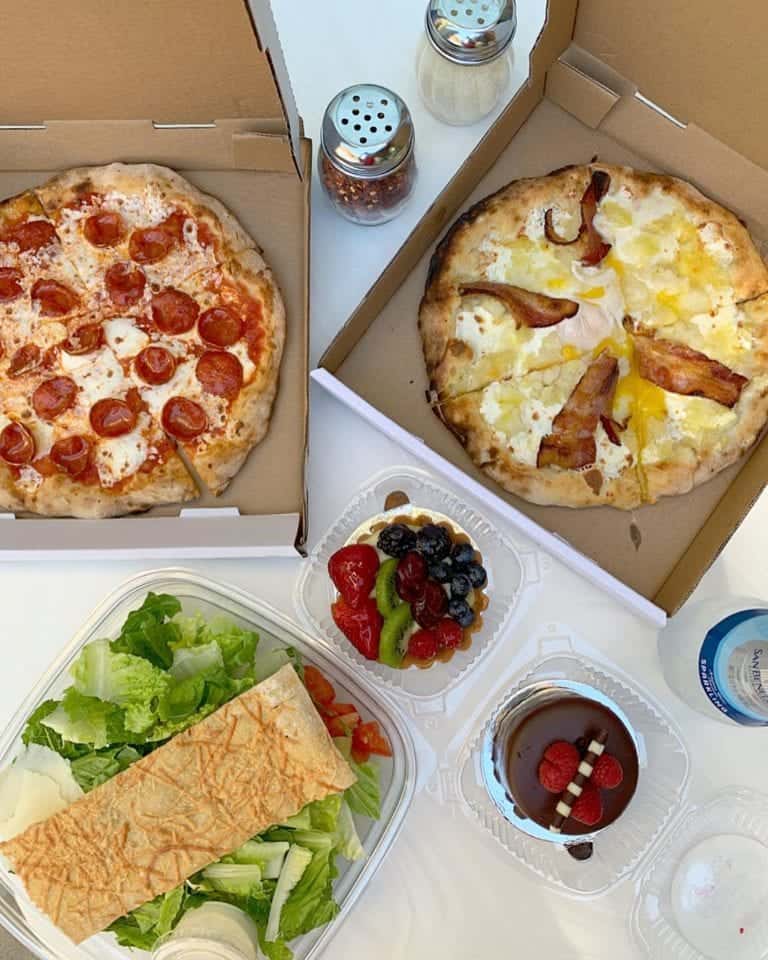 Napolini Pizzaria, Downtown Disney
Another favorite spot for lunch in Downtown Disney is Napolini Pizzeria. Amazing quick service pizza, salad and desserts. Definitely check them out if you haven't. Great option to even take back to your hotel room.
Pin Best Disneyland Restaurants For Lunch