Sharing the Best Food at Disney California Adventure Park Available All Year Round! So many great choices around the Park, get your stretchy pants ready. Starting with my favorite…Cars Land!
Cars Land
Be sure to check out my post about The Best Food at Disneyland Available All Year Round too! Cars Land at Disney California Adventure is one of my favorite of all of the lands at Disneyland Resort. It is completely magical and the food is on point! Quick bites to eat that have you anxious to go back to enjoy again.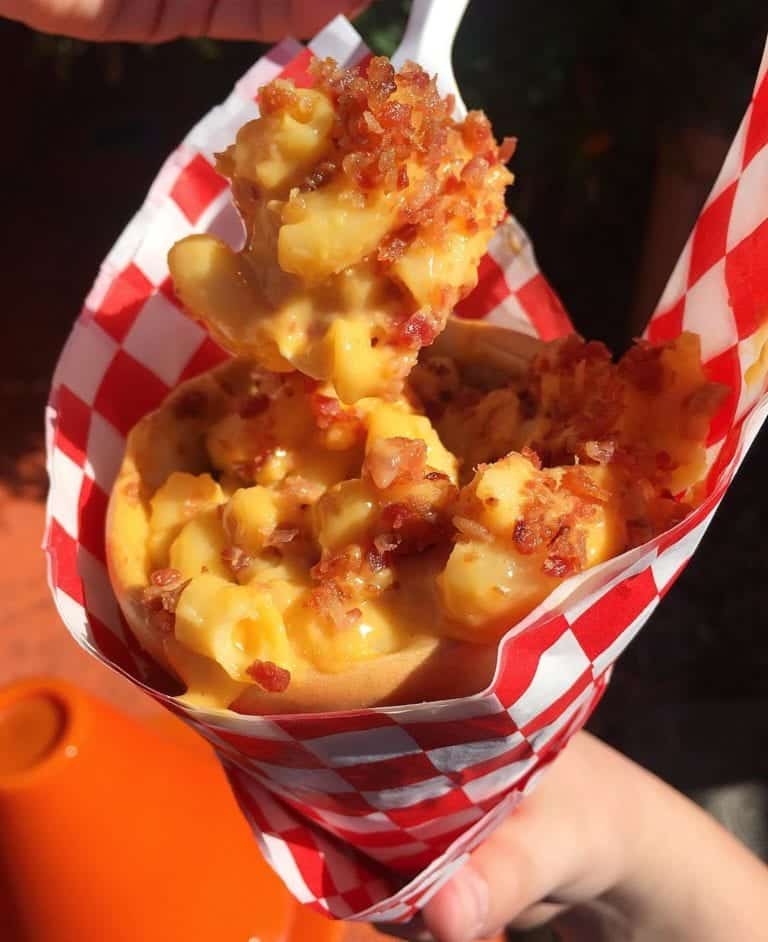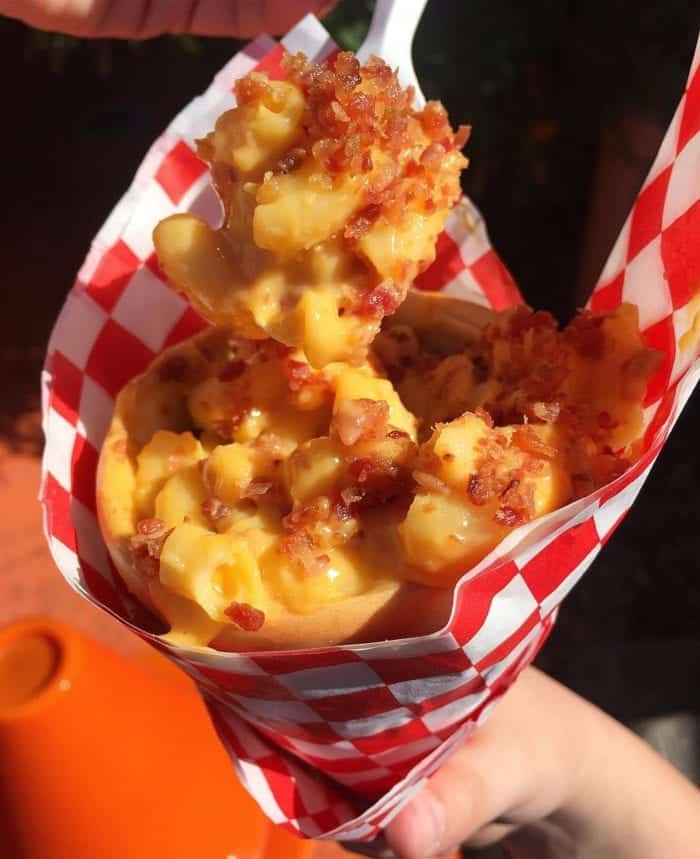 The Bacon Mac n' Cheese Cone is available all year round from Cozy Cone Motel Cone #3. It's FANTASTIC!!!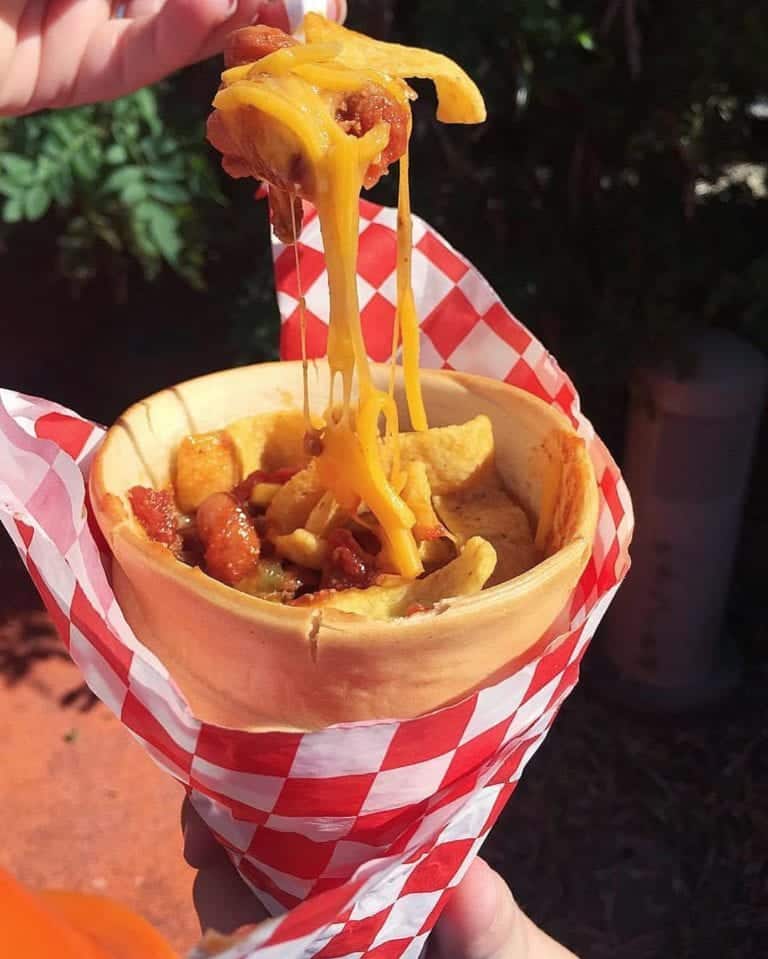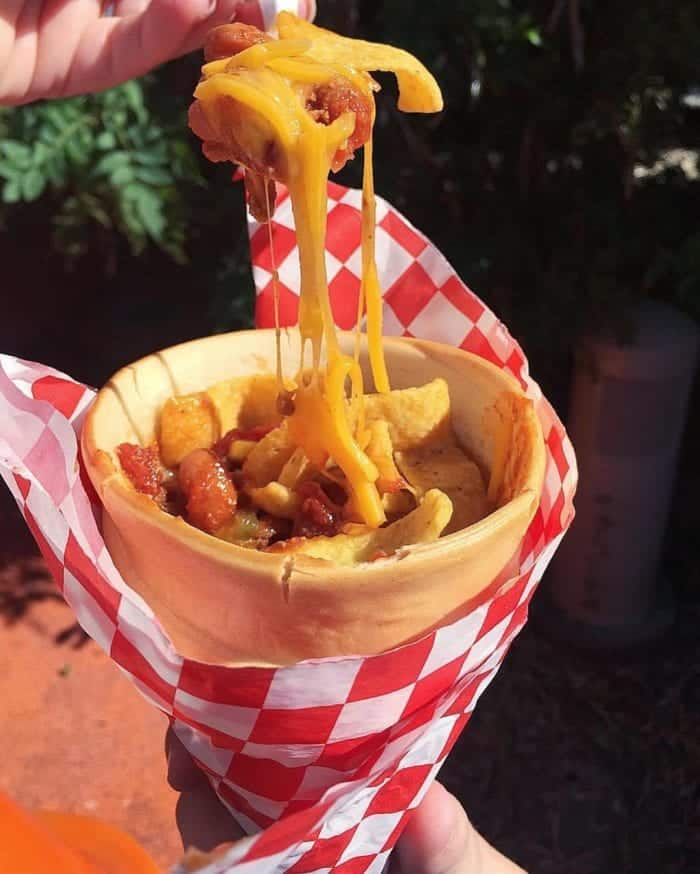 This Chili Cone Queso is available all year round at the same Cone location as above. Both excellent choices when you need a quick bite to eat. No reservations required, just walk up and order. Note, there's not much seating at the Cozy Cone Motel area, so plan accordingly.
Flo's V8 Cafe, Cars Land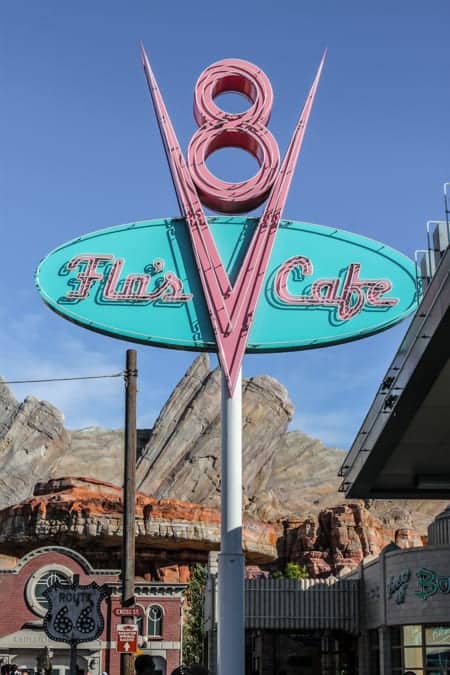 Right across from Cozy Cone Motel is Flo's V8 Cafe. Another favorite in all of Disney California Adventure Park. It's a quick service style restaurant, with lots of great seating inside and outside overlooking Radiator Springs Racers.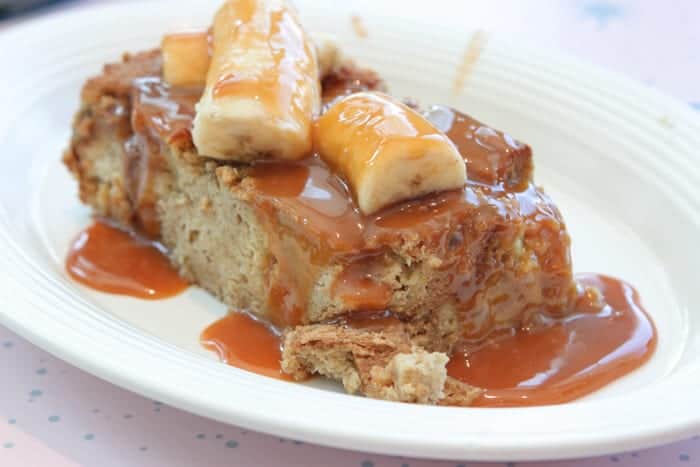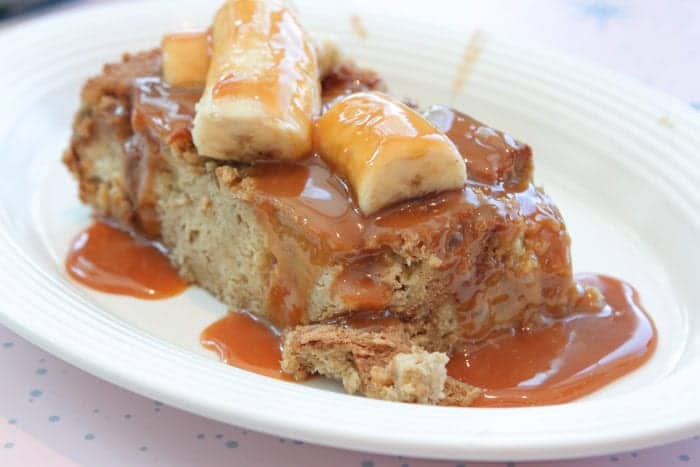 My favorite dish at Flo's V8 Cafe is the Brioche French Toast for breakfast. It's available all year round and let me tell you, it's worth every naughty calorie. Completely on point. Love this one. Don't miss it.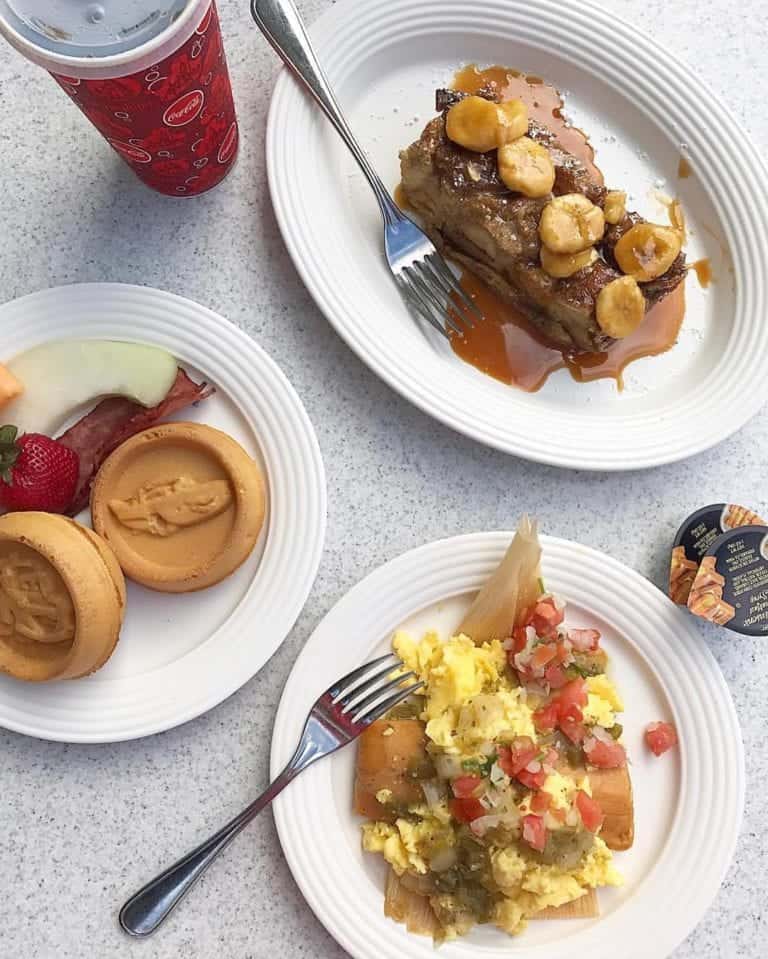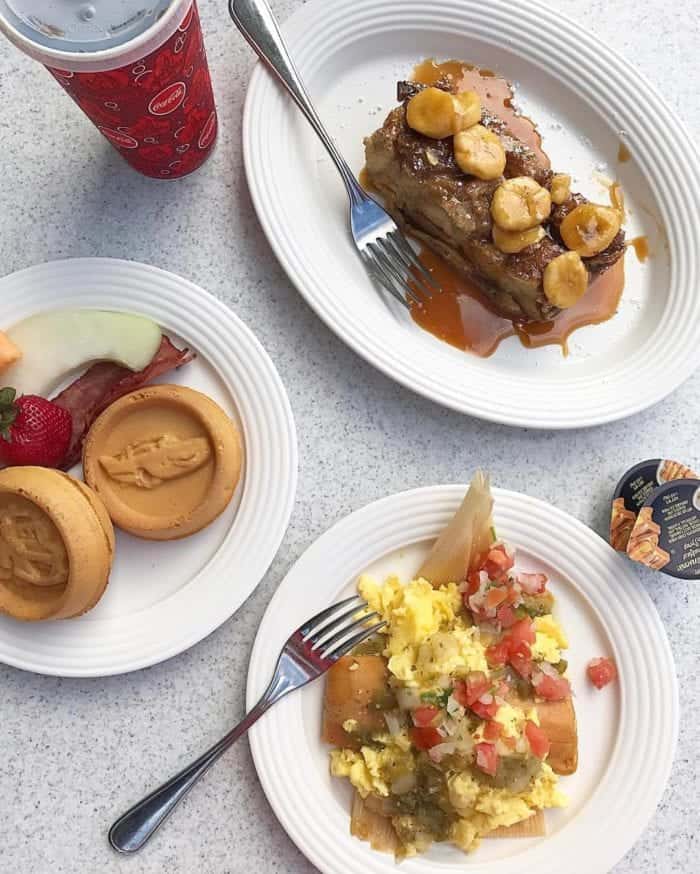 The Chicken Tamale Breakfast is another one of my favorite menu items at Flo's V8 Cafe. Definitely give this one a try too.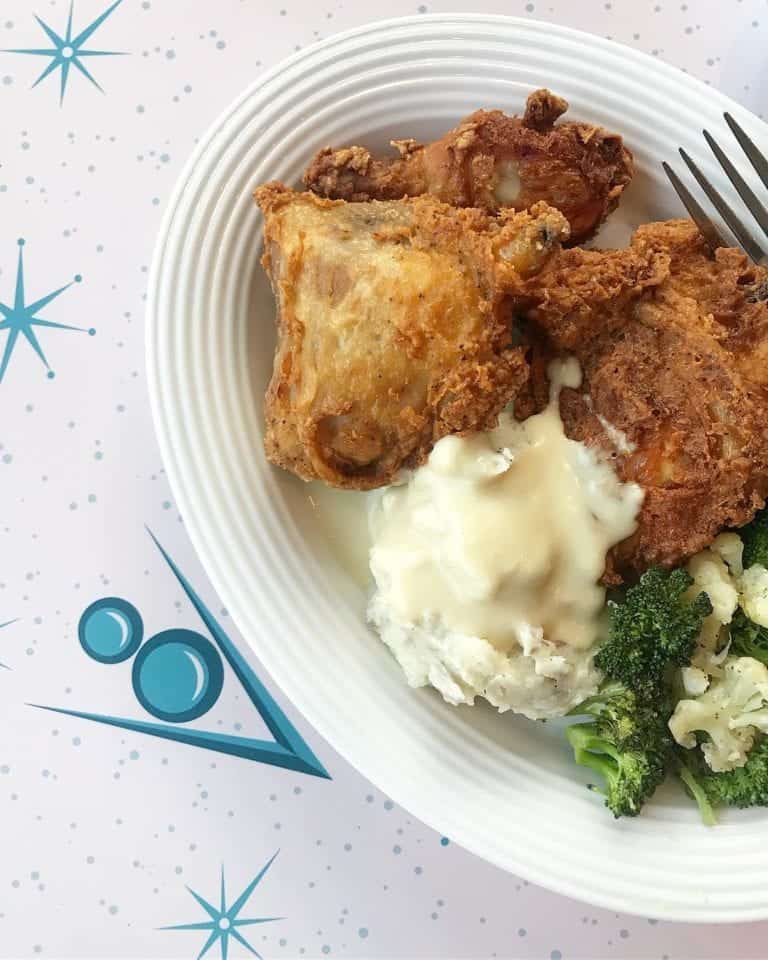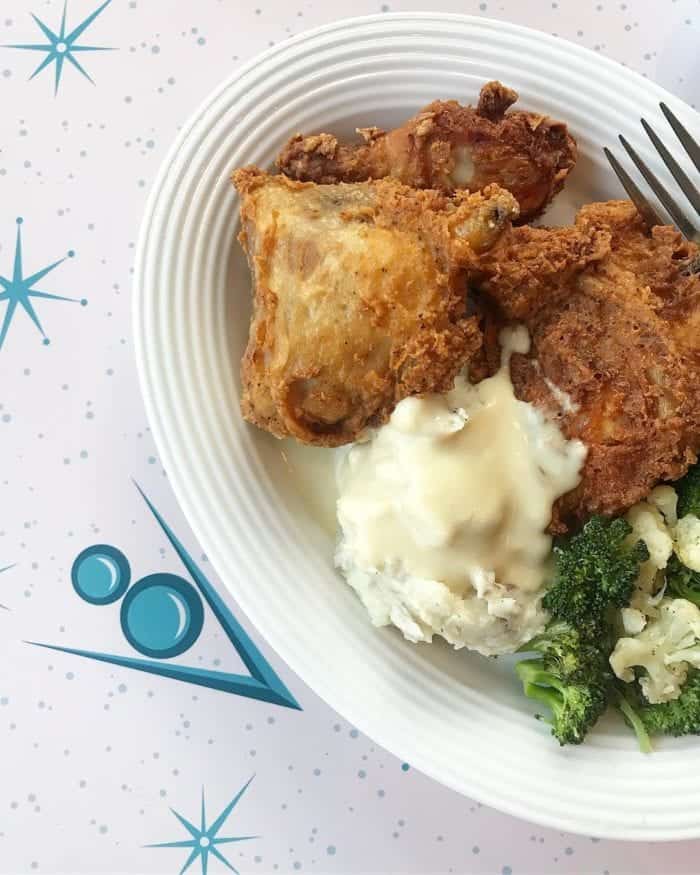 If you visit Flo's V8 for lunch or dinner, you MUST try the Fried Chicken. It is FANTASTIC. It's a very large portion, so this is a good one to share.
Carthay Circle, Buena Vista Street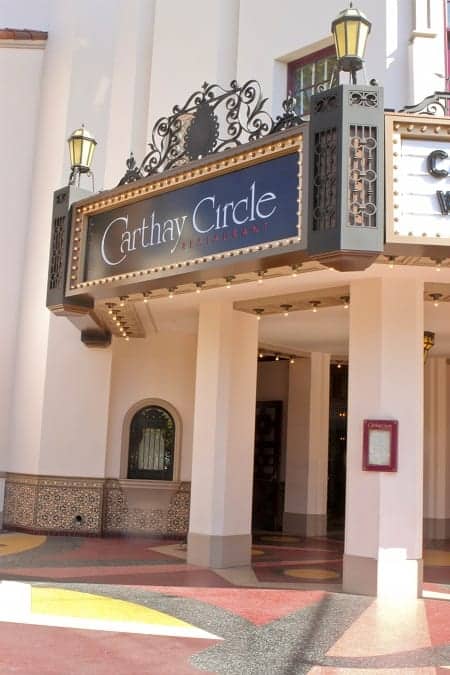 Ok, popping back over near the front of Disney California Adventure Park is Carthay Circle Restaurant! This is such a great restaurant. I highly recommend getting reservations. You can definitely take the whole family here, but it really makes the perfect Date Night. It's really a great dining experience. Love the photos on the walls and swanky decor.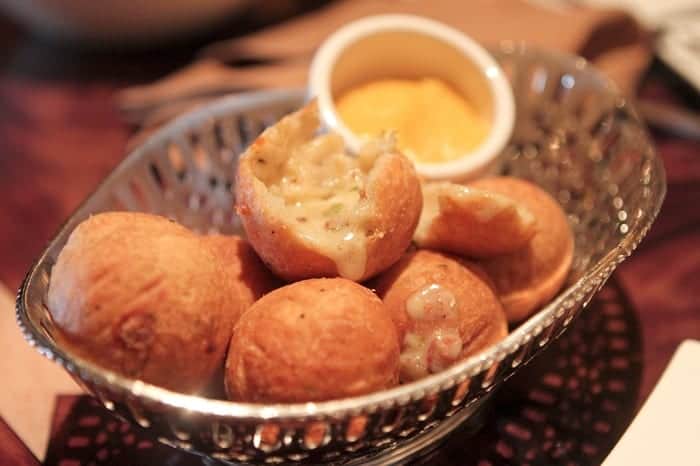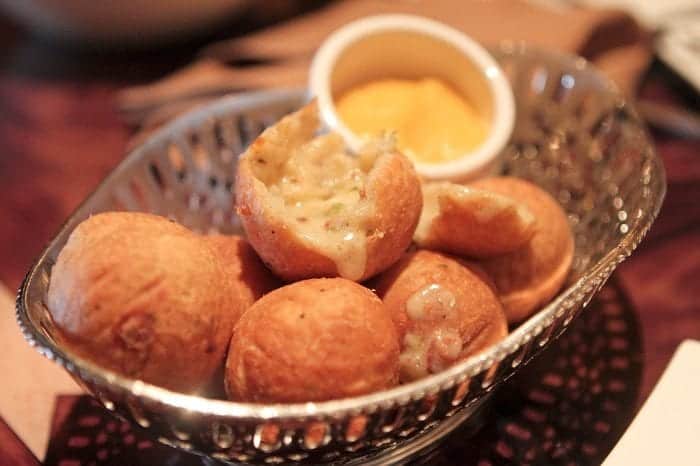 Some of my favorites at Carthay Circle Restaurant available all year round include these Carthay Signature Fried Biscuits on the starters section of the menu. They are absolutely delicious stuffed with melted cheese. Be sure to try them!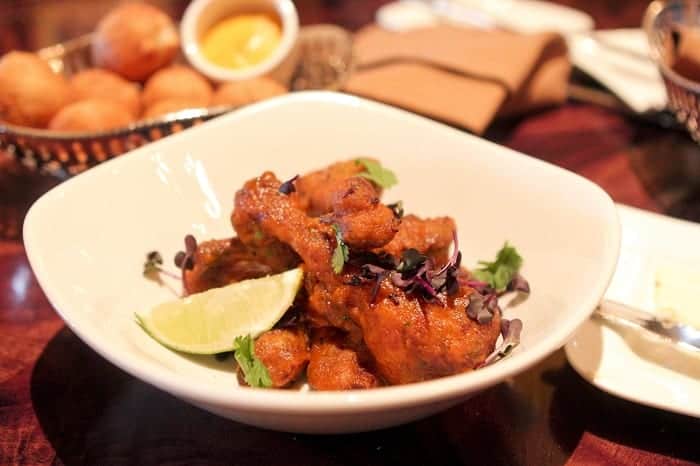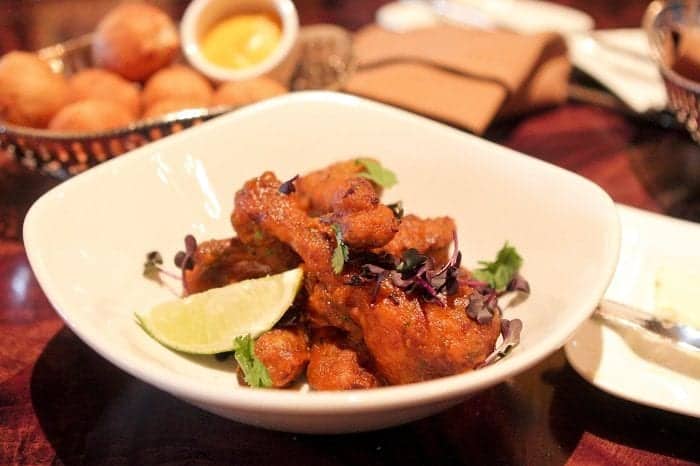 Equally as amazing are the Fire Cracker Duck Wings also on the starter section of the menu at Carthay Circle Restaurant. You've got to try these too.
We've had a number of the Entree menu items and also LOVE the Carthay Angus Bacon Burger.
Trolley Treats, Buena Vista Street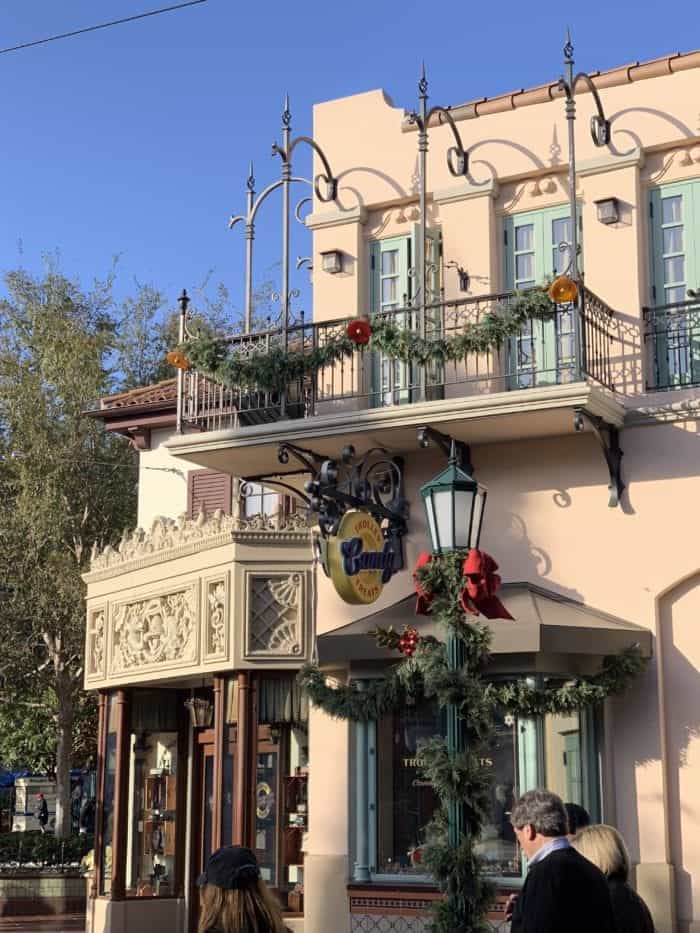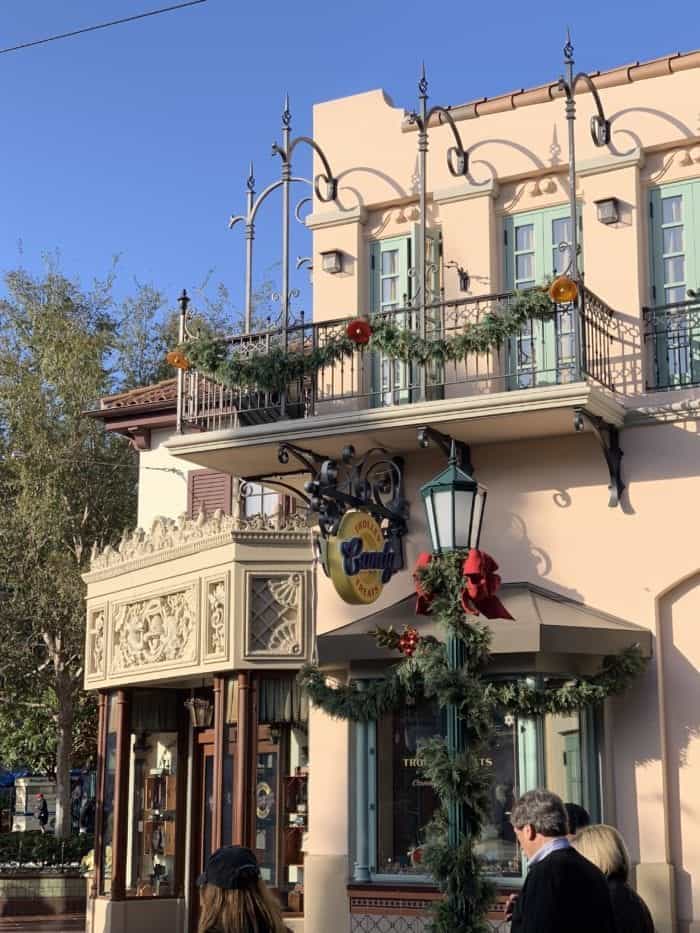 Trolley Treats is one of my very places to visit during EVERY single visit to the Parks. You'll find an epic bakery case of all kinds of Disney goodies and perfect little souvenirs around the shop to take home.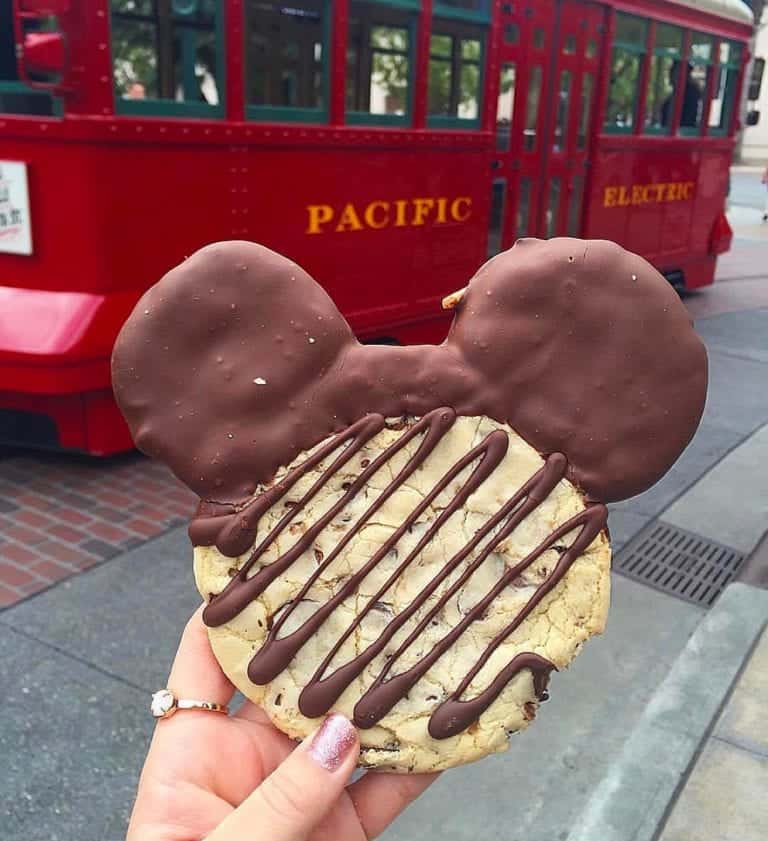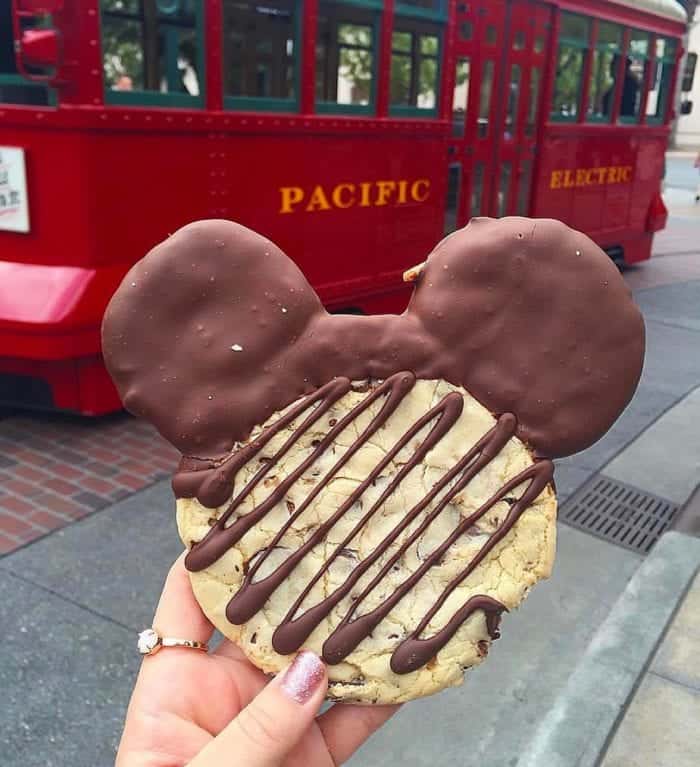 While there are many many things to get at Trolley Treats, one of my favorites is the giant Chocolate Chip Mickey Cookie available all year round. This is a GOOD ONE.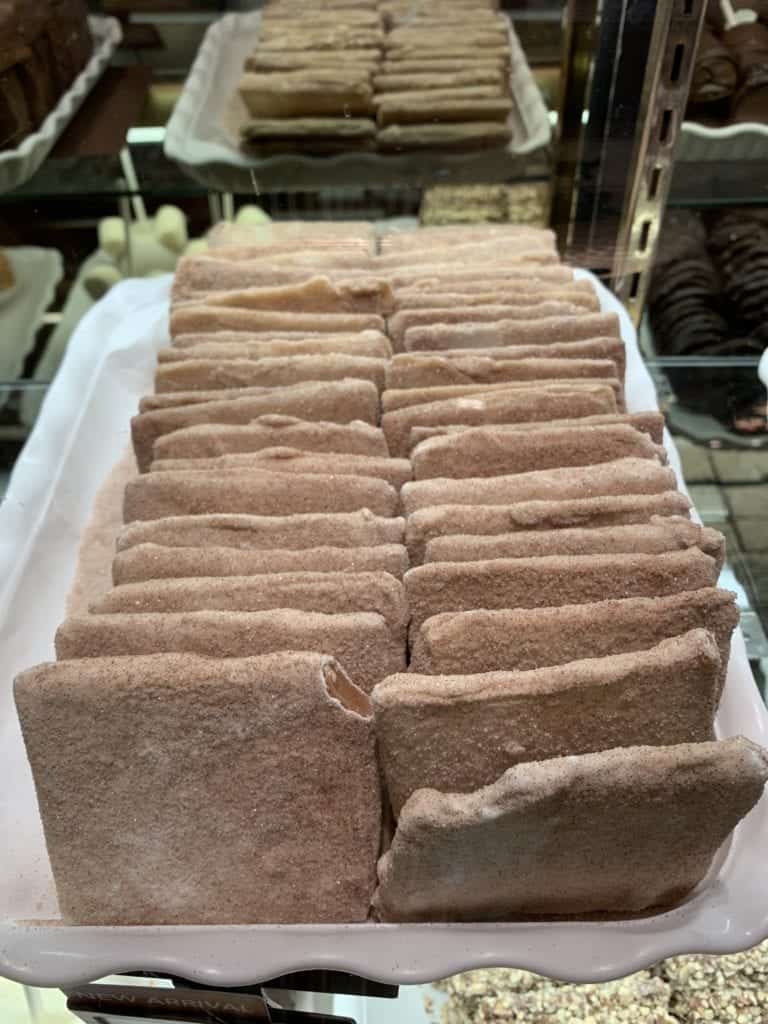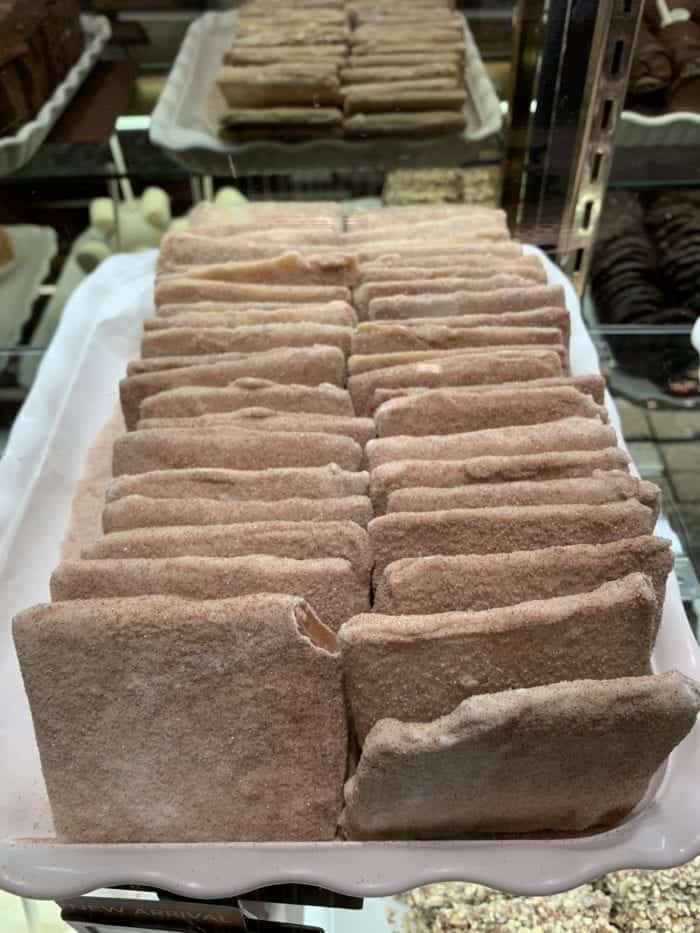 The White Chocolate Churro Toffee made it's debut late 2018 and let me tell you it is one of my favorite Disney treats to date. I was told it is staying around permanently, I sure hope the CM I talked to is right. It deserves a permanent spot at the Parks. Available at the Trolley Treats Bakery Case.
Clarabelle's Hand Scooped Ice Cream, Buena Vista Street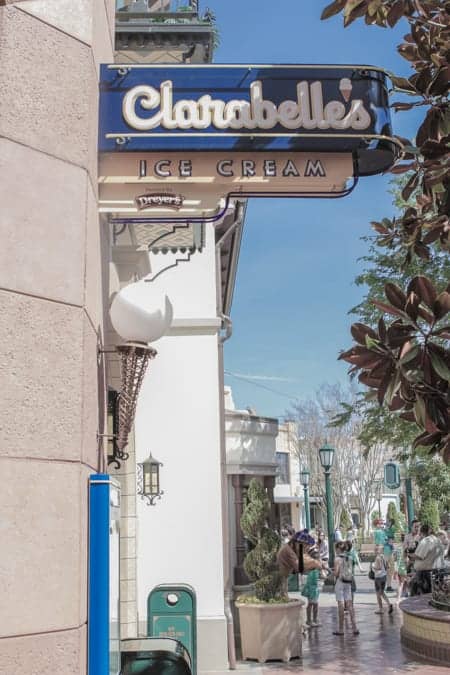 Clarabelle's is another great spot for Ice Cream! We love the hand dipped chocolate dipped bars below.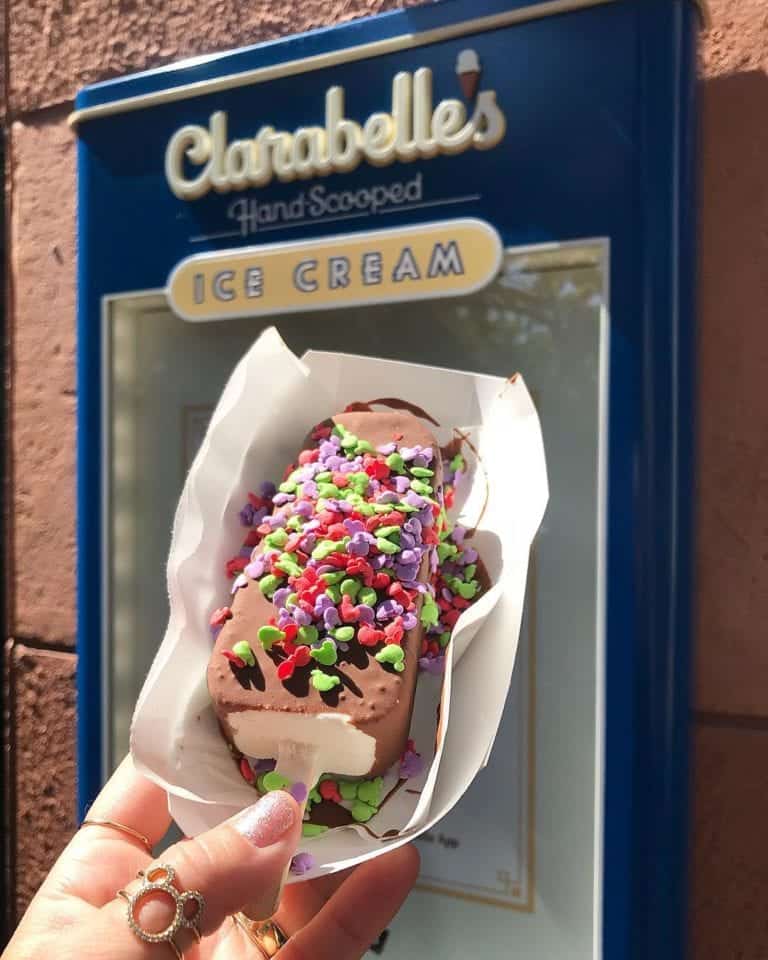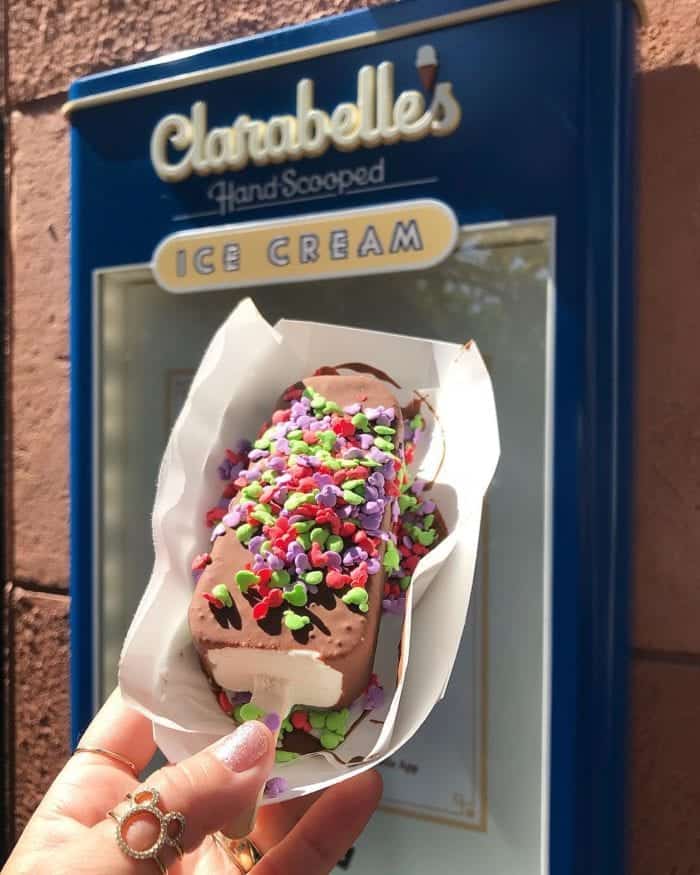 Choose your flavor of ice cream bar, chocolate on top and toppings. So fun and DELICIOUS!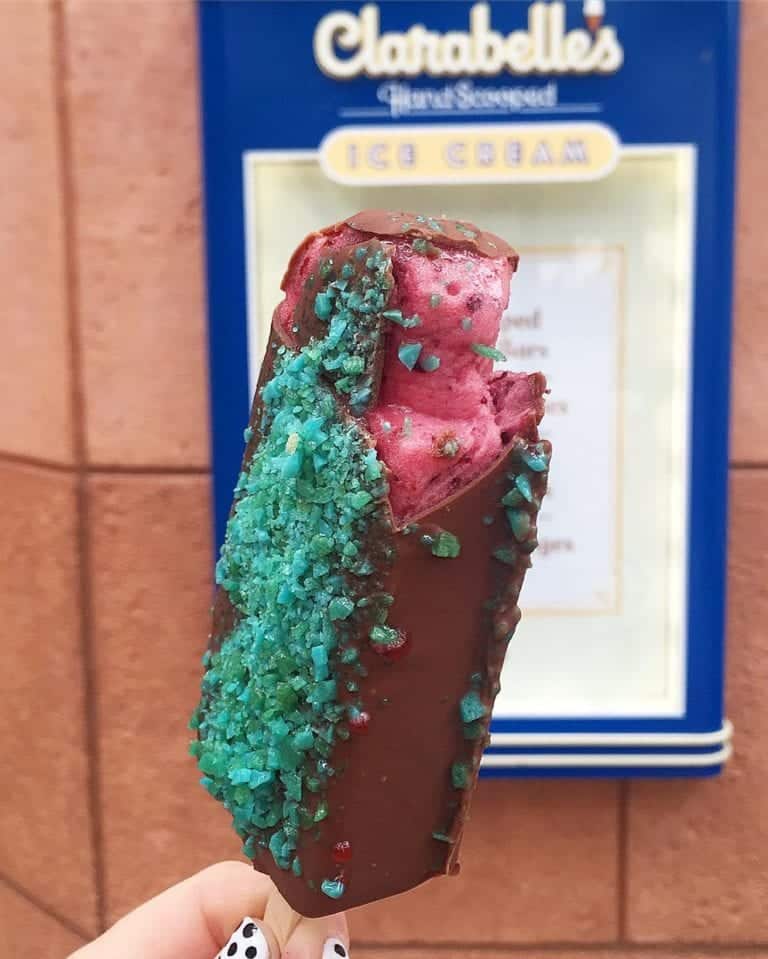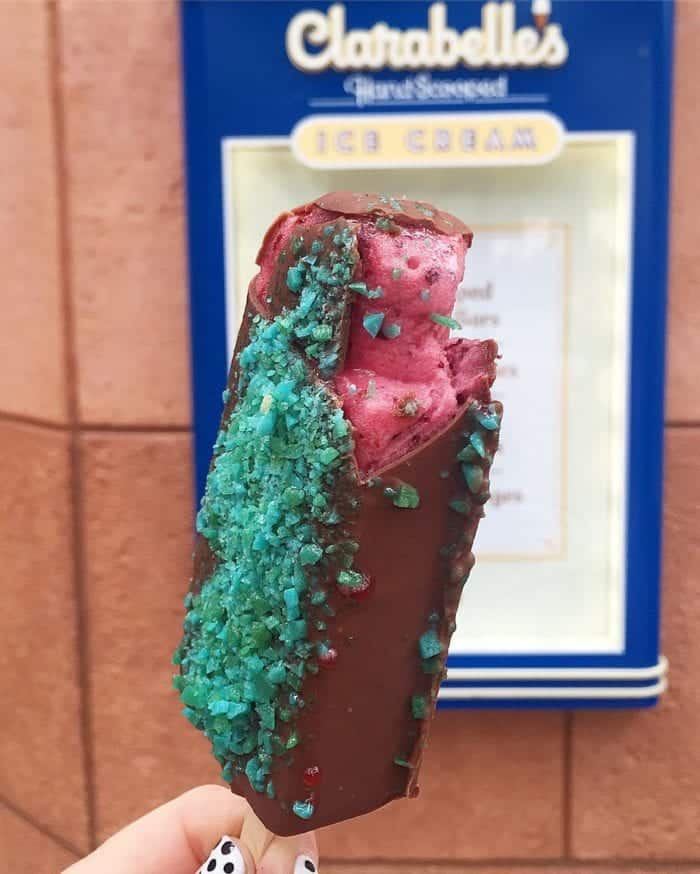 My husband's all time favorite Disney treat is the Raspberry Sorbet with Dark Chocolate and Pop Rocks for topping. It's surprisingly so good!!
Fiddler, Fifer & Practical Cafe/Starbucks, Buena Vista Street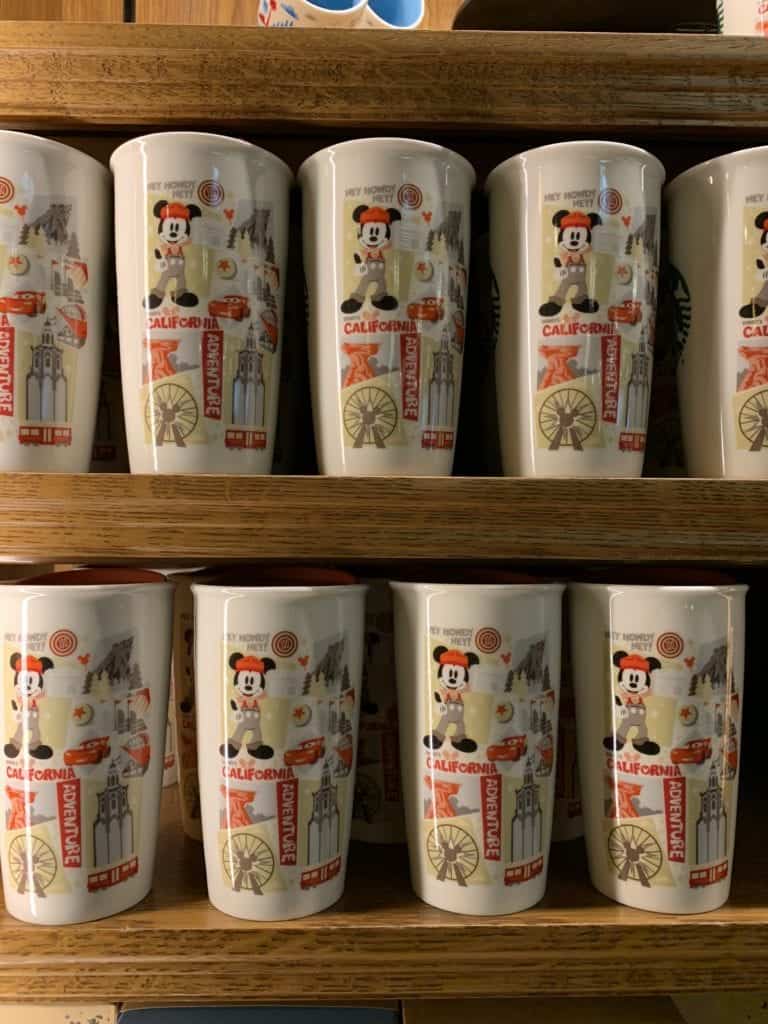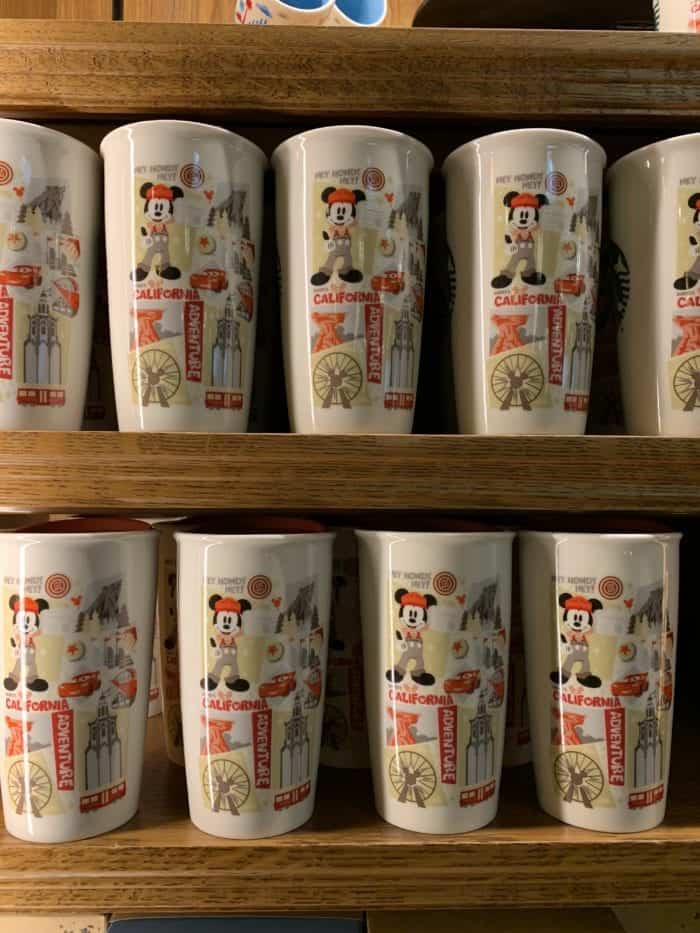 Fiddler, Fifer & Practical Cafe is a great stop if you're looking for your Starbucks Coffee, hot chocolate, snacks and other drinks. They also have amazing Disney Mugs and Tumblers! Located right next to Clarabelle's.
Award Wieners, Hollywood Land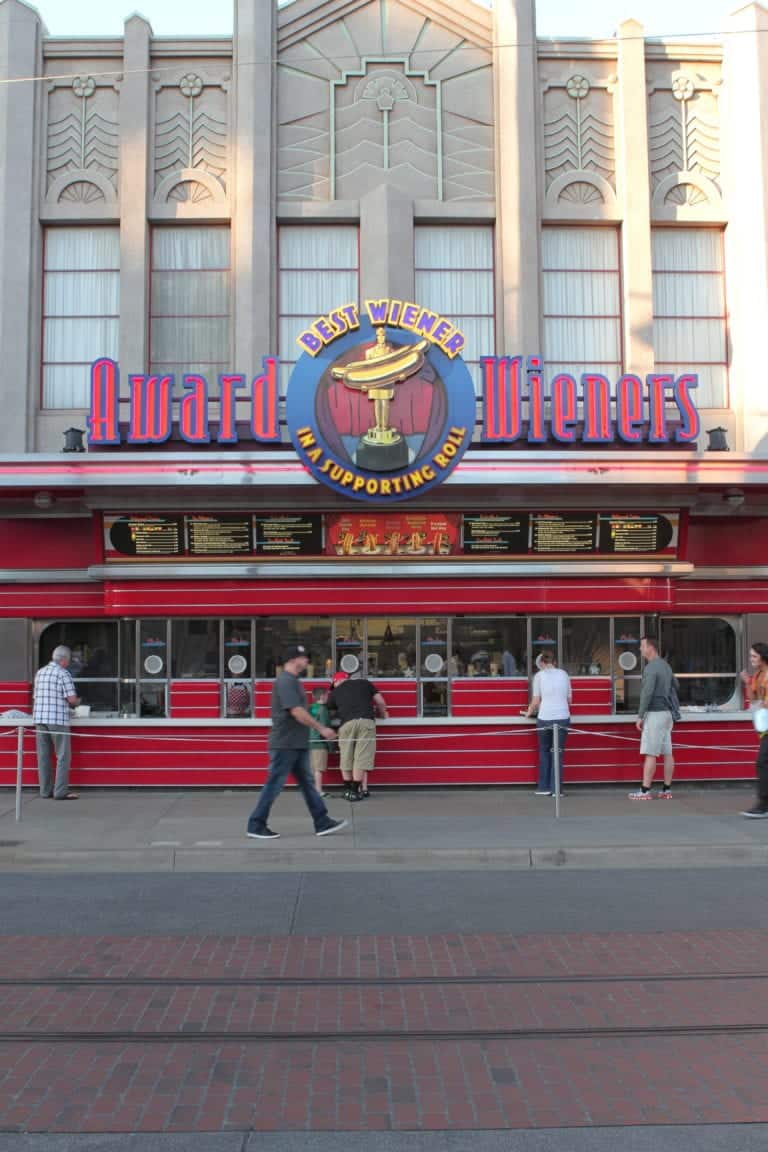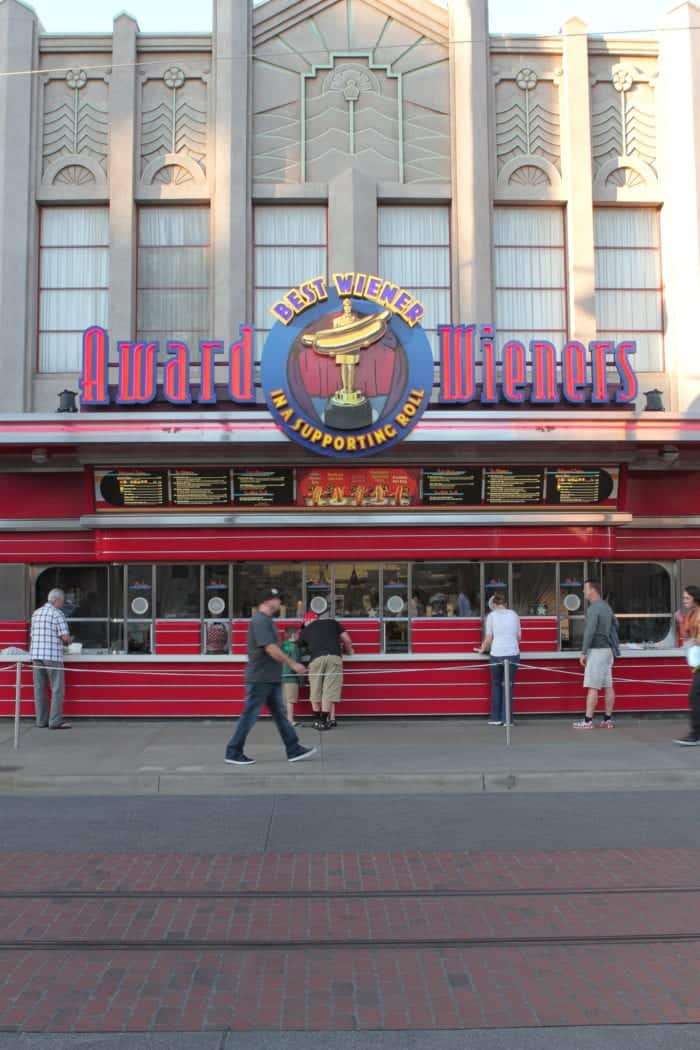 Award Wieners has your favorite dogs available all year round and their seasonal Funnel Cake Fries are always a favorite of mine!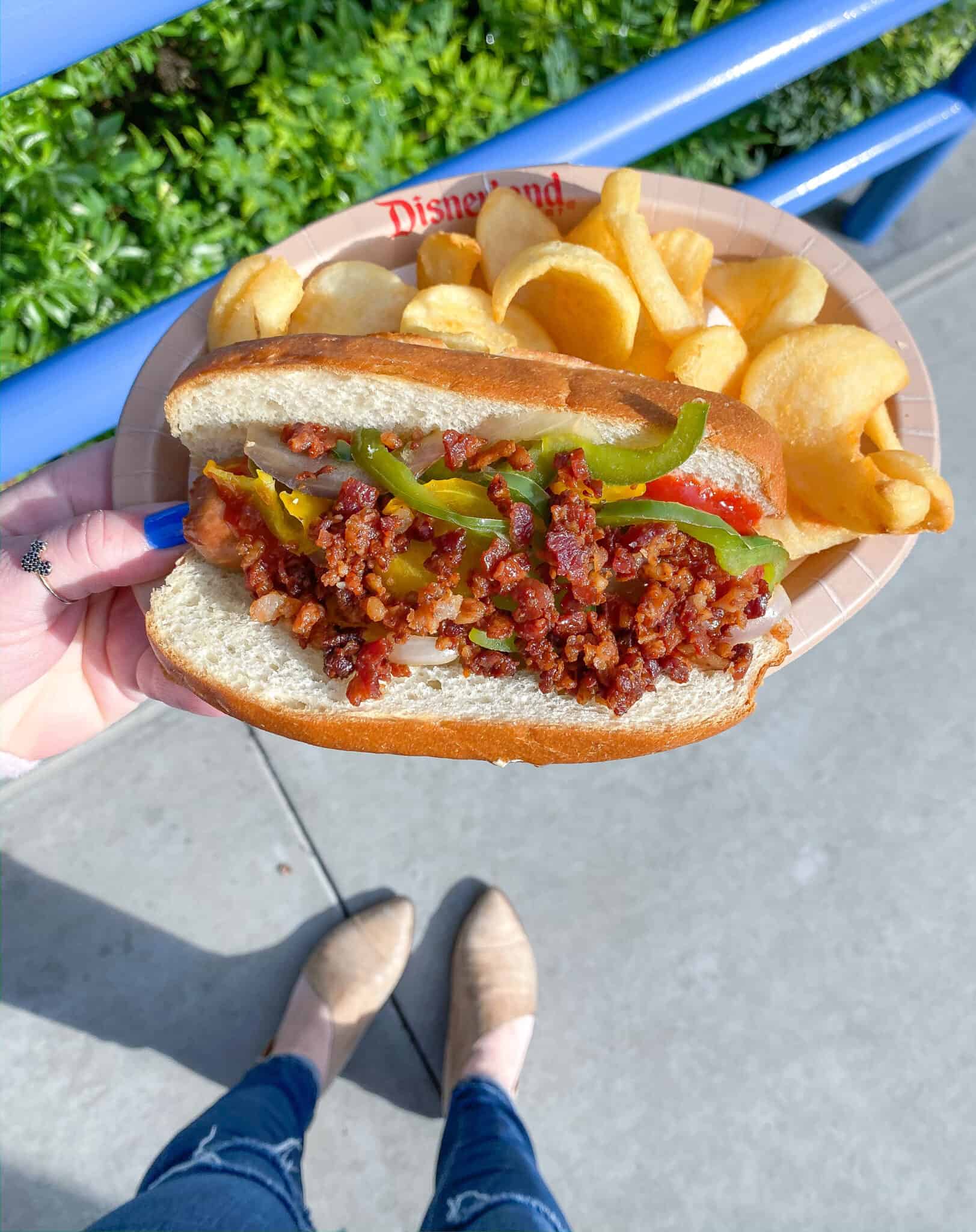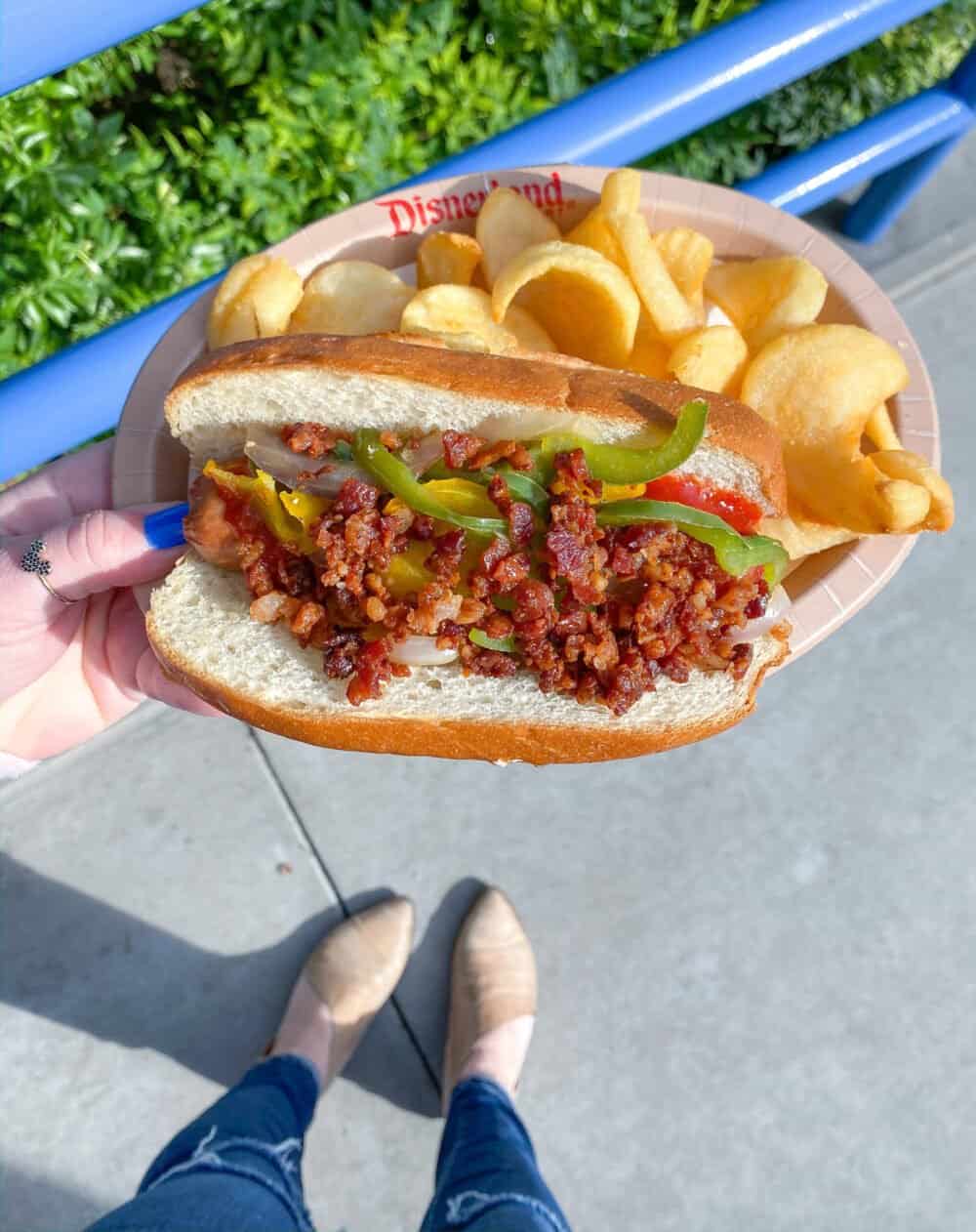 The Bacon Street Dog is my favorite dog from Award Wieners!
Schmoozies, Hollywood Land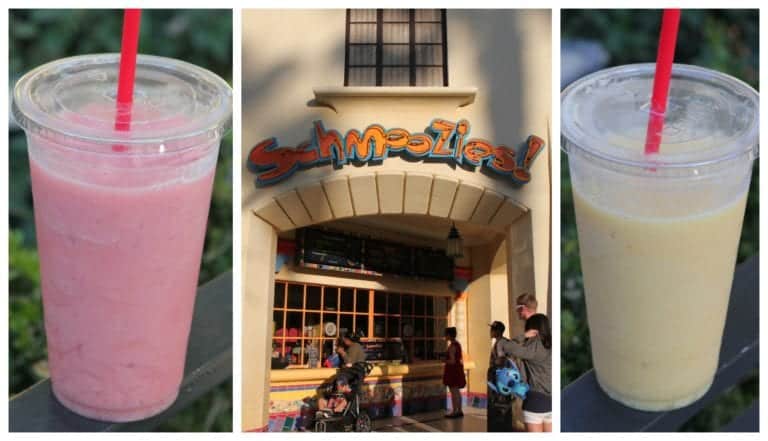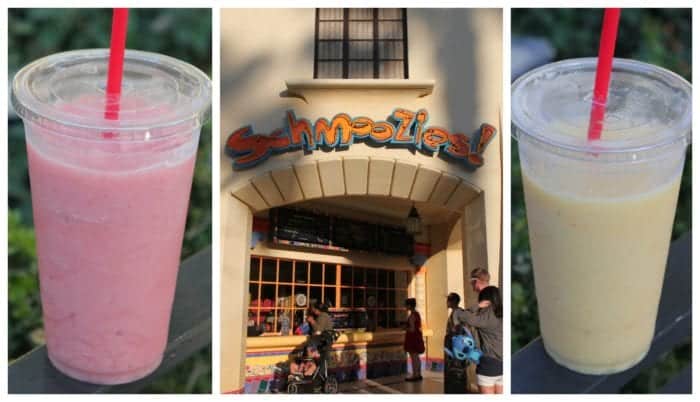 Schmoozies is a great place to stop in the mornings for fruit smoothies. You can get the Strawberry Banana Sensation (left) and the Mango Madness (right) all year round. Schmoozies always has some of my favorite seasonal doughnuts and ice cream sandwiches, so make sure you peek at their seasonal offerings too!
Wine Country Trattoria, Pacific Wharf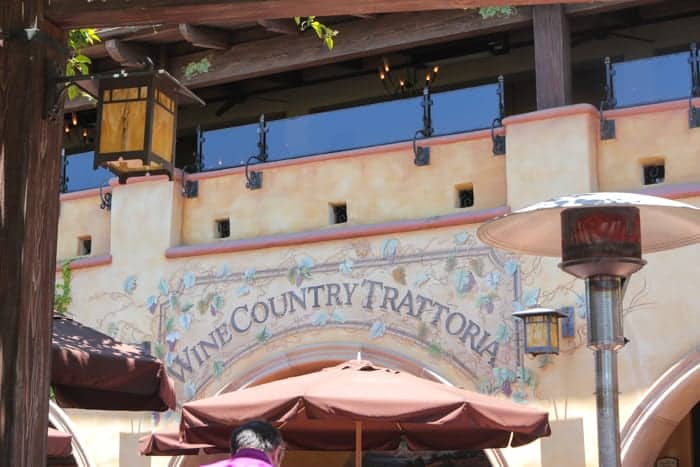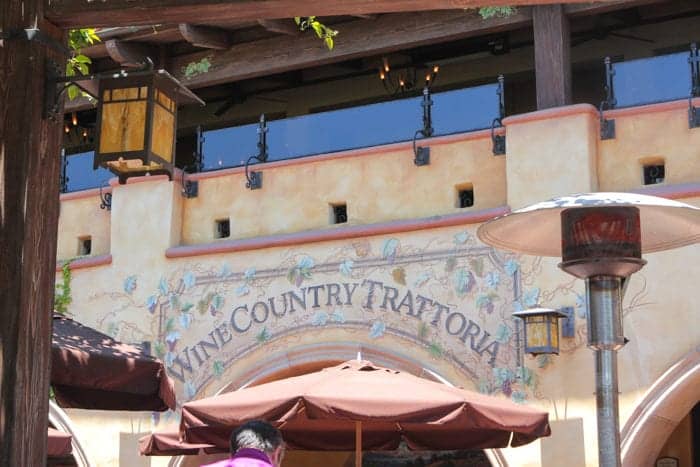 While I don't visit Wine Country Trattoria very often, they have a great menu and it's a lovely place to get a meal! You'll want to get reservations in advance.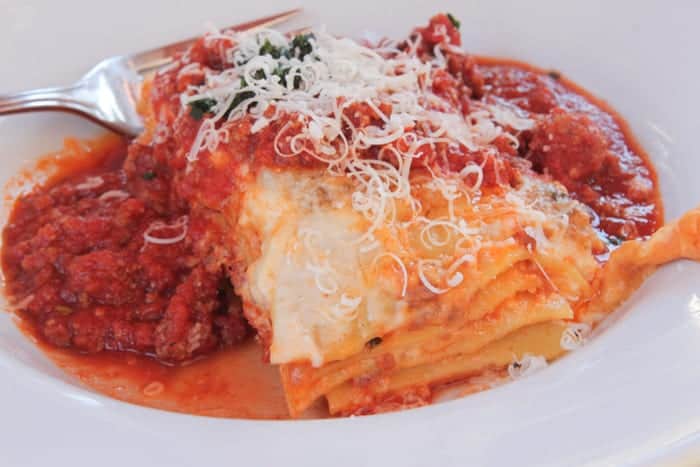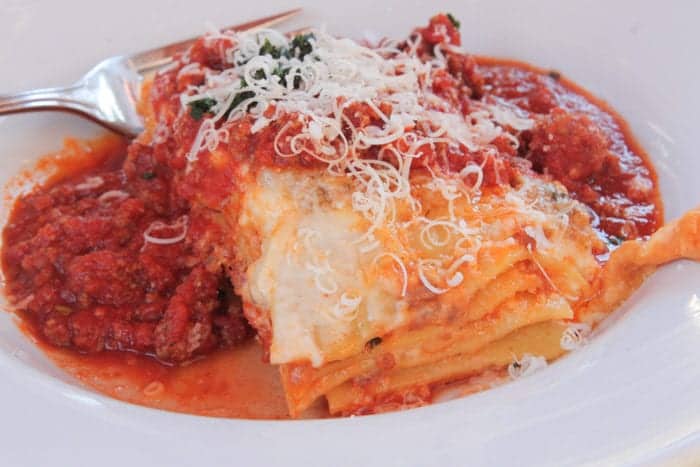 I would recommend the Lasagna Rustica, we all loved it when we visited. Available all year round.
Ghirardelli Soda Fountain and Chocolate Shop, Pacific Wharf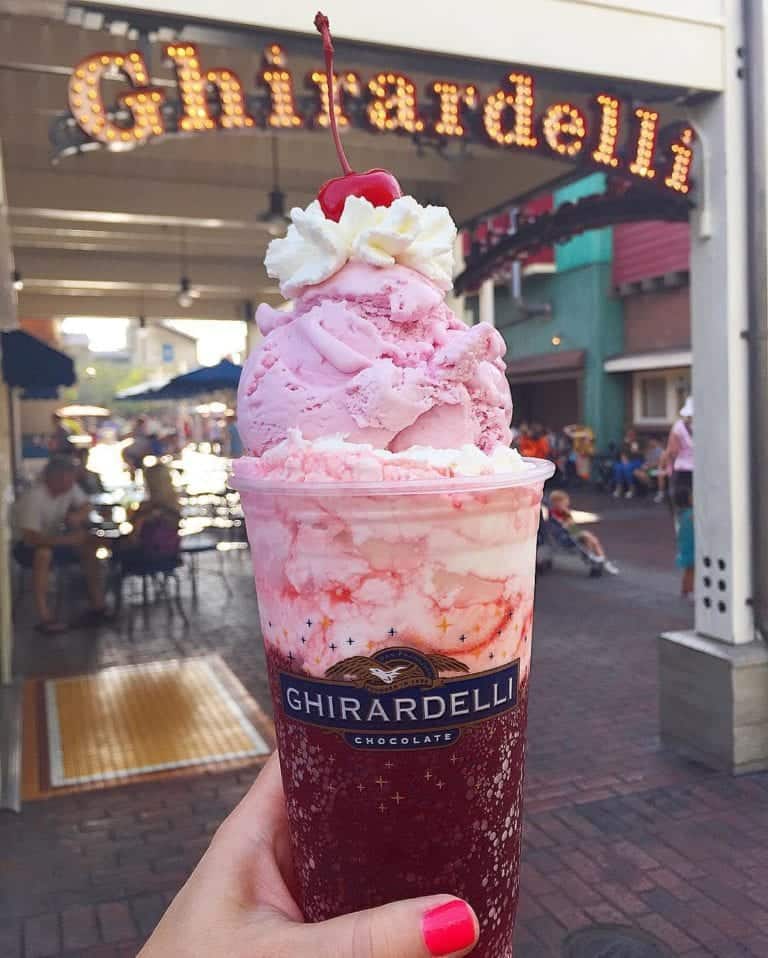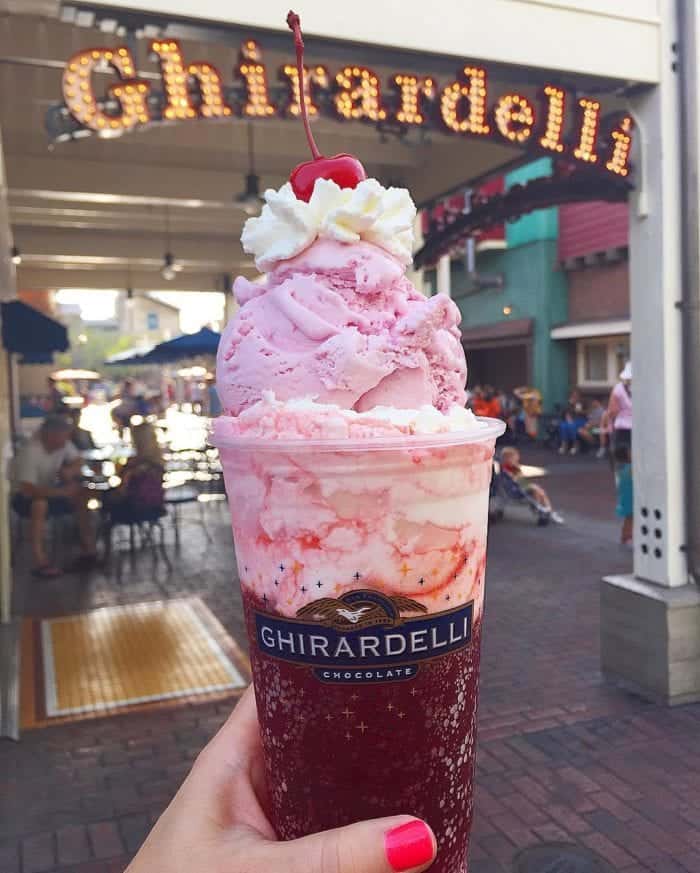 Visiting Ghirardelli is so much fun at Disney California Adventure Park! Don't forget your free chocolate square when you walk in too! I LOVE the Strawberry Soda Float in the photo above. It's huge and fun to share. Check it out next time you visit!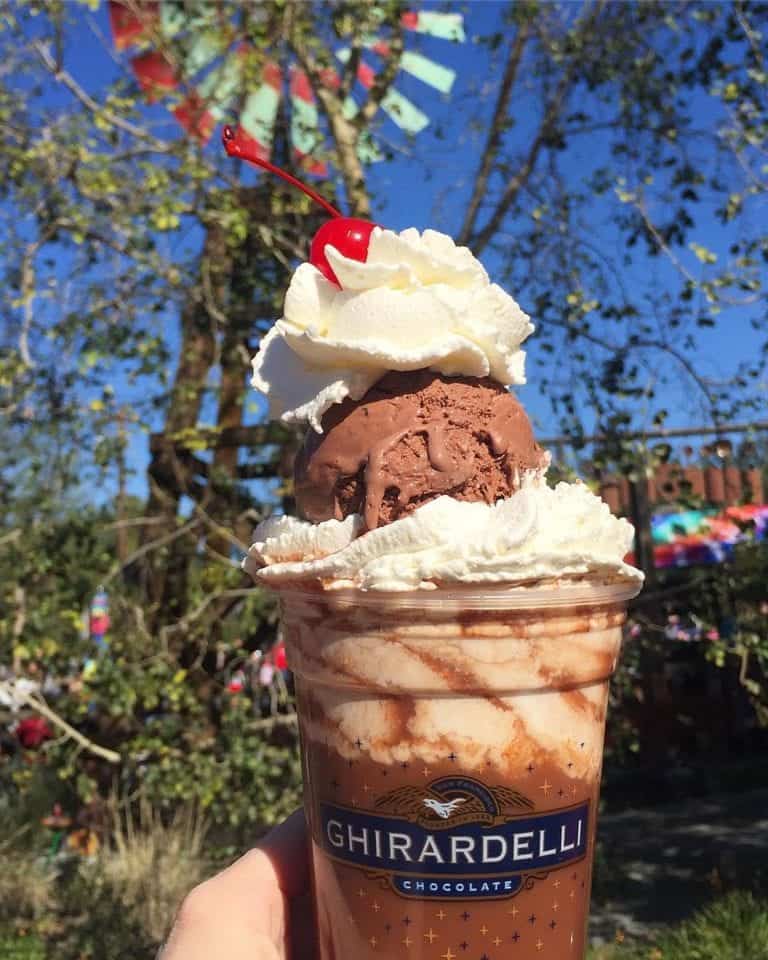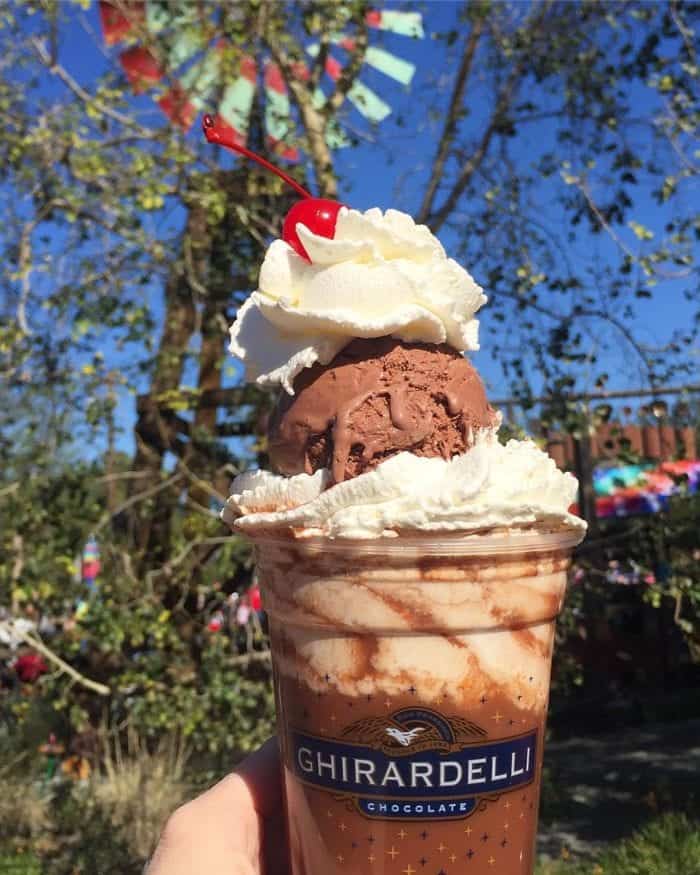 You can also get the Chocolate Soda Float anytime at Ghirardelli! Equally as fun and delicious.
Pacific Wharf Cafe, Pacific Wharf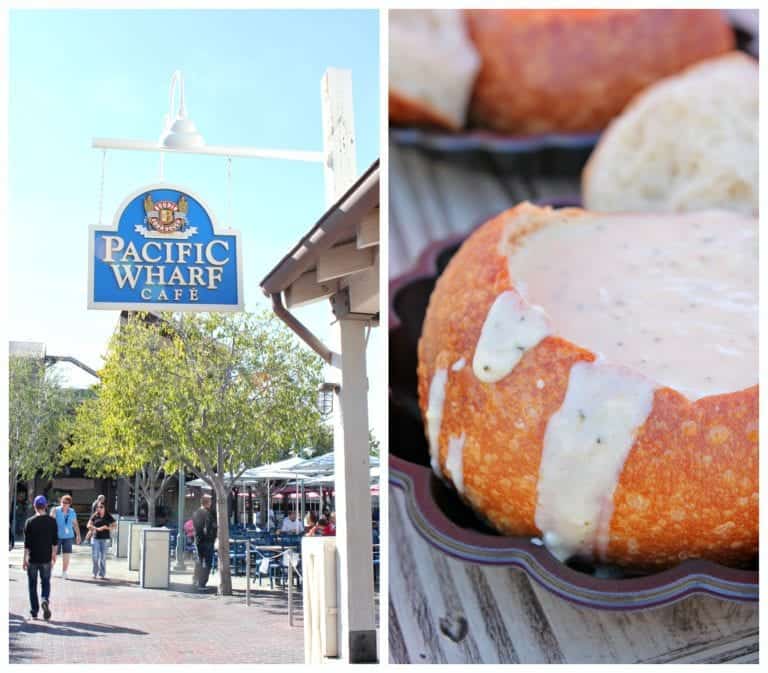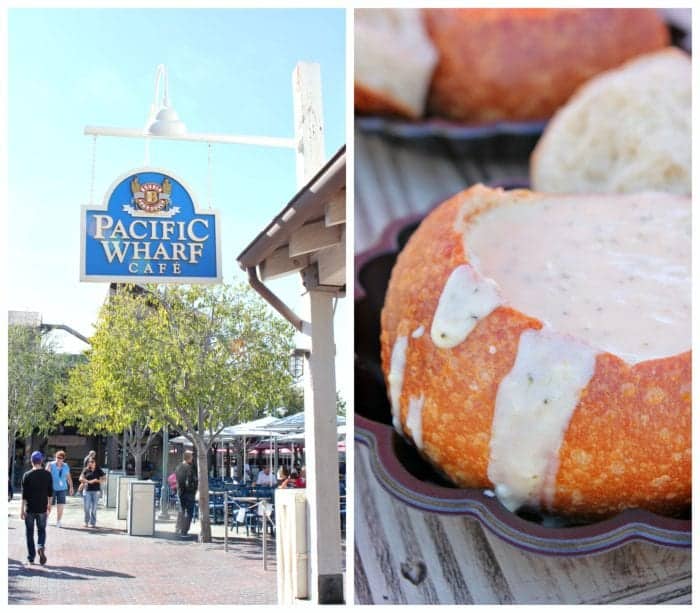 Pacific Wharf Cafe is another great place to grab soup bowls, salad and sandwiches. Their sourdough is to die for. So great for chilly days at the Parks. I've tried just about all of the soups and really enjoy all of them. The photo above is the broccoli cheese, always a good choice.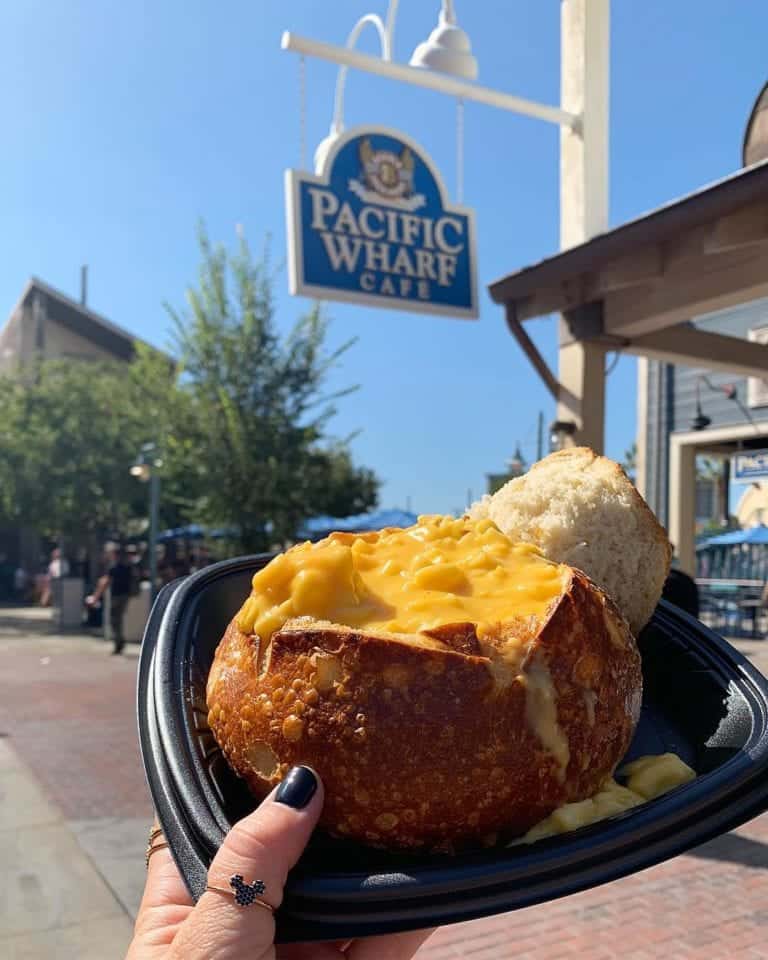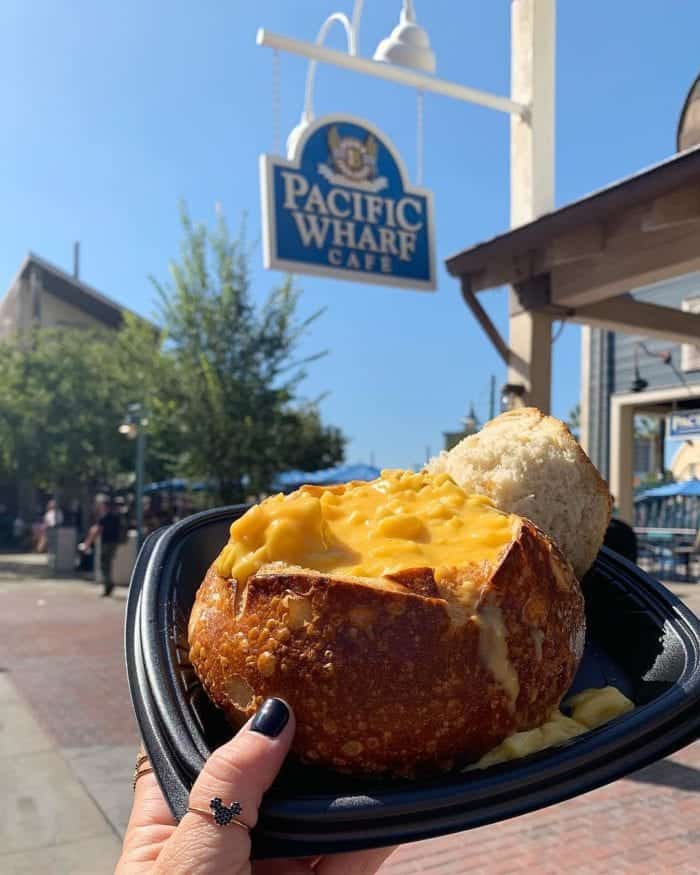 At Pacific Wharf Cafe, you can request their Mac and Cheese in a sourdough bowl as well. It won't be listed on the menu, but this is an option! One of my kids favorites.
Corn Dog Castle, Paradise Gardens Park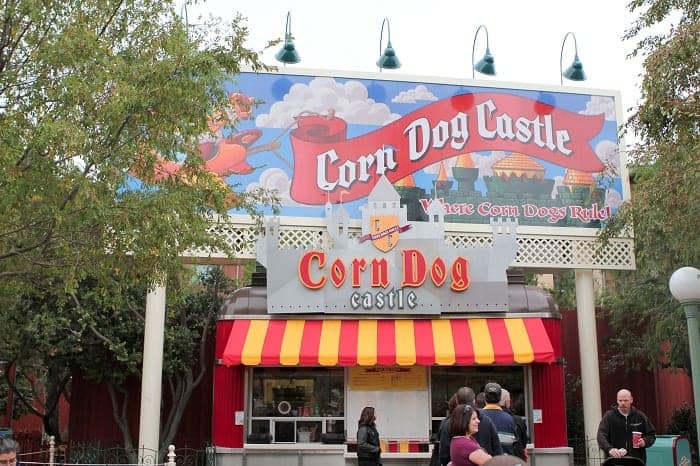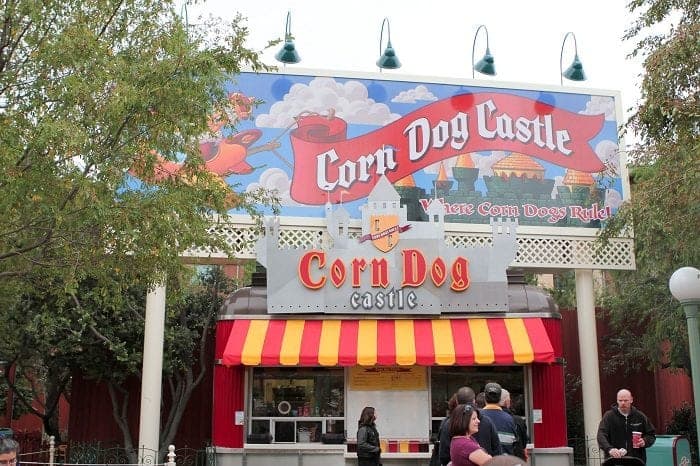 Corn Dog Castle never let's you down. All of your favorite dogs available all year round.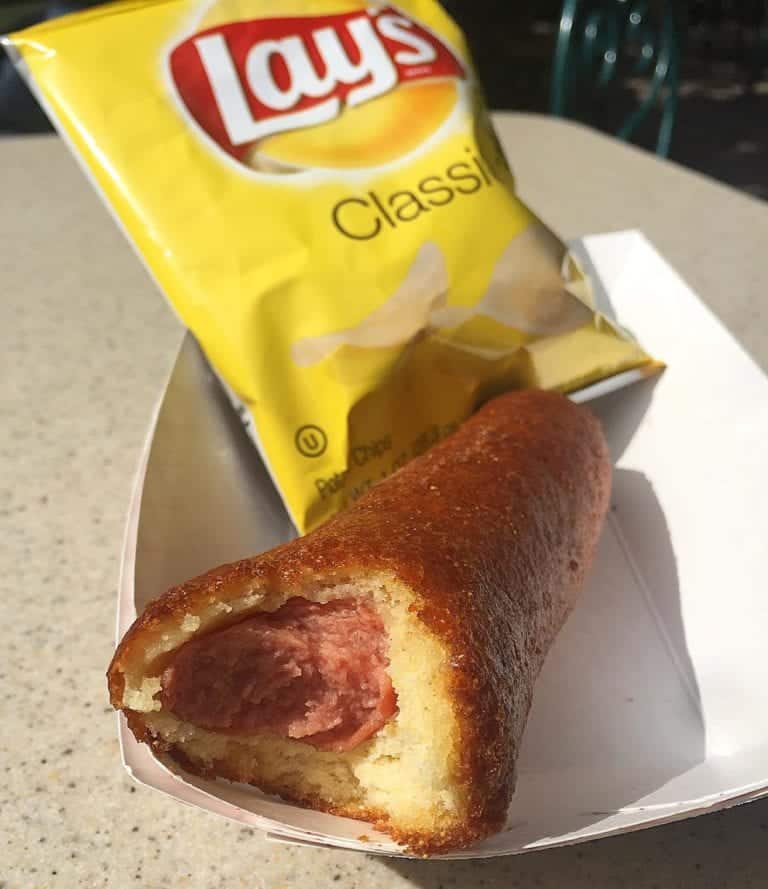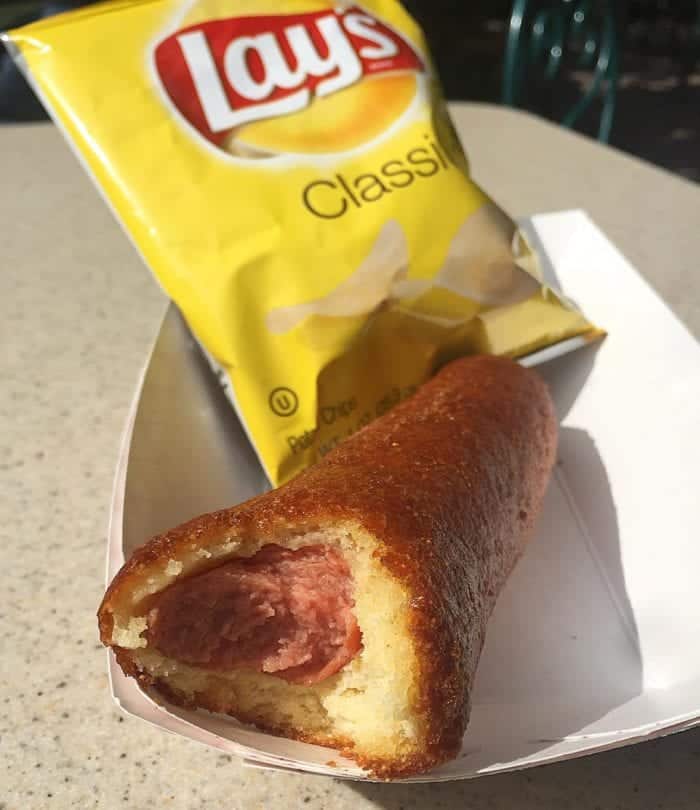 I'm always up for just the classic corn dog with a bag of chips. So good!
Pixar Pier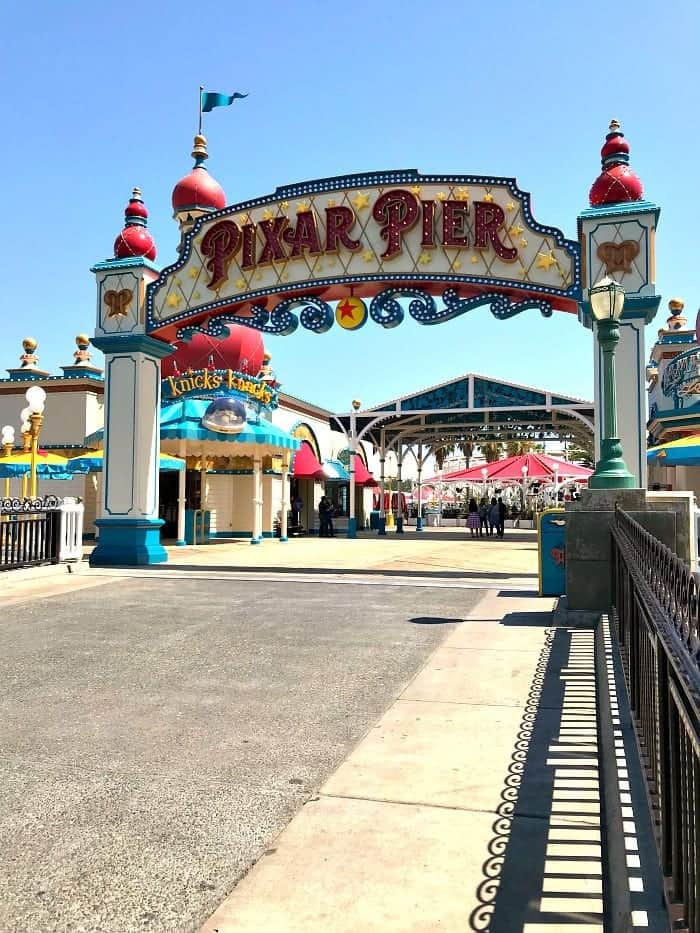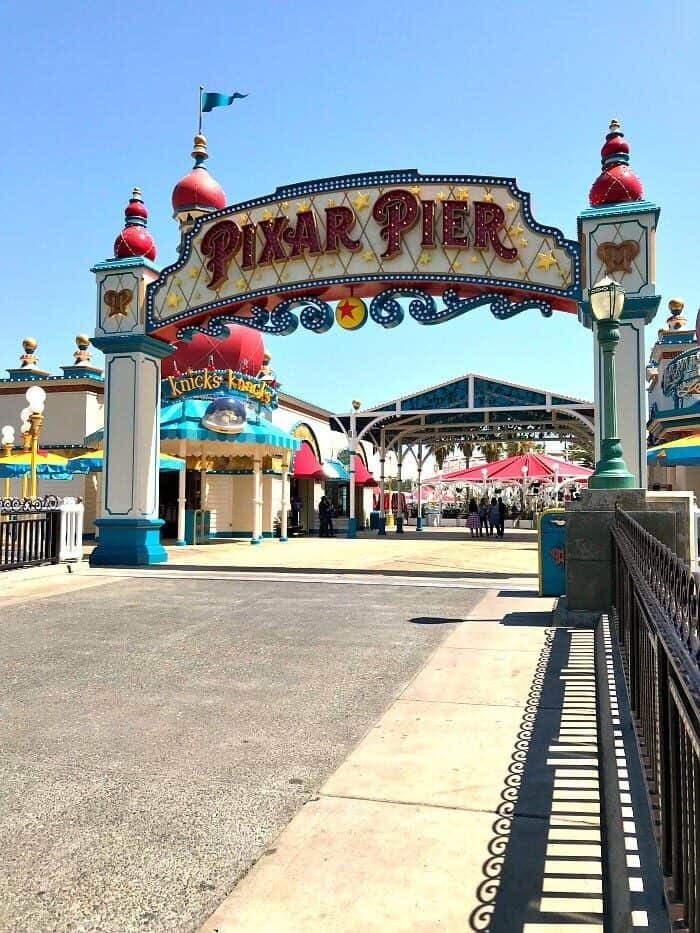 Pixar Pier opening summer of 2018 was such a highlight at Disney California Adventure Park! Amazing eats in this area. Be sure to check out my post Your Guide To Everything Pixar Pier for all of the details!
Lamplight Lounge, Pixar Pier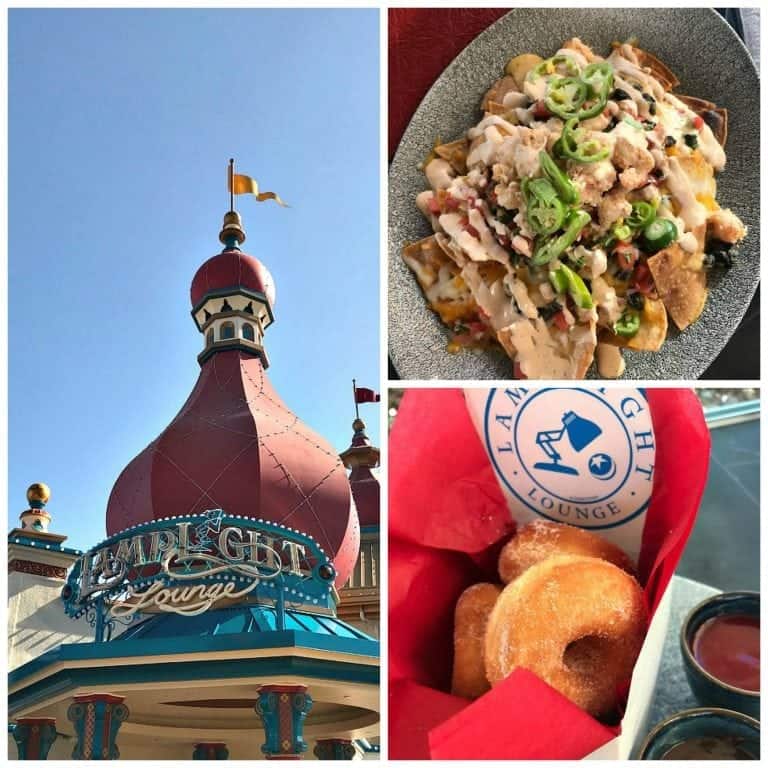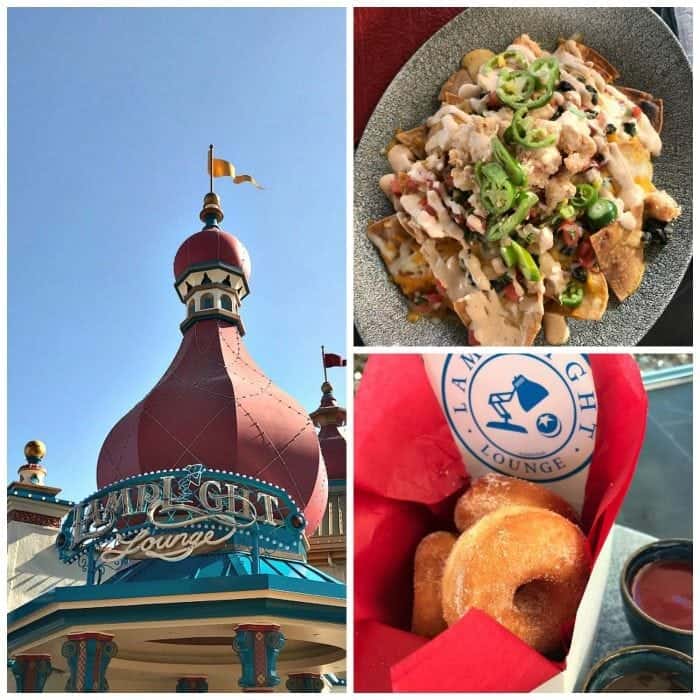 Lamplight Lounge is one of my favorite Disneyland Resort Restaurants to visit. Be sure to get your reservations in advance to assure you get a table. My favorites available anytime include the Lobster Nachos and Warm Doughnuts for dessert! For a full review of the menu and tour of the restaurant see my detailed post HERE.
Adorable Snowman Frosted Treats, Pixar Pier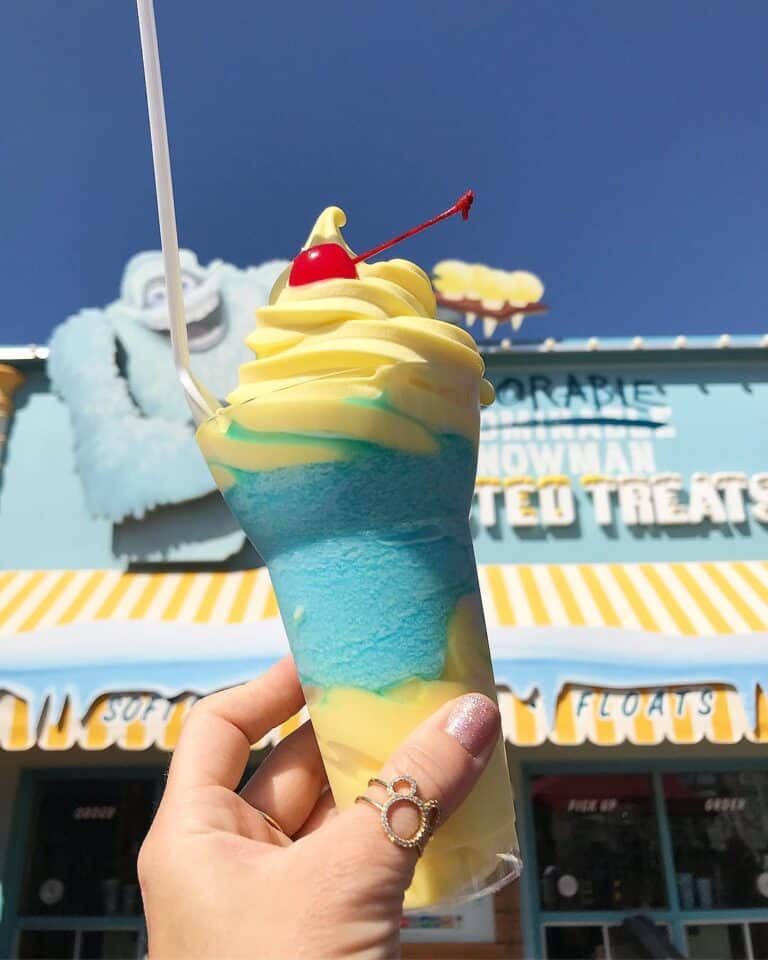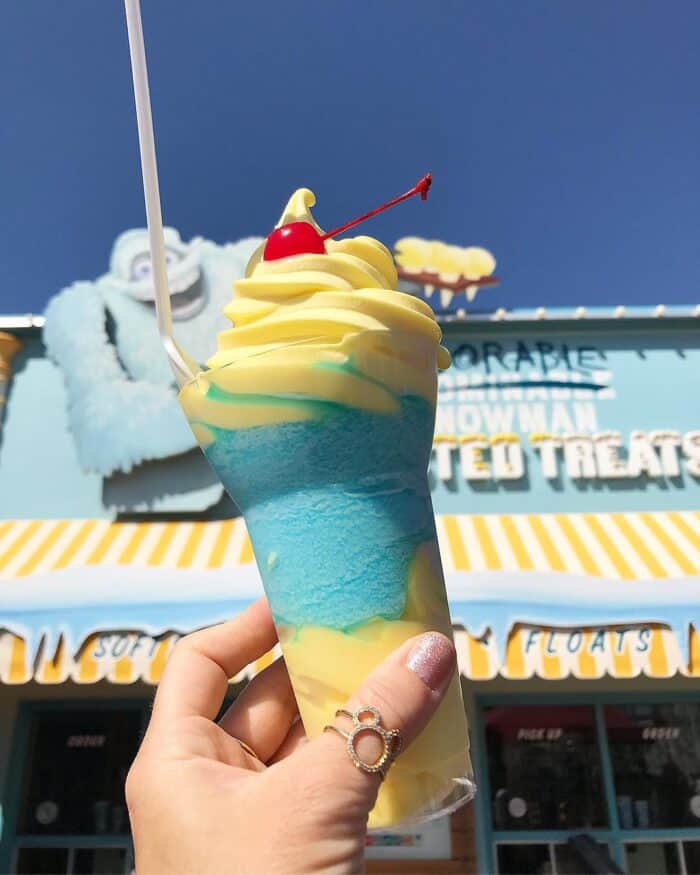 Adorable Snowman Frosted Treats is so much fun to visit. One of my absolute favorites you can pick up anytime is the Pixar Pier Frosty Parfait…Lemon Soft-serve with Blue Raspberry Swirl slushy. So good. Don't miss this one, especially in the warm summer months!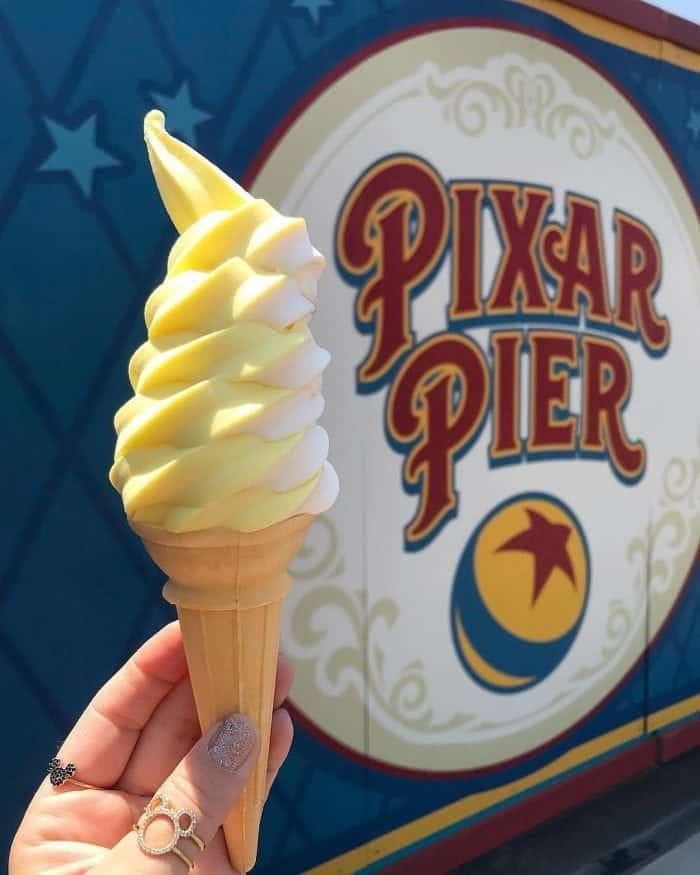 Also available at Adorable Snowman Frosted Treats is the Lemon/Vanilla Soft Serve Swirl. Great choice as well.
Jack-Jack Cookie Num Num's, Pixar Pier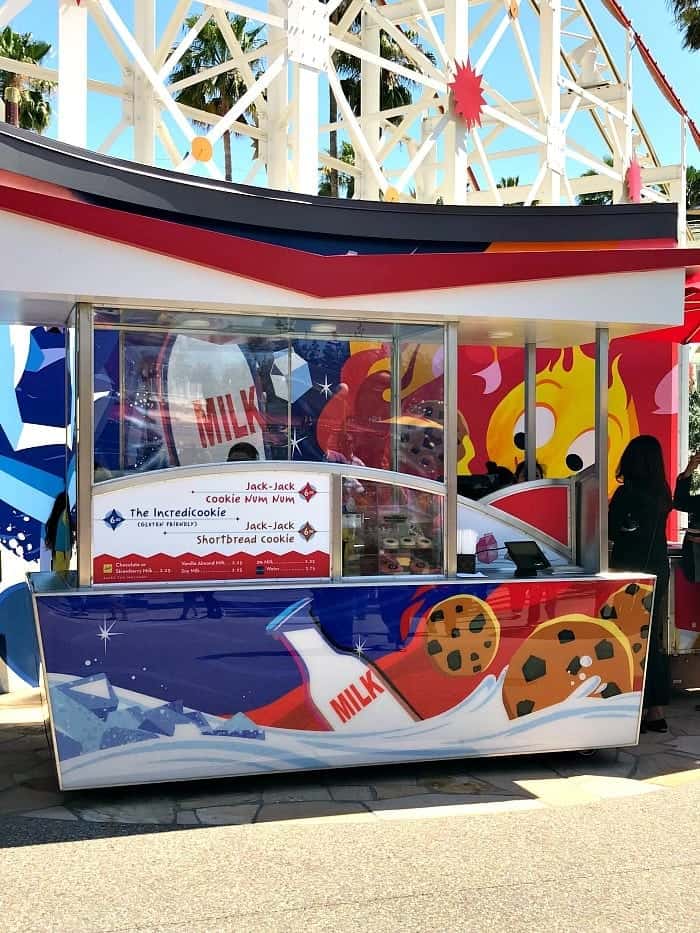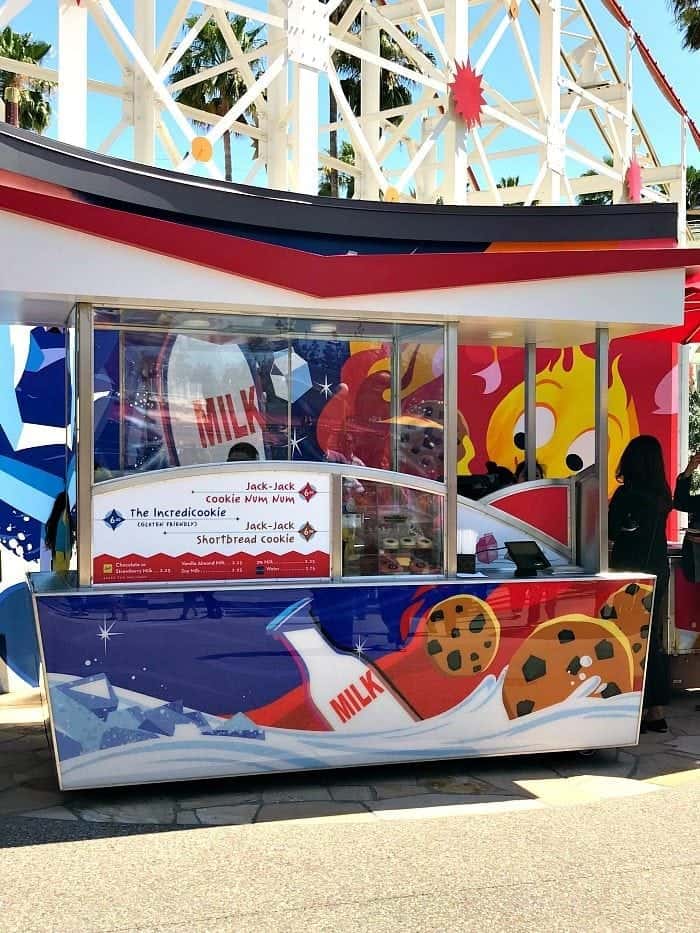 Right as you exit Incredicoaster, you don't want to miss Jack-Jack Cookie Num Num's! Warm chocolate chip cookies, milk and other snacks available all year round.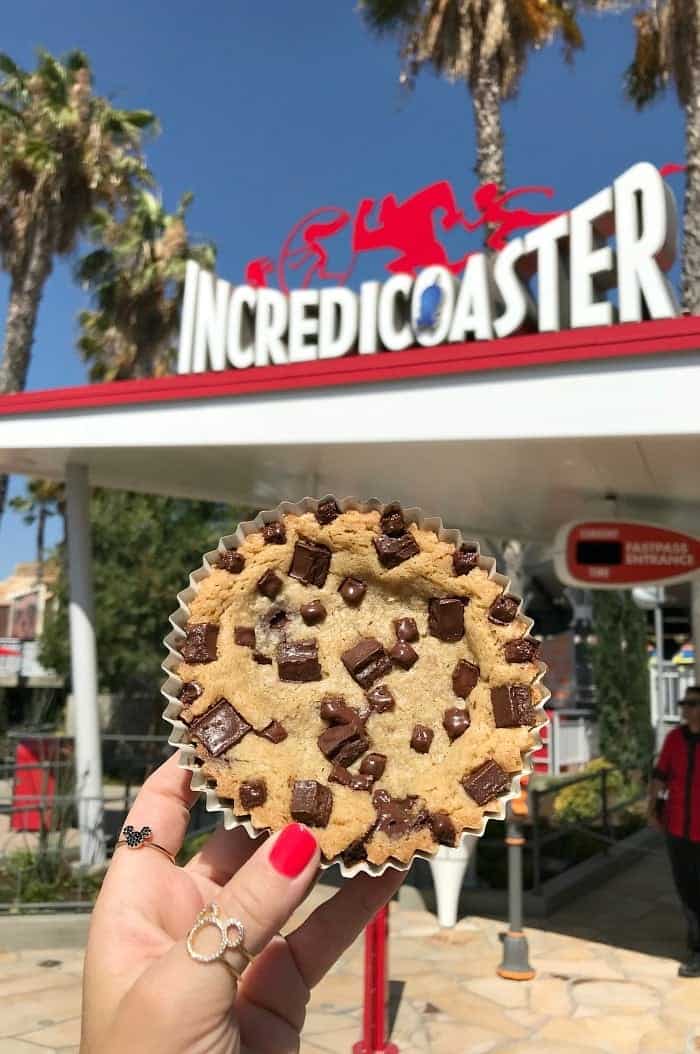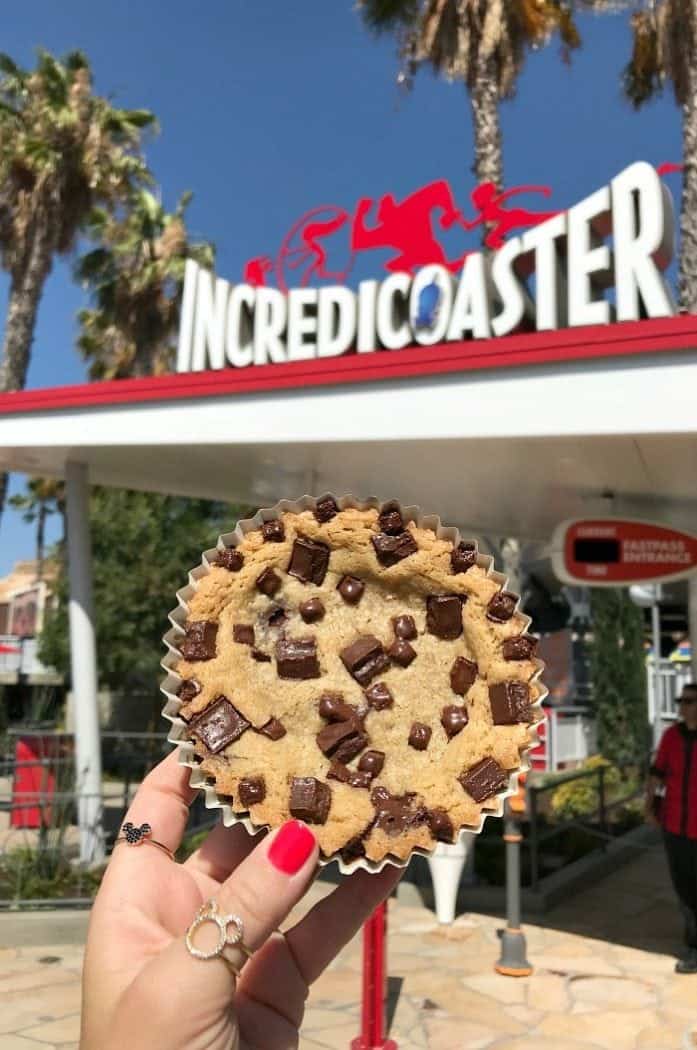 The Jack-Jack Cookie Num Num is the warm chocolate chip cookie you want to order. It's so good and a MUST.
Poultry Palace, Pixar Pier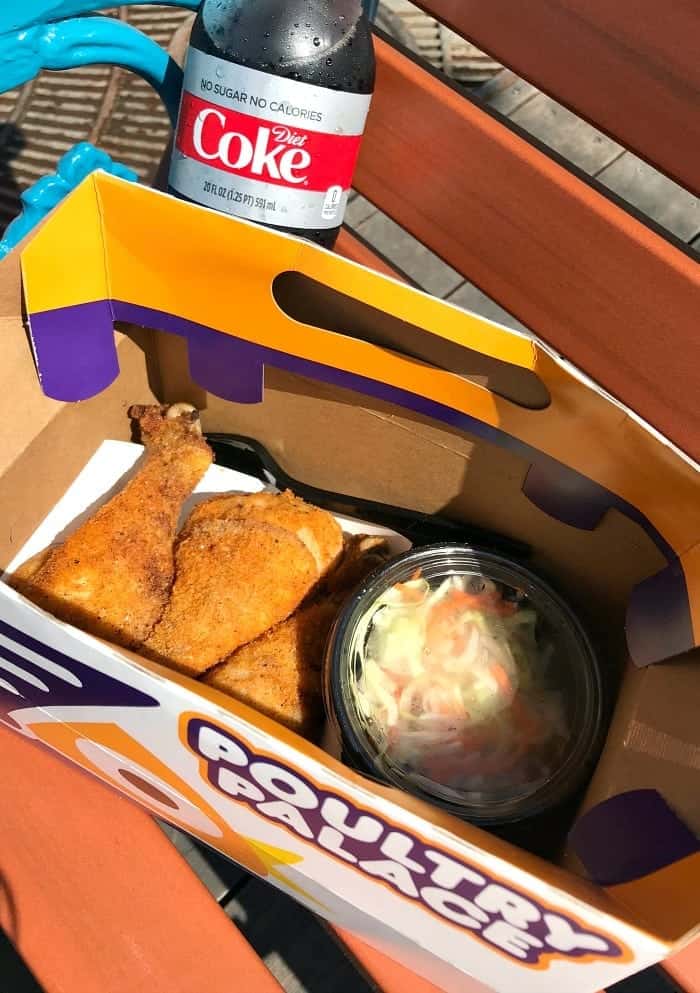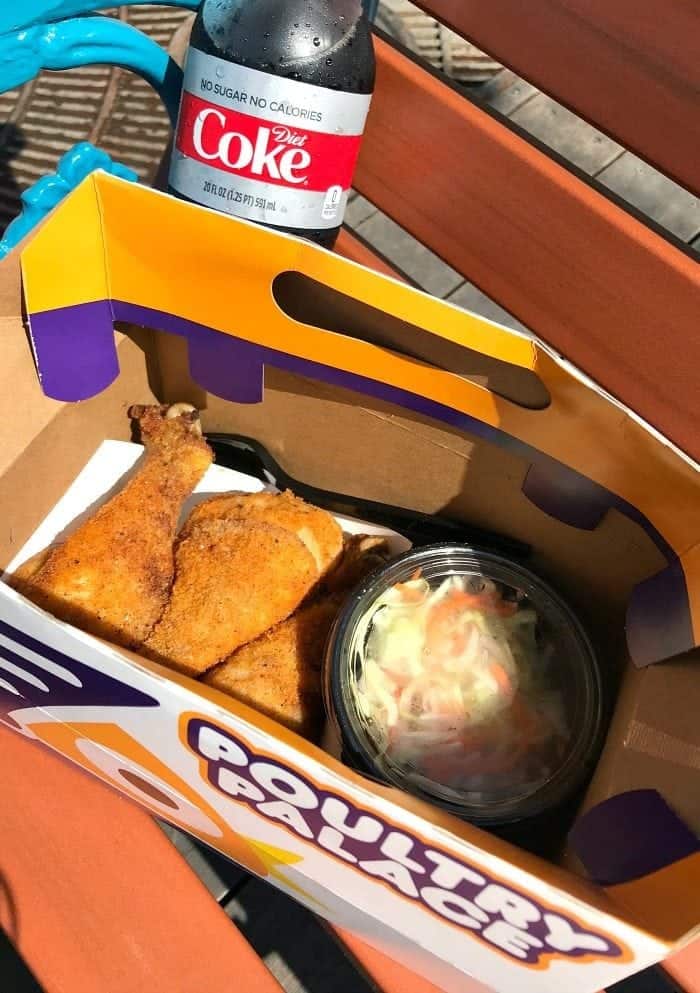 If you're looking for some great chicken drumsticks, head over to Poultry Palace, right outside of the Incredicoaster arch. The chicken and coleslaw is great and you can pick it up anytime!
Senior Buzz Churros, Pixar Pier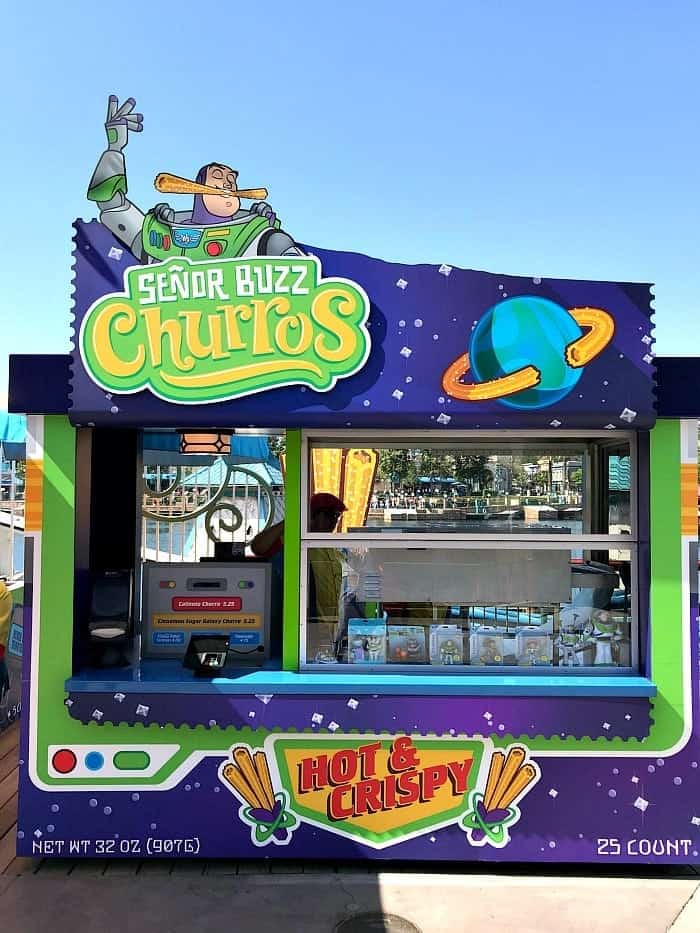 Also available all year round is Senior Buzz Churros! The Caliente Churro is so good, red hots flavor.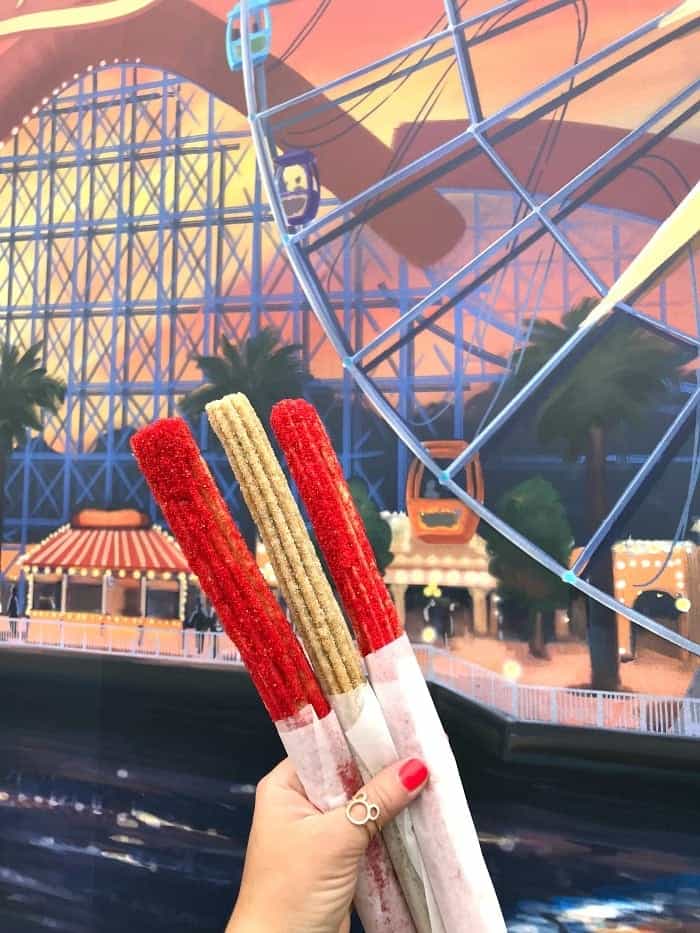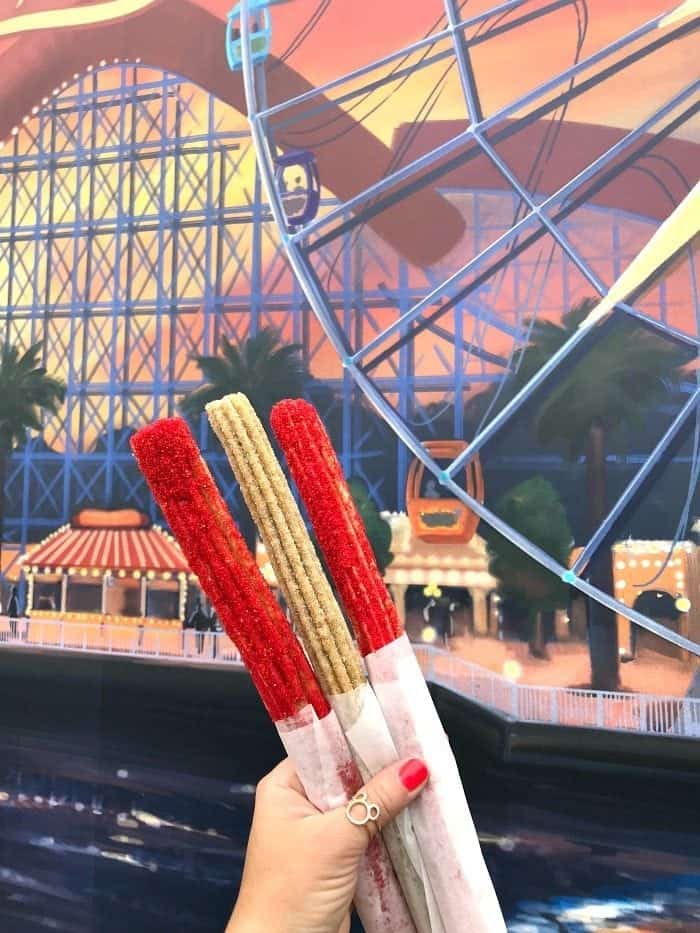 Here's the Caliente Churro with the Cinnamon Sugar Galaxy Churro available at Senior Buzz Churros.
Angry Dogs, Pixar Pier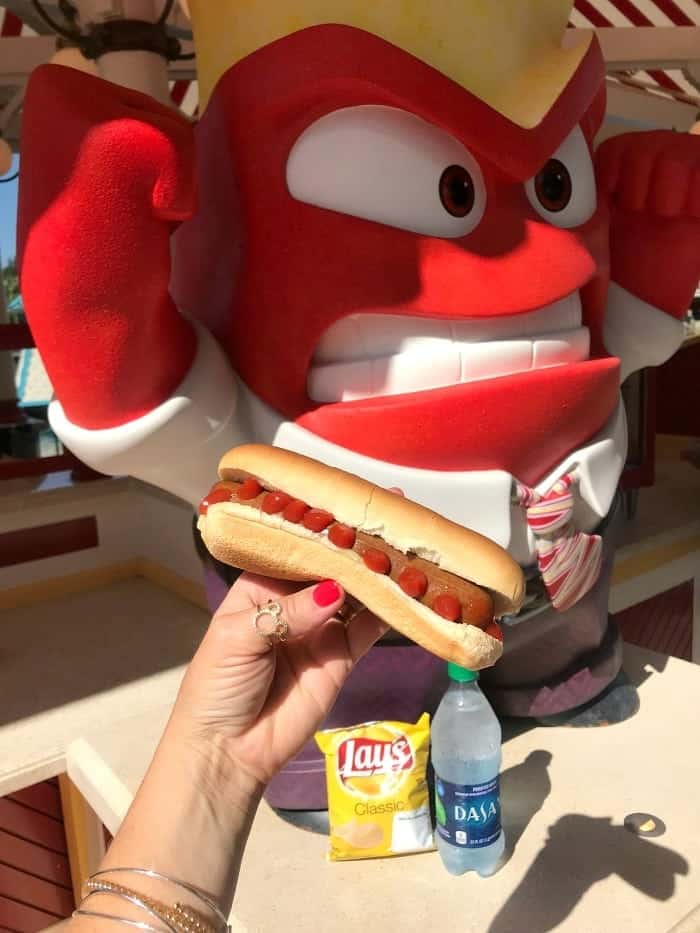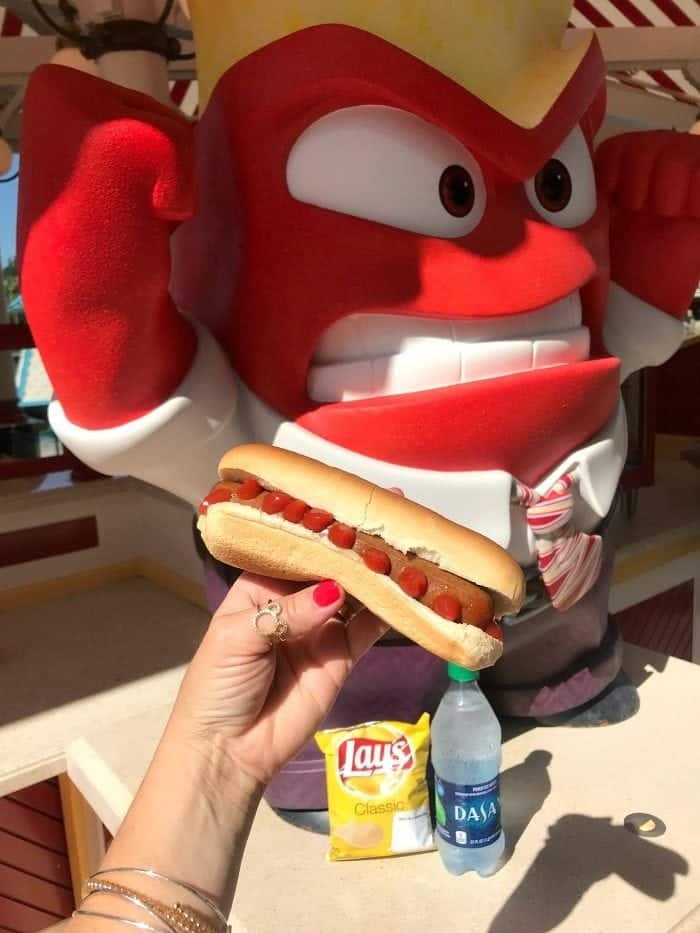 Angry Dogs, right next to Pixar Pal-a-Round has more hot diggity dogs available all year round. We like the Angry Dog best.
Bing Bong's Sweet Stuff, Pixar Pier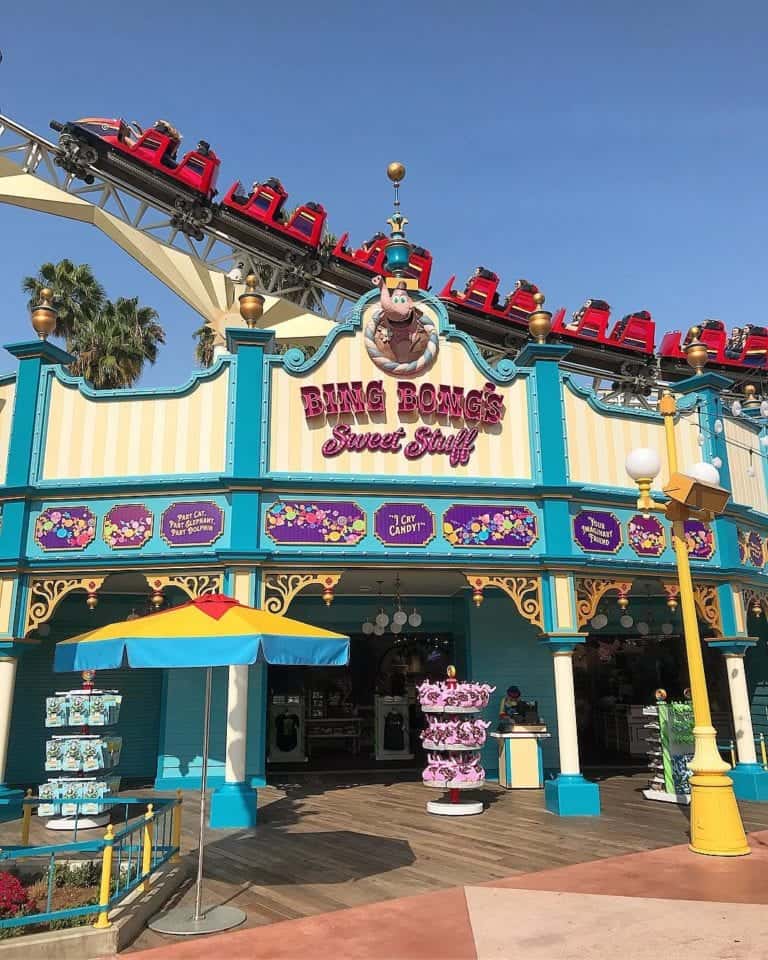 Bing Bong's Sweet Stuff is a MUST VISIT during your visit to Disney California Adventure Park! So many fun things including a pretty sweet bakery case.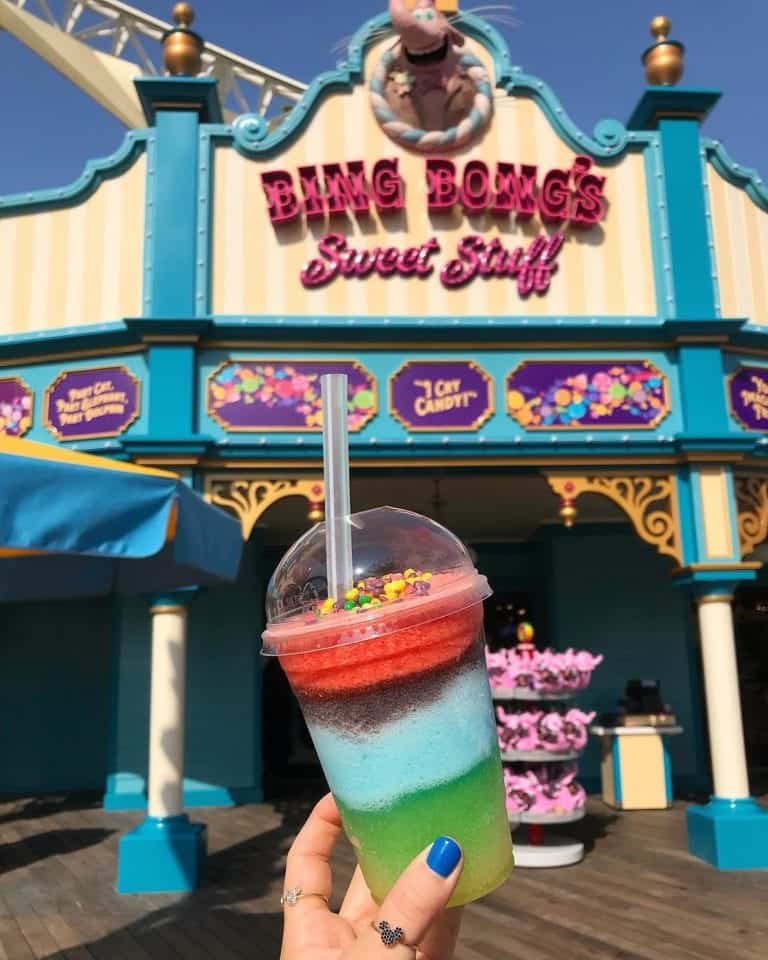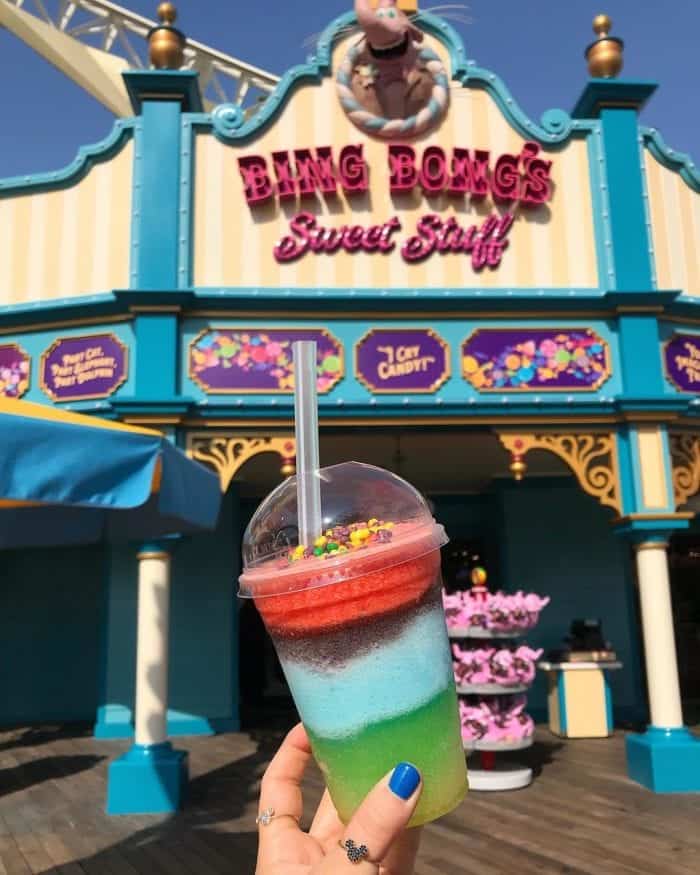 This is the Rainbow Unicorn Slushy style drink that is super fun and available all year round!
Hope you've enjoyed my favorites at Disney California Adventure Park!
Pin Best Food At Disney California Adventure Park