Sharing my review of Black Tap Craft Burgers and Shakes at the Downtown Disney District location! My favorite burgers and shakes on the planet. So happy to have them at Disneyland Resort!
Black Tap Anaheim
I'll never forget my first visit to Black Tap when they just had one location in NYC. It was before their Crazy Shakes hit the world by storm and I was speechless. Not only were their crazy shakes gorgeous and delicious, but their burgers were some of the best I'd ever had. You can imagine how excited I was to hear they were opening in Downtown Disney! My sweet husband, knowing how much I am in love with Black Tap, flew us out their opening weekend so we could enjoy a meal and so I could review it for all of you. This was the best day. Excited to share with you my thoughts and reviews!
Be sure to check out The Best Foods at Disneyland and Disney California Adventure Parks all year round. Follow Disney Hungry on Instagram for travel tips and the BEST eats at Disney Parks!
Let's begin the tour and review!
Black Tap Menu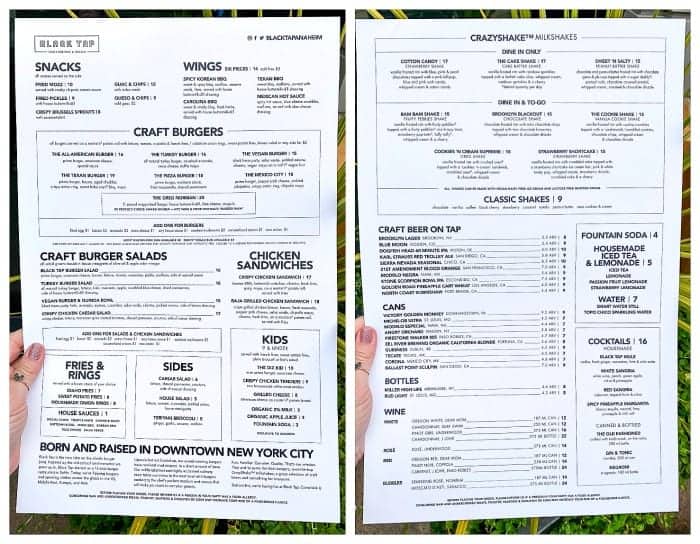 The Black Tap Menu is two sides as you see here. You've got your appetizers, burgers, salads, chicken then on the back, crazy shakes and your alcohol options.
How Early Do I Need To Get In Line at Black Tap?
This is a very important question to talk about. Black Tap, Downtown Disney opened at 11am. We got there at 10:30am and there were maybe 15 people already in line. We jumped in line and waited 30 minutes for them to open to make sure we got the table of our choice. By the time they opened up at 11am the line wrapped down the side of the restaurant, easily 100 people waiting. I would HIGHLY recommend getting in line 20-30 minutes early if you want to make sure you don't have to wait long to order and get a table.
Does Black Tap Downtown Disney Take Reservations?
They do not. This is important to remember when planning your visit. Since there are no reservations taken, people will be standing in line.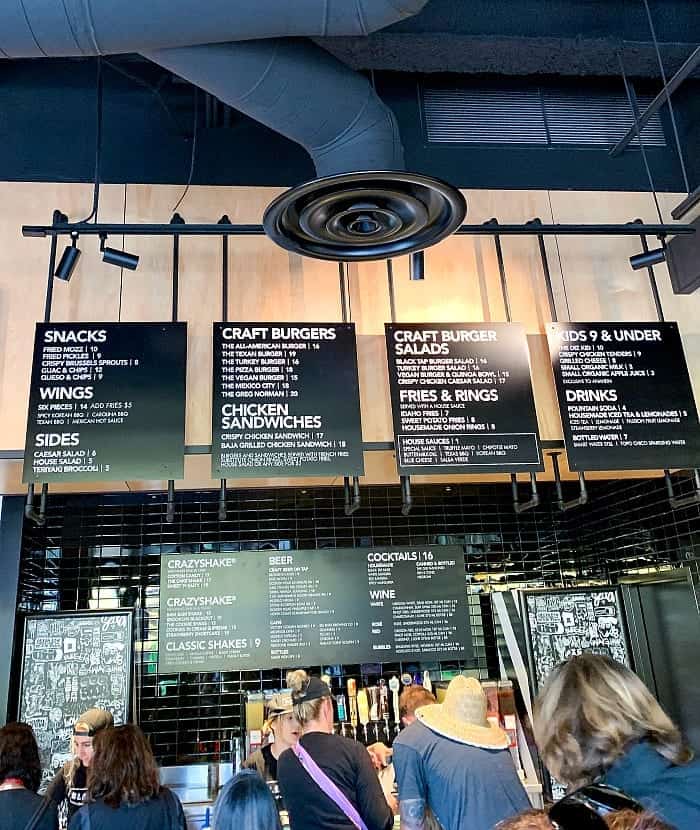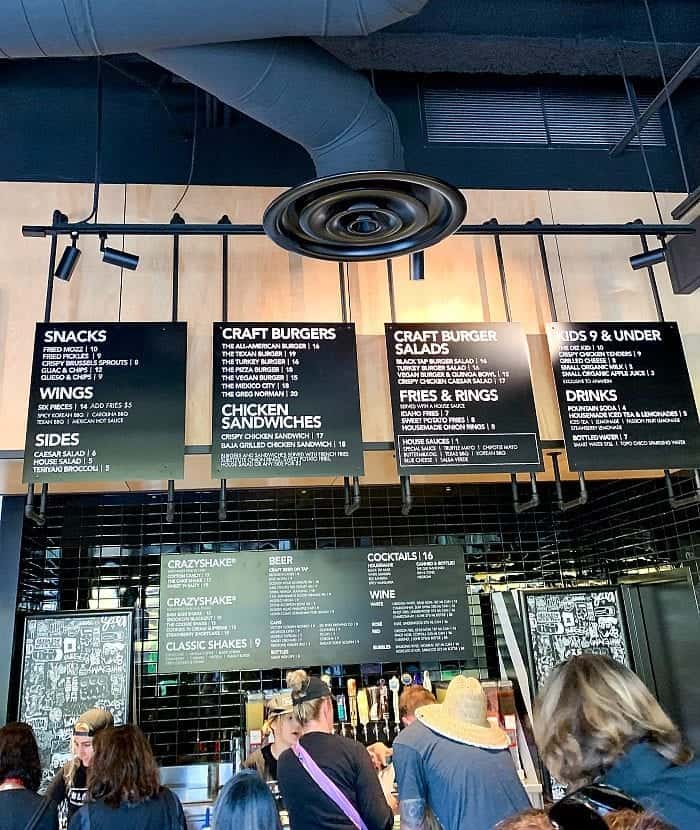 Is Black Tap a Quick Service Restaurant?
It is like a quick service restaurant. Basically, you wait in line and walk up to the counter to pay for your order. The staff gives you a little round beeper that you place on the table you choose to sit. There is a little label you place it over. This lets the server know where to bring your food. It was very convenient. I really loved the whole dining experience of ordering first and finding our own table.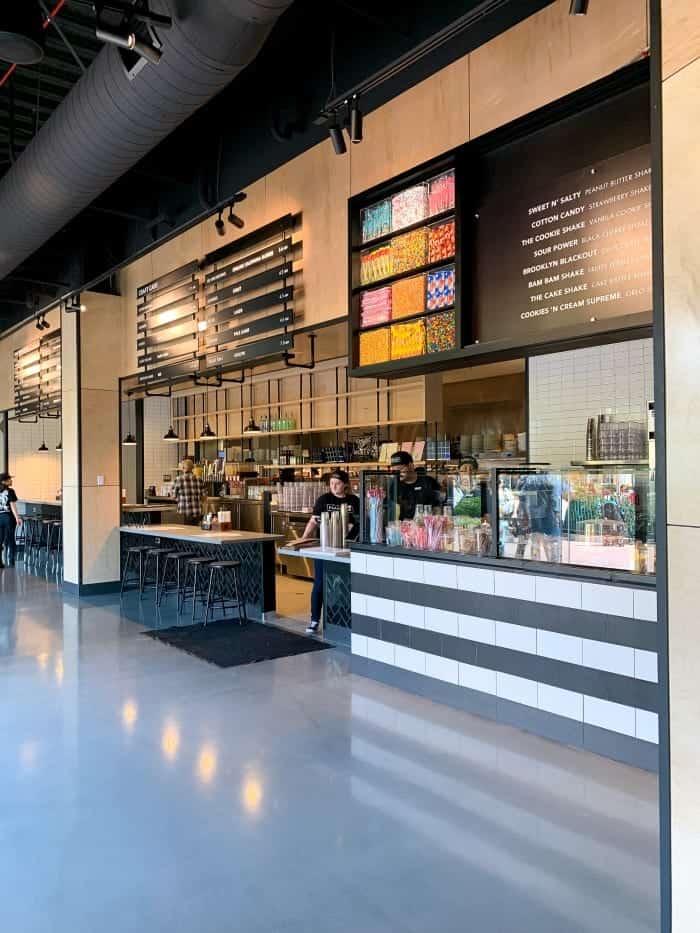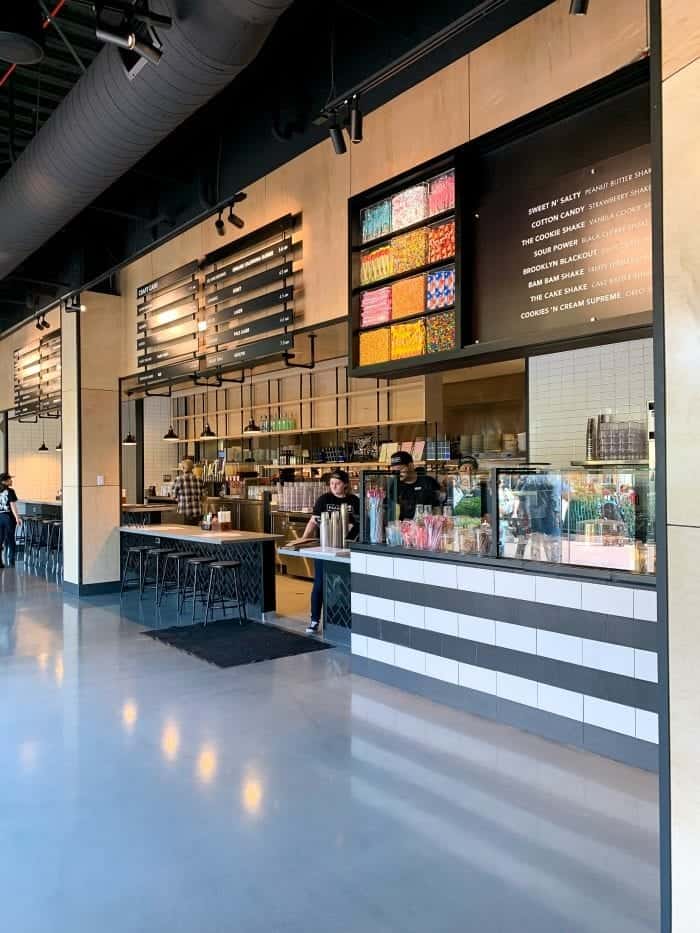 Crazy Shake Bar
After you place and pay for your order you walk past the Crazy Shake Bar. It's got a window to watch how the staff prepares the beautiful shakes. Be sure to stop by for a second and watch them at work. Loved this.
Black Tap Crazy Shakes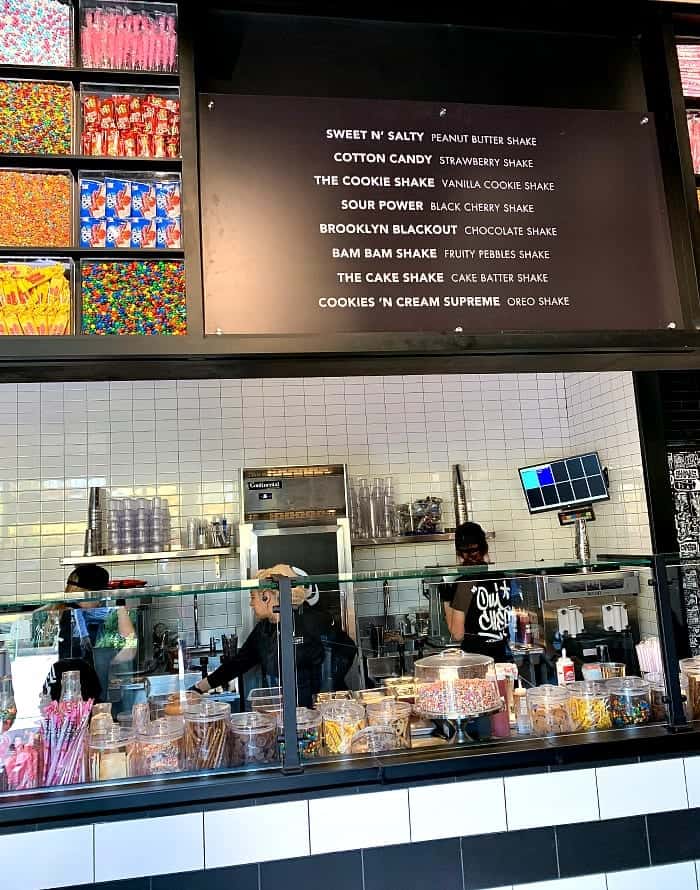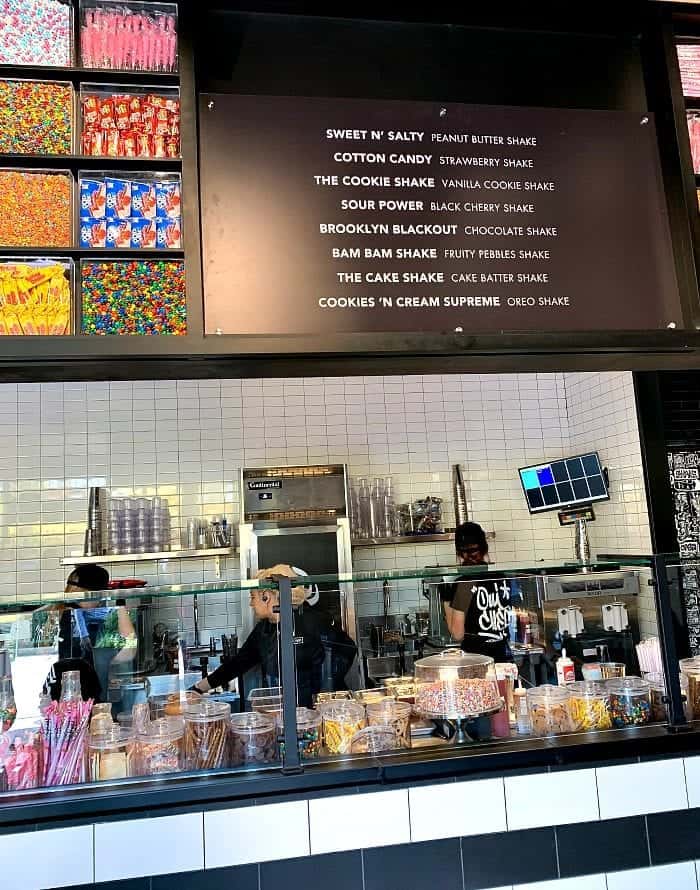 Black Tap Downtown Disney offers 8 Crazy Shakes as listed above in the photo. Honestly, they're all beautiful and delicious. I'll talk about some of my favorites below.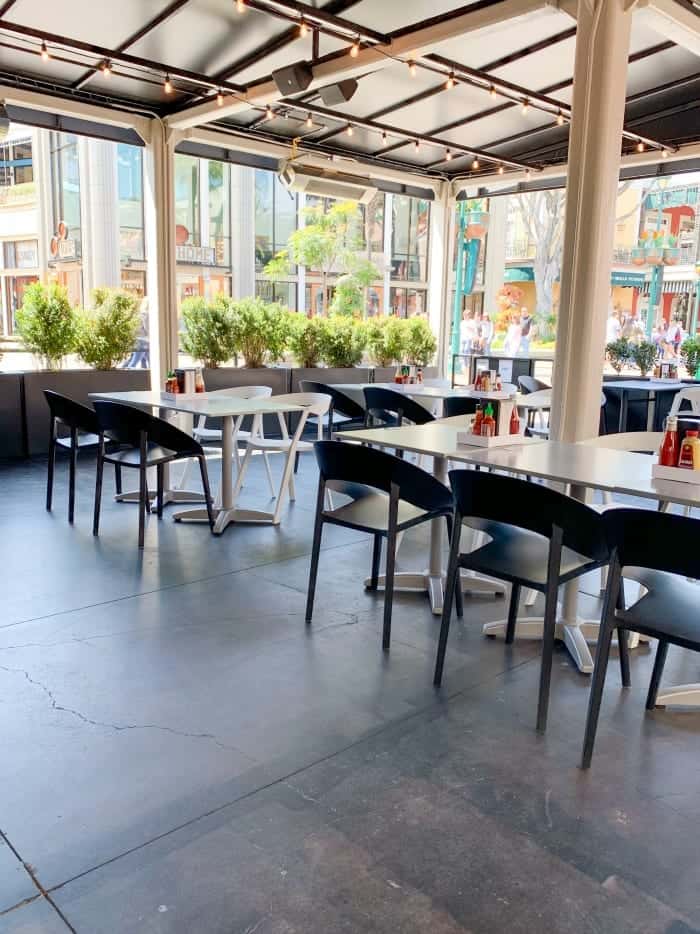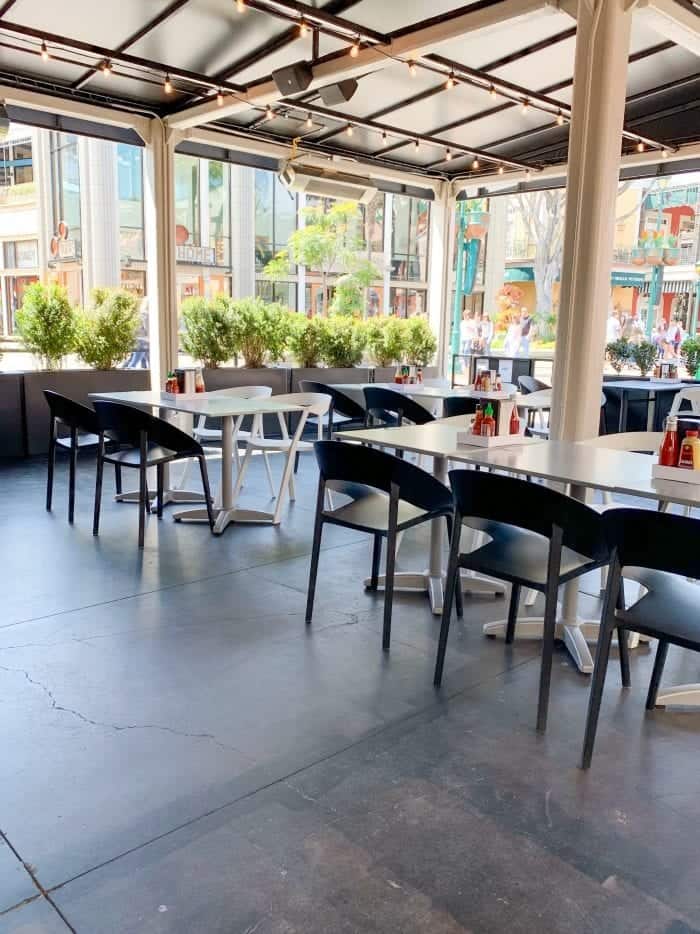 Black Tap Seating Area
There are some inside seating options and outside covered seating options. We chose to sit outside. Loved the atmosphere of the entire restaurant. Very open and it had a great flow. I'm sure they had to really consider how to handle massive amounts of people who will visit daily. I felt like it was very well done.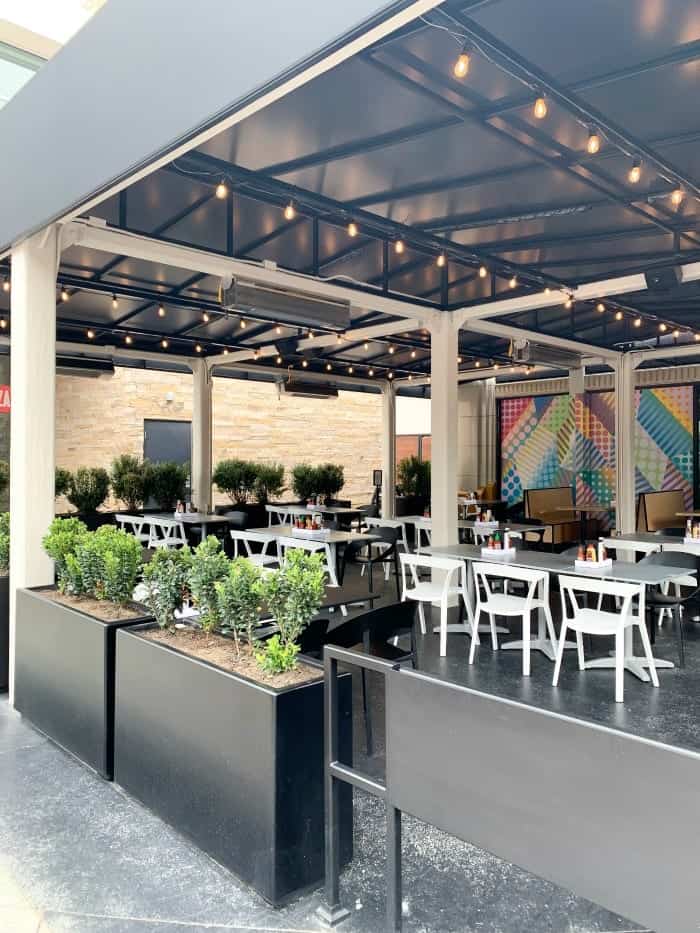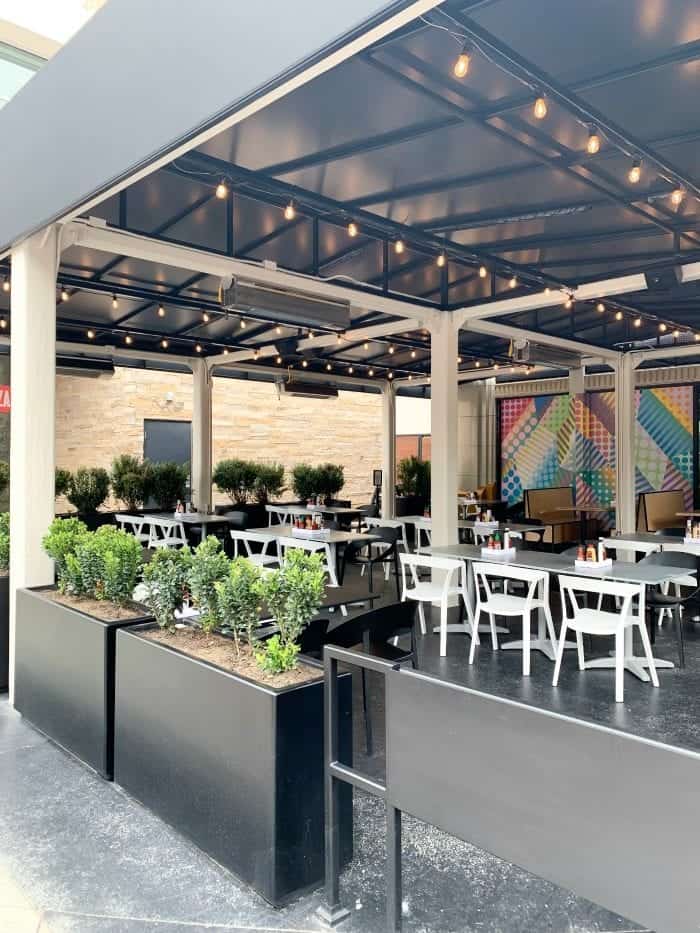 Here's a view from walking through Downtown Disney, right as you approach the restaurant. This is the back area.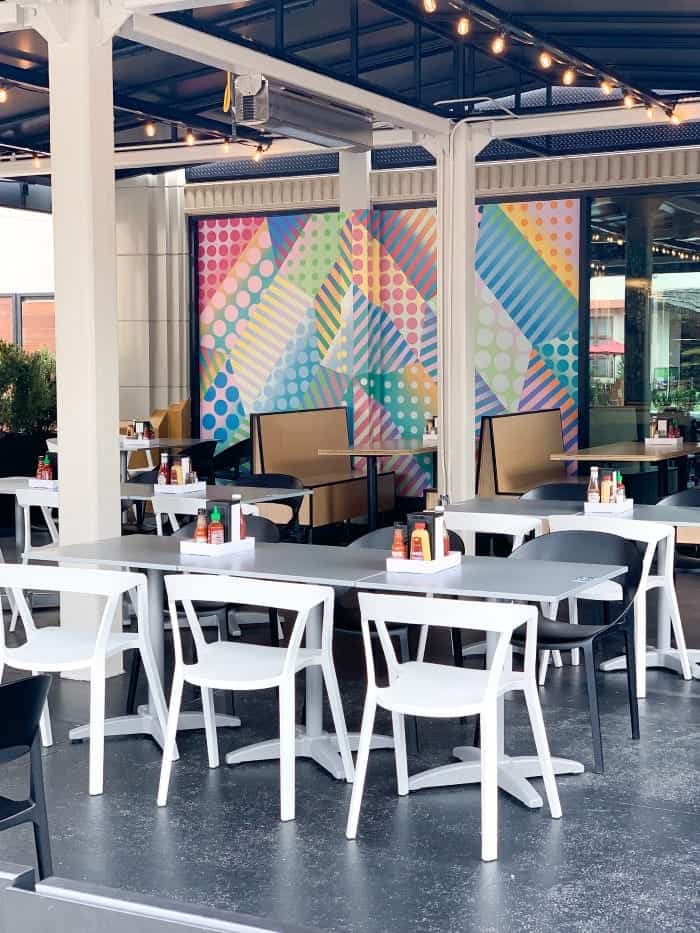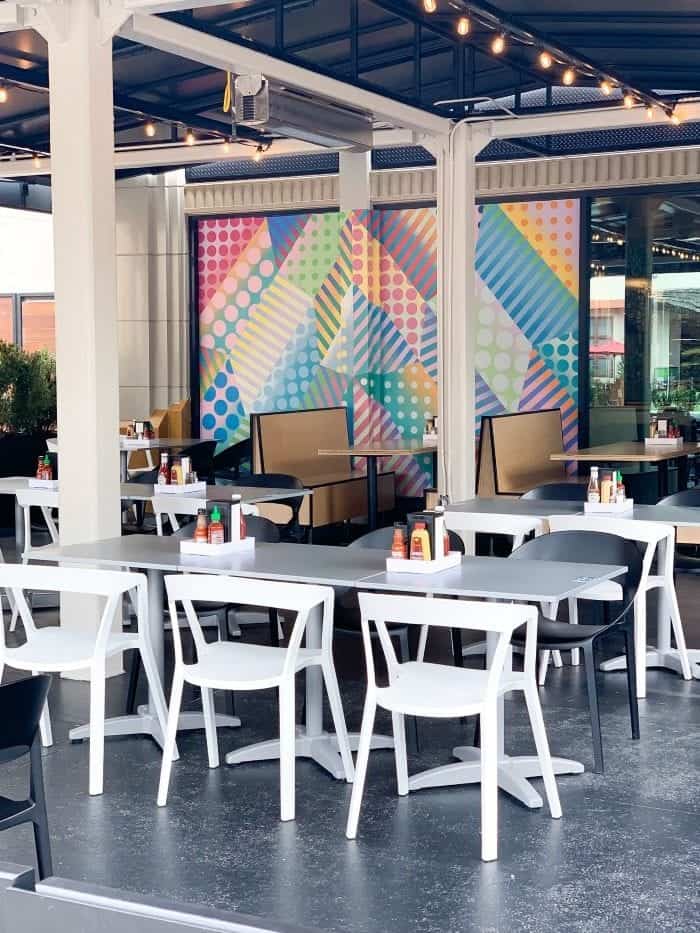 Is Black Tap Expensive?
The one thing to know about Black Tap is you can easily share a burger and shake with another person. Their servings are large. April 2019, the burgers were close to $20 each and the shakes around $16. Order a couple different options and share with a buddy.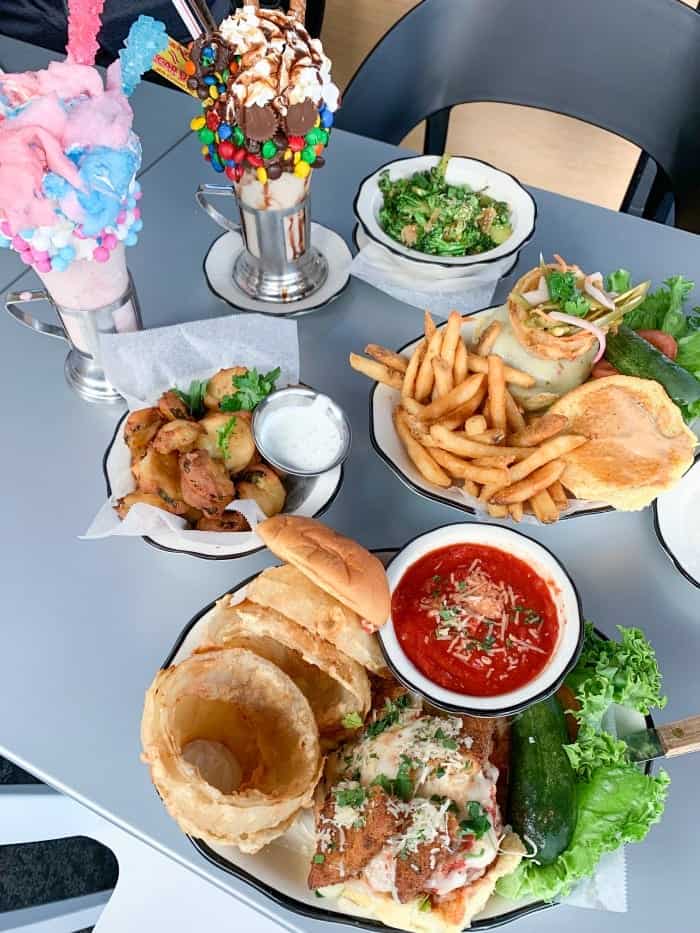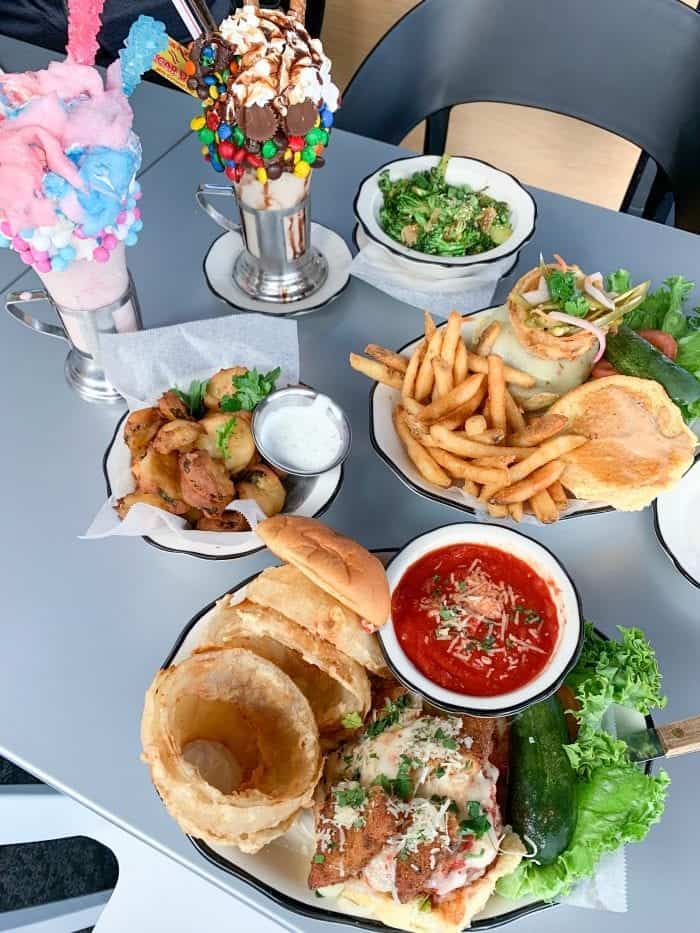 Black Tap Food!
Ok, let's talk about the food. My favorite thing to talk about. I can't say enough about the burgers and sides. Everything was very spot on. Excellent flavor all around.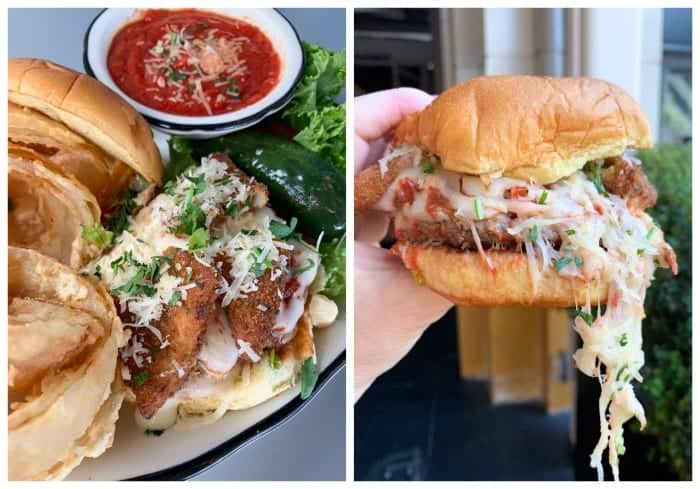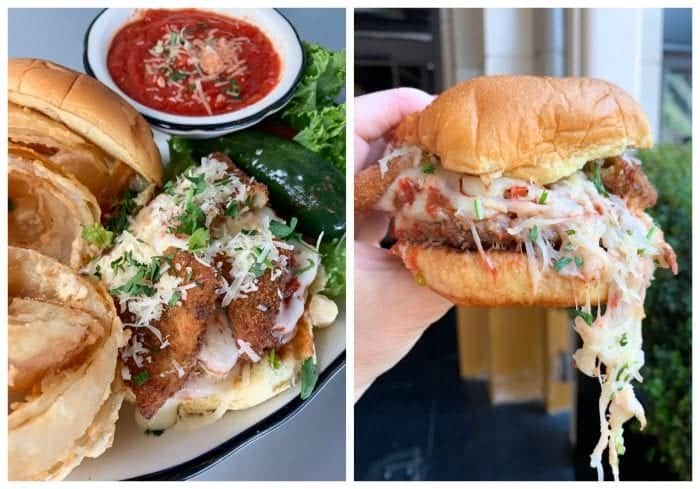 Black Tap Pizza Burger
If I had to eat one burger the rest of my life, it would be this Pizza Burger from Black Tap. I've had it at their NYC location and also their Las Vegas location. Getting to enjoy it at Downtown Disney this past weekend was beyond exciting. Trust me on this one, it's just AMAZING. This is a must order if you ask me.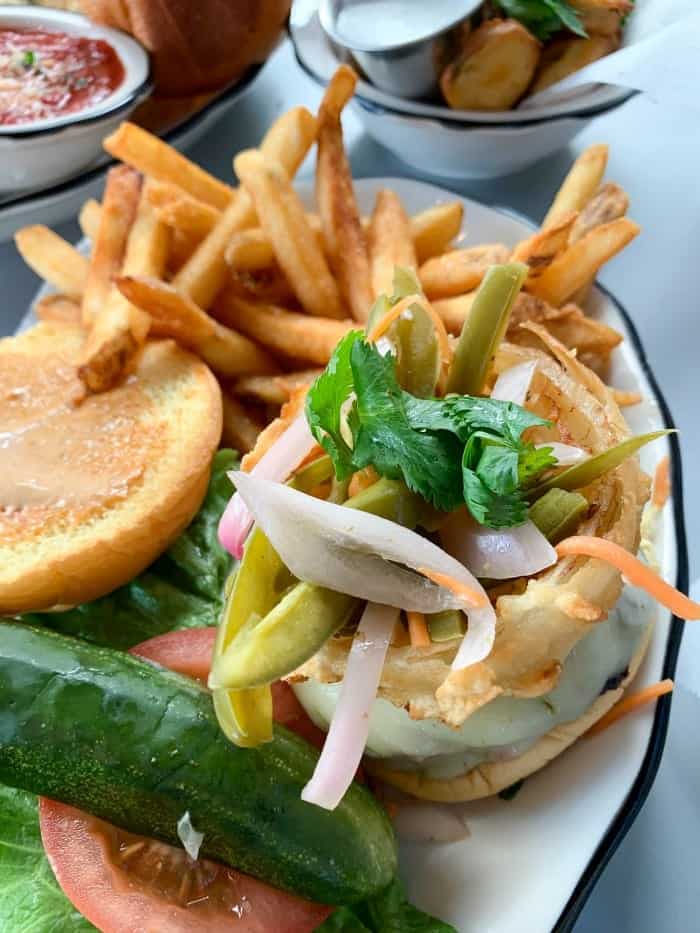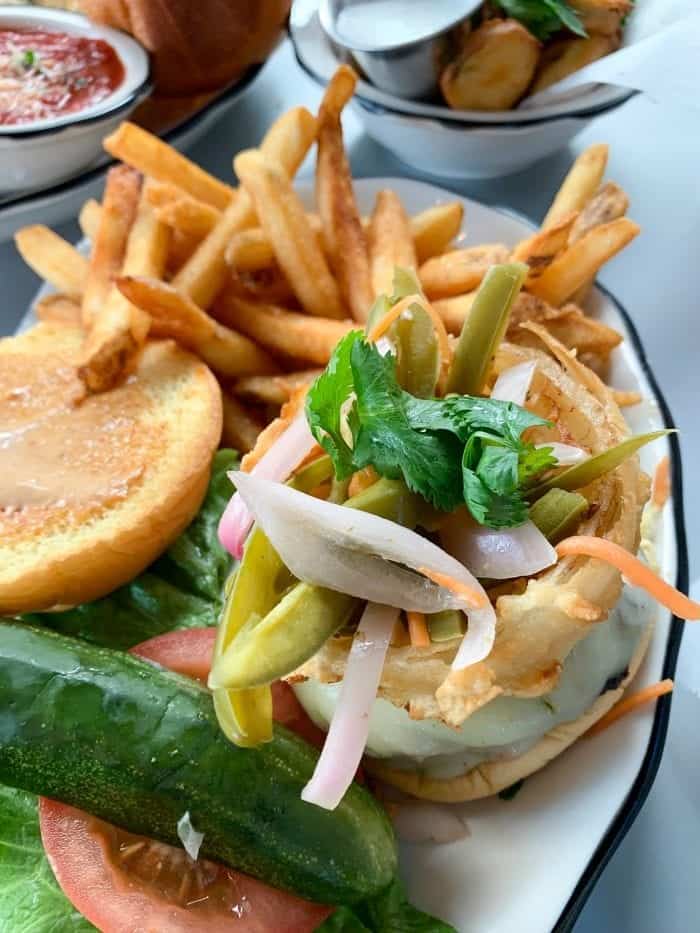 Black Tap Mexico City Burger
The Black Tap Mexico City Burger is a very close 2nd favorite. it's topped with some peppers, onions, cheese and a GIANT onion ring which makes for a pretty fantastic burger. This is another I would highly recommend enjoying at your table. I've also heard amazing things about the Burger Salads. On my list for my next visit.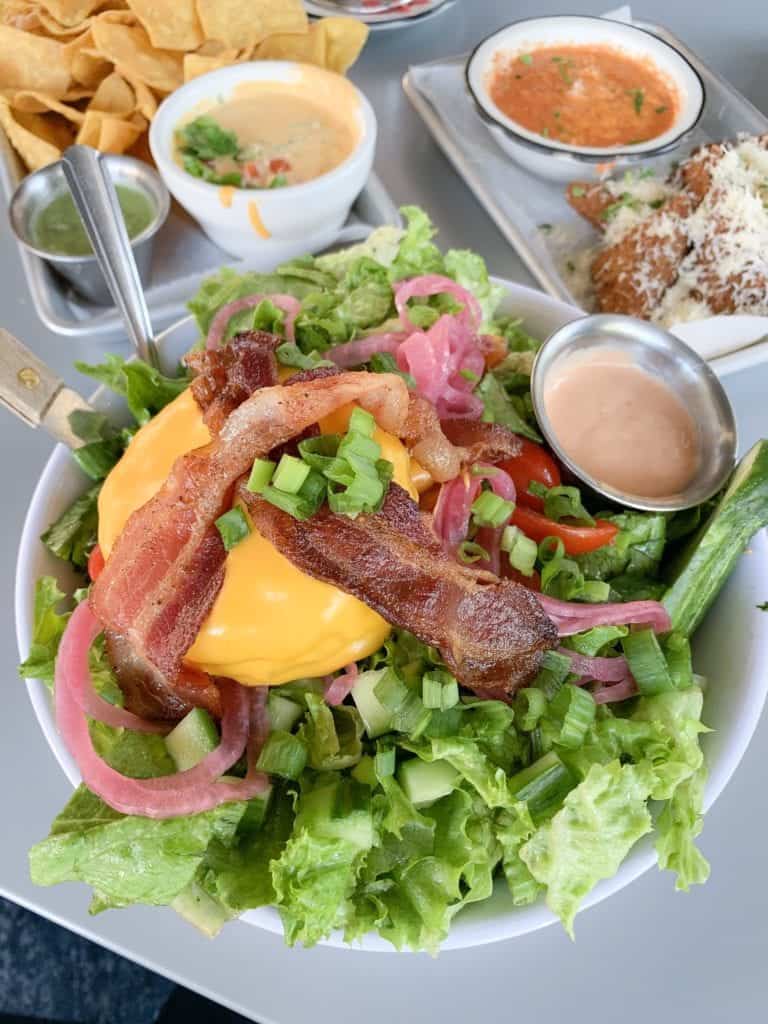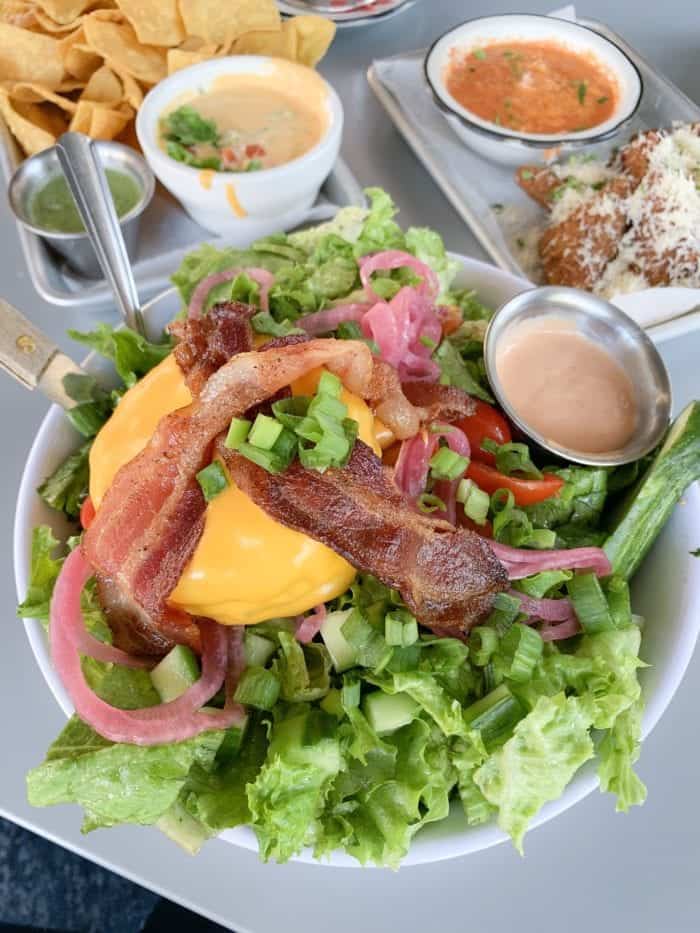 Black Tap Burger Salad
This is not your ordinary salad! Talk about one of the best salads ever! Really enjoyed this one.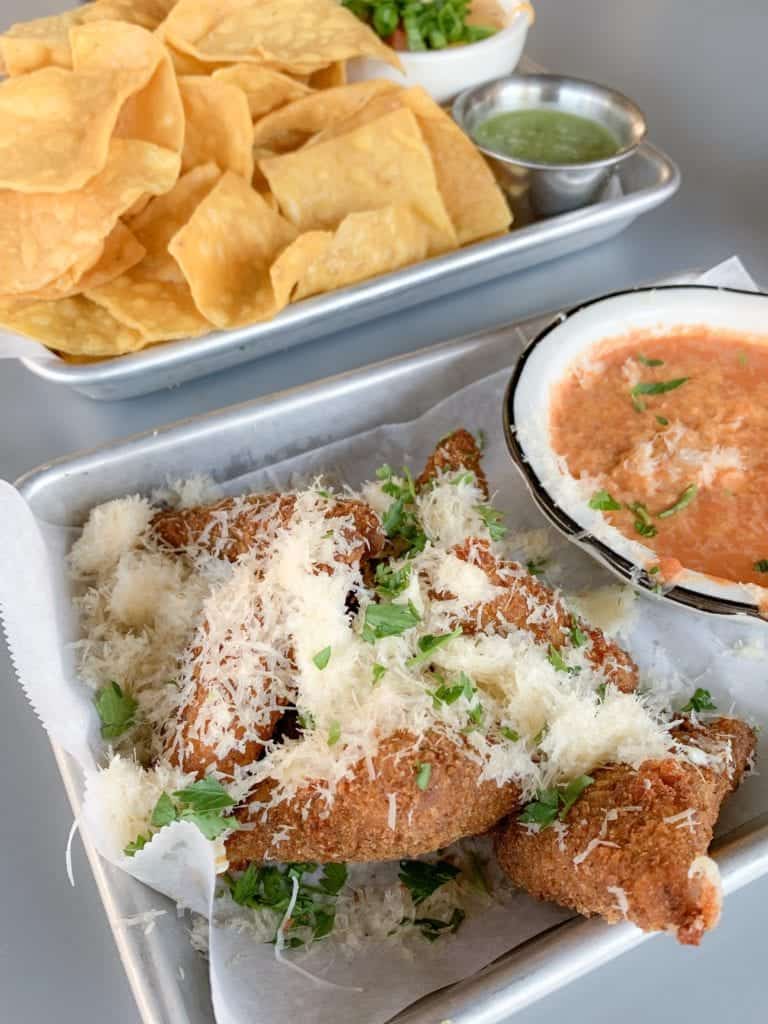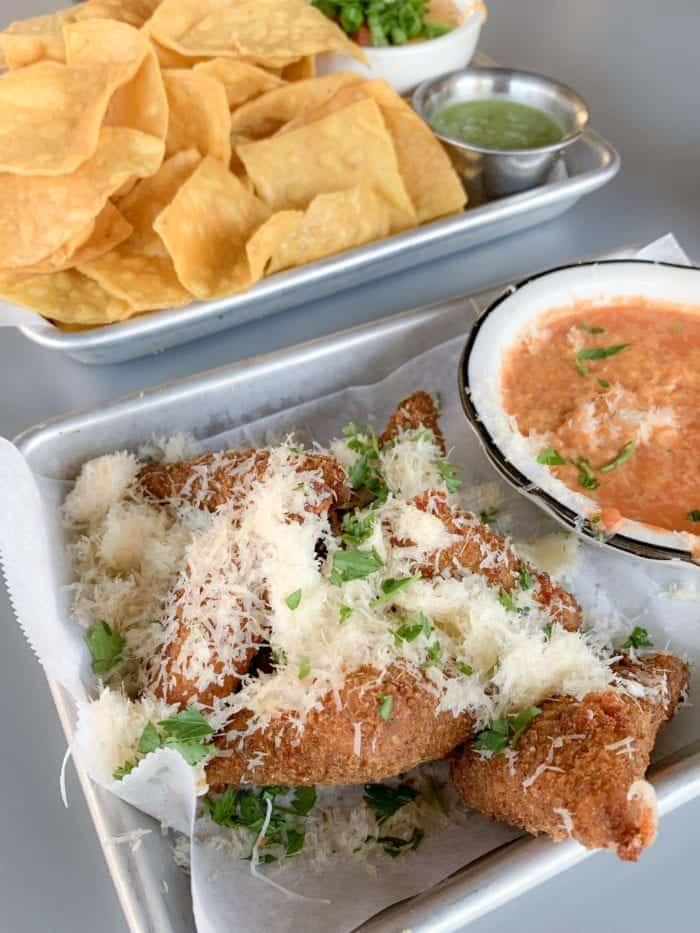 Black Tap Fried Mozz
I'm officially obsessed with Black Tap's Fried Mozzarella. Scroll down to see the cheese pull!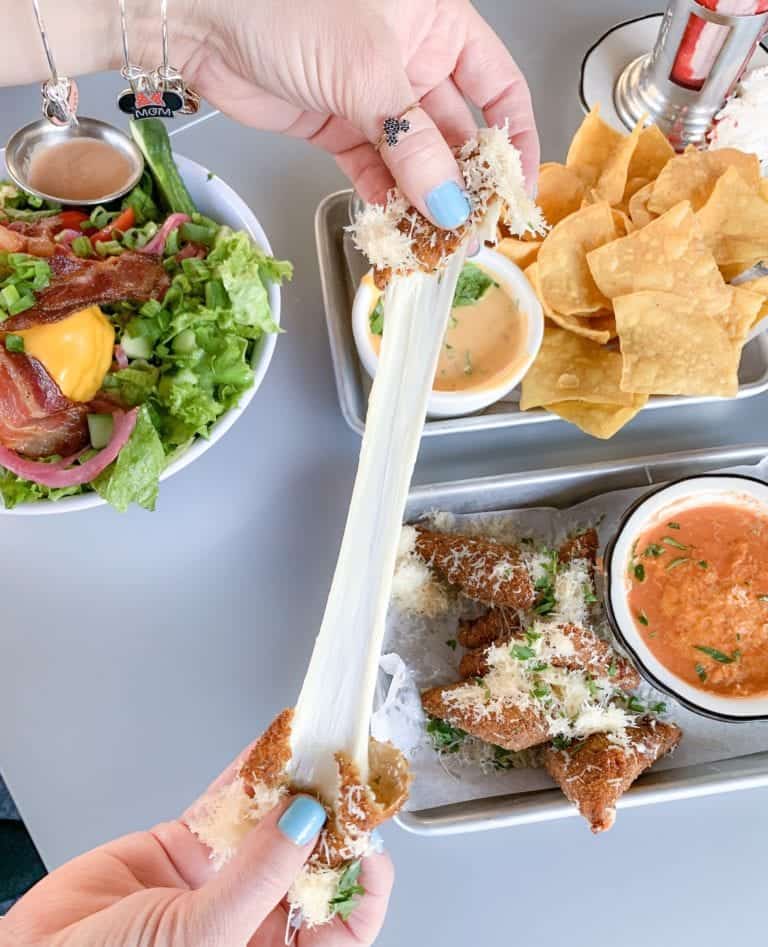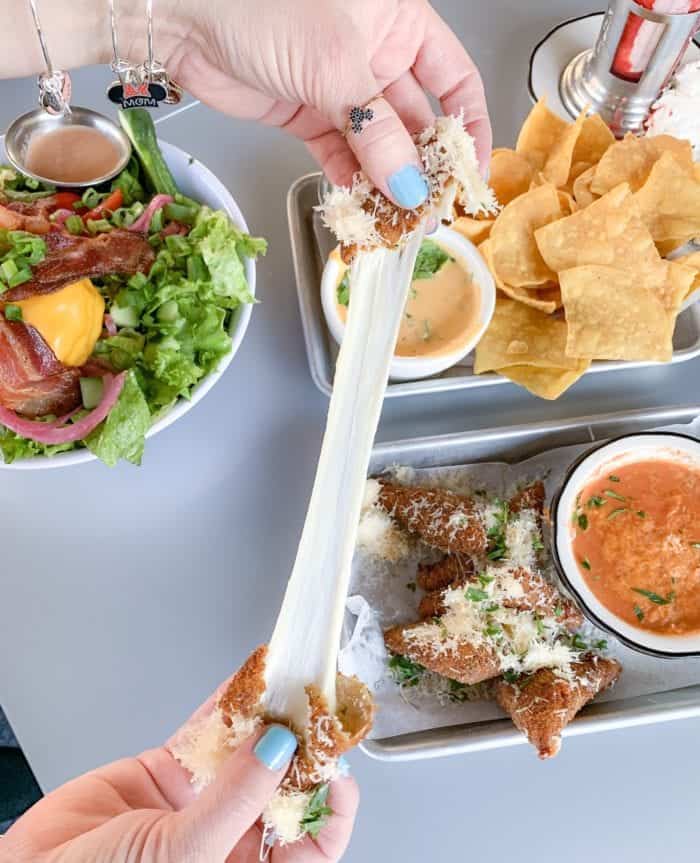 These are as delicious as they are impressive. A must order!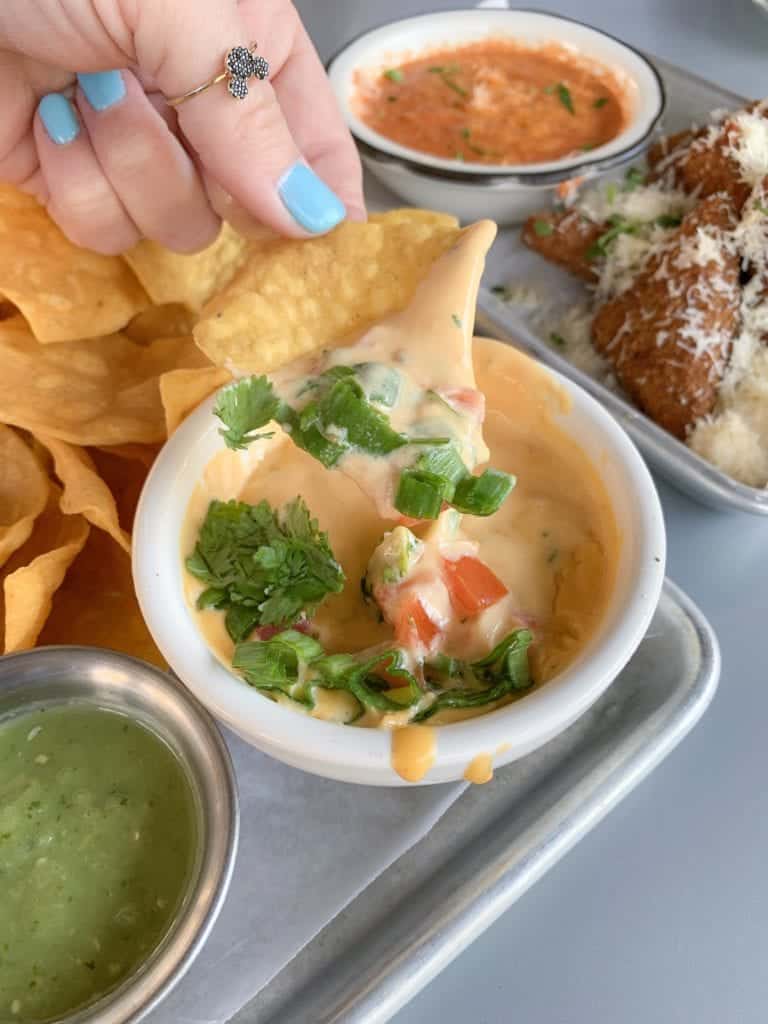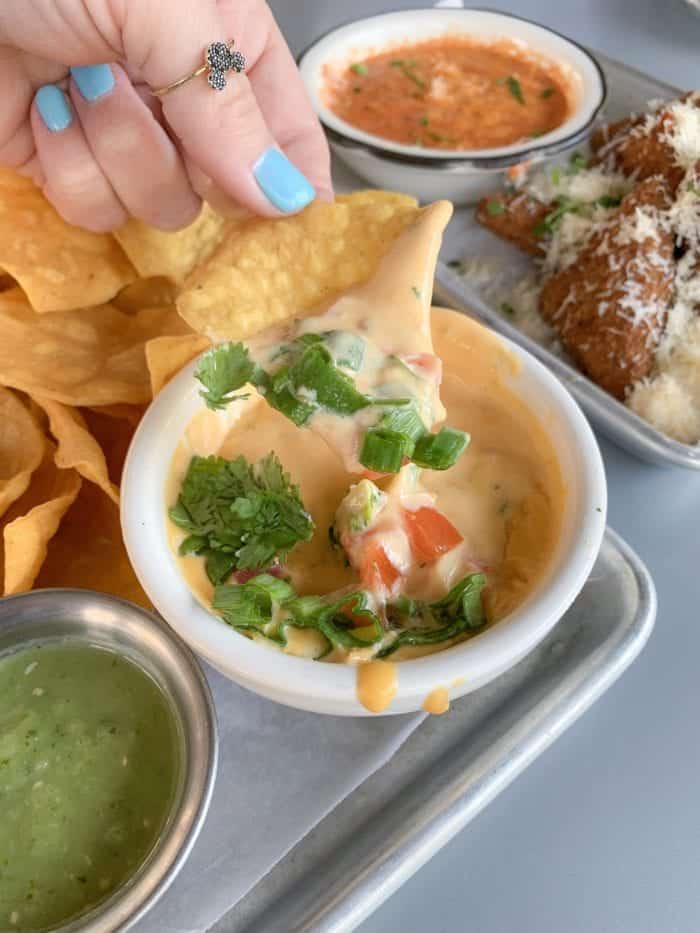 Queso and Chips
This is another amazing starter on the Black Tap Menu. We had no problem finishing this gorgeous plate!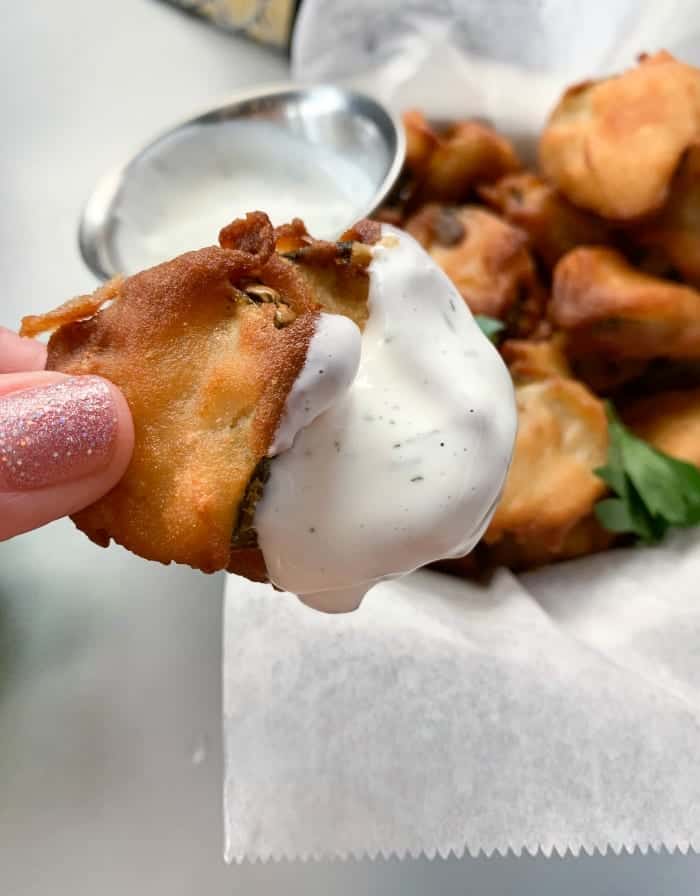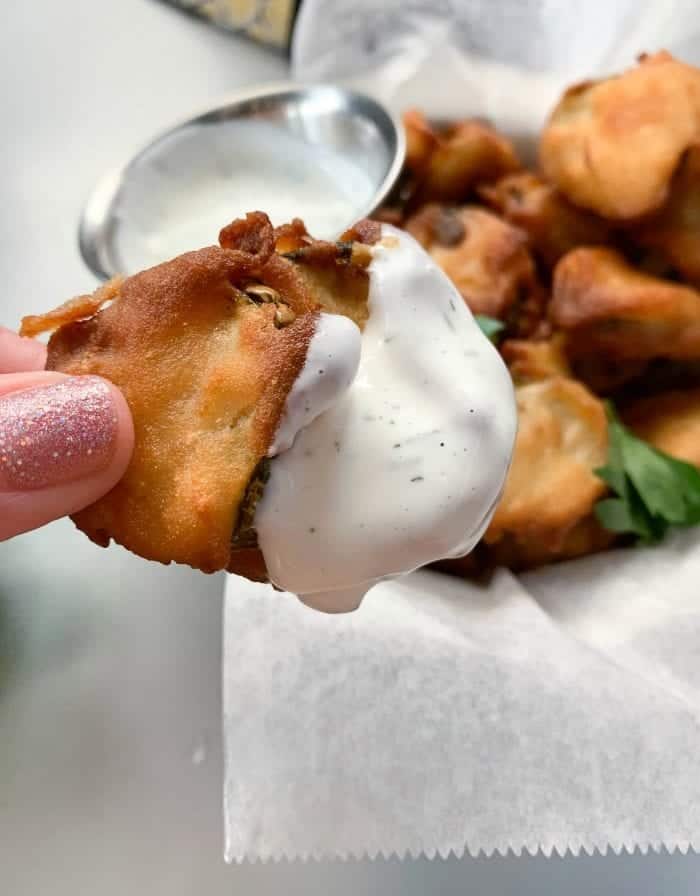 Black Tap Fried Pickles
You guys know I'm a huge fan of the fried pickles at Disneyland Park's Carnation Cafe….these fried pickles from Black Tap are equally as amazing. Very very different than the ones from Carnation Cafe. You just have to try them. Don't miss these.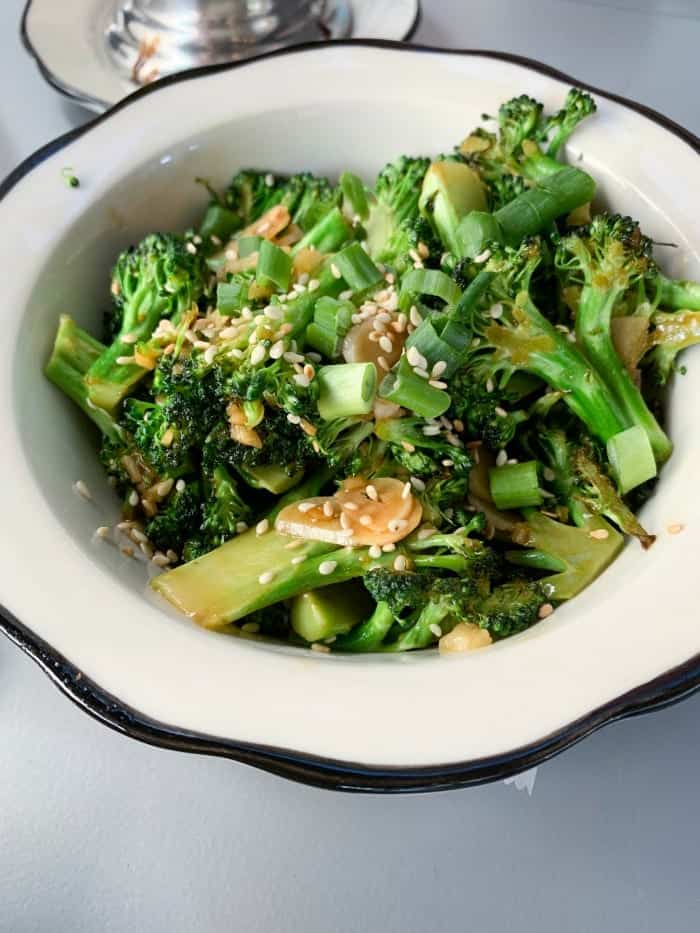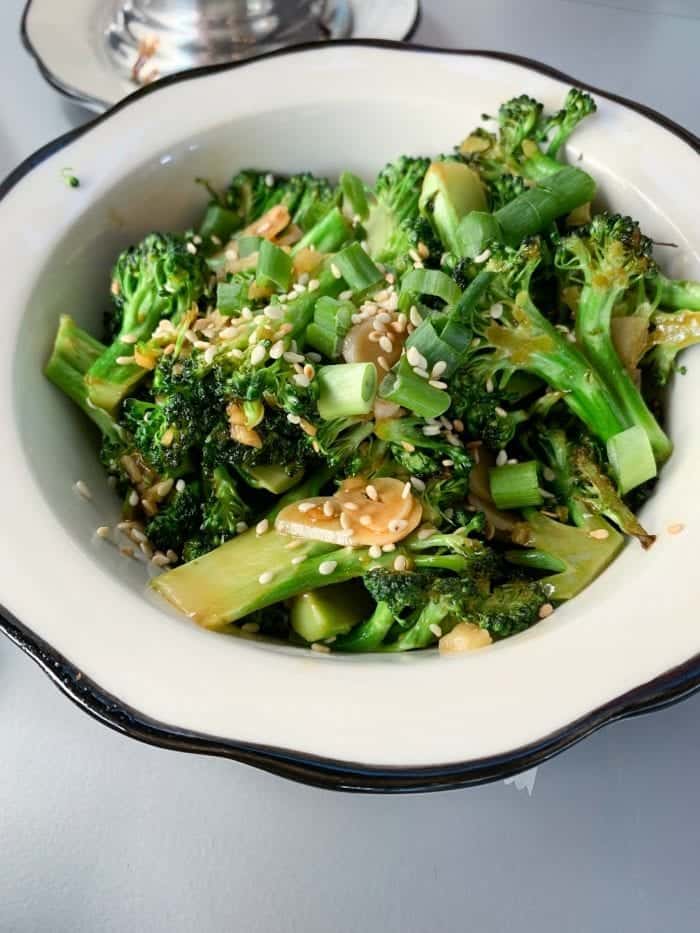 Black Tap Teriyaki Broccoli
Don't let this bowl of broccoli fool you. It is FANTASTIC. The perfect side. Were really loved it.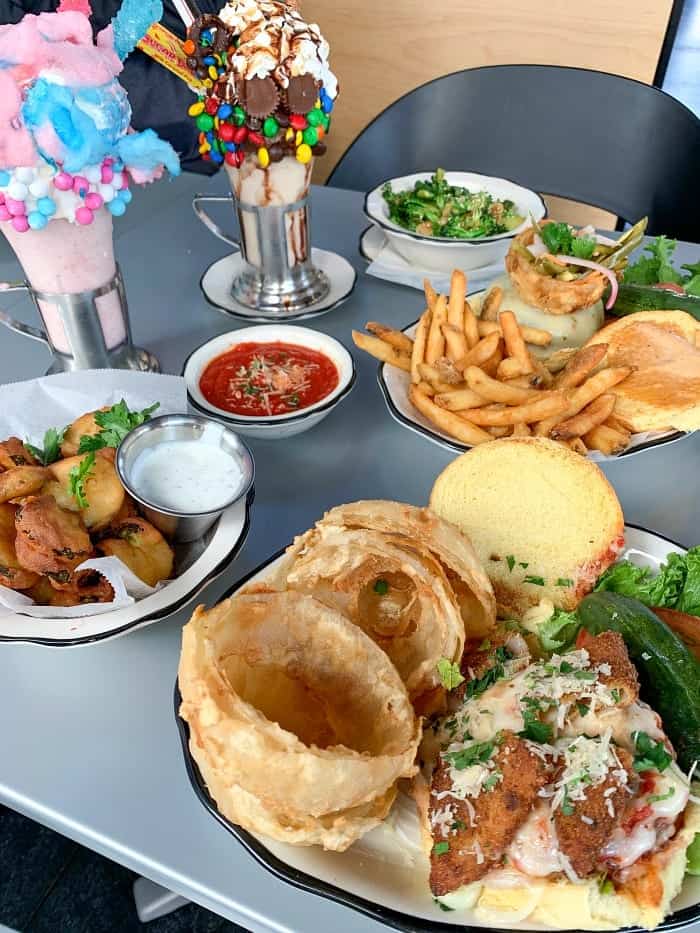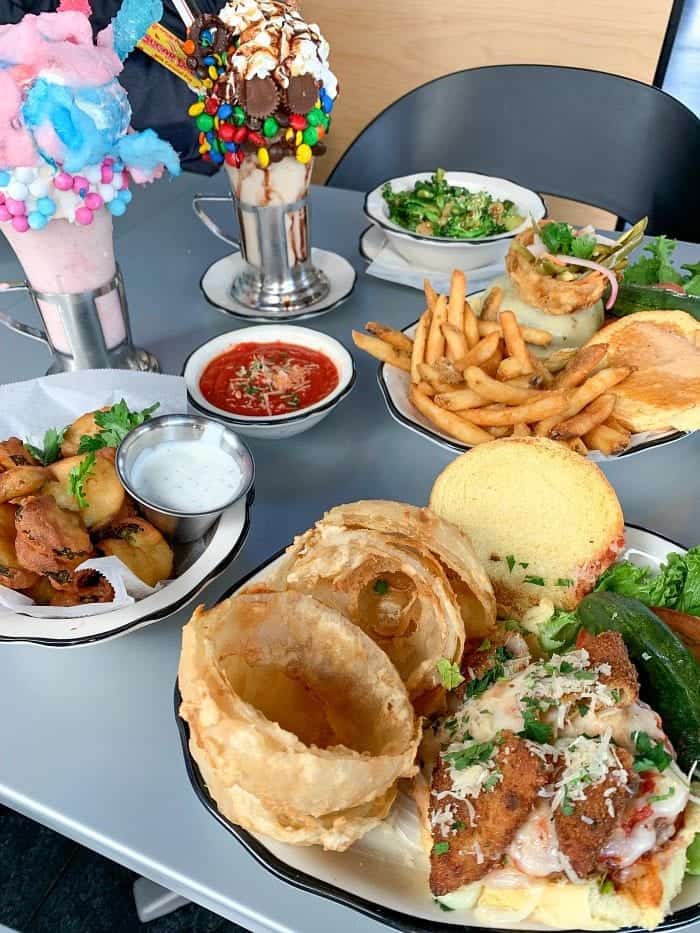 Black Tap Onion Rings and French Fries
Can we talk about the size of these onion rings?!!! They're not only enormous but crazy delicious. Same goes with their french fries. Spot on perfect. I'd literally go in and order nothing but side dishes and be a happy happy girl. But seriously.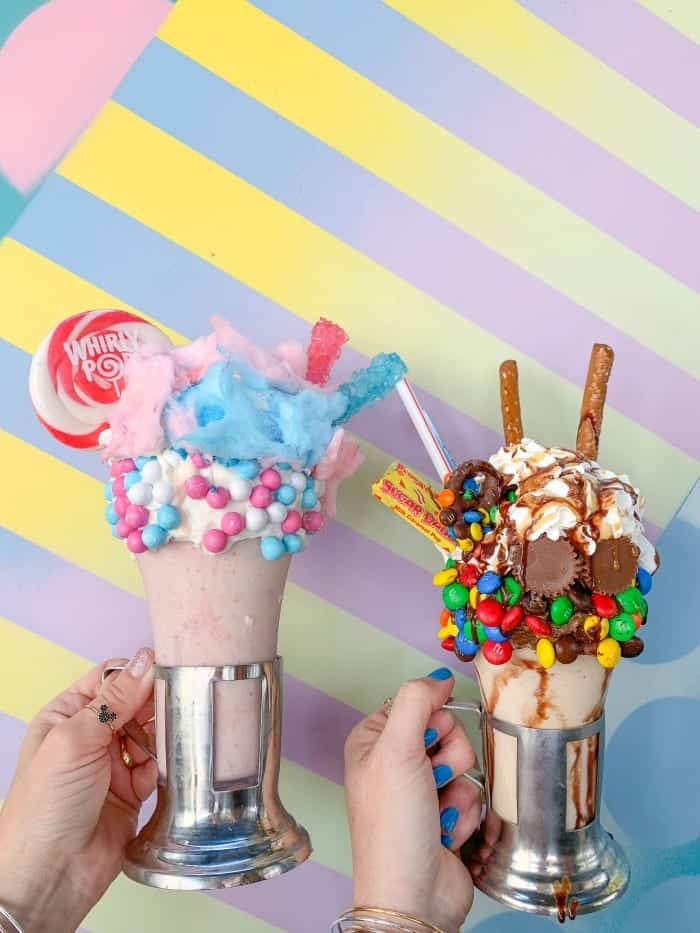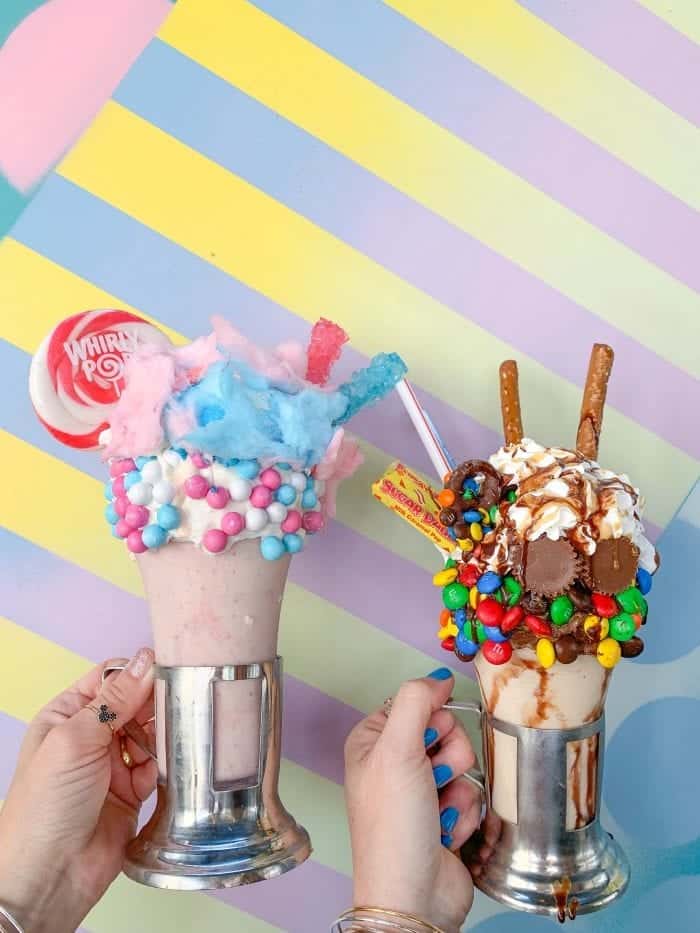 Black Tap Crazy Shakes
Does it really get any more fun than a Black Tap Crazy Shake? I think not. There are so many fun options that I plan on ordering and adding to this post. Stay tuned for lots more photos coming soon. During my visit yesterday we shared the Cotton Candy Shake and the Sweet and Salty Shake. Both so fun and delicious. Again, share with some family and or friends. Plenty big to share with a few people.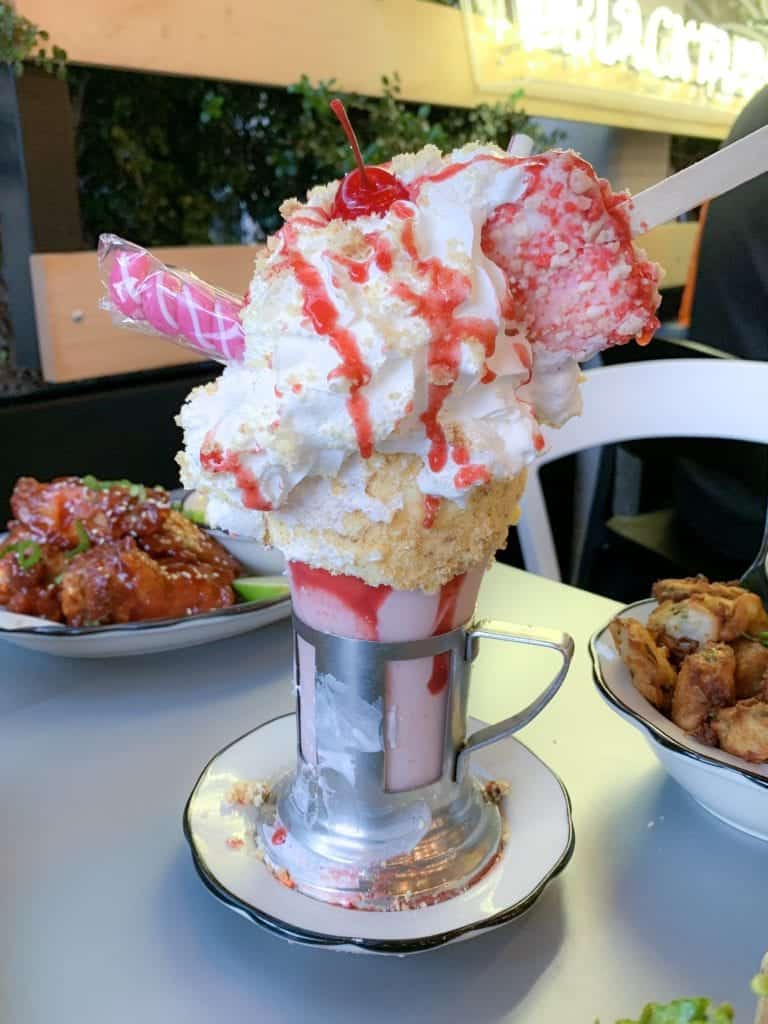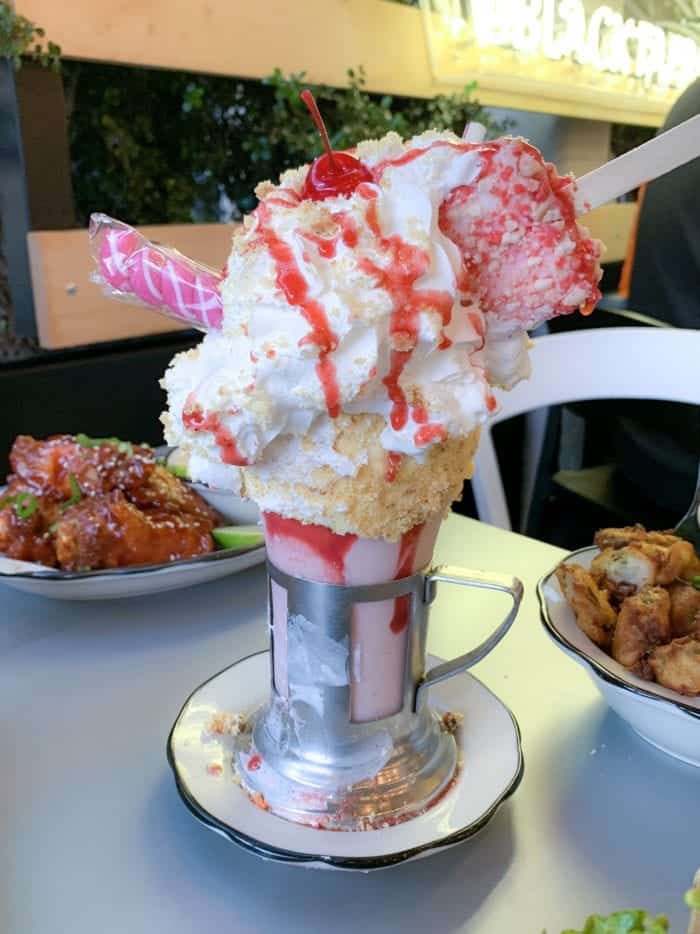 Strawberry Shortcake Crazy Shake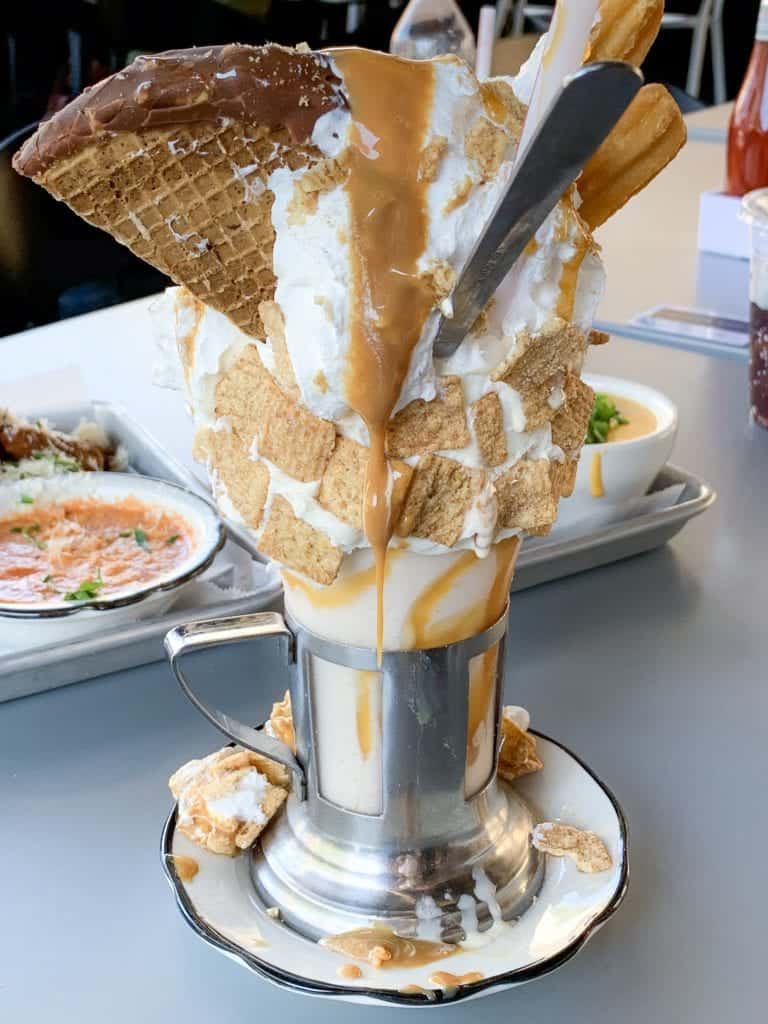 Churro Choco Taco Crazy Shake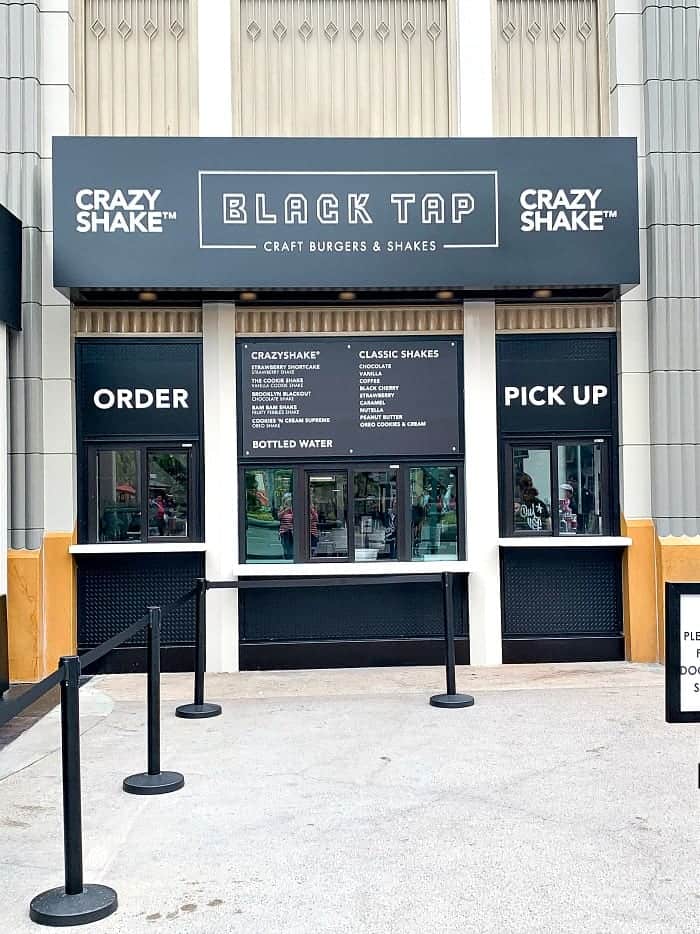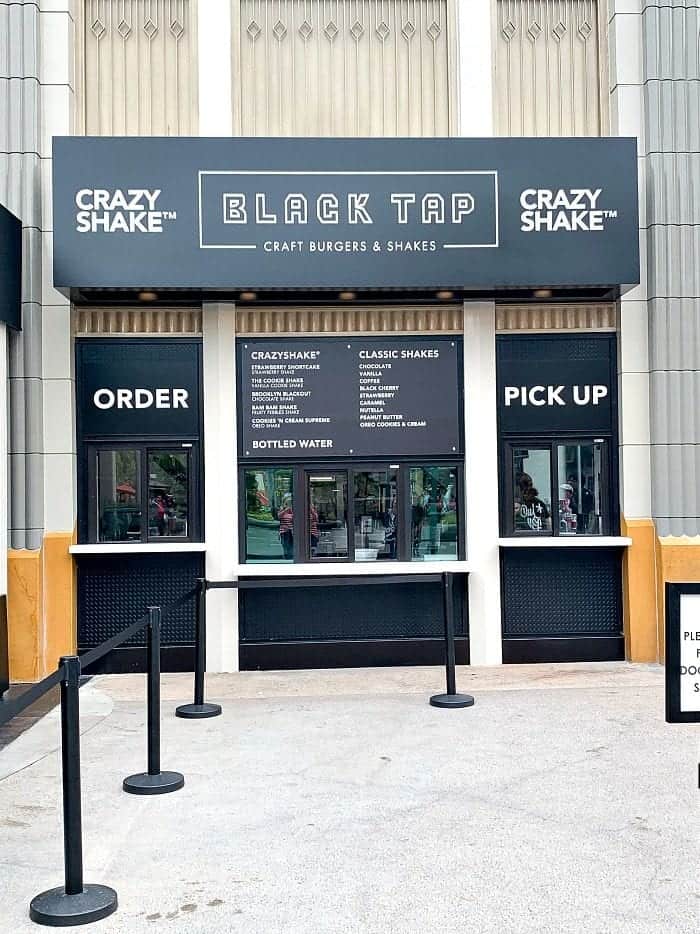 Black Tap Crazy Shake To-Go Window
Did you know you can pick up a Crazy Shake to-go from an outside window at the back of Black Tap? I think this is an absolutely brilliant idea. Your shake comes in a handy plastic milkshake cup with a giant rim around the top portion to catch any drippings or toppings that might fall. This is such a great option if you don't wan to get a whole meal inside. Just grab your shake to go and be on your way. Love it!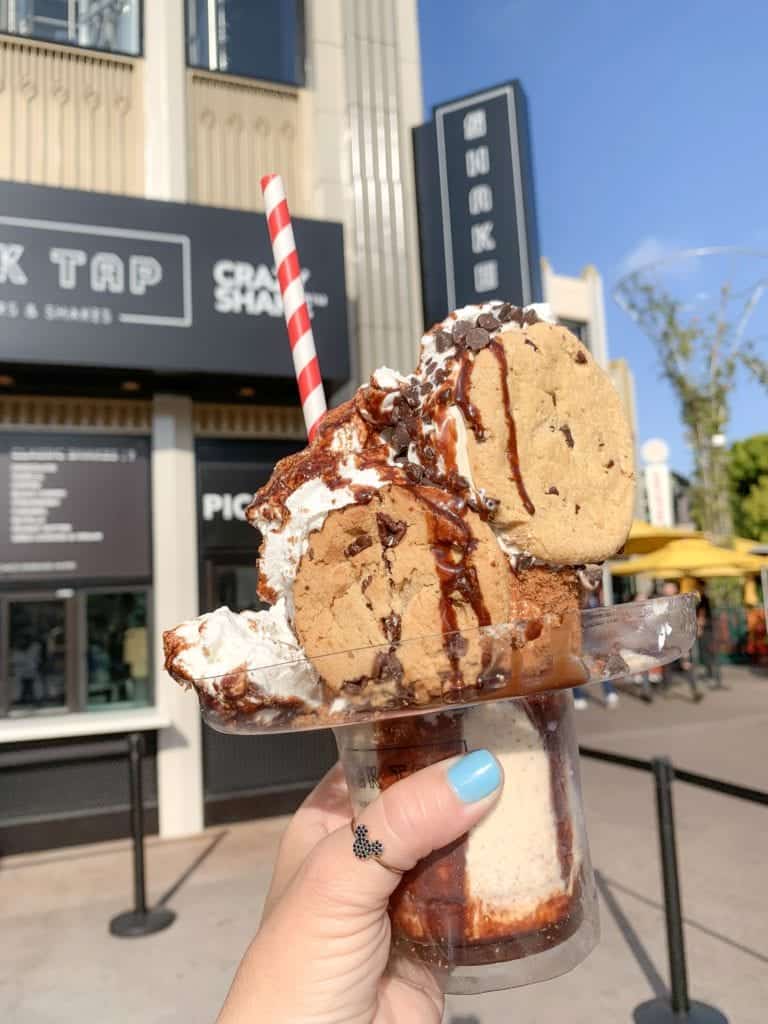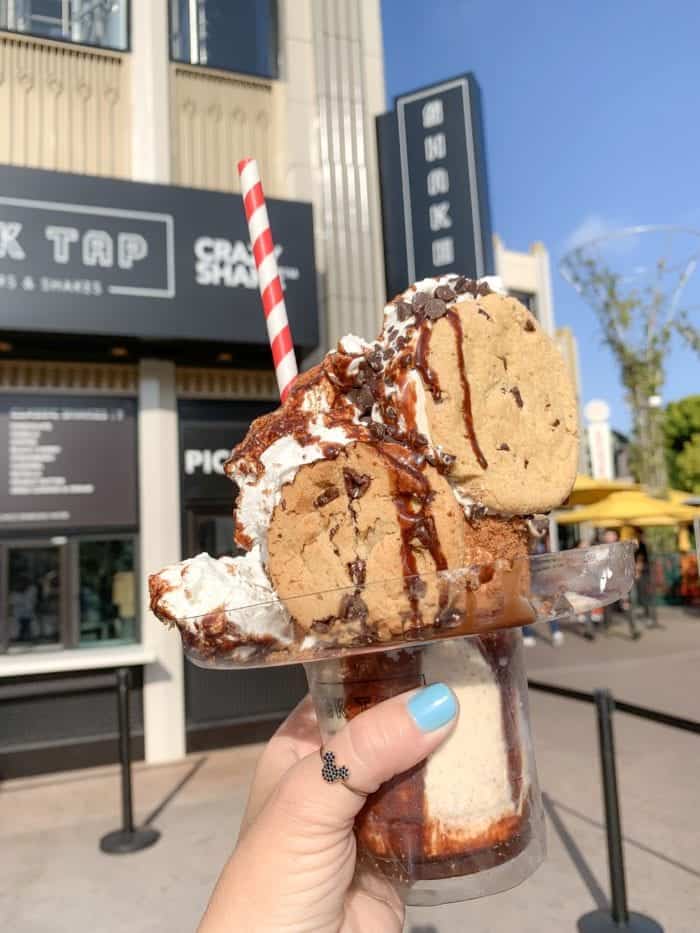 Cookie Shake
Here is the lovely Cookie Shake from the Black Tap To-Go Counter behind the restaurant. Love this option to eat on the go!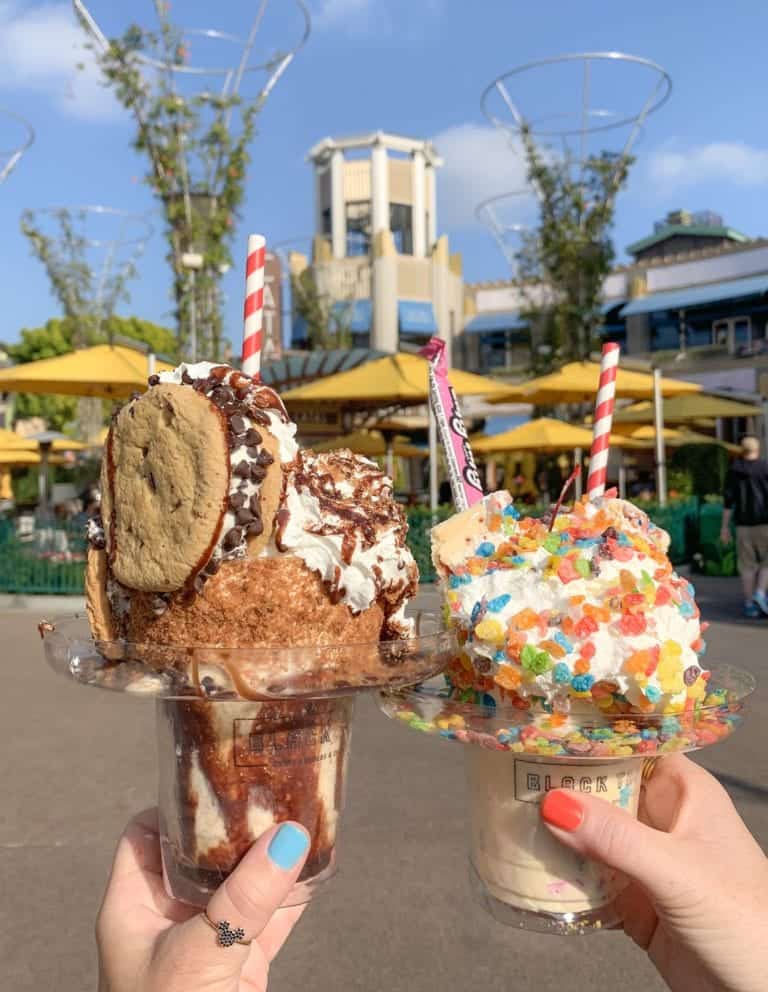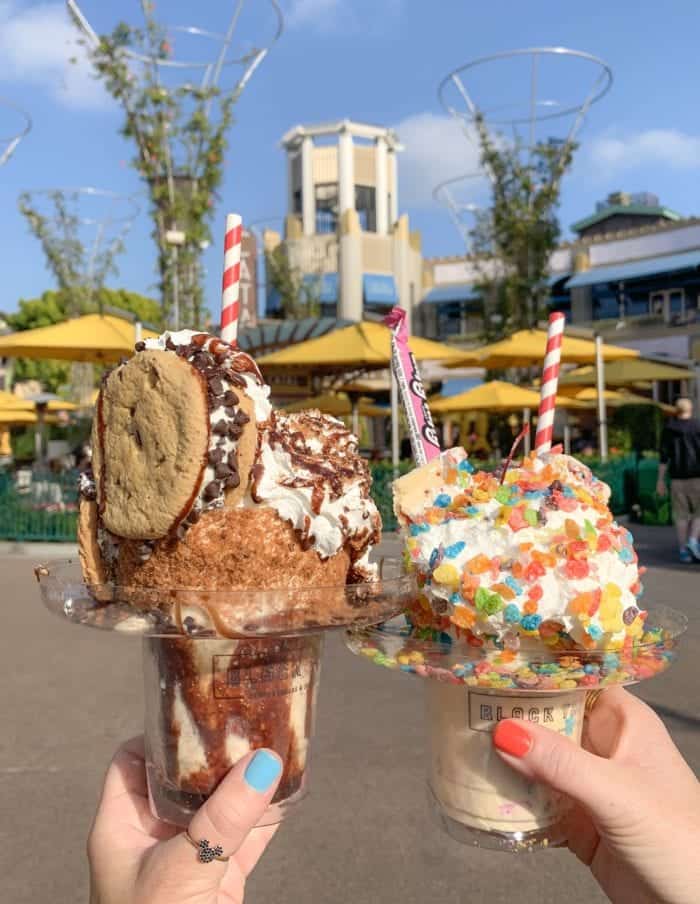 Bam Bam Crazy Shake
Here are the Cookie Shake and the Bam Bam Shake together. A colorful match made in heaven. Honestly, you can't go wrong with any of the Crazy Shakes at Black Tap!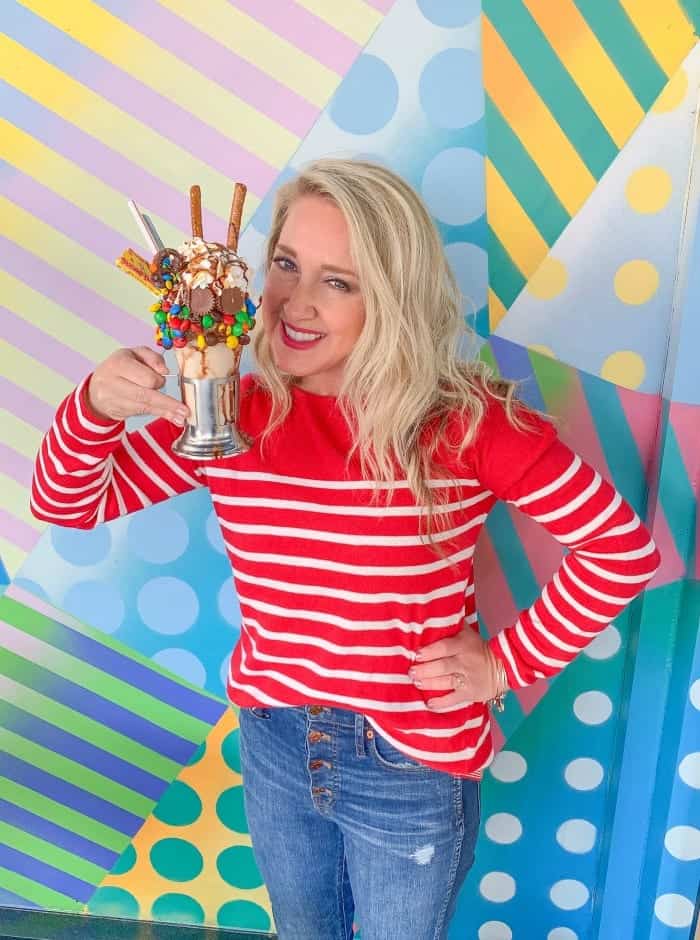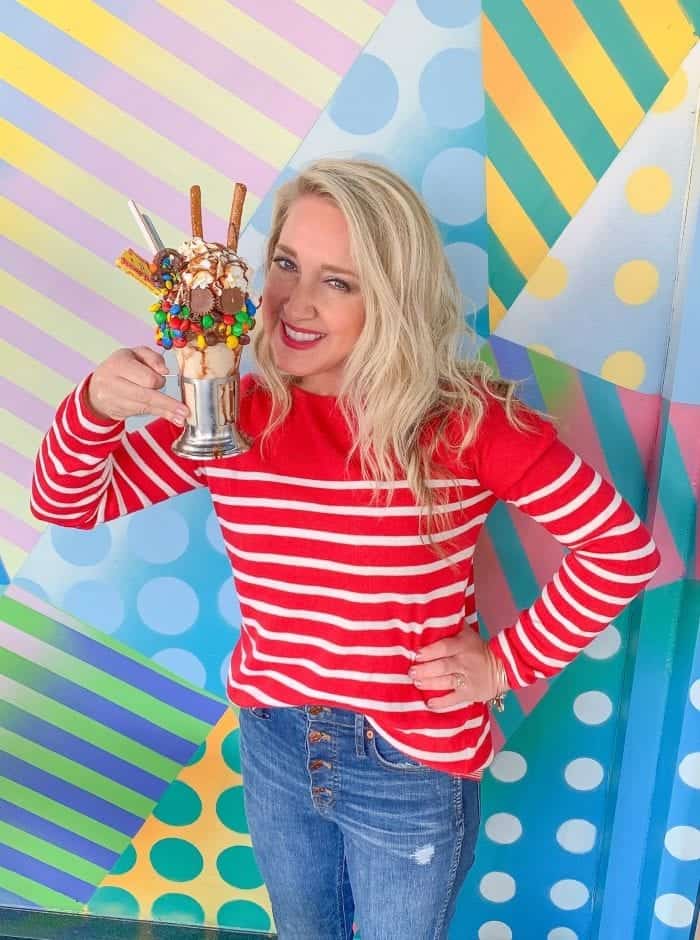 I am over the moon that Black Tap is now at our Downtown Disney! I've put together some tips to help make your visit the BEST! Hope you enjoy.
Tips For Visiting Black Tap Downtown Disney
I would highly recommend enjoying your meal right at opening for less stress ordering and finding a table. If you arrive about 30 minutes before opening you should be just fine.
Go with a group and share a number of menu items. The Black Tap menu items are large, have fun ordering some different burgers, sides and shakes to enjoy lots of options.
Use your Annual Pass for a discount. No Disney Dining Gift Cards allowed.
Take advantage of the colorful walls throughout the restaurant. Great for some fun photo opportunities.
Don't miss the Pizza Burger, onion rings and fried pickles. Life changing if you ask me. Try a new shake every visit! Too fun to pass up.
Pin Black Tap Downtown Disney Review