Blueberry, Caramel and White Chocolate Oatmeal Cookies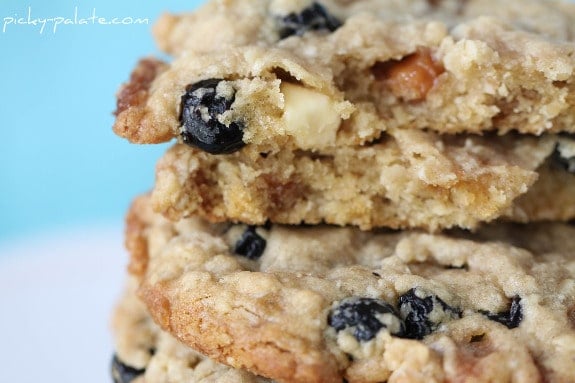 In the mood for cookies today? I am 🙂  Let me introduce you to my latest cookie with dried blueberries, caramel bits, white chocolate and oatmeal. I am thrilled with how these came out over the weekend. I had a house full of kids running around Saturday and tried these out on them. Needless to say, the cookies were a huge hit. Had to shoo them all out of the kitchen so I could snap some photos before they devoured them all 🙂
I found these cute little Kraft caramel bits at Target, hope you guys can find them. They are so handy and so great in baking. Can't wait to try them in brownies next. I love how after the cookies cool, the outside bits of caramel get a little crunchy. Yum, wait until you try these. Break out your muffin top pans again folks, it's time to make some cookies!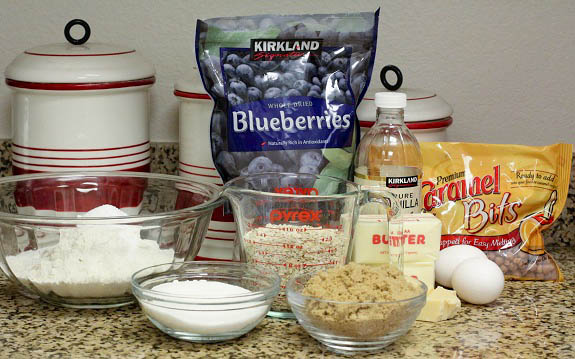 Basic line up of ingredients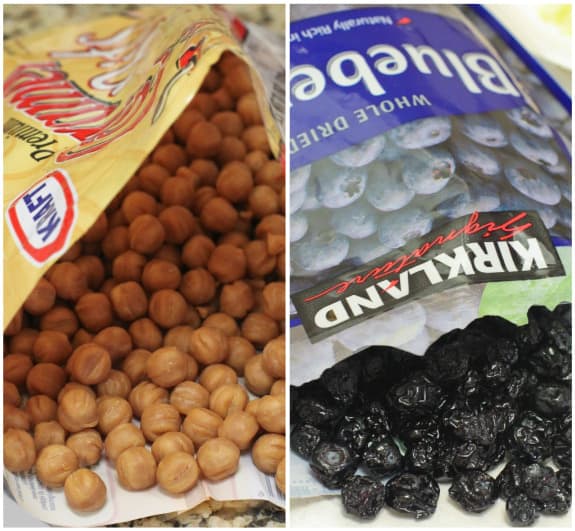 Mmmm, caramel and blueberries 🙂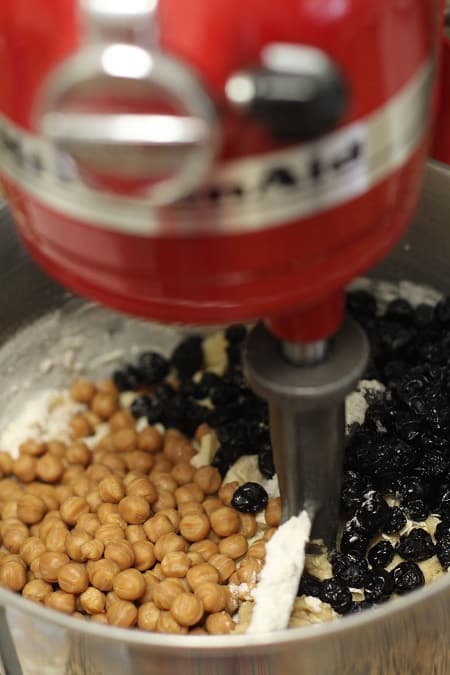 Hard to see, but there are white chocolate chunks in the back of the bowl, love white chocolate in Oatmeal Cookies!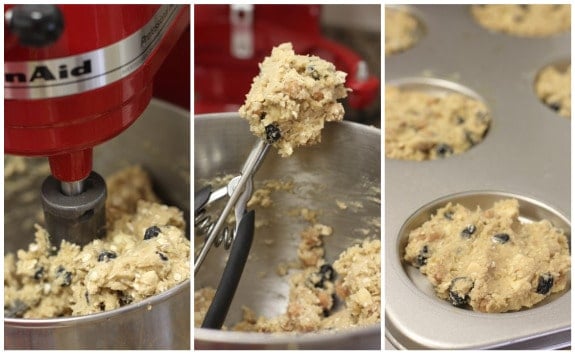 You know a cookie will be good if you can't stop eating the dough right? Well, I definitely couldn't stop eating this! Y'all have your muffin top pans yet? Not sure how I lived without it!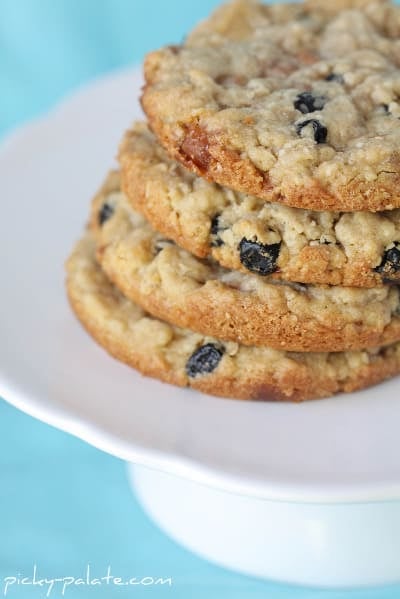 There's that crunchy bit of caramel on the edge, LOVE it 🙂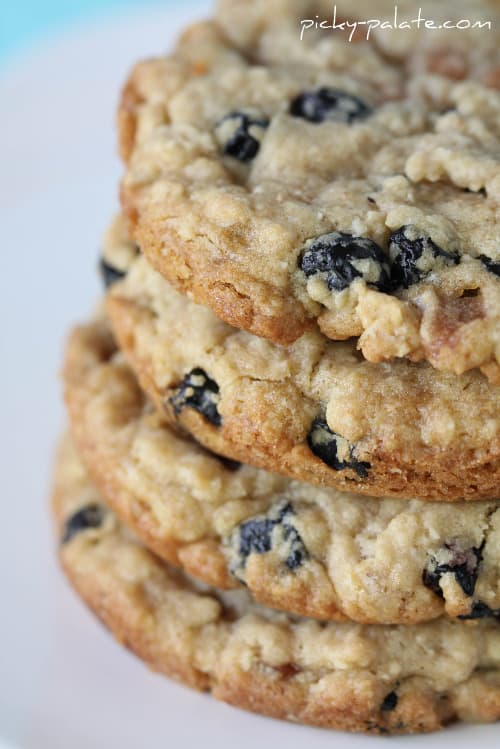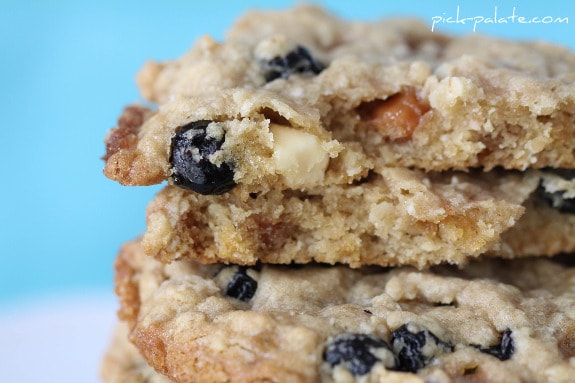 [ziplist]
Blueberry, Caramel and White Chocolate Oatmeal Cookies
2 sticks softened butter
3/4 Cup granulated sugar
1 Cup packed brown sugar
2 eggs
1 1/2 Tablespoons pure vanilla
2 1/2 Cups all purpose flour
2 1/2 Cups oatmeal, I used quick oats
1 teaspoon baking soda
1 teaspoon kosher salt
2 Cups Caramel Bits, by Kraft
1 1/2 Cups dried blueberries, found mine at Costco
1 Cup white chocolate chips or chopped white chocolate
1. Preheat oven to 350 degrees F. In a stand mixer, beat the butter and sugars until light and fluffy. Beat in eggs and vanilla until well combined.
2. Place flour, oatmeal, baking soda and salt into a large bowl; mix to combine. Add dry ingredients to wet ingredients along with the caramel bits, blueberries and white chocolate. Mix until just combined.
3. If using a muffin top pan, spray with cooking spray, scoop about 1/4 Cup dough into each muffin top pan cup, then press to about 1/2 inch thick. Bake for 11-14 minutes or until edges are just golden brown. If using a normal baking sheet. Use a medium cookie scoop and scoop dough onto a silpat or parchment lined baking sheet. Bake for 9-11 minutes or until edges are just turning golden brown. Remove and let cool for 5 minutes before removing from pan.
24 Large Muffin Top Pan Cookies or 4 dozen normal size cookies
_________________________________________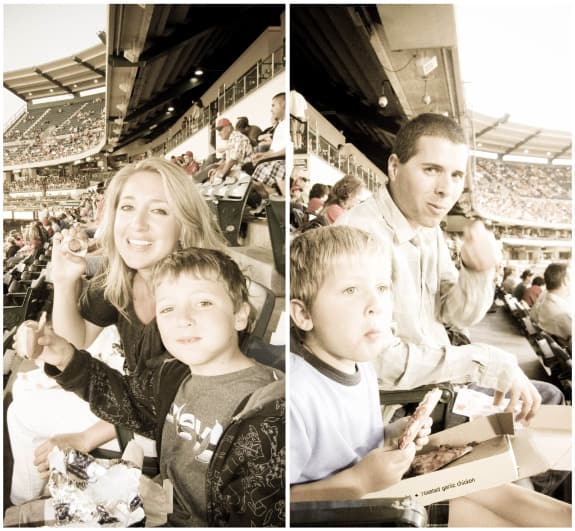 I'll leave you with us stuffing our faces at the Angel's Game last Friday night. It's not a baseball game unless there is junk food involved right?! Mmm 🙂
__________________________________
Have a great new week, see you soon 🙂
FOLLOW PICKY PALATE ON INSTAGRAM! Show me what recipes you're making from Picky Palate by using #pickypalate.
Other recipes you may enjoy...
Comments