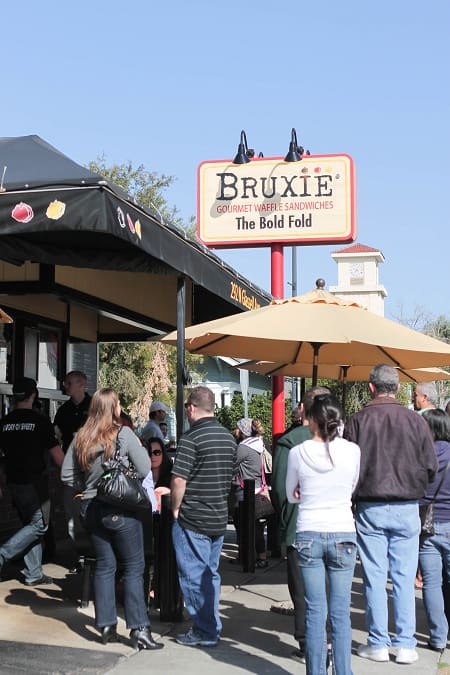 Last weekend, one of my favorite friends Amanda of Kevin and Amanda came to visit me in CA for a jam packed foodie weekend. We had so much fun and ate until we couldn't eat anymore 🙂
One of my favorite stops of our weekend was by far Bruxie Gourmet Waffle Sandwiches in Orange, CA. There is little I can say that can tell you how amazing the food was, you literally have to try it yourself. If you visit Southern California, PLEASE make time to visit Bruxie. You'll thank me later.
It's located in Old Towne Orange that is completely charming and full of fun antique shops and restaurants.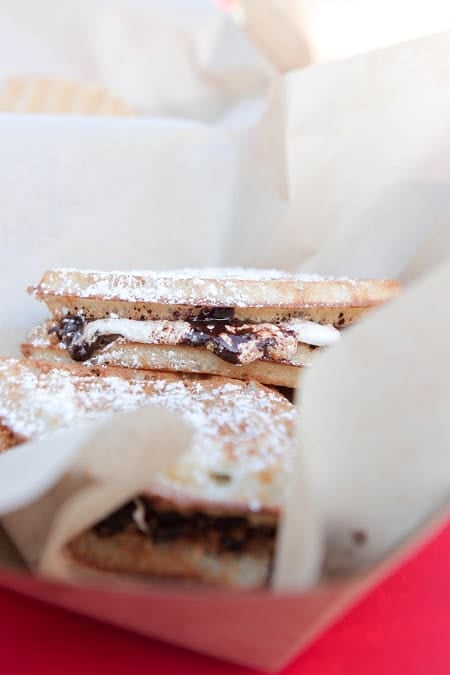 There are dozens and dozens of menu options but Amanda and I chose to share the 4 that sounded best to us including this mouthwatering oozing S'mores Waffle Sandwich. Sinful!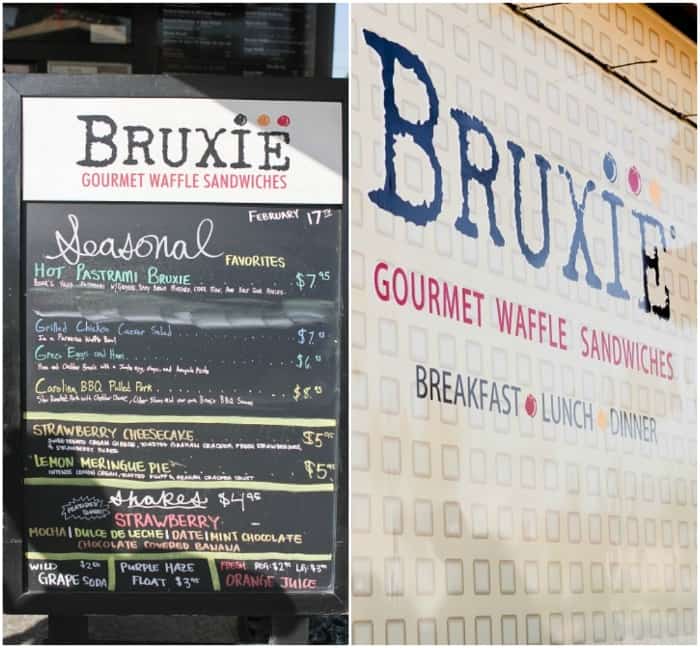 There were so many things we would have tried if we had the room in our stomachs, lol. The shakes looked to die for not to mention the fun soda's.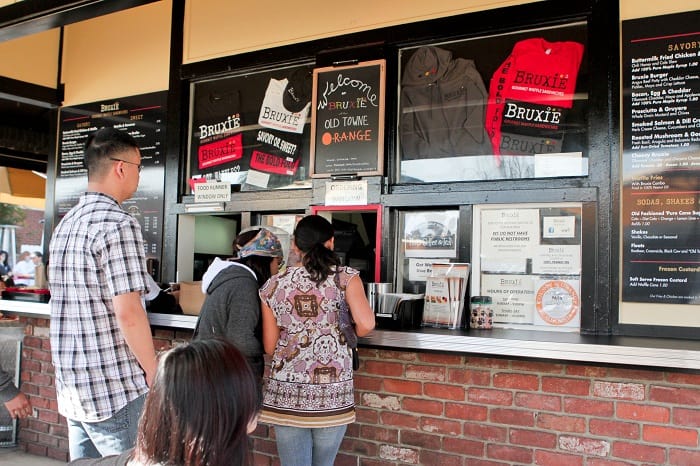 You walk right up to the counter and order your food. See the cute t-shirts? I should have bought one 🙂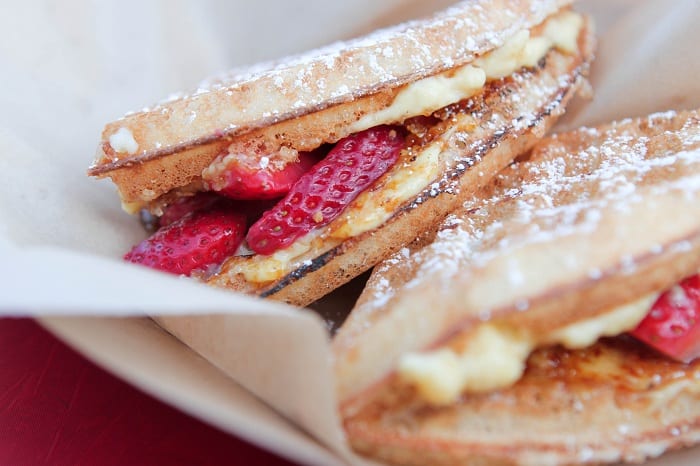 This creme brulee waffle sandwich was life changing. It had a thin layer of actual creme brulee with the crispy sugar topping and perfect strawberries. This is a must order.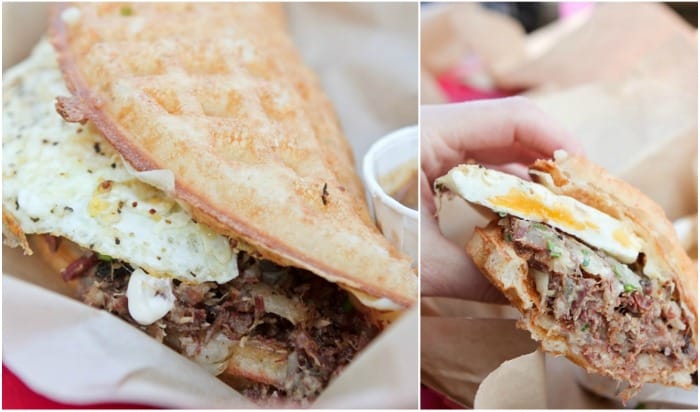 I had to have one savory waffle in our mix and this Eggs and Hash sandwich was incredible. I would order this again in a heartbeat.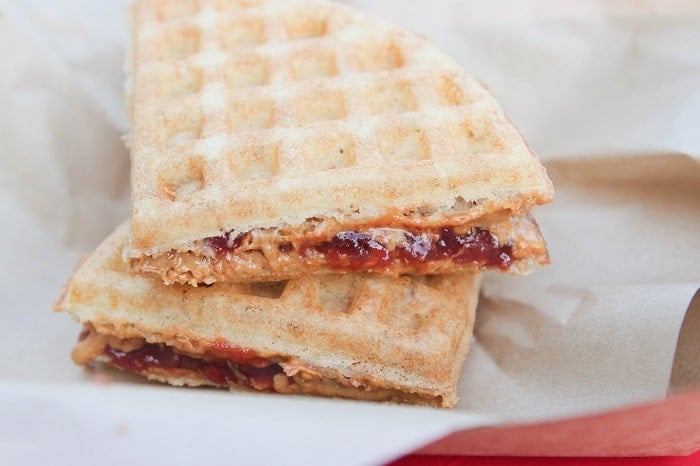 This peanut butter and jelly waffle sandwich was simply delicious. Lathered with all natural peanut butter and strawberry jam. My boys would absolutely love this one. Tasted like the perfect toasted peanut butter and jelly sandwich.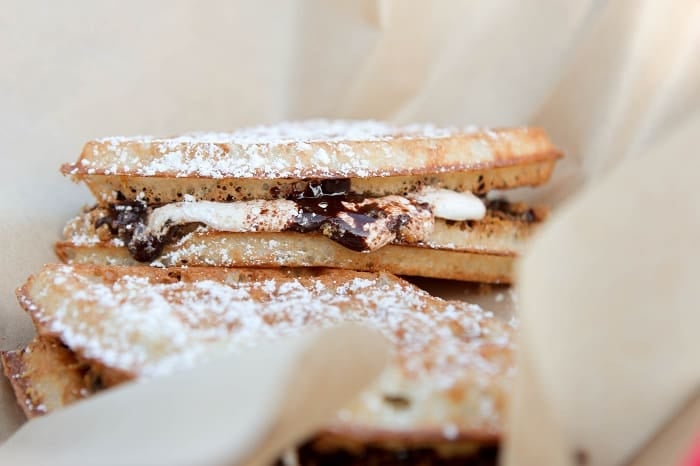 My mouth is watering just thinking about this s'mores waffle. It was warm, chocolate-y, marshmallow-y with a touch of graham cracker. In a nutshell, perfect!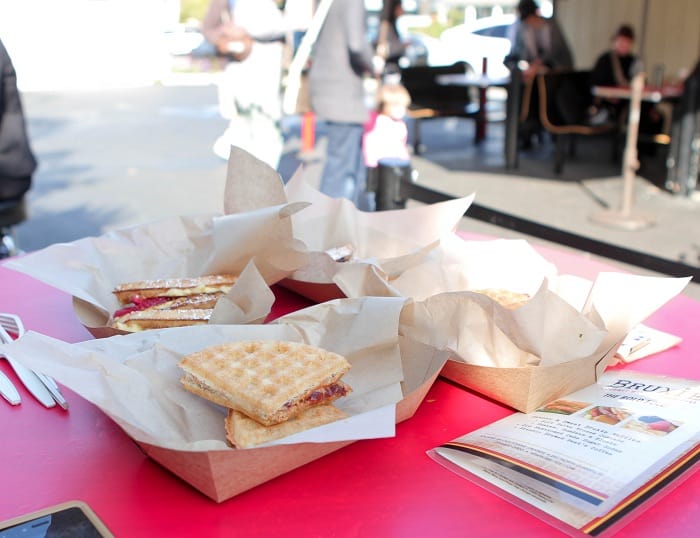 Here's our fun table of waffle sammy's 🙂 About a dozen outside tables available to sit at. We even sat by a heater to keep us warm.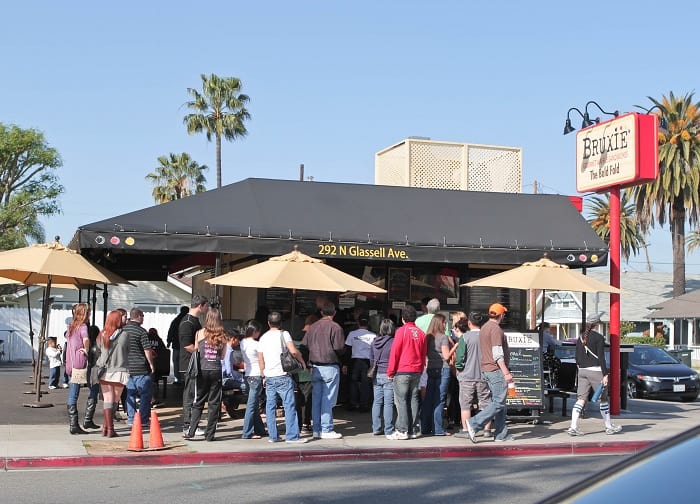 Keep in mind there will most likely be a line when you visit Bruxie. There was a steady line the entire time Amanda and I were there. I would say we stood in line for 10 minutes and got our food within 10 minutes. Not too bad at all. Amanda and I both agreed that everyone was so nice too. They kept asking how we liked the food and made sure we didn't need anything. They were great. Make sure you visit Bruxie if you get the chance!!
Bruxie Gourmet Waffle Sandwiches
292 North Glassell Street
Orange, CA 92866
714 633-3900
Hours: Sunday-Wednesday 9am-9pm
Thursday-Saturday 9am-10pm
OR
Bruxie Gourmet Waffle Sandwiches
Brea Downtown
215 W. Birch Street
Brea, CA 92821
714 255-1188
Hours: Sunday-Wednesday 9am-9pm
Thursday-Saturday 9am-10pm