Candy Cane Crunch Krispie Treats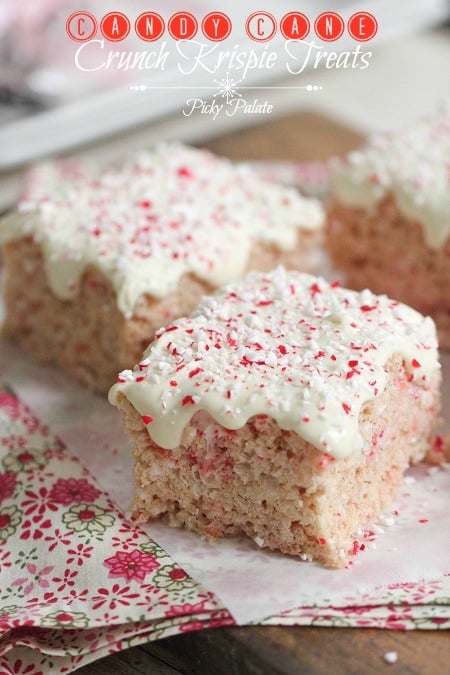 Oh my goodness can you believe Christmas is right around the corner?!! I know, me either. Seriously 1 week until Christmas Eve. Can't wait. Let's just binge on ridiculous Holiday treats all week to prepare shall we? Lol!
I don't know about you, but I will be enjoying these Candy Cane Crunch treats all week, because they are unbelievably fantastic….and because it's almost Christmas…. and the diet starts January 1st, haha.
Have a wonderful day friends!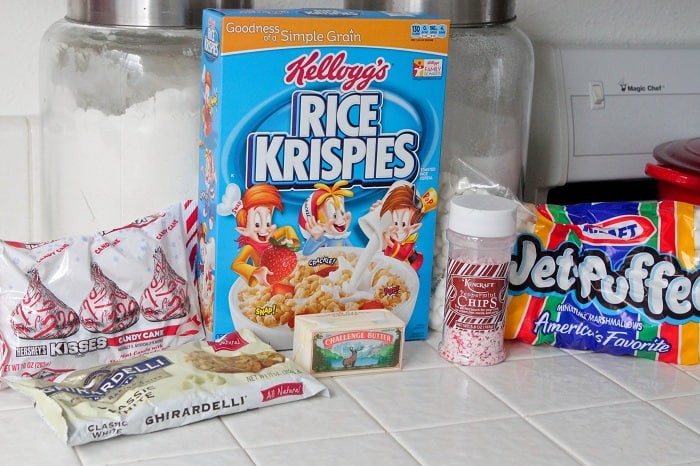 Here's the ingredients your'll need to prepare these beauties.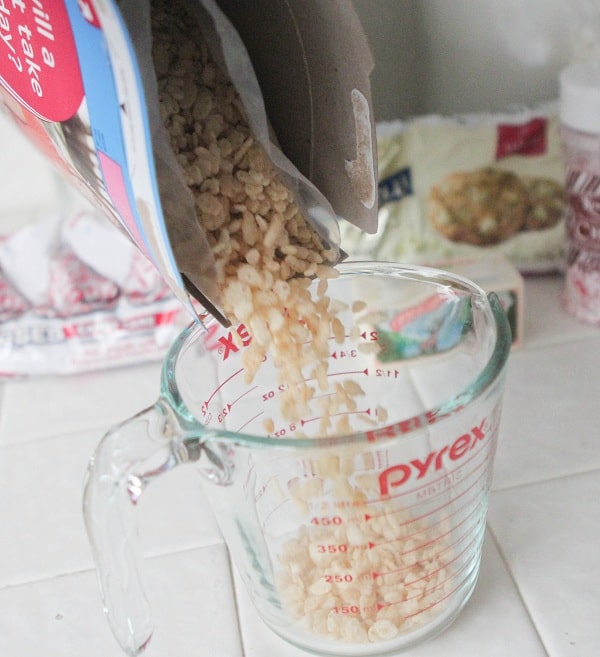 I love Rice Krispies Cereal. Such great childhood memories.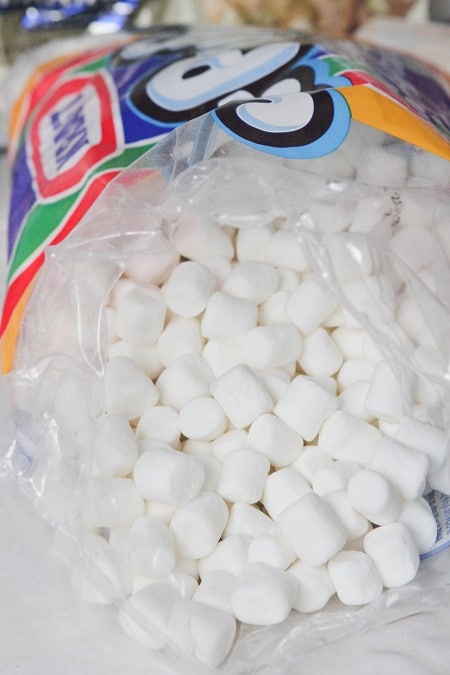 Can't not talk about how fun marshmallows are either. Key ingredient!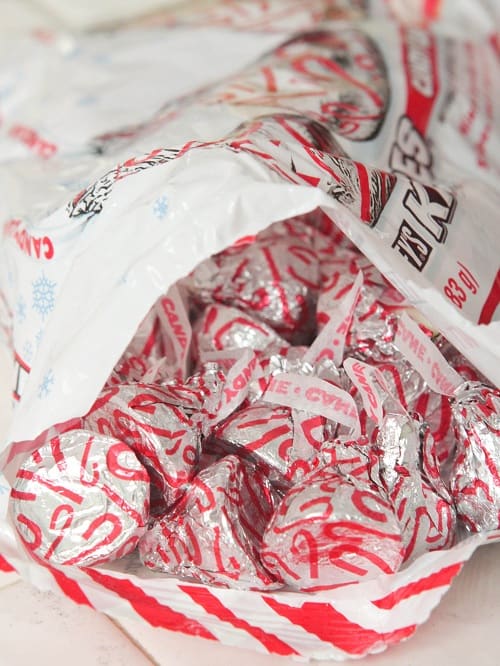 Have you had these yet? Candy Cane Kisses are some of my favorite variety.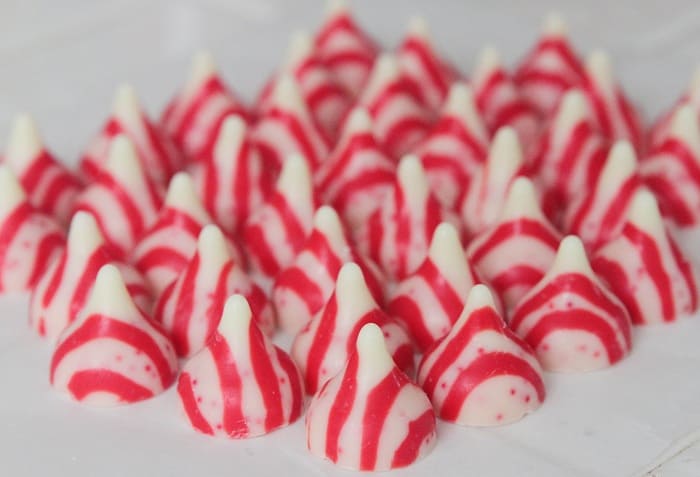 Major tip here. Unwrap your kisses before starting the recipe. Takes a little time and your treats will set up too quick if you wait.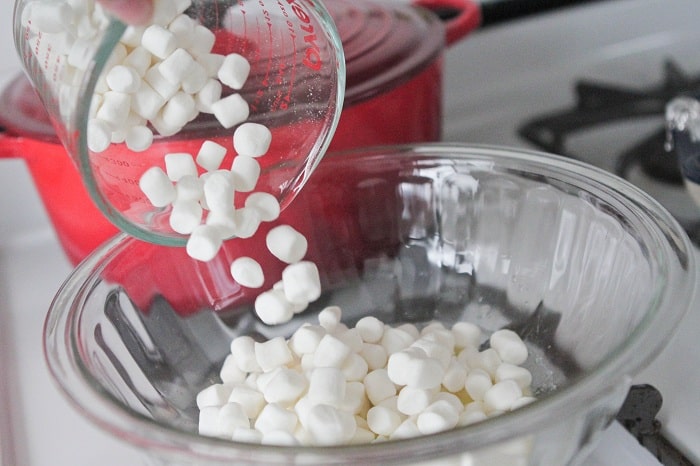 Pour your marshmallows into a big bowl of melted butter and mix.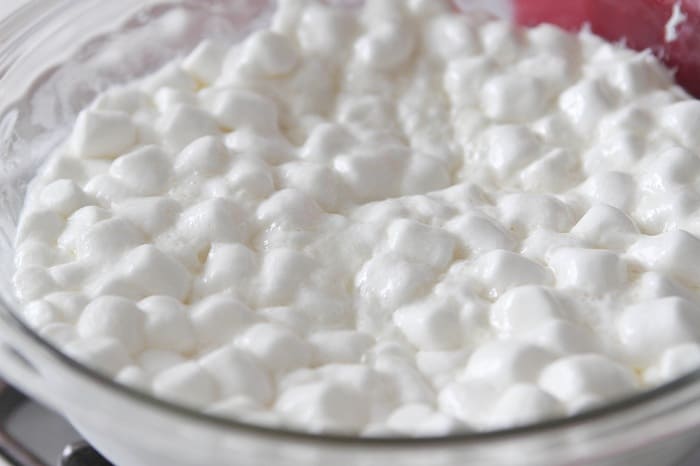 Heat until puffed and melty. Will look like this. You can do this over the stove top in a big pot as well.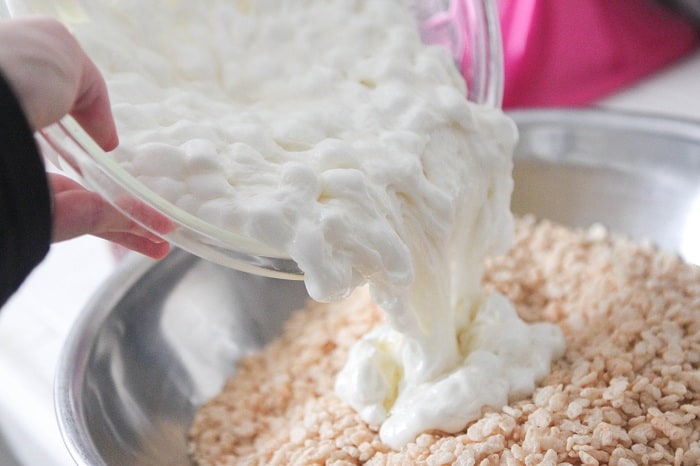 Now, the fun part. Pour your melted marshmallows into your cereal.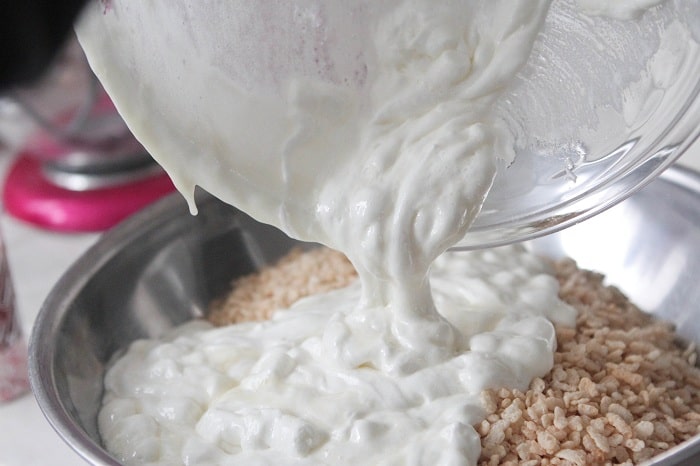 Keep going!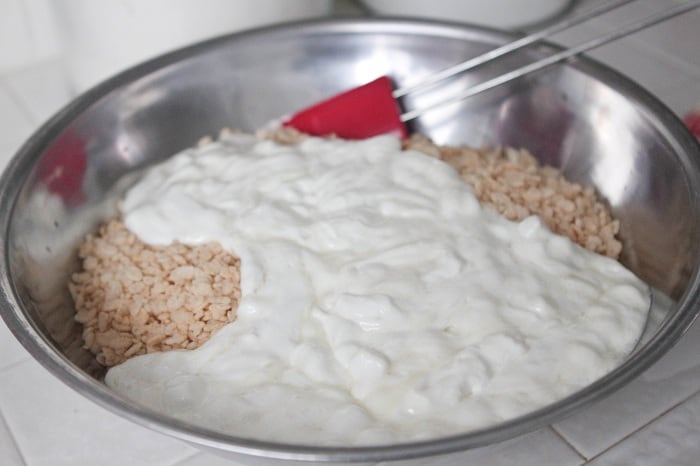 Ok, time to mix.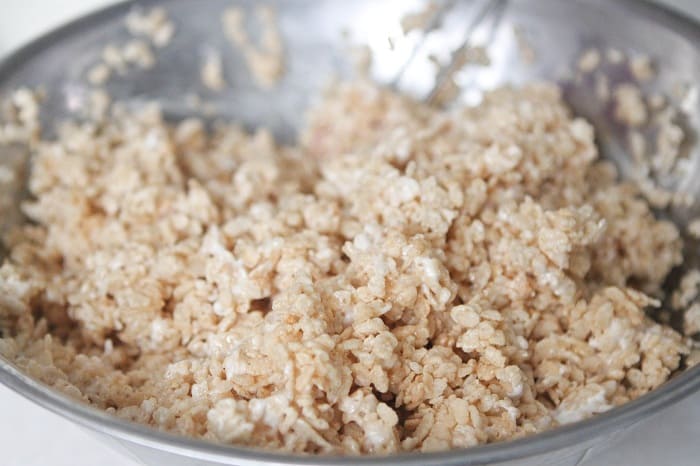 Perfect-o.
Quickly add your kisses. You want them to melt ever so slightly from the warm marshmallows.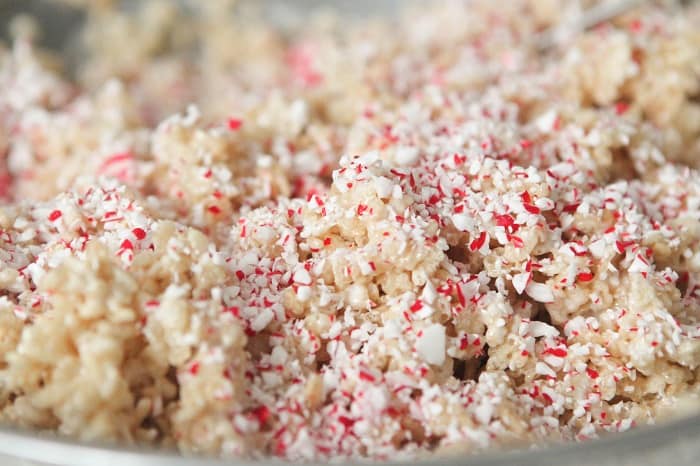 Add your crushed candy cane pieces.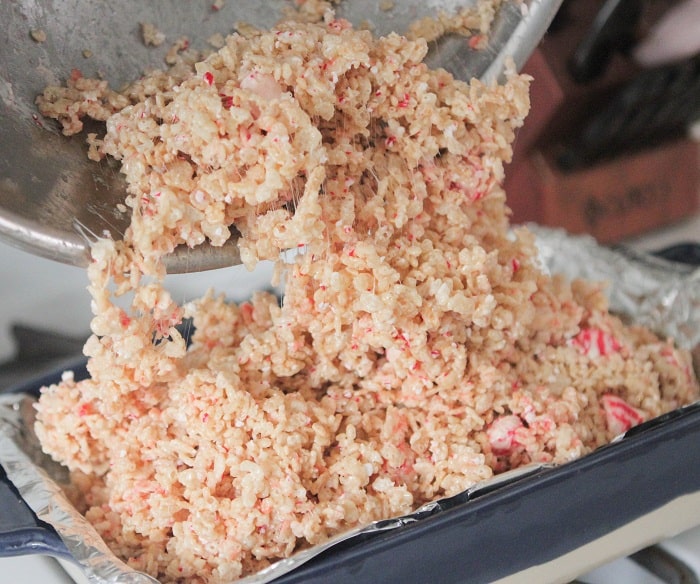 Transfer to your dish.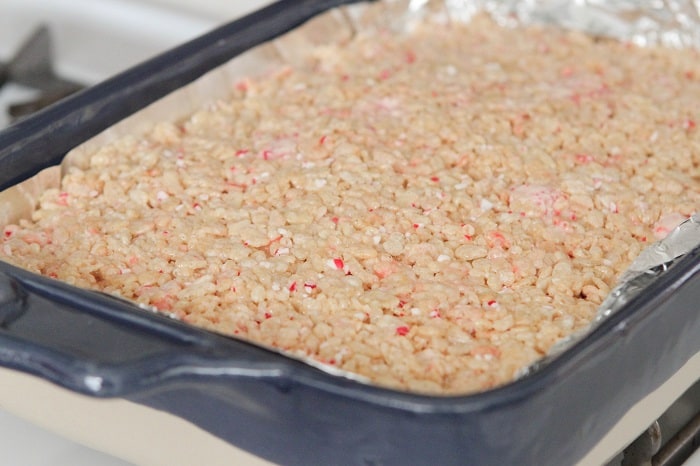 Press until nice and even.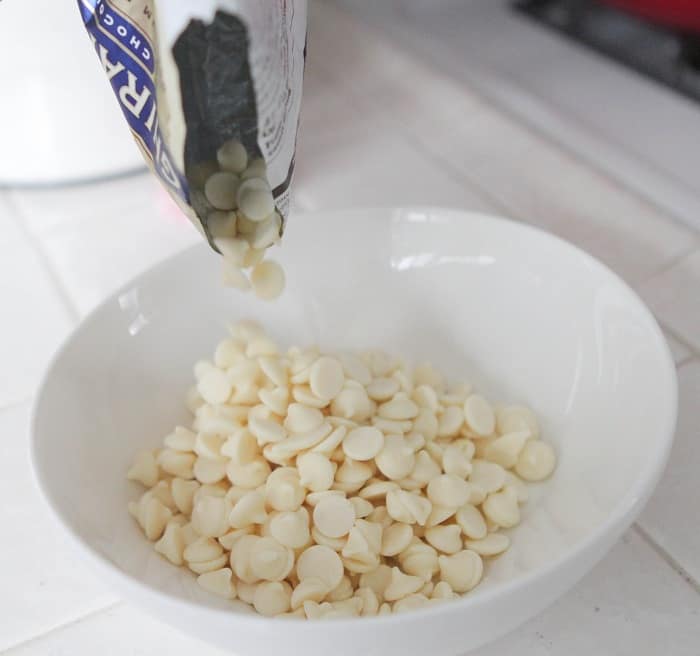 Let's melt the chocolate shall we?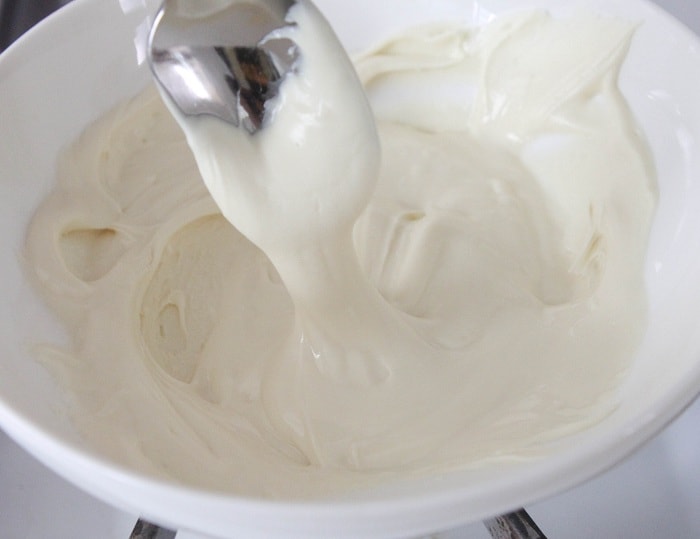 A touch of oil helps smooth it out nicely.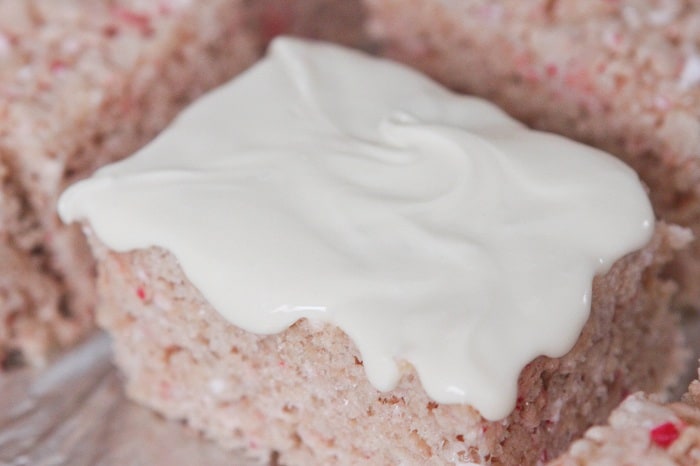 Spoon over your squares, drizzling over the sides. Looks kinda like snow!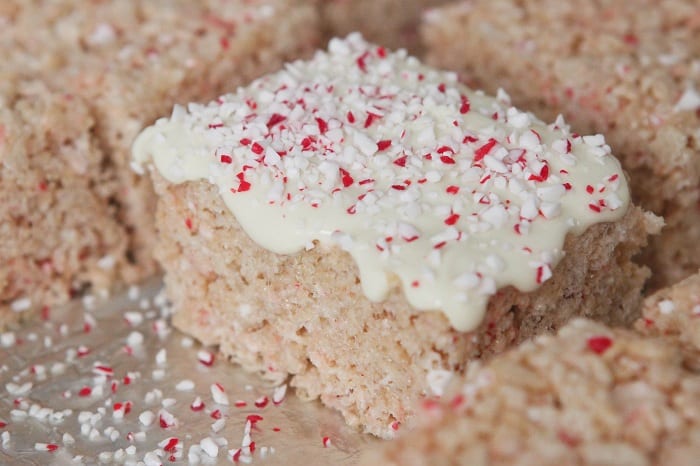 Sprinkle with candy cane pieces and voila' all done!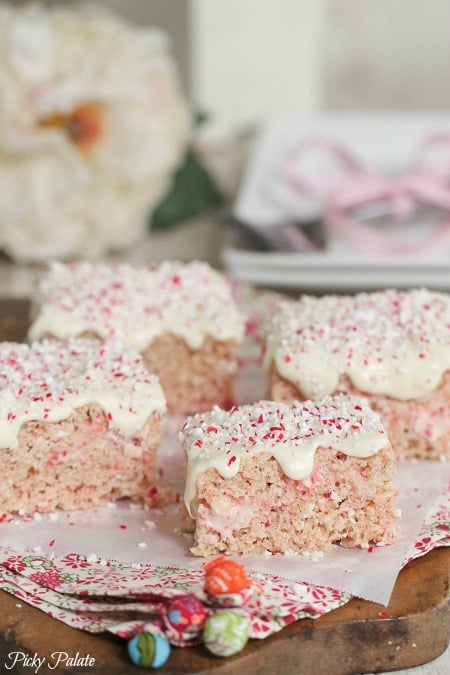 Love!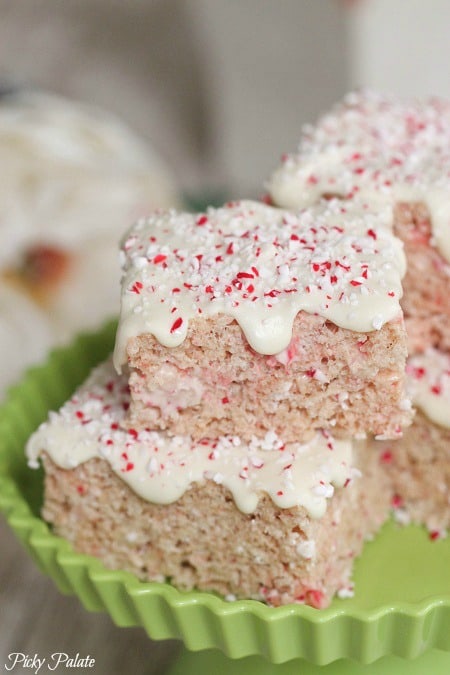 [ziplist]
Candy Cane Crunch Krispie Treats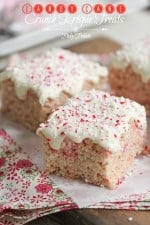 Ingredients
4 Tablespoons

unsalted butter

6 cups

mini marshmallows

13 ounce box

Rice Krispie Cereal

30-40

Candy Cane Hershey's Kisses, unwrapped


1/4 cup

Crushed Candy Canes

2 cups

White Chocolate Chips

2 tablespoons

vegetable or canola oil

3-4 tablespoons

Crushed Candy Canes

AMOUNT

INGREDIENT
Directions
Place foil into a 9×13 inch baking dish and spray generously with cooking spray. Place butter into a large microwavable safe bowl and cook until melted, about 40 seconds depending on your microwave. Remove from microwave and stir in marshmallows to coat in butter. Return to microwave and cook until marshmallows are puffed and melty, about 1-1 1/2 minutes. Remove from microwave and quickly stir in cereal, mixing to combine then stir in unwrapped kisses and candy cane pieces. Stir quickly then transfer to prepared baking dish. Let set up for 1/2 hour then cut into squares.
Place white chips into a microwavable safe bowl or over a double boiler. Heat chips in microwave or over stovetop until melted. Stir in vegetable oil stirring until smooth. Spoon melted chocolate over squares then top with additional crushed candy cane pieces.
Makes 12-16 Servings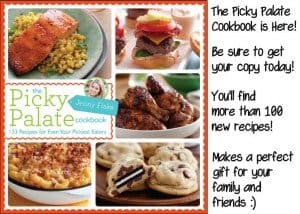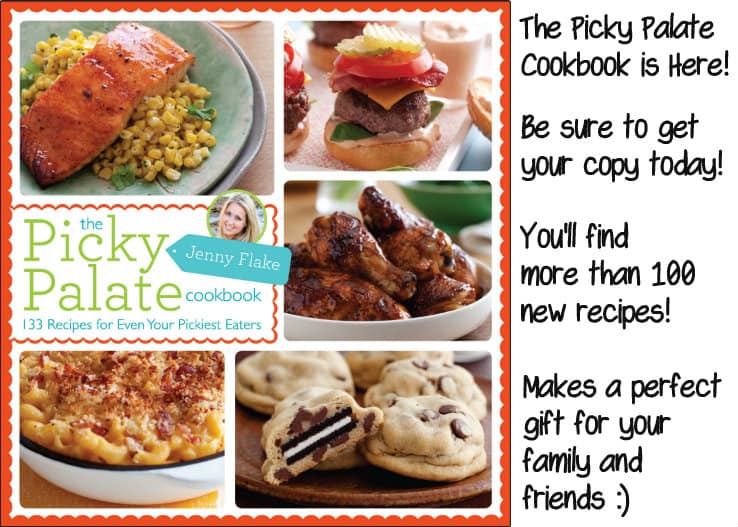 FOLLOW PICKY PALATE ON INSTAGRAM! Show me what recipes you're making from Picky Palate by using #pickypalate.
Other recipes you may enjoy...
Comments