Cap'n Crunch Macarons with Cap'n Crunch Cookie Dough Filling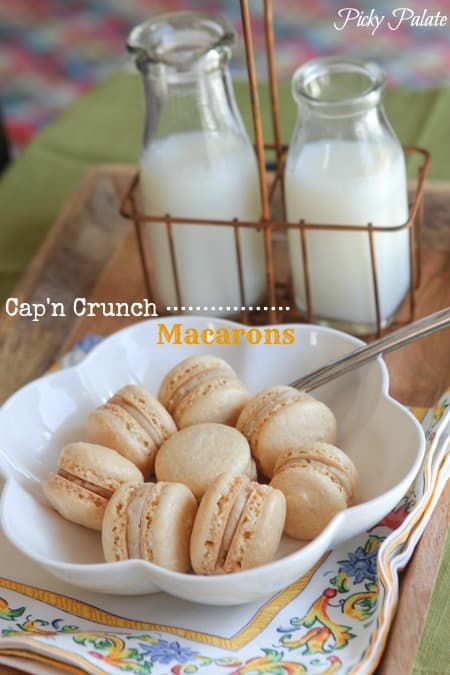 My macaron collection is coming along quite nicely, haha! I couldn't help myself so I made you a Cap'n Crunch Macaron with Cap'n Crunch Cookie Dough Filling. The cookie dough is eggless, so break out your spoon and dig in!
Another macaron from start to finish, done in about 1 hour. For a detailed step by step and full discussion on all of my shortcuts, please see my Cookies and Cream Macaron post.
Hope you are enjoying my macaron series. I am having so much fun creating them for you!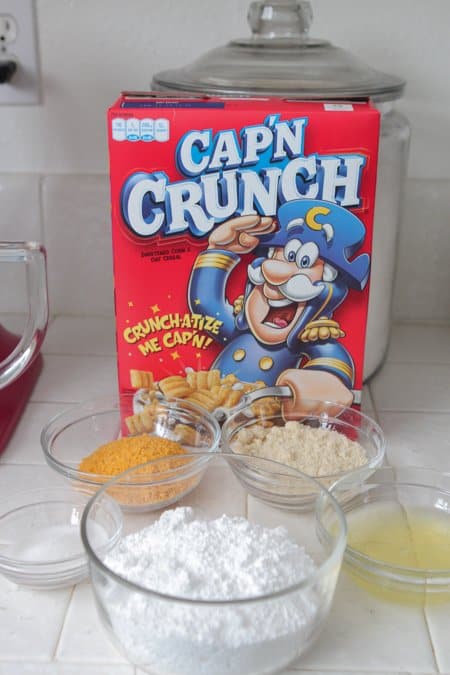 I have already weighed these ingredients out. That's my first requirement for you. Get yourself  a little food scale. The above ingredients are powdered sugar, granulated sugar, egg whites, almond meal and Cap'n Crunch finely ground cereal.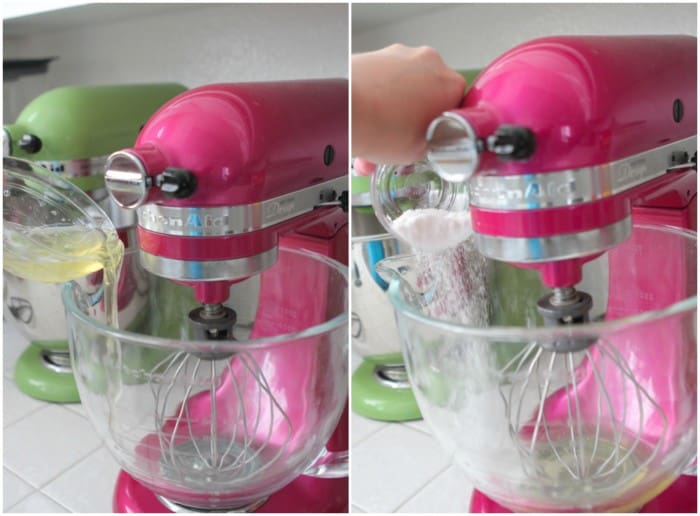 Beat your egg whites and sugar until stiff peaks form.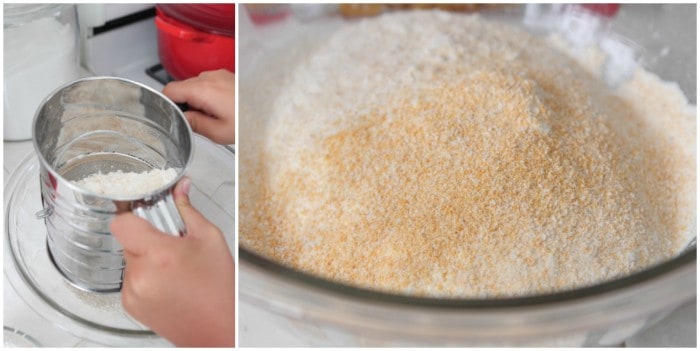 Sift your weighed powdered sugar, almond meal and ground cereal. Did you notice that I have a sifter now?! One of my readers sent it to me in the mail. How sweet is that?!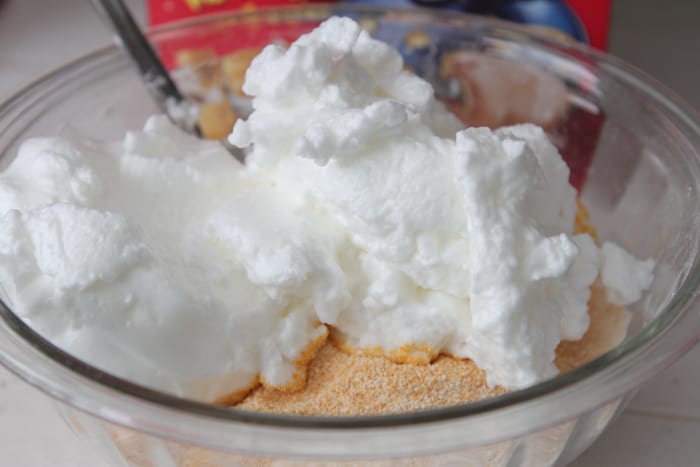 Fold in your egg whites, nice and gentle.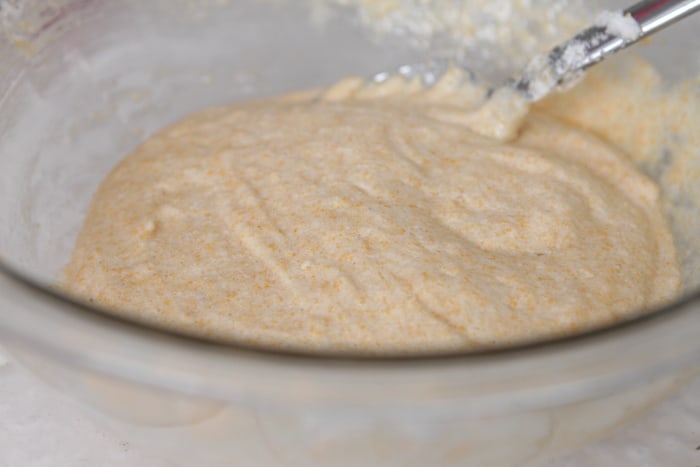 Perfect, now we are ready to pipe them onto our baking sheet.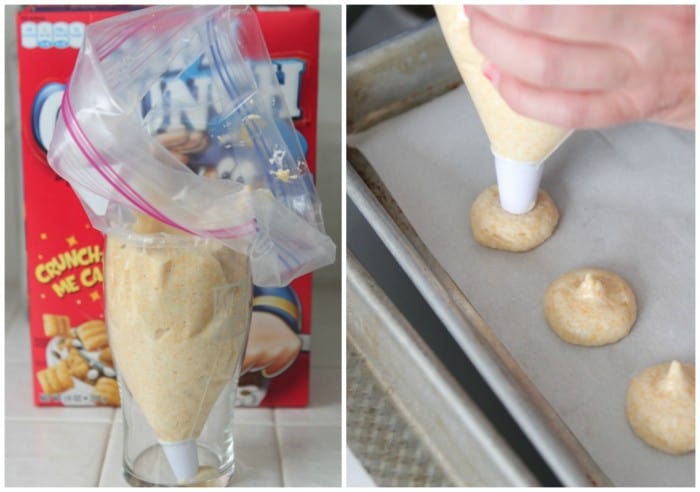 I ran out of piping bags and just use a large gallon size Ziploc bag and cut a little off of one corner so my piping tip fits. Twist the top and start piping.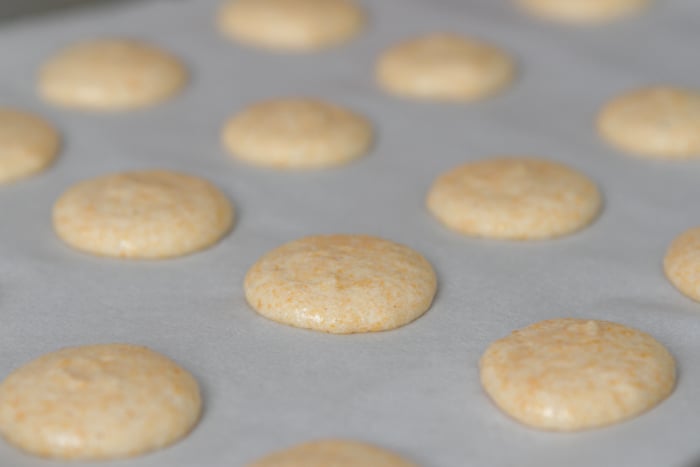 Ready for the oven!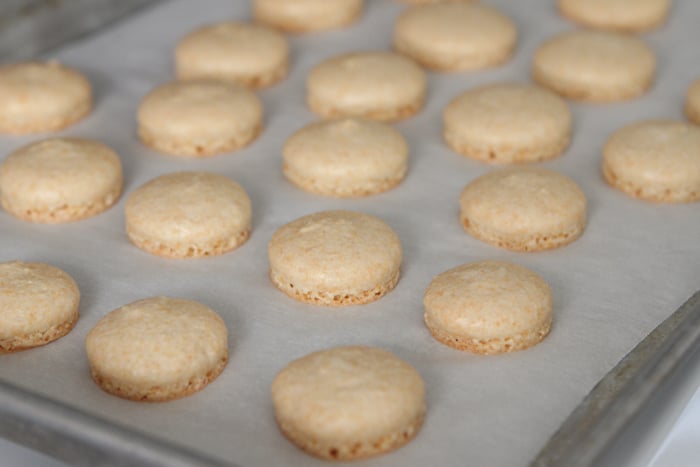 Perfect! Let's make the Cap'n Crunch cookie dough filling.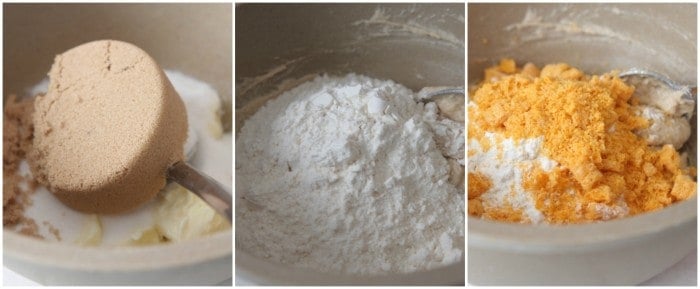 Cream your butter and sugars, add your vanilla then flour, salt and Cap'n Crunch Cereal.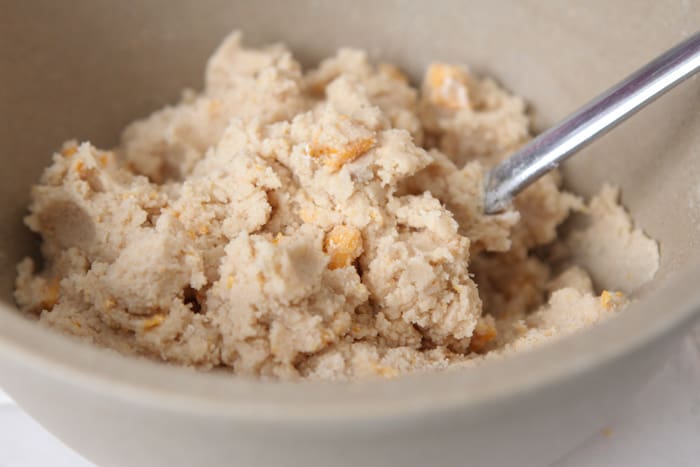 I could have eaten most of this bowl, it's so good.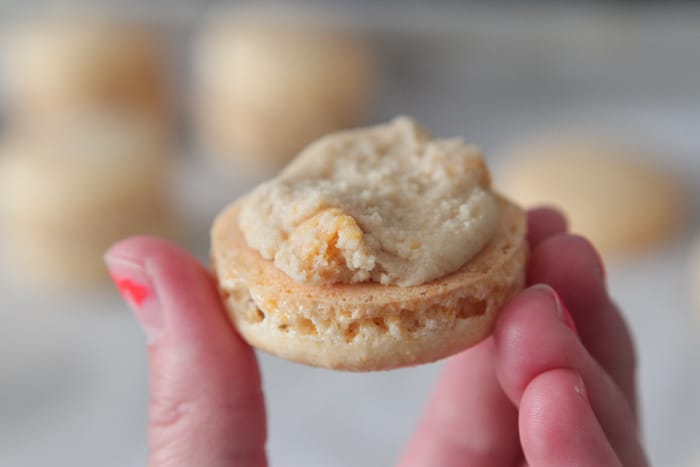 You can either spoon a little dollop of cookie dough onto your macaron or try piping it. I found it easier to pipe with no tip, just the Ziploc bag with a cut off of one corner. I used my fingers to move the dough around, so it's even.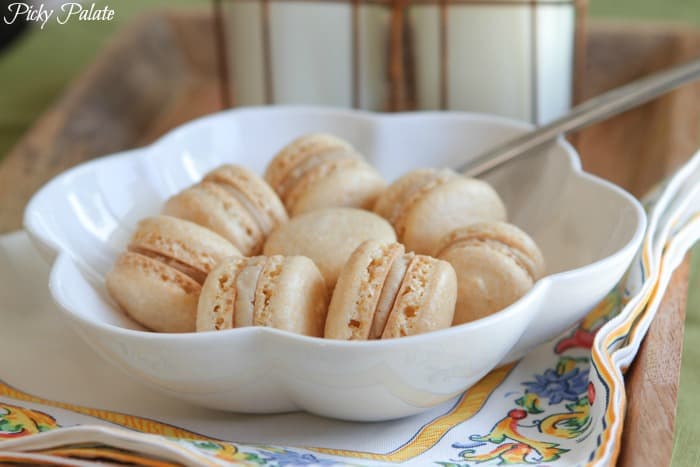 …..and here you have Cap'n Crunch Macarons. Enjoy!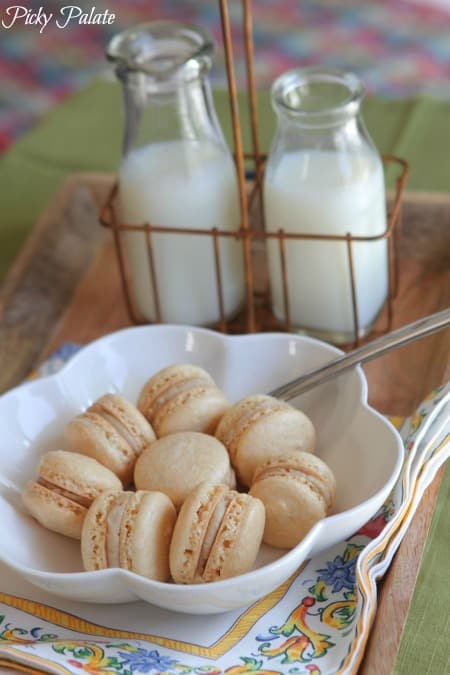 [ziplist]
Cap'n Crunch Macarons with Cap'n Crunch Cookie Dough Filling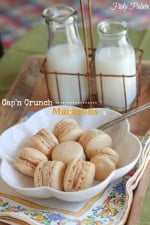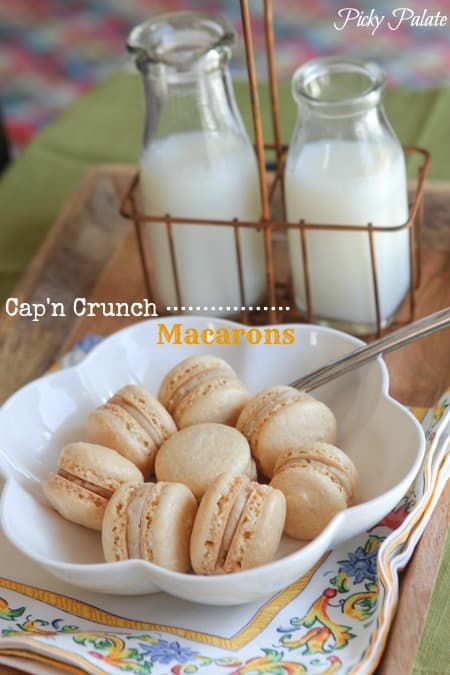 Ingredients
95 grams

egg whites (close to 3 large egg whites)

65 grams

almond meal/flour

200 grams

powdered sugar

25 grams

granulated sugar

45 grams

finely ground up Cap'n Crunch Cereal
Cap'n Crunch Cookie Dough Filling
1 stick

softened unsalted butter

1/2 cup

granulated sugar

1/2 cup

light brown sugar, packed

1/2 teaspoon

pure vanilla extract

3/4 cup

Gold Medal all-purpose flour

1/4 teaspoon

kosher salt

1/2 cup

crushed but not ground Cap'n Crunch Cereal
Directions
Preheat oven to 280 degrees F. and line a large baking sheet with parchment paper. Weigh your egg whites, almond flour, powdered sugar, granulated sugar and ground Cap'n Crunch Cereal on your food scale.
In a stand mixer with the whisk attachment add your weighed out egg whites, and sugar beating on medium speed. Beat on medium-high until stiff peaks form. Takes close to 5 minutes. See pictures for visuals. Set aside for a couple minutes.
Place the powdered sugar, almond flour and cereal into a large mixing bowl. Stir to combine. Place in a sifter or fine sieve and sift until all dry ingredients have passed through. Gently fold in the egg whites to the dry ingredients, mixing only until just combined. See pictures for visuals
Place batter into a large pastry bag with a large round tip attached. Pipe rounds, about 1/2 inch apart onto a parchment lined baking sheet. Give a good tap or two of the pan to remove any bubbles.
Bake macarons for 22-25 minutes. You'll see a shell on top with "feet" around the edges. Let cool completely before removing. Once cooled, take an offset spatula to loosen from parchment. Pair the macarons close in size to each other to prepare for filling.
To prepare eggless Cap'n Crunch Cookie Dough filling, beat softened butter and sugars until creamy and smooth. Stir in vanilla, flour, salt and cereal. If too thick, add a couple teaspoons of milk to loosen.
Place cookie dough into a large ziploc or pastry bag with a large round tip attached and pipe a dollop of frosting on the center of a macaron and top with a second macaron. Make sure your cookie dough is not too thick or it will not pipe out of the bag. I found it easiest to pipe it without a tip on the bag. I used my fingers to maneuver the dough evenly on the macaron. Serve room temperature. Store any remaining macarons in the refrigerator.
Makes 22-24 macarons
Please note that all ovens are very different. These tips and instructions are a reflection from my kitchen and my oven. Play around with my tips but baking time may vary depending on individual oven temps. Good luck and have fun!!
FOLLOW PICKY PALATE ON INSTAGRAM! Show me what recipes you're making from Picky Palate by using #pickypalate.
Other recipes you may enjoy...
Comments