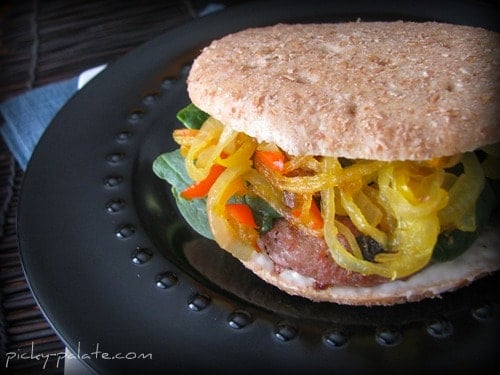 Hey everyone, hope Valentine's Day Weekend was a "sweet" success. We spent the weekend with my family visiting from AZ, had a blast! We saw "Valentine's Day" Saturday night, played at the beach, watched the sunset and ate lots of good food! To top it off, my very sweet husband ordered me a new camera that I can't even wait for it to arrive this week! Really was a great weekend.
We've also got the entire week off for "ski week" around this town. Funny right? Only in Newport Beach! The boys and I will be hanging at Disney most of the week 🙂
So, since we all probably overdosed on chocolate and other sweets over the weekend, I thought I'd share a rather light and very simple lunch and or dinner recipe that you will love! These turkey burgers are such a treat, hope you enjoy.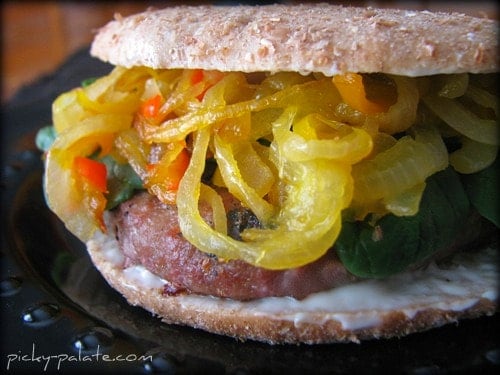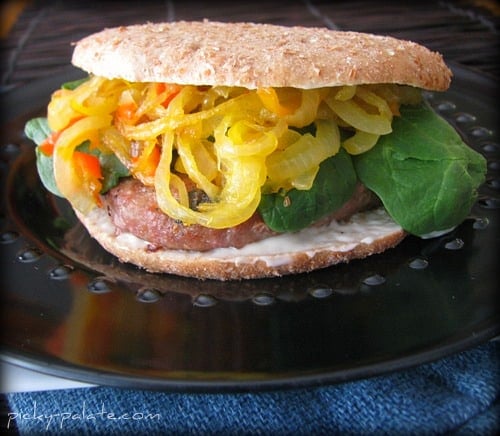 Caramelized Onion and Sweet Pepper Turkey Burgers
2 Tablespoons extra virgin olive oil
1 large onion, thinly sliced
1 Cup chopped sweet peppers (I get the big bag from costco, they are mild and delish)
4 Jenni-O prepared Turkey Burgers, seasoned
Light Mayonnaise
Mustard
4 Orowheat Sandwich Thin Buns
2 Cups fresh Baby Spinach Leaves
1. Preheat grill to medium high heat. Place oil into a large skillet over medium heat. Saute onions and peppers for 7-10 minutes or until softened and golden. Reduce heat to low.
2. Grill turkey burgers until cooked through, about 3 minutes per side depending how thick each burger is. Lightly spread mayonnaise and mustard onto buns and place burgers on bottom bun. Top burgers with spinach and caramelized onions and peppers. Close with top bun and eat!
__________________________________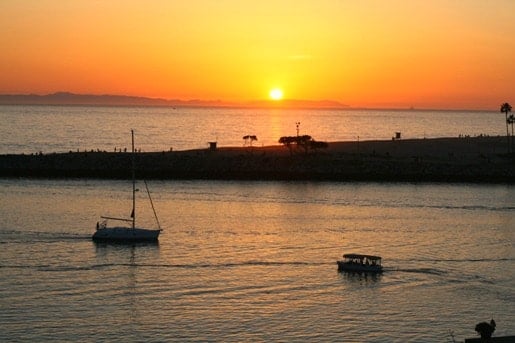 Loved the sunset in Corona Del Mar last night!
Who else saw "Valentine's Day" over the weekend? Thoughts on it? Have a great Monday 🙂