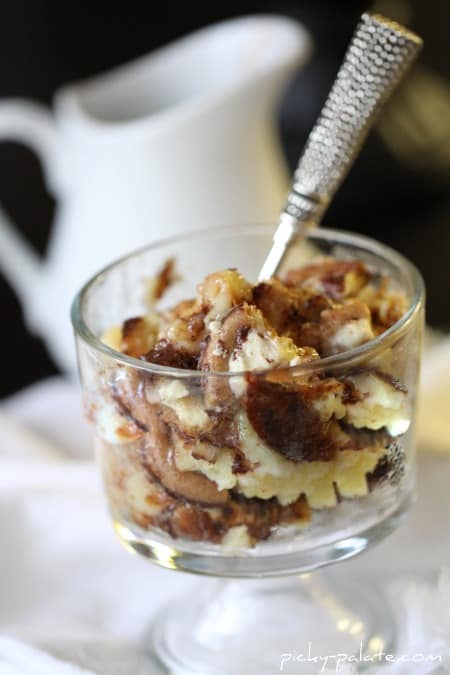 There is nothing I like better than spending a morning with my boys in the kitchen. I created this fun dessert for Snackpicks.com and we've used some of our favorite cookies, the Keebler Cheesecake Middle Graham Cookies all crumbled up on top of the bread pudding. Wait until you dig into this treat. As if it weren't delicious enough, we've added a caramel sauce to top it all off 🙂 Hope you enjoy!
My little guys have helped show us how to prepare this dish below, these photos kill me, lol! I will be sure to show their girlfriends later in life 🙂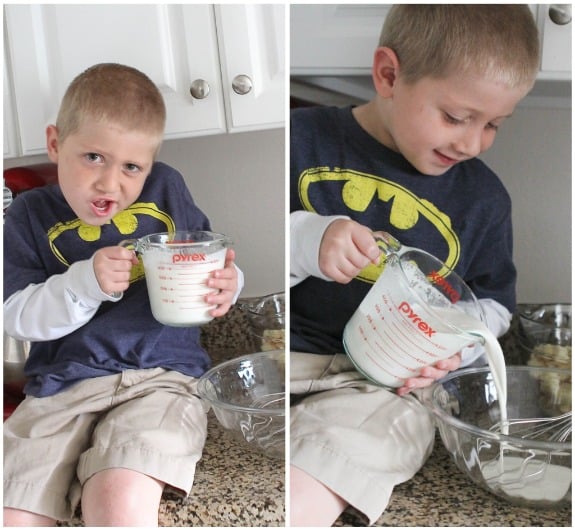 Find a nice big mixing bowl and add your milk, cream and vanilla.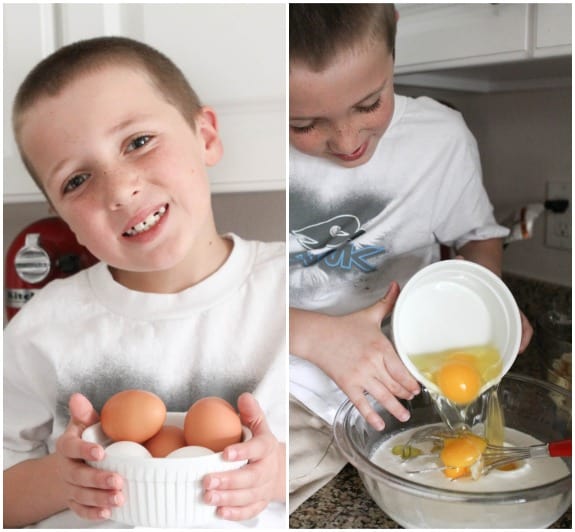 Add your eggs…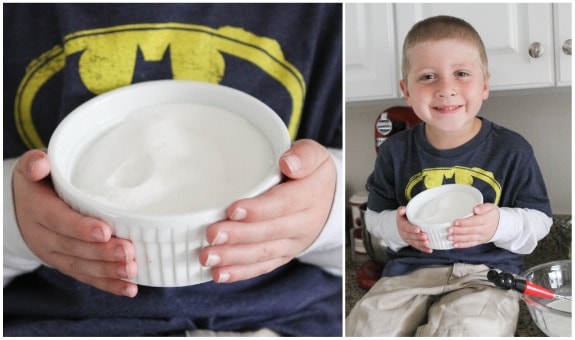 …and the sugar 🙂
Pour everything in the bowl.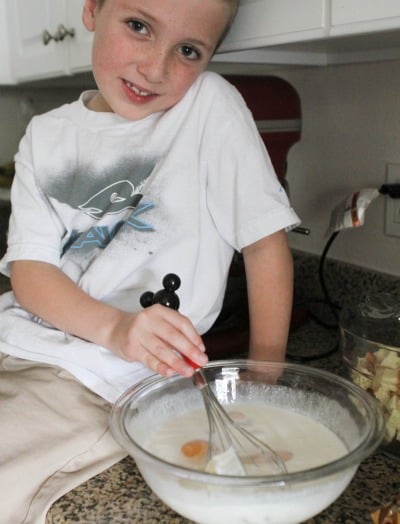 Time for a good whisk to combine.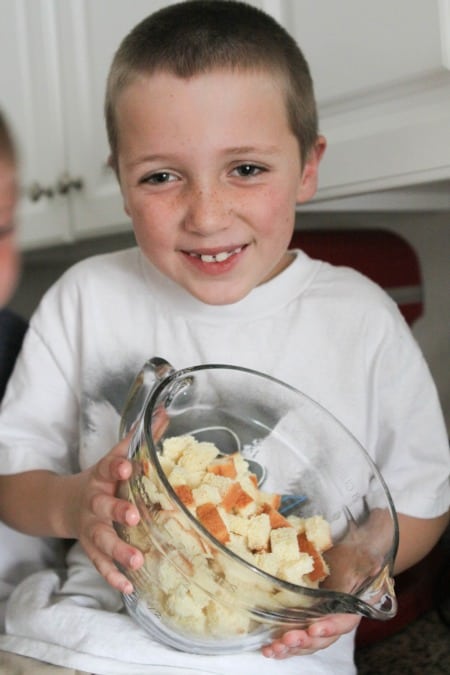 Place your bread cubes into your prepared baking dish.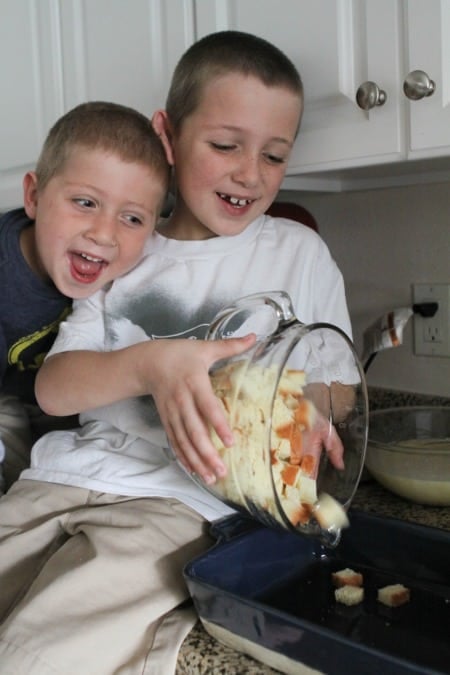 Like so 🙂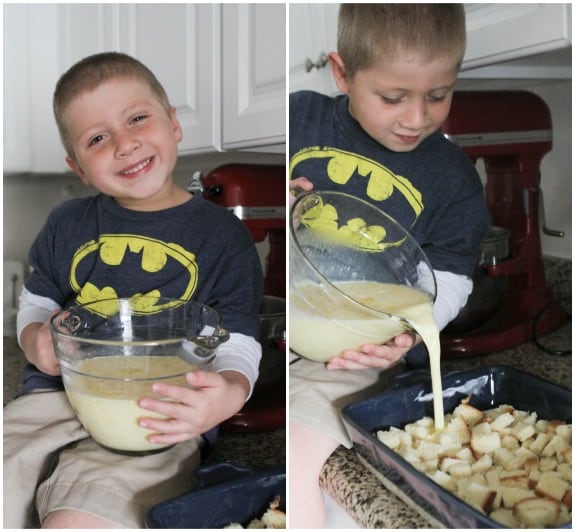 Now pour your egg/cream mixture over your bread.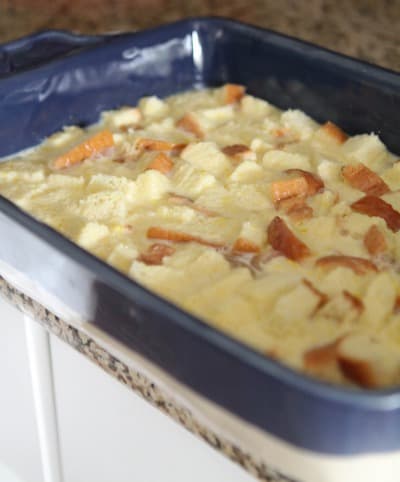 It will look like this.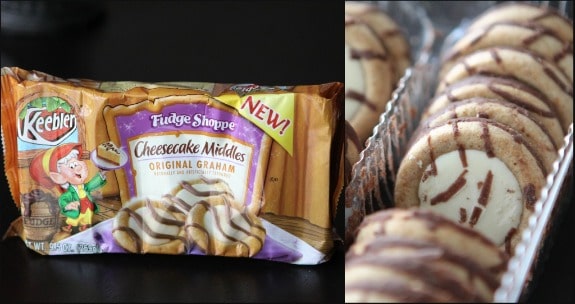 Mmmm, cookies!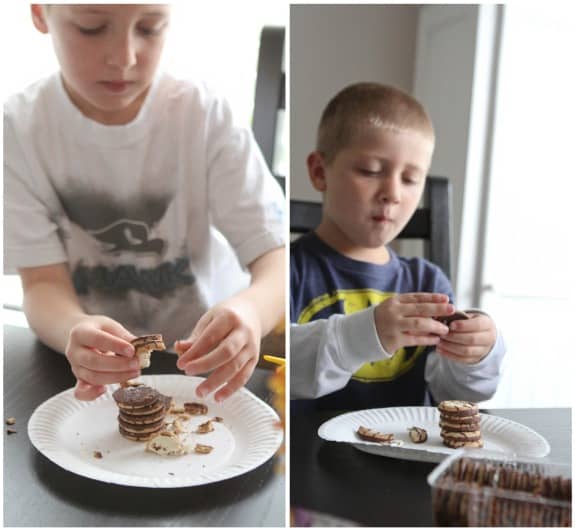 Break up the cookies into little pieces.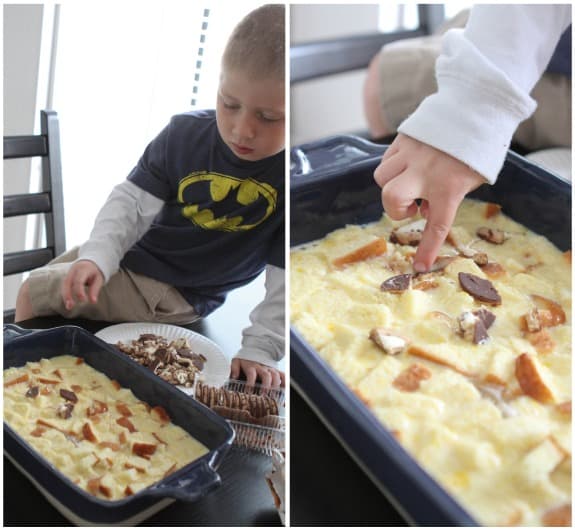 Place right on top of the pudding.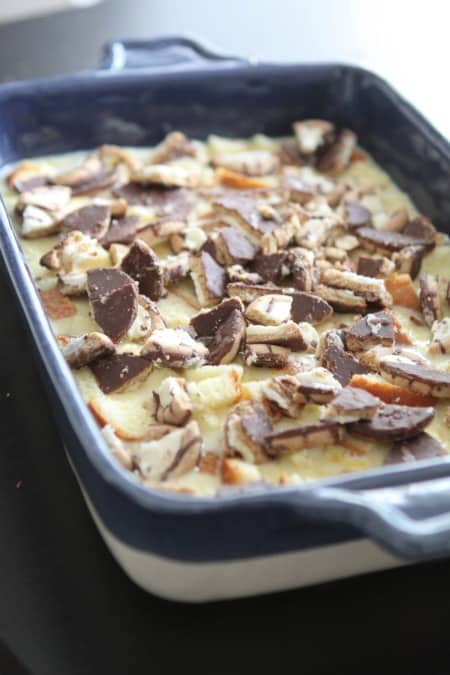 Time to bake.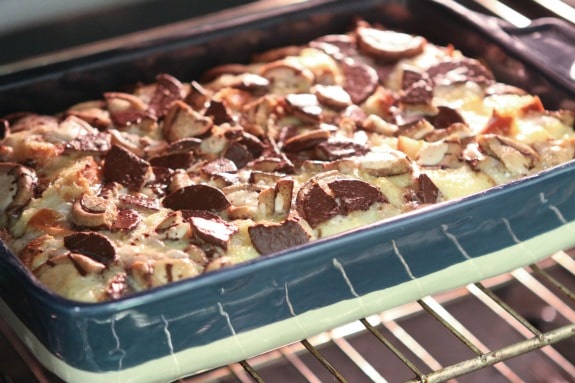 Perfect!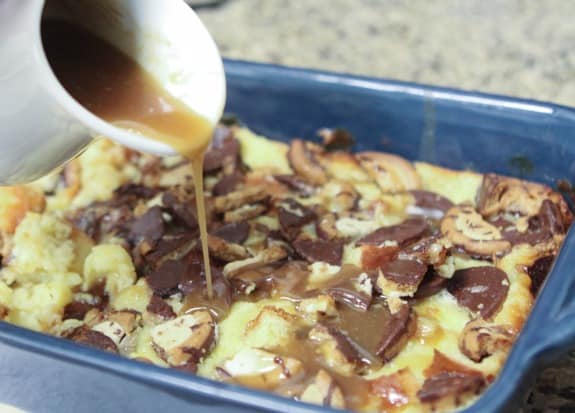 Drizzle your simple caramel sauce over top and time to serve!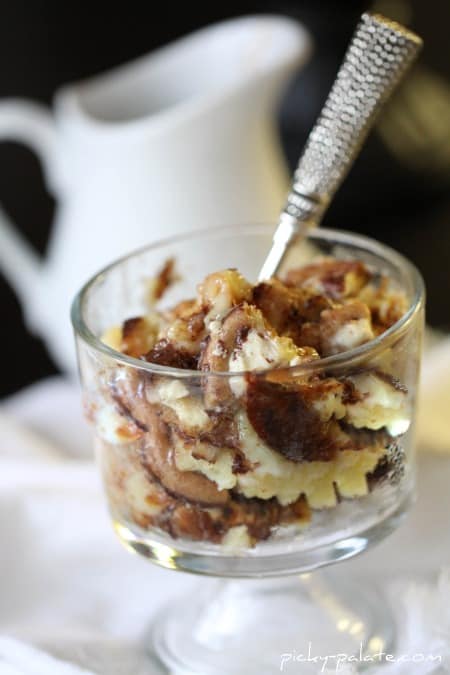 [ziplist]
Cheesecake Cookie Bread Pudding….with Caramel Sauce
1 1/2 Cups granulated sugar
5 large eggs
1 Cup whole milk
1 Cup heavy cream
2 teaspoons pure vanilla
5 Cups Sweet Hawaiian Bread, cut into 1/2 inch cubes
1 package Keebler Cheesecake Middle Graham Cookies
Caramel Sauce
1/2 Cup packed light brown sugar
1 Tablespoon water
2 Tablespoons butter
3 Tablespoons heavy cream
1. Preheat oven to 350 degrees F. Spray a 13 x 9 inch pan with non stick cooking spray. In a large bowl whisk the sugar, eggs, milk, cream and vanilla until well combined. Pour mixture over bread cubes that have been poured into prepared baking dish.
2. Crumble the cheesecake cookies until they are in tiny pieces, they do not have to be perfect. Place crumbled cookies evenly over bread pudding and bake for 35-40 minutes or until set. Remove from oven.
3. To prepare caramel sauce, place brown sugar and water into a small saucepan over medium heat. Stir and let bubble for 5 minutes then stir in butter and heavy cream. Stir until smooth then drizzle over warm bread pudding. Spoon into serving dishes and serve warm.
8 servings
_____________________________
Hope you enjoy! Have a great rest of your week!