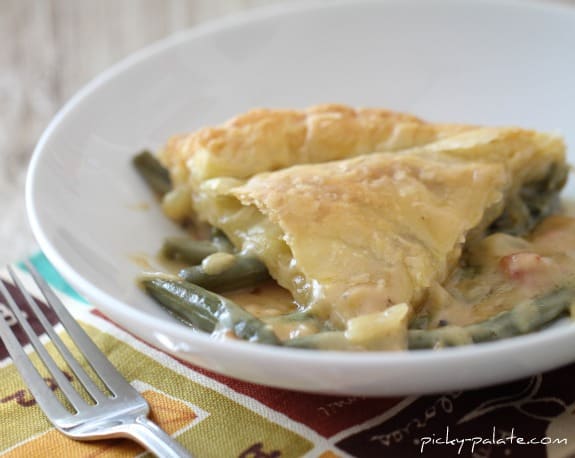 Thanksgiving is just around the corner so I thought I'd share one more killer side dish that will have you licking your pie plate 🙂 Green bean casserole has been around for ages…..and I LOVE it, all versions of it actually. I thought it would be fun to make my green bean casserole into this beautiful buttery puff pasty topped pot pie.
It is sinfully delicious and I hope you enjoy! No worries, I've got a yummy Thanksgiving dessert coming up first thing Monday morning 🙂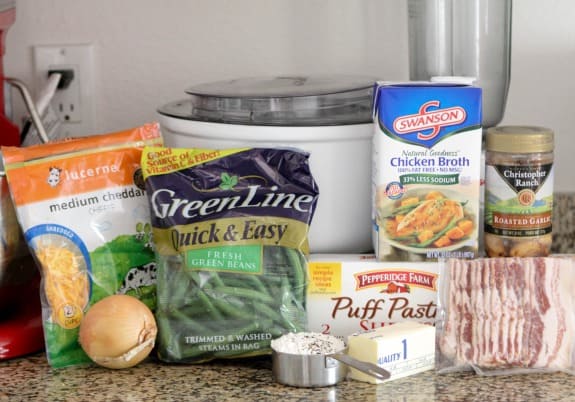 Here's your line-up 🙂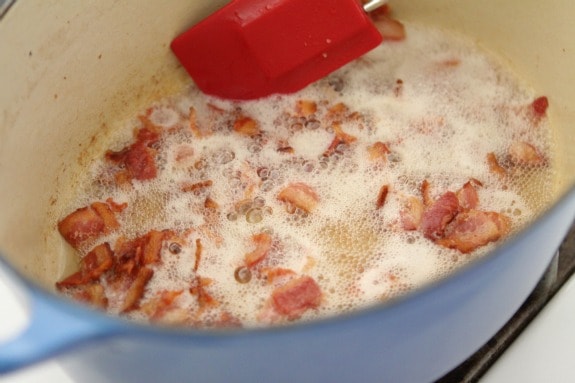 Cook up your bacon, one of the best smells ever!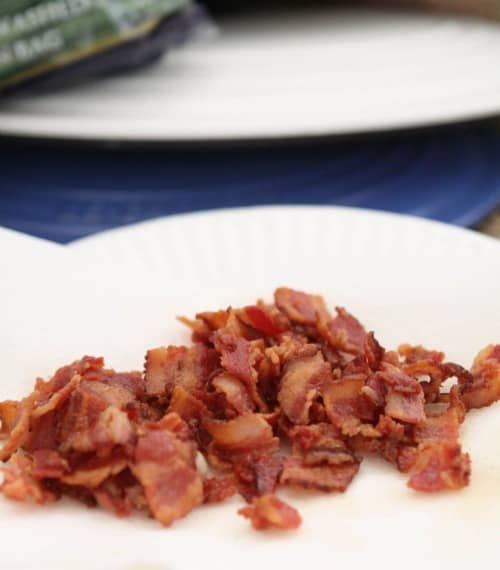 I dare you not to snag a few pieces. I couldn't resist.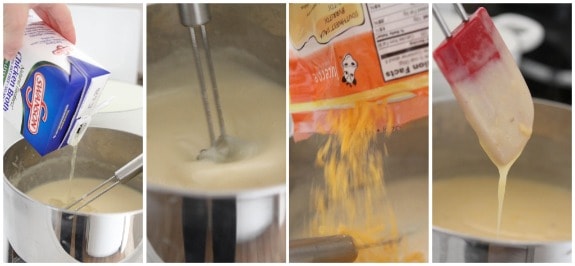 Don't be afraid of the cheese sauce. A little butter, flour, seasonings, chicken broth and cheese. Easy 🙂

I like to boil the fresh beans for a few minutes so they aren't ultra crunchy. Just enough 🙂 Note that you can use 2 cans, (drained) of green beans if you prefer.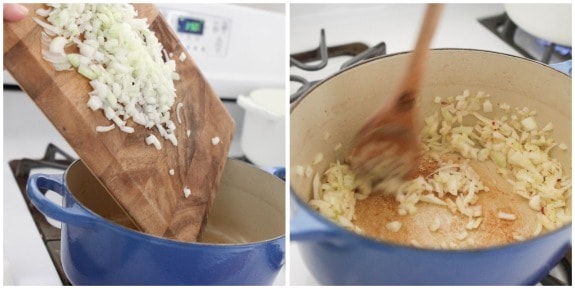 Saute your onions and garlic, mmmm!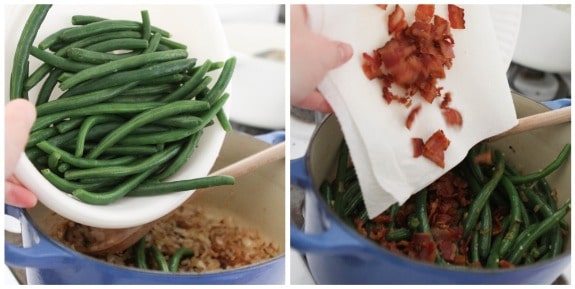 Add your beans and bacon to your onions and garlic 🙂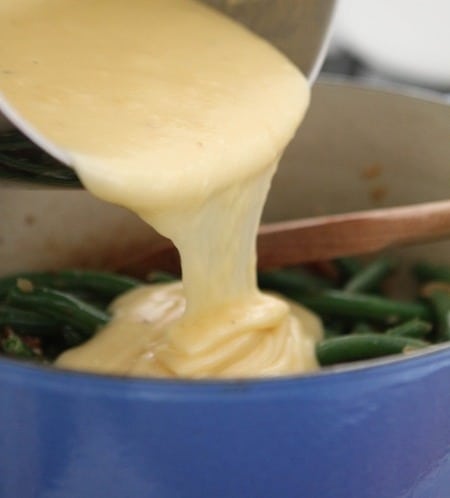 ….and the cheese sauce!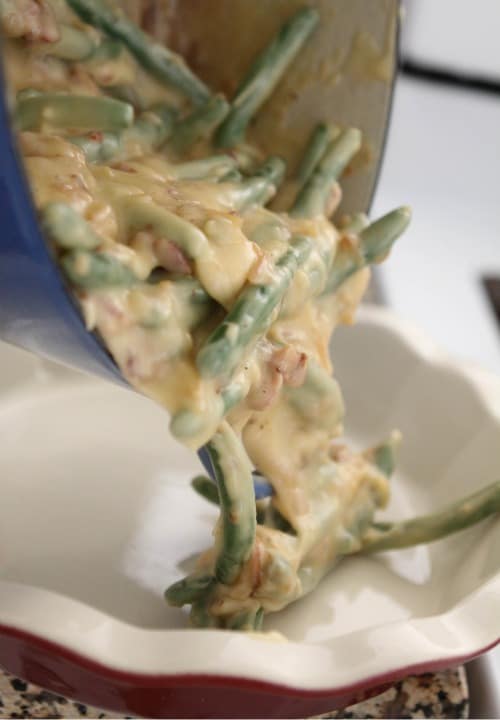 Pour into a nice little pie plate…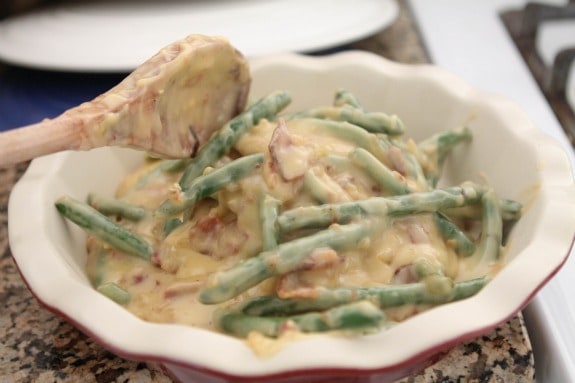 Spread evenly….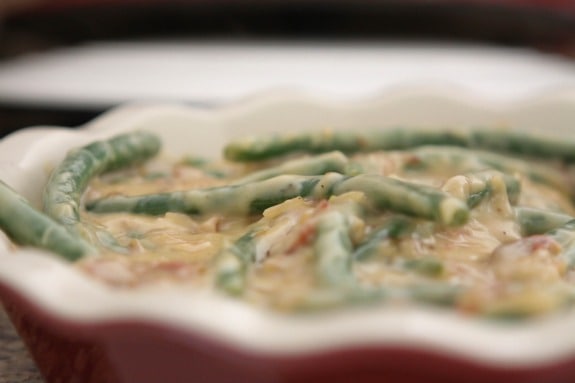 Dip your finger in the cheese sauce for a little taste 🙂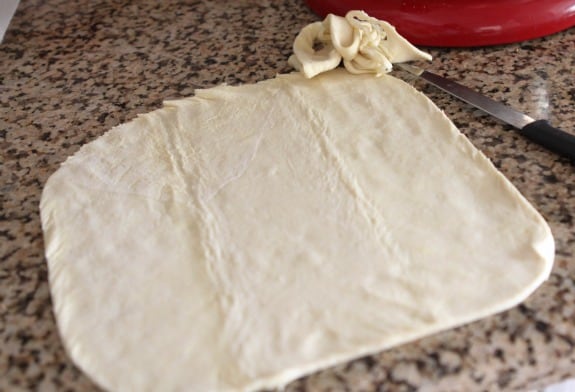 Trim your puff pasty.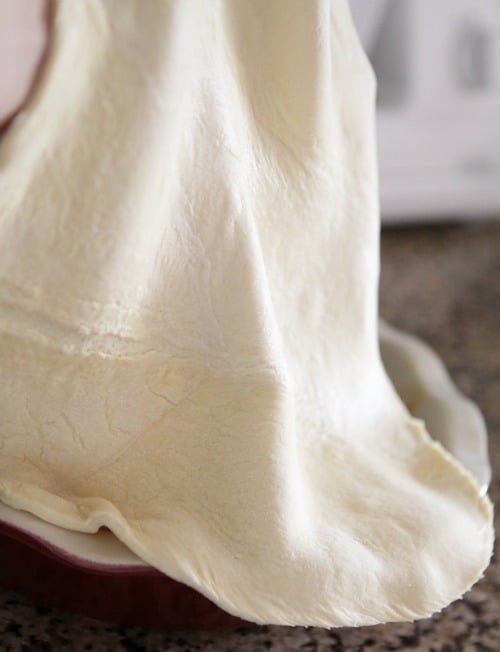 Lay over pie plate.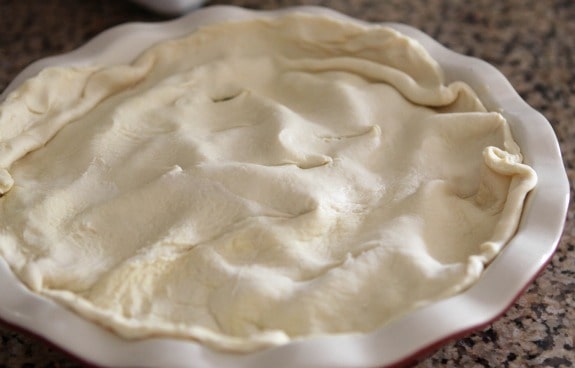 Tuck edges, make a few slits for the steam and time to bake!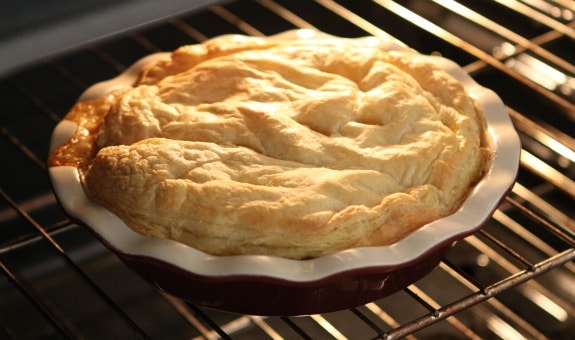 Holy Moly does that look good or what?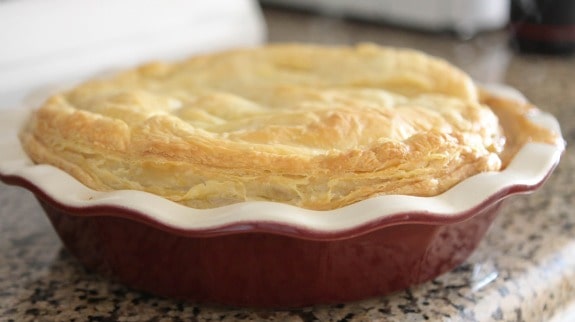 Let cool for about 15 minutes, then dig in!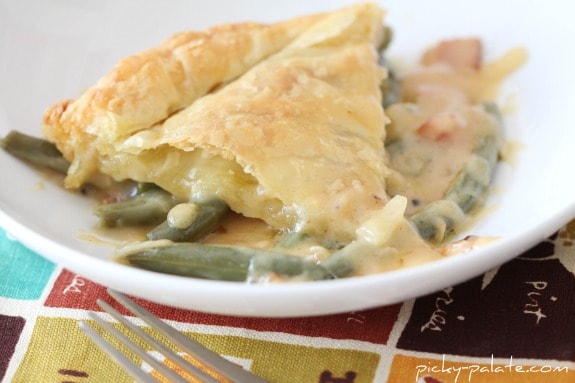 [ziplist]
Cheesy Bacon Green Bean Casserole Pot Pie
1/2 lb bacon sliced into 1/2 inch pieces
1 medium onion, finely chopped
1 Tablespoon fresh minced garlic
12 oz bag of fresh trimmed green beans
1 stick butter
1/2 Cup all purpose flour
1/2 teaspoon kosher salt
1/4 teaspoon fresh cracked pepper
1 1/2 Cups chicken broth
1 1/4 Cups shredded cheddar cheese
1 sheet puff pastry thawed
1. Preheat oven to 350 degrees F. Cook bacon in medium dutch oven over medium heat until browned and crisped. Transfer bacon to a paper towel lined plate then discard all but 2 Tablespoons of bacon drippings. Saute onions in remaining bacon drippings until softened, about 5 minutes, stir in garlic and cook for a minute. Reduce heat to low. Boil green beans in pot for 5 minutes, until just fork tender. Transfer beans to a ice water bath. Add beans to onions and garlic along with the crisped bacon.
2. To make sauce melt butter in a medium saucepan over medium heat. Whisk in flour, salt and pepper until well combined then whisk in chicken broth until thick and creamy, for about 3-4 minutes. Once hot and creamy stir in shredded cheese until melted. Pour cheese sauce over beans then transfer to a 9 inch pie plate. Trim square puff pastry edges to more of a round (does not have to be perfect). Lay puff pastry over beans, folding edges under. Cut 4-5 slits to allow for steam to escape. Bake for 35-40 minutes or until puff pastry is nice and golden. Let cool for 15 minutes before slicing into.
6-8 servings
___________________________________
Have a great rest of your week and weekend! See you soon 🙂