This Cheesy Garlic Toast Pull Apart Bread makes the perfect side for pasta night! Cheesy fantastic!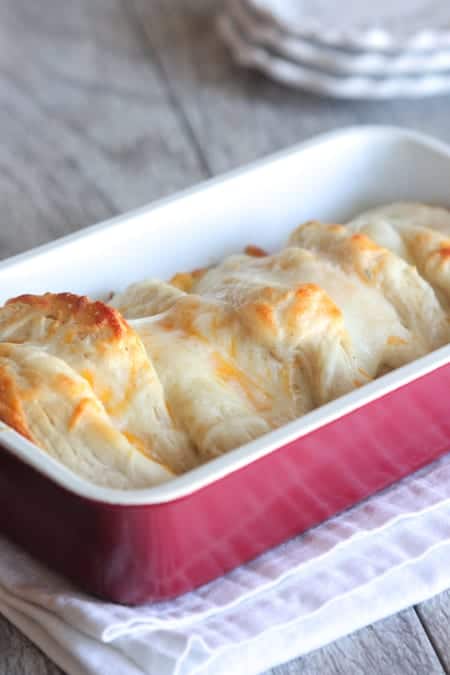 I don't know what it is, but garlic, cheese and carbs….so good right?! A naughty recipe today, but if you are looking for a perfect side for your pasta night, I've got just what you need. Let's take a look below.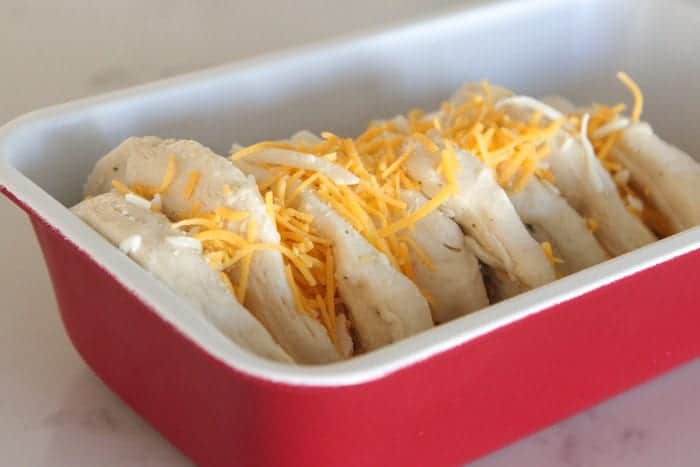 You are going to use Pillsbury's Buttermilk Biscuits. Unroll them from the package and press them until about 4 inches round. Season both sides with Lawry's Garlic Salt and press/hold cheese on both sides and transfer to a loaf pan. You'll continue layering with cheese and biscuits until all 8 are lined up.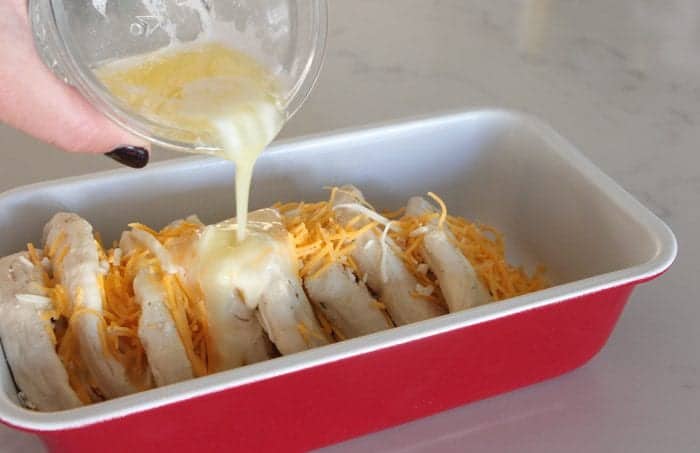 Drizzle with some melted butter. I mean, it is "garlic toast" and all 🙂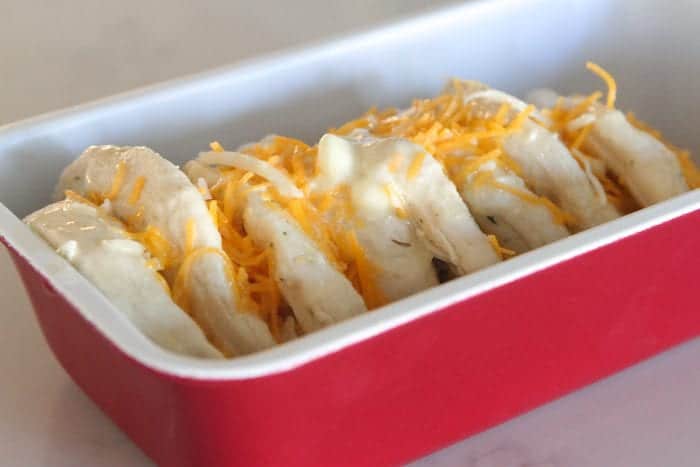 Beautiful. Makes me want to just eat the raw biscuits, ha!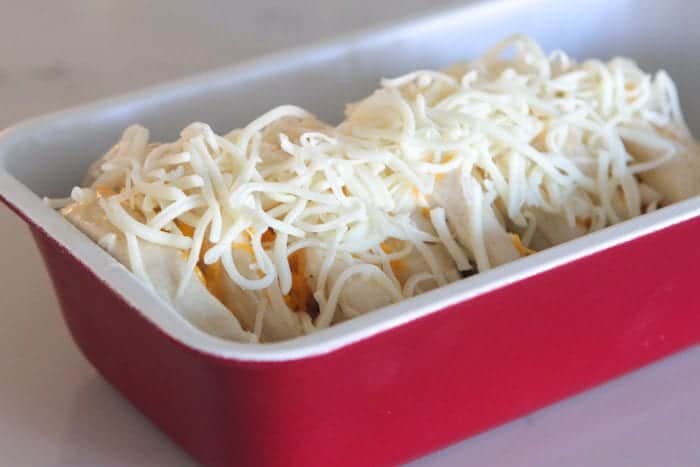 Top with more cheese and it's time to bake! 350 degrees F. for 18-15 minutes, until baked through.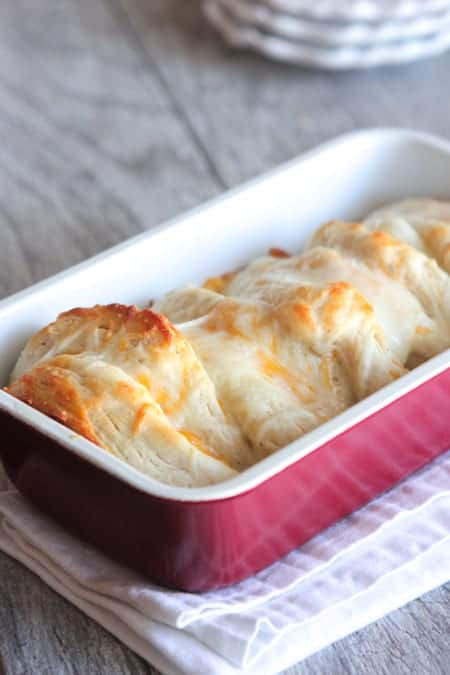 How gorgeous is this?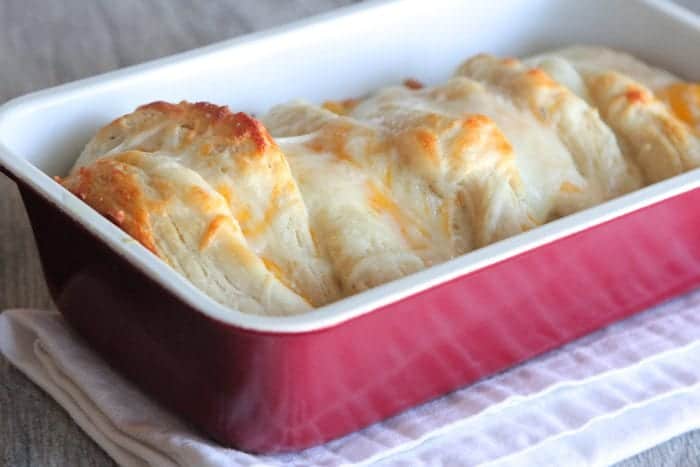 Once it's cooled enough to touch, I transfer the whole loaf to a little serving tray and let the kids pull their own pieces. They love it.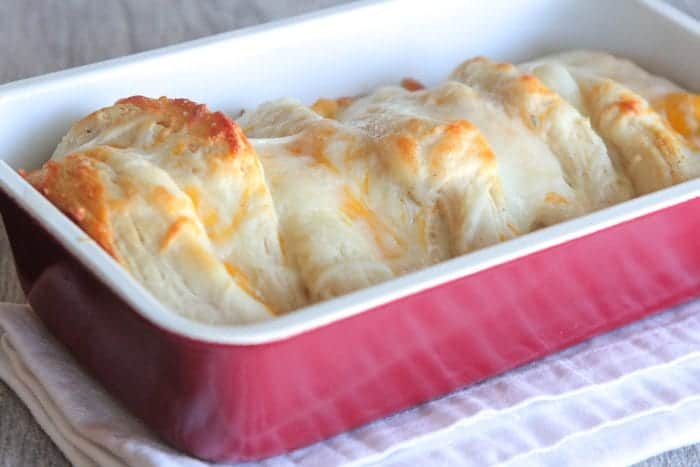 Try serving it with a side of warm pizza or marinara sauce too. So good! Enjoy!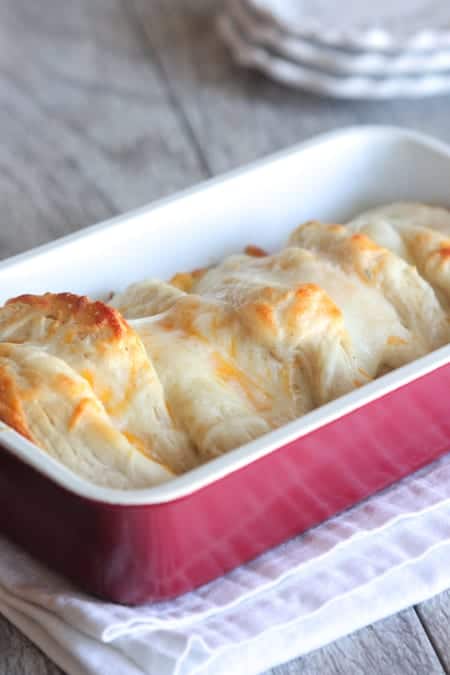 [ziplist]
Cheesy Garlic Toast Pull Apart Bread
[post_thumbnail]Prep time: 10 min | Cook time: 15 min | Total time: 25 min
Ingredients
1 can

refrigerated buttermilk biscuits, 8 count

1/2 teaspoon

Lawry's Garlic Salt

1 cup

shredded cheddar cheese

1 cup

shredded mozzarella cheese

4 tablespoons

unsalted butter, melted
Directions
Preheat oven to 350 degrees F. and lightly spray a small-regular size loaf pan with cooking spray.
Unroll biscuits and press each biscuit to 4 inch rounds. Season each side of biscuits lightly with garlic salt and press and hold cheese onto each side of biscuit. Some falls off, just hold it together with hands and transfer it to loaf pan, standing on it's side. Continue stacking biscuits layered with cheese in between each layer into loaf pan. Drizzle tops with melted cheese and top with more cheese.
Bake for 15 minutes or until golden and cooked through. Remove and let cool 5 minutes before serving. To serve, transfer to a serving plate and pull pieces of bread as needed.
Makes 8 Servings
Pin to your favorite recipe board!