One of the best part about summer is enjoying cool summer salads. Don't think I am crazy now, this one is really good and is so great to have in the refrigerator to snack on throughout the day.
I love quinoa and it's great in this recipe but you can substitute couscous if you'd like. This salad is dressed in a light lemon dressing that is perfect on about any salad. I use it all of the time. I have added peppers, broccoli, chicken and avocado, but the sky's the limit, use whatever vegetables or meat you have in the refrigerator.
Hope you enjoy!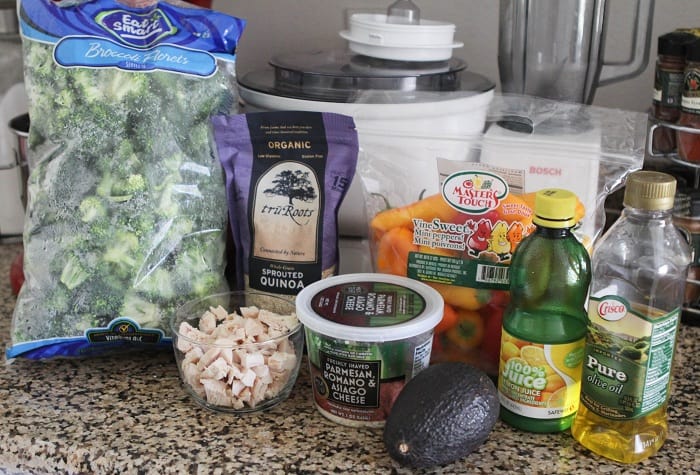 Here's my line-up of ingredients: broccoli florets (no you don't use the entire bag you see :), cooked chicken, quinoa, parmesan cheese, sweet peppers, avocado, lemon juice (I usually have fresh lemons and prefer them, but when you are out, the bottled stuff works too), and olive oil.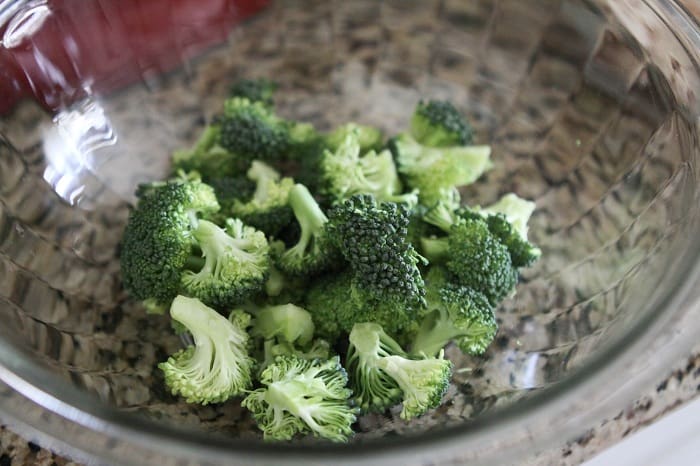 Start with some nice broccoli florets.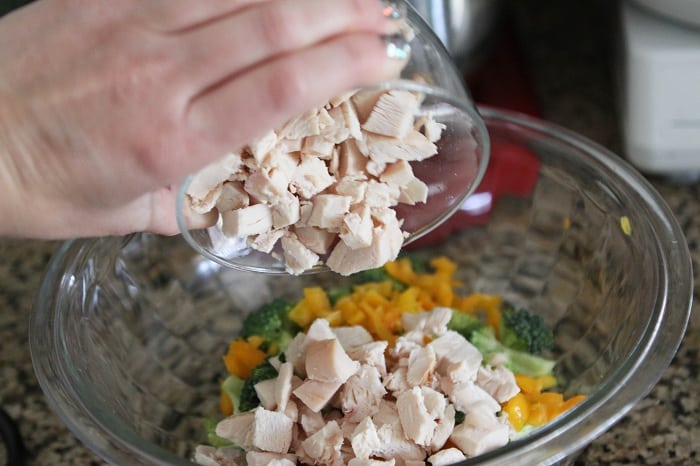 Add your sweet peppers and cooked chicken.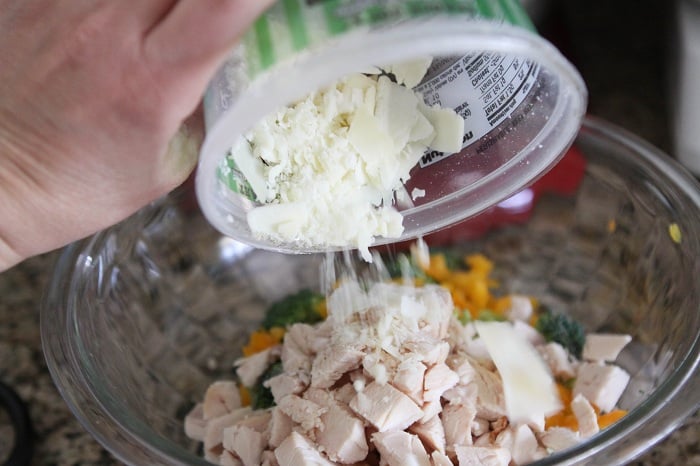 Add a touch of Parmesan cheese.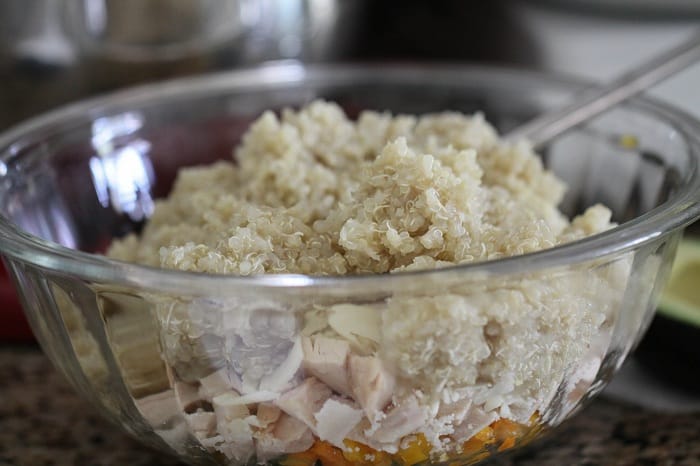 Add your cooled cooked quinoa.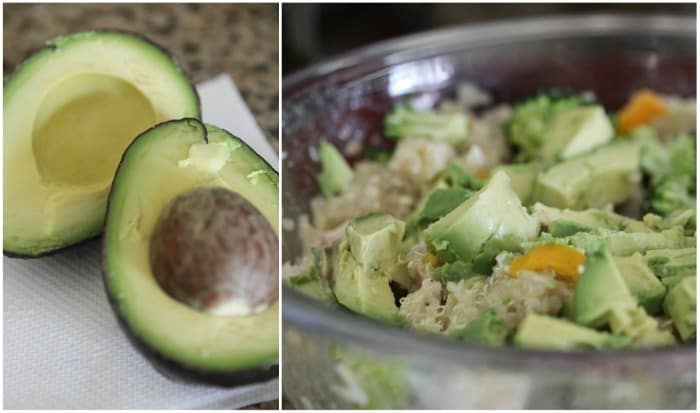 Dice up a ripe avocado.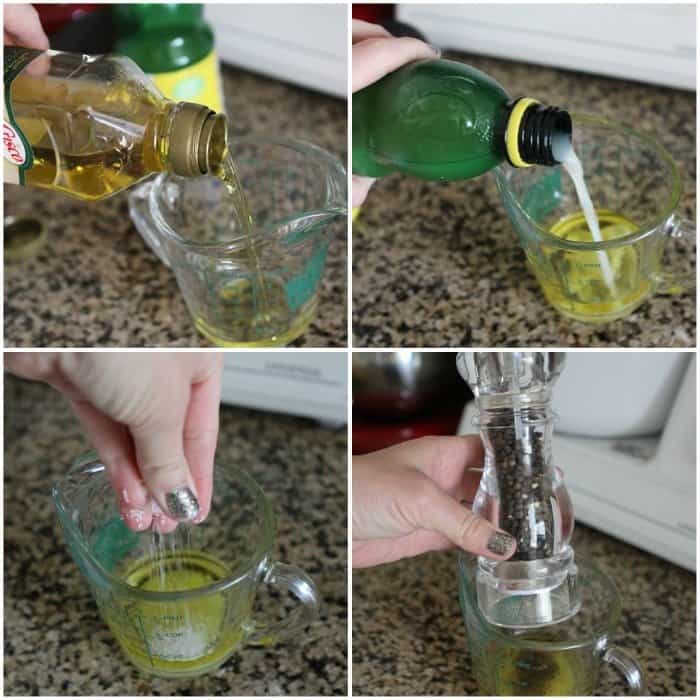 Whisk together your dressing ingredients, pour over salad and gently stir to combine. Refrigerate until ready to serve.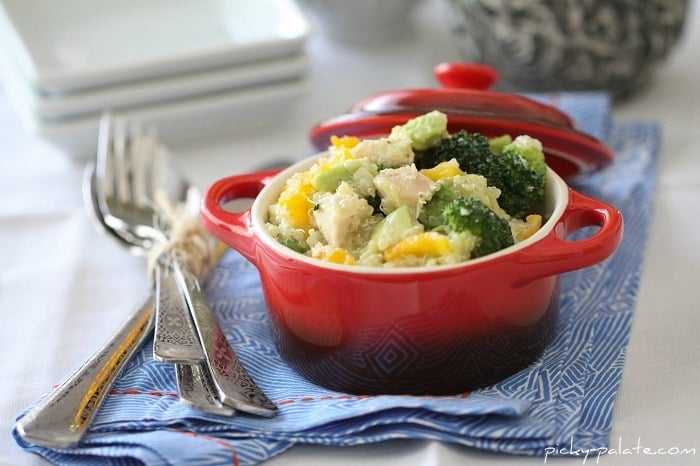 How pretty is that? It's equally as refreshing and delicious. Enjoy!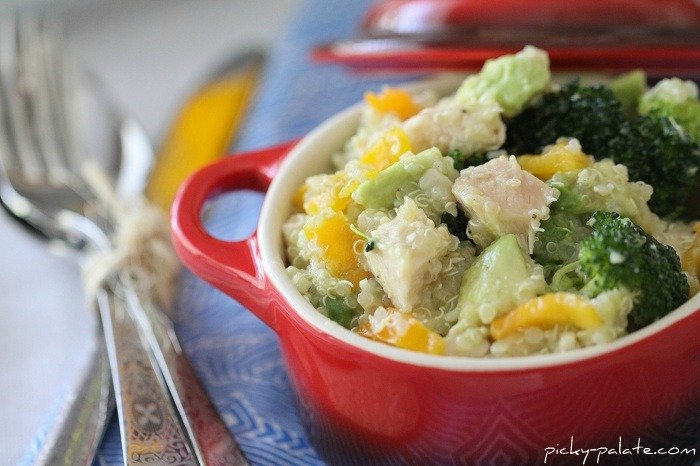 [ziplist]
Chicken and Avocado Quinoa Summer Salad
2 cups uncooked quinoa, rinsed and drained
2 cups broccoli florets
2 cups cooked, cubed chicken breast
1/2 cup diced yellow or red sweet peppers or bell peppers
1/4 cup fresh parmesan cheese
1/4 cup extra virgin olive oil
1 1/2 tablespoons lemon juice
1 teaspoon kosher salt
1/2 teaspoon freshly ground black pepper
1 avocado, diced
1. Cook quinoa according to package directions. Transfer to a large bowl, stirring every 5 minutes to break up. Let cool for 15 minutes.
2. Place broccoli, chicken, peppers, and parmesan cheese into a large bowl. Add quinoa and stir to combine.
3. To prepare dressing, place olive oil, lemon juice, salt and pepper into a medium bowl, whisking to combine. Pour over quinoa, stirring then gently stir in cubed avocado.
4. Refrigerate until ready to serve.
Makes 8 servings
___________________________
Have a great new week, come back soon!