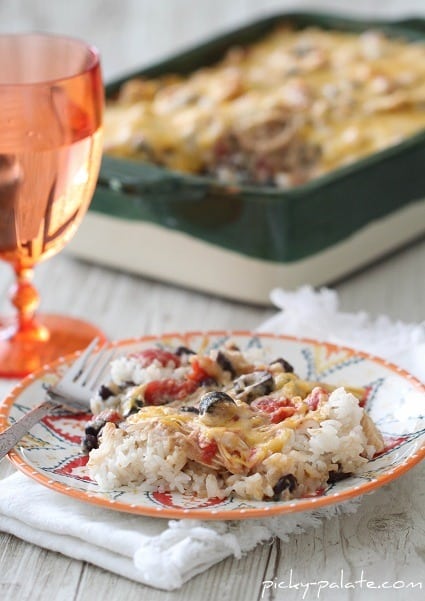 Simple dinners are a must during the busy weeknights, so I developed this speedy chicken and black bean green enchilada rice bake. Try saying that 3 times fast! Lol 🙂 Check your pantry, chances are you will have just about everything to make this for dinner tonight without going to the grocery store.
Next time you bake or crock pot chicken breast, do yourself a favor and make double the amount and freeze half for another dinner. You'll be so glad you did.
Make sure you check out my Creamy Peanut Butter Chocolate Chip Tart that I developed for Kraft!
Take a peek at how quick dinner will be with my simple recipe, hope you enjoy!!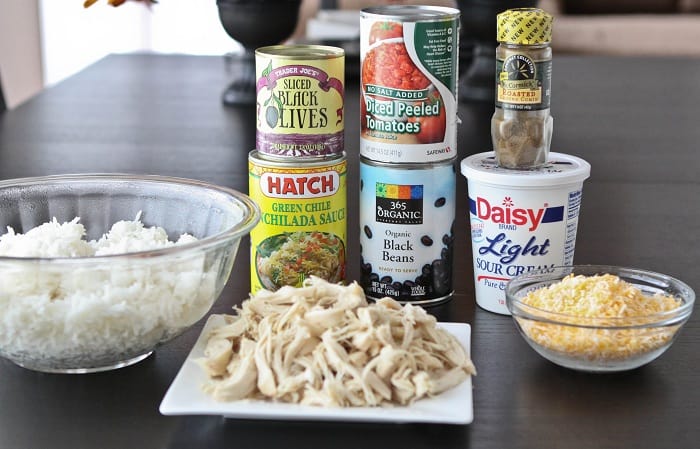 Here's your line-up of ingredients…left: rice, olives, green enchilada sauce, chicken, tomatoes, black beans, cumin, sour cream and cheese.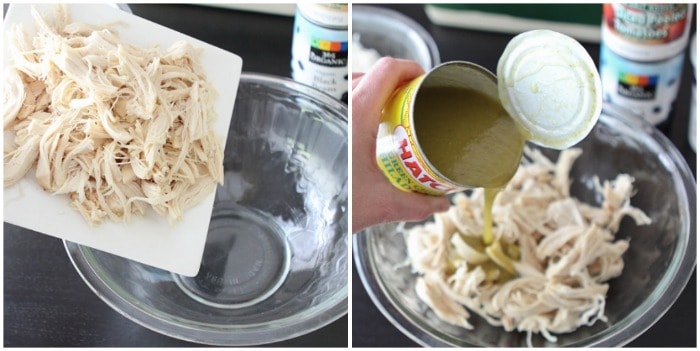 Place your chicken into a large bowl and add the green enchilada sauce.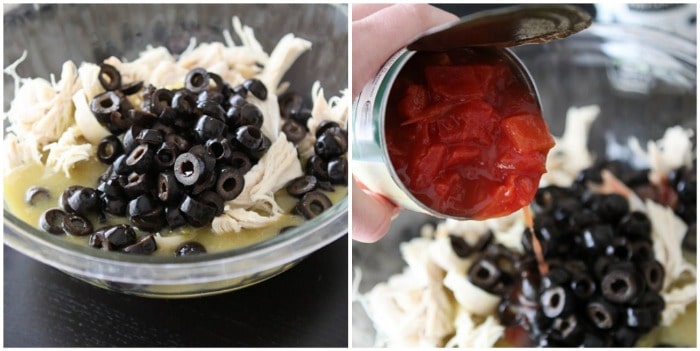 Add your sliced olives and diced tomatoes.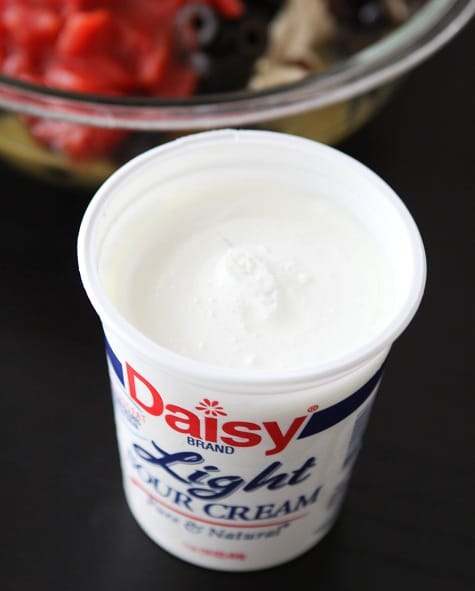 Add 1/2 Cup sour cream.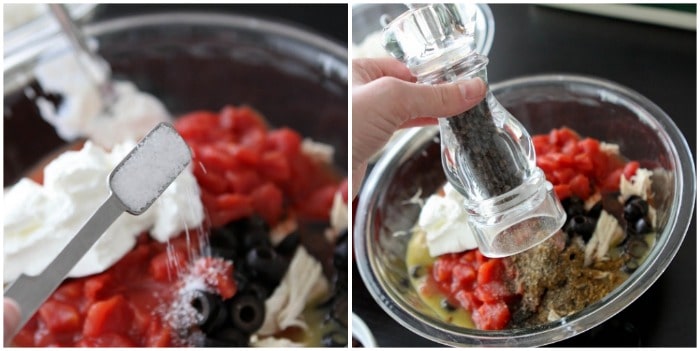 A little salt and pepper.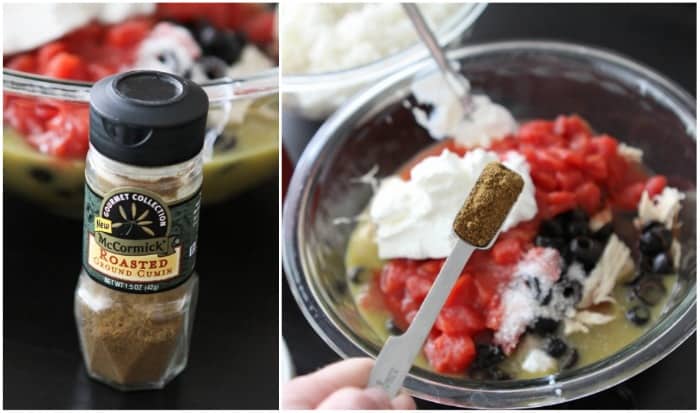 McCormick Gourmet has an incredible Roasted Cumin you must try. Love it in my Mexican recipes.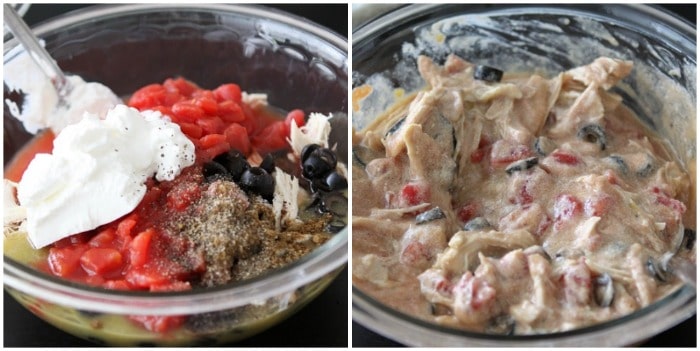 Give it a good mix!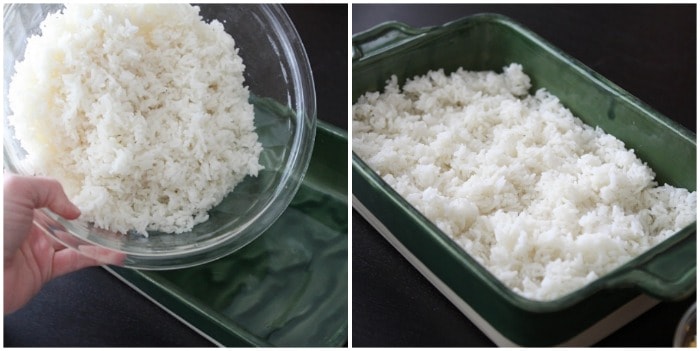 Place your rice into a 9×13-inch baking dish.

Add your black beans over your rice.

Pour the chicken mixture over beans then top evenly with cheese. Time to bake 30 to 35 minutes at 350 degrees F.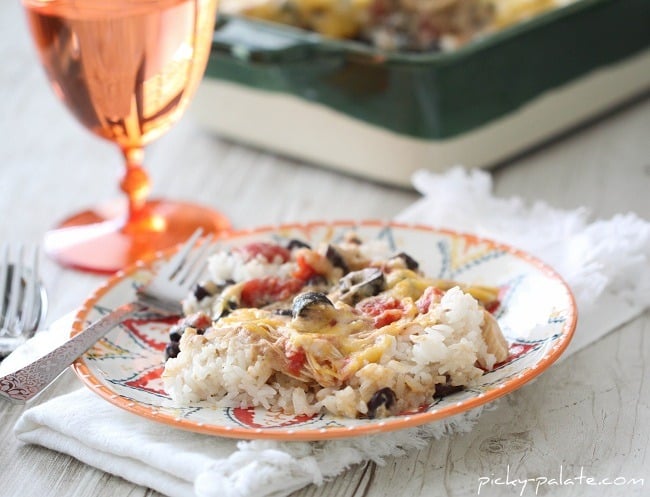 It really is as good as it looks 🙂 Enjoy!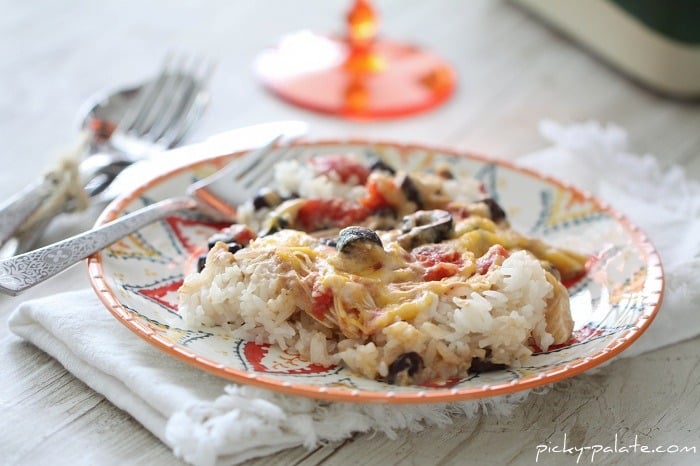 [ziplist]
Chicken and Black Bean Green Enchilada Rice Bake
2 cups white long grain rice
2 1/2 cups cooked, shredded chicken breast
One 15-ounce can mild green enchilada sauce
One 4-ounce can sliced black olives
One 15-ounce can diced tomatoes
1/2 cup sour cream
1 teaspoon kosher salt
1/2 teaspoon freshly ground black pepper
1 teaspoon McCormick Gourmet Roasted Ground Cumin
One 15-ounce can black beans, drained and rinsed
2 cups shredded cheddar cheese
1. Preheat oven to 350 degrees F. and spray a 9×13-inch baking dish with non-stick cooking spray.
2. Cook rice according to package directions.
3. Place chicken, enchilada sauce, olives, tomatoes, sour cream, salt, pepper and cumin into a large bowl, mixing to combine. Pour cooked rice into prepared baking dish and layer beans on top of rice. Pour chicken mixture over rice and top evenly with cheddar cheese. Bake for 30 to 35 minutes, until cheese is melted and rice is hot.
Makes 6 to 8 servings
____________________________________
*Disclaimer: I am part of the McCormick Real Gourmet Blogger Program and am being
compensated however the thoughts and recipe are my very own.
Have a great rest of your week! Come back soon!