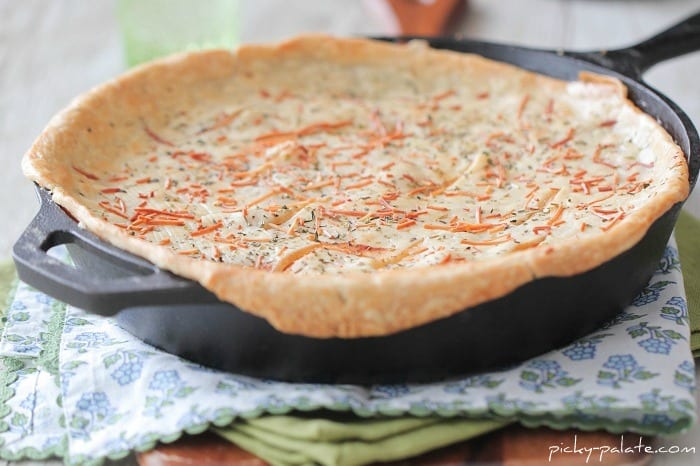 I have a thing for pot pies 🙂 They are the ultimate comfort food right?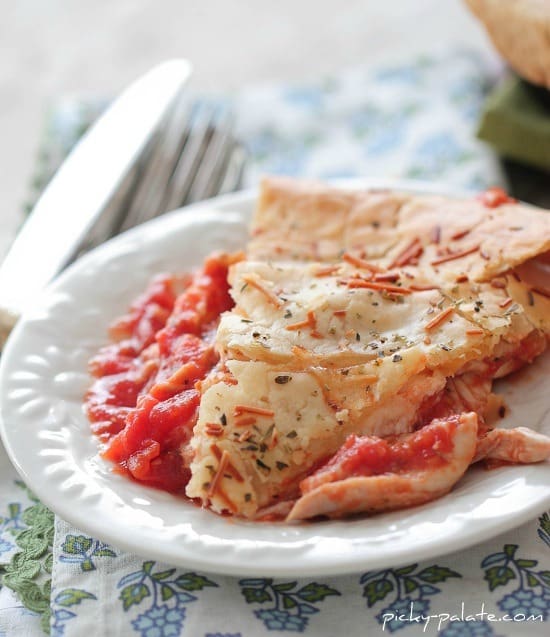 This pot pie is not your traditional pot pie, but a Chicken Parmesan Skillet Pot Pie 🙂 You wanna know my favorite part of this dinner? It takes about 5 minutes to get into the oven. I LOVE dinners like that! It also comes out looking fantastic and quite impressive.
With school back in full swing, I like to have quick and easy dinner recipes on hand to feed my hungry boys. Hope you enjoy!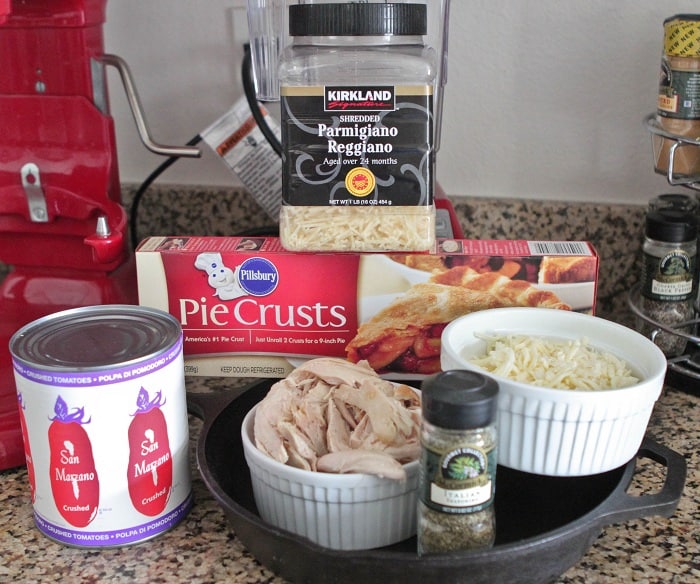 Here's your line up. If you want to simplify this recipe even more, use your favorite jar of pasta sauce instead of the can of crushed tomatoes and seasonings 🙂 Your call.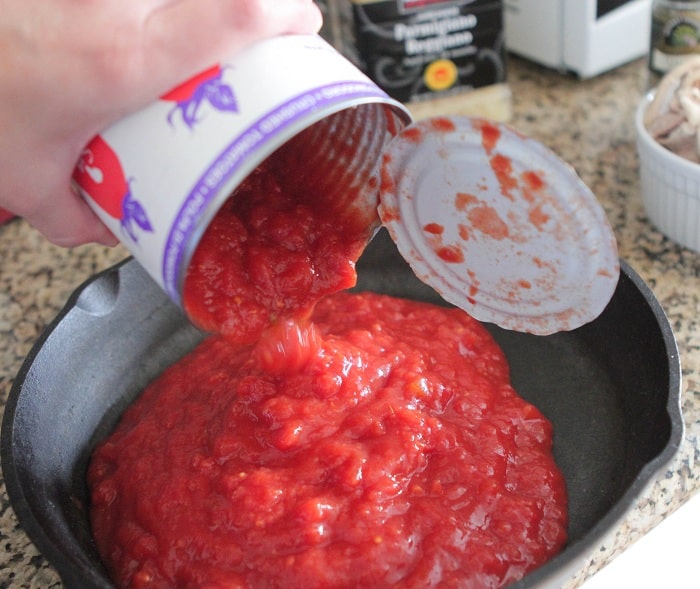 Here we go. Start with your tomatoes. You don't even have to heat anything on the stove top first. Love it!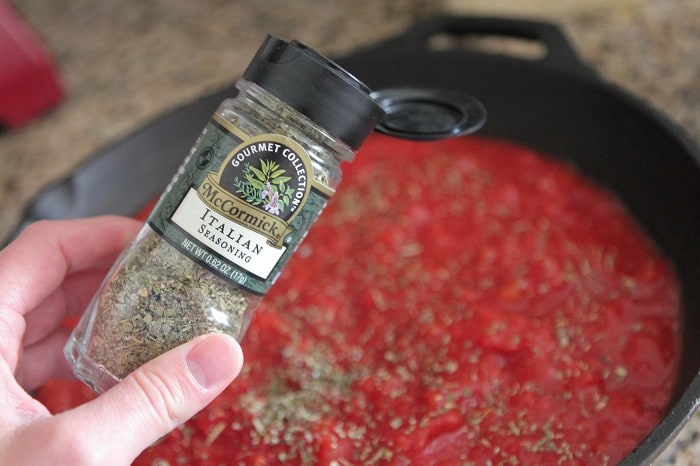 Add some Italian Seasoning.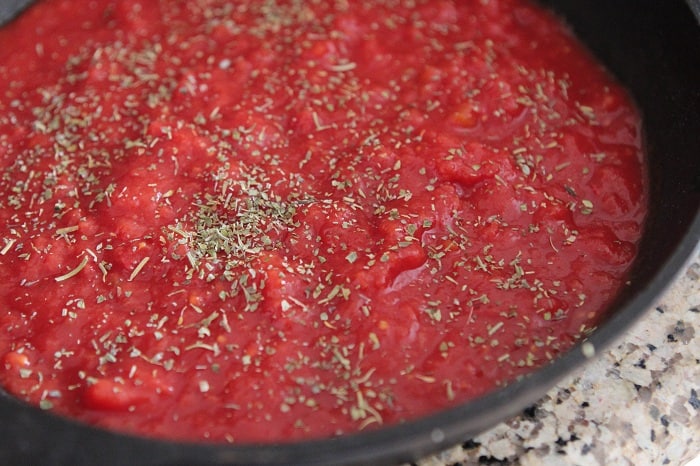 Like so 🙂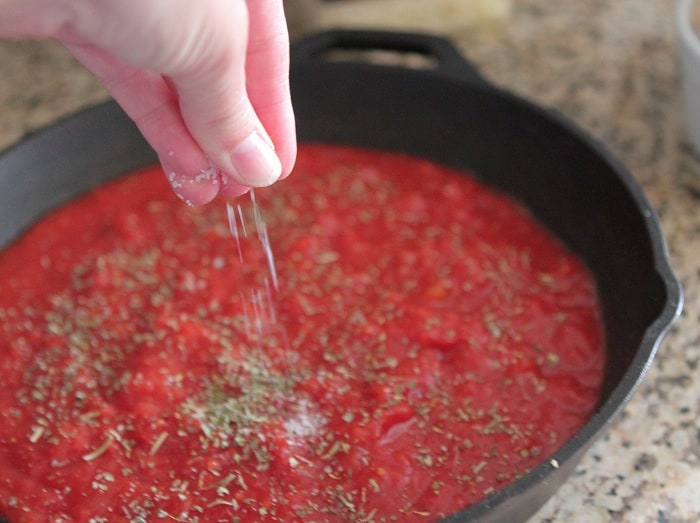 Add some kosher salt.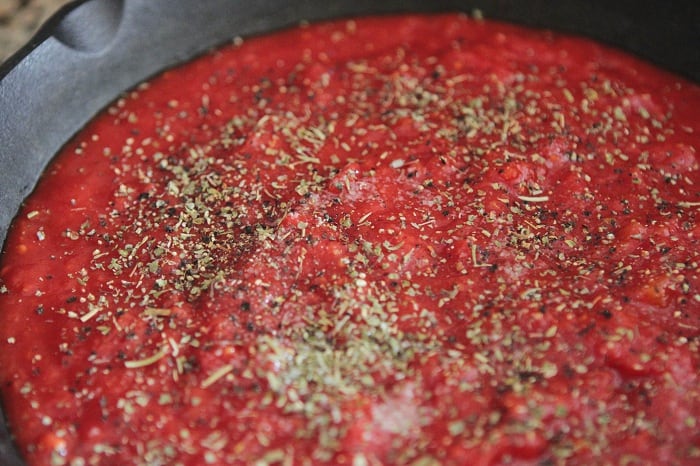 ….and some fresh ground black pepper.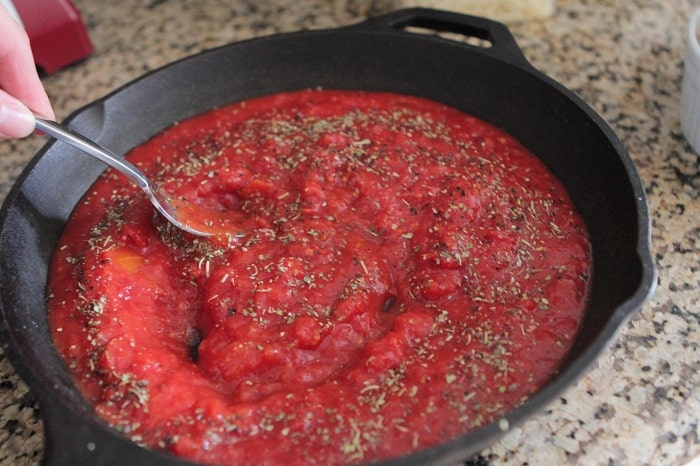 Give it all a little stir to combine.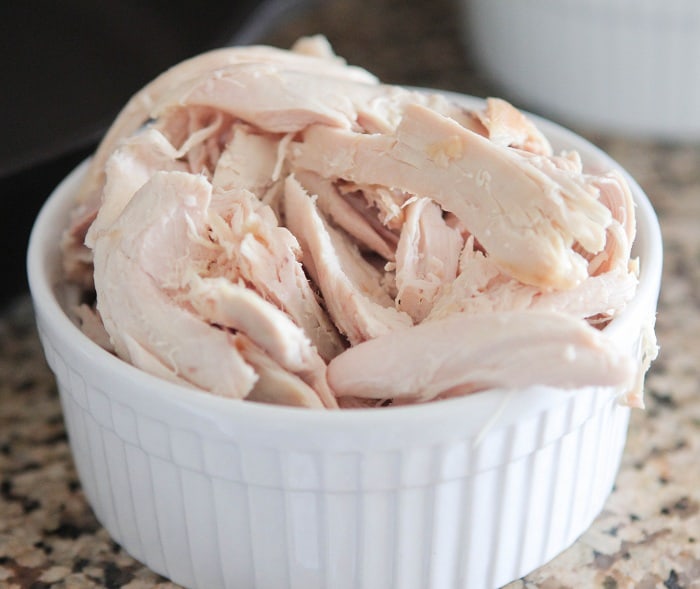 Use about 3 cups shredded cooked chicken. I shredded a rotisserie chicken for this recipe. Nice and easy.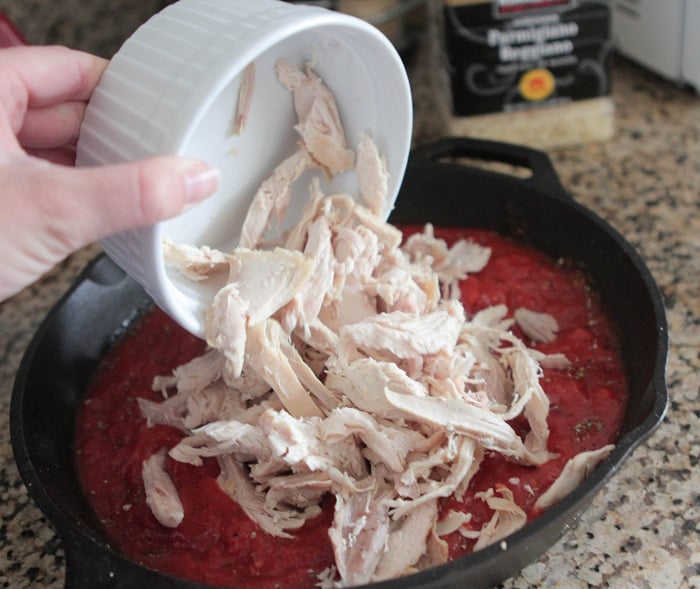 Add it to the sauce.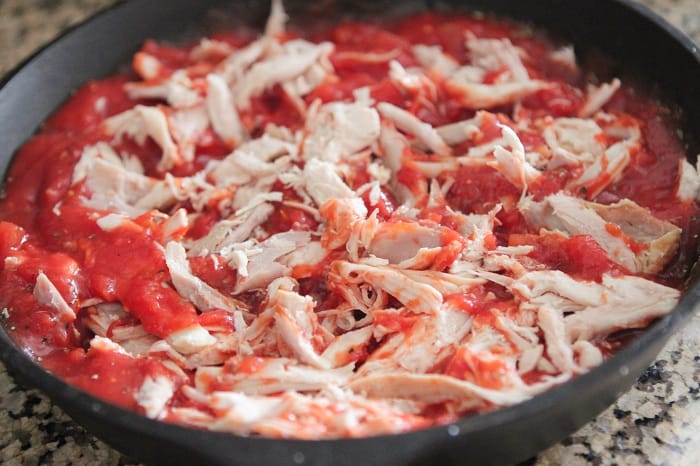 Give it a little stir.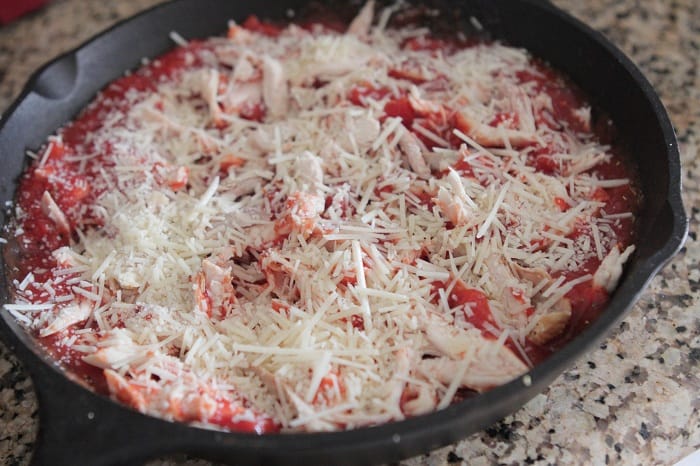 Add some Parmesan cheese.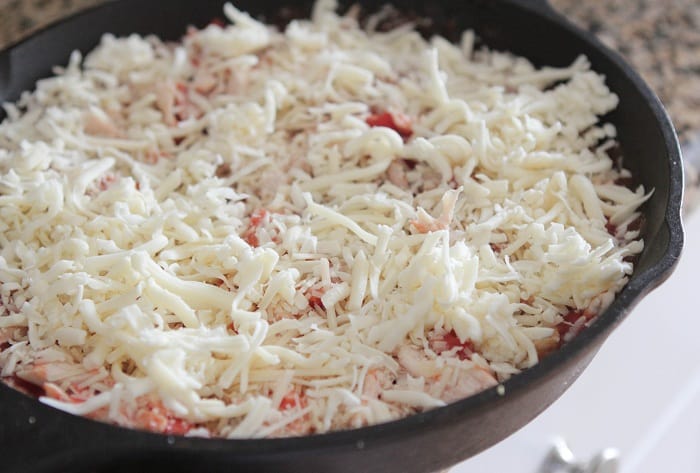 …and lots of mozzarella 🙂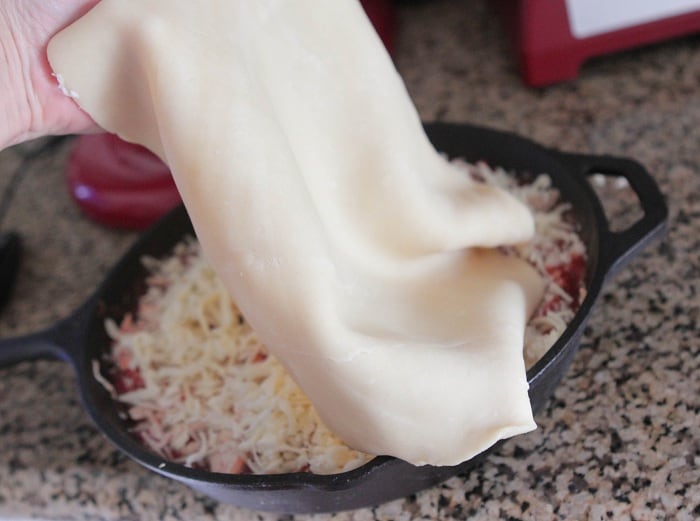 Time for the pie crust.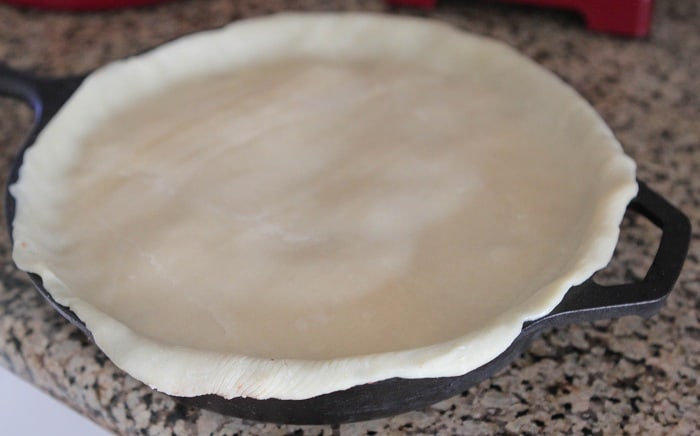 Roll it over and press the edges around the skillet.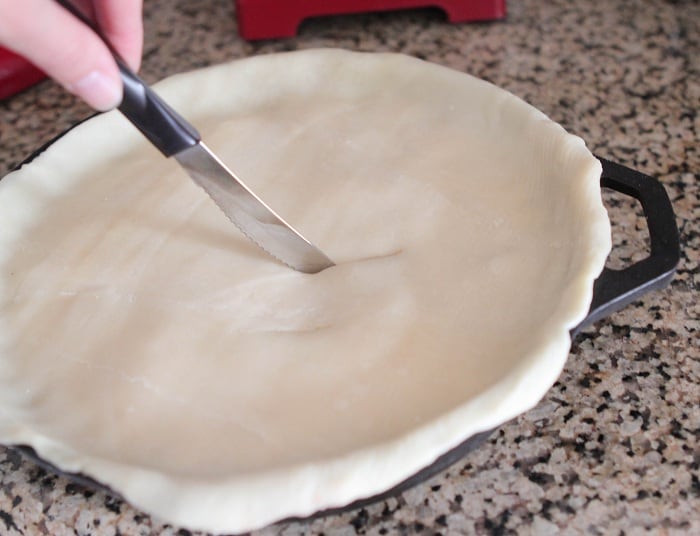 Cut some slits into the crust.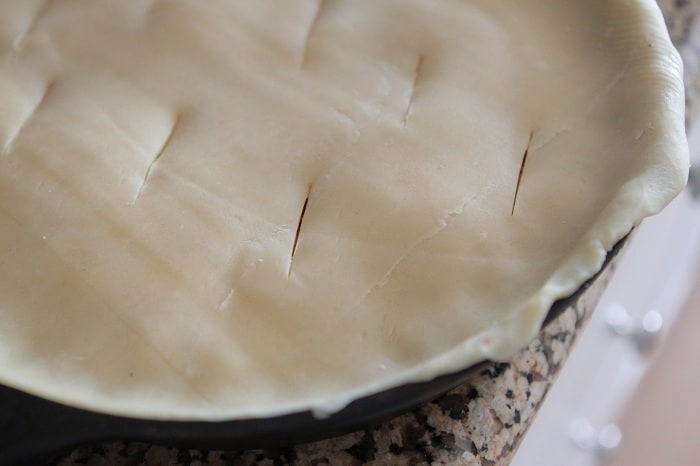 Like so 🙂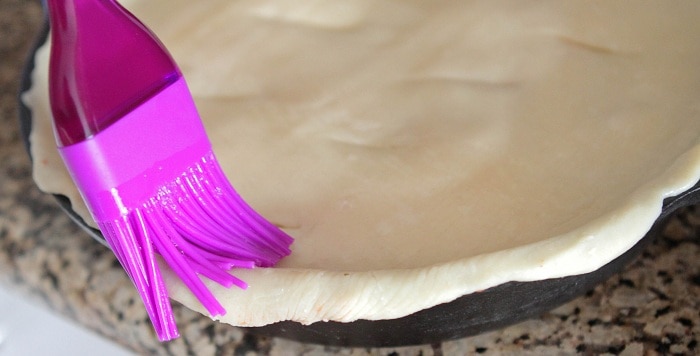 Brush a light coat egg wash over your crust.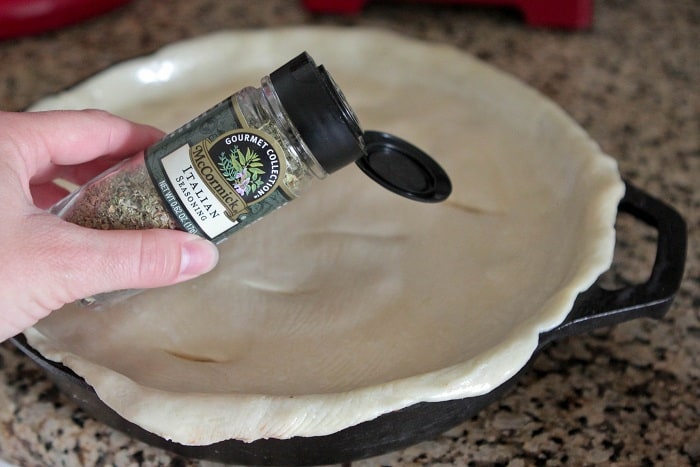 Top with a little Italian Seasoning.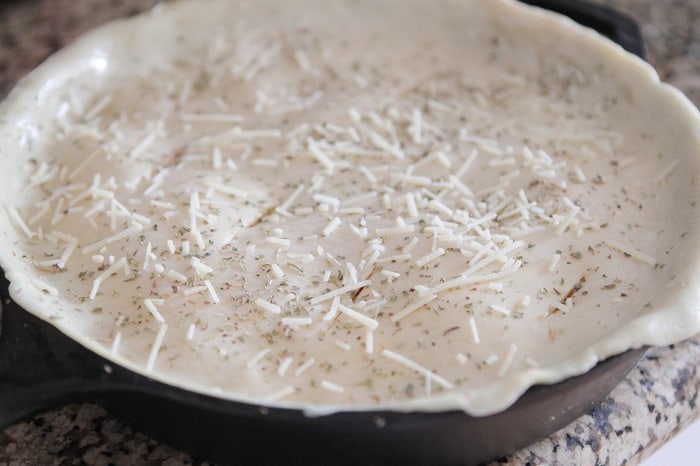 ….and a little Parmesan cheese, now it's time to bake! 40 to 45 minutes at 350 degrees F.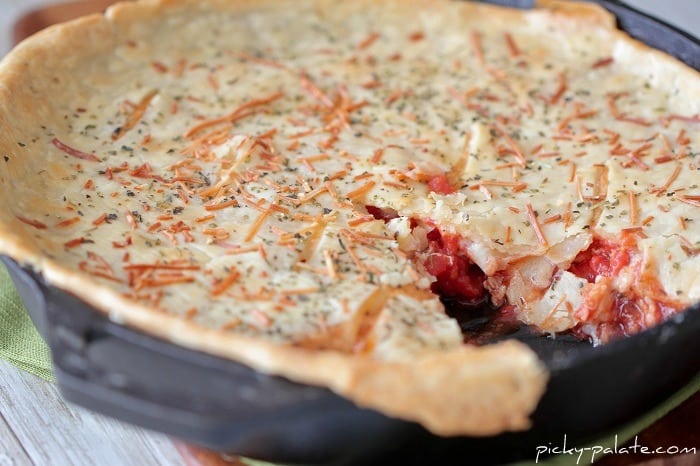 Ahhhhh 🙂 I like to let the pie sit for 10 minutes before serving. Gives the filling time to set up a touch.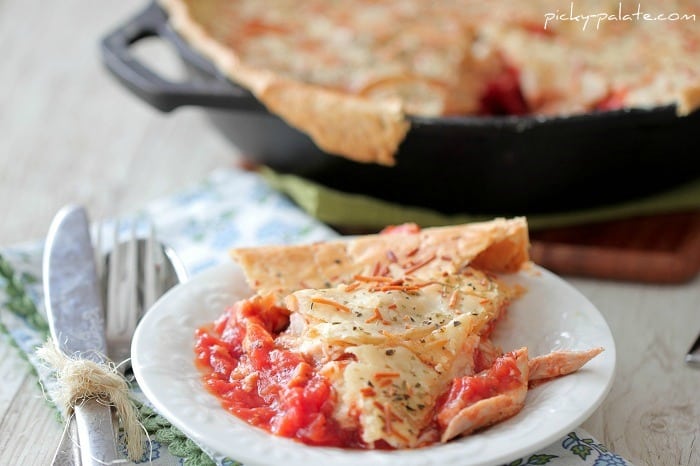 [ziplist]
Chicken Parmesan Skillet Pot Pie
28 ounce can crushed tomatoes
1/2 teaspoon Italian Seasoning
1/2 teaspoon kosher salt
1/4 teaspoon freshly ground black pepper
3 cups cooked, shredded chicken (I used a rotisserie)
1/4 cup shredded Parmesan cheese
3/4 cup shredded mozzarella cheese
1 refrigerated pie crust, room temperature
1 egg white
1/4 teaspoon Italian seasoning
1 tablespoon shredded Parmesan cheese
1. Preheat oven to 350 degrees F.
2. Pour tomatoes into 9 inch cast iron skillet. Season with Italian seasoning, salt and pepper, stirring to combine. Add chicken and gently stir to incorporate into sauce. Top with Parmesan and mozzarella cheeses.
3. Unroll pie crust and lay over chicken and cheese. I pressed the edges around the skillet, but feel free to tuck it inside the skillet if you desire.
4. Whisk egg white with 1 teaspoon water and brush a light coat over crust. Top evenly with Italian seasoning and Parmesan cheese. Bake for 40 to 45 minutes, until crust is golden brown. Remove and let cool for 10 minutes before serving.
Makes 6 to 8 servings
______________________________________
Have a great day, come back soon!