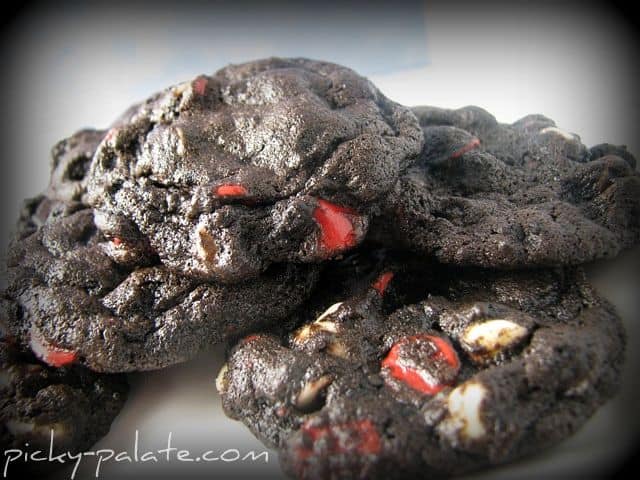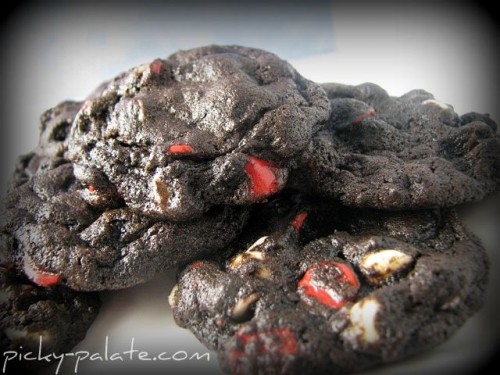 Good Thursday morning everyone!!
I gotta make this snappy, both my boys are still sleeping and it's almost 7:30am. A miracle!
Ok, I know I make chocolate cookies often, but trust me when I tell you that you will LOVE this version. I picked up these awesome little cherry chips by Log House in AZ quite a few months ago and wished I would have gotten more bags. They are fabulous in cookies. I got them at Super Walmart, but have found Log House's Online store where you can get 2 bags for a little over $5 bucks. So, if you can't find them at your grocer, check out the link HERE.
Chocolate Cherry Chip Cookies
1 cup butter
1 cup white sugar
3/4 cup brown sugar
2 eggs
1 tsp. vanilla
1 3/4 cups flour
1 1/4 cups cocoa powder (I used Hershey's Dark Chocolate Cocoa Powder)
2 tsps. baking soda
1/4 tsp. salt
1 bag of Log House Cherry Chips
1 1/2 cups white chocolate chips

1. Preheat oven to 350 degrees and use a cookie sheet with a silpat liner.
2. In a large bowl, cream together the butter and sugars until light and fluffy. Slowly add eggs and vanilla until well combined.
3. In another bowl, combine the flour, cocoa, baking soda and salt. Slowly add to wet ingredients then stir in white chips and cherry chips. Using a medium cookie scoop, drop by rounded spoonfuls onto the prepared cookie sheet.
4. Bake for 9-11 minutes, should still be soft in center. Allow cookies to cool on baking sheet for 5 minutes before removing to a wire rack to cool completely.
3 dozen cookies
______________________________
Looks like I made it, the little tykes just woke up and I'm done with my post! Have a great rest of your week! See you all soon.