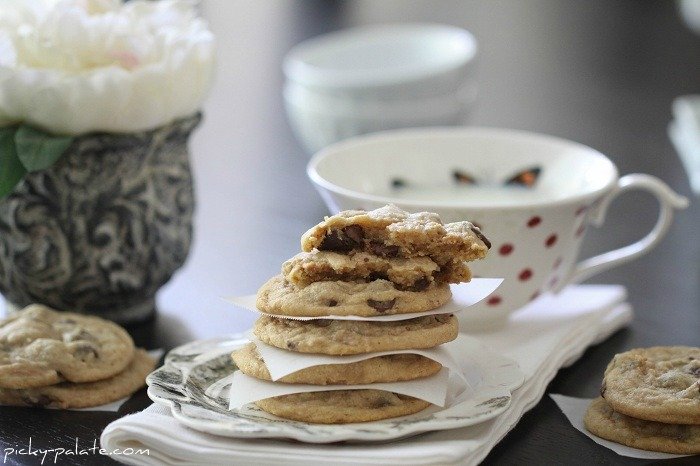 Last weekend, I had a big time sweet tooth for some fresh warm chocolate chip cookies. As I was preparing my cookie dough, I thought….hmmm, I want to add some peanut butter swirls throughout, then remembered how yummy peanut butter truffles are and there you have my newest cookie obsession 🙂
Take a peek below and I'll show you how you can make your very own batch.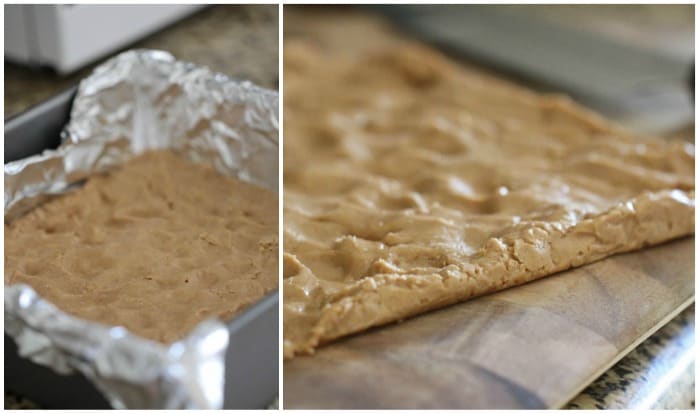 So, I started by mixing my peanut butter truffle mix. Peanut butter mixed with powdered sugar, pressed into the above 8×8 inch baking dish then frozen and placed on a cutting board as pictured above 🙂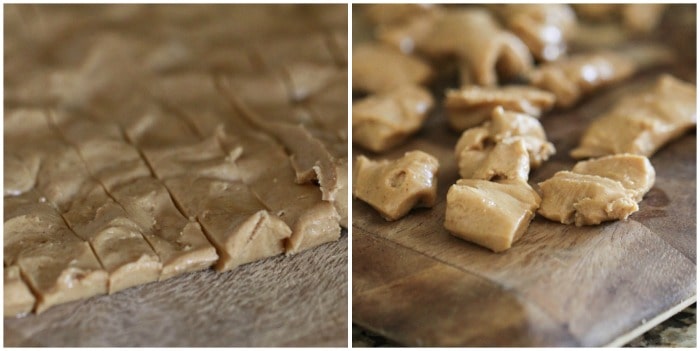 Once nice and frozen, slice and cut into chunks as you see here. They will not be perfect chunks and it surely does not matter. You can even tear it all apart with your fingers.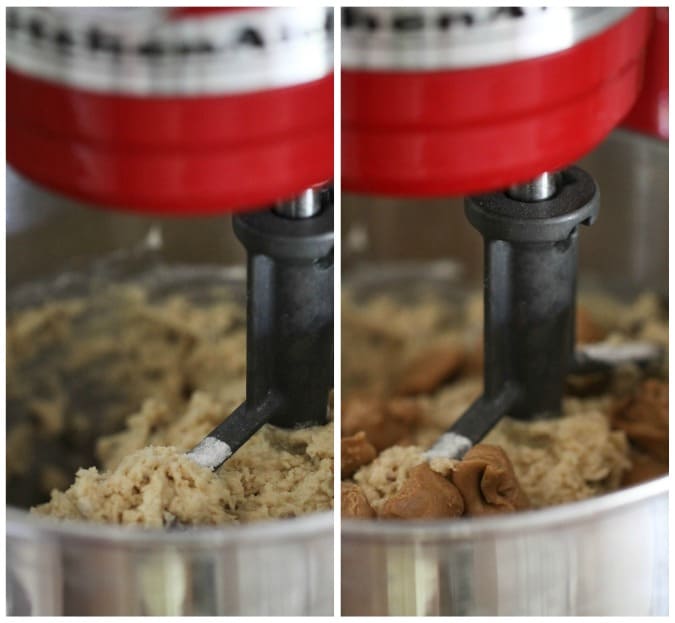 Prepare your chocolate chip cookie dough first, then sprinkle your peanut butter truffle chunks in and only mix 2 or 3 turns of the mixer. You want nice peanut butter swirls and chunks throughout 🙂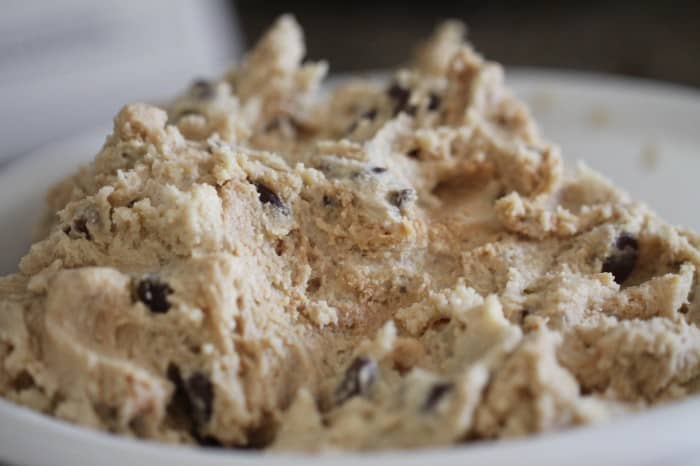 Here's your gorgeous cookie dough with those fabulous peanut butter truffle swirls throughout. Kinda hard to see, but trust me, they are there!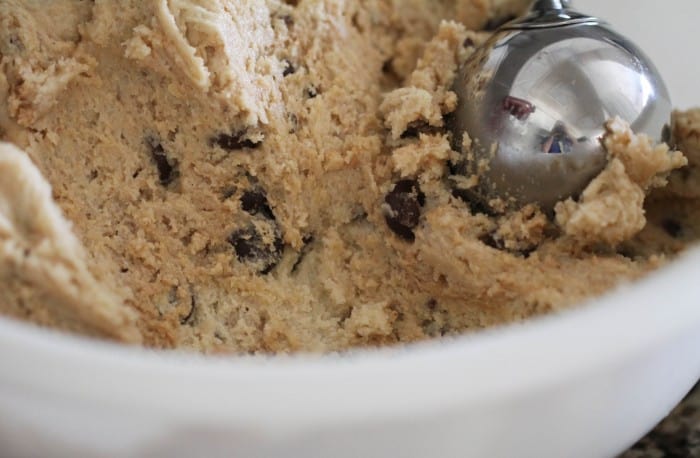 Try to keep your fingers out of this…..haha, I failed miserably 🙂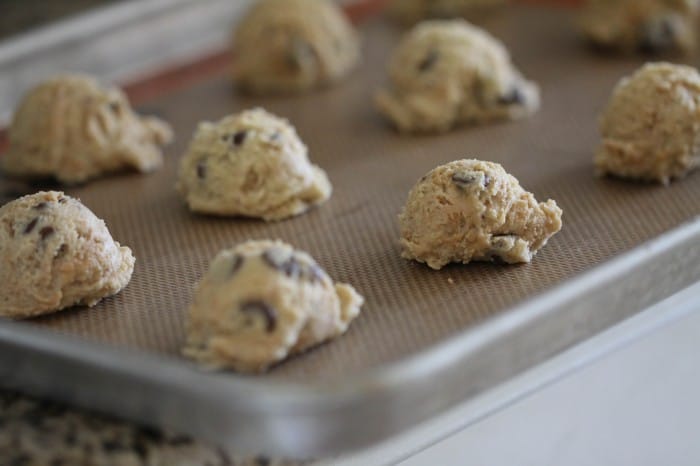 Scoop the dough onto your favorite cookie sheet and bake at 350 for 10-15 minutes…depending on how you like your cookies.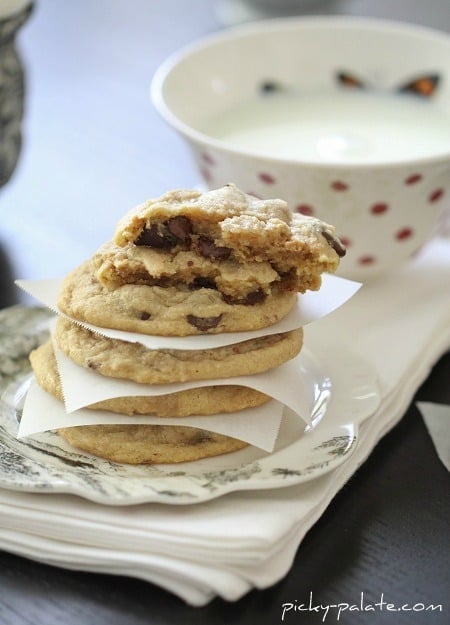 Here you have them. Staring at you, begging to be eaten 🙂 With some milk of course. Enjoy!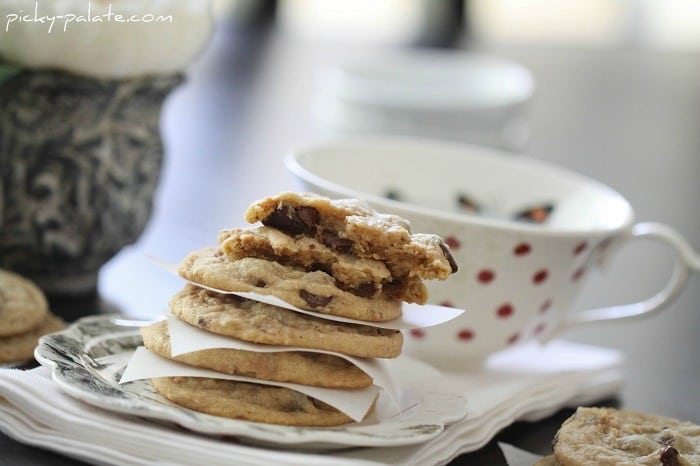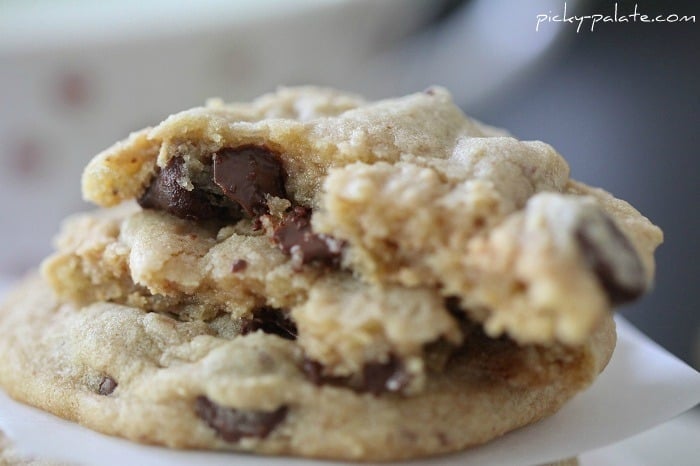 [ziplist]
Chocolate Chip and Peanut Butter Truffle Swirled Cookies
1 1/2 cups creamy peanut butter
1 1/4 cups powdered sugar
2 sticks unsalted butter, softened
3/4 cup granulated sugar
3/4 cup packed light brown sugar
2 large eggs
1 tablespoon vanilla extract
2 1/2 cups all purpose flour
1 teaspoon kosher salt
1 teaspoon baking soda
2 1/2 cups chocolate chips
1. Preheat oven to 350 degrees F. and line a large baking sheet with non-stick cooking spray.
2. Place peanut butter and powdered sugar into a large bowl and mix to combine. I used my hands for a quicker mix. Press into an 8×8 inch baking pan that has been lined with foil, sprayed with cooking spray. Place in freezer for at least 30 minutes.
3. Place butter and sugars into the bowl of a stand or electric mixer, mix to combine. Add eggs and vanilla, mix to combine.
4. Place flour, salt and baking soda into a large bowl, mix to combine. Slowly add to wet ingredients along with chocolate chips, just mixing until combined.
5. Remove peanut butter truffle pan from freezer and cut into cubes. They will not be perfect, I even tore some apart with my hands. Just as long as they are in chunks, you are fine. Once cut up, I put back in freezer for about 10 minutes.
6. Add peanut butter truffle chunks to your cookie dough, mix on low for just a couple turns of the mixer, the idea is you want chunks and swirls throughout the dough so you bite into nice bits of peanut butter truffle 🙂
7. Scoop dough onto prepared baking sheet about 1 inch apart and bake for 10-13 minutes, until cooked to your preference. Let cool for 10 minutes on baking sheet then transfer to cooling rack to cool completely.
Makes 3-4 dozen cookies
_______________________________
Have a great new week, come back soon!!